This homemade copycat version of the classic Shake and Bake Pork Chops Recipe is simple, easy and full of wholesome ingredients. Bring some of that childhood magic back into your kitchen with the kid-friendly, family meal for any night of the week. And it's all made on a sheet pan for an easy clean up!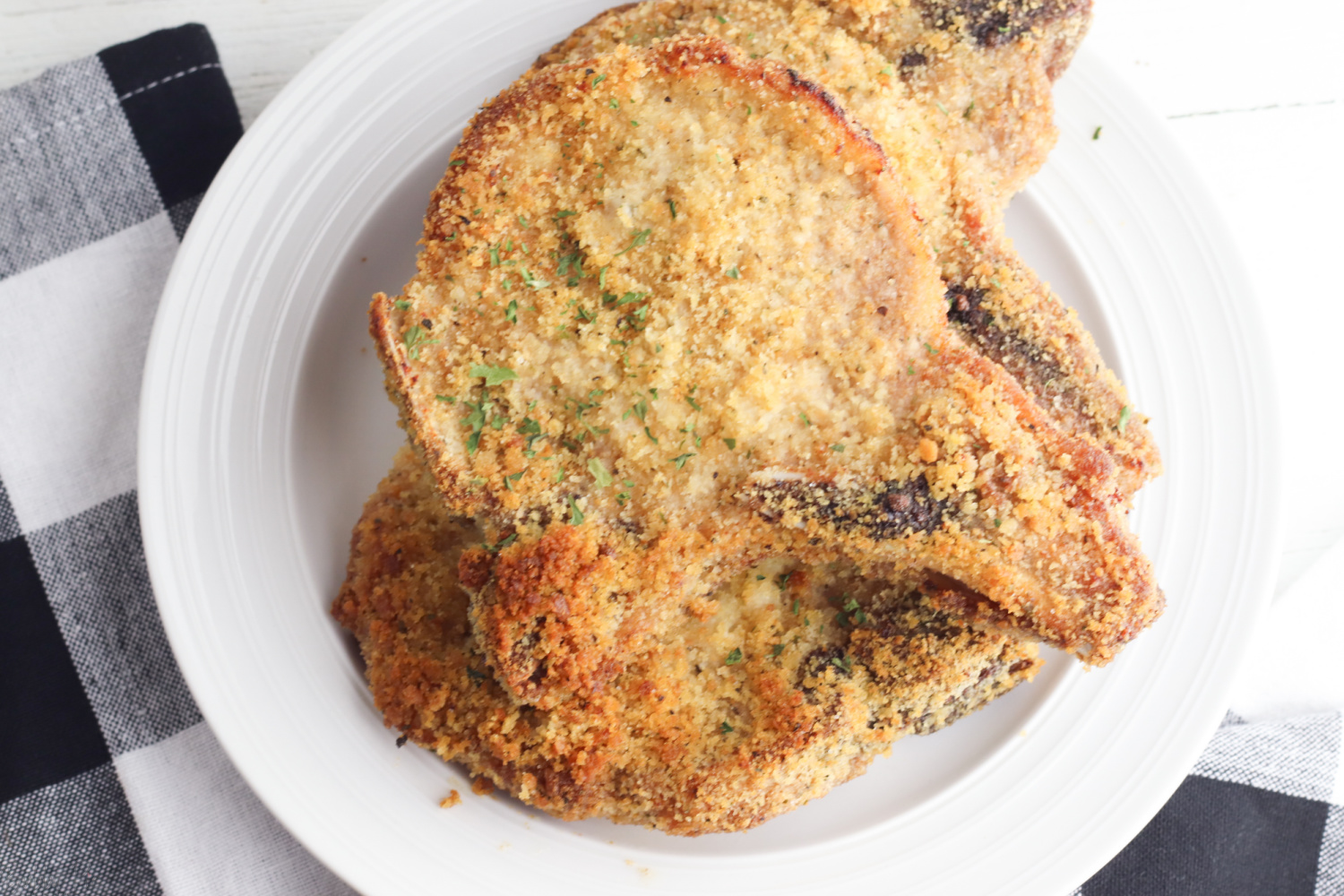 Why You Will Love Shake and Bake Pork Chops
A HEALTHY VERSION OF A CLASSIC RECIPE – Remember this classic recipe from your childhood? These are also sometimes called "Shake n Bake pork chops". Now, you can have those "crispy on the outside and tender on the inside" results with simple, wholesome ingredients from your kitchen. I love knowing exactly what is going in me my families tummies!
EASY – Where there are a number of ingredients that go into this recipe, I'll be willing to bet you have most of them in your pantry already! Just combine them all together and shake to coat your pork chop!
KID FRIENDLY – Even picky eaters will love this one! It's perfect for a quick weeknight dinner when you don't have time for tantrums! The whole family will love this dinner!
How To Make Homemade Shake and Bake Pork Chops
It's really so easy! Just combine all the seasonings and breadcrumbs in a ziplock bag with a little oil. Then drop your pork chops in there and shake to coat. Then put them on a baking sheet and let your oven do the rest of the work. For step-by-step instructions, check out the recipe card below. But here is what you'll need to get started:
PORK CHOPS – You can use bone-in or boneless.
BREAD CRUMBS
SALT AND BLACK PEPPER
PAPRIKA
ONION SALT
DRIED PARSLEY
SUGAR
OREGANO
BASIL
VEGETABLE OIL
What Should You Serve With Shake and Bake Pork Chops?
This Shake and Bake Pork makes an awesome family dinner. And there are tons of sides you can serve with it to make it a complete meal. Some of our favorites would be: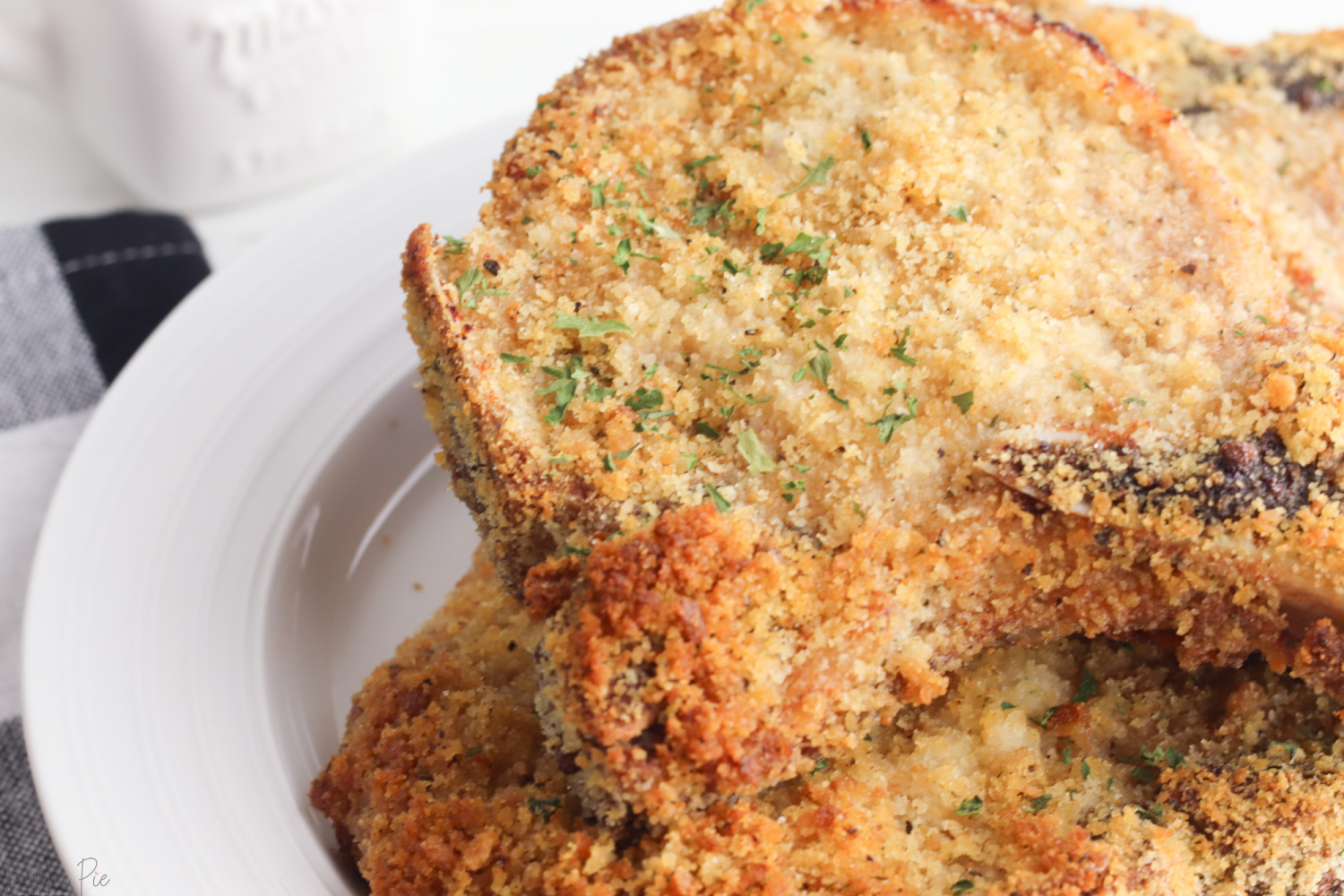 Can You Make Shake and Bake Chicken Instead?
Yep, your sure can! This recipe would work great with some boneless, skinless chicken breasts! Just coat the breasts in olive oil and the seasonings, then bake at 400 degrees for about 20 minutes.
Can You Make This In An Air Fryer?
You can even get some even crispier results by cooking these Pork Chops in an Air Fryer! Just preheat your Air Fryer to 350 and prepare them as instructed. Cook the pork chops for 17-20 minutes, flipping halfway through.
I hope you enjoy this recipe for Shake and Bake Pork Chops. Keep coming back to our website to find new takes on classic dishes from our childhood!
How To Store Leftovers
Keep your leftovers in an airtight container and it should be good in your refrigerator for 3-5 days. Try not to pile the pork chops on top of each other, or use parchment paper in between them. Otherwise, they may stick together and lose their breading.
If you want to freeze these pork chops, wait for them to cool completely and wrap them individually in freezer wrap. Put them in the fridge to thaw them out and then reheat before serving.
Notes, Tips and Variations
WHERE IS THE MAYO?– Yep, some people slather mayonnaise on their pork chops before breading them. It is supposed to result in a "thicker" breading. We haven't tried this ourselves, but go for it if it sounds yummy!
DO I HAVE TO COOK AT 425 DEGREES?– You get that nice, crispy coated pork chop these pork chops at a higher heat. I'd stay up at 425 degrees!
BREADCRUMBS– You may notice that we didn't specify what kind of breadcrumbs to use. We used Panko Breadcrumbs. But feel free to use another kind. Try Italian for an extra kick of flavor!
LEAVE SOME AIR IN THE BAG– You may find it easier to coat the pork chops with the Shake and Bake mixture if you leave a little air in the bag.
CAN YOU REUSE THE BREADCRUMBS?– You will have bread crumbs left over in your bag after you shake the chops. No, unfortunately you can't save them to use them again. The safest thing to do at this point is to just throw them away.
IMPROVISE – The seasoning/breadcrumb mixture we came up with comes very close to original recipe. But feel free to add or subtract seasonings or spices to your liking. Put some chili powder in there for some heat, or add some garlic powder or dried thyme. The sky is the limit!
HOW DO YOU KNOW WHEN PORK CHOPS ARE DONE? – When they start to get golden brown on the outside, check the internal temperature with a meat thermometer. When it is 145 degrees, it's done!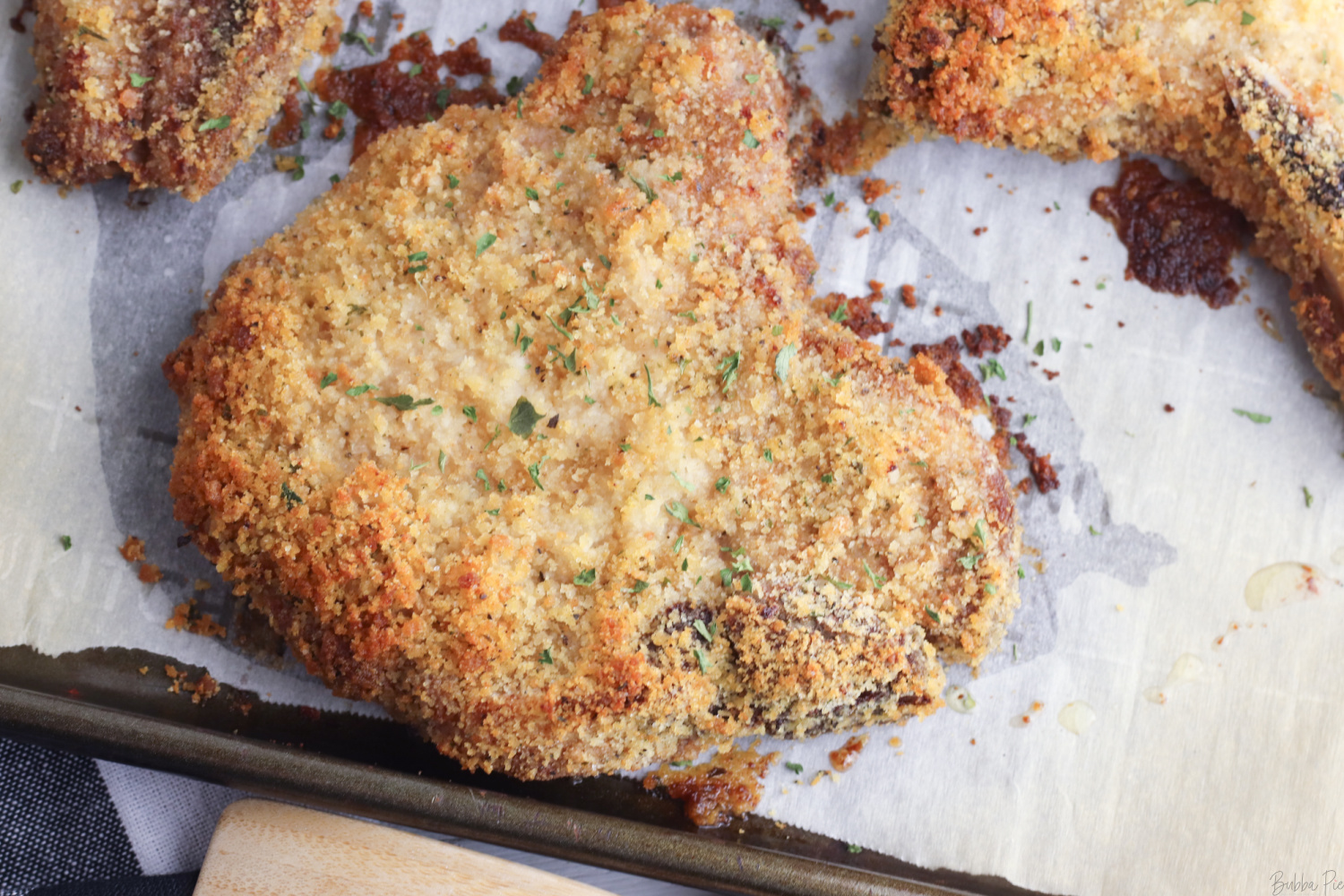 Can You Air Fry Shake N' Bake Pork Chops?
Yep! Super easy! Just preheat your Air Fryer to 425 degrees. Coat you pork as described in the recipe. Place the pork chops in your Air Fryer Basket in a single layer (you may have to work in batches) and Air Fry for 15 minutes, flipping the pork chops half way through. Check the internal temperature to make sure they are done. All Air Fryers are a little different.
Tools To Help With This Recipe
BAKING PAN– Come on, you know you need a new baking pan, right? Yours is all messy and gross just like mine gets unless I replace them at least once a year.
ZIPLOCK BAGGIES– Yep, you're gonna need these! These one gallon storage bags will do the job perfectly!
We hope you enjoy this recipe for Shake and Bake Pork Chops. If you try them out, we'd love it if you came back and left us a rating and a comment! Thanks so much for reading!
ALSO, BE SURE TO CHECK OUT OUR: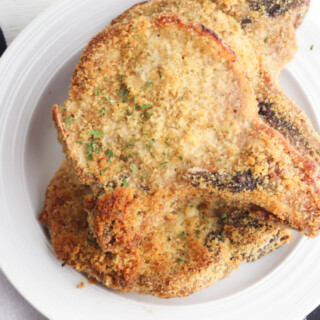 Rate this Recipe
Shake and Bake Pork Chops
This homemade version of the classic Shake and Bake Pork Chops Recipe is simple, easy and full of wholesome ingredients. Bring some of that childhood magic back into your kitchen with the kid-friendly, family meal for any night of the week. 
Ingredients
6

bone-in pork chops

1 ½

cups

bread crumbs

1

teaspoon

salt

1 ½

teaspoons

paprika

1 ½

teaspoons

onion powder

1

teaspoon

dried parsley

1

teaspoon

sugar

½

teaspoon

oregano

¼

teaspoon

basil

¼

teaspoon

black pepper

2

tablespoons

vegetable oil
Instructions
Preheat oven to 425 degrees and line a baking sheet with parchment paper.

In a small bowl, combine the bread crumbs, salt, paprika, onion powder, dried parsley sugar, oregano, basil, and pepper. Stir to mix.

Add the vegetable oil and stir until the oil is well incorporated. Pour into a gallon size zip-top bag.

Place a pork chop in the bag and shake until the pork chop is coated, pressing the bread crumb mixture into the pork chop. Place the pork chop on the lined baking sheet.

Continuing coating the pork chops until they are all covered.

Bake in the preheated oven for 25 to 30 minutes, until the pork is cooked through and the breading is golden brown.
Nutrition
Love this recipe?
Follow @bubbapie for even more delicious recipes!!