Growing up in Indiana, the Breaded Pork Tenderloin Sandwich was and is a staple Comfort Food Dish. Here is our easy version of this Hoosier Classic.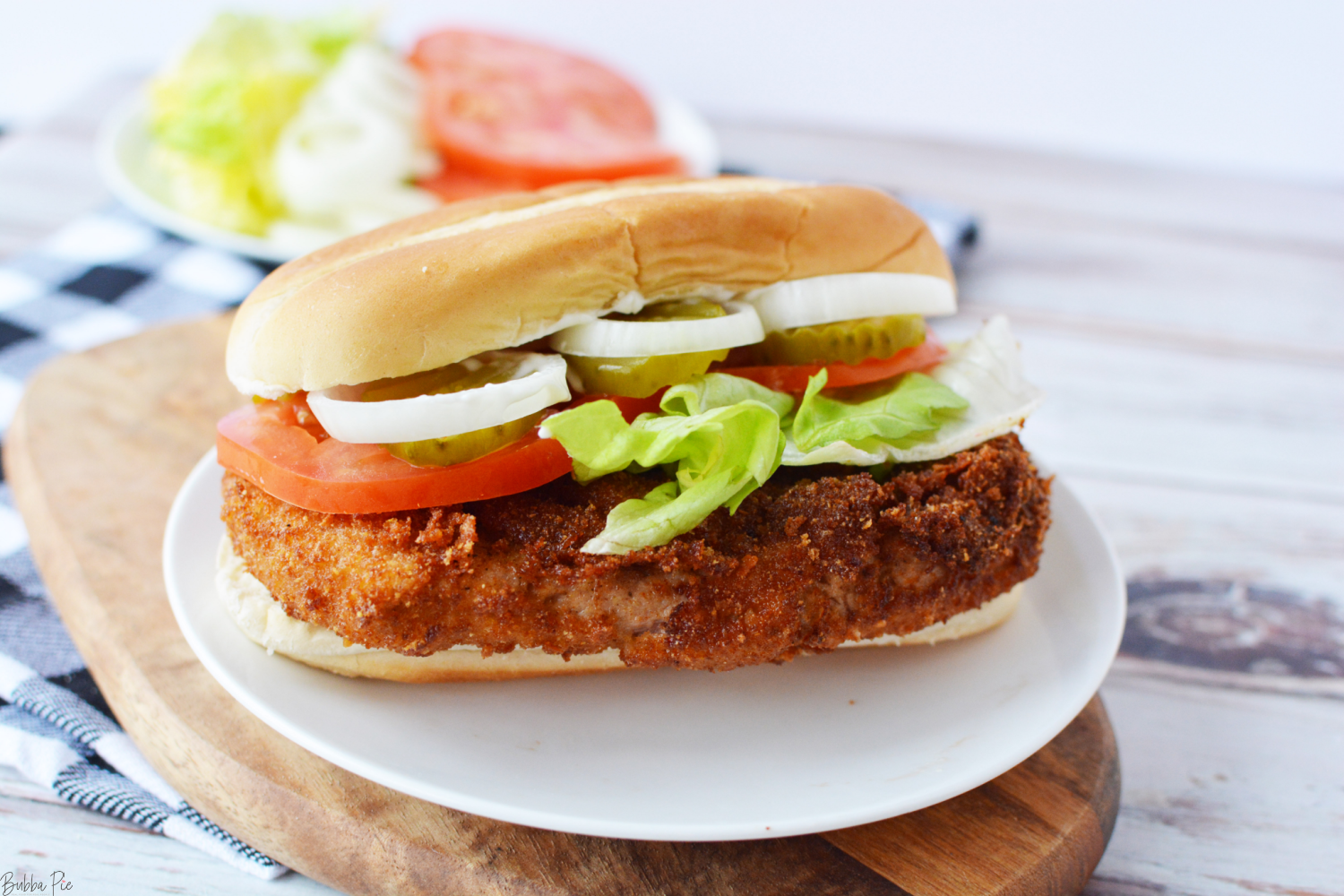 This Comfort Food Blog has been so much fun! Now that we are nearing 250(!) recipes, I love to look back on all the great dishes we've shared and discovered.
One of the coolest things we've done in this blog is to develop our versions of regional culinary trademark dishes. We've had Goetta from Ohio, Texas Trash Dip from… well Texas and Finger Steaks From Idaho. So far, my favorite has been our Hot Brown Sandwich from Kentucky.
Today, we are gonna stay on the sandwich train with this awesome Midwestern recipe. If you live anywhere in the Midwest, especially Indiana, you've probably come across the classic Breaded Pork Tenderloin Sandwich.
What Is So Special About A Pork Tenderloin Sandwich?
Well, to begin with: it's size! A true Hoosier Breaded Tenderloin Sandwich is HUGE! Often, the pork cutlet greatly outmeasures the bun.
Second, it's gotta be breaded. Sometimes on menus, you can see that you have the option to get this sandwich with breaded pork or grilled pork. For me, a true Pork Tenderloin Sandwich is breaded and fried. Hey, it's the Midwest, we aren't known for our health food!
Third, the toppings. A healthy dose of Mayo (or mustard) and some fresh toppings of lettuce, tomato and onions are the way to go. You can add pickles if that sounds yummy.
This is an easy recipe and it cooks really quickly since the meat is pounded nice and thin!
It can also be used for more than just a sandwich. Make a couple of extra patties and you can dice them up to put them on top of a salad or in a wrap!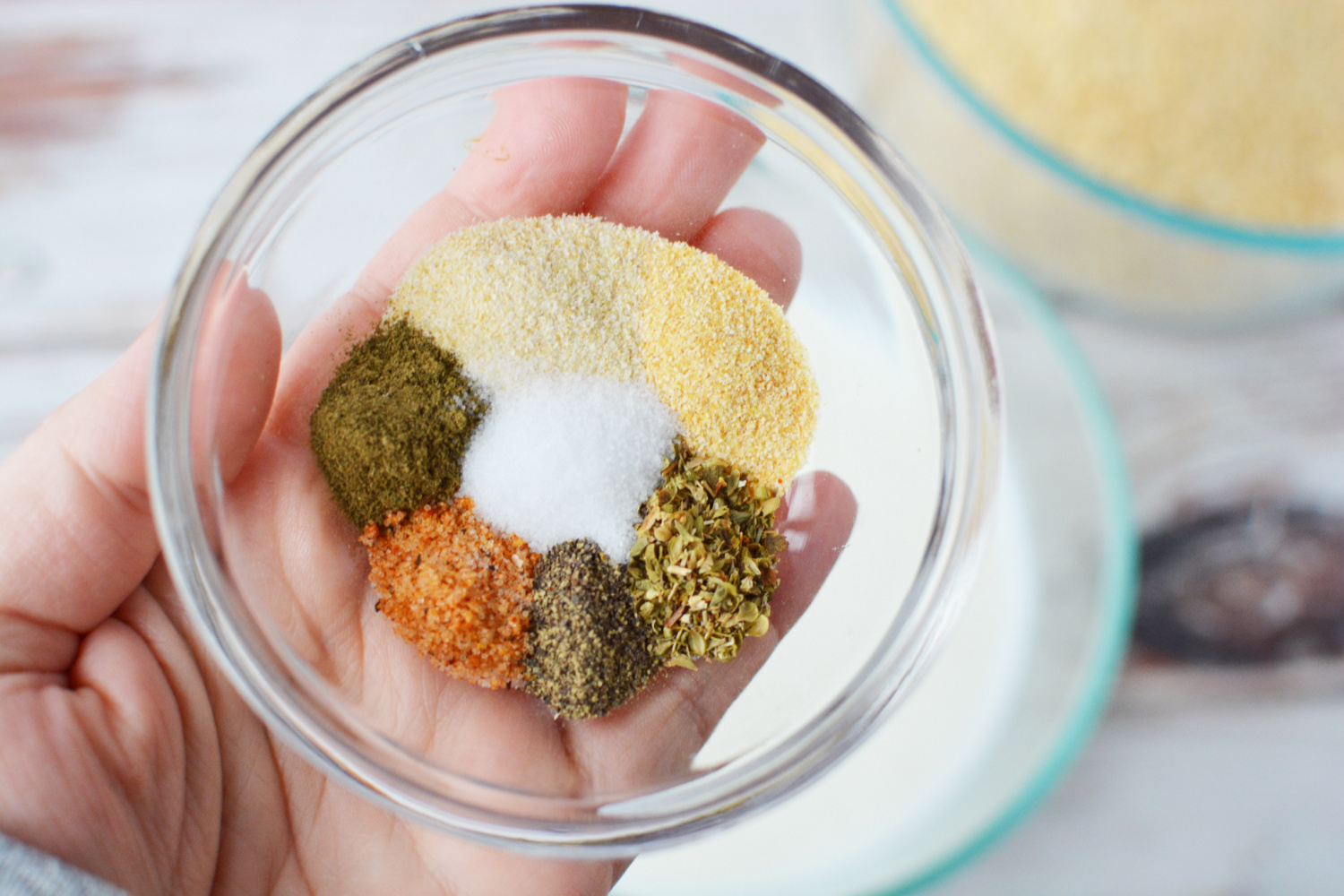 Pork Tenderloin Sandwich Recipe
Ok, ready to get started? Here is what you'll need:
Slices of pork tenderloin
Buttermilk
Salt
Garlic powder
Onion powder
Seasoning salt
Marjoram
Oregano
Ground black pepper
Bread crumbs
Vegetable oil to fry
Kaiser rolls, cut in half
What To Serve With A Pork Tenderloin Sandwich
You can serve this sandwich with just about any side. Some great options could include Roasted Cajun Potatoes, Oven Roasted Green Beans, Bacon Ranch Pasta Salad or a Corn and Tomato Salad.
Notes, Tips and Variations
Full disclosure: once, I wasn't paying attention to what side of the meat mallet I was using. I went hit the meat with the tenderizing side. This is NOT what you want to do! Flatten the meat with the FLAT side!
If your tenderloin is looking too big for your bun, GOOD! This is how it's supposed to be.
An ideal thickness for the patty is about 1/2 inch thick. But you can adjust to your own taste. Just be aware that the cooking times will vary along with the thickness of the meat.
Do NOT put ketchup on this sandwich. I repeat. NO KETCHUP!
Letting the Cutlets sit for about 10 minutes before frying helps the breading adhere to the meat.
When you take them out of the frying pan, put then on a cooling rack with a paper towel underneath. This helps keep the breading nice and crispy.
I hope you enjoy this recipe for a Hoosier Breaded Pork Tenderloin Sandwich. Let me know how it works out for you in the comments section.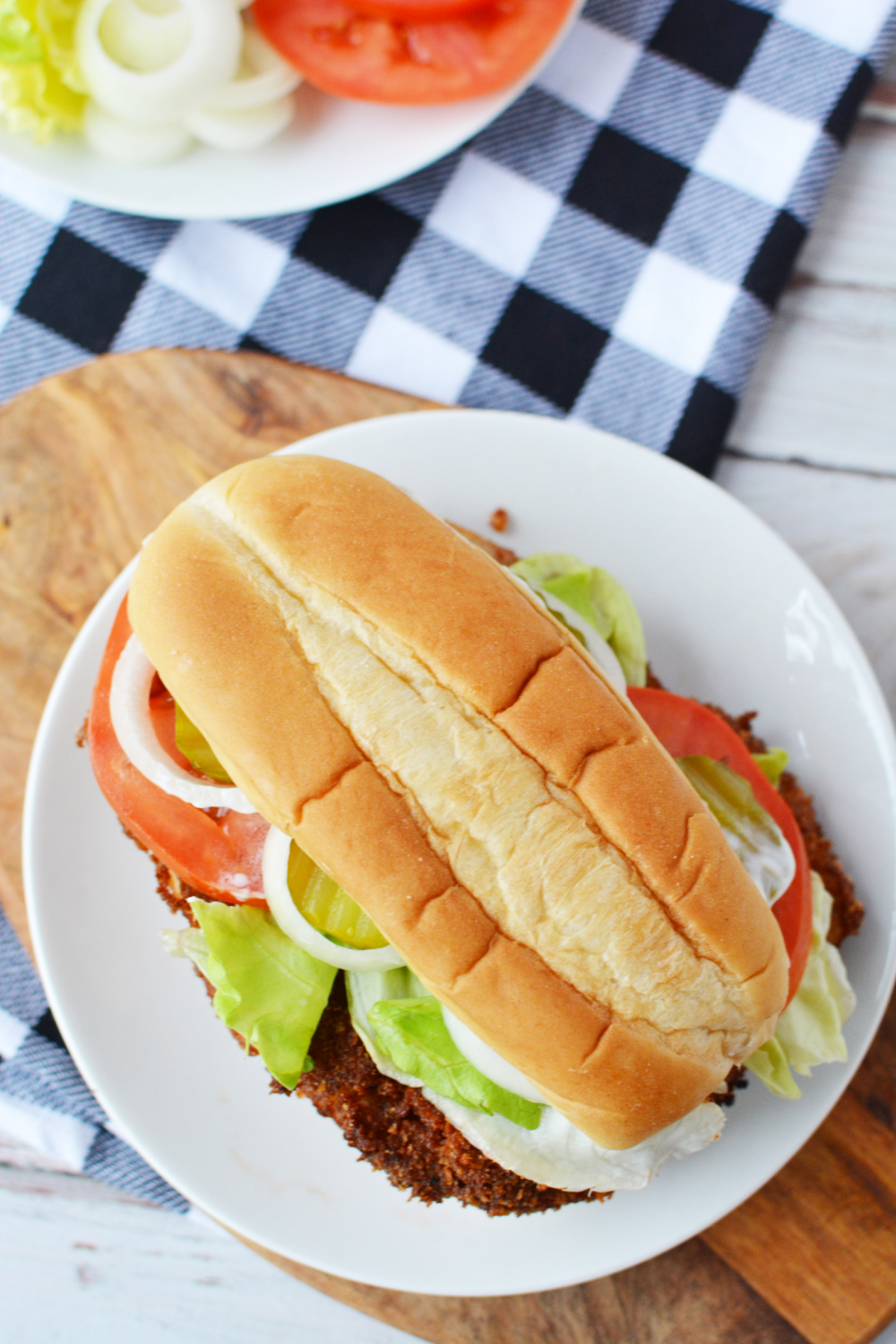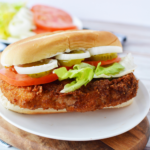 Breaded Pork Tenderloin Sandwich
Growing up in Indiana, the Breaded Pork Tenderloin Sandwich was and is a staple Comfort Food Dish. Here is our easy version of this Hoosier Classic.
Ingredients
4, 4

oz

slices of pork tenderloin

1

cup

buttermilk

1

teaspoon

salt

1/2

teaspoon

garlic powder

1/2

teaspoon

onion powder

1/4

teaspoon

seasoning salt

1/4

teaspoon

marjoram

1/4

teaspoon

oregano

1/4

teaspoon

ground black pepper

1-1/2

cups

bread crumbs

vegetable oil to fry

kaiser rolls

cut in half
Instructions
Place pork into a resealable gallon bag and seal shut. Use a meat tenderizer to flatten cutlet to about 1/4" in size. Repeat until all cutlets are flat.

In a small bowl, add buttermilk and spices. Mix well.

Pour into resealable bag with pork and seal shut. Refrigerate and marinate for 4 hours or overnight, occasionally turning and kneading bag.

Heat a skillet of hot oil.

Place bread crumbs onto a plate or shallow dish.

Remove 1 cutlet from the bag and add to bread crumbs, evenly coating both sides. Let cutlets sit for about 10 minutes.

Fry in a pan for about 6 minutes or until golden brown. Drain on paper plate.

Top a roll with mayonnaise, add cutlet, lettuce, tomato, onion, and pickles and top with remaining roll. Serve immediately.
Nutrition Facts
Breaded Pork Tenderloin Sandwich
Amount Per Serving
Calories 324
* Percent Daily Values are based on a 2000 calorie diet.