This Breaded Pork Tenderloin Sandwich is a staple of the Midwest. Tender, flattened pork is fried with seasoned breading and served with a soft bun, lettuce, tomato and tons of mayonnaise.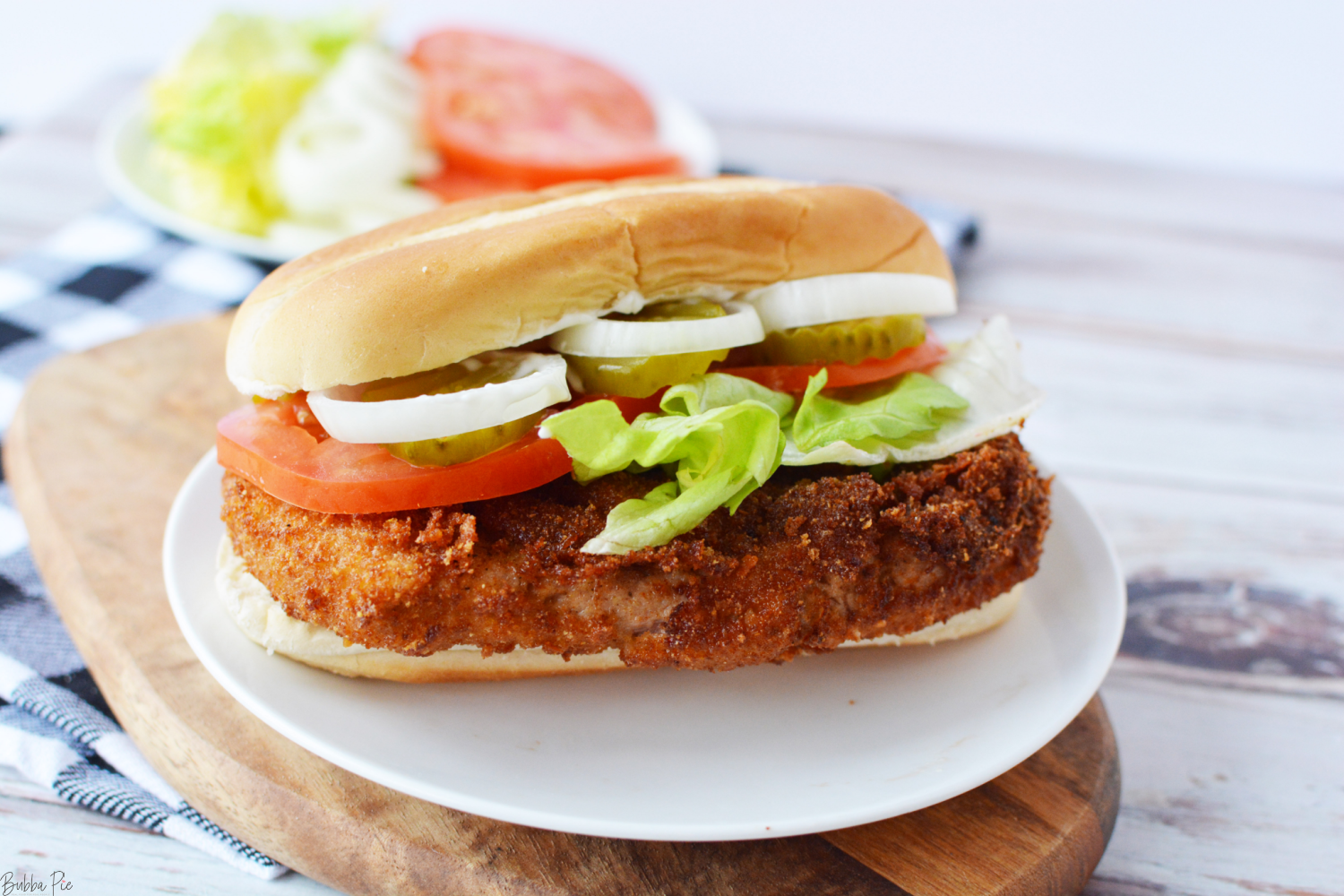 Are you ready for a true Midwest Recipe? Here in Indiana, we know our Comfort Food!
One of the coolest things we've done in this blog is to develop our versions of regional culinary trademark dishes. We've had Goetta from Ohio, Texas Trash Dip from… well Texas and Finger Steaks From Idaho. So far, my favorite has been our Hot Brown Sandwich from Kentucky.
Today, we are gonna stay on the sandwich train with this awesome Midwestern recipe. If you live anywhere in the Midwest, especially Indiana, you've probably come across the classic Breaded Pork Tenderloin Sandwich.
What Is A Pork Tenderloin Sandwich?
A Pork Tenderloin Sandwich consists of a cut of pork that has been hammered thin, dredged and breaded and fried golden brown. A true Hoosier Breaded Tenderloin Sandwich is HUGE! Often, the pork cutlet is a lot larger than the bun. Ours didn't get quite as big as they are a lot of the times.
It's a lot like a Wiener Schnitzel except it's make with pork instead of veal.
It was said to have originated just outside Ft. Wayne, Indiana at a place called Nick's. Take a look at their website to see how big some of these sandwiches can get! A common hallmark of the Pork Tenderloin Sandwich is also all the fixing and toppings. Usually fresh lettuce, onions and tomatoes and, or course, Pickles! No matter how tender and juicy you can get the meat, to me, the most important part of this sandwich is the Mayonnaise. Don't be shy with the mayo!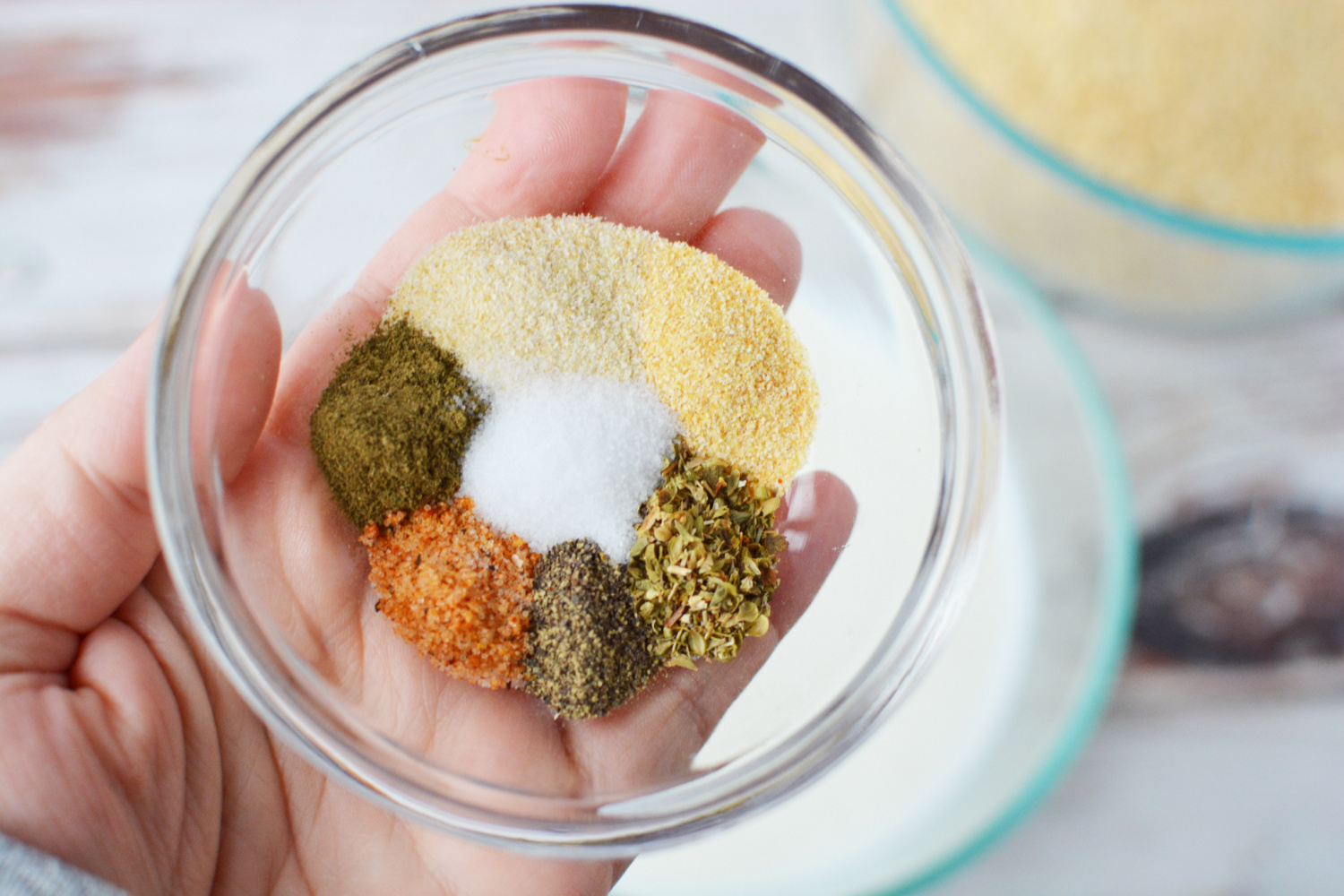 How To Make A Pork Tenderloin Sandwich
This is an easy recipe and it cooks really quickly since the meat is pounded nice and thin!
It can also be used for more than just a sandwich. Make a couple of extra patties and you can dice them up to put them on top of a salad or in a wrap!
Here is what you'll need to get started.
PORK TENDERLOIN – You'll be flattening them with a meat tenderizer.
BUTTERMILK – You'll soak the tenderloin in Buttermilk and seasonings to really bring the flavors of this sandwich out!
SEASONINGS – Salt, Garlic Powder, Onion Powder, Seasoning Salt, Marjoram, Oregano and Black Pepper.
BREAD CRUMBS – We used Panko Bread Crumbs, but you can really use whatever you'd like. Read below for some more breading suggestions.
VEGETABLE OIL – For frying.
ROLLS OR BUNS – We used Kaiser Rolls. But you can use hamburger buns or anything else you'd like. Traditional Pork Tenderloin sandwiches are served with a soft bun or roll.
What To Serve With A Pork Tenderloin Sandwich
You can serve this sandwich with just about any side. Some great options could include:
Storage and Freezing
Yes, you can cook and then save your Pork Tenderloin Sandwich in the refrigerator. Reheat it in the oven at 350 degrees for about 10 minutes, flipping it over halfway through.
You can also freeze them. Wait until they cool completely, and then put them in a freezer bag with each patty separated by parchment paper.
But honestly, they will never really taste as delicious as they taste right after they've been made.
Notes, Tips and FAQs
HELP! MY TENDERLOIN IS TOO BIG FOR MY BUN! – If your tenderloin is looking too big for your bun, GOOD! This is how it's supposed to be.
HOW THICK SHOULD A PORK TENDERLOIN SANDWICH BE? – An ideal thickness for the patty is about 1/2 inch thick. But you can adjust to your own taste. Just be aware that the cooking times will vary along with the thickness of the meat.
CAN YOU PUT KETCHUP ON A PORK TENDERLOIN SANDWICH? – You could… but please don't.
HOW TO GET A CRISPY BREADING – When you take them out of the frying pan, put the on a cooling rack with a paper towel underneath. This helps keep the breading nice and crispy.
DO YOU NEED TO USE PANKO BREAD CRUMBS FOR BREADING? – We used Panko Bread Crumbs, but I've heard of people also using crushed crackers in their breading. Go for it if that sounds good! Try Saltine Crackers or Oyster Crackers.
Tools To Help This Recipe
I hope you enjoy this Breaded Pork Tenderloin Sandwich Recipe. Let me know how it works out for you in the comments section.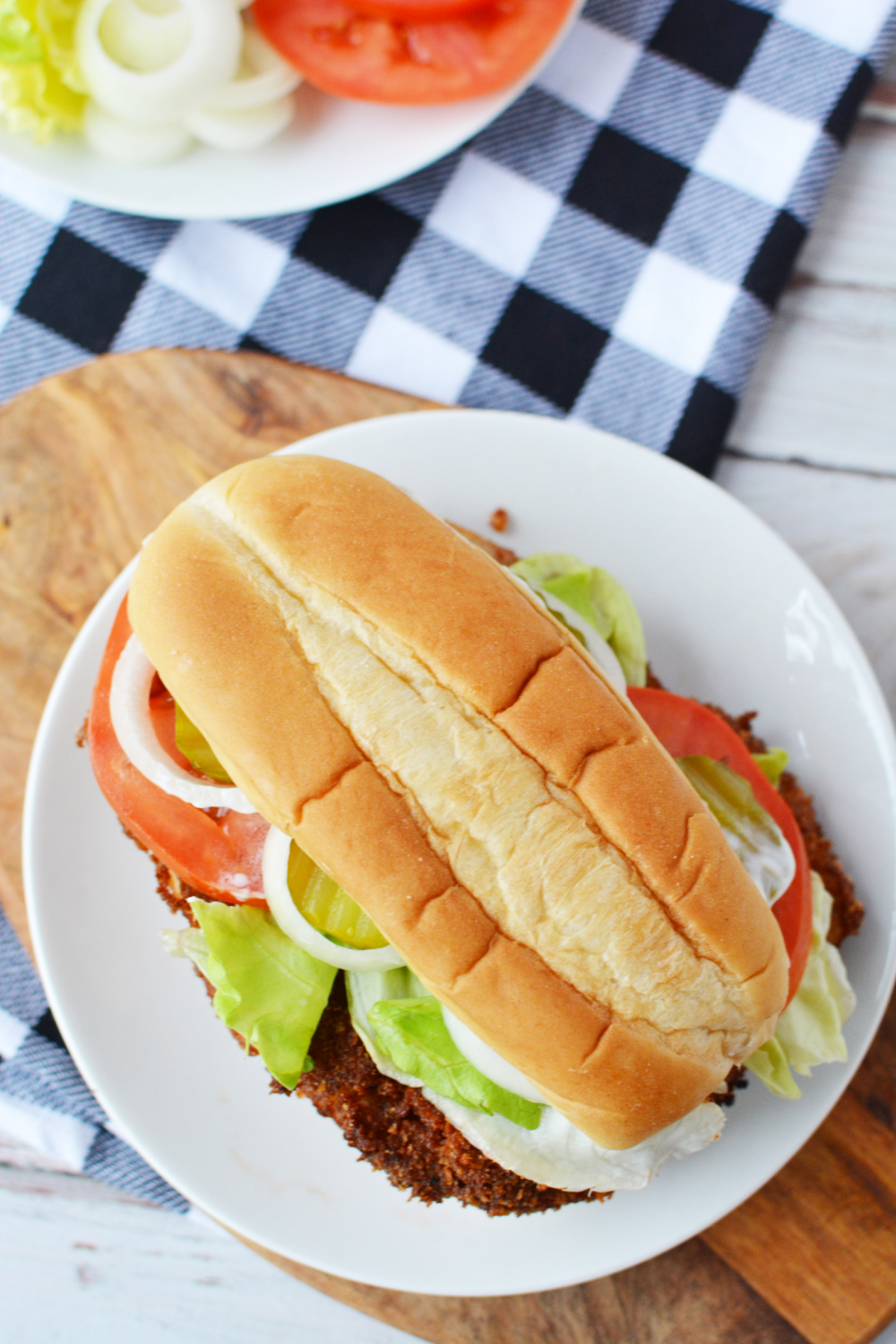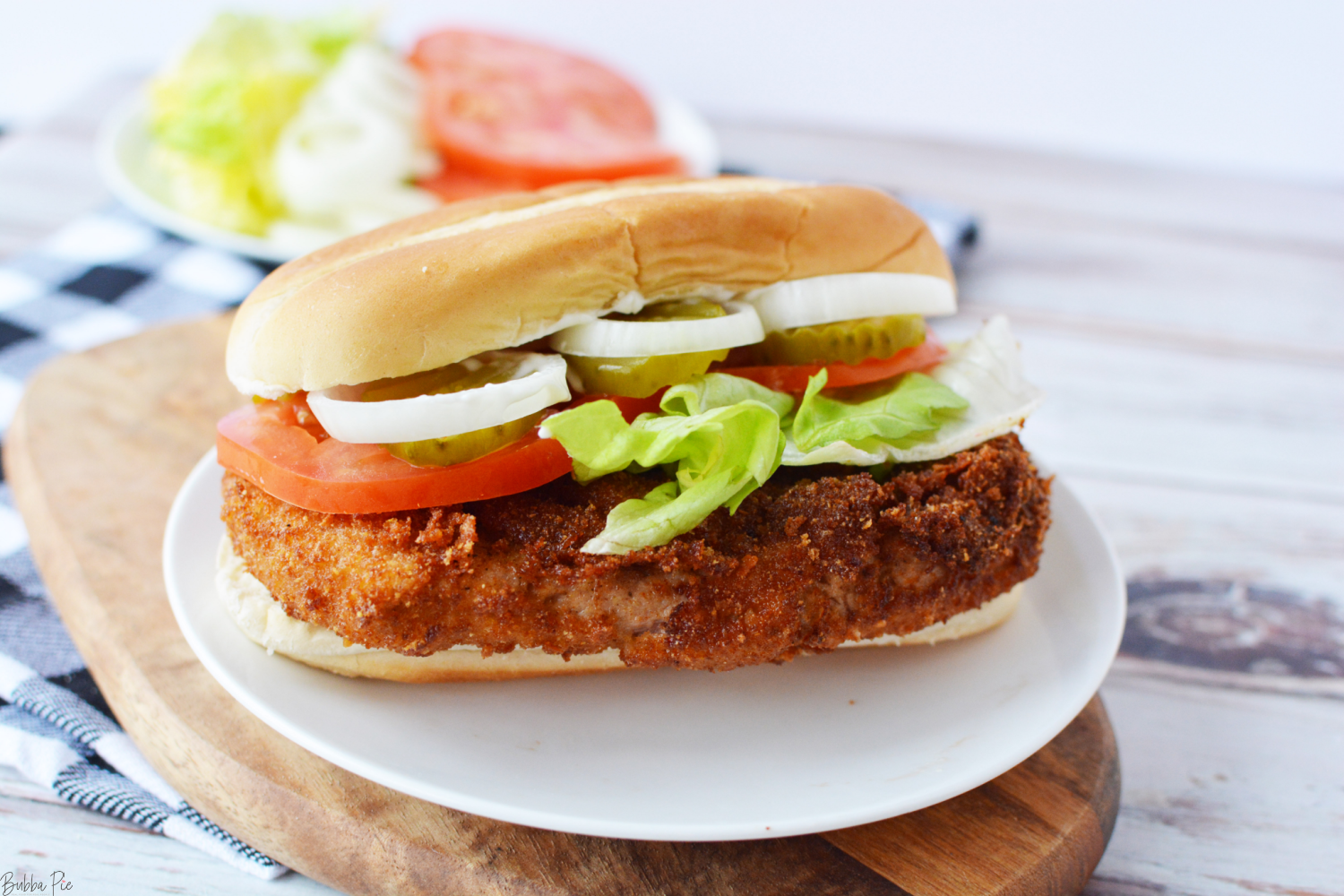 Rate this Recipe
Breaded Pork Tenderloin Sandwich
Growing up in Indiana, the Breaded Pork Tenderloin Sandwich was and is a staple Comfort Food Dish. Here is our easy version of this Hoosier Classic.
Ingredients
4, 4

oz

slices of pork tenderloin

1

cup

buttermilk

1

teaspoon

salt

1/2

teaspoon

garlic powder

1/2

teaspoon

onion powder

1/4

teaspoon

seasoning salt

1/4

teaspoon

marjoram

1/4

teaspoon

oregano

1/4

teaspoon

ground black pepper

1-1/2

cups

bread crumbs

vegetable oil to fry

kaiser rolls

cut in half
Instructions
Place pork into a resealable gallon bag and seal shut. Use a meat tenderizer to flatten cutlet to about 1/4" in size. Repeat until all cutlets are flat.

In a small bowl, add buttermilk and spices. Mix well.

Pour into resealable bag with pork and seal shut. Refrigerate and marinate for 4 hours or overnight, occasionally turning and kneading bag.

Heat a skillet of hot oil.

Place bread crumbs onto a plate or shallow dish.

Remove 1 cutlet from the bag and add to bread crumbs, evenly coating both sides. Let cutlets sit for about 10 minutes on a drying rack.

Fry in a pan for about 6 minutes or until golden brown. Drain on paper plate.

Top a roll with mayonnaise, add cutlet, lettuce, tomato, onion, and pickles and top with remaining roll. Serve immediately.
Nutrition
Love this recipe?
Follow @bubbapie for even more delicious recipes!!