Nothing says "comfort food" like a delicious Apple Recipes. Whether you are using fresh fruit or apple pie filling, a cake mix or bisquick, there are so many delicious combinations that use this popular Fall ingredient!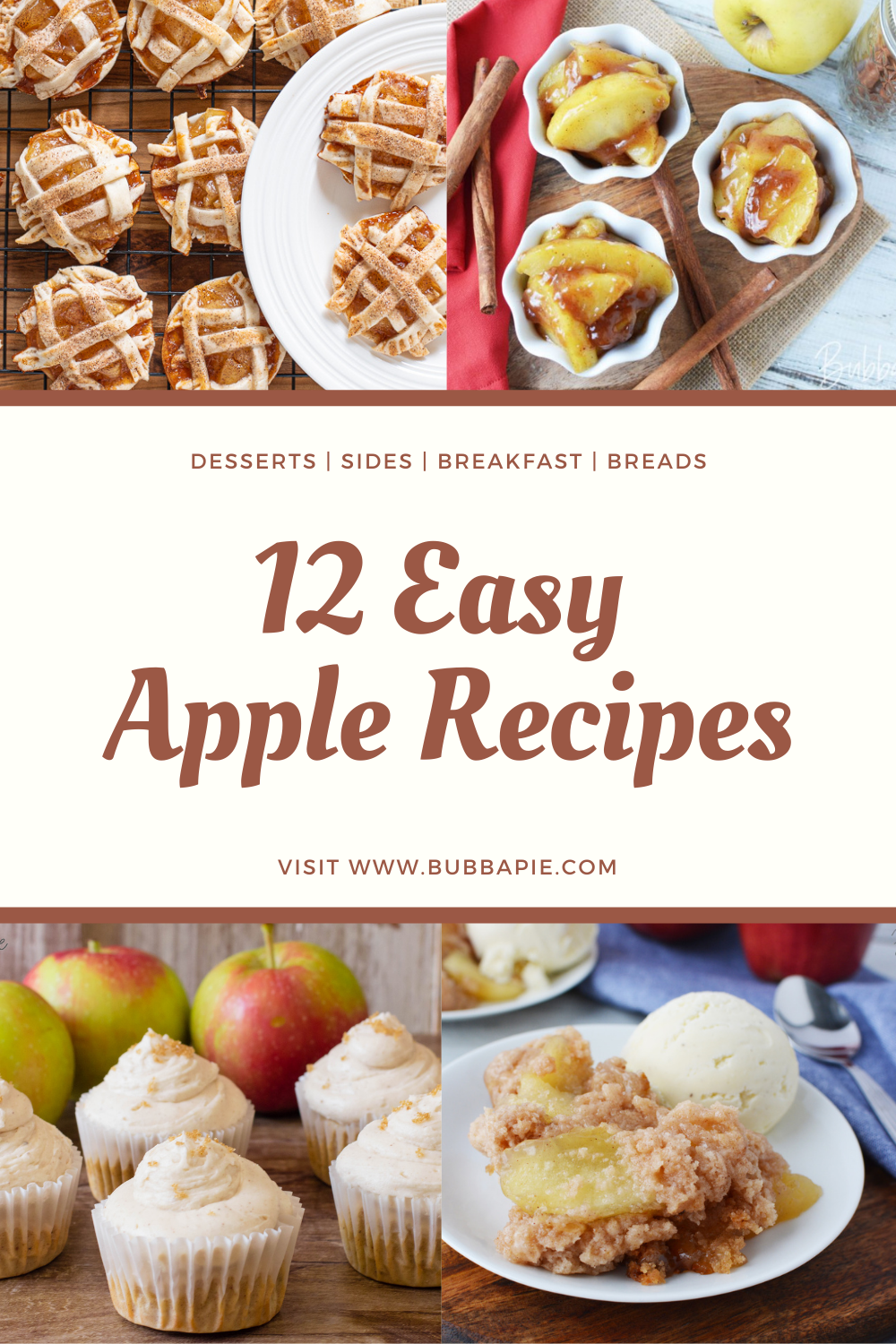 Easy Apple Recipes For the Fall
When Fall rolls around and you start to feel a little chill in the air, you start to think about all those delicious flavors that are popular this time of year. One of our favorite ingredients to use during the Autumn is apples!
Combining crisp apples with other delicious ingredients such as cinnamon, butter, sugar, nutmeg, spice bisquick, pie crust, vanilla ice cream is the best way to enjoy the flavors of the fall. Over the past couple years, we've created and shared some delicious recipes that feature apples on our blog. We thought we'd go ahead and round them all up for you in one place. We've got an assortment of cookies, desserts, breads, breakfasts and side dishes. Let us know which one is your favorite!
Quick and Easy Apple Desserts
COPYCAT CRACKER BARREL FRIED APPLES– Cracker Barrel Fried Apples – This easy southern recipe combines juicy apples with cinnamon, apple juice, nutmeg and a hint of sugar for a perfect copycat recipe. This is comfort food in a bowl!
CROCKPOT APPLE DUMP CAKE– Treat yourself to the ultimate comfort food with this Crockpot Apple Dump Cake. All it takes is four easy ingredients dumped into your Slow Cooker and you will be well on your way to a warm, rich and delicious Apple Cake. I love to top mine with a Scoop of Vanilla Ice Cream!
CARAMEL APPLE SALAD– This Caramel Apple Salad would be a great Fall recipe, but is great anytime of the year. Crisp, tart apples, pudding, peanuts, pineapple all with a nice whipped topping mixed in, topped with sweet and sticky caramel. What's not to love!?!
BISQUICK APPLE COBBLER– This Bisquick Apple Cobbler Recipe is insanely quick and easy. Using only 5 ingredients, you can have an authentic, homemade dessert ready in just a couple of minutes in a few simple steps. This is a great recipe for the Holidays and Thanksgiving. I love to serve mine with Vanilla Ice Cream or a dollop of Whipped Cream.
APPLE PIE COOKIES– This easy Apple Oatmeal Cookie recipe is the perfect dessert for the fall. Using fresh apples, nutmeg, oatmeal and cinnamon makes these cookies super chewy and moist. Enjoy them with a warm cup of coffee on a cold autumn day!
APPLE PIE CAKE– Can't decide whether to have the cake or the pie for dessert after Thanksgiving? Why not have both!?!? This Apple Pie Cake Recipe is SOOO easy. Starting with a simple Yellow Cake Mix, we add a layer of homemade apple cinnamon pie filling and then a top layer of crispy brown sugar. This is one Epic Fall Dessert Recipe that is perfect for the holidays. Thanksgiving will never be the same!
APPLE CINNAMON PANCAKES– Perfect for a quick breakfast treat this Fall, these Easy Apple Cinnamon Pancakes are exploding with all the flavors of Autumn. Made with our favorite shortcut, Bisquick, these pancakes are infused with shredded Apples and just the right amount of cinnamon.
APPLE DAPPLE CAKE– Check out our version of the classic Apple Dapple Cake Recipe. Slices of apple, cinnamon and pecans are all baked together in this super moist bundt cake. The cake is drizzled with a rich Caramel Topping. This dessert recipe is just bursting with Fall Flavors. Yum!
APPLE BANANA BREAD– This Apple Banana Bread Recipe is exploding with Fall flavors. Bananas, Apples, Cinnamon and Brown Sugar in a moist, soft bread are topped with a Vanilla Icing. A simple, easy and fun recipe that gives a new twist on a classic.
APPLE CINNAMON BREAD– This Apple Cinnamon Bread is a soft, delicious treat that combines lightly spiced sweet apples and authentic Fall flavors. Perfect for breakfast, dessert or a midday treat, you've got to try this yummy recipe!
APPLE OATMEAL COOKIES– This easy Apple Oatmeal Cookie recipe is the perfect dessert for the fall. Using fresh apples, nutmeg, oatmeal and cinnamon makes these cookies super chewy and moist. Enjoy them with a warm cup of coffee on a cold autumn day!
APPLE CINNAMON CUPCAKES WITH BUTTERCREAM ICING–

This recipe for Apple Cinnamon Cupcakes with Buttercream Frosting is the perfect Thanksgiving Dessert or tasty treat for anytime in the fall. The apples and yogurt combine to make the cupcake super moist. And the Buttercream Frosting has a hint of cinnamon in it to give it the perfect flavor for the Autumn season.

APPLE COBBLER WITH CAKE MIX – This Apple Cobbler with Cake Mix is a quick and easy dessert that is exploding with Fall Flavors! Tender, delicious apple filling mixture is topped with a buttery crumb-topping. Just a couple of simple ingredients and a couple minutes of prep and this Apple Dump Cake will be in your oven baking to bubbly perfection!
We hope that you enjoy all these delicious Fall flavors with these apple recipes. We'd love to hear your comments on which one you are most excited to make this Fall. Enjoy and stay warm!