Fall into the warm embrace of autumn flavors with our delectable Apple Bundt Cake. Loaded with cinnamon-spiced apples and topped with a sweet glaze, it's the perfect treat to savor the season.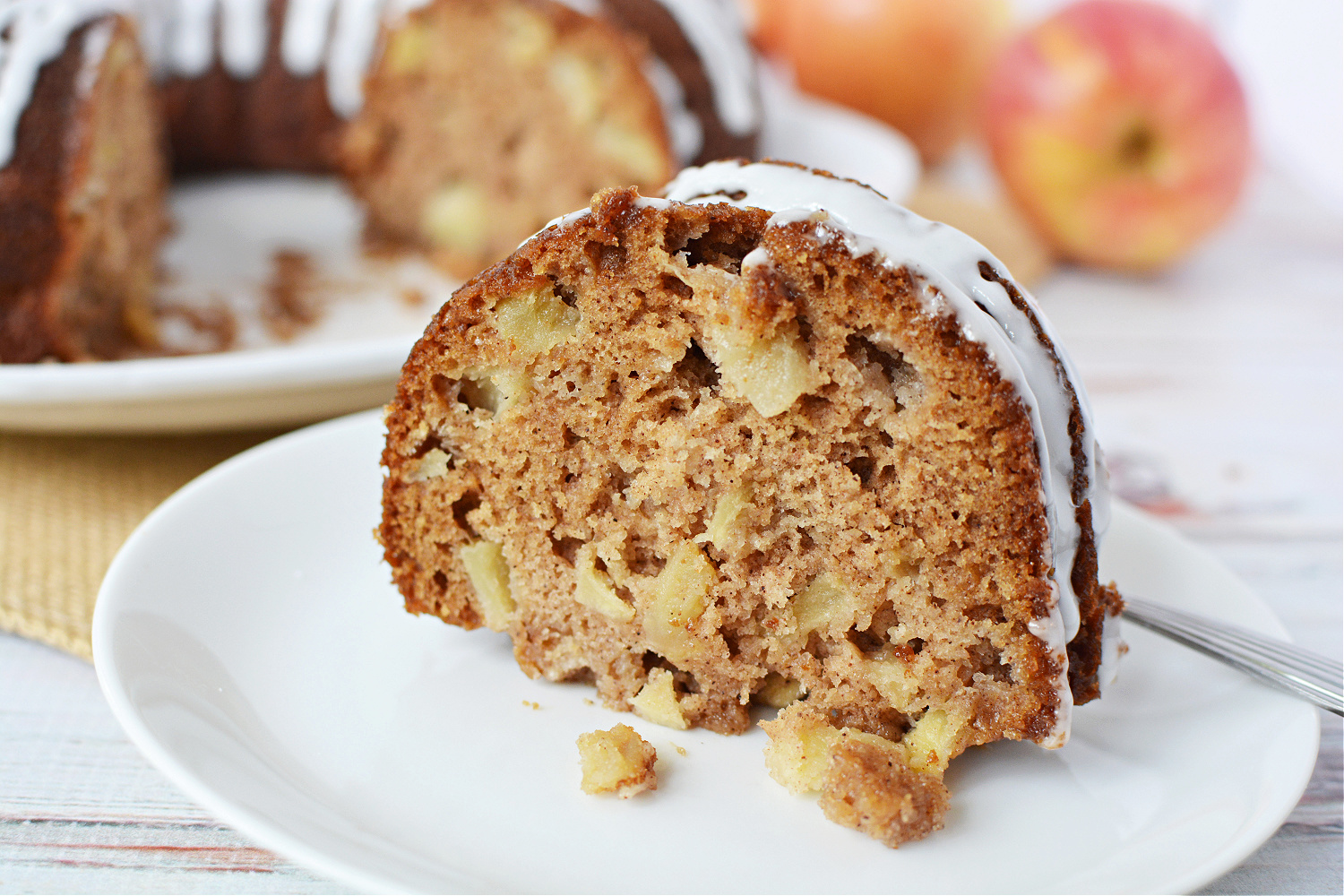 Why You Will Love Our Apple Bundt Cake
SEASONAL DELIGHT – This delicious recipe captures the essence of Fall with its comforting aroma and warm, cinnamon-spiced flavors, making it an ideal dessert to enjoy during this time of year.
MOIST AND TENDER – The grated apples in the batter keep this cake incredibly moist and tender, ensuring that every slice is a melt-in-your-mouth experience.
SIMPLE, EASY RECIPE – Our recipe is super easy and perfect for beginning bakers. Or this is a fun one to let the kids help out with! The bundt pan creates a stunning, elegant presentation without the need for intricate decorating.
A TREAT FOR ANY OCCASION – Whether served as a casual afternoon treat, a cozy family dessert, or even as a show-stopping centerpiece at special gatherings, this cake's versatility makes it a go-to option for various occasions.
Apple Bundt Cake Recipe
FLOUR – Any brand will work.
GROUND CINNAMON – Gives our cake that comforting zest that works so well with the apples.
BAKING SODA – A leavening agent that gives this cake it's soft, fluffy texture.
SALT – It's always import to use salt when baking to offset the sweetness of the cake.
GRANULATED SUGAR – We use a combo of white and brown sugar for the perfect balance of sweetness.
BROWN SUGAR –
UNSWEETENED APPLESAUCE – Make sure you use unsweetened in this recipe.
VEGETABLE OIL – Baking with oil helps keep this Bundt Cake ultra moist.
EGGS – If possible, let you eggs come to room temperature before using them.
VANILLA EXTRACT – We always recommend using a high quality vanilla extract in all baking recipes.
DICED APPLES – Make sure they are peeled. See below for some of the best apples to use in this recipe.
POWDERED SUGAR – Also called Confectioner's Sugar. It's combined with the water to make your icing.
WATER – For a thicker, richer icing, you can combine the powdered sugar with half and half or heavy cream.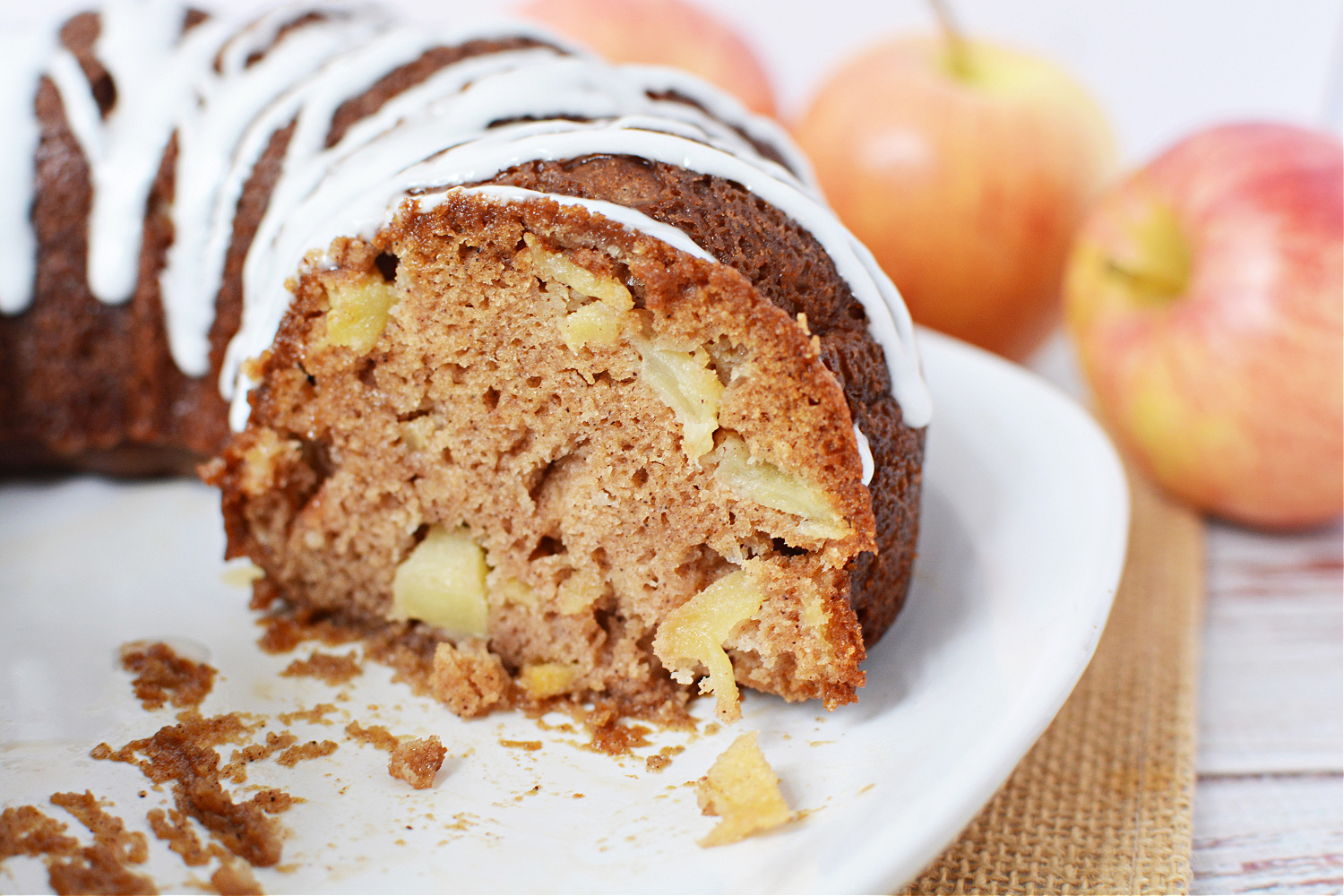 Storage and Freezing
Store your Apple Bundt Cake in an airtight container at room temperature. You cake should stay good for about 4-5 days. You can freeze Apple Bundt Cake. I'd let the cake fully cool and slice into individual servings. Wrap in freezer wrap or a freezer bag and it will be good in your freezer for 3-4 months. You can thaw at room temperature.
What Are The Best Apples To Use When Baking?
When making an apple Bundt cake, it's best to choose apples that have a balanced sweet-tart flavor and hold their shape well during baking. Some apple varieties that work well in apple Bundt cakes include:
Granny Smith – These tart apples provide a nice contrast to the sweetness of the cake and hold their shape, adding a pleasant tanginess to each bite.
Honeycrisp – Known for their sweet and slightly tart flavor, Honeycrisp apples add a wonderful natural sweetness and a crisp texture to the cake.
Jonagold – Jonagold apples are a great choice because they offer a nice balance of sweetness and tartness and hold up well in baking, maintaining their texture.
Braeburn – Braeburn apples have a sweet-tart flavor profile and maintain their shape when baked, making them a good choice for adding both flavor and texture to your Bundt cake.
Fuji – Fuji apples are sweet and slightly crisp, making them a delicious addition to the cake, especially if you prefer a sweeter flavor profile.
Gala – Gala apples are sweet and aromatic, which can enhance the overall sweetness and aroma of the cake.
It really is all up to what your preferences are. You can even mix and match apples for a more complex flavor profile!
Notes, Tips and FAQs
LET THE CAKE COOL – Make sure you let you cake fully cool before adding your icing.
PREPARE THE BUNDT CAKE PAN – Make sure the pan is well greased before adding your batter.
ADD NUTS – This cake would taste great with some walnuts or pecans in it!
USE A DIFFERENT GLAZE – Substitute the icing for a caramel or a maple glaze.
BOOZY APPLE BUNDT CAKE – Add a splash of rum, brandy, or apple brandy to the batter for a delightful boozy kick. You can also soak dried fruits like raisins in the alcohol before adding them to the cake.
LOOKING FOR MORE DELICIOUS APPLE DESSERT FOR THE FALL? CHECK OUT:
We hope you enjoy this Apple Bundt Cake. Let us now how it turns out in the comment section!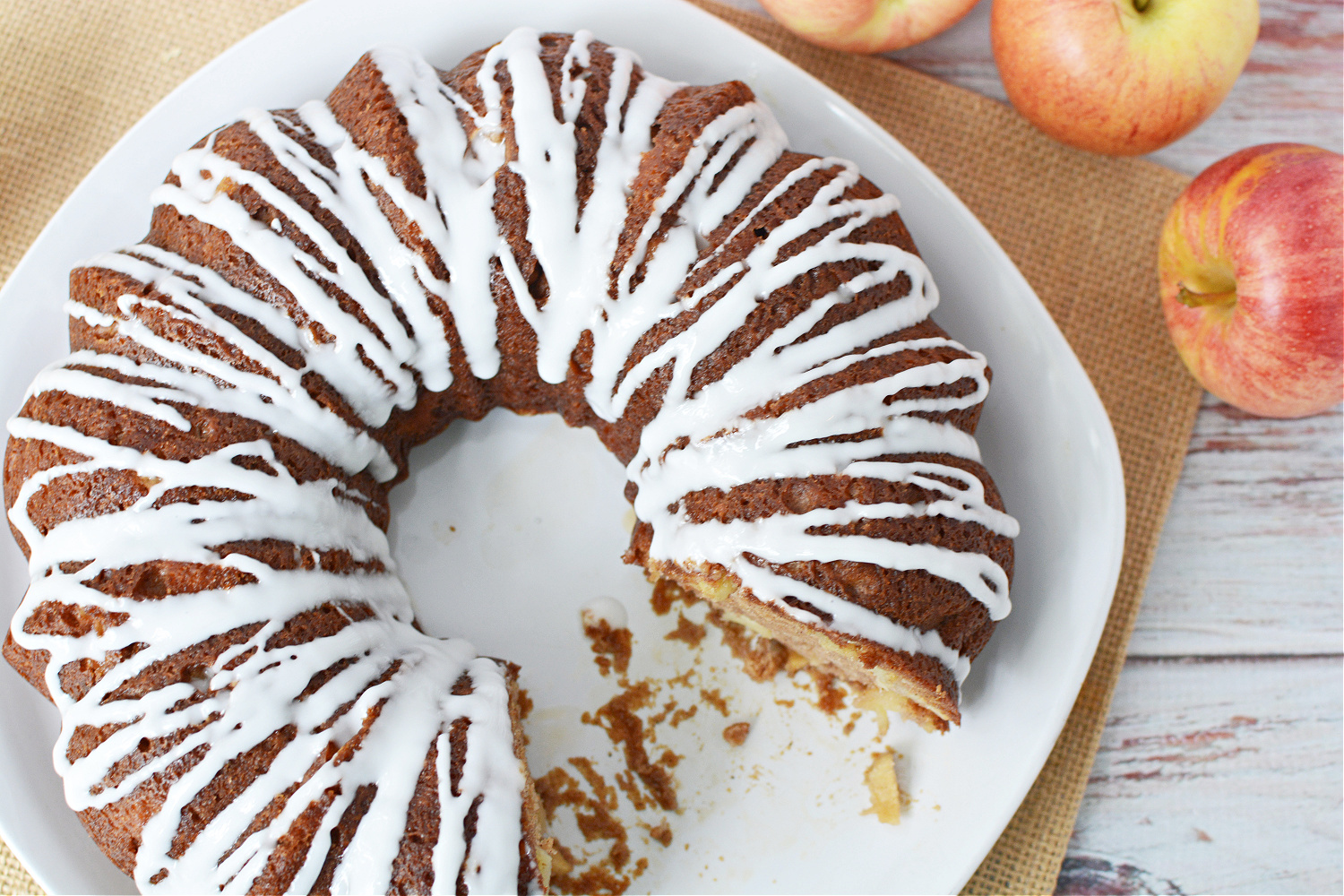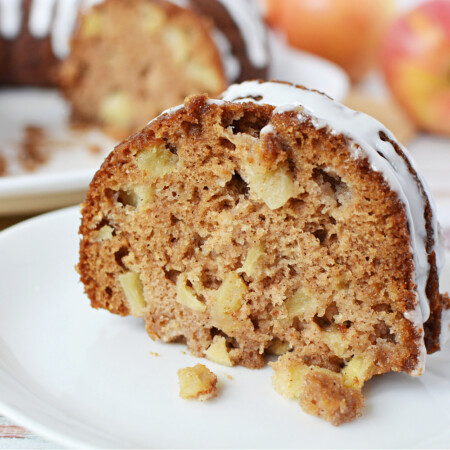 Rate this Recipe
Apple Bundt Cake
Fall into the warm embrace of autumn flavors with our delectable Apple Bundt Cake. Loaded with cinnamon-spiced apples and topped with a sweet glaze, it's the perfect treat to savor the season.
Ingredients
2

cups

all purpose flour

2

teaspoons

ground cinnamon

1

teaspoon

baking soda

1/2

teaspoon

salt

3/4

cup

granulated sugar

1/2

cup

brown sugar

1/2

cup

unsweetened apple sauce

1/2

cup

vegetable oil

2

eggs

1

teaspoon

vanilla

4

cups

diced apples

peeled

1/2

cup

powdered sugar

1-2

teaspoons

water
Instructions
Preheat oven to 350 and grease a bundt pan with nonstick cooking spray. Set aside.

In a small bowl, combine flour, cinnamon, baking soda and salt and mix well. Set aside,

In a larger mixing bowl, combine sugars, apple sauce, oil, eggs and vanilla.

Apples and mix well.

Add flour mixture to the batter and mix until just combined.

Pour batter into prepared Bundt pan and bake for 40-50 minutes or until a toothpick inserted into the center comes out clean.

Let cake cool for 10 minutes and place a serving platter upside down on top of the pan. Flip the pan and plate over to remove the cake from the pan and onto the plate. Let cool completely before glazing.

When ready to serve, mix together powdered sugar and water. You want the mixture to be a little thick but still fall off a spoon. Place powdered sugar in a resealable sandwich bag and seal shut. Snip the tip of the bag and drizzle it on top of the bundt cake. Let stand to set and slice and serve.
Nutrition
Love this recipe?
Follow @bubbapie for even more delicious recipes!!