This Apple Cider Donut Cake is full of Fall Flavors. Moist and delicious, it's the perfect combination between the famous Apple Cider Donut you get at your favorite apple orchard and a Bundt Cake!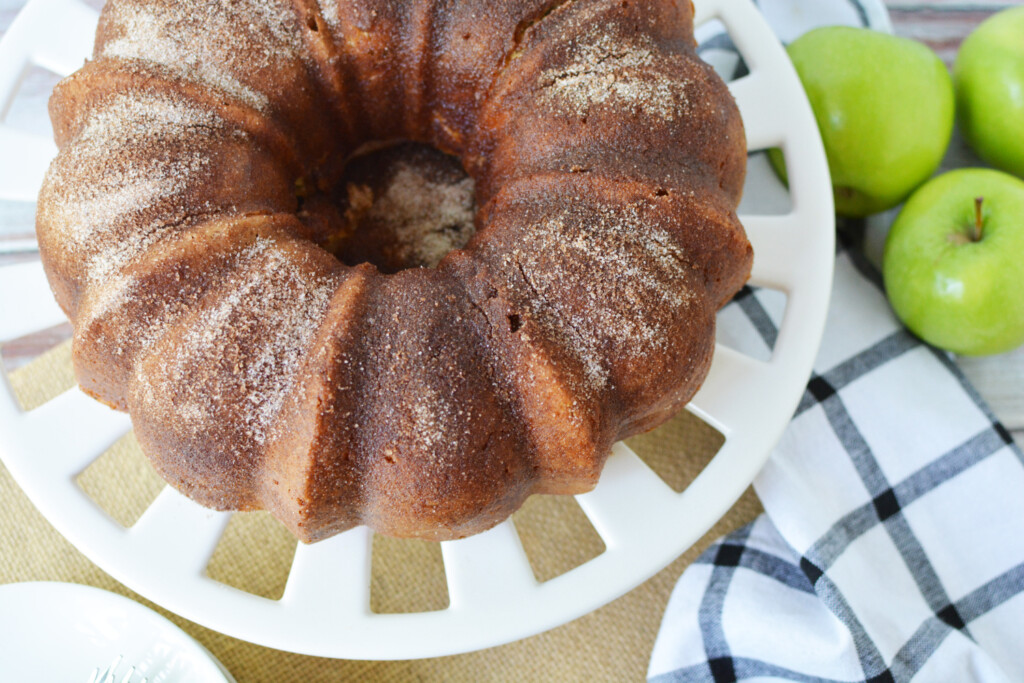 Why You Will Love Apple Cider Donut Cake
FUN FALL FLAVORS – As autumn rolls in, we are all looking for delicious recipes that use Apples, Cinnamon, nutmeg and other Fall Flavors. This Bundt Cake is perfect for that time of year. It could even be a new Thanksgiving Dessert to try out!
ALL THAT DONUT FLAVOR, NONE OF THE HASSLE! – An Apple Cider Donut is absolutely delicious. And I'm sure there are homemade versions of it out there. But it's a little time consuming to make and fry a whole bunch of individual donuts. This recipe gives you all that flavor, but in a bundt cake form. It's a much simpler recipe!
EASY – We use store bought cake mix as our base. And that makes this recipe pretty quick and easy. It's the ultimate shortcut!
How To Make Apple Cider Donut Cake
Delicious, moist apple cake covered in a cinnamon sugar topping? Yes please! Ready to get started! For step-by-step instructions, check out the printable recipe card below. But here is what you'll need to get started:
Apple Cider Doughnut Cake Ingredients
YELLOW CAKE MIX – Yellow Cake Mix is best for this recipe. You can just any brand: Betty Crocker, Duncan Hines, etc… But you could also substitute White Cake Mix, Vanilla Cake Mix, Spice Cake Mix or even Carrot Cake Mix.

GROUND CINNAMON – You'll be using cinnamon both in your cake batter and also as a Cinnamon Sugar Coating.

NUTMEG – Nutmeg helps give this cake an infusion of Fall Flavor!

BUTTER – Unsalted butter. Melted.

APPLE CIDER – Not Apple Juice! The better quality of apple cider you can use, the better this cake will be. So if you any find any fresh apple cider made in season, go for it!

LARGE EGGS – Allow to come to room temperature before using.

APPLES – Peeled and shredded.

WHITE SUGAR – To be combined with cinnamon to make our cinnamon sugar topping. You can also use coarse white sugar if you'd like.
Storage and Freezing
You don't need to keep this cake refrigerated. Store it in an Airtight Container at room temperature. It should stay good for about 5 days.
Apple Cider Donut Cake freezes well! Just let the cool to room temperature and wrap in freezer wrap. It should be good in your freezer for up to 4 months. Allow to thaw at room temperature.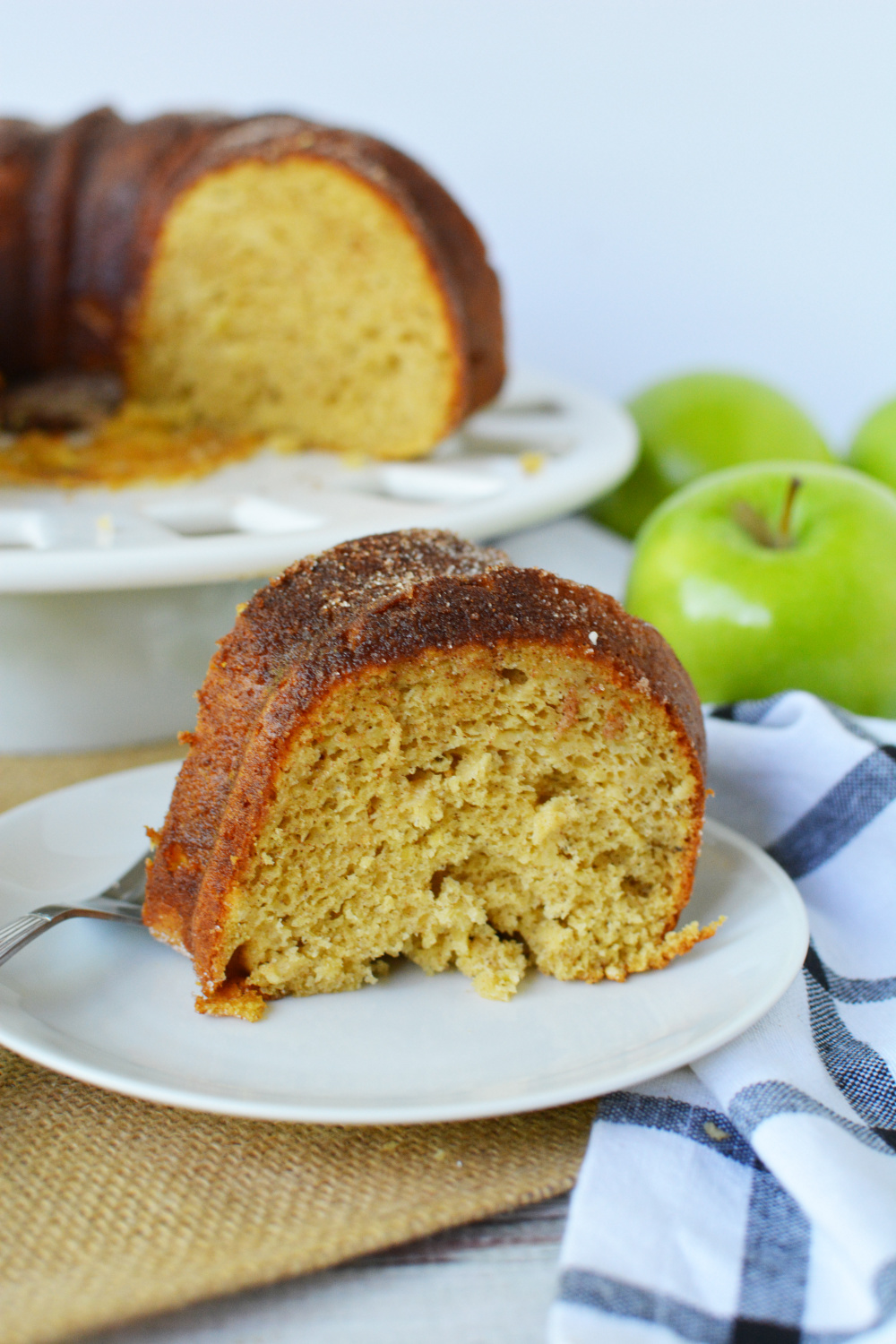 Can You Make This Cake Into Muffins?
Yep! You sure can! Just follow the instructions through step 4. But instead of pouring it into a Bundt Pan, pour the cake mixture into a lined cupcake tin. Fill the liners up about 2/3 of the way. Bake at 375 for about 12-13 minutes. Stick a toothpick or a cake tester in the middle to see if it is done. If it comes out clean or with just a few moist crumbs, then the cupcake are done!
Notes, Tips and FAQs
WHAT SIZE BUNDT PAN SHOULD YOU USE? – We used a standard sized 10-inch Bundt Cake Pan (12 cup bundt pan). You can use other sizes, or Tube Cake Pans, but note that the cooking times may differ.
HOW TO GET YOUR BUNDT CAKE OUT OF THE PAN – First of all, you want to make sure you thoroughly grease and flour the bundt cake pan. Next, you'll want to let the cake cool as much as possible before trying to transfer it out of the pan. One mistake that we made was to transfer our cake from the pan onto a wire rack with parchment paper. The cake stuck to the paper. While we do recommend a wire cooling rack. We'd skip the wax paper next time.
BEST WAY TO SHRED APPLES? – We just used a Cheese Grater to shred the apples and it worked great.
DON'T OVERMIX – When combining the wet ingredients and the dry ingredients in a large mixing bowl, don't over mix. Fold them together until they are just combined.
ADD CINNAMON SUGAR MIXTURE – When adding the Cinnamon Sugar on top, brush the bundt cake with butter and let the butter set for just a minute or two. Just enough to start to get a little sticky, so that it will trap the cinnamon sugar on the bundt cake.
HOW TO SERVE – Serve with a scoop of vanilla ice cream, whipped cream and/or drizzle a little caramel sauce over the top.
We hope you enjoy this Apple Cider Donut Cake Recipe. It makes a delicious Fall Treat! Please let us know how you liked it in the comment section!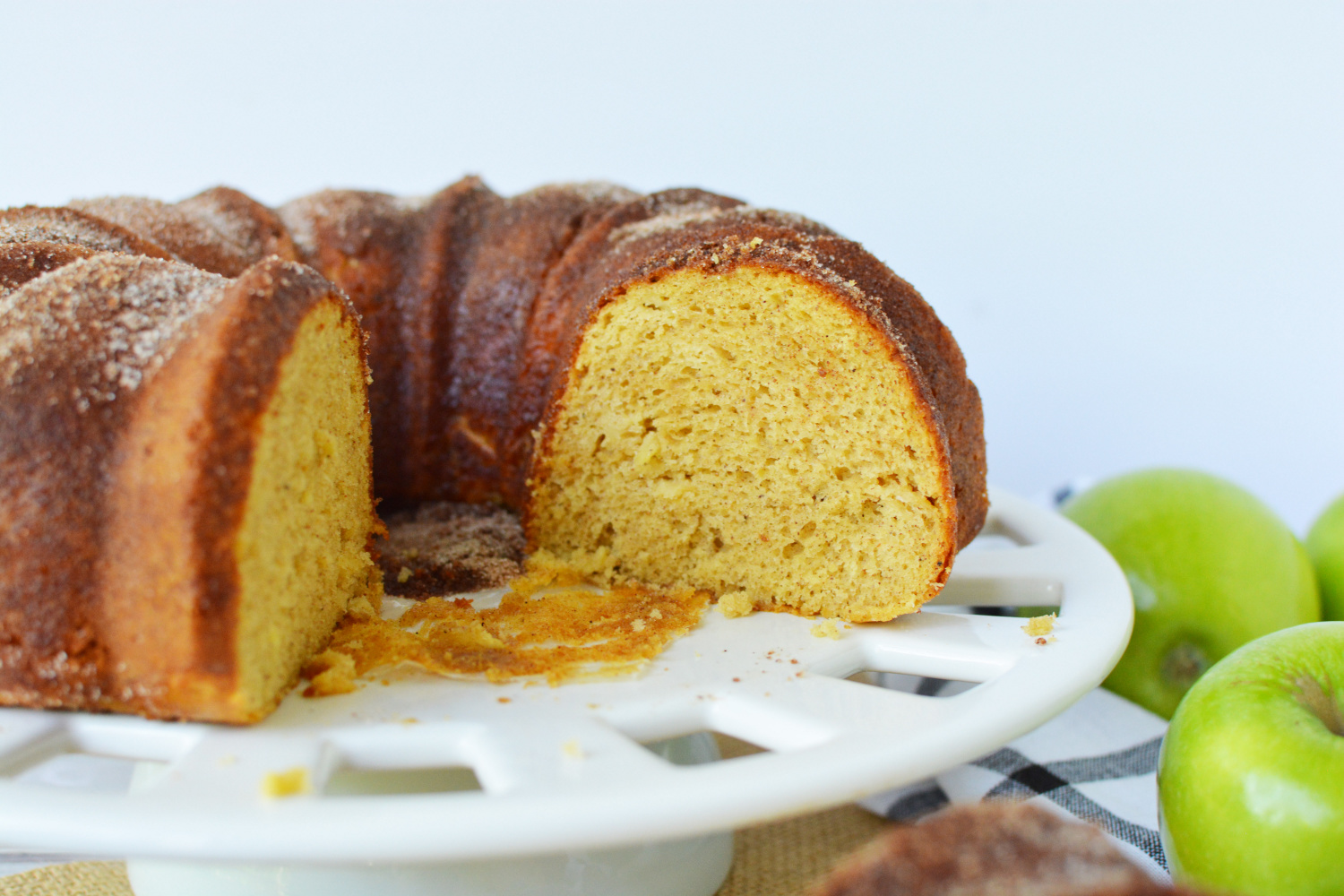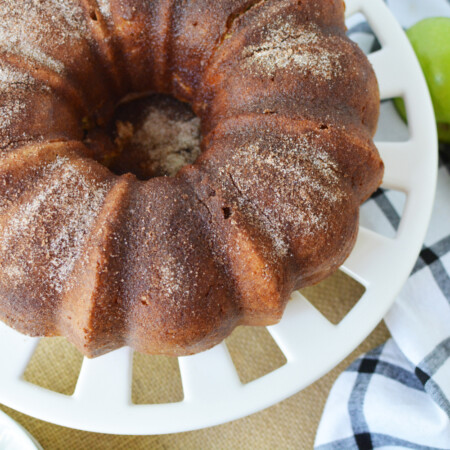 Rate this Recipe
Apple Cider Donut Cake
This Apple Cider Donut Cake is full of Fall Flavors. moist and delicious! It's the perfect combination between the famous Apple Cider Donut you get at your favorite apple orchard and a Bundt Cake!
Ingredients
1

box

15.25 oz, yellow cake mix

2

teaspoons

ground cinnamon

1

teaspoon

nutmeg

1/2

cup

melted butter

3/4

cup

apple cider

4

eggs

1

cup

apples

peeled and shredded

3

tablespoons

butter

melted

1/4

cup

white sugar

1

tablespoon

ground cinnamon
Instructions
Preheat oven to 350 and grease and flour a bundt cake pan. Set aside

Mix together cake mix, cinnamon and nutmeg.

Add butter, cider and eggs and beat well for 2 minutes.

Fold in apples.

Pour into prepared pan and bake for 30-40 minutes or until center when inserted with a toothpick is done. Let stand to cool for 20 minutes in the pan.

Invert the cake onto a serving platter and remove the pan. Let stand to cool completely or just until warm to add cinnamon sugar topping.

To add cinnamon sugar topping, mix together sugar and cinnamon. Brush melted butter onto the cake.

Wait a minute two, then sprinkle with cinnamon sugar. Slice and serve.
Nutrition
Love this recipe?
Follow @bubbapie for even more delicious recipes!!