These Cinnamon Apple Pancakes are an easy, delicious breakfast treat exploding with Fall Flavors. Made with our favorite shortcut, Bisquick, these pancakes are infused with shredded Apples and just the right amount of cinnamon.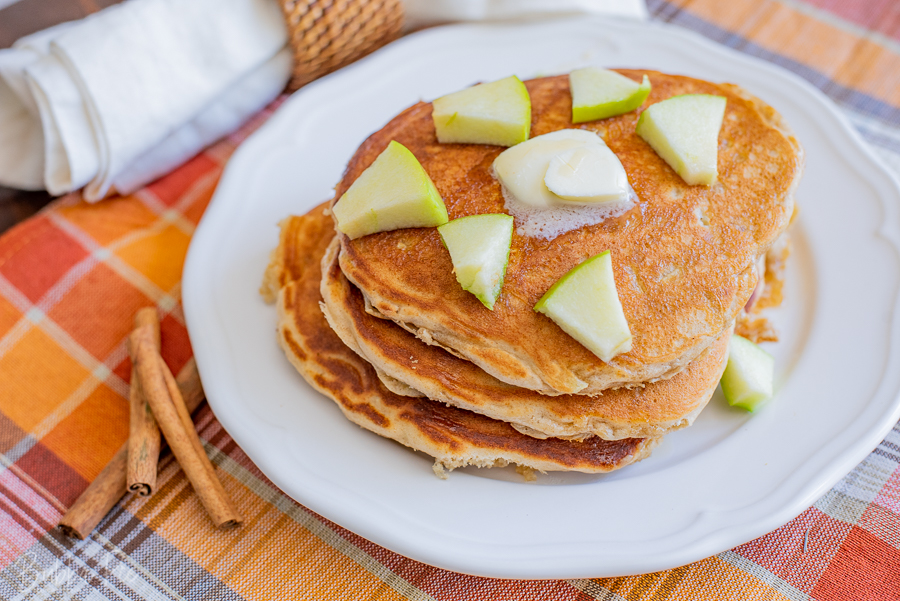 Why You Will Love Cinnamon Apple Pancakes
EASY – No need to wake up early for this pancake recipe! We use Bisquick to make these pancakes and they are so quick and simple!
DELICIOUS – Say goodby to boring, normal pancakes. These pancakes are full of apple, cinnamon and vanilla flavors and then topped with your favorite topping. Yum and yum!
FALL FLAVORS – This time of year, we are always looking for Apple Flavored treats. This is a great way to enjoy the season in a new recipe!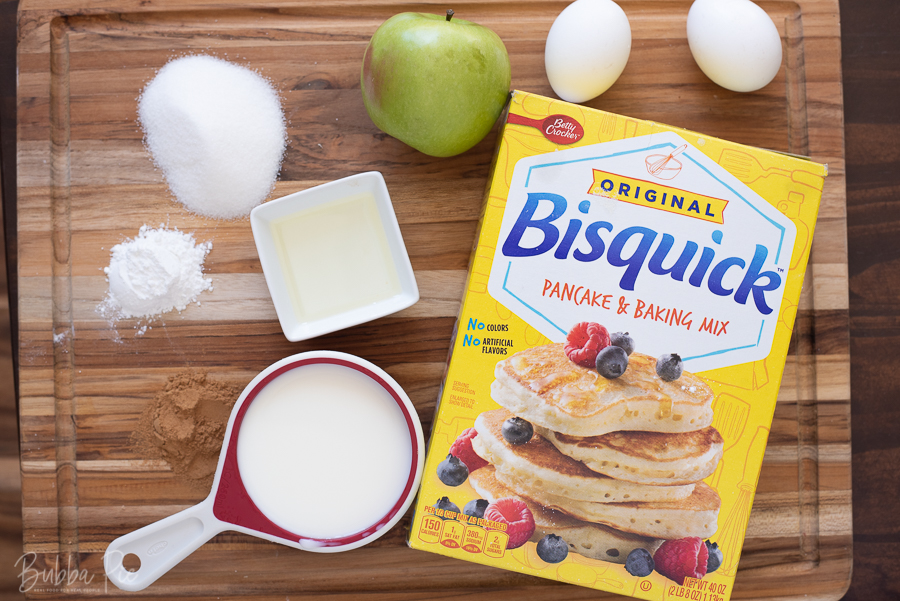 Apple Cinnamon Pancakes
This recipe is SOOO easy to make. That is mostly because it is using one of our favorite ingredients: Bisquick! For step-by-step instructions, check out the printable recipe card below.
Bisquick Mix
Milk
Eggs
White Sugar
Baking Powder
Vegetable Oil
Vanilla Extract
Cinnamon
Granny Smith Apple, Peeled and Shredded
What Is The Best Apple For Apple Cinnamon Pancakes?
It's always good to bake with a firmer apple that will hold it's shape in the recipe. We almost always use Granny Smith Apples for recipes like this. You could also use Jonagold, Braeburn or even Honey Crisp Apples. Just note that some apples are sweeter than Granny Smith Apples. Honey Crisps are VERY sweet!
Can You Freeze Pancakes?
Yep! Pancakes freeze great! Just allow them to cool to room temperature, divide them with parchment paper and put in a freezer bag or freezer safe container. They will be good for about 4 months. You can reheat them in the microwave, or better yet, just pop them in the toaster.
Notes, Tips and Variations
What Cookware To Use– We cook our pancakes on a hot griddle or non-stick pan over a medium heat. We either spray it with a cooking spray or put some butter into the pan to melt and then cook the pancakes in that. Either way works. The butter can give your pancakes a nice crispy edge to them!
Add Nuts- Sprinkling these with some crushed Pecans, Walnuts or almond slivers would be delicious! Our son is allergic to tree nuts so we opted out of that.
How To Know When To Flip Your Pancakes- When bubbles start to form in the middle of your pancakes and the edges just start to get golden-brown, you know it's time to flip them!
Other Toppings- Other toppings could be powdered sugar, whipped cream, a drizzle of caramel sauce. Or for a really decadent treat, pour some warm apple pie filling on top.
Don't Overmix- When making the pancake batter, stir the dry ingredients and the wet ingredients together, don't overmix, or you pancakes may turn dry and dense. Whisk until the mixture is just incorporated.
LOOKING FOR MORE RECIPES FOR THE FALL? CHECK OUT: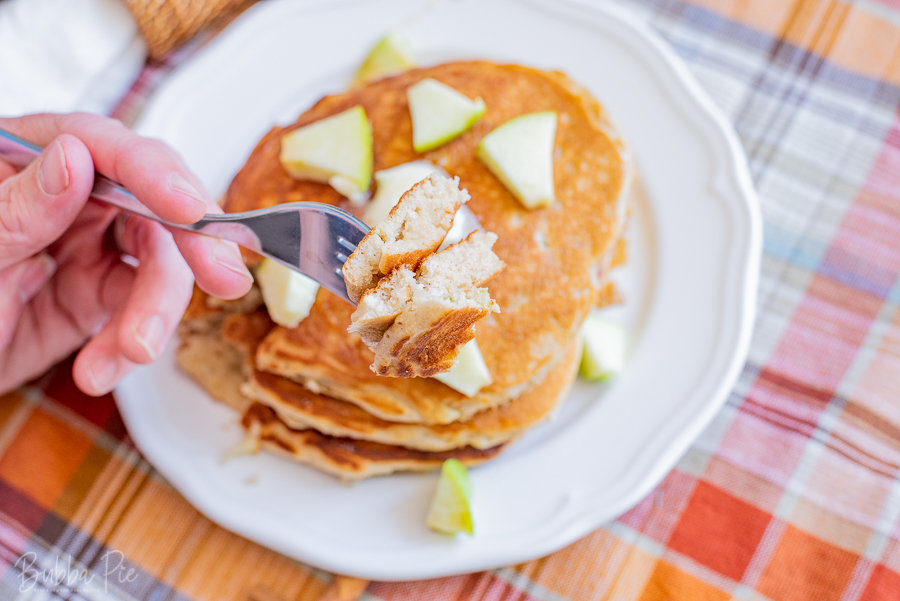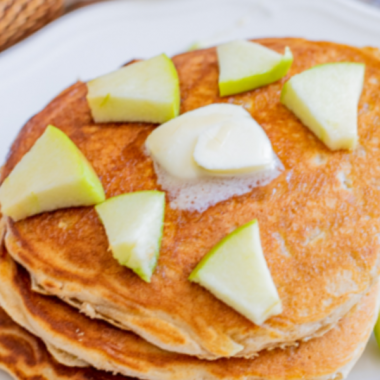 Rate this Recipe
Easy Apple Cinnamon Pancakes
Perfect for a quick breakfast treat this Fall, these Easy Apple Cinnamon Pancakes are exploding with all the flavors of Autumn. Made with our favorite shortcut, Bisquick, these pancakes are infused with shredded Apples and just the right amount of cinnamon. 
Ingredients
2

Cups

Bisquick Mix

1

Cup

Milk

2

Eggs

3

Tbsp

White Sugar

2

Tsp

Baking Powder

2

Tbsp

Vegetable Oil

1

Tsp

Vanilla Extract

1

Tsp

Cinnamon

1

Apple

Peeled and Shredded
Instructions
Heat up a large non-stick skillet over medium-low heat.

Combine all ingredients into a large bowl until smooth.

Pour batter into circles on the skillet about 3-4 inches in diameter.

When you see the batter starting to bubble in the middle, flip over.

Top with butter and maple syrup or whatever toppings you enjoy.
Nutrition
Love this recipe?
Follow @bubbapie for even more delicious recipes!!