These Apple Pie Cookies have caramel and apple pie filling baked into flakey individual pie crusts. Each one is topped with cinnamon sugar for a fun, delicious dessert all in one hand pie. These Mini Pies are exploding with Fall Flavors and are perfect for Thanksgiving.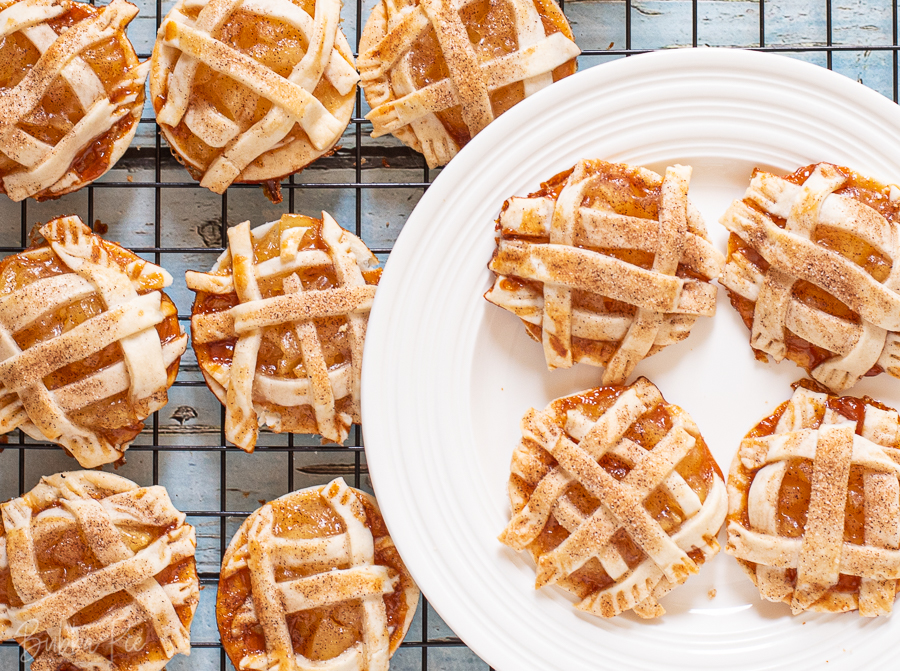 Why You Will Love Apple Pie Cookies
FULL OF FALL FLAVOR – With apples, cinnamon and caramels flavors packed into each delicious bite, these cookies are perfect for the Autumn months.
BEAUTIFUL PRESENTATION – These cookies are perfect to bring to a potluck, pitch in or cookie exchange around the holidays. Each one looks like a mini apple pie. Everyone will be pretty excited to try these!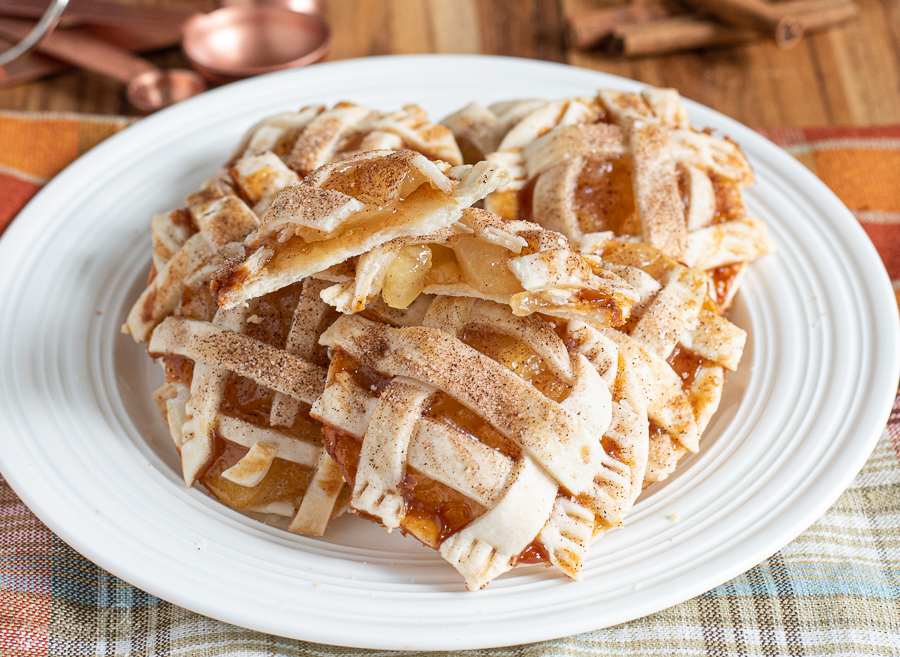 What Are Apple Pie Cookies?
These are also sometimes called Hand Pies or Mini Apple Pies, because they are basically like holding a whole apple pie in the palm of your hand! We've made our Apple Pie Cookie recipe even more special by adding a layer of caramel at the bottom and then topping them with an egg wash and cinnamon sugar. As the caramel cooks, it bubbles out of the cookie a bit and crystallizes on the edges. The same goes for the cinnamon sugar on top. The bake up into that beautiful golden brown! So you get a slight crisp when you bite down, but not for long! The apple pie filling is there to soften the blow and each bite is an experience you have to taste to believe!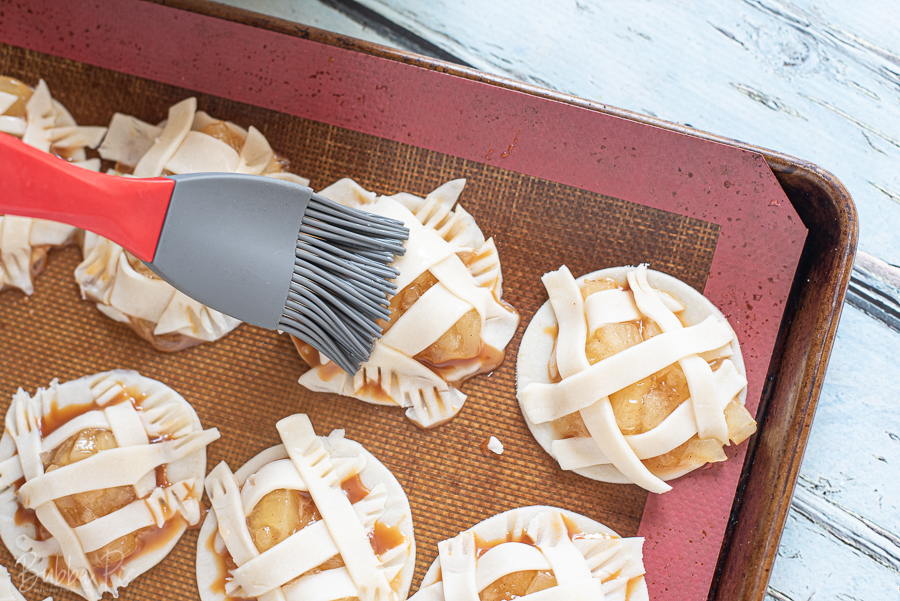 How To Make Apple Pie Cookies
While this is certainly an easy recipe (there are only 5 ingredients), there is a bit of labor involved. Mostly to make the lattice crust. That being said, once you do a couple of these, you'll start to get pretty good at them and it's totally worth it because the look SO COOL! Then all you've gotta do is bake them in the oven!
We use store bought refrigerated pie crust. Yes, you can make your own pie crust and apple filling. I am certain there are plenty of great food blogs out there to give you instructions on that. But, honestly, that isn't what we are about here at Bubba Pie. We want real food, real good, real easy! Ready to get started? Here is all you'll need:
PIE CRUSTS – You'll need two pie crusts, usually each package comes with two. One pie crust for the bottom and one for the lattice on top.
APPLE PIE FILLING – One can of store-bought apple pie filling makes this recipe so easy!
CARAMEL SAUCE – Any brand will do.
EGG WHITE – One egg white to brush on top of lattice.
CINNAMON SUGAR – Use however much you want to sprinkle on top of these cookies.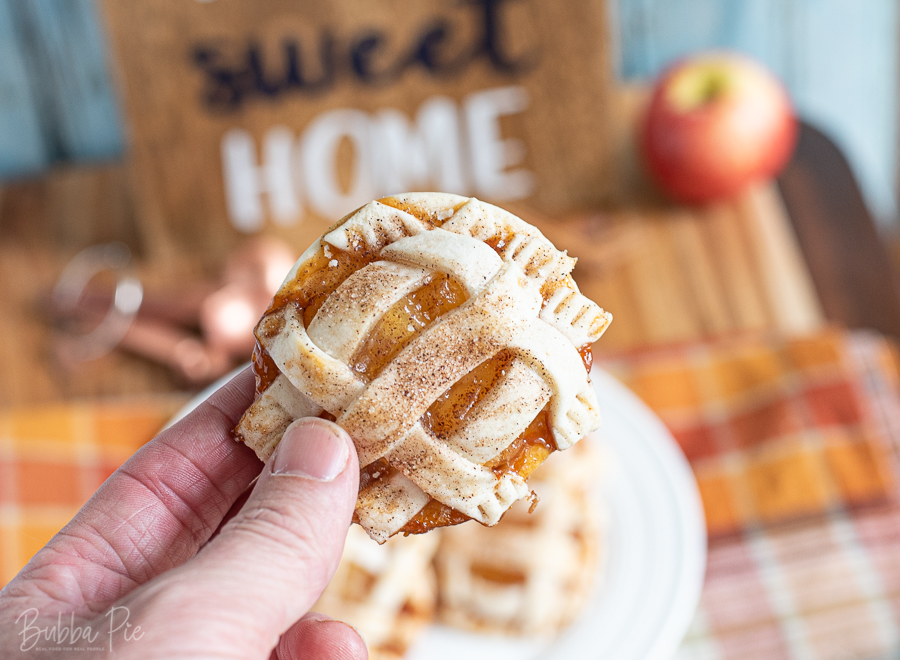 Storage and Freezing
You can keep these in an airtight container at room temperature. Or wrap them in plastic wrap. They should stay good for about 4-5 days.
These cookies do freeze well. Just let them fully cool and put them in freezer wrap or a freezer bag (or both). They will be fine in your freezer for up to 4 months. Let thaw at room temperature.
Notes, Tips and Variations
NOT A FAN OF APPLES?- No problem. You can easily substitute in any pie filling. Cherry, blueberry, whatever you wanna try!
WHAT ABOUT ALL THAT LATTICE CRUST?- There are a ton of tutorials on the web for the best way to do a lattice tops. As you can see from my pics, some of my mini apple hand pies were better than others. If I was making these for guests, I may have spent some more time on it. I just kinda cut long strips out of the second pie crust, placed two of the one way, then two or three the other way, and then a last one the original way on top. It pretty quick and easy once I got the hang of it. You can use a bit of flour on your hands to prevent them from sticking. I know, that's not a real lattice pie crust but I really don't care. These still tasted awesome!
CUTTING YOUR DOUGH- The two invaluable tools I used to cut my pie dough were a round cookie cutter to cut the bottoms of the cookies and a pizza cutter to cut the lattice. If you don't have a circle cookie cutter, you can use the rim of a glass or even the can that the apple pie filling came in! It also helps to cut and prepare them on a cookie sheet with parchment paper.
COLD DOUGH IS YOUR FRIEND- Most instructions on packages of dough say to let the set out for 15 minutes before using. I've found that working with the pie crust while it is colder is a bit easier. The whole process of cutting the pie crust, filling them up and putting the lattice on should take about 15 minutes anyways. So, no need to let it set out.
NUTMEG- For an added dash of fall flavor, sprinkle a little nutmeg in with your cinnamon sugar.
EAT WITH ICE CREAM – Just because this isn't a real pie, doesn't mean you can't warm them up a bit and serve them with vanilla ice cream!
I hope you enjoy this recipe for Apple Pie Cookies. Let me know how they work out for you in the comments!
LOOKING FOR MORE APPLE DESSERTS? CHECK OUT: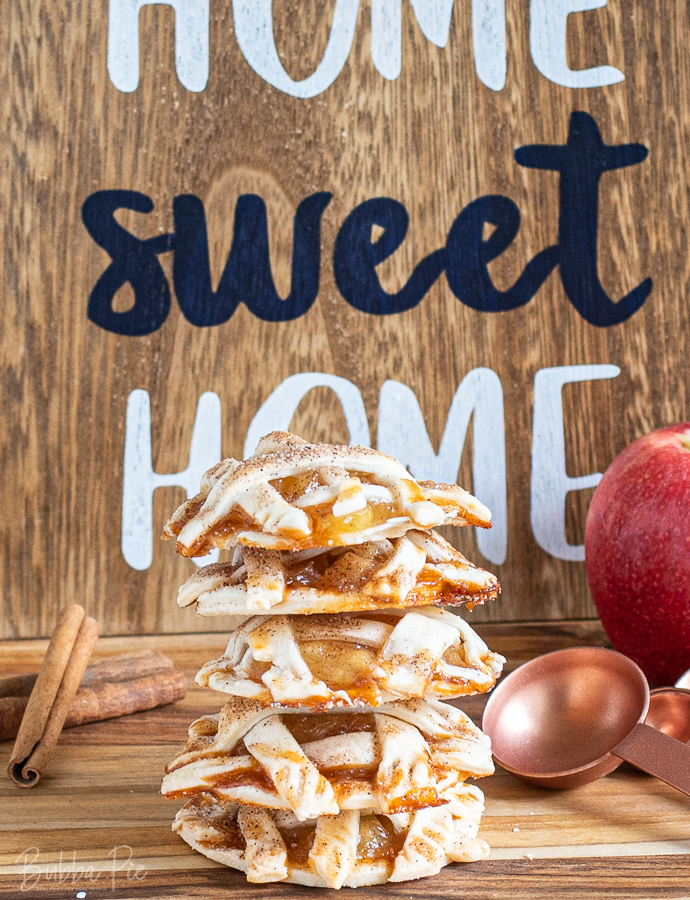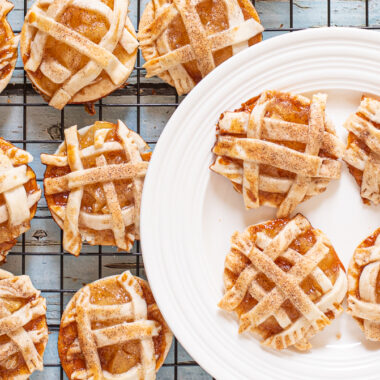 Rate this Recipe
Apple Pie Cookies
These Apple Pie Cookies have caramel and apple filling baked into individual pie crusts. Each one is topped with cinnamon sugar for a fun, delicious dessert all in one mini hand pie. 
Ingredients
1

package of 2 pie crusts.

10

oz

of Apple Pie Filling

2

oz

of Caramel Sauce

1

egg

egg white

Cinnamon Sugar to taste

Notes

Tips and Variations
Instructions
Gather ingredients and preheat oven to 375 degrees.

Spread first pie crust on a cutting board and use a rolling pin to spread it out wide enough to cut 15 small circles about 2 inches in diameter.

Cut circles using a cookie cutter, rim of glass or can that apple pie filling came in.

Apple small drop of caramel sauce to each pie crust and spread around.

Dump Apple Pie Filling out on cutting board. Using a large knife, cut the apples into small pieces.

Dollop about 1 tbsp of Apple Pie Filling onto each crust. Cut second pie crust into thin strips and create lattice work over each hand pie.

Brush the top of each cookie with egg whites.

Sprinkle Cinnamon Sugar mixture as desired over each cookie.

Cook for 18-20 minutes on a prepared baking sheet, or until edges start to brown. Let cool completely on a wire rack.
Nutrition
Love this recipe?
Follow @bubbapie for even more delicious recipes!!