Grab a taste of Autumn with these soft, chewy Apple Oatmeal Cookies. Fresh Apple, hearty oatmeal and just a touch of cinnamon spice make this a perfect dessert for the Fall.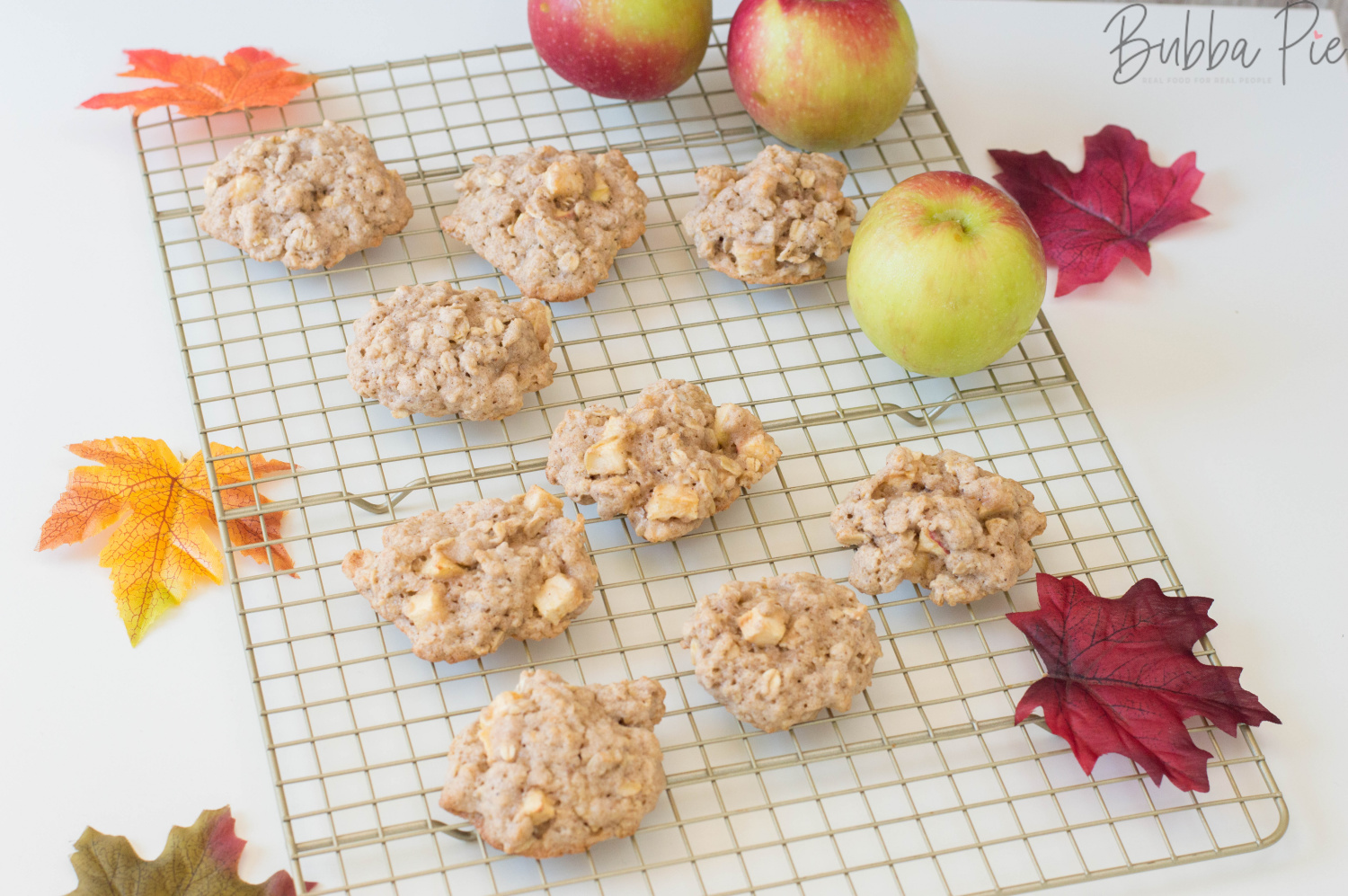 Why You Will Love Apple Oatmeal Cookies
WHOLESOME – Making these cookies with simple, homemade ingredients is a perfect way to enjoy a delicious treat. Cookies are ALWAYS better homemade!
EASY – This is such a simple, easy recipe using common pantry ingredients that you probably already have laying around the kitchen! And it's a great recipe for beginners. Or to let your kids help out with.
FALL FLAVORS – With apples, cinnamon and nutmeg, these cookies are just EXPLODING with our favorite flavors of the Fall!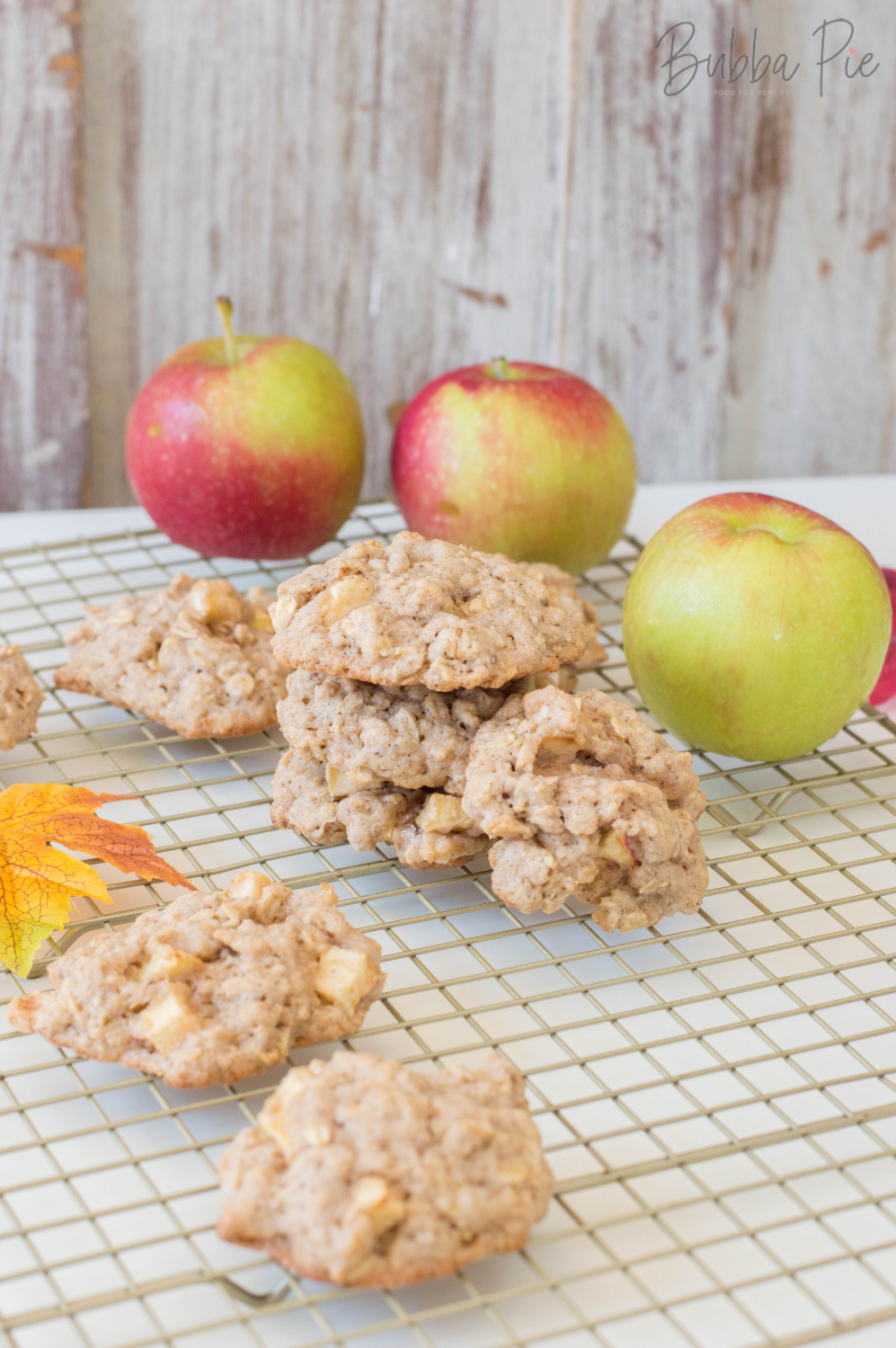 Apple Inspired Recipes
Every Fall, we take my kids to the apple orchard. It is one of my favorite things to do with them. There is just something about the cool, clear air, the corn field mazes and the ripe, fresh apples that I absolutely love. We have been going for so long, that I know in advance that we will be sure to buy WAY too many apples.
Having all these extra apples always poses the same question: what to make with apples? For instance, I've got a recipe for these Apple Cinnamon Cupcakes with Buttercream Frosting and also this Fresh Caramel Apple Salad. But, my husband and my kids love cookies more than just about anything in the world, so I thought that it would be fun to post an Apple Oatmeal Cookies Recipe.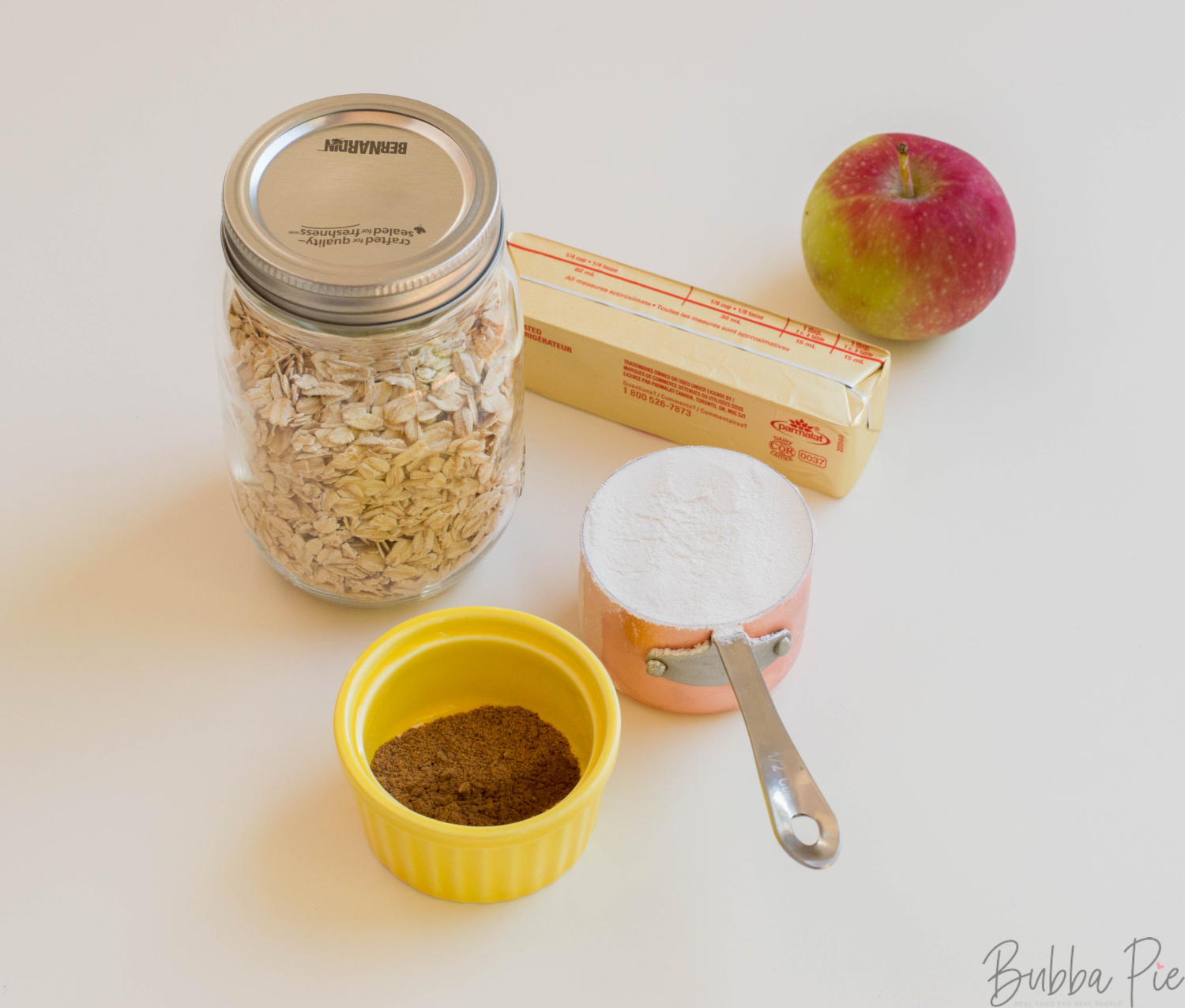 Apple Oatmeal Cookies Ingredients
What I love about these cookies is the simple, wholesome homemade ingredients that you use. Nothing too crazy here and I'm willing to be you already have most of these ingredients in your kitchen!
½ stick butter, softened
6 tbsp granulated sugar
½ cup all purpose flour
½ tsp baking powder
½ tsp ground cinnamon
¼ tsp ground nutmeg
Pinch salt
1 large egg
1 cup large rolled oats
1 small apple, peeled, cored and diced
What Are The Best Apples For This Recipe?
Any good "baking apple" will work. This includes Jonagold, Granny Smith Apples, Honey Crisp or Fuji Apples. Or, you could try a combo of a couple of different ones!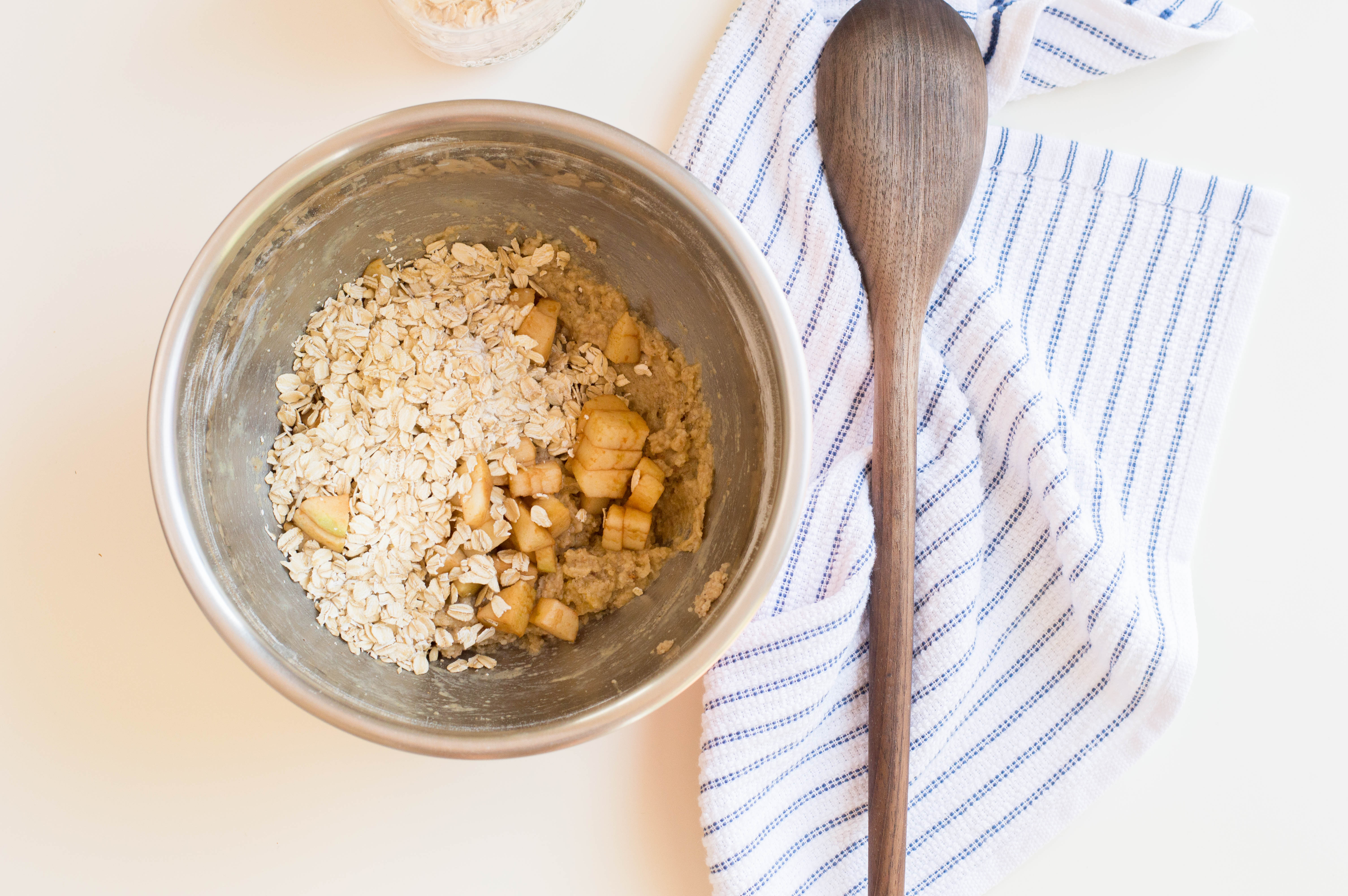 Storage and Freezing
Store cookies in an Airtight Container at room temperature. They should stay nice and soft for 4-5 days.
Can you freeze Apple Oatmeal Cookies? Yep, you sure can! If you want to freeze the dough before baking, I'd go ahead and spoon them into balls and freeze them on a cookie sheet until they are frozen. From there, you can freezer wrap them or put them in a freezer bag. Put parchment paper between them to keep them from sticking together. You can then cook them from frozen! You just may need to add 2-3 minutes of baking time!
If you want to freeze these cookies after baking, that is super simple too! Just allow them to fully cool and wrap them in freezer wrap or put them in a freezer bag. Again, you can separate them with parchment paper. Just allow them to sit a room temperature for a couple hours to thaw out!
Other Notes, Tips, Variations and FAQs
HOW TO KNOW WHEN THE COOKIES ARE DONE?– The outside of the cookies will become a little crispy and the top/center of the cookie will set.
CAN YOU USE BROWN SUGAR IN THIS RECIPE? – You can use half white sugar and half brown sugar to give these cookies a little different flavor if you'd like.
COOLING THE COOKIES– For best results, let them sit on the baking sheet for a couple of minutes before transferring to a cooling rack.
MAKE COOKIE SANDWICHES!– You can use two cookies and place buttercream frosting in between them. For a yummy buttercream frosting recipe, check out my Apple Cinnamon Cupcakes Recipe!
DON'T OVER MIX THE WET AND DRY INGREDIENTS!– One of the most common mistakes in baking is when you overmix the wet ingredients and dry ingredients. You'll want to just stir them until they combined to make the cookie dough. This is how you get that chewy, light texture in your cookies!
Let me know what you think of this apple cookie recipe. These months between the summer and the winter are the perfect time to enjoy the cooler weather and some delicious comfort food! Turn on some football, snuggle with your loved one and enjoy these yummy apple oatmeal cookies!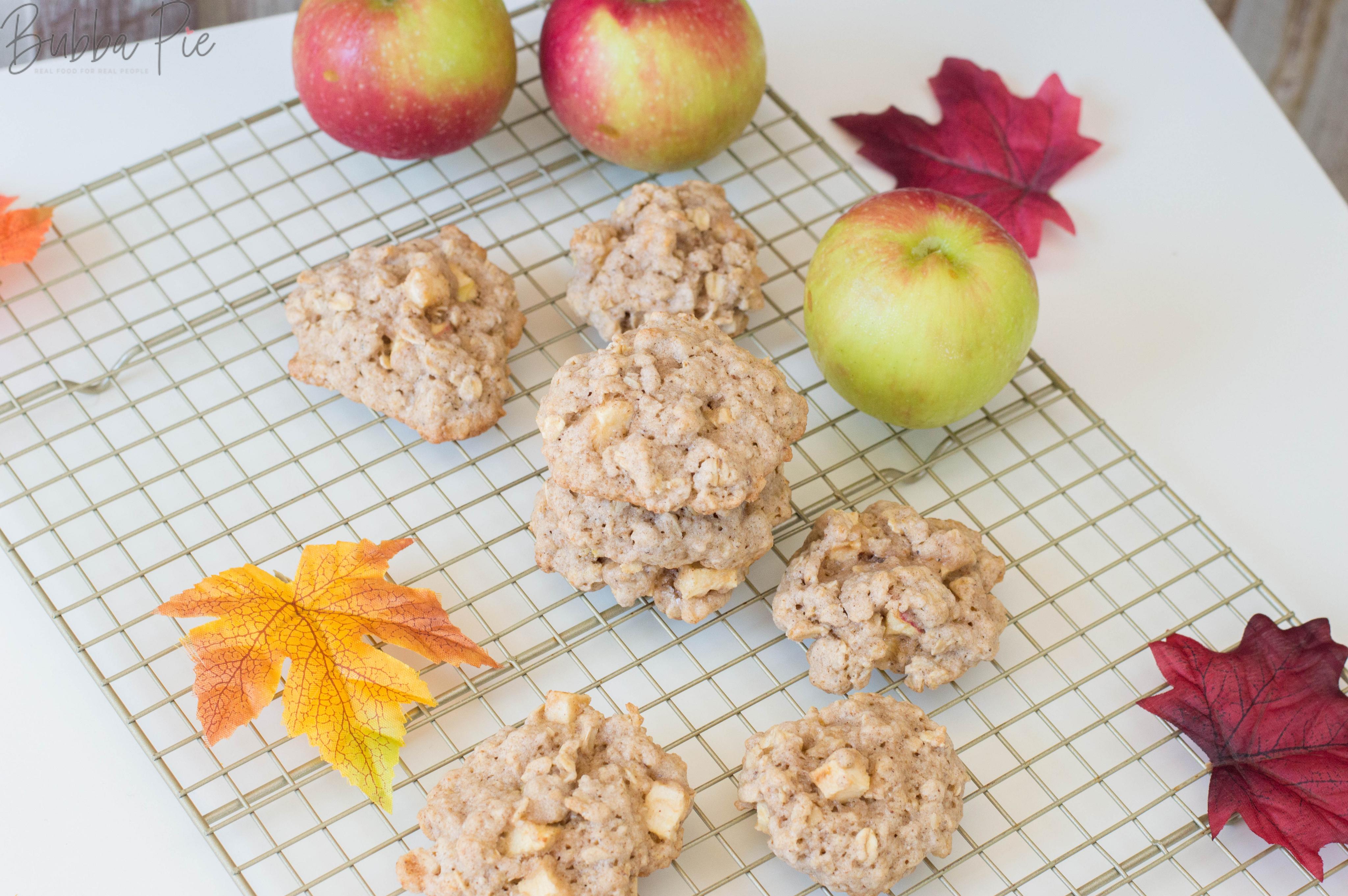 Tools To Help With This Recipe
FOR MORE APPLE INSPIRED DESSERTS AND TREATS, CHECK OUT: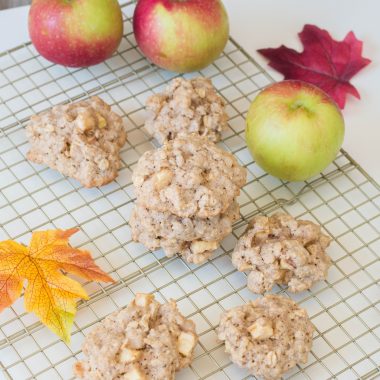 Rate this Recipe
Apple Oatmeal Cookies
Grab a taste of Autumn with these chewy Apple Oatmeal Cookies. Fresh Apple, hearty oatmeal and just a touch of cinnamon make this a perfect dessert for the Fall.
Ingredients
½

stick butter

softened

6

tbsp

granulated sugar

½

cup

a/p flour

½

tsp

baking powder

½

tsp

ground cinnamon

¼

tsp

ground nutmeg

Pinch

salt

1

large egg

1

cup

large rolled oats

1

small apple

peeled, cored and diced
Instructions
Line a cookie sheet with parchment paper and set aside.

Preheat oven to 350 degrees F.

In a large bowl, cream together softened butter and sugar.

Add flour, baking powder, cinnamon, nutmeg and salt. Mix until well-combined.

Add egg into the mixture and mix well.

Fold oats and apple pieces into the batter.

Drop 8 to 10 dough balls onto lined baking sheet, about 1 ½ inches in diameter.

Bake 12 to 13 minutes and allow to cool before serving. Enjoy!

Yields 8-10 cookies.
Nutrition
Love this recipe?
Follow @bubbapie for even more delicious recipes!!