This Easy Apple Dapple Cake is an old fashioned dessert bursting with Fall Flavors. A classic bundt cake is infused with cinnamon, apples, nutmeg and vanilla and pecans and drizzled with our homemade caramel sauce.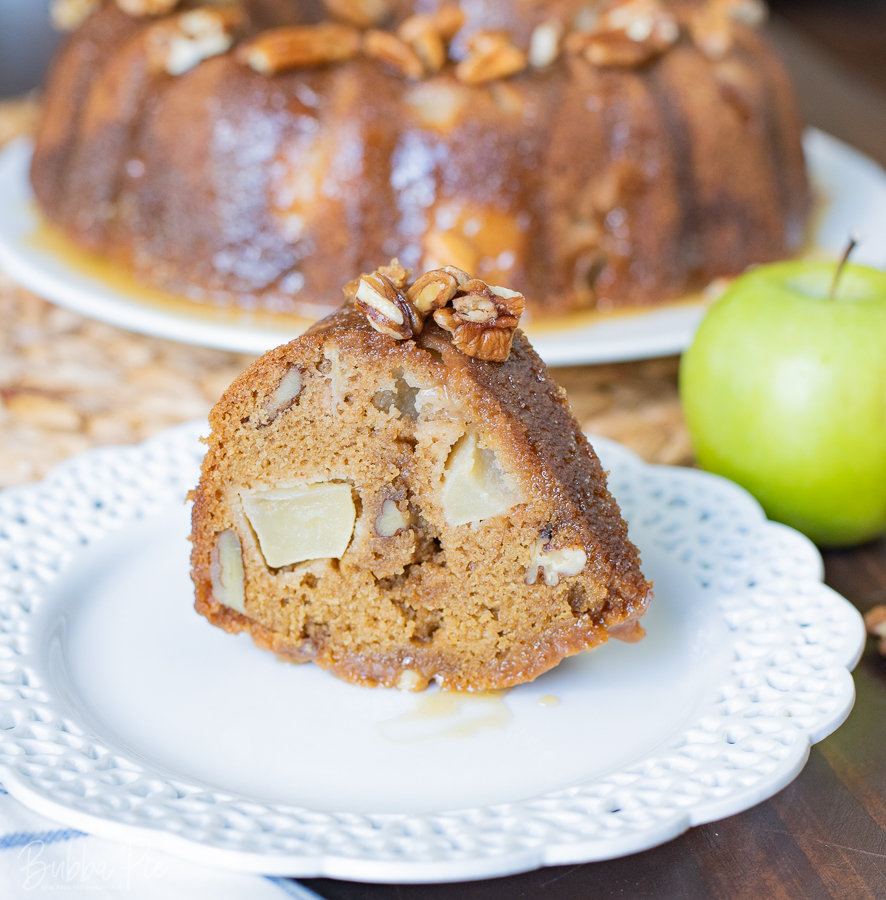 Why You Will Love Apple Dapple Cake
FULL OF FALL FLAVORS – This dessert recipe is loaded with all your favorite Fall flavors. Apple, cinnamon, brown sugar, nutmeg and pecans are baked with a caramel glaze that will simply warm you up in the chilly Autumn weather.
MAKE AHEAD – This is actually a great recipe to make ahead of time. The flavors actually taste better after they have had a day to marry together.
EASY – This is a great recipe for beginners or even to have the kids help you with!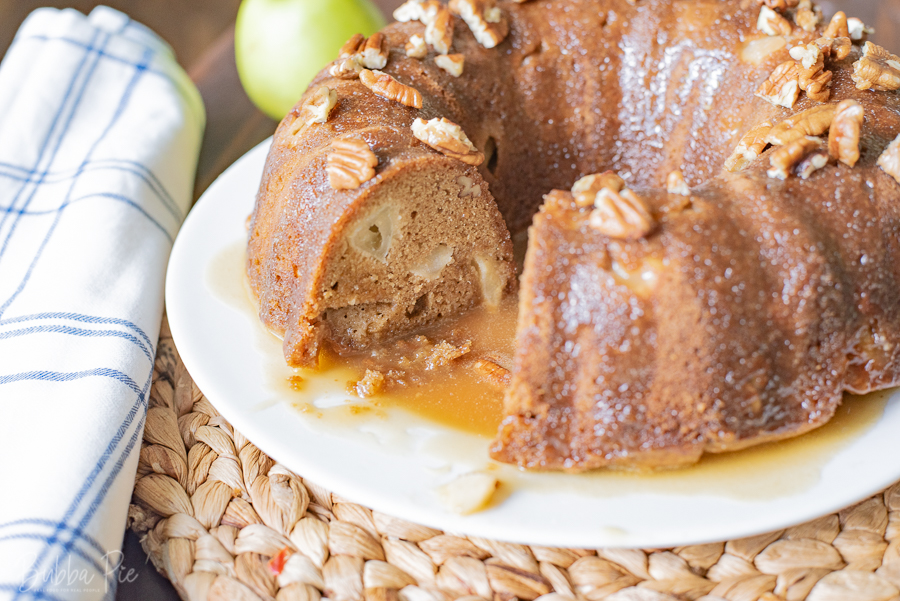 What Is An Apple Dapple Cake?
This cake is usually baked in a Bundt Cake Pan, but not always. I've seen some pretty interesting recipes in a normal sheet pan as well. At it's core, it's a dense, moist cake made with the mix of cinnamon, apples and nuts (we use pecans). Some have added raisins, coconut, nutmeg and other ingredients. After the cake is baked, there is often time a rich caramel sauce poured over the cake while it is still hot in the pan. This lets the sauce really seep into the cake and makes it SUPER moist and flavorful. Our take is just a little bit different.
Our Apple Dapple Cake Recipe
In order to add the sauce to the cake while it is still hot and in the pan, we need a tube pan, but we only had a bundt cake pan. This, I think, is why a lot of people just bake it in a sheet pan. But we really love the look of the Bundt Cake! So, for our version, we take it out of the pan and let it cool before adding our Caramel Sauce. The sauce still does a great job giving this dessert recipe an awesome amount of flavor, but it just isn't quite as "sticky" as some of the other recipes.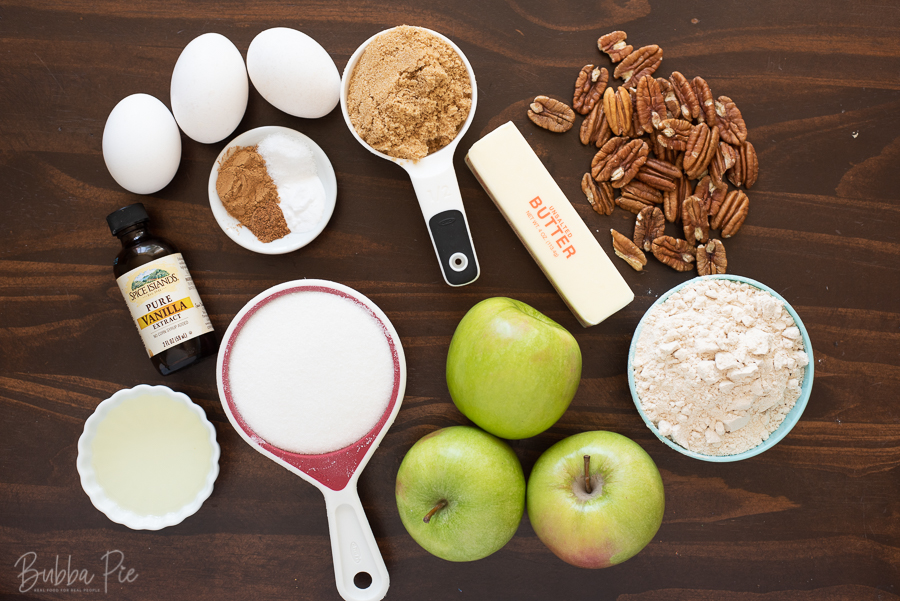 What Ingredients Will You Need?
This is a super simple recipe to make for your next party, pitch in or potluck this Fall. Here's what you'll need to get started:
FLOUR– Any All Purpose Flour will do. Or, use Gluten Free if you'd like.
BAKING SODA – This will help the Apple Dapple Cake Rise in the Bundt Pan.
SALT – Mixed in with your other dry ingredients. Helps add balance to all the sweetness.
CINNAMON – Works with the Nutmeg to give this cake it's classic Fall taste.
NUTMEG – Just a dash of Nutmeg. Tastes so yummy with the Cinnamon!
VEGETABLE OIL -Baking with oil always gives your SUPER moist results!
WHITE SUGAR – We use 1 cup of white sugar and 3/4 cup of brown sugar. As long as you are using 1 3/4 cup of total sugar, you can play around with these measurements and use more or less of each to your liking.
BROWN SUGAR – See above.
EGGS – Provides structure and leavening.
VANILLA EXTRACT – Adds depth of flavor in the caramel sauce we will be drizzling over this cake.
GRANNY SMITH APPLES – Peeled, cored and diced. Because of their firmness and tart flavor, we like to use Granny Smith Apples for this recipe. Other firmer apples that you can use in this recipe would be Honeycrisp, Fuji, Braeburn or Pink Lady.
PECANS – Coarsely chopped. You can sub for other nuts if you'd like. Walnuts would also be delicious.
Can You Make This Ahead Of Time?
Yes! Absolutely, in fact, this is one of those recipes that can actually taste better the next day. I had the again the day after I made it and the flavors seems to bind even more than before! Making this the night before you serve it would be a great idea!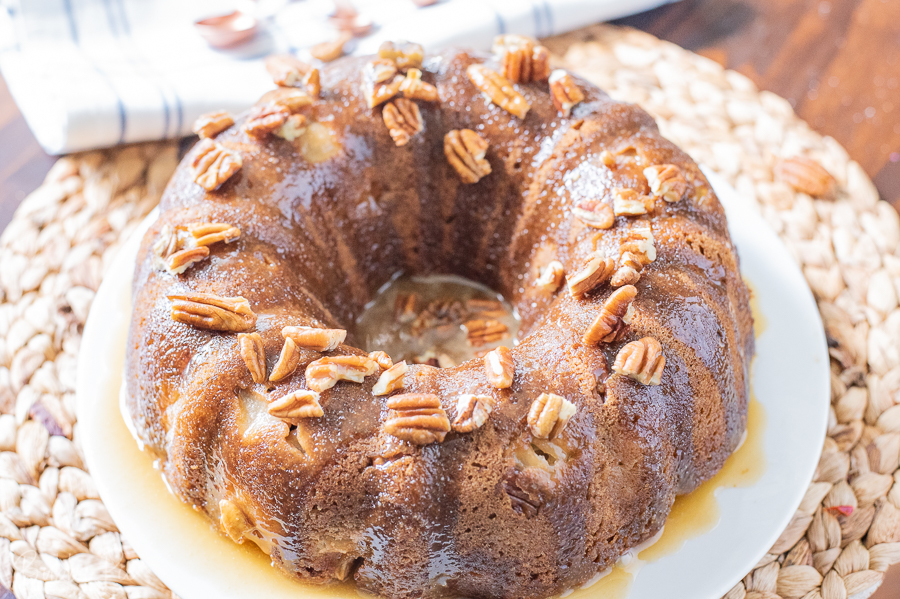 How To Store Apple Dapple Cake
It is recommended that you store this at room temperature in an airtight container. This Rubbermaid "Cake Keeper" works just fine. Or you could even get a specific Bundt Cake Container if you'd like! There is no need to refrigerate this recipe. To serve, you can heat it up in the microwave for about 20 seconds or just serve room temperature.
I would not freeze this recipe. I just don't think that caramel topping would freeze or defrost very well.
Other Notes, Tips and Variations
Nuts- We used pecans but just about any type of nuts would work. Walnuts or shaved almonds would be tasty!
What To Serve With Apple Dapple Cake- This cake would go great with a scoop of vanilla ice cream or a dollop of Whipped Cream on top.
If You Do Have A Tube Pan- You can follow this recipe just as it is, except when the cake is right out of the oven, introduce the Caramel Topping. Once everything has cooled completely, put some parchment paper on a cutting board and invert the cake onto the cutting board/parchment paper. Then carefully flip it back over onto a serving platter. You should be able to take the parchment paper off without too much of the topping coming off with it.
What Kind of Apples To Use?- You always want to use a "baking apple" in cakes. These firmer apples will hold their shape more when baked and won't get too mushy. We use Granny Smith and they are awesome. Possible other choices could be Jonagold, Braeburn or Honey Crisp.
Do I Really Need to Use Heavy Cream?- Well, no. You could probably sub for half and half or maybe even 2% milk. But, come on! It's the Fall, we are probably going to be wearing sweaters for the next couple of months anyways, right?
Can You Make This Recipe Gluten Free?- Yep! Just substitute in gluten free flour and you are ready to go!
Don't Overmix – A common mistake when making is overmixing the wet and dry ingredients when stirring them together. You want to combine them until they are JUST incorporated.
LOOKING FOR MORE APPLE INSPIRED RECIPES? CHECK OUT:
I hope you enjoy this recipe for our version of Apple Dapple Cake. If you make it, I'd love to hear how it turned out in the comments section below. Thanks for reading!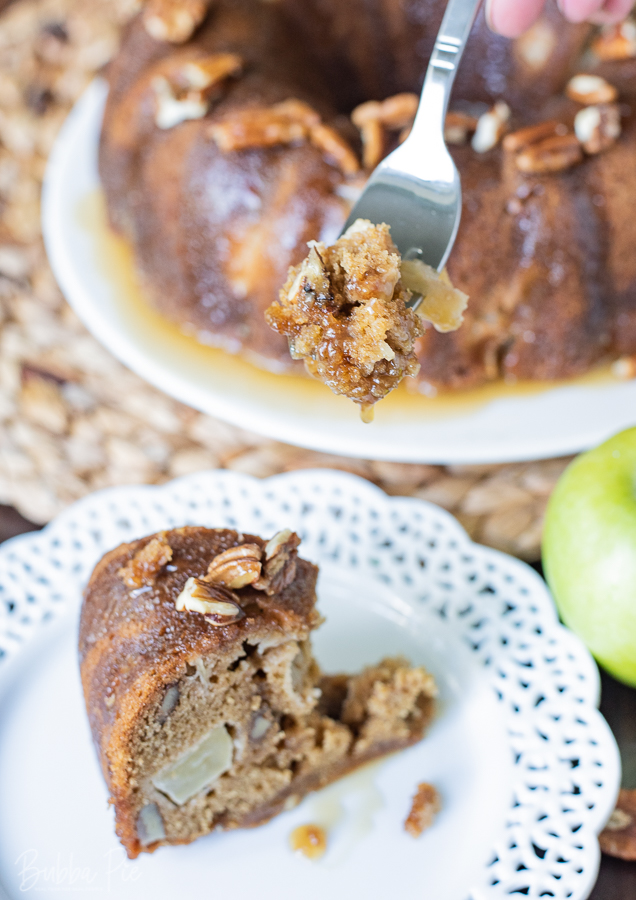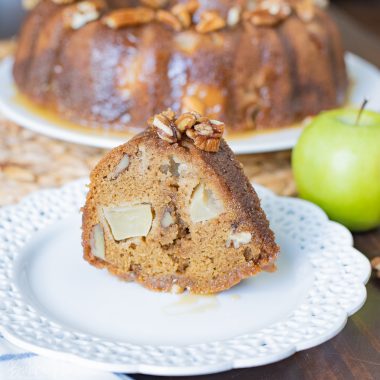 Rate this Recipe
Apple Dapple Cake Recipe
Check out our version of the classic Apple Dapple Cake Recipe. Apple, cinnamon and nutmeg are all baked together in a Bundt Cake Pan. The cake is drizzled with a rich Caramel Topping. This cake recipe is just bursting with Fall Flavors. Yum!
Ingredients
For The Cake
2 3/4

Cup

Flour

1

tsp

Baking Soda

1

tsp

Salt

1 1/2

tsp

Cinnamon

1/2

tsp

Nutmeg

1 1/4

cup

Vegetable Oil

1

Cup

White Sugar

3/4

Cup

Brown Sugar

3

Eggs

2

tsp

Vanilla Extract

2

Cups

Granny Smith Apples

cored, skinned and diced

1 1/4

Cup

Pecans

Coarsely Chopped
For The Caramel Topping
3/4

Cup

Brown Sugar

1/3

Cup

Heavy Cream

1/2

tsp

Vanilla Extract

4

tablespoons

butter
Instructions
Preheat oven to 350 degrees.

In a large bowl, mix together flour, baking soda, salt, cinnamon and nutmeg.

With an electric mixer, mix together both sugar, eggs, vanilla extract and vegetable oil.

Fold dry mixture in with wet mixture until just combined. Don't over mix.

Gently fold in 1 cup of pecans and all the apples.

Pour batter into Bundt Cake Pan and bake for 45-50 minutes or until a toothpick is inserted and comes out clean.

While cake is cooling, bring Caramel Topping ingredients (butter, brown sugar, heavy cream and vanilla) to a bowl. As soon as it reaches a boil, take off of heat.

Drizzle over the top of your Apple Dapple cake. Sprinkle remained of pecans on top of cake.
Nutrition
Love this recipe?
Follow @bubbapie for even more delicious recipes!!