This Apple Cobbler with Cake Mix is a quick and easy dessert that is exploding with Fall Flavors! Just a couple of simple ingredients and a couple minutes of prep and this Apple Dump Cake will be in your oven baking to bubbly perfection!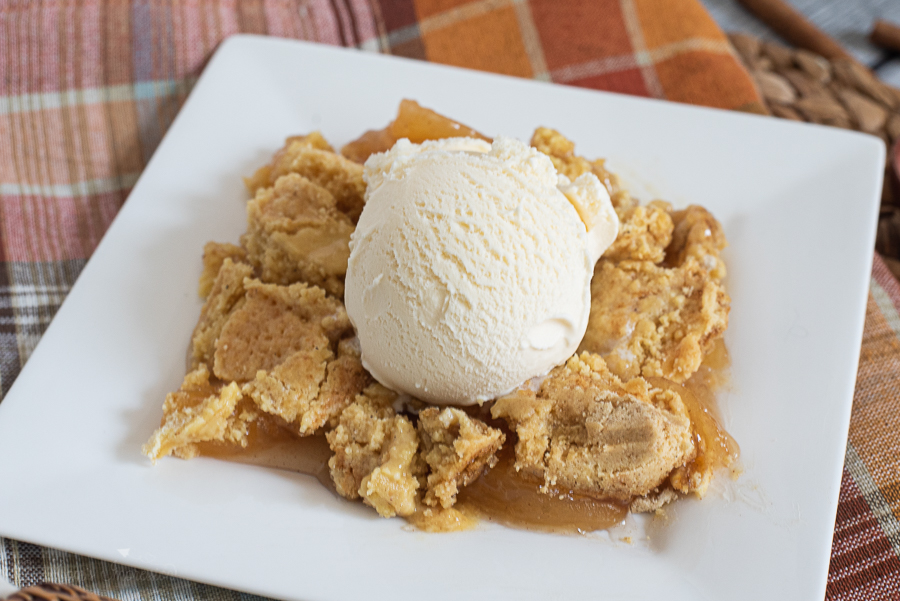 Why You Will Love Apple Cobbler with Cake Mix
QUICK AND EASY – Seriously, this may be the easiest dessert to ever grace your kitchen! Using Apple Pie Filling is the ultimate shortcut. And when you combine that with using Cake Mix for our buttery, crumbly topping, it's almost unfair how easy this recipe is! And it's literally about 3 minutes of prep time! It's a great beginner dessert recipe or a great one to let the kids help with!
INEXPENSIVE – You probably have most of these ingredients just hanging out in your panty already! And the ones you may need to buy are not expensive at all! I'd be willing to be you can have a homemade dessert that feeds 12 people for under $10!
DELICIOUS – I'm really not exaggerating when I say this may be one of the best desserts we've put on this blog! The soft, tender apples baked under a slightly crispy, buttery crust. And, of course you have to serve it warm with some Vanilla Ice Cream melting on top. Right?! And, sure, this is great for Autumn when you need a good Fall Dessert. But it would equally be at home at summer cookout!
What Is The Difference Between and Cobbler, Crisp and Crumble?
So, what the heck is the difference between all of these delicious concoctions?
From what I can tell, over the years, the lines have gotten blurred a bit by us Americans. Traditionally, a "Cobbler" is has a layer of buttery, biscuit-like topping above a layer of fruit. As the pastry cooks, the fruit will bubble up and the result sort of looks like a "cobblestone" street.
As far as crumbles and crisps: these days they are pretty much used interchangeably. But, historically, a "crisp" out contain oats and a crumble would not. The oats would "crisp" up as it bakes and that is where you get the name!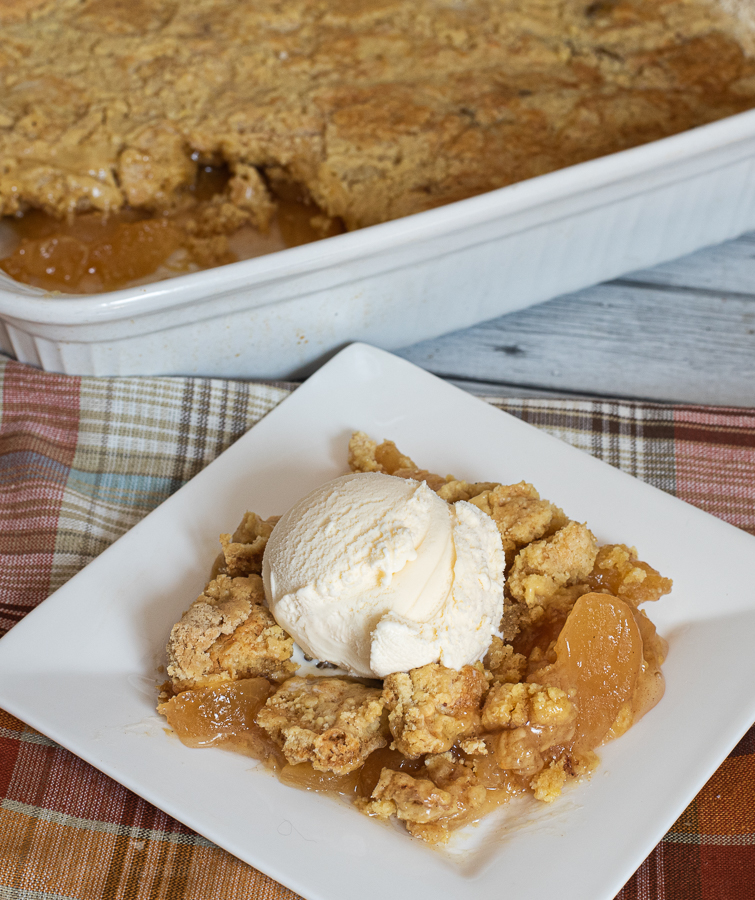 How To Make Apple Cobbler with Cake Mix
This Apple Cobbler, also sometimes called an Apple Dump cake really just takes a couple of steps then you just have to let you oven work it's magic. If it takes you more than 3 minutes to prepare this dish, it took you too long! For step-by-step instructions, check out the printable recipe card below. But here is what you'll need to get started:
APPLE PIE FILLING – Any brand will do. Sure, you could peel, core and coat some fresh apples. But using this pie filling already has the flavors and thickers in it. It's just so easy!
VANILLA EXTRACT – This ingredient is not necessary. If you have some on hand, we like to mix a little in with the Apple Pie Filling. It gives it a nice, authentic boost of flavor. But you can skip this if you want.
YELLOW CAKE MIX – Any brand. We like using Yellow Cake Mix because it helps to give the topping that nice golden brown color we love.
BUTTER – Use cold butter. We used unsalted but you can use salted if you'd like.
CINNAMON and NUTMEG – Again, not necessary, but we combine a little cinnamon and nutmeg into our cake mix before we spread it on top of the apples. If you have some cinnamon and/or nutmeg laying around, we highly recommend adding it.
Storage, Leftovers and Freezing
Store in an airtight container to keep fresh. We like this cake pan that comes with a fitted lid. Apple Cobbler doesn't necessary need to be refrigerated. But it will probably extend the shelf life by a couple of days if you do.
We have not tried to freeze this Apple Cobbler. But I'd advise against it. When it thaws out, I think that top crust will get a little too soggy to enjoy. This dish really is best enjoyed fresh out of the oven!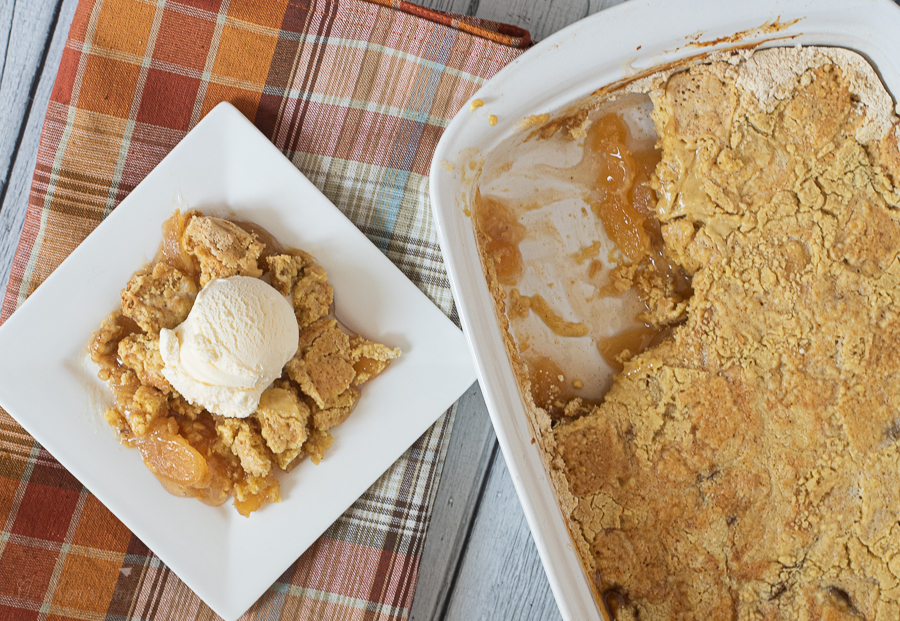 Apple Cobbler with Cake Mix in a Crockpot
You can easily make Apple Cobbler in your Crockpot. Just spray the slow cooker, pour in your apples and layer the cake mix on top. Then cook it on high for 4 hours or low for 6 hours. You may not get the crispy topping like you would in a conventional oven.
Notes, Tips and FAQs
CAN YOU MAKE THIS DESSERT GLUTEN FREE? – There are a lot of good options these days for a Gluten-Free Cake Mix in the baking aisle of your store. That would make this dish gluten-free!
DO YOU HAVE TO USE YELLOW CAKE MIX? – Nope! You can use any you'd like! French Vanilla Cake Mix or White Cake Mix would be fine. Or Spice Cake Mix and Butter Pecan Cake Mix would go great with this recipe!
ADD NUTS – Feel free to sprinkle some crushed walnuts or pecans on top with the cake mix.
ALTERNATE RECIPE – Some people like to make these cake mix cobblers by melting the butter and then mixing it in with the cake mix before spreading it on top of the apple filling. You can certainly do this. You will generally get the same result either way.
We hope you enjoy with Apple Cobbler with Cake Mix Recipe. Please let us know how it turns out in the comment section. Happy eating!
LOOKING FOR MORE EASY COBBLER RECIPES? CHECK OUT: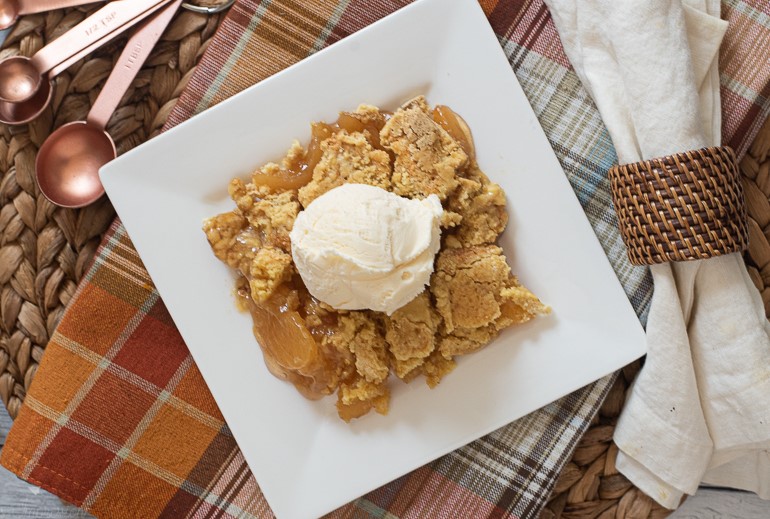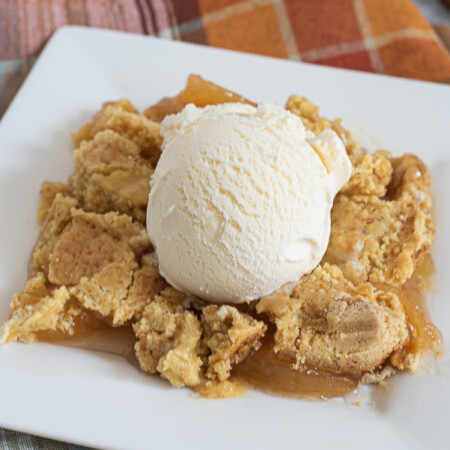 Rate this Recipe
Apple Cobbler with Cake Mix
This Apple Cobbler with Cake Mix is a quick and easy dessert that is exploding with Fall Flavors! Just a couple of simple ingredients and a couple minutes of prep and this Apple Dump Cake will be in your oven baking to bubbly perfection!
Ingredients
2

Cans

20 oz each Apple Pie Filling

1/2

tsp

vanilla extract

1

box Yellow Cake Mix

8

tbsp

1 stick Butter

1/4

tsp

Cinnamon

1/8

tsp

Nutmeg
Instructions
Preheat oven to 350 degrees and prepare 9"X13" baking dish.

Empty both cans of Apple Pie Filling into the baking dish.

Stir in Vanilla Extract.

Pour Cake Mix into a Medium Sized Bowl.

Combine Cake Mix with the Cinnamon and the Nutmeg.

Spread Cake Mix evenly over the Apple Pie Filling.

Cut stick of butter into 20 pats of butter and spread evenly over cake mix.

Bake for 45-50 minutes, or until the top of the cobbler is golden in color.

Serve warm with Ice Cream or Whipped Topping.
Nutrition
Love this recipe?
Follow @bubbapie for even more delicious recipes!!