This No Bake Banana Pudding is an easy, delicious dessert that just screams Southern Comfort Food! Light, creamy banana pudding is combined with whipped topping and layered with fresh bananas and vanilla wafers. You'll be wanting seconds.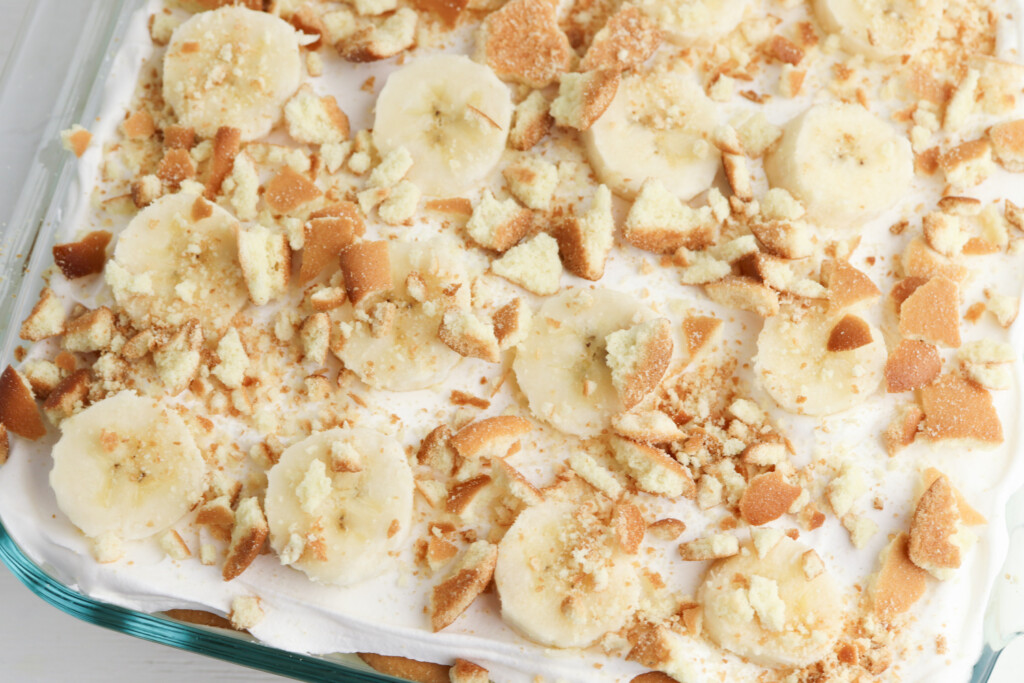 Why You'll Love This Recipe
EASY – No baking. No preheating. Just combine a couple of ingredients and layer them in your serving dish to let them chill out for a bit. There really is no way you can mess this one up. It's a great no bake dessert recipe to let the kids help out on!
KID FRIENDLY – It's super easy for little hands to eat (if you don't mind a mess)! Even picky eaters will love this one!
MAKE AHEAD RECIPE – It's actually best to make this dish a couple hours ahead of time to let all the ingredients infuse and let the cookies soften up a bit. So you can have this prepared and in the fridge before your guests arrive.
INEXPENSIVE – This recipe will not break the bank! All these ingredients are common and cheap to buy at the store. You probably already have some of them in your kitchen!
No Bake Banana Pudding
Also called Nanners Puddin, this is a classic Southern Recipe that has been around forever. A light, creamy texture with a delicious natural banana flavor and slight, satisfying crunch of the vanilla wafer.
Listen, we aren't reinventing the wheel here, but I think we've got some fun ways to make this our own. And some fun ideas for you to change some things up a bit if you want as well. So, here is what you'll need to get started:
INSTANT VANILLA PUDDING MIX – One standard sized package (5.9 oz). Make sure you are getting the INSTANT pudding mix. Otherwise you WILL need make it
MILK – 3 cups of milk. We used 2% but you can lighten up the calories by using skim milk if you'd like. You can also substitute one cup of milk with a 14 ounce can of sweetened condensed milk.
FROZEN WHIPPED TOPPING – Thawed. Cool whip or similar brand will work. You could also make homemade whipped cream if you'd rather.
BANANAS – You will need 3 or 4 ripe bananas, depending on how big they are or how many bananas you want in the recipe. Slice them thinly.
VANILLA WAFER COOKIES – Nilla wafers or similar brand. Or, you can use Chessman Cookies.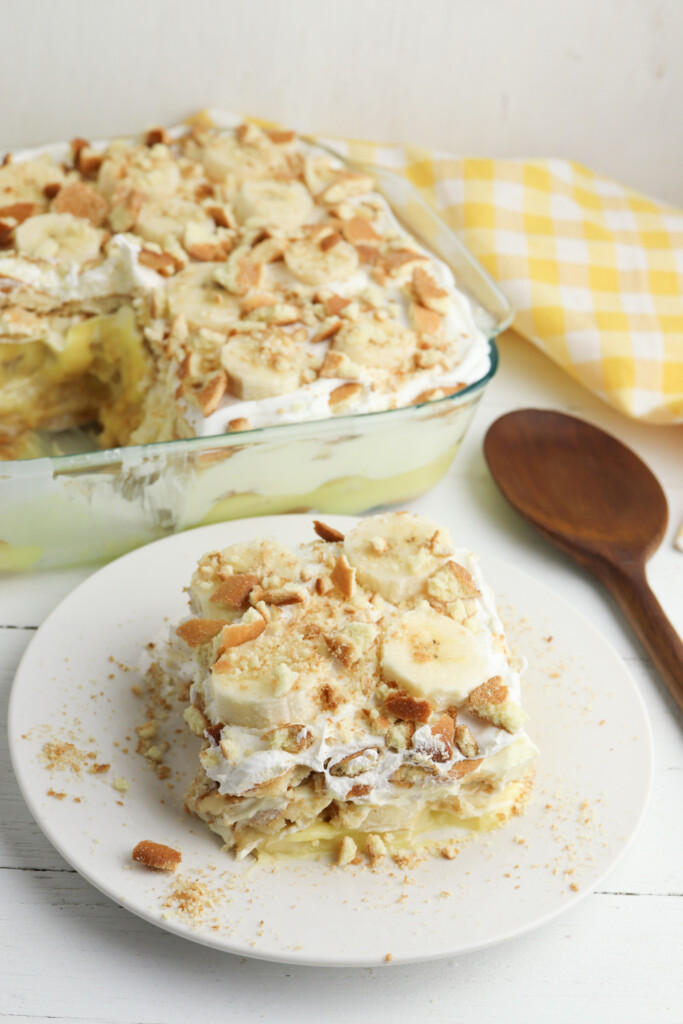 What Are The Best Bananas To Use For Banana Pudding?
In short, you want very YELLOW bananas. No green (underripe) and no brown spots (overripe). Basically, picture a banana that is the perfect ripeness to eat right now. That's the banana you want.
Storage and Leftovers
You can keep leftover no bake banana pudding in your refrigerator in an airtight container. It will stay good for at most 3 days. By then, the cookies will probably just get too soft and the bananas will get too brown.
Can you freeze banana pudding? Well, technically you can freeze anything. But banana pudding has a high water content that will crystalize while freezing. So, as it thaws, it just won't taste the same. But, if you really want to, here is a guide to do it.
Notes and FAQs
HOW TO MAKE LOW FAT BANANA PUDDING? – Use skim milk instead of 2% milk. Or you can use low fat Cool Whip.
CAN I USE BANANA INSTANT PUDDING INSTEAD OF VANILLA INSTANT PUDDING? – Yes! You sure can! You could also sub for French Vanilla Pudding as well.
CAN I MAKE THIS AHEAD OF TIME? – As noted above, it's best to let this pudding sit for a couple hours in your fridge anyways. So it's great to make even the night before. But I wouldn't make it any further ahead than that.
HOW DO I PREVENT MY BANANAS FROM TURNING BROWN? – Well, you can't. That is just nature taking it's course. But you CAN slow down the process by splashing your banana slices in some citrus. Either lemon juice or orange juice will work.
WHAT ORDER DO YOU LAYER YOUR BANANA PUDDING? – You can follow the order that we describe (pudding on the bottom) or make up your own. Some people like a layer of wafers on the bottom. Really, you can't mess this up!
WHAT ARE GOOD TOPPINGS FOR BANANA PUDDING? – This easy banana pudding recipe is just perfect to spruce up with a fun garnish. We crumble up our Vanilla Wafers. And put sliced bananas on top. But you leave your wafers whole if you want. Sprinkles some mini chocolate chips on top. Drizzle chocolate sauce on it. Or drizzle Peanut Butter Topping on it!
We hope you enjoy this No Bake Banana Pudding Recipe. Please let us know how it works out for you in the comment section. Happy eating!
LOOKING FOR MORE DELICIOUS BANANA TREATS? CHECK OUT: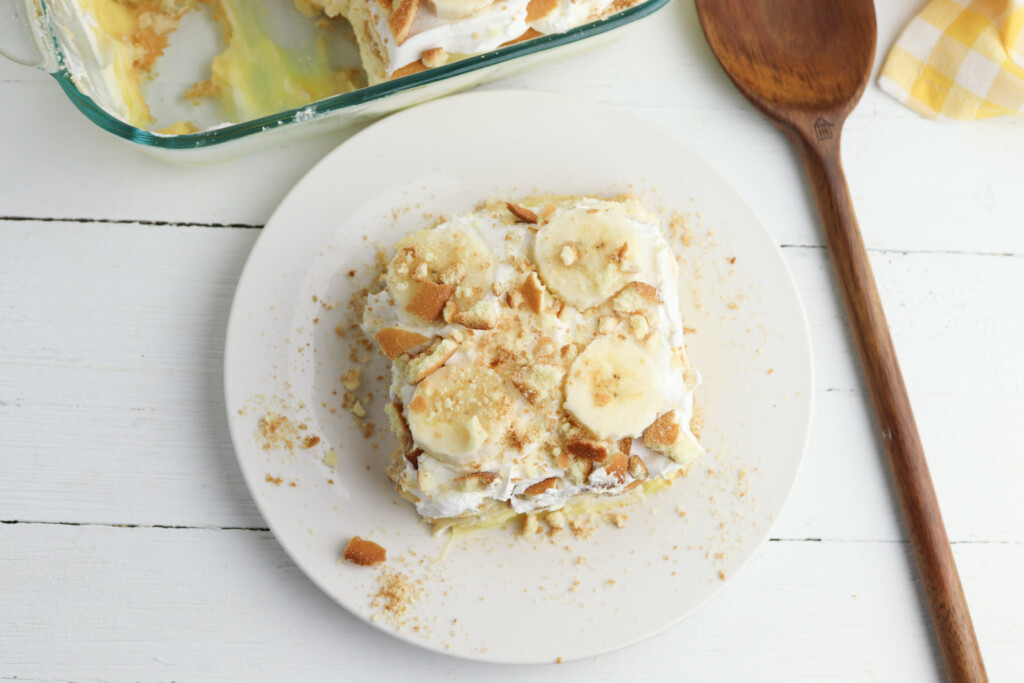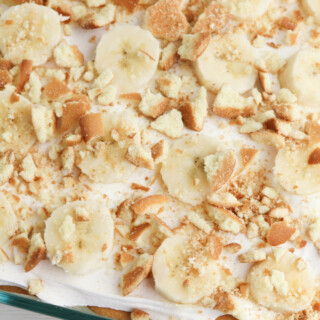 Rate this Recipe
No Bake Banana Pudding
This No Bake Banana Pudding is an easy, delicious dessert that just screams Southern Comfort Food! Light, creamy banana pudding is combined with whipped topping and layered with fresh bananas and vanilla wafers. You'll be wanting seconds.
Ingredients
1 5.9

ounce

package instant vanilla pudding

3

cups

milk

8

ounces

frozen whipped topping

thawed

3 to 4

bananas

thinly sliced plus more for topping, if desired

1

box Nilla wafers
Instructions
In a large bowl, whisk together the vanilla pudding and milk until well combined.

Allow the pudding to rest for five minutes until soft set.

Layer some wafers on the bottom of dish.

Spread around 2/3 of the pudding across the bottom of an 8x8 glass dish.

Top the pudding with a layer of sliced bananas.

Fold together the remaining pudding and half the whipped topping.

Spread the mixture over the top of the wafer cookies.

Top the pudding mixture with a layer of sliced bananas and a layer of cookies.

Spread the remaining whipped topping over the top of the dessert.

Place the pudding in the refrigerator to chill for at least one hour or up to overnight.

When ready to serve, top the pudding with sliced bananas and crushed Nilla wafers, if desired.
Nutrition
Love this recipe?
Follow @bubbapie for even more delicious recipes!!