This Poppy Seed Chicken Casserole is a creamy, delicious classic family dinner that is so easy to throw together on busy weekday nights! Tender Chicken is mixed with cheese and creamy sauce then baked with a buttery cracker topping. Serve over rice or egg noodles for a complete meal!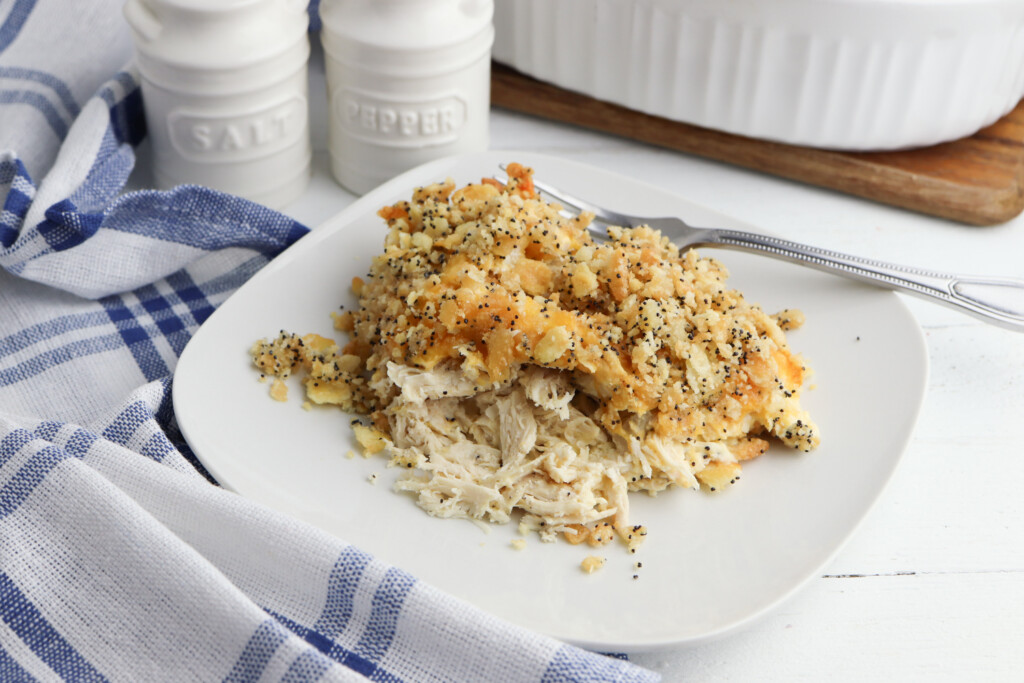 Why You'll Love This Recipe
EASY – You literally just layer all the ingredients into a prepared casserole dish and throw it in the oven!
KID FRIENDLY – Even picky eaters are going to love this one. That buttery cracker topping that is baked to golden brown and the light, creamy sauce make this recipe perfect for kids!
MAKE AHEAD – You can also make this ahead of time and have it ready to put in the oven when you need it it. And it only takes 30 minutes to bake.
How To Make Poppy Seed Chicken Casserole
Casseroles are one of our most popular dishes on this blog. It makes sense, we are all looking for easy, inexpensive and delicious dishes for families during our busy lives! I've found that some of my favorite casseroles are the ones that have some sort of "crispy" topping. For example, I love our Chicken Cobbler Casserole, Dorito Chicken Casserole (topped with Doritos?!?!) and our Crispy Chicken Hashbrown Casserole (topped with Rice Krispies!).
So, this Poppy Seed Chicken Casserole with that buttery cracker crust definitely has my attention!
Ready to get cooking? For step-by-step instructions, check out the printable recipe card below. But here is what you'll need to get started.
Poppy Seed Chicken Casserole Ingredients:
CREAM OF CHICKEN SOUP – One can. If you'd like, you can substitute Cream of Mushroom or Cream of Celery for a slightly different flavor.
SOUR CREAM – This helps make that creamy, delicious sauce. To lighten this dish up, you can use low fat yogurt or even non-fat greek yogurt.
CHICKEN – We used 2 cups of chicken and we shredded ours. But you can cut it into cubes if you'd rather. And, 2 cups is just what we used, you can use a little more or less. This is one of the recipes with a lot of margins. You can also substitute for leftover turkey! This is a great way to use leftover turkey after the Holidays!
CHEESE – We used shredded cheddar cheese. But you can substitute for any cheese you'd like. We recommend shredding your own cheese instead of buying the pre-shredded cheese at the store. When you shred your own, it melts much better.
BUTTER – Melted butter, unsalted. To be combined with your crackers for that delicious, buttery crust!
POPPY SEEDS – Gonna be honest here. This dish is called Poppy Seed Chicken. And it's delicious. But not much of that has to do with the Poppy Seeds. If you don't like them, don't have them or think your kids may be wary, you can actually skip them and it won't alter this dish much.
CRACKERS – We used Ritz Crackers. But you can use any buttery cracker you'd like: Townhouse, etc….
SALT AND BLACK PEPPER – To taste.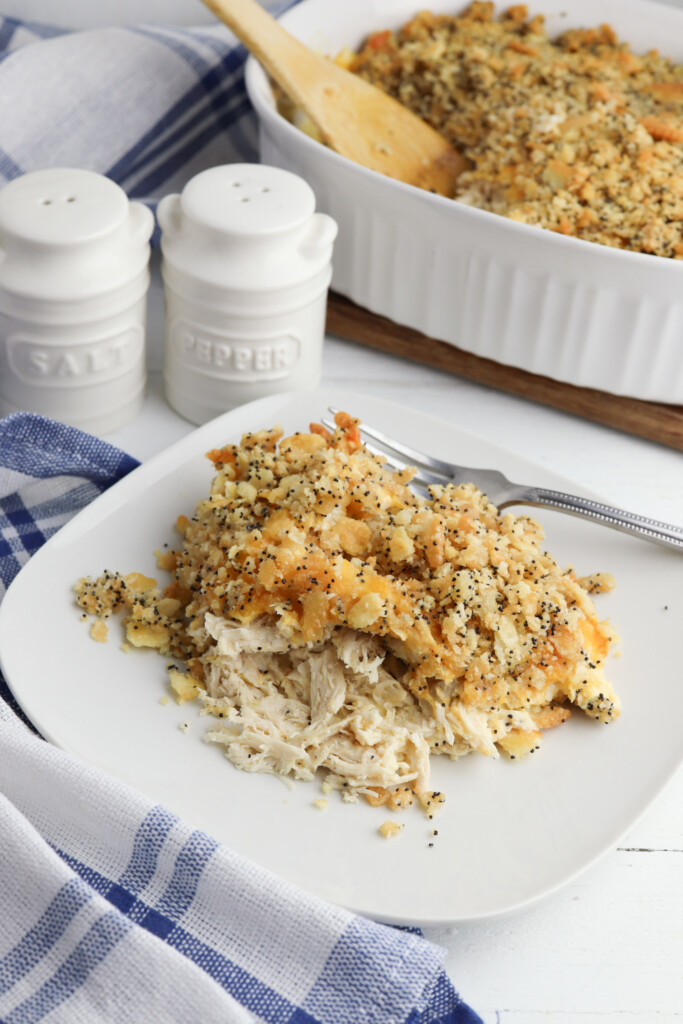 What Is The Best Way To Shred Chicken?
First, you can decide which is the best way to cook chicken for shredding. The 4 most popular methods are:
ROTISSERIE CHICKEN – This is probably the easiest way. Just grab a rotisserie chicken on your way home from work and pull it off the bone.
BOIL CHICKEN – Put your boneless skinless chicken breasts in a pot of boiling water for 20 minutes. When cooked all the way through, use two forks to shred the boiled chicken.
INSTANT POT CHICKEN – Throw your chicken (it can even be frozen!) into an Instant Pot with one cup of water (or chicken stock). Cook on Manual "High" for 12-14 minutes and let naturally release for 10 minutes.
SLOW COOKER – Throw your chicken (can be frozen!) into your Crockpot with 1/4 cup of water or chicken broth. Cook on Low for 5-6 hours. This is a great option to start before you leave for work in the morning so it will be done when you get home.
Once you chicken is cooked. You can either shred it with a two large forks. Or put it in a Stand Mixer with a paddle attachment. This will get your chicken shredded very well very quickly. But it will be more dishes to do!
What Is The Best Way To Crush Crackers?
A great hack for quickly turning those crackers into crumbs is to just leave them in the sleeve you bought them in. Carefully open the top of the sleeve and gently push down, crushing the crackers and letting the air escape out of the top. Then simple pour your crushed crackers into the melted butter.
Storage, Leftovers and Freezing
You can store leftovers in an Airtight Container in your refrigerator. It should be good in your fridge for up to 5 days. The cracker topping may get a little soggy, but it will still taste delicious. You can reheat in your microwave.
Can Poppy Seed Chicken be frozen? You can freeze Poppy Seed Chicken. But I'd freeze it before baking it and I would NOT put the buttery cracker topping on it. Wait until you are ready to bake. Thaw out overnight and put the topping on before putting it in the oven.
What To Serve With Poppy Seed Chicken
This recipe tastes great on it's own. But you can also serve it over rice or pasta. Egg noodles would be perfect! Or, serve it with a simple green salad.
You can also just serve it with a vegetable like Cauliflower, Green Beans, Broccoli or mixed veggies.
We hope you enjoy this delicious Poppy Seed Chicken Casserole Recipe. Please let us know how it turns out in the comments below. Happy eating!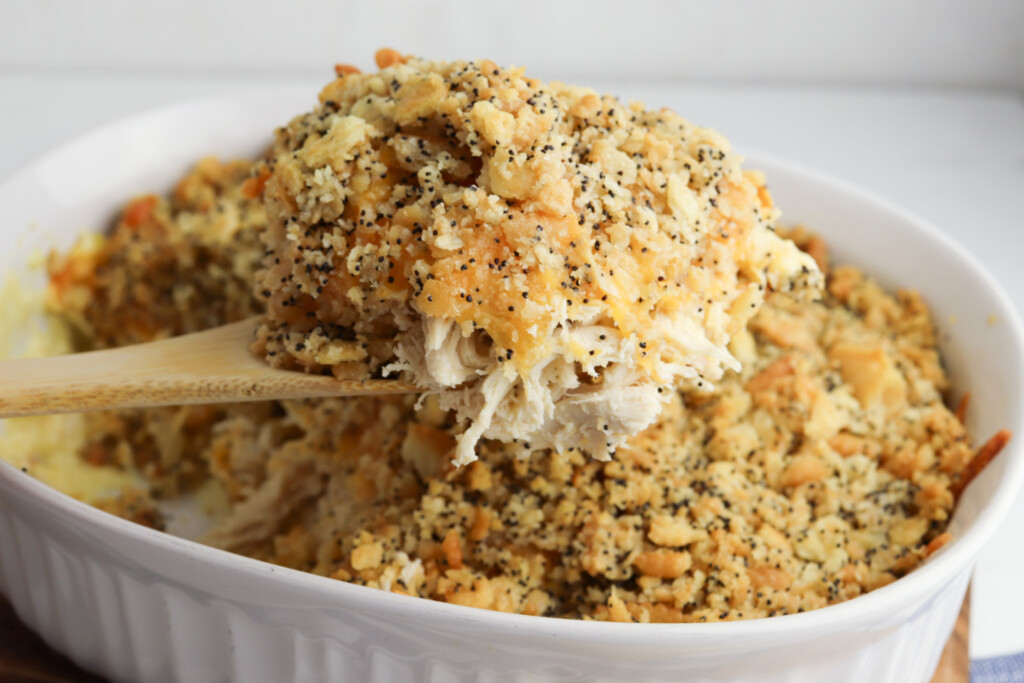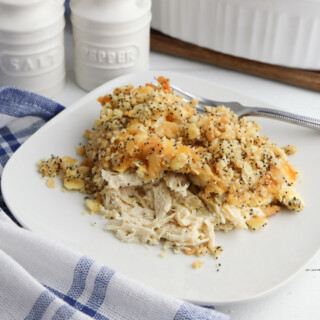 Rate this Recipe
Poppy Seed Chicken
This Poppy Seed Chicken is a creamy, delicious classic family dinner that is so easy to throw together on busy weekday nights! Tender Chicken is mixed with cheese and creamy sauce then baked with a buttery cracker topping. Serve over rice or egg noodles for a complete meal!
Ingredients
1

can cream of chicken

1/2

cup

sour cream

2

cups

cooked chicken

shredded

1

cup

shredded cheddar

1/2

cup

butter

melted

1

tablespoon

poppy seeds

1

sleeve Ritz crackers

crushed
Instructions
Preheat oven to 350 and spray a baking dish with nonstick cooking spray

Stir together the cream of chicken and sour cream.

Spread the mixture in the bottom of the casserole dish.

Top with chicken and the cheese.

Stir together the crackers, butter, and poppy seeds. Sprinkle over the top of the chicken mixture.

Bake for 30 minutes, until the crackers are golden brown and the sauce is bubbling.
Nutrition
Love this recipe?
Follow @bubbapie for even more delicious recipes!!