This Cake Mix Banana Bread Recipe is a simple, easy dessert recipe! All you need is 4 ingredients to make soft, fluffy and moist banana bread with this ultimate shortcut: Cake Mix!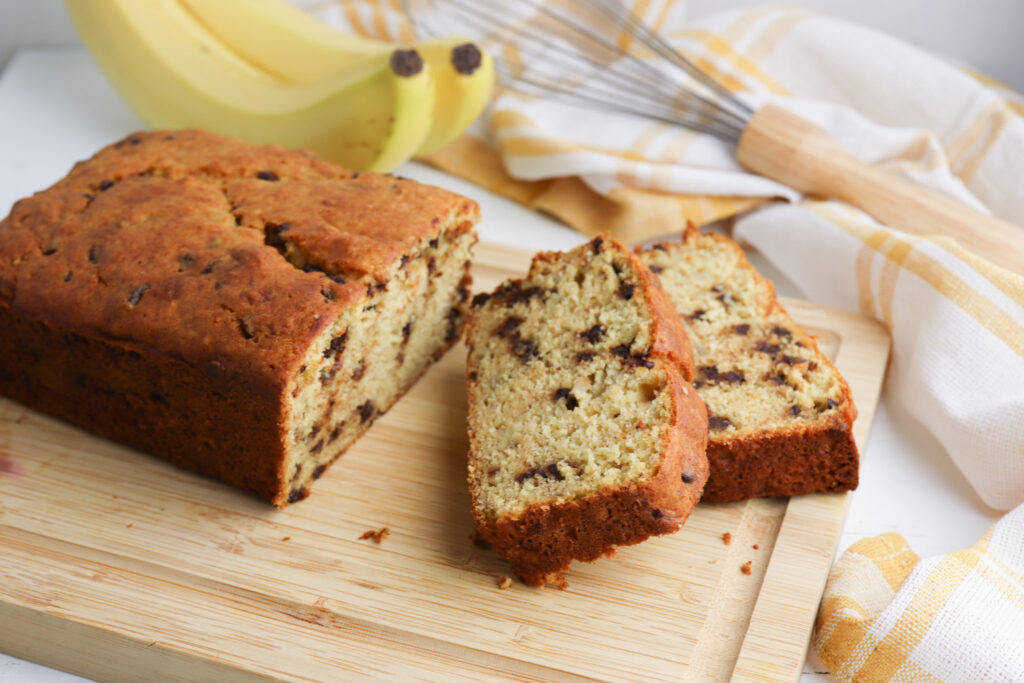 Why You'll Love This Recipe
SIMPLE AND EASY – If you've got a box of cake mix in your pantry, you have the a super powered cheat code to make all sorts of desserts with just a couple of extra ingredients. With only 4 other ingredients and just 5 minutes or prep, this easy banana bread recipe will be baking in your oven.
VERSATILE – Banana Bread is a great recipe for a breakfast treat, a midday snack or even a tasty dessert!
DELICIOUS – Soft, moist and full of banana flavor, this will be your next go-to banana bread recipe!
Cake Mix Banana Bread
For step-by-step instructions, check out our printable recipe card below. But here is what you'll need to get started.
Cake Mix Banana Bread Ingredients
YELLOW CAKE MIX – Any store bought cake mix will work.
BANANAS – 4 Medium sized over ripe bananas.
VEGETABLE OIL – We love baking with vegetable oil. It always makes our dessert so soft and moist.
EGGS – For best results, let you eggs come to room temperature.
CHOCOLATE CHIPS – Optional. But… who doesn't love chocolate chips?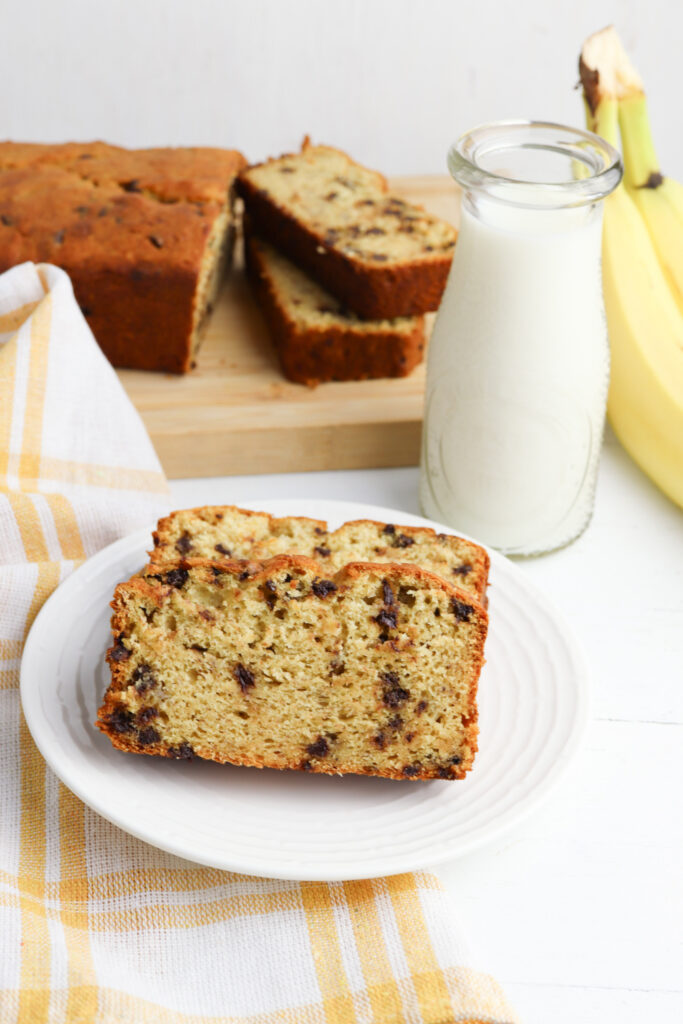 What Bananas Are Best For Banana Bread?
It's best to use nice and ripe bananas for banana bread. You'll know that a banana is ripening as it gets softer and starts to develop dark spots on the peel. As the banana ripens, the starch is converted into sugar, giving this bread the sweetening that makes it so tasty.
Generally speaking, if your banana has any green on it at all, it's not ripe enough to use in baking. Alternatively, if it's totally black and so soft if breaks apart to the touch, it's too ripe and may be unhealthy to eat. You'll need to throw that one away.
There is usually a 2-3 day window in which bananas are ripe enough to bake with. If you are not ready to use them in that time, you can easily freeze them. This keeps them in their current state until you are ready to use them!
Can You Make This Gluten Free?
Yep, the only ingredient that has gluten in it is the cake mix. And there are lots of different types of gluten free cake mix recipes that you can try!
Do You Need To Use Yellow Cake Mix?
Nope! In fact, one of the best parts of this recipe is how easy it is to tweak to your liking. Some ideas would be:
Butter Pecan Cake Mix.
Spice Cake Mix
White Cake Mix
Chocolate Cake Mix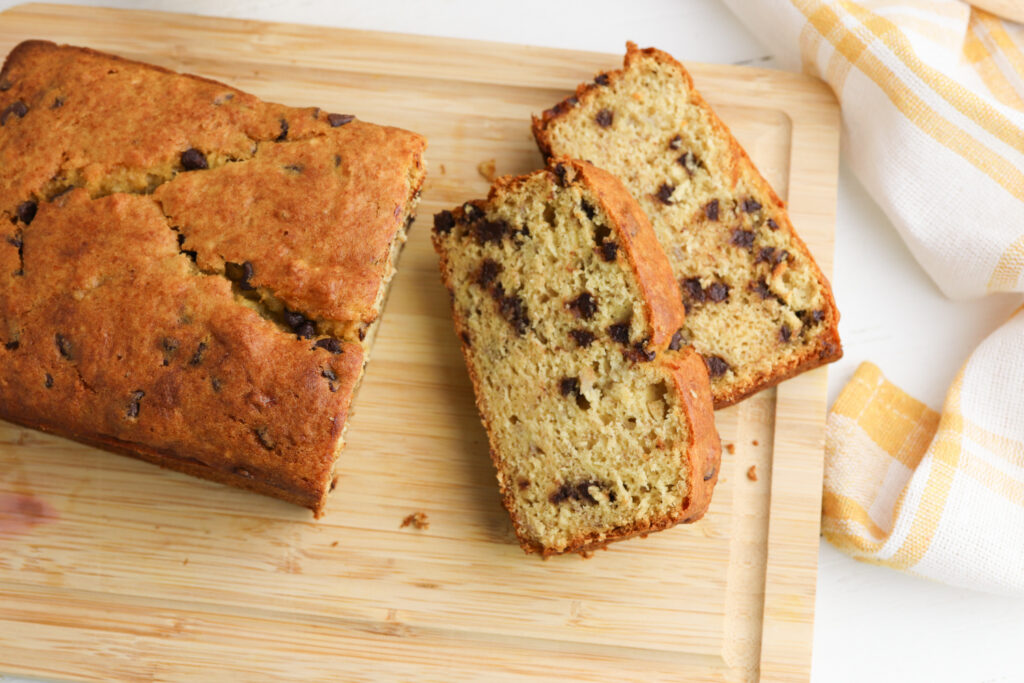 What Size Loaf Pan Should You Use For Banana Bread?
Generally, you can use 8X4 or 9X5 loaf pans. But, with this recipe, you could make it into a bundt cake by using a bundt cake pan, or even even use a muffin pan to make them easier to share.
For this recipe, we used a 9X5 inch loaf pan. So, just note, if you change the size and/or shape of the pan, the cooking time may change. So keep an eye on it!
How Do You Know Your Cake Mix Banana Bread Is Done?
The best way to make sure your banana bread is ready to come out of the oven is to stick something small and thin into the center. Many people use a toothpick for this, but you can also buy a cake tester for this purpose.
Just stick it in the center when you think it's done. If it comes out clean, you are ready to go. If some batter comes out with it, it will need some more time.
Storage and Freezing
Banana Bread can be stored in room temperature wrapped in plastic wrap or in an airtight container. It should be good for 4-6 days. If you want to extend it a little more, keep it in your refrigerator.
Banana Bread freezes really well. To freeze, let it fully cool and wrap it well in freezer wrap and then put it in a freezer bag. It will be good in your freezer for up to 5 months. If you'd like, you can slice it into individual servings before freezing. Either wrap them individually or put parchment paper between the slices. That way, you can just take out what you need to thaw as you go.
Other Notes, Tips and FAQs
TOPPINGS- Add some fun and flavor by topping this banana bread with fresh fruit like blueberries, strawberries or more fresh banana. You could also top with nuts. Crushed walnuts or pecans would be great. Or you could make this a proper dessert and frost it with a cinnamon buttercream frosting or a cream cheese frosting. You could use store bought frosting or make your own. This banana bread would also be tasty with some powdered sugar lightly sprinkled on top.
THE TOP OF MY BREAD IS BURNING BUT IT'S NOT DONE YET? – Just cover it with aluminum foil for the remainder of the baking.
CHOCOLATE CHIPS- We folded our chocolate chips into the batter. But I've seen versions of this recipe that layer the chocolate chips on top. Further, you could certainly experiment with the different types of chocolate chips you use, from semi-sweet, milk chocolate or dark chocolate. You could try white chocolate or peanut butter chips. If you don't want to use cake mix, check out our "normal" Chocolate Chip Banana Bread Recipe!
SHORT ON BANANAS? – No problem. We have a recipe for 2 Banana Banana Bread. That may be the easiest banana bread recipe of all time! Check it out!
ADD VANILLA EXTRACT – If you'd like to, adding 1 teaspoon of vanilla extract would taste great. It's not needed, but it works well in this bread.
PREPARE YOUR PAN – Before pouring your batter into the pan, grease and flour it so it will be easier to get out once it's done baking.
We hope you enjoy this Cake Mix Banana Bread Recipe! Please leave a rating and a comment to let us know what you thought. We love hearing from everyone!
LOOKING FOR OTHER CAKE MIX RECIPES? CHECK OUT: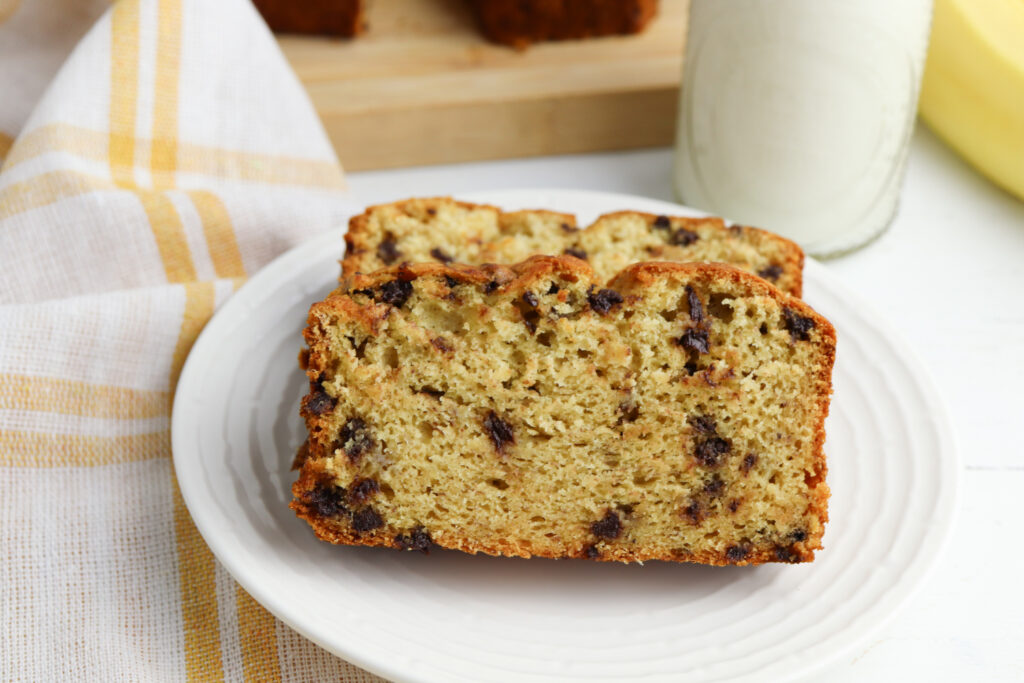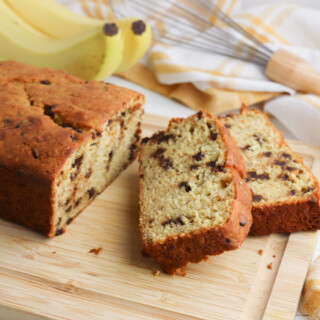 Rate this Recipe
Cake Mix Banana Bread
This Cake Mix Banana Bread is so simple and easy to make! All you need is a couple of ingredients to make soft, fluffy and moist banana bread with this ultimate Cake Mix hack!
Ingredients
1

box yellow cake mix

1/3

cup

vegetable oil

3

eggs

4

medium bananas

mashed

1/2

cup

mini chocolate chips
Instructions
Preheat oven to 350. Grease 2 loaf pans with nonstick cooking spray

In a large bowl, beat all ingredients together until smooth.

Fold in chocolate chips

Pour into loaf pans and bake 45 to 55 minutes.

Allow to cool on wire rack until safe to touch, then remove from pan. Cool completely before slicing.
Nutrition
Love this recipe?
Follow @bubbapie for even more delicious recipes!!