This easy Banana Blueberry Muffins Recipe is the perfect thing for a tasty breakfast, yummy dessert or even a midday snack.  Ripe mashed bananas and fresh blueberries team up with only a handful of other ingredients make the perfect combination in this fresh, light and moist muffin.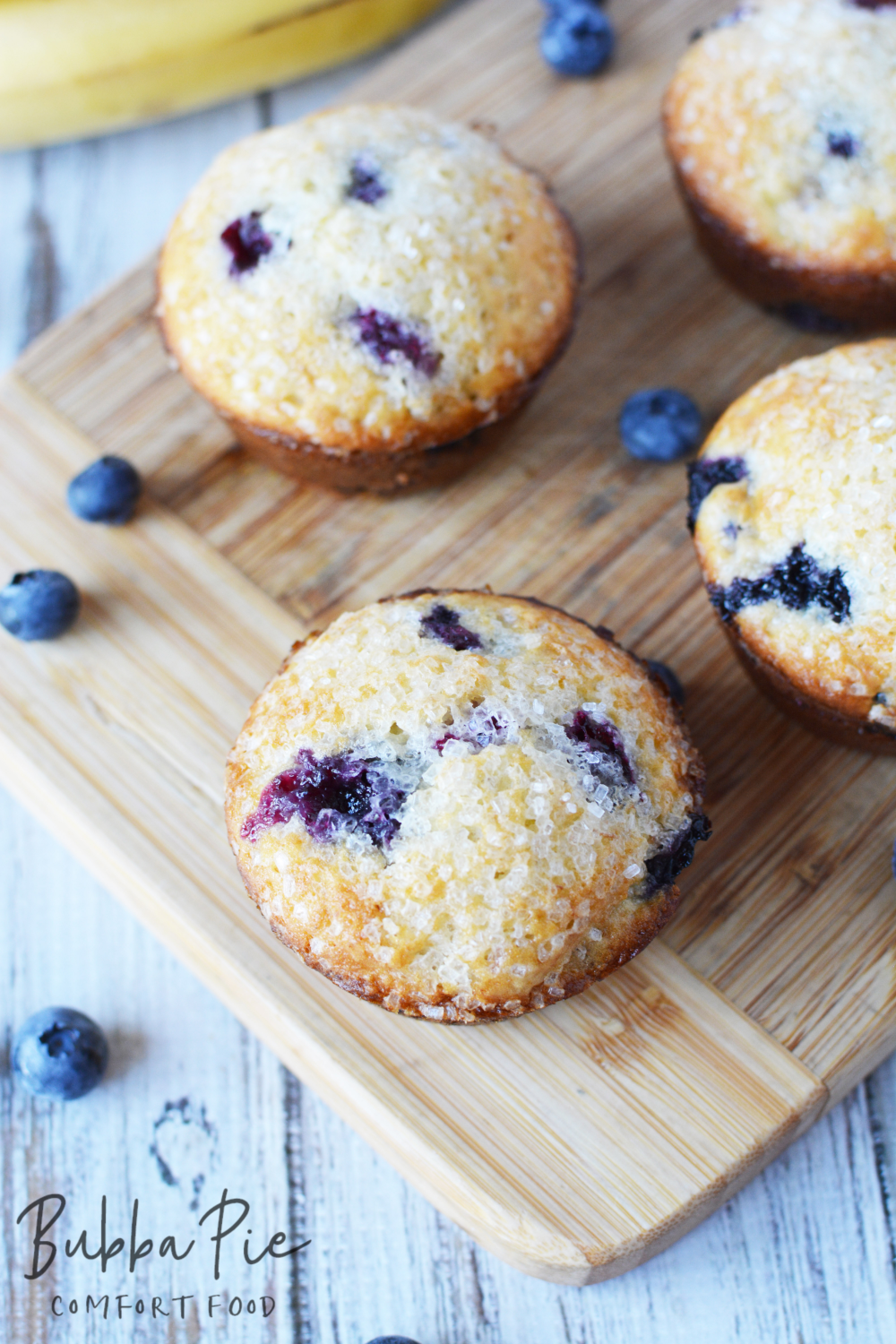 Muffins, Scones, Banana Bread… I love Breakfast!
Breakfast is one of my favorite meals because it is one of the only times you can eat dessert and call it breakfast. I mean, lets be honest, a Blueberry or Strawberry Scone is just as much a dessert as it is a legitimate breakfast food, right? And, if you ask me, anytime you include chocolate chips into any recipe, I'd say you could call it a dessert as much as anything else. Just ask this Chocolate Chip Banana Bread or this Chocolate Chip Bread Loaf!
But one of my favorite treats are muffins. This might be because it reminds me of one of my favorite Seinfeld episodes. But, it is also because it is just such an awesome thing. The top of it is like a cookie, the stump of it is like a cake. It's easy to eat. You don't need a plate. They are the perfect size. And there are so many things you can do with them, from Zesty Lemon Muffins to Pumpkin Chocolate Chip Muffins.
And my two favorite breakfast fruits are blueberries and bananas. So I thought that it would be fun to share this awesome recipe for Banana Blueberries Muffins!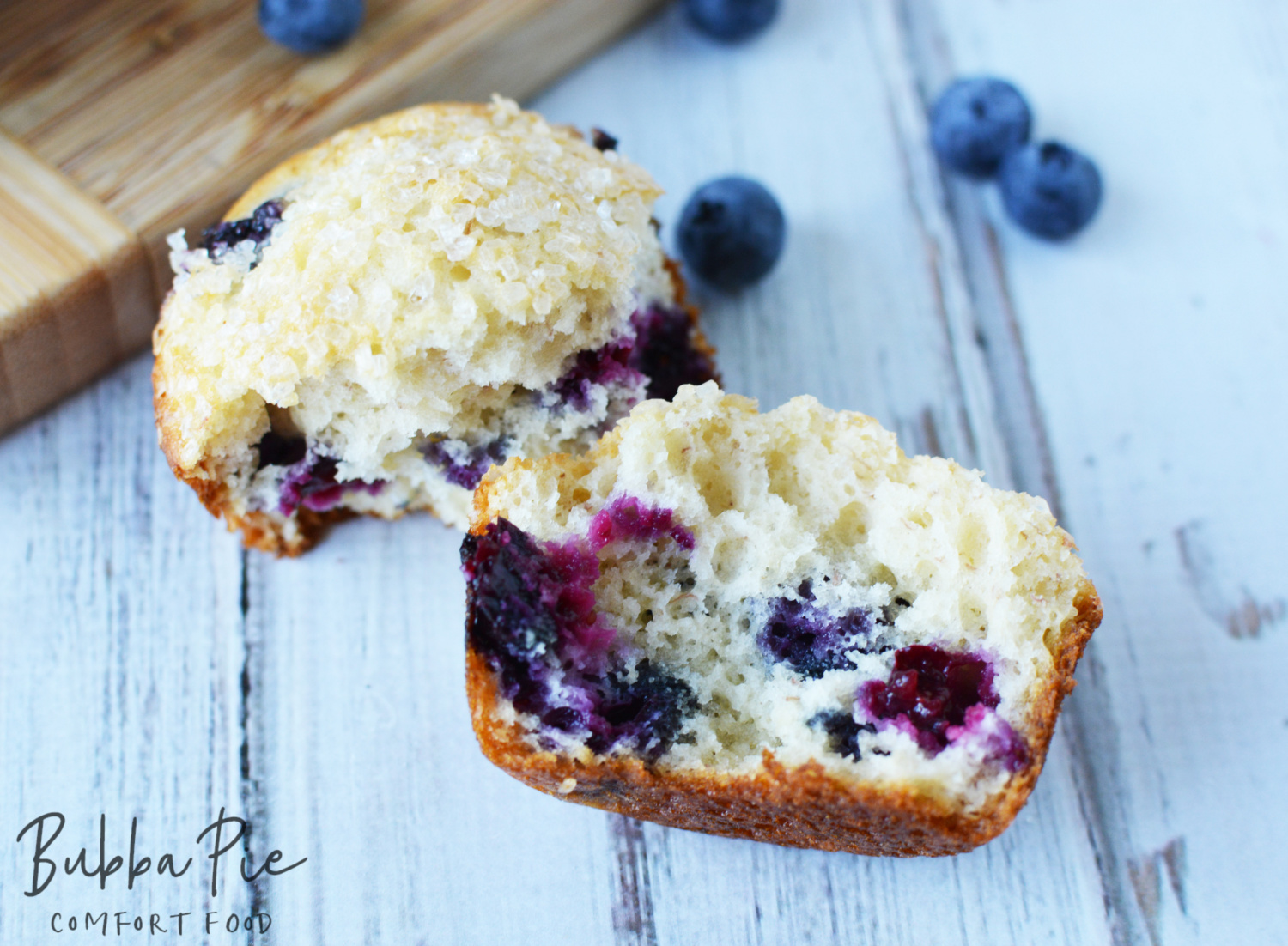 Banana Blueberry Muffins Recipe
I absolutely love baking with banana.  It always makes my dishes so moist and gives it such a fresh flavor.  That, combined with the sweet tartness of the blueberries make this a wonderful recipe.  I also like to make these on Sunday nights so we can eat them for breakfast throughout the week.
We always try to keep things as simple as possible on this website.  So you only need a handful of ingredients to dive into muffin heaven in just a few minutes.  The key is it make sure to use a ripe banana and extra fresh, juicy blueberries.  Other than that, just follow the directions below and enjoy this fresh, delicious treat!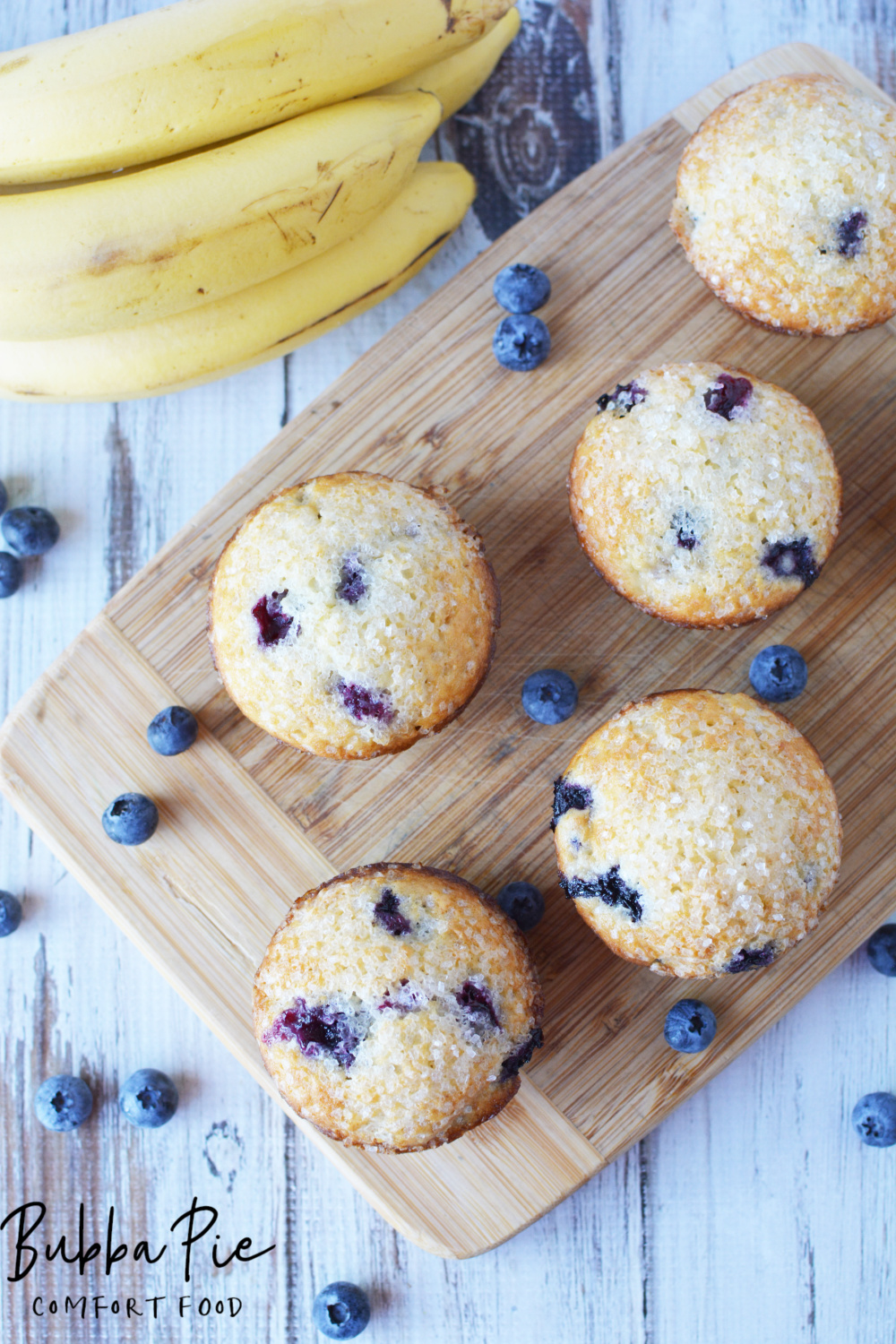 Can You Freeze These Muffins?
Yep! This is one of the reasons this is such an awesome "make ahead" recipe! You can make these anytime and put them in the freezer to take out whenever you may need them. Just let the muffins cool completely. Then individually wrap them in aluminum foil and put them into a freezer bag. I like to put the date I baked them on the bag. They should be good for 3-4 months.
Simply take them out the night before you want to eat them. Or, you can wrap them in a damp paper towel and put them in the microwave for 30 seconds!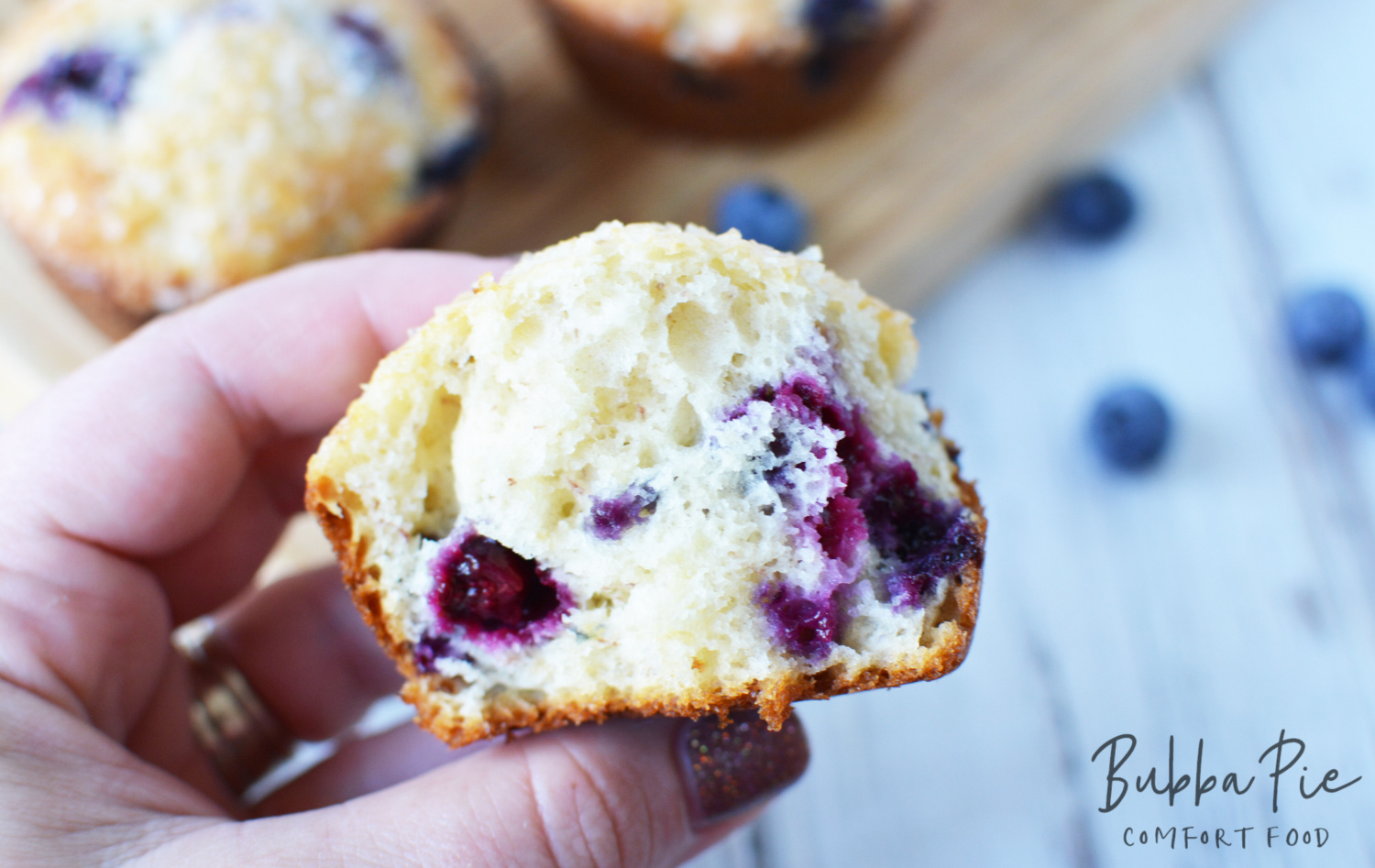 Can You Use Frozen Blueberries When Baking Muffins?
We love to use fresh, juicy blueberries in our recipes. But, depending on where you live and what time of year it is, this can be hard. If all you can get your hands on is frozen blueberries, don't worry at all! It will just take a little prep work.
First, rinse your frozen blueberries in cold water until you don't see as much blue color going down the drain. Then, simply pat them with some dry paper towels. Then you are ready to bake!
Notes, Tips and Variations
Here are a couple ways that you can tweak this recipe to your liking!
Looking for a new muffin pan? This is a great deal!
Or, you can get this 6 piece non-stick oven bakeware baking set. It comes with just about ANY pan you'll ever need to bake with! From muffins to bread loafs to cookie sheets. And it's only $26.00!!!
You can sub out half of the All Purpose Flour for Whole Wheat Flour. I wouldn't completely take away all of the "white" flour, but going half and half can work if you want to reduce your white flour intake.
Make sure you spray the muffin pan with Cooking Spray!
You can substitute the white sugar for 1/4 cup of honey and 1/2 cup of brown sugar.
Another way to make these Banana Blueberry Muffins a little healthier is change the milk. You can use any sort of milk for this recipe. Skim, 1%, 2%, Almond Milk, Vanilla Almond Milk, Soy Milk, etc..
Don't overmix. You really want to just mix it until the ingredients are combined. This is how you can ensure that fluffy, most result you are looking for.
Ummmm…. add chocolate chips! Right? You can never go wrong with adding some chocolate chips. I just wouldn't add to many to compete with the blueberries.
There is nothing wrong with adding a topping to your muffin! You can sprinkle some sugar on top. Add a streusel before baking or add a glaze! Check out some easy muffin topping recipes below!
EASY STREUSEL RECIPE:
1 CUP FLOUR
1/2 CUP GRANULATED SUGAR
4 TBSP MELTED UNSALTED BUTTER
Mix ingredients together and put on top of muffins before baking.
EASY GLAZE RECIPE:
1/2 CUP CONFECTIONERS (POWDERED) SUGAR
TBSP MILK
Mix together in small bowl and drizzle over muffins after they have cooled.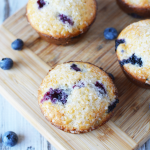 Easy Banana Blueberry Muffin Recipe
Ripe bananas and fresh blueberries make the perfect combination in this fresh, light muffin.
Ingredients
2

cups

flour

2-1/2

teaspoons

baking soda

1

cup

mashed banana

1

egg

2/3

cup

milk

1/4

cup

vegetable oil

2/3

cup

sugar

1

cup

blueberries

decorative sparkling sugar for topping

optional
Instructions
Preheat oven to 400 and grease a 12 cup muffin pan. Set aside.

In a small bowl, combine flour and baking soda and mix well. Set aside.

In a larger mixing bowl, combine mashed banana, egg, milk, oil and sugar and mix well.

Stir in dry flour mixture just until combined.

Use a 3 tablespoon portion scoop to divide batter equally in 12 muffin cups. Sprinkle tops with sparkling sugar if desired.

Bake for 15-18 minutes or until toothpick inserted in the center comes out clean. Let cool for 10 minutes before removing from pan and cooling completely before serving.
Nutrition Facts
Easy Banana Blueberry Muffin Recipe
Amount Per Serving
Calories 86
* Percent Daily Values are based on a 2000 calorie diet.