These Strawberry Banana Muffins have fresh strawberries blended perfectly with the creamy, smooth bananas for a fresh, homemade muffin that is ready in just minutes!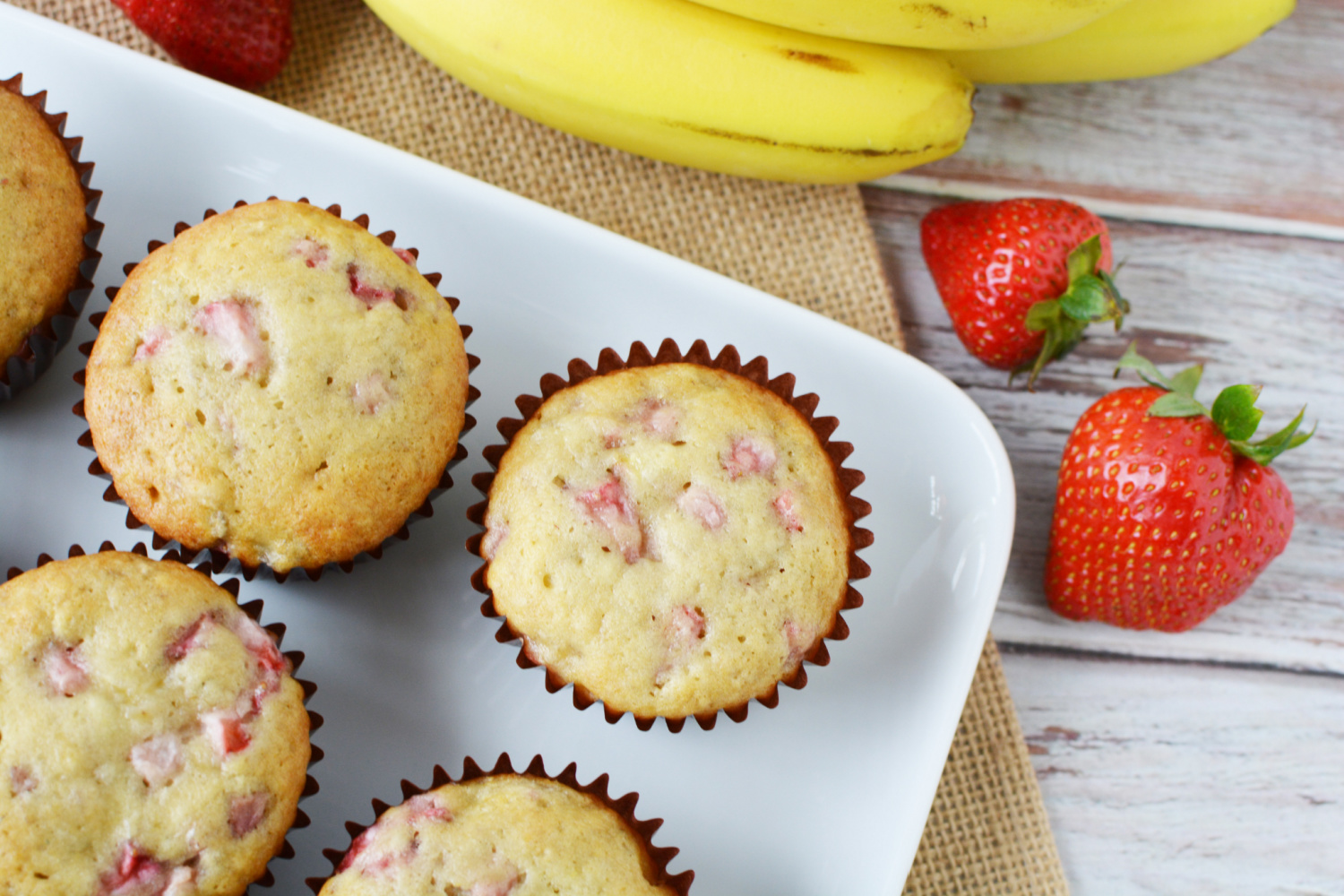 Why You Will Love Strawberry Banana Muffins
FRESH, VIBRANT FLAVORS – Baking with fresh fruit always makes me happy. And these muffins have happiness written all over them. The tanginess of the strawberries works so well with the creamy sweetness of the bananas. But we especially love it when you can use fresh, in season ingredients to make your muffins.
EASY – Literally just 5 minute of prep time. And you can use frozen bananas and strawberries if needed! This is a great recipe for beginning bakers. Or to let the kids help with! Smaller kids will LOVE smashing the bananas up!
HOMEMADE, WHOLESOME INGREDIENTS – We love making homemade muffins. We know exactly what ingredients are going in them. And this recipe has fresh fruit, which is a great way to sneak some fruit into your kiddos tummies!
How To Make Strawberry Banana Muffins
For step-by-step instructions, check out the printable recipe card below. But here is what you'll need to get started:
Strawberry Banana Muffins Ingredients
VEGETABLE OIL – We love baking with vegetable oil instead of butter for our shortening because it makes our muffins so moist!
WHITE SUGAR – To add the delicious sweetness to these muffins.
EGGS – Let your eggs sit out to room temperature before you stir them in.
RIPE BANANAS – Mashed. The perfect banana should have some brown spots on it and be tender to the touch. If there is any green on the banana, it's probably not ripe enough.
VANILLA EXTRACT – We always recommend baking with a high quality vanilla extract. It's worth it.
ALL PURPOSE FLOUR – To make these muffins gluten-free, you can substitute gluten free flour.
BAKING SODA – A leavening agent that will help make these light and fluffy!
SALT – It's always important to bake with salt to offset the sweetness of the other ingredients.
STRAWBERRIES – Diced.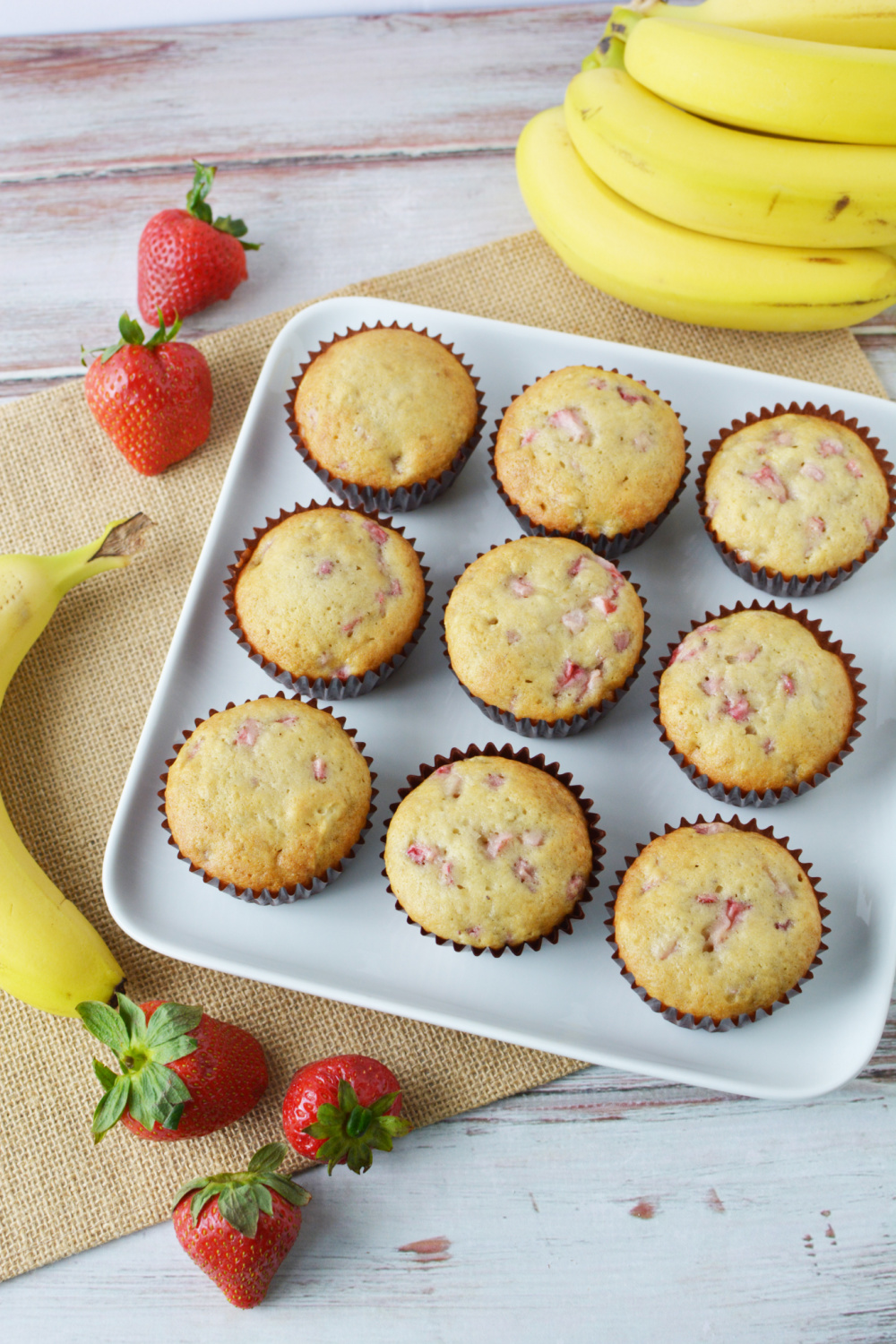 Can You Use Frozen Fruit For These Muffins?
Yep. You can frozen Strawberries or Frozen Banana for this recipe. If you've got some bananas that are browning on your kitchen counter, but you aren't ready to use them, you can easily freeze them. Either slice them up and put them in small ziplock baggies or mash them up and mix in a little bit of lemon juice. Then you can use as much mashed banana as you need when you need it. We suggest using these freezer bags! They are super durable and are easy to open with the little tabs you can grab!
The same is true with frozen strawberries. Frozen Strawberries will work great with this recipe. Just make sure to defrost them and get rid of all the access moisture before using them.
Storage, Leftovers and Freezing.
Store your muffins in an airtight container at room temperature. They should stay good for about 5 days.
Strawberry Banana Muffins are great to freeze! Just make sure to let them cool fully before freezing. I like to freeze my individually so that I can just take them out as needed. They thaw out fairly quickly at room temperature. So, if you put on in a lunch box in the morning, it should be ready to eat by lunchtime!
What Makes A Muffin Light And Fluffy?
Don't overmix the ingredients! When combining your dry ingredients to your wet ingredients, whisk until just combined.
Also, let your eggs come to room temperature before adding them into your muffin recipe.
Notes, Tips and FAQs
HOW TO KEEP YOUR STRAWBERRIES FROM SINKING WHILE BAKING – Did you bite into a muffin and all the fruit was at the bottom? It's easy to prevent that, just toss the strawberries in a coating of flour!
TOPPING IDEAS – Top your muffins with a slice of banana or strawberry (or both). You can even put the fruit on before baking! Or top with some crushed walnuts or pecans. To add a little more sweetness, you could also sprinkle some powdered sugar on top.
USE A COOKIE SCOOP! – Use a cookie scoop to make sure you put the same amount of batter into each muffin. This ensures equal baking.
Other Tools To Help With This Recipe
I hope you enjoy this Strawberry Banana Muffins Recipe. We'd love to hear how they turn out for you in the comments section. Happy eating!
LOOKING FOR MORE MUFFIN RECIPES? CHECK OUT: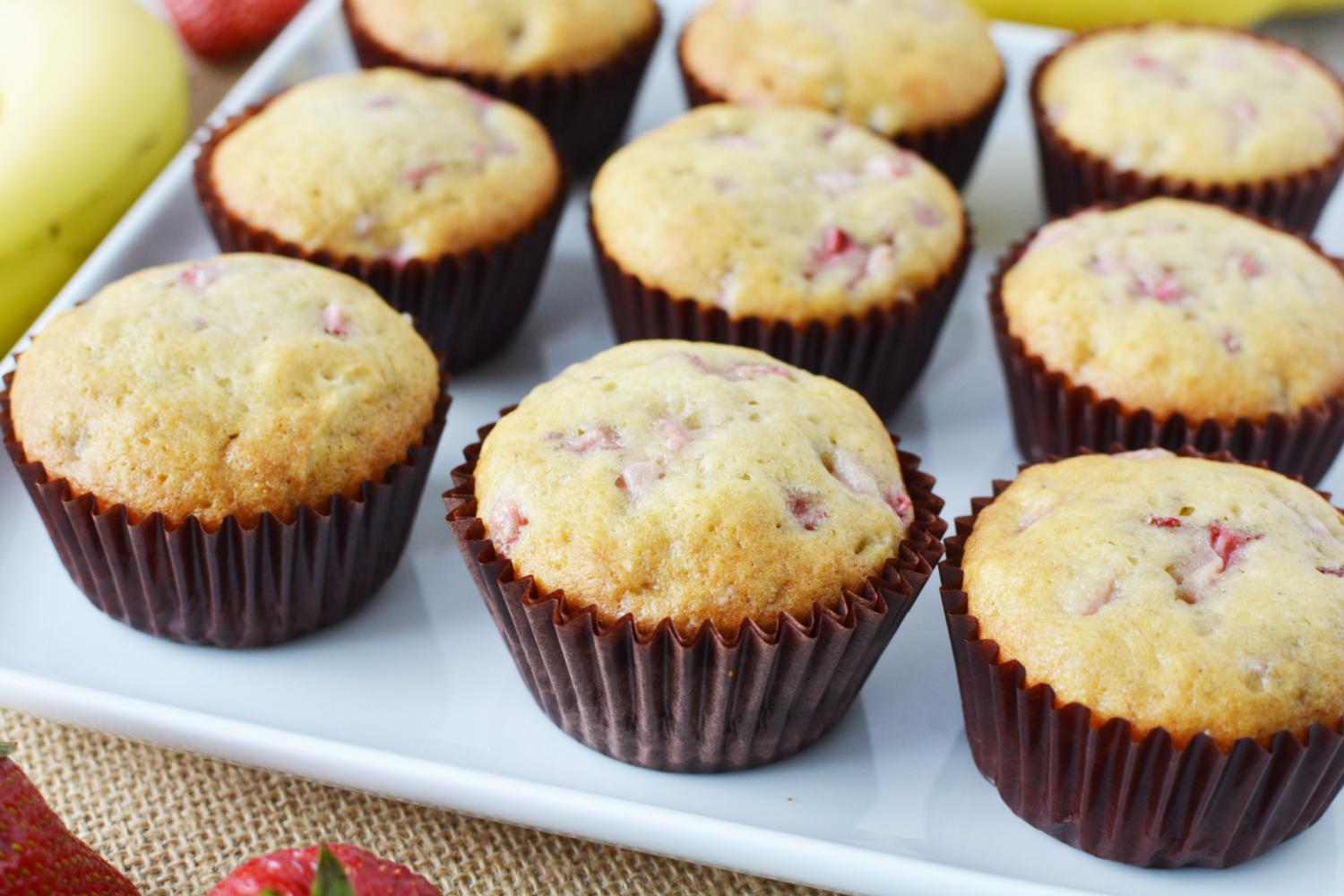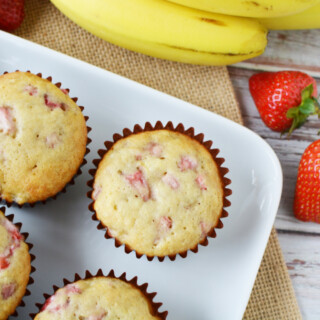 Rate this Recipe
Strawberry Banana Muffins
These Strawberry Banana Muffins are a delicious treat that makes a perfect breakfast, brunch or snack! The sweet, tart fresh strawberries blend in perfectly with the creamy, smooth bananas for a fresh, homemade muffin that is ready in just minutes!
Ingredients
1/2

cup

vegetable oil

2/3

cup

white sugar

2

eggs

3/4

cup

mashed ripe bananas

about 2 small bananas

1

teaspoon

vanilla

1-2/3

cups

all purpose flour

1

teaspoon

baking soda

1/2

teaspoon

salt

1

cup

diced fresh strawberries
Instructions
Preheat oven to 350 and line 15 regular size muffin cups with a paper liner. Set aside.

In a mixing bowl, add vegetable oil, sugar and eggs and mix well.

Mix in bananas and vanilla.

Add flour, baking soda and salt and mix until combined.

Fold in strawberries.

Use a 3 tablespoon portion scoop to put batter into prepared muffin tins.

Bake for 17-20 minutes or until toothpick inserted in the center comes out clean.

Let stand for 5 minutes before removing from pan. Let cool completely or until warm.

Makes 12-15 muffins.
Nutrition
Love this recipe?
Follow @bubbapie for even more delicious recipes!!