This 2 Banana Bread Recipe is a simple, easy recipe that will give you soft, moist results every time! Got a couple of over ripe bananas laying around? This recipe only takes 5 minutes to put together, so put those bananas to good use and bake this delicious recipes that is perfect as a breakfast treat, midday snack or yummy dessert! Banana bread tastes great cold, room temperature or warmed up with a pat of butter!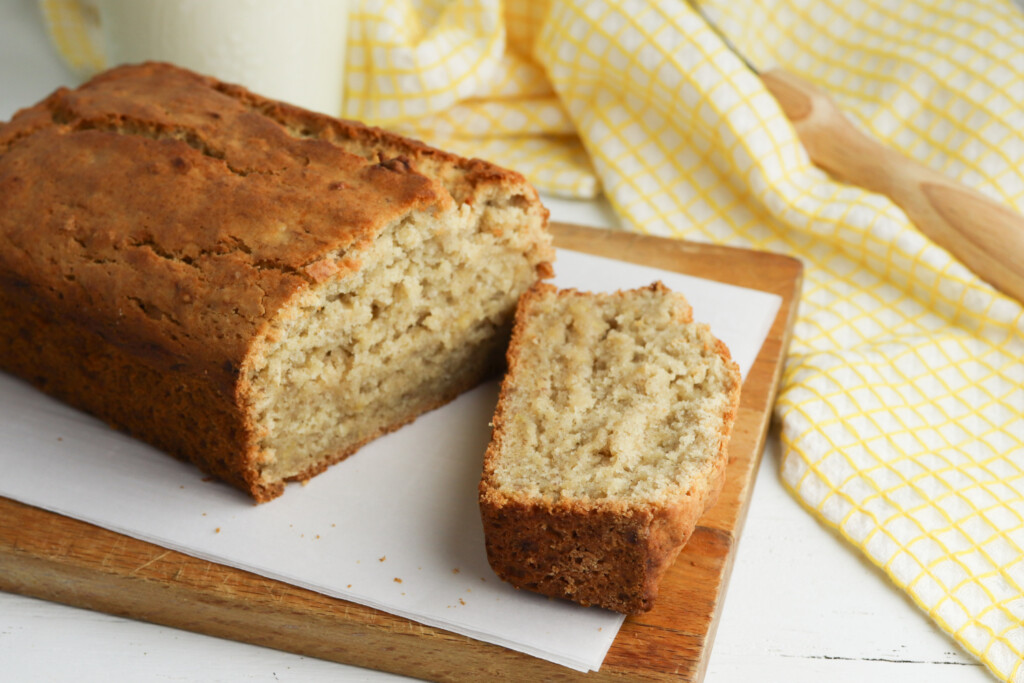 Recipes For Ripe Bananas
It's a constant game in our kitchen. We ALWAYS have bananas hanging on a hook on our countertop. We buy them every week. Often, when we get them at the store, they are a little too green. At the same time, we have leftovers from last week, but those are a little too ripe to eat. Ugghhh! It's a no-win situation.
Of course, while I'm gonna have to just wait for those greenies to ripen up, there are tons of stuff I can do with the spotted ones. This blog is FULL of delicious recipes using ripe bananas. From the fresh and fruity Strawberry Banana Muffins and Blueberry Banana Muffins to classics like Banana Roll Cake, Banana Cream Pie and Banana Poke Cake, there is no shortage of delicious uses for ripe bananas. But one recipe we haven't posted on here a good old fashioned Banana Bread! Well, that changes today!
What Is 2 Banana Bread?
And, we aren't just going to post any ole recipe for Banana Bread. Here at Bubba Pie, we are all about easy and simple. Also, many banana bread recipes call for at least 3-4 bananas? What if you only have a couple? That is exact scenario I'm in almost every week! With this recipe, you'll get delicious banana bread flavor without having a whole bunch of over ripe bananas laying around!
LOOKING FOR ANOTHER BANANA BREAD SHORTCUT? CHECK OUT OUR CAKE MIX BANANA BREAD!
How To Make 2 Banana Bread
This is such a simple recipe! Here is what you'll need:
SUGAR- We use both brown and and white sugar in this recipe. 1/2 cup of white and 1/4 cup of brown. But you can change that around to your tastes.
BUTTER- It is really important that you soften you butter to room temperature for this recipe. You can use salted or unsalted, it doesn't matter. But remember, you will be adding salt as well in this recipe.
BANANAS- The stars of the show! Make sure they are nice and ripe and mashed! Since we are only using two for this recipe, we really do need to make sure they are a pretty good size.
EGGS- We also like to get our eggs to room temperature for this recipe.
FLOUR– Doesn't really matter what type of flour you use. If you want to make this gluten free, this is your chance to substitute gluten free flour.
BAKING SODA– A leavening agent that will allow your banana bread to rise.
CINNAMON- We add 1 tsp of cinnamon to this recipe to give it an extra added level of flavor. But you can omit this if you'd like.
NUTMEG- This adds a warm, slightly spicy aroma and flavor.
SALT- Balances the sweetness of the sugars and ripe bananas.
Read the recipe card below for the full instructions!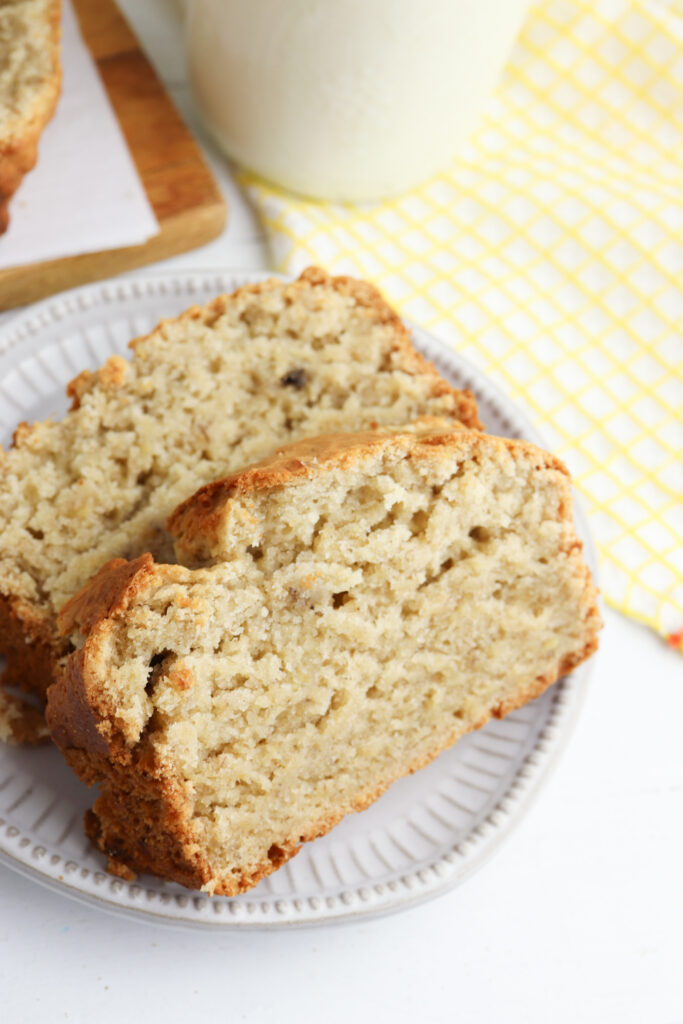 What Bananas Are Good For Banana Bread?
The most important aspect of your banana is to make sure that they are ripe enough. As bananas start to ripen, the starch in them starts to turn to sugar and they will soften. So, one way to tell is that they are softer to the touch. They will also start to get brown spots on the peel. A perfectly ripe banana for banana bread will be nice and soft and have a good amount of brown spots. If there is ANY green on the peel, they probably won't make very good banana bread. On the other hand, make sure they aren't TOO ripe, as they could have mold on them at that point.
As I mentioned above, since this is a 2 banana bread recipe, and we are only using 2 bananas, they really DO need to be pretty good sized. Other than that, the actual brand of the banana doesn't matter at all.
What Is The Best Way To Mash Bananas?
There are three main ways that I use.
USE A FORK– The most simple and straightforward. I'm assuming everyone here has a fork laying around? Just use the flat "back" of the fork to smush the banana down and mash it up.
USE A POTATO MASHER– This may be slightly quicker than using a fork. But it will be one more thing to clean later. Simply mash the bananas just like you would a potato!
USE A FOOD PROCESSOR- I've heard of using a food processor to mash up bananas. Probably not needed here, as we are only smashing 2 of them. But, if you are doubling or tripling this recipe, it may be worth considering.
Storage and Freezing
Banana Bread doesn't need to be refrigerated. It does just fine at room temperature on your countertop. Store it in an airtight container to maximize freshness. We recommend one like this, which every kitchen should have! Banana bread should stay fresh in a container like this for up to about 1 week.
You can easily freeze banana bread. Just allow to fully cool. Then wrap in freezer wrap or a freezer bag. It will be good in your freezer for about 5 months. You can freeze the whole loaf, and then thaw it when needed. Or you can cut the loaf into slices and freeze them separately, or at least separated by parchment paper. So you only need to thaw what you need!
Other Notes, Tips and FAQs.
HOW TO TELL IF MY BANANA BREAD IS DONE?– Keep an eye on your bread in the oven. Once it is golden on top and cracks start to form, you can test it for doneness. Insert a thin knife or a cake tester in the center. If it comes out clean, it's done!
WHAT SIZE LOAF PAN SHOULD I USE?- We used a standard 8X4 loaf pan. You can try using a different size, but will probably need to adjust baking times. And we haven't tested that.
I ONLY HAVE 1 BANANA? WHAT NOW?– Can you make 1 banana bread? It is commonly known that you can substitute applesauce for bananas. They generally have the same consistency and sweetness level. About 1/2 cup of applesauce should make u for one missing banana. Your results won't be exactly the same, but you can get away with it in a pinch.
BANANA BREAD IS STICKING TO LOAF PAN- Make sure you are spraying your pan with non-stick spray. To take an extra step, you can also line the inside of the pan with parchment paper. Line it up so that it goes up the "long" sides of the loaf pan. When your bread is out of the oven and has cooled, simply pull it right out of the pan!
ADDITIONS- Add 1/2 cup of blueberries, 1/2 cup of mini chocolate chips, 1/2 cup of dried cranberries or crushed walnuts or pecans. We also have this recipe for Chocolate Chip Banana Bread if you'd like to try that!
TOPPINGS– Sprinkle some nice, coarse salt on the top crust to give it some added flavor. Or you could top with powdered sugar.
DOUBLE THIS RECIPE?– This recipe can easily be doubled! Pour batter into two loaf pans. Freeze one or give it away as gift! We love this set of 2 loaf pans that you can buy for a super affordable price!
We hope you enjoy this recipe for 2 banana bread recipe. Please let us know how it turns out the comment section and give us a review. It really helps us! Thanks!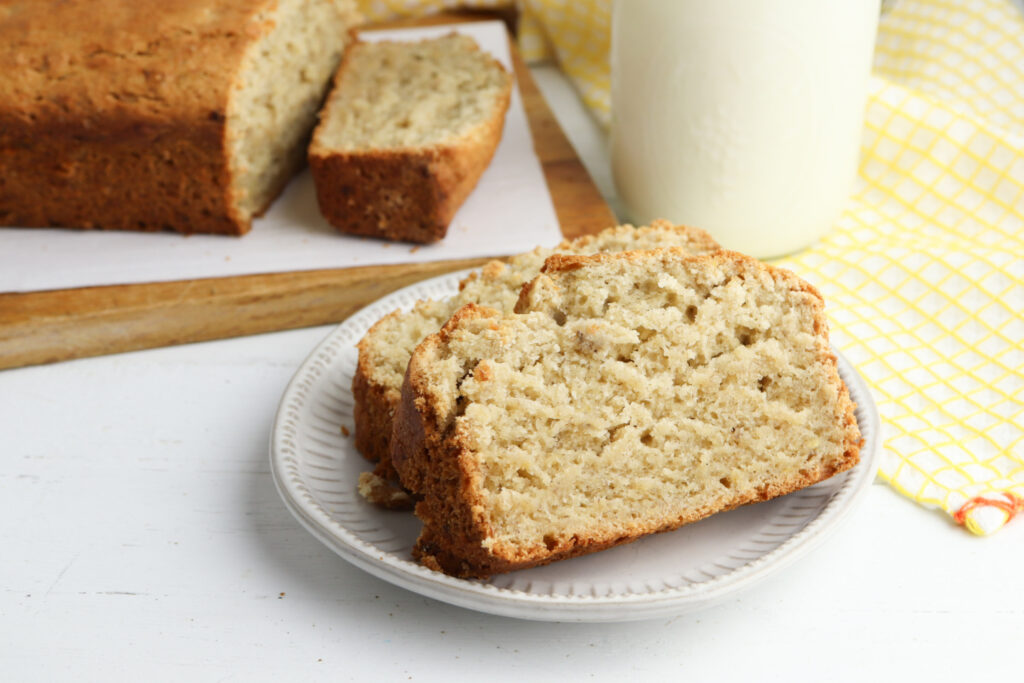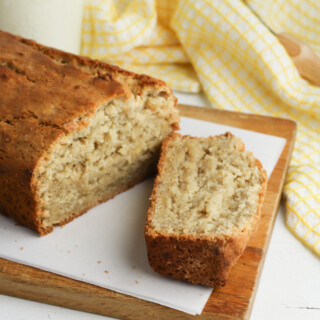 Rate this Recipe
2 Banana Bread Recipe
This 2 Banana Bread Recipe is a simple, easy recipe that will give you soft, moist results every time! Got a couple of over ripe bananas laying around? Put them to good use and make this delicious dessert bread!
Ingredients
1/2

cup

sugar

1/4

cup

brown sugar

1/2

cup

butter

softened

2

medium bananas

mashed

2

eggs

2

cups

flour

1

teaspoon

baking soda

1

teaspoon

cinnamon

½

teaspoon

nutmeg

1/2

teaspoon

salt
Instructions
Preheat the oven to 350 and grease the bottom of a loaf pan.

Beat together the sugar, brown sugar, and butter until smooth.

Add the bananas and eggs and beat to combine.

Add the flour, baking soda, cinnamon, nutmeg, and salt and mix until combined.

Spread the batter in the prepared loaf pan and bake for 50 to 60 minutes.

Allow to cool on wire rack, then remove from pan to cool completely.
Nutrition
Love this recipe?
Follow @bubbapie for even more delicious recipes!!