This Parmesan Crusted Salmon Sheet Pan Dinner is a healthy, low carb family dinner for any night of the week! Fresh salmon is topped with a zesty parmesan crust and served with roasted vegetables. Made entirely on one sheet pan, it is easy, delicious and you won't be doing dishes all night long!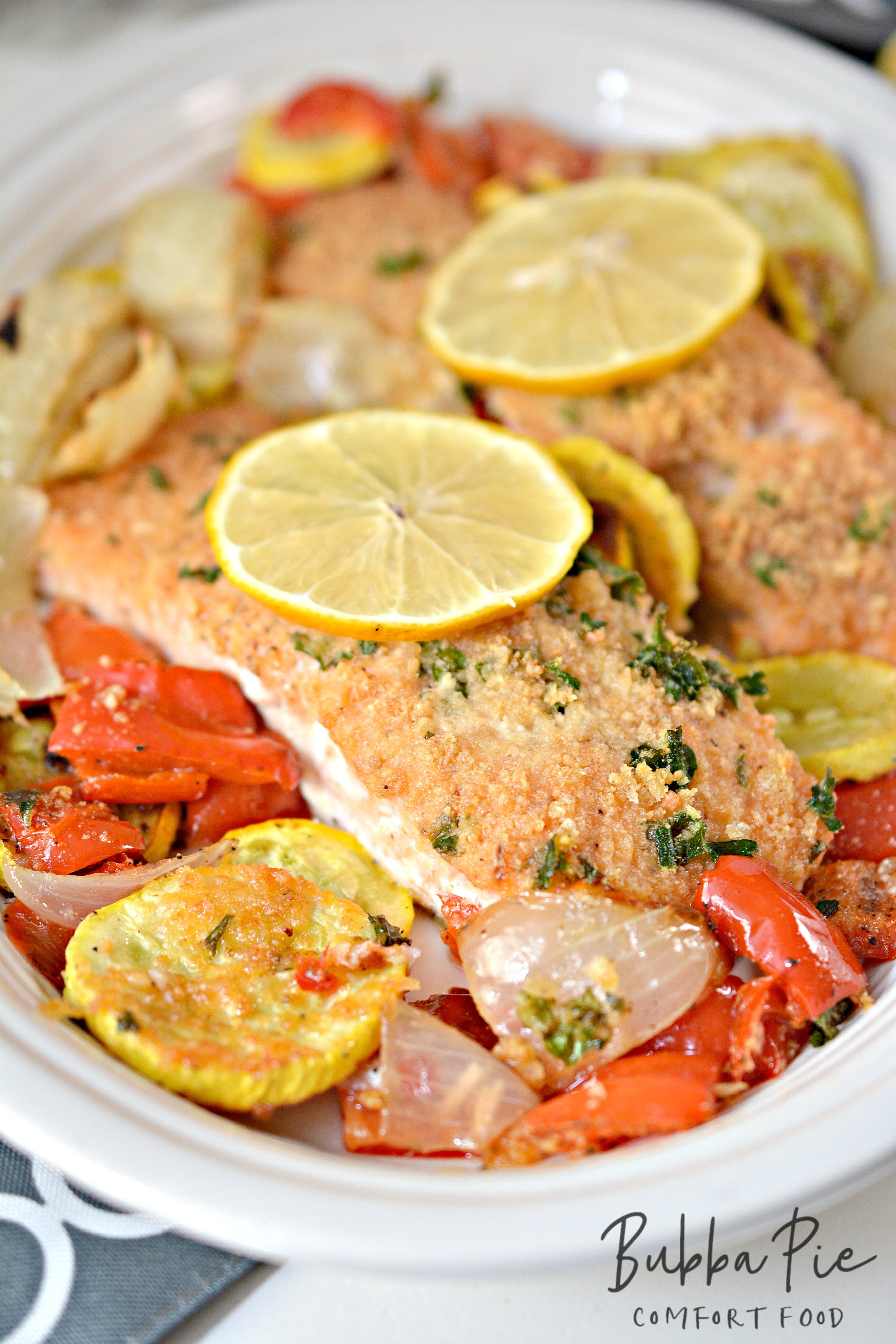 IF YOU'RE LOOKING FOR MORE HEALTHY COMFORT FOOD RECIPES, BE SURE TO CHECK OUT OUR LIST OF 25 HEALTHY COMFORT FOOD RECIPES FOR MORE DINNER IDEAS.
Healthy Comfort Food
Here at Bubba Pie, we LOVE comfort food. That is what we are all about. To us, comfort food means easy, delicious meals that use simple, every day ingredients. From Impossible Cheeseburger Pie to Crack Chicken Casserole, we believe no meal should be a wasted opportunity to give your life a little boost of happiness. Yes, a lot of these recipes aren't shy about dumping on the calories. But, honestly, there are a ton of healthy comfort food recipes out there too!
We've made this Smashed Brussels Sprouts and this Mexican Fruit Salad! And they are some of our most popular recipes. You don't need to pile on calories and carbs for some authentic comfort food. This brings me to today's recipe: Parmesan Crusted Salmon Sheet Pan Dinner.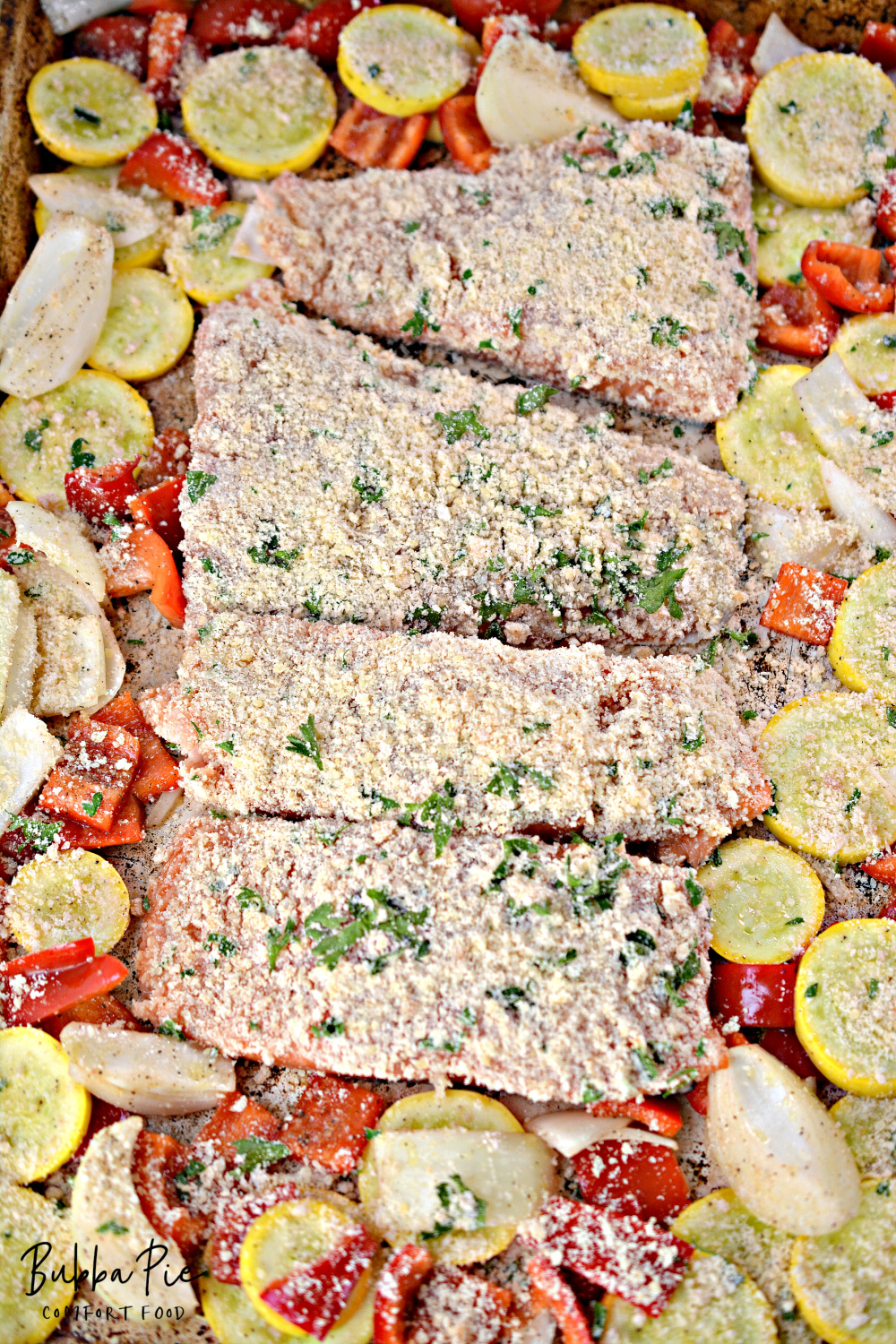 What Is A Sheet Pan Dinner?
One thing that makes this dish so simple is that it is all prepared on one pan. What is a sheet pan dinner? Just like you can throw everything into a Crock Pot and cook it all together, you use the same philosophy on a baking sheet in the oven. Everything goes onto one baking pan and is cooked together in the oven. This makes dinner preparation super easy and the cleanup and dishes even easier! Perfect for busy moms looking for weeknight dinner ideas.
Parmesan Crusted Salmon Sheet Pan Dinner
Salmon is a frequent weeknight dinner in our home. We usually broil it and then separately prepare some veggies on the side. We love salmon because it it isn't too expensive, the kids tolerate it and it has so many health benefits. It is rich in Omega-3 Fatty Acids, a great source of protein and contains antioxidants. All in all, it is a pretty healthy and easy weeknight meal. It keeps great in your freezer and is easy to thaw!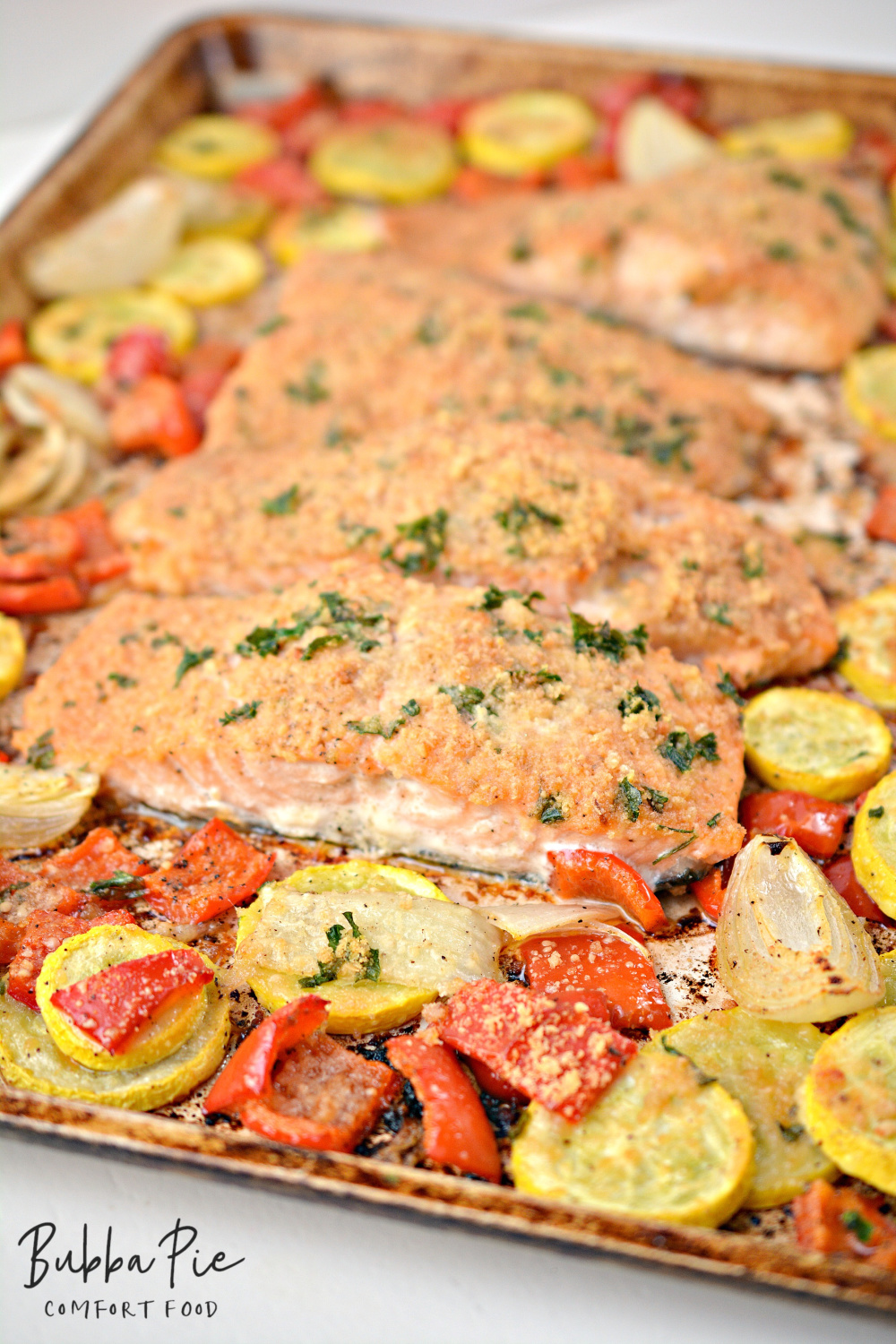 Crusted Salmon Sheet Pan Meal Ingredients
The ingredients are pretty simple and, just like all great comfort food recipes, you can tailor it a bit to suit your tastes and needs. They key is to get those vegetables coated in olive oil to make sure they are nice and crispy on the outside after cooking. You should certainly salt and pepper to taste, but I've found that I shouldn't be shy with the salt, especially on vegetables. The right amount of salt can really make a vegetable shine! Otherwise, the list of ingredients is pretty simple:
Salmon with the skin on
Crushed pork rind crumbs
Parmesan cheese
Chopped fresh parsley
Butter
Cloves minced garlic
Red bell peppers
Onion
Medium sized yellow squash
Olive oil
Salt and pepper to taste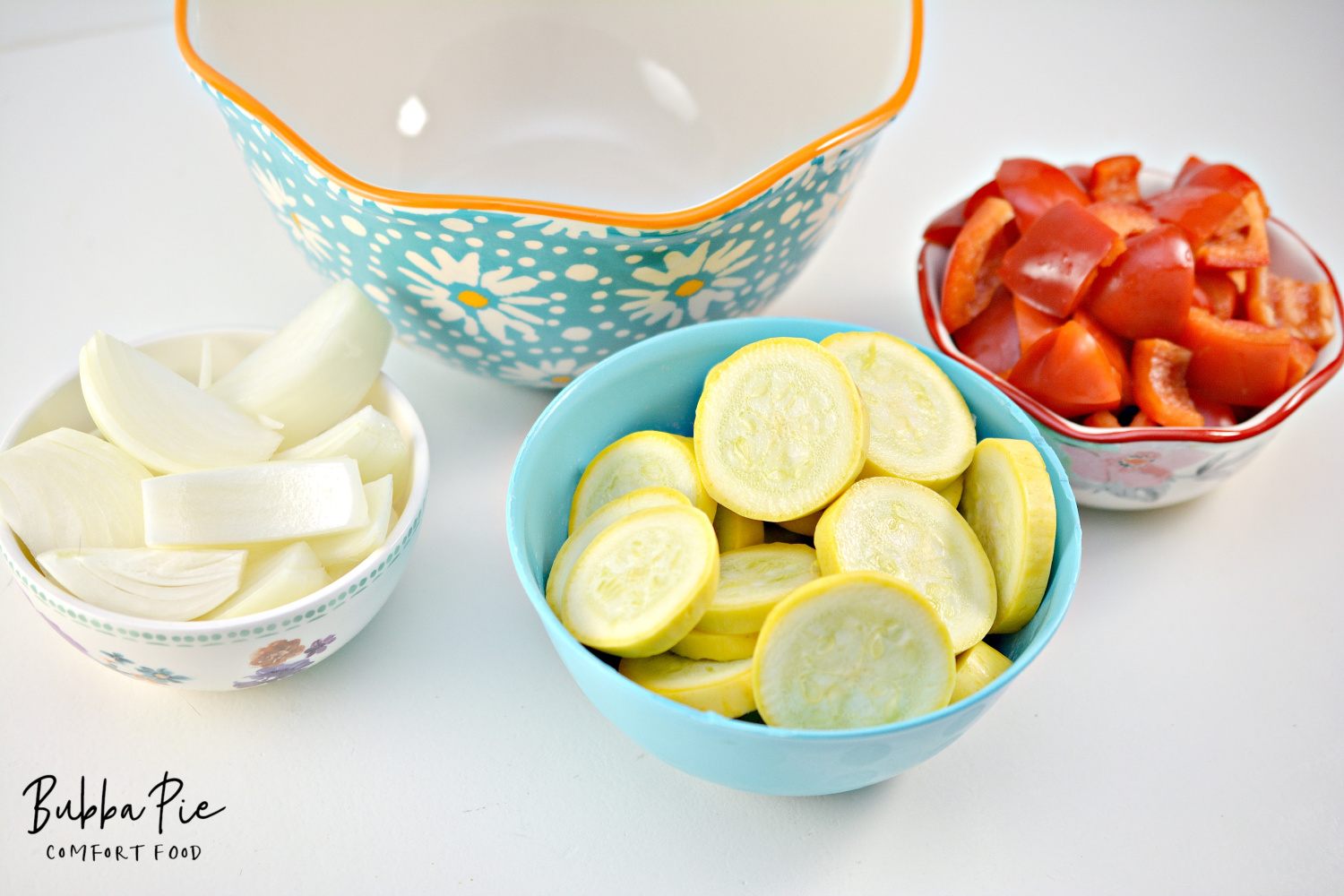 Notes, Tips and Variations:
Crispy Crust!-If you want to Parmesan Crust a little crispier, try broiling for 1 minute before taking it out of the oven.
How To Know When Your Salmon Is Done?-You know your salmon is done when you can easily flake it with a fork.
Garnish- Garnish with chopped Green Onions or fresh Chopped Parsley for some added color and flavor.
Experiment with Oil– You can never go wrong with Olive Oil. But there are lots of oil options, each with their own identities. Just be careful of their smoke points, we are roasting at 400 degrees. You could try a more neutral oil like Vegetable or Grapeseed Oil if you don't like the taste of Olive Oil. I also love to use Avocado Oil in my recipes.
Veggies!- We used onions, red peppers and yellow squash. But you could also try Broccoli, Cauliflower, Baby Carrots, Sliced Zucchini, Baby Potatoes or Chopped Fennel Bulbs.
I hope you enjoy this easy family meal! This Parmesan Crusted Sheet Pan Dinner has been a life saver for us! Thanks for trying it out. Let me know how it turned out in the comments!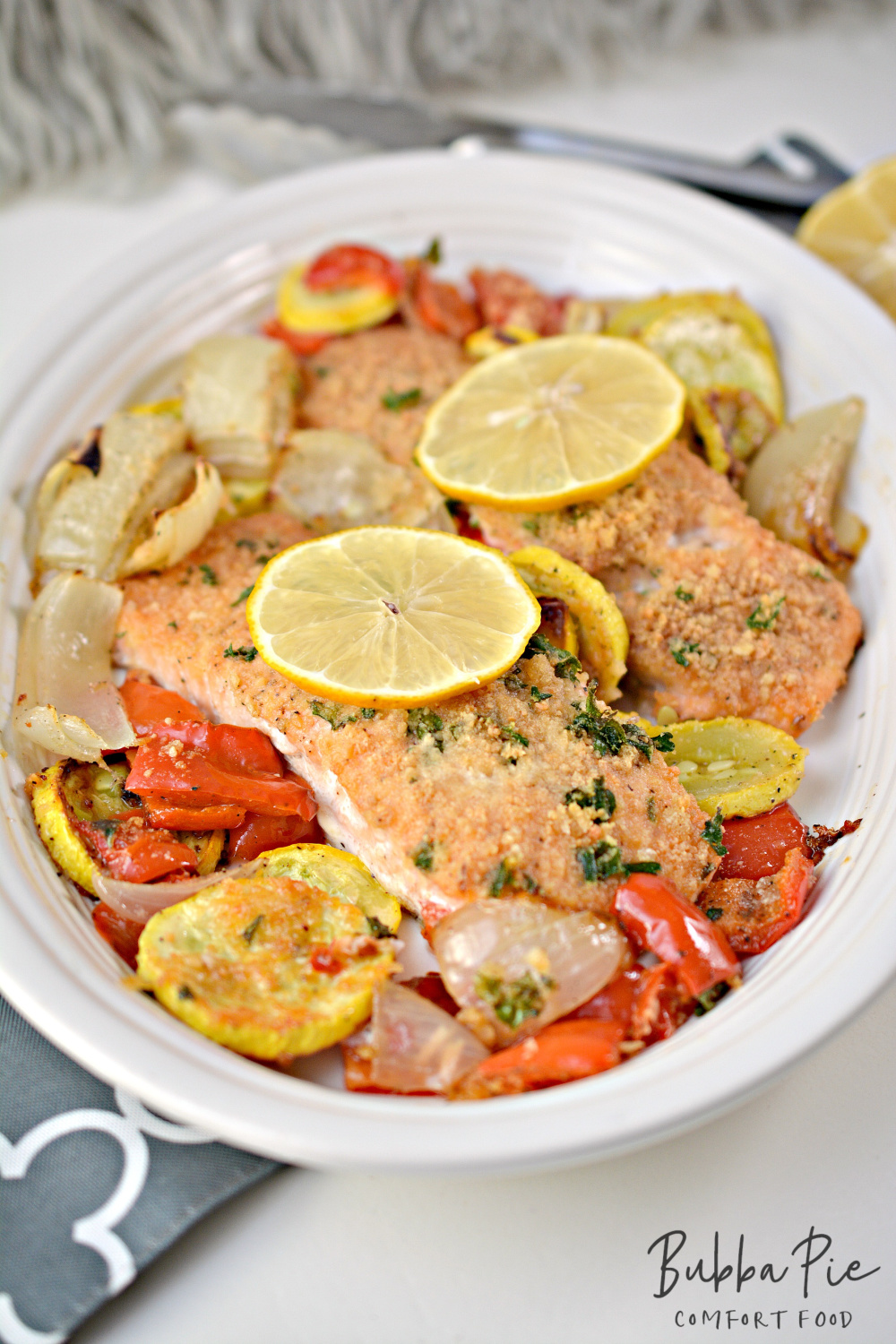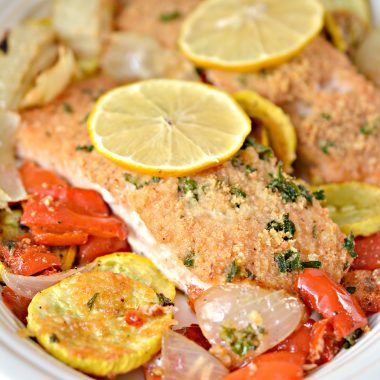 Rate this Recipe
Low Carb Parmesan Crusted Salmon Low Carb Parmesan Crusted Salmon Sheet Pan Meal
This Low Carb Parmesan Crusted Salmon is the perfect dish to get a healthy start to your New Year. Made entirely on one sheet pan, it is easy, delicious and the whole family will enjoy it.
Ingredients
1 ½

lb.

Salmon with the skin on

1

c.

Crushed pork rind crumbs

½

c

Parmesan cheese

3

tbsp

Chopped fresh parsley

⅓

c

butter

2

Cloves

minced garlic

2

Medium sized yellow squash

2

Red bell peppers

1

Onion

2

tbsp

Olive oil

Salt and pepper to taste
Instructions
Preheat the oven to 400 degrees.

Wash and pat dry your salmon. Apply salt and pepper to taste.

Prepare your vegetables. Slice the squash into ¼ inch thick rounds, cut the red bell peppers into bite sized squares and slice the onion into wedges.

Place all of the vegetables into a large mixing bowl, and add the olive oil as well as salt and pepper to taste. Toss to coat all of the vegetables well. Arrange the vegetables on a sheet tray, with a space left in the middle for the salmon fillets.

Place the melted butter and the garlic cloves into a shallow bowl together.

In another bowl, combine the crushed pork rind crumbs, the parmesan cheese and the chopped parsley. Stir to combine.

Dip each salmon fillet face down into the garlic butter mixture, and then coat it in the parmesan mixture.

Place each coated salmon fillet skin side down in the middle of the sheet pan.

Sprinkle some of the remaining parmesan crumb mixture over the vegetables.

Bake uncovered for 15-20 minutes until the salmon is cooked through and the vegetables are tender.
Nutrition
Love this recipe?
Follow @bubbapie for even more delicious recipes!!