This Red Velvet Cupcake Recipe is soft, moist and perfectly loaded with a rich chocolate flavor. And, topped with cream cheese frosting, it's a perfect dessert for any occasion! And, even better, it's completely gluten free!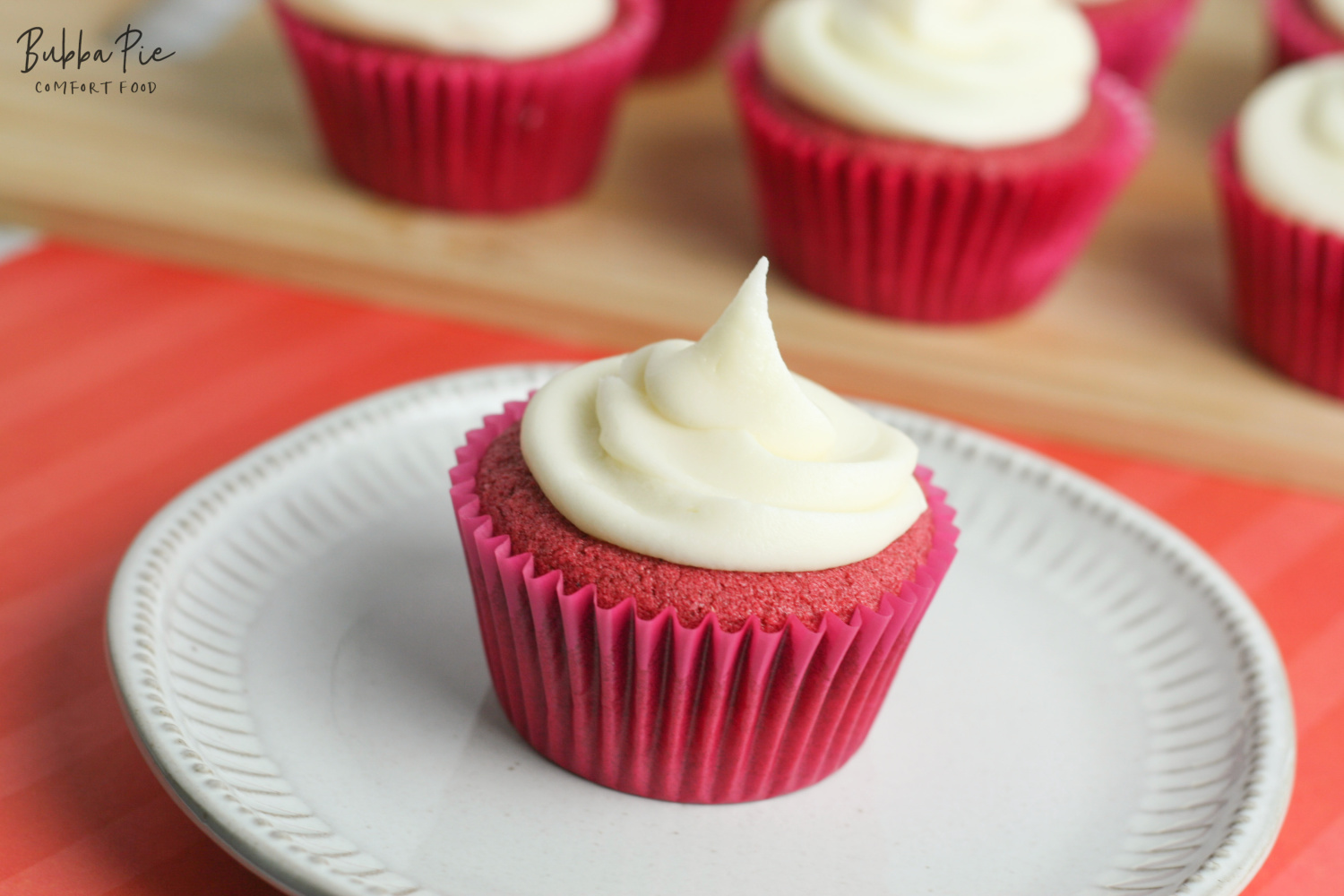 Why You Will Love This Recipe
RICH AND DECADENT – Full of smooth, rich chocolate taste, these cupcakes hit the spot. And add that homemade cream cheese frosting to top thing off!
GREAT FOR ANY DIET – Just because you are avoiding gluten doesn't mean you have to skip out on cupcakes! These Gluten Free Cupcakes taste just like any other cupcake!
A PERFECT HOLIDAY DESSERT – Red velvet desserts are perfect for Christmas, Valentine's Day, Graduation, a Baby Shower or any other festive occasion.
EASY TO MAKE – With just a few simple ingredients and a couple of minutes of prep time, these cupcakes will be baking in your oven. This is a great recipe to let the kids help out on!
What Is Red Velvet Cake?
A lot of people wonder if there is really any difference between red velvet cake and chocolate cake other than adding some red food coloring. The answer is: yes! Traditionally, red velvet cake has less cocoa powder in it than a chocolate cake. A red velvet cupcake will still have a chocolate taste to it due to the cocoa powder, but not nearly as much as your traditional chocolate cake or cupcake.
A red velvet cupcake recipe also usually includes buttermilk, which gives it that deliciously light and fluffy texture. And red velvet cake is most often topped with white cream cheese icing, which rounds out that iconic flavor that we all know and love.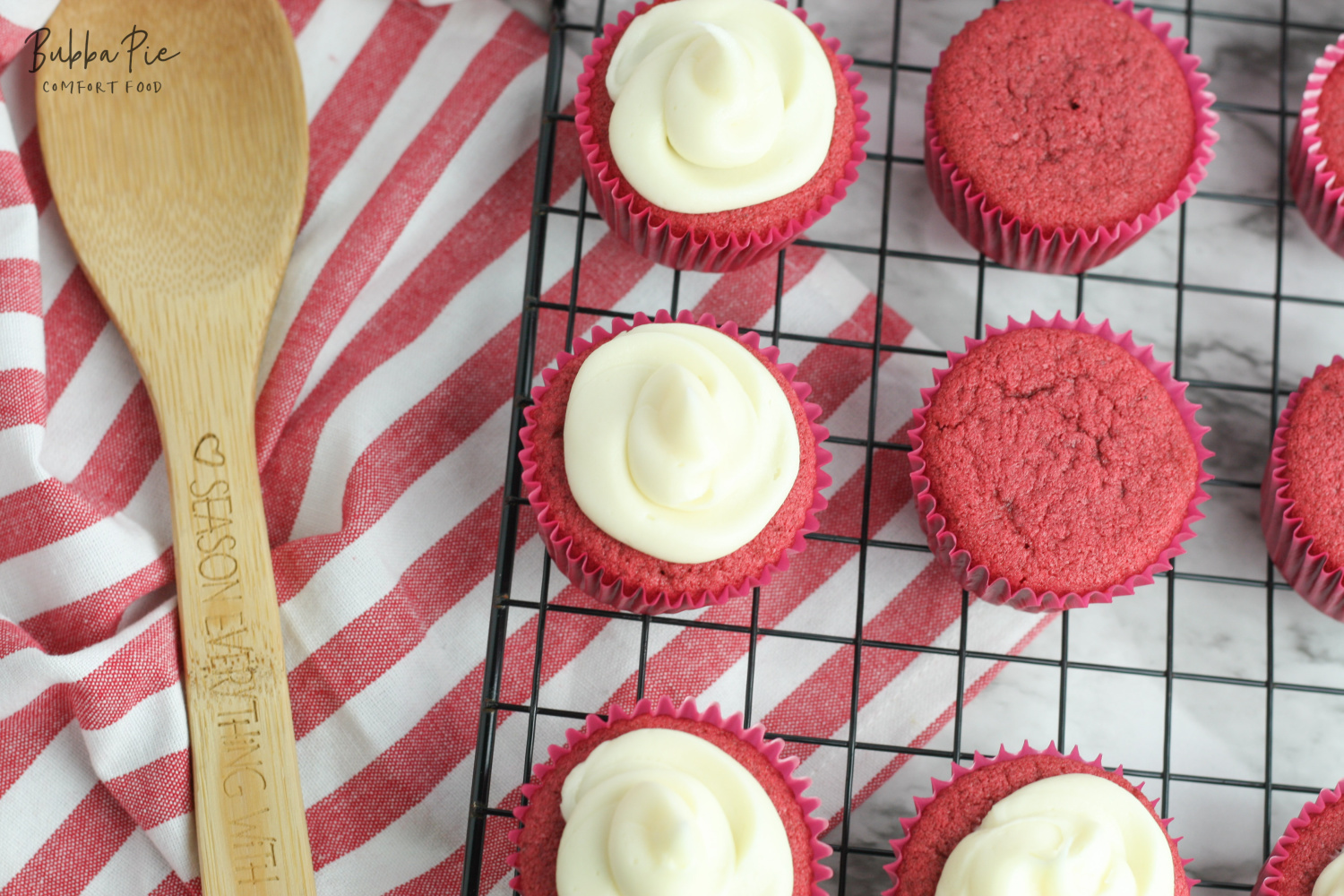 Gluten Free Red Velvet Cake Recipe
The list of ingredients is pretty easy and basic. The one curve ball is to make sure that you use the gluten free baking flour, which is easy to find at your local supermarket. Other than that, learning how to make red velvet cupcakes with cream cheese frosting is pretty easy! First, just gather up the ingredients.
Gluten Free Red Velvet Cupcakes Ingredients:
SUGAR – Any white, non-granulated sugar will do.
BUTTER – You can use salted or unsalted butter. But if you use salted butter, dial back the addition of salt later on. Also, try to get the butter to room temperature before using.
EGGS – Also try to get your eggs to room temperature as well before adding.
COCOA POWDER – Gives it that delicious, rich chocolate flavor.
RED GEL FOOD COLORING – This is really what makes Red Velvet Cake a Red Velvet Cake, just red food coloring.
GLUTEN FREE FLOUR – You can usually found Gluten-Free Flour in the baking aisle of your grocery store. But you can also order it from Amazon.
SALT – Salt is an important part of baking to offset the sweetness of the dessert.
BUTTERMILK – Adds a delicious tang and flavor to this dessert.
VANILLA EXTRACT – We always recommend using high quality vanilla extract. It's worth the extra cost.
BAKING SODA – A leavening agent that gives these cupcakes their soft, delicious texture.
WHITE VINEGAR – Vinegar works with the baking soda to help give these cupcakes their texture.
Red Velvet Cream Cheese Icing Ingredients:
CREAM CHEESE – Softened.
BUTTER – Unsalted and softened.
VANILLA EXTRACT
POWDERED SUGAR – Also called confectioner's sugar.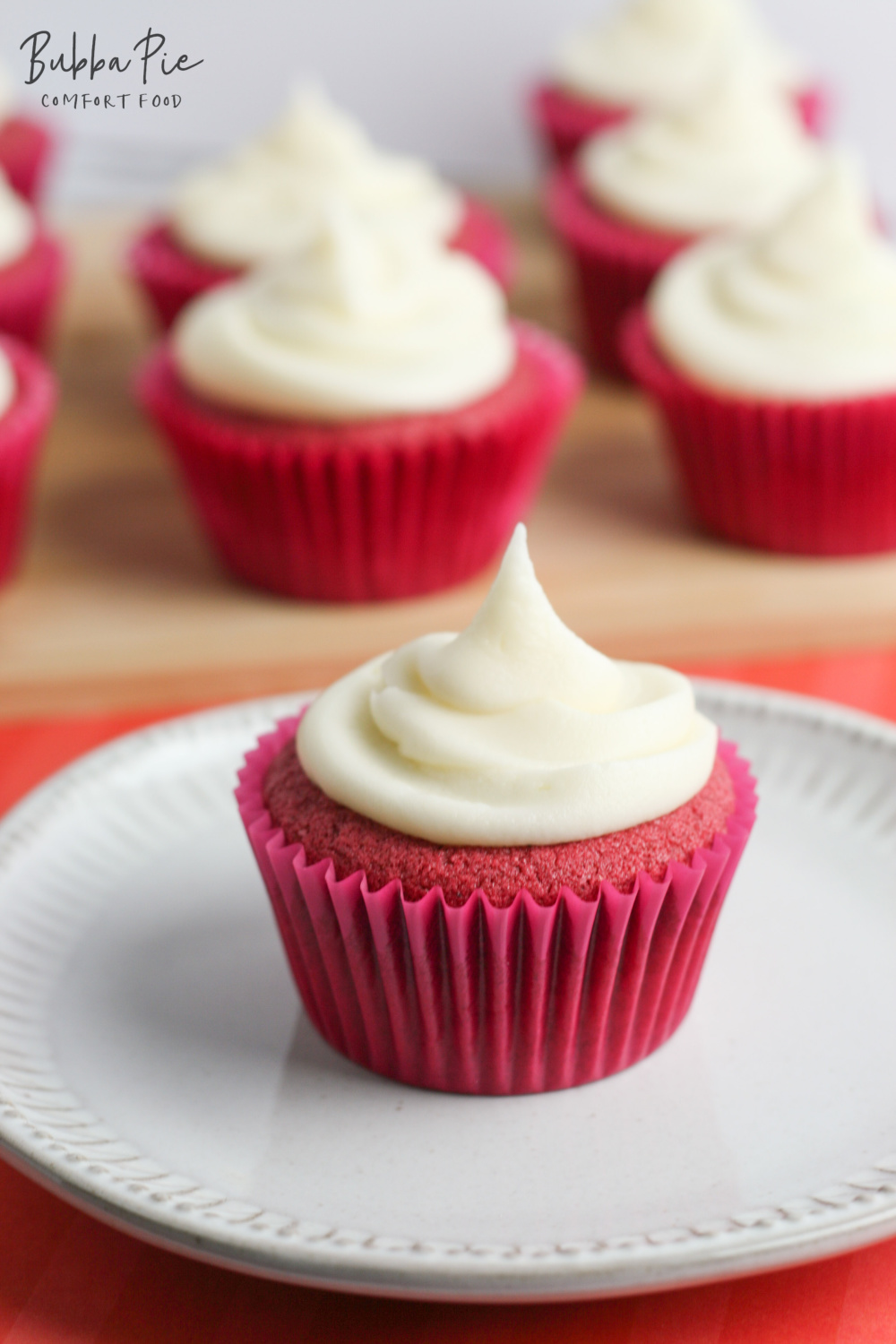 A Perfect Valentine's Day Recipe
I love the look of that dark, deep red color with the bright, white icing! This makes it a perfect Valentine's Day Dessert Recipe. Either make them for a loved one, have a romantic date in the kitchen or even make these with your kids! I've got some great Valentine's Day desserts on this site too, like these Brown Sugar Blondies, Valentine's Day Pudding Parfait and Cupid's Strawberry Cake Mix Cookies.
Leftovers, Storage and Freezing
Store leftovers in an airtight container at room temperature. They should be good for about 5 days.
You can freeze Red Velvet Cupcakes. I'd put them on a baking tray and flash freeze them until hard. Then put them in a a freezer safe container or freezer bag. They should be good for about 3 months. You can thaw at room temperature.
Notes, Tips and FAQs
HOW DO I KNOW WHEN MY CUPCAKES ARE DONE? – Stick a toothpick or a cake tester into the center of a cupcake. If it comes out clean, it's done.
OTHER ITEMS TO HELP WITH THIS RECIPE – CUPCAKE PAPER LINERS, STAND MIXER, WHISK, MUFFIN TIN, SPATULA.
MEASURE FLOUR ACCURATELY – The most accurate way to measure flour is with a scale, not a measuring cup.
DON'T OVER MIX INGREDIENTS – Combine the wet ingredients and the dry ingredients until just combined. Overmixing can result in a dry cupcake!
I hope you enjoy them! Let me know what you think in the comments!
FOR MORE GLUTEN FREE DESSERTS, CHECK OUT: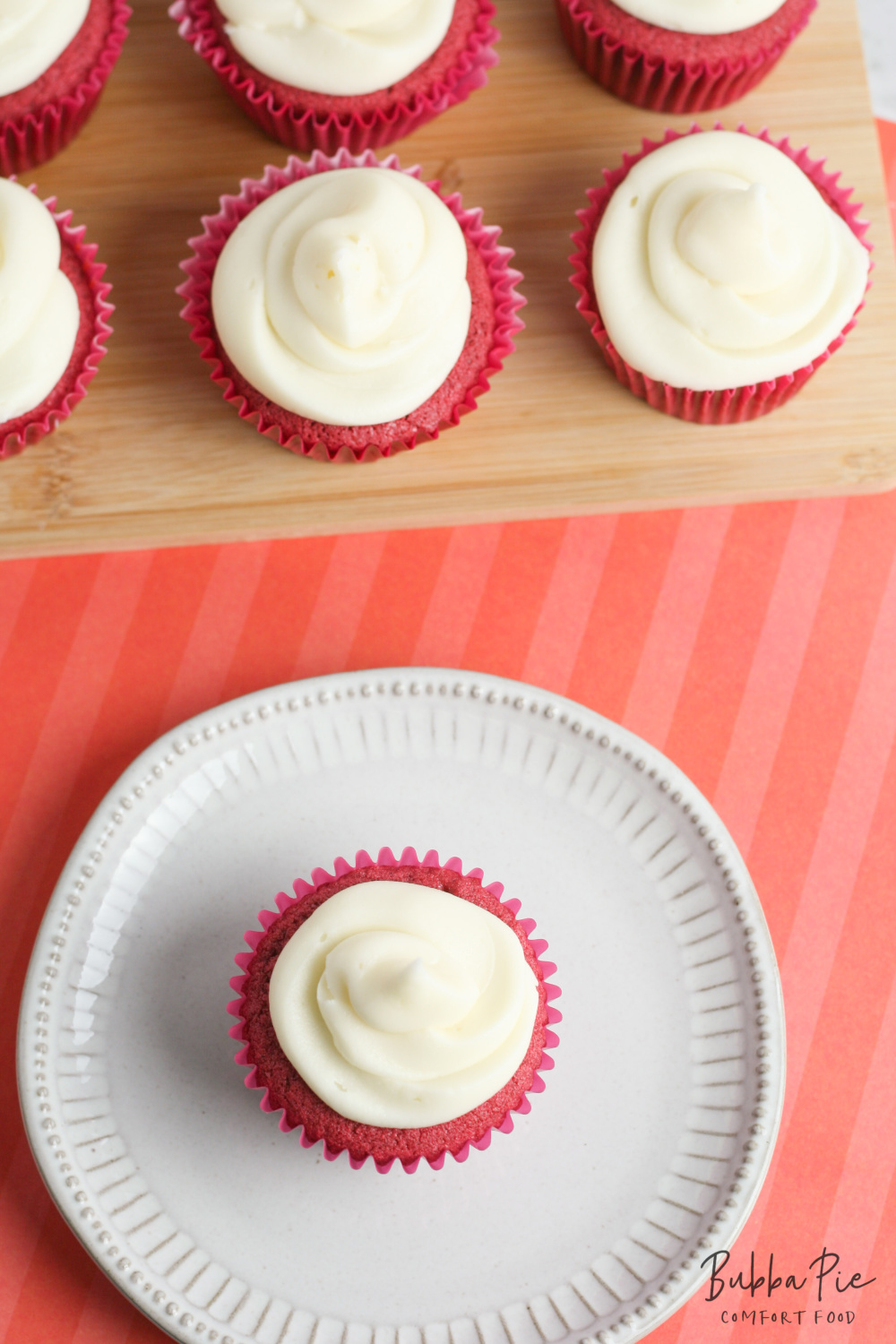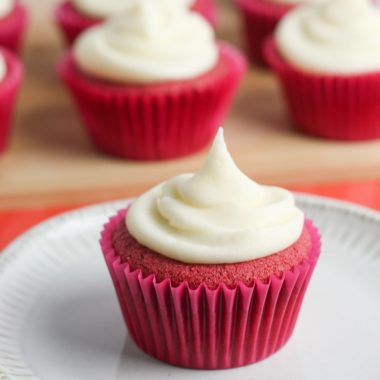 Rate this Recipe
Gluten Free Red Velvet Cupcake Recipe
It seems like just about everyone loves Red Velvet Cupcakes. Now you can have one of the most popular cupcake recipes without the gluten! This easy Gluten Free Red Velvet Cupcake Recipe will win the hearts and taste buds of all your friends and family no matter what their diet is.
Ingredients
Gluten Free Red Velvet Cupcakes Ingredients:
2

cups

sugar

2

sticks butter

room temperature

2

eggs

2

tablespoons

cocoa powder

6

drops red gel food coloring

2 ½

cups

gluten free baking flour

1

teaspoon

salt

1

cup

buttermilk

1

teaspoon

vanilla extract

½

teaspoon

baking soda

1

tablespoon

vinegar
Red Velvet Cream Cheese Icing Ingredients:
1 8-

ounce

package cream cheese

softened

1

stick butter

softened

1

teaspoon

vanilla

3 to 3 ½

cups

powdered sugar
Instructions
Red Velvet Cupcakes Instructions:
Combine sugar and butter in a large bowl and beat until fluffy.

Add the eggs one at a time, mixing between each addition.

Add cocoa powder and mix until combined.

Add food coloring and stir, adding more coloring if needed until desired color is reached.

In a separate bowl, sift together flour and salt.

Add flour mixture to butter mixture one cup at a time, alternating with ½ cup buttermilk until all of both ingredients are added.

Mix in vanilla extract.

In a small bowl, combine baking soda and vinegar. Add mixture to batter and mix well.

Line a cupcake tin with cupcake liners. Fill each liner 2/3 of the way full with batter.

Bake for 12-15 minutes, or until a toothpick inserted into the center of a cupcake comes out clean.

Allow to cool in the pan for a few minutes, then transfer cupcakes to a wire rack to cool completely to room temperature.
Cream Cheese Frosting Instructions:
In a large bowl, combine cream cheese, butter, and vanilla. Beat until combined and fluffy.

Add in powdered sugar ½ cup at a time, mixing well between each addition, until desired consistency is reached.

Pipe the icing onto each cupcake.
Nutrition
Love this recipe?
Follow @bubbapie for even more delicious recipes!!