Bisquick Chicken and Dumplings are an easy, delicious family dinner recipe for any night of the week. This classic southern comfort food is ready in just minutes Bisquick Baking Mix.
Why You Will Love Bisquick Chicken and Dumplings
TOTAL COMFORT FOOD – Nothing says "comfort food" more than a classic Chicken and Dumplings! Tender chicken in a creamy gravy with soft, yummy dumplings cooked into them! It's got that home cooking, southern style comfort food taste that you crave on a cold day! Yum!
EASY FAMILY DINNER – With easy, simple ingredients and a couple minutes of prep, this will be baking in your oven in no time!
GREAT USE OF BISQUICK – Now, with Bisquick, this recipe is easier than ever! Here at Bubba Pie, we are ALL ABOUT making delicious recipes as easy and simple as possible. And using Bisquick is a GREAT way to to do this! From Bisquick Chicken Fingers to our Impossible Cheeseburger Pie, Bisquick is a must have in any kitchen for a quick and easy family dinner!
Bisquick Chicken and Dumplings
Chicken, vegetables, creamy sauce and tender biscuit dumplings. This classic southern dish has everything that makes a delicious family dinner. Ready to to get started? Check out the full recipe card below for step-by-step instructions, but here is what you'll need to get started:
COOKING OIL – We used vegetable oil. But you can use whatever oil you'd like. Olive Oil, Avocado Oil or Canola Oil would work.
CHICKEN – Boneless skinless chicken breast, cubed. Make sure all the pieces are about the same size so they cook evenly.
ONION – We use yellow onion for it's sweeter, milder flavor. But you can use red onion if you'd like.
CARROTS – Peeled and chopped.
CELERY – Chopped.
SEASONINGS – We use a mixture of oregano, garlic powder, parsley, salt and ground pepper
BISQUICK BAKING MIX –
CHICKEN BROTH – Can substitute for vegetable broth if needed.
MILK – We used 2% milk. But you can use low fat milk to lighten the dish up. Or even half and half to make it a little richer.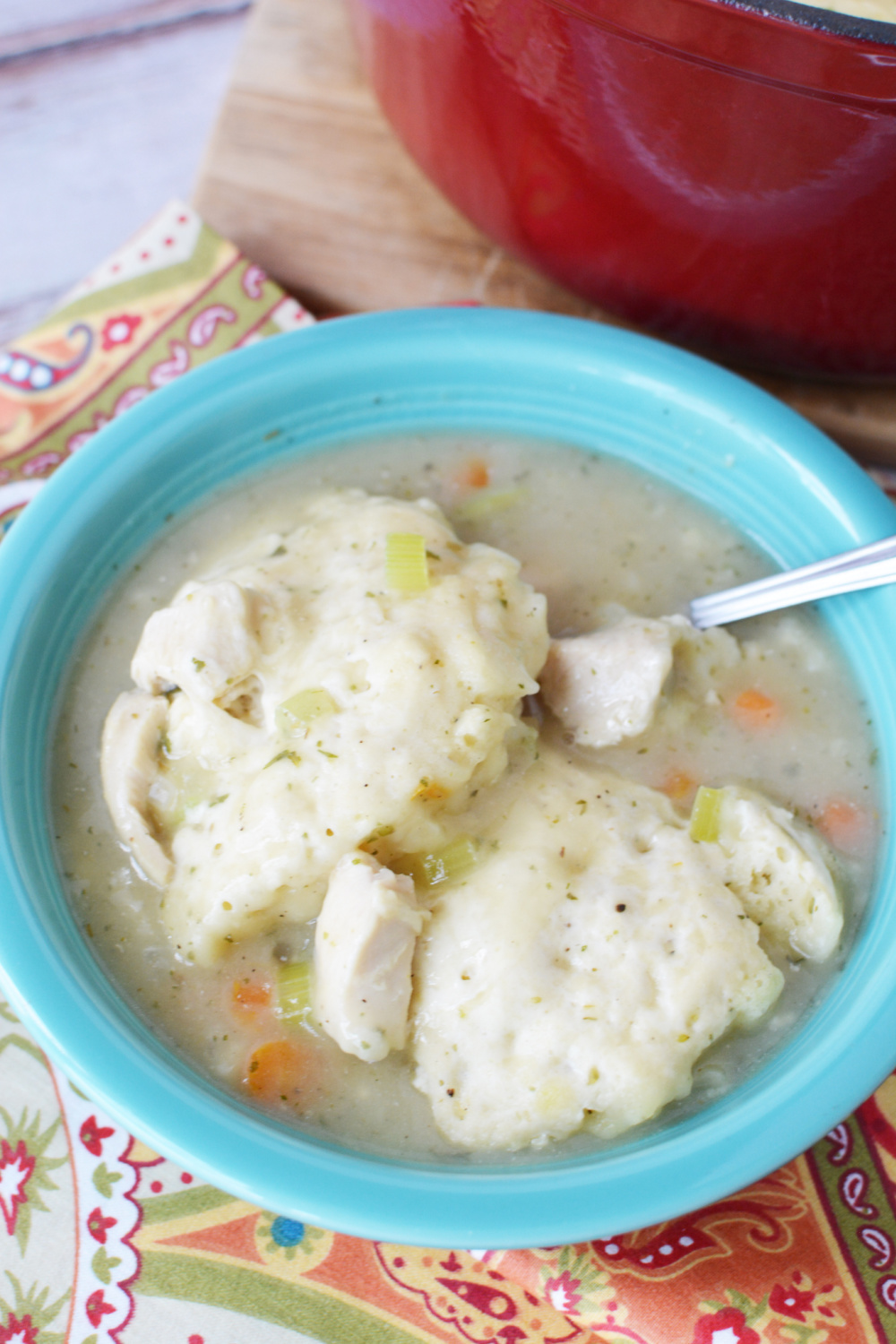 Can You Freeze This Recipe?
Most likely not. In fact, reheating Chicken and Dumplings can be a bit tricky even without freezing. The dumplings just won't ever be quite the same after the initial serving of this dish. I'd go ahead and just have seconds!
Can You Make This In Your Slow Cooker?
Yep! You sure can make Slow Cooker Chicken and Dumplings! Just throw all the ingredients into your Crockpot (minus the bisquick/milk combo) and cook on low for 6-7 hours, stir occasionally. Once everything has cooked, whisk your Bisquick and milk together and drop spoonfuls of it on top of your recipe. Cook on high for 30-60 minutes more.
What To Serve with Chicken and Dumplings
There is a good chance that this dish will be just fine all by itself for a family dinner. But, if you'd like to serve it with a side dish, here are some ideas:
Notes, Tips and FAQS:
CAN I MAKE THIS GLUTEN FREE?- Yes!

Bisquick makes a Gluten Free Version

of their baking mix!

DON'T OVERMIX THE BISQUICK!- Only mix together the baking mix and the milk enough to incorporate them together to make the Bisquick Dumplings. Just wait until a soft dough forms. Don't overmix! And, after mixing, let the dough sit out for a couple minutes to rise a little bit!
A SUPER SHORTCUT – Don't have time to cook the chicken first? Grab a rotisserie chicken on your way home and use that. Or, you could even use leftover turkey from the holidays!
DO I HAVE TO USE CHICKEN BREASTS? – You can certainly substitute Chicken Breasts for boneless chicken thighs. Chicken thighs will actually come out even more tender, although they are dark meat.
CAN YOU MAKE YOUR DUMPLINGS FROM SCRATCH? – Yep! We have this delicious Chicken and Dumplings Recipe made from scratch. They taste just like the ones from Cracker Barrel!
I DON'T HAVE ANY MILK? CAN I MAKE BISQUICK WITH WATER?- Yes, you can. But the Bisquick Batter may be a little more "runny" and you may not get the same results. I'd say it's worth a run to the store to get the milk. But you CAN use water in a pinch. Also, if you have allergy or dietary considerations, you could sub for soy milk, almond milk, coconut milk or another milk substitute.
FROZEN CARROTS AND PEAS – You can certainly throw in a bag of frozen peas and carrots instead of the fresh carrots. You can also put some broccoli in there too!
USE A NICE, LARGE POT OR DUTCH OVEN-

This

16 Quart Stock Pot

would work perfectly!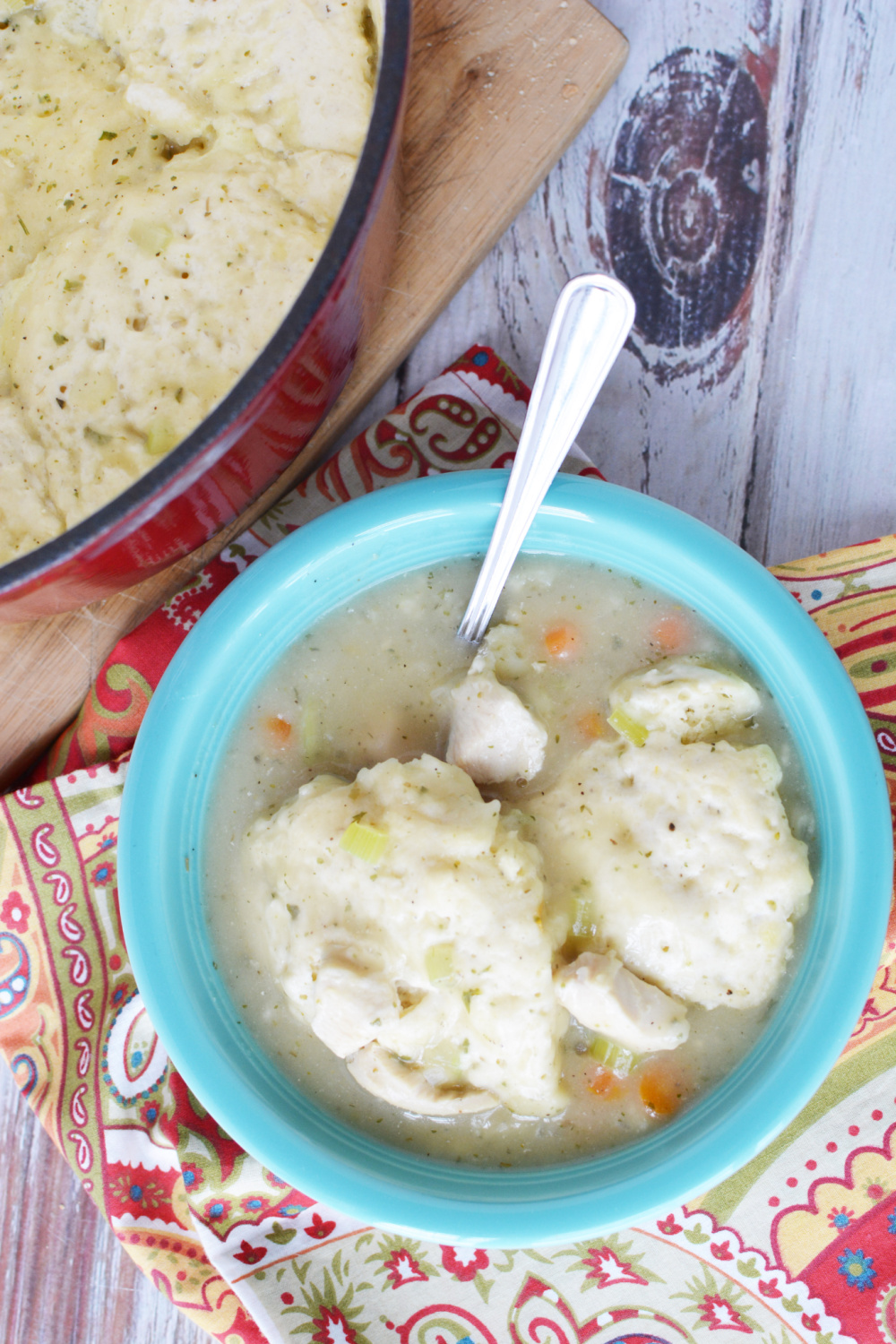 Rate this Recipe

Bisquick Chicken and Dumplings

This Bisquick Chicken and Dumplings recipe is a classic, southern comfort food dish that is so easy and quick to make! With Bisquick Baking Mix as the ultimate shortcut, it's a perfect family dinner any night of the week.

Ingredients

2

tablespoons

vegetable oil

1

lb

chicken breast

cubed

1

small onion

chopped

1

cup

chopped carrots

1

cup

chopped celery

1

teaspoon

oregano

1

teaspoon

garlic powder

1

teaspoon

parsley

1

teaspoon

salt

1/4

teaspoon

ground pepper

2-1/2

cups

Bisquick baking mix

divided

4

cups

chicken broth

2/3

cup

milk

Instructions

Add oil, chicken and onions to a stockpot and heat over medium high heat until onions are tender and chicken is no longer pink.

Add carrots, celery, spices, 1/2 cup baking mix and mix well.

Add broth, stir and heat over medium high until boiling.

Reduce heat to simmer and cover.

Cook for 20 minutes, or until carrots are soft, stirring occasionally.

In a separate bowl, combine the remaining 2 cups baking mix and milk.

Mix together with a fork. Drop by teaspoon dollops into the chicken mixture.

Dough will most likely sink.

Heat on low, uncovered, for 10 minutes.

Cover and cook for 10 additional minutes. Serve immediately.

Nutrition

Love this recipe?

Follow @bubbapie for even more delicious recipes!!