This Strawberry Scones Recipe is just the thing to get your morning started off on the right note! Flaky, crispy, tender and buttery, all at the same time! With fresh strawberries and a sugary topping, you can turn your own kitchen into a fancy cafe!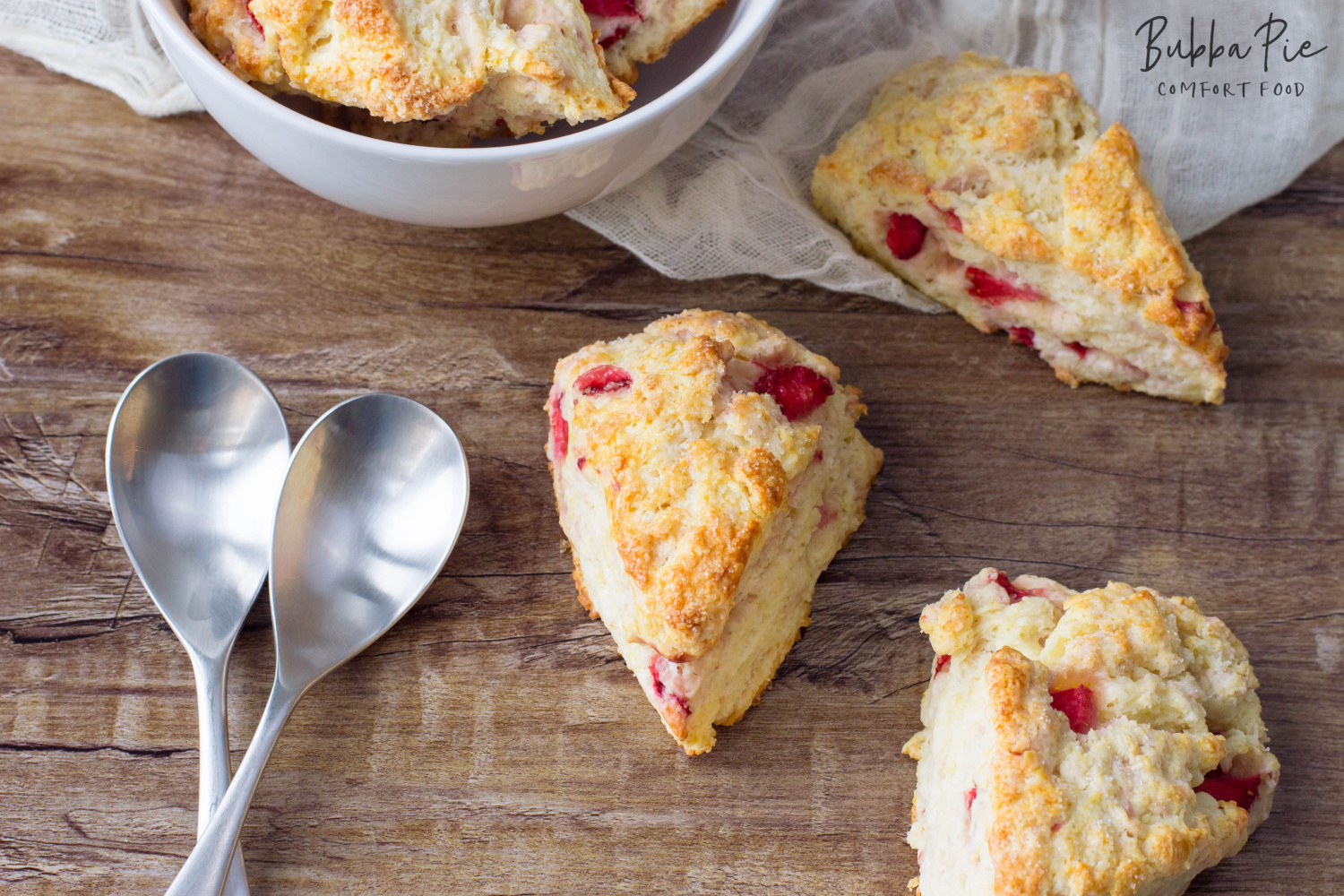 Why You Will Love This Scone Recipe
EASY – Now you don't have to live down the street from a bakery to enjoy a freshly made breakfast pastry! With just a few simple ingredients and a couple minutes of prep, these delicious scones will be ready to eat!
GREAT TO MAKE AHEAD – Make a batch of these scones on Sunday and have a quick, easy breakfast or snack throughout the week!
What's a Scone?
I'm from a town that had a restaurant that made the best scones in the world. So I grew to develop a tastes for really good, tasty scones. So, what is a scone? A scone is actually a lot like a biscuit. The only difference is that scones are usually made with eggs and biscuits aren't. But the result is generally the same for both in that the pastry itself isn't too sweet.
This is what I like best about scones. They get the sweet or savory flavor from the fillings and toppings that you use with them, not from the pastry themselves. This is great if you don't want a dessert that is too rich, sweet or overbearing.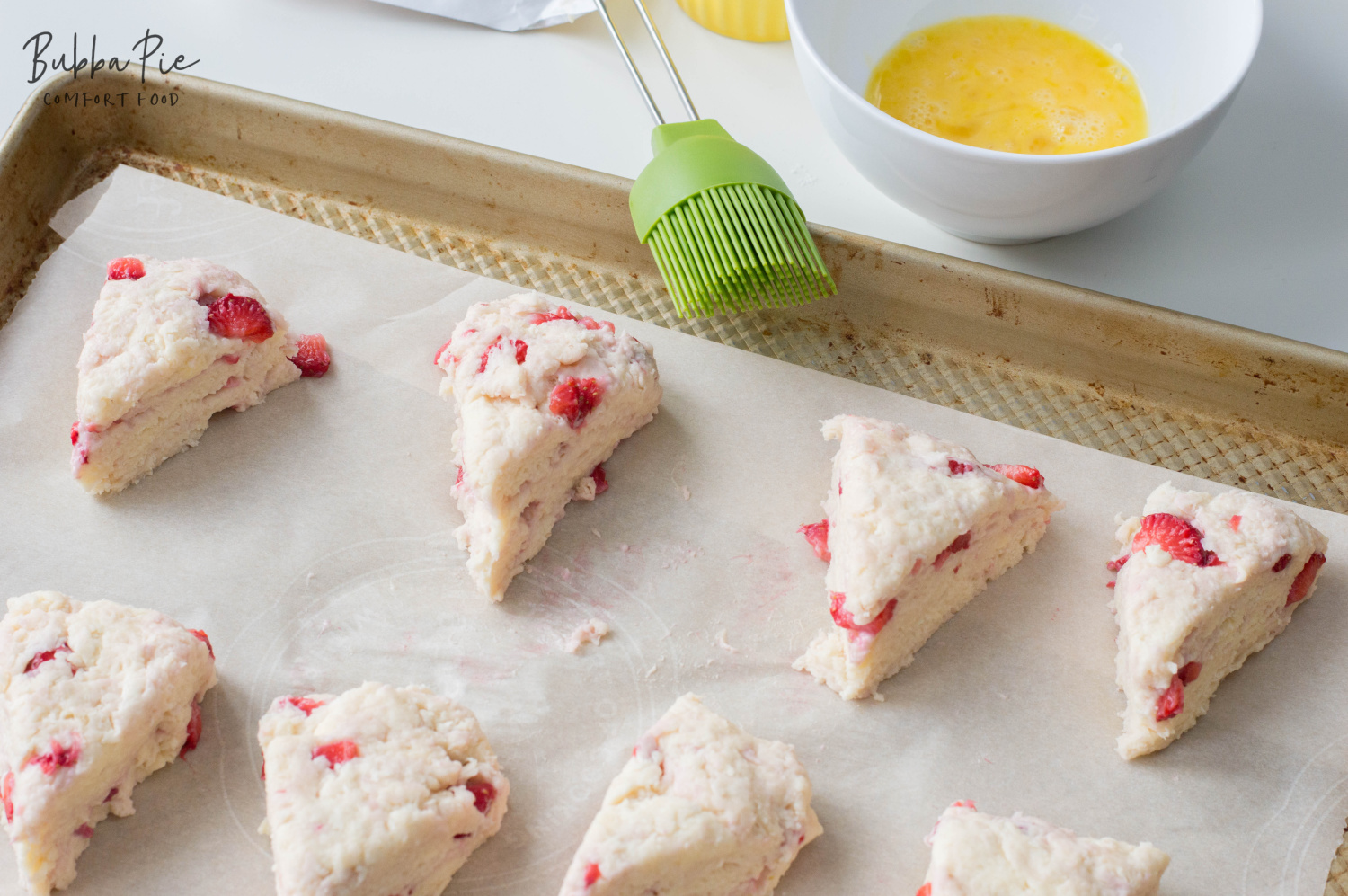 Fresh Strawberry Scones Recipe
This is why making my scones with a nice, fresh strawberries is such a great idea. The ingredients are super simple and the process couldn't be easier to bring these nice, fresh Strawberry Scones to life in your kitchen. And you don't need to use just Strawberries, we've also made some Blueberry Scones! Raspberry Scones would be delicious too! Really, any berries would work.
For more strawberry recipes check out our Strawberry Energy Balls!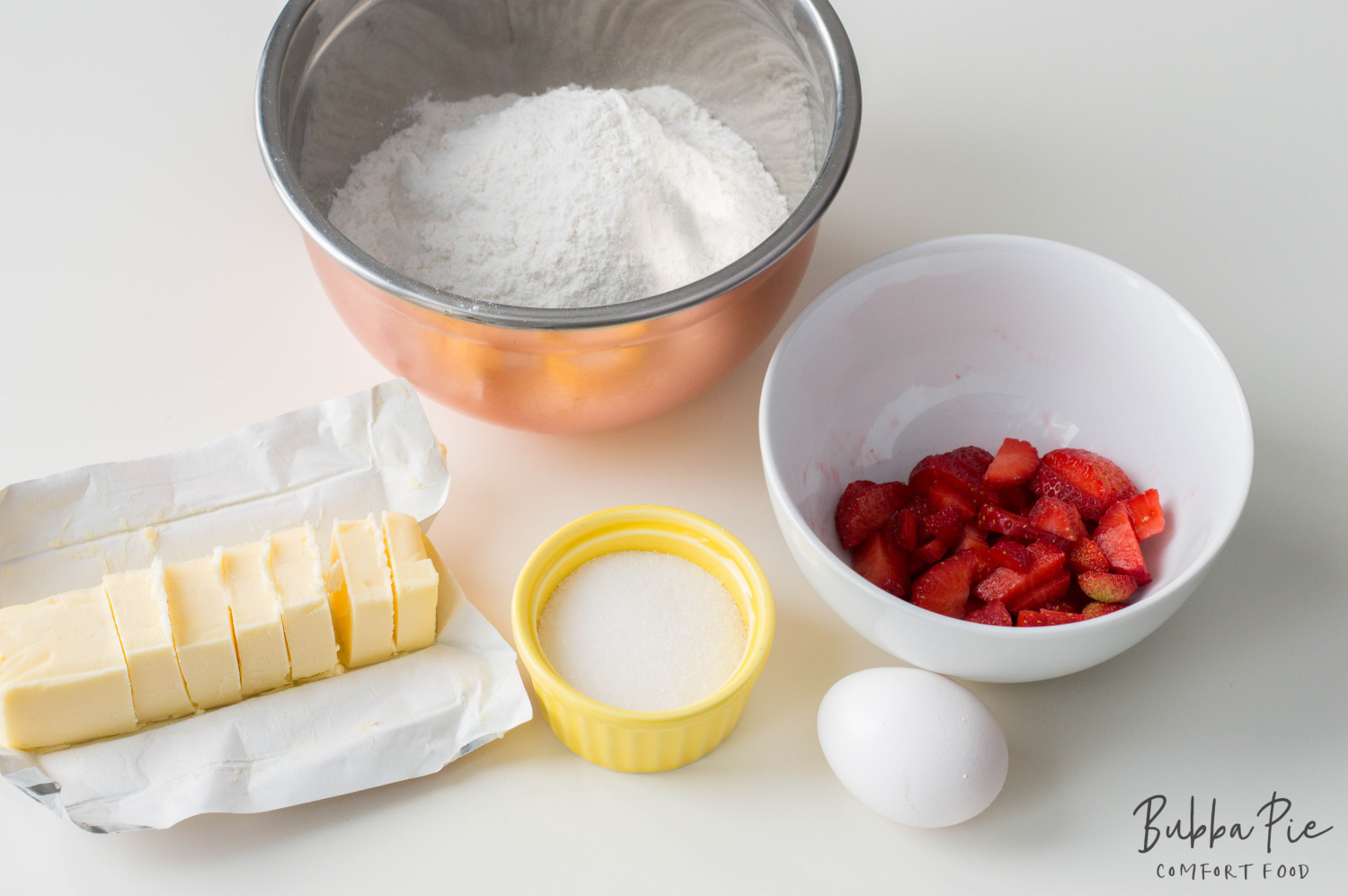 STRAWBERRY SCONES INGREDIENTS:
For the fruit:
Strawberries, chopped
Sugar
For the dough:
2 cups all purpose flour – *Please note that many people who have tried this recipe are suggesting more than 2 cups of flour as many as 4 to make the dough less sticky.
Baking powder
Pinch salt
Butter, cold and cut into pieces
Egg
Milk
For the topping: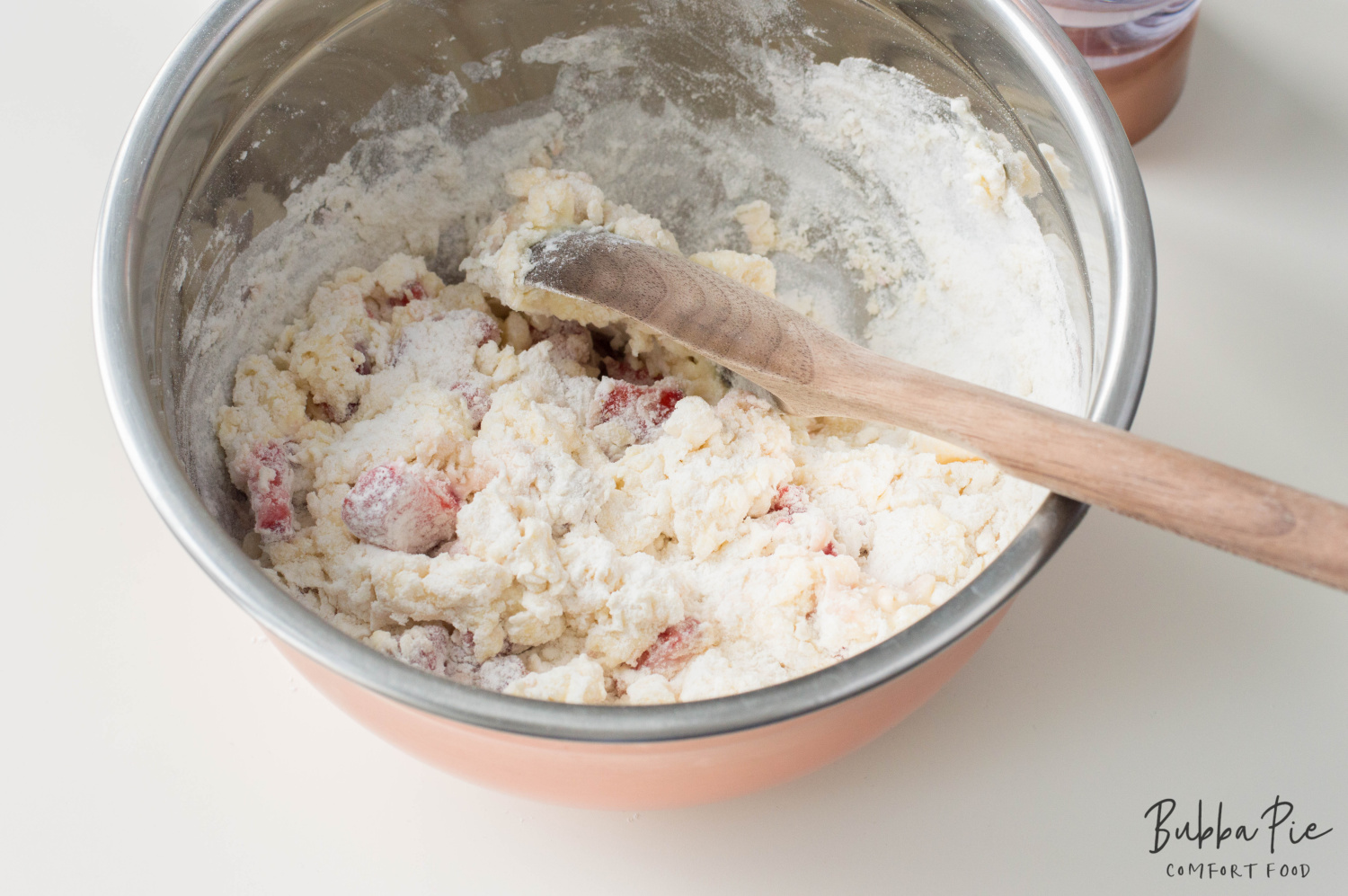 Can You Use Frozen Strawberries For This Scone Recipe?
If you absolutely have to, you can probably make it work. But they will most likely release too much liquid as they thaw and you won't like the result. You'll want to keep them as frozen as possible while working them into the dough, which will make them hard to cut into small pieces. You could possibly thaw them out so you can cut them, then refreeze them. But, honestly, I'd just make this recipe with fresh strawberries.
How To Store Your Scones
Like with all pastries and baked goods, keeping them in an airtight container is key! A tupperware or zip lock baggie will work. Having a large tupperware container to put all your baked goods is a MUST! And this one is perfect for these scones!
You can keep them in your fridge and they will last a bit longer than keeping them at room temperature. Just a couple seconds in the microwave will do the trick to get these babies fresh again!
You can also freeze these Strawberry Scones. Just let them cool completely and wrap them tightly in aluminum foil, freezer wrap a freezer bag or any combo of these. We love to use these gallon sized freezer bags. They are tough, durable and have new grip and seal technology that makes them super easy to open and close. They will be good in your freezer for up to 3 months.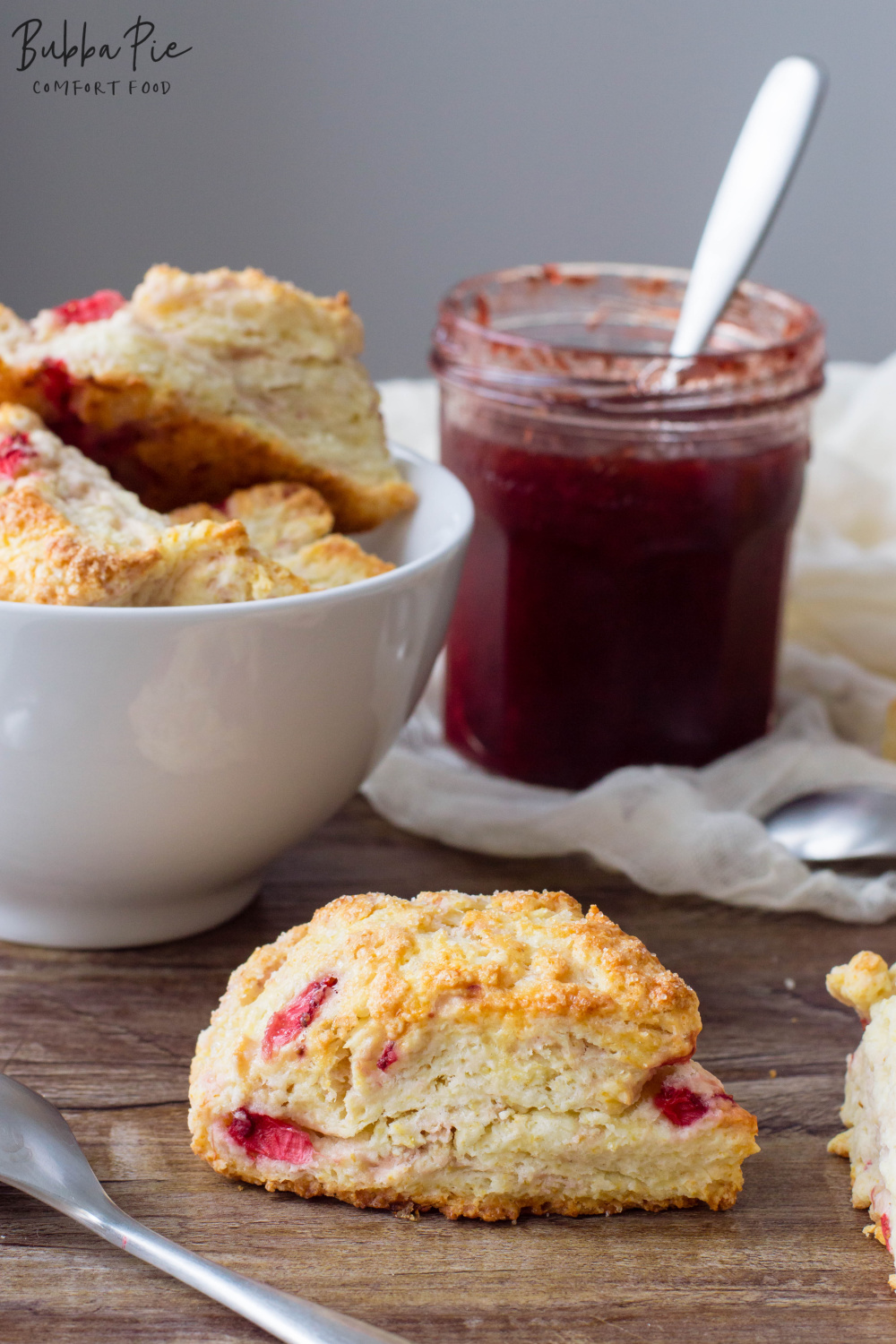 Notes, Tips and Variations
Use Cold Butter!- They main key to get authentic, bakery style scones is to use cold butter. This will get you that crispy, flakey and buttery texture you are looking for. If working the butter in with your hands, be careful as the dough will heat up quickly. The butter should still be in small pieces when ready to go in the oven. Using a pastry blender or a pastry cutter like this one or grating your butter is probably your best bet!
Milk- You can substitute any kind of milk if needed. Almond, soy, non-fat, etc. You can also try using half and half or heavy cream for a slightly richer texture.
Sticky Dough – The dough will be sticky! You can use some extra flour on your hands to help with this when you are working with it.
Small Strawberry Pieces – I like my pieces of strawberries to be pretty small. Having just a few big chunks of strawberries in each scone really isn't what I'm going for. So make sure you are cutting them small enough so they are scattered evenly inside your scone.
Use Turbinado Sugar – While we just used granulated sugar on our topping, you can try using different sugars as well. Sprinkle to top with Turbinado Sugar. It is coarser, darker the scones more texture and flavor. You can also sprinkle powdered sugar on top.
Add a Vanilla Glaze – You can make these scones out-of-this-world delicious if you drizzle some Vanilla Glaze over the top. It's easy to make, just combine 1 1/2 cup of confectioners sugar, 2 tbsp of Milk and 1/2 tsp of Vanilla Extract. Pour it over the Strawberry Scones once they have cooled.
These are perfect for just about any occasion: a brunch, a cookout or just a surprise for the kiddos one Saturday morning while they are watching cartoons. I hope you enjoy the warmer Spring weather and let me know how you like this Easy Strawberry Scones recipe!
Other Recipes With Strawberries
We've got a ton of tasty Strawberry recipes here on our website. Some of our favorites are:
Check Out Our Other Tasty Breakfast Treats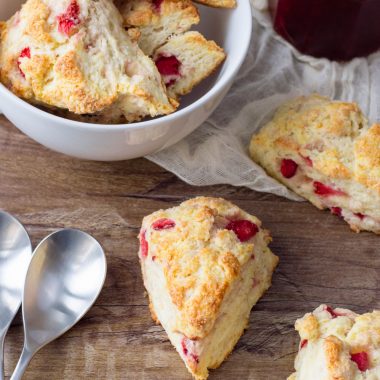 Rate this Recipe
Easy Strawberry Scones Recipe
Celebrate Spring with this easy Strawberry Scones Recipe. These fresh fruit pastries look great and taste even better!
Ingredients
For the fruit:
1

cup

strawberries

chopped

1

tbsp

sugar
For the dough:
2

cups

a/p flour

2

tsp

baking powder

Pinch

salt

6

tbsp

butter

cold and cut into pieces

1

large egg

2/3

cup

milk
For the topping:
1

large egg

Granulated sugar
Instructions
Line a baking sheet with parchment paper and set aside. Preheat oven to 400 degrees F.

In a small mixing bowl, pour granulated sugar over strawberries and mix until completely coated. Set aside.

In a medium-sized bowl, sift together dry ingredients: flour, baking powder and salt.

Add butter pieces into bowl of dry ingredients. Cut with a pastry cutter until all ingredients are well-combined.

In a large bowl, whisk together egg and milk. Add dry ingredients into large bowl of wet ingredients. Start mixing with a wooden spoon.

Add strawberries and mix some more. Pour dough onto a clean working surface. Knead it until smooth and then place it onto lined baking sheet, forming it into a circle (about 8 inches in diameter).

Use a serrated knife or a pastry cutter to cut the dough into eighths. Separate each dough piece. Line them up on the prepared baking sheet.

In a small bowl, whisk egg and brush the top of each scone. Top off with granulated sugar.

Bake for 15 to 20 minutes or until top is golden brown. Allow to cool slightly.
Notes
*Please note that many people who have tried this recipe are suggesting more than 2 cups of flour as many as 4 to make the dough less sticky.
Nutrition
Love this recipe?
Follow @bubbapie for even more delicious recipes!!