This Chocolate Chip Banana Bread is so easy to make and works great for breakfast, dessert or a midday snack! Our Chocolate Chip Bread Loaf is one of our most popular recipes, but when you add banana the results are even more moist and delicious! Banana and chocolate is one of my favorite flavor combinations, and they merge perfectly together in this delicious bread loaf recipe.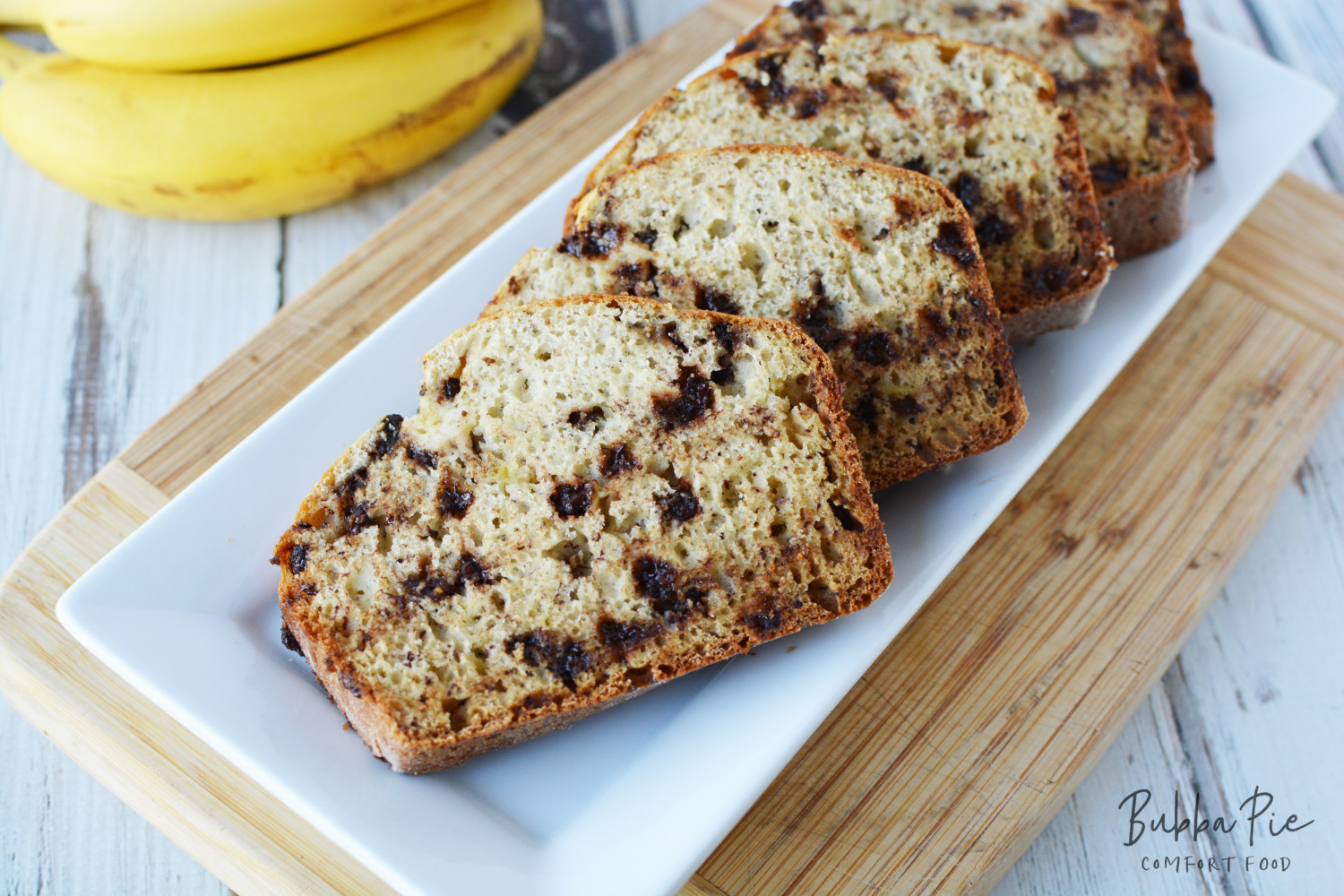 Breakfast? Dessert? Who cares?
I love recipes that can serve multiple purposes.  Something that can be breakfast, dessert or even a midday snack is well worth making in my kitchen.  This is even more true if it is something that is incredibly tasty.  My husband is a chocolate chip fanatic.  He loves anything that has chocolate chips in it.  So, we are no strangers to all sorts of "chocolate chip" recipes in our house. On this blog, we've posted recipes for Chocolate Chip Breakfast Muffins and even Pumpkin Chocolate Chip Breakfast Muffins (perfect for the Fall!).
Bananas and Chocolate: A Match Made In Heaven!
We are also big fans of bananas.  In fact, my husband has a banana for breakfast every morning.  He also actually has a great recipe for banana chocolate chip cookies. And we've shared some tasty banana dessert recipes as well, including this Banana Cream Pie and Banana Blueberry Muffins. Creating a dessert recipe with bananas always makes the results SO moist!  This is why my grandmother's Banana Bread has always been one of my favorite treats ever since I was little.  There is nothing better than a nice warm slice of banana bread with some butter on it. Oh, wait, there IS something better…  Put chocolate chips in it!
Now, we have all of our favorite flavors in one dish.  While chocolate and peanut butter are often paired together (and are fantastic!), I think that Chocolate and Banana should be used more.  These two always work together to make great things! So, we'd like to introduce you to our Chocolate Chip Banana Bread Recipe!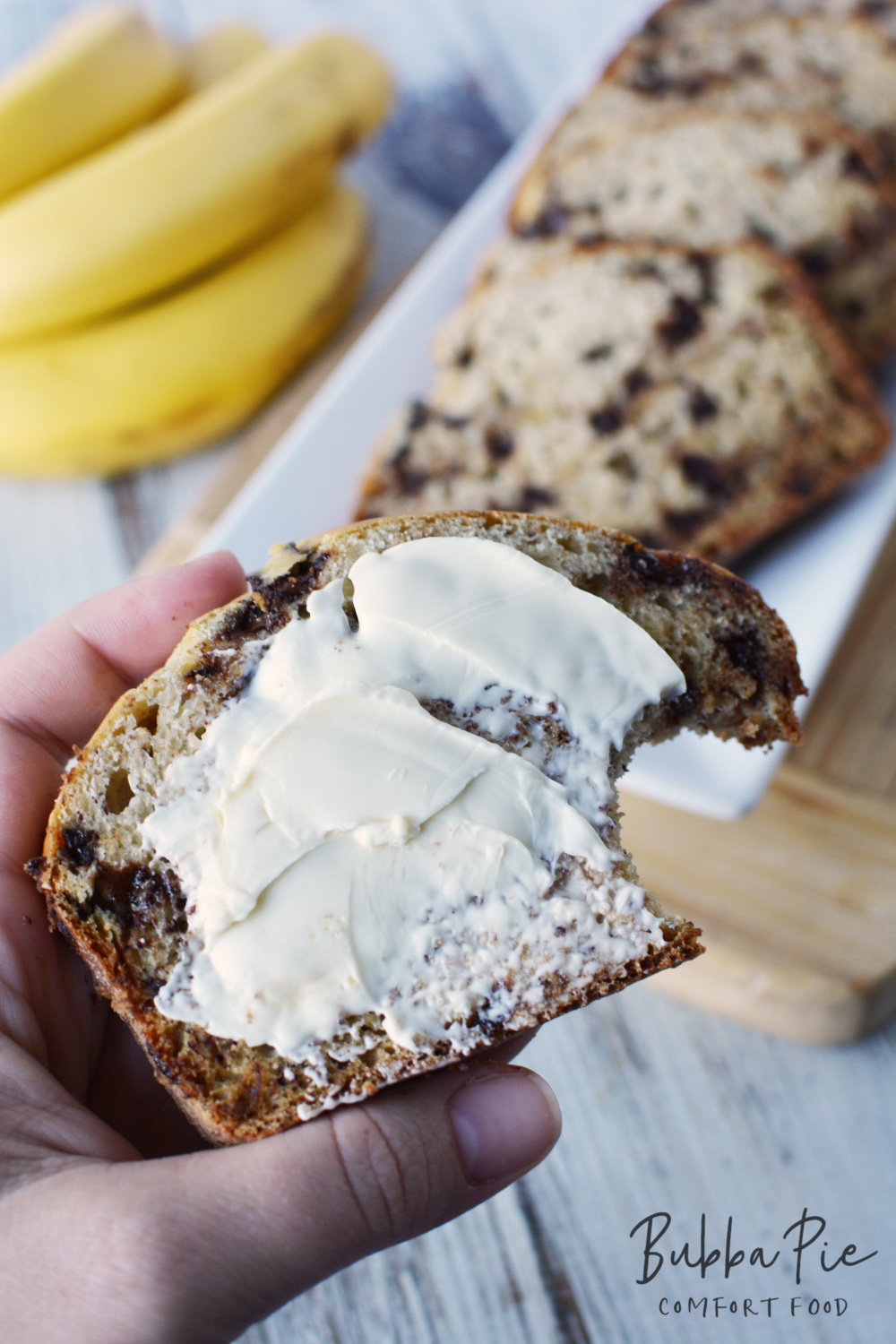 Easy Chocolate Chip Banana Bread Ingredients
BANANAS – Over ripe bananas are best. You want a lot of dark spots on the peel and it should give a bit when you squeeze it.
WHITE SUGAR – Normal, white cane sugar works. You can also use half white sugar and half brown sugar for a bit of a different taste.
EGG – Make sure your egg is room temperature.
VANILLA EXTRACT – While we are always about cutting costs and corners. We firmly believe in using a quality vanilla extract. Don't get cheap here!
FLOUR – All Purpose Flour.
BUTTER – Unsalted Butter. Softened to room temperature.
BAKING SODA –
BAKING POWDER –
SALT – This works great to balance the sweetness.
Chocolate chips
The Best Way To Ripen A Banana
The key ingredient here is to make sure that you have nice, ripe bananas. This won't work unless they are nice and ripe. I mean you really want them to be soft and mushy for this recipe. If you're bananas are looking a little too yellow (or green), don't worry, there are a couple of tricks to speed up the ripening process.
Paper Bag- But the banana in a paper bag and loosely close the top. Bananas give off a gas called ethylene that ripens them. This will trap that gas in there and speed up the process. You can add some apples or already ripe bananas into the bag too and that may speed up the process even more.
Oven- Heat the bananas in the oven at 325 degrees. Keep them fully peeled. You'll want to bake them until they are VERY dark, almost black. Let them cool and scoop out all that overripe banana goodness!
Microwave- This process won't actually get your bananas any sweeter, but it will soften them up. Make sure you peel your banana for this process. Heat them in the microwave for 15-45 seconds. You may need to add some sugar to your recipe if you use this method.
If you're like me and never seem to be able to eat all your bananas before they get too ripe, then you can always freeze them! I like to cut mine up, put them on parchment paper and freeze them. Now I've got small chunks of perfectly ripe bananas whenever I need them. They are perfect to throw in my blender for smoothies too!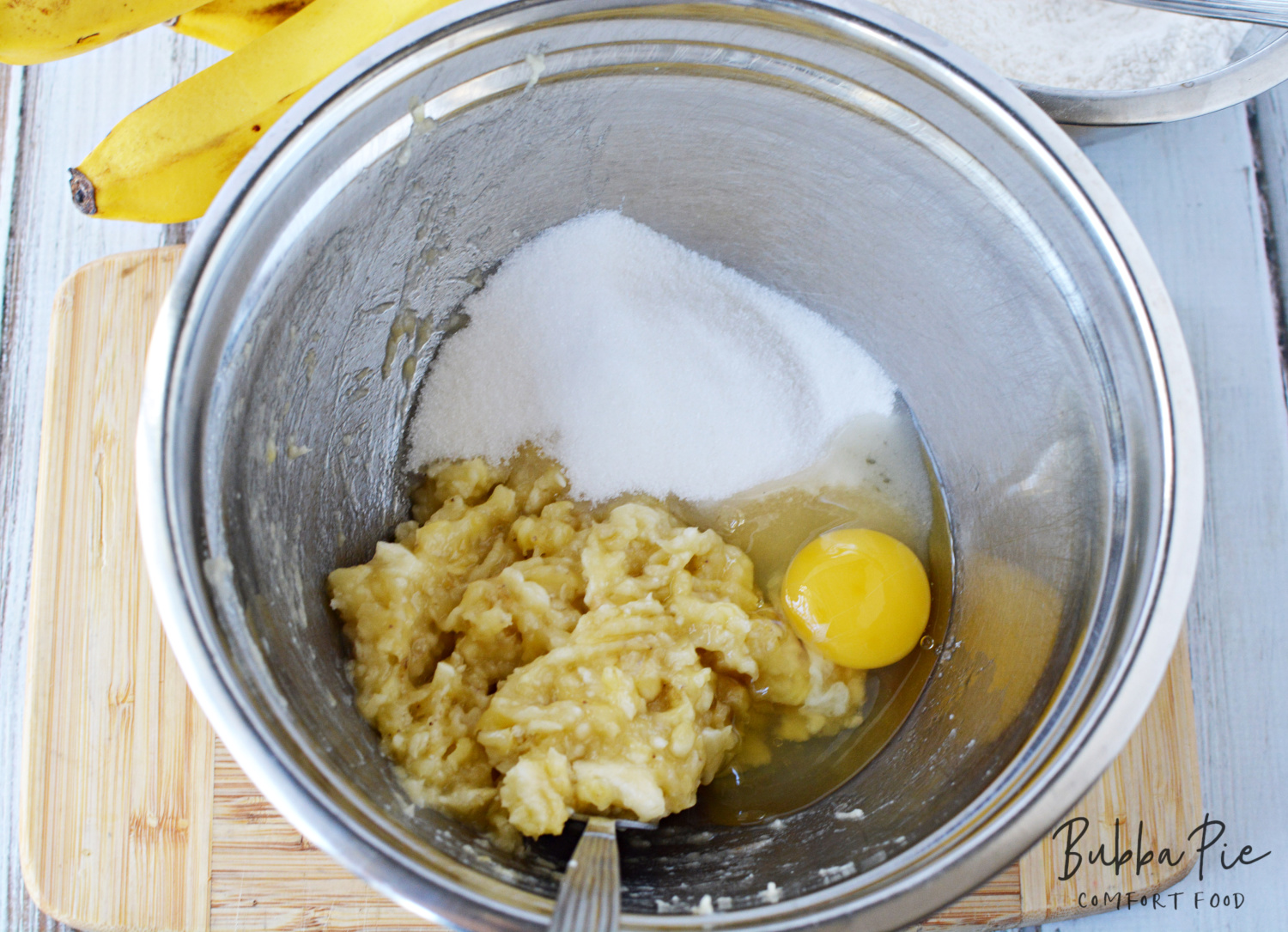 Can You Freeze Chocolate Chip Banana Bread?
Absolutely! Simply let it full cool on a cooling rack. Wrap it in aluminum foil and put into a freezer bag. Make sure to label what it is and what date you baked it on. It should be good in your freezer for up to 3 months. You can also slice your chocolate chip banana bread before freezing, so you'll have just the potion you need when you need it. Let it thaw at room temperature. Or, if you just have a slice, you can even pop it into the toaster! Put some butter on that baby and let it melt. Yum!
You can also just store your leftovers in an airtight container (this one is PERFECT for loaves of bread). Or wrap it in plastic wrap.
Notes, Tips and Variations
Grease!- Make sure you grease your pan well before adding the batter!
Cinnamon- If you want a little more flavor complexity, add 1/2 tsp of ground cinnamon to this recipe. Give it a try!
Room Temperature – Make sure your eggs, bananas (if frozen) and butter are all room temperature.
Don't Over Mix – When combining the wet and dry ingredients, mix until just incorporated. Mixing too much will give you a dryer, dense bread.
Brown Sugar- Try subbing out the white sugar for brown sugar. Or use half of one and half of the other.
Chocolate Chips- Try experimenting with Chocolate Chips! Milk chocolate chips, semi-sweet, dark chocolate chips can all work. Mini chocolate chips or chocolate chunks or a mixture of the two would be awesome!
Toppings For Chocolate Chip Banana Bread
This recipe is delicious right out of the oven as it is. But you can also dress it up for even more fun! Before putting it in the oven, you could throw some some nuts like crushed walnuts or pecans on top. You could also add some extra chocolate chips that will get all deliciously gooey and melty as they bake!
Or, after it's cooled, add some cream cheese frosting or a simple sugar icing. Or, just sprinkle some powdered sugar on it!
This is a quick and easy recipe for chocolate chip banana bread.  Perfect to make the night before for a yummy weekend breakfast.  Or make it at the beginning of the week for some snacks between meals.  But, really, you can make it for any reason, right?  You don't need an excuse to make chocolate chip banana bread!  Enjoy!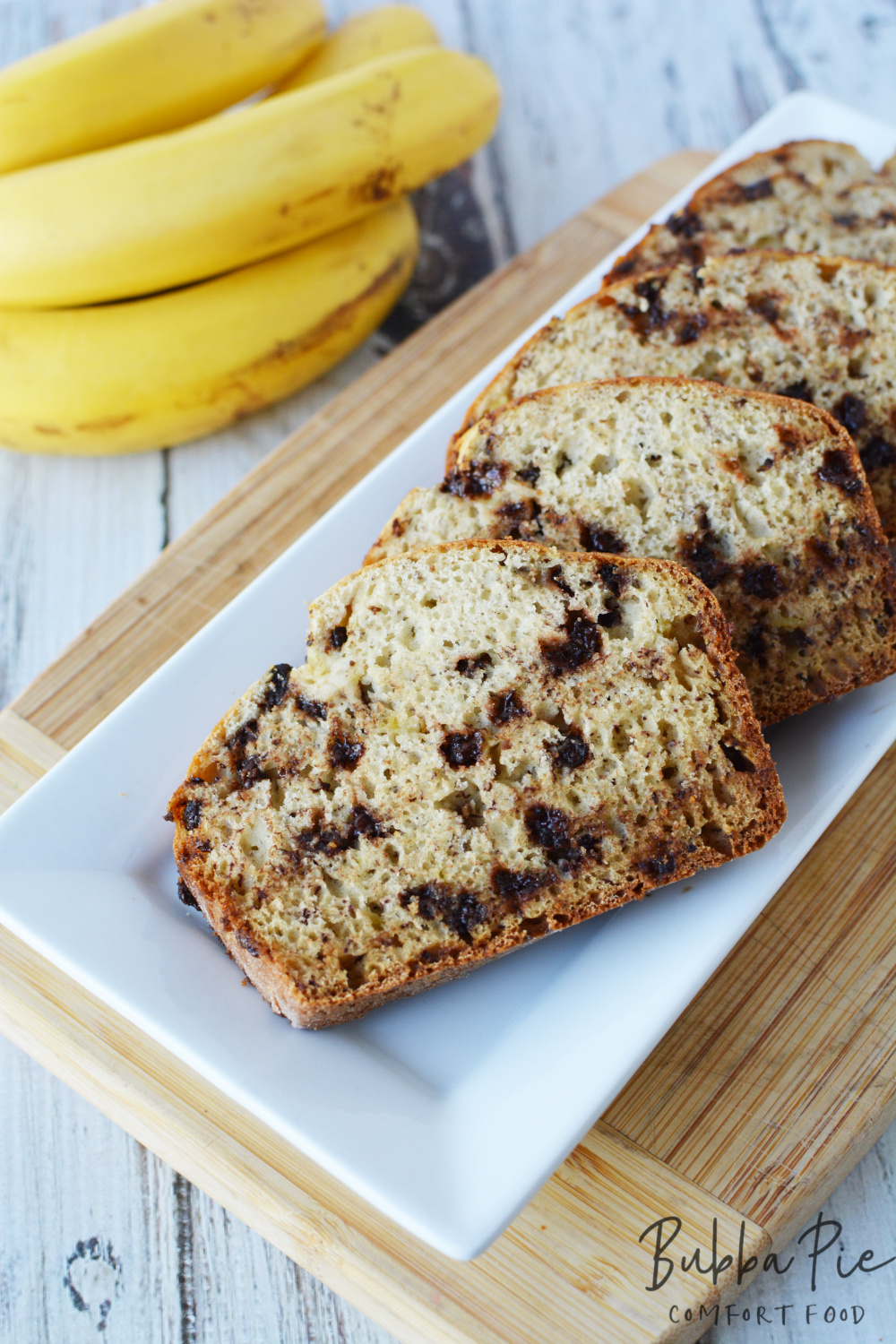 LOOKING FOR MORE TASTY BREAKFAST RECIPES? CHECK OUT OUR: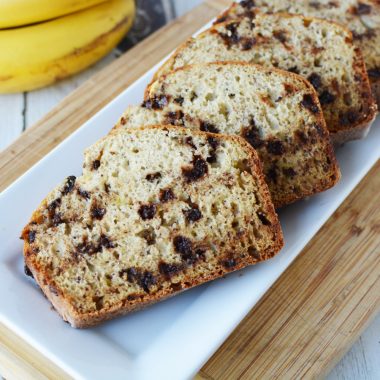 Rate this Recipe
Chocolate Chip Banana Bread
Two of my favorite flavors come together in this easy Chocolate Chip Banana Bread Recipe. The perfect thing for dessert, breakfast or a yummy midday snack.
Ingredients
2

ripe bananas

mashed

1/2

cup

white sugar

1

egg

1

teaspoon

vanilla

2

cups

flour

1

teaspoon

baking soda

1

teaspoon

baking powder

1/2

teaspoon

salt

1/2

cup

chocolate chips

1/2

cup

butter

softened
Instructions
Preheat oven to 350 and grease and flour a loaf pan. Set aside.

In a small bowl mix dry ingredients, flour, baking soda, baking powder and salt. Set aside.

In a separate mixing bowl, add bananas, sugar, egg and vanilla and mix well.

Add dry ingredients to banana mixture and mix just until combined.

Pour batter into prepared loaf pan.

Bake for 35-45 minutes or until center is set. Cool completely before slicing.
Nutrition
Love this recipe?
Follow @bubbapie for even more delicious recipes!!