Start the day off right with these yummy Oatmeal Chocolate Chip Muffins.  Made with wholesome oats and with just a touch of cinnamon, they are perfect to make the night before for an on-the-go breakfast or have a fun Sunday Morning making these with your kids! I've also included some tips to make these even healthier!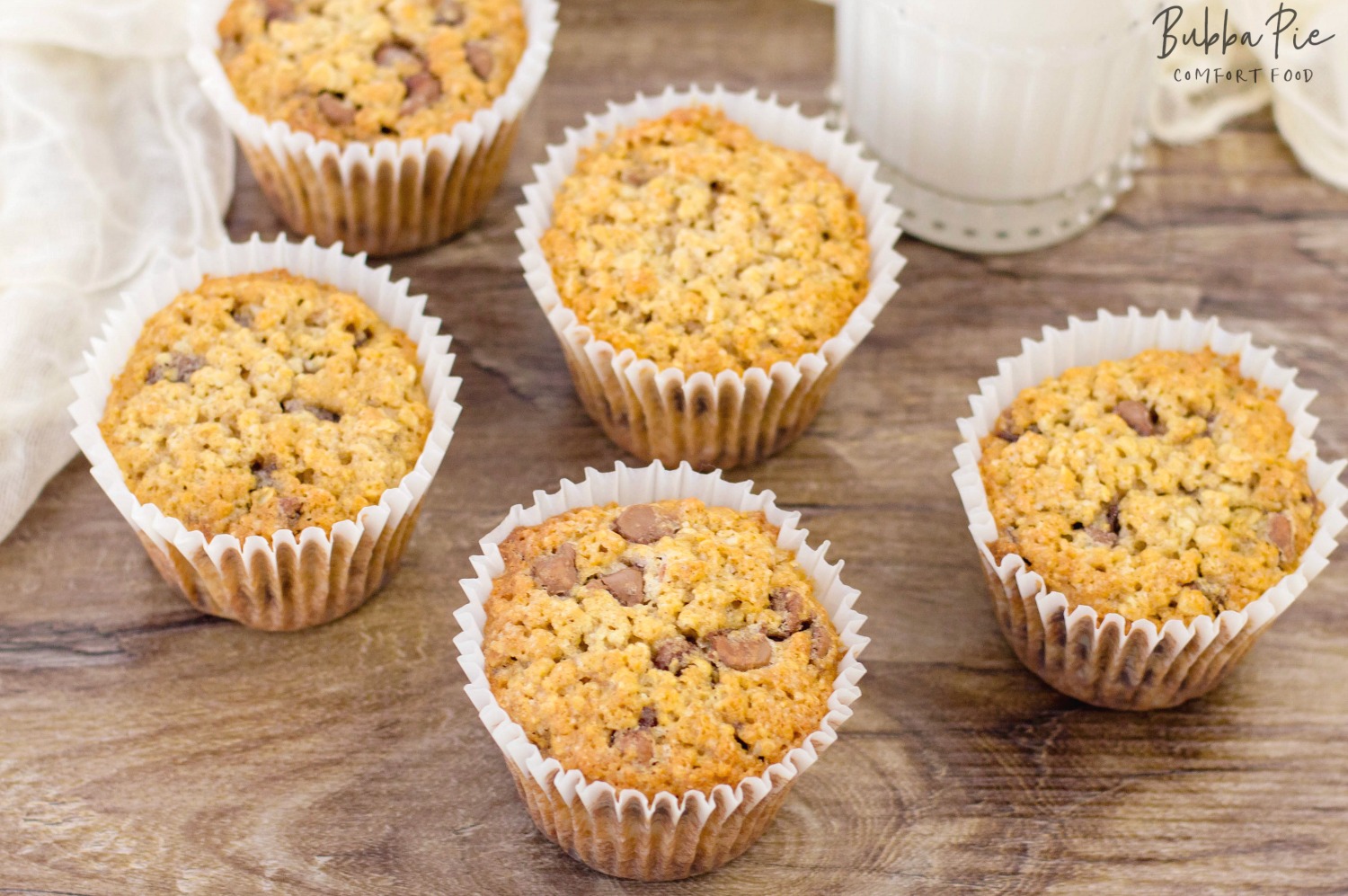 Chocolate Chip Breakfast Recipes
When we go to the donut store, my husband rarely gets donuts.  A lot of times, he opts for the Chocolate Chip Muffin.  He LOVES all things Chocolate Chips. And while Chocolate Chips can be found in a ton of desserts, it's also awesome to have some Chocolate Chip Breakfast Recipes too! We've made a Chocolate Chip Bread Loaf and also some Banana Bread with Chocolate Chips!
These Chocolate Chip Muffins are certainly healthier than donuts or a lot of other Breakfast treats. Made with oats and not covered in sugar or deep fried, you can feel a little better about indulging in these than donuts. And that's something, right!?!?! And, while these aren't necessarily health food conscious, I've also included some tips below to make them even healthier!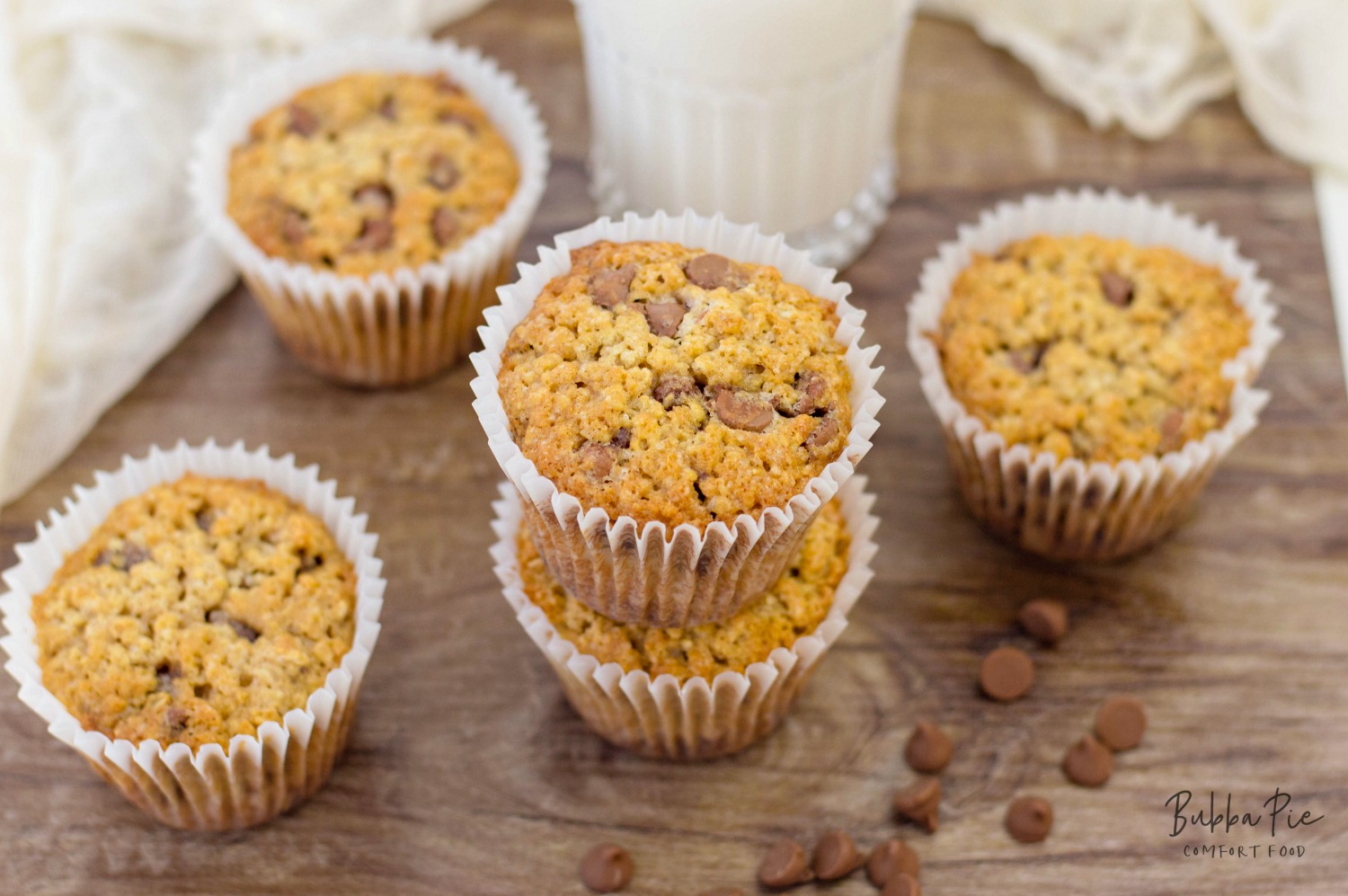 Benefits Of Baking With Oats
We love using Oats in our recipes. We have a lot of them on our website. From Oatmeal Pie and Oatmeal Breakfast Cookies, to these Peanut Butter Reese's Piece Cookies and Pumpkin Granola, we like cooking with oats because it's a great way to give any recipe a healthy, wholesome boost.
Oats are very nutrition rich. They can lower cholesterol and help blood sugar levels. They are rich in antioxidants and loaded in important vitamins and minerals. So, they are always a great ingredient to put into some of your "indulgent" recipes. It doesn't necessarily make them "healthy" but it gives them a boost of something good!
How To Make Oatmeal Chocolate Chip Muffins
The secret to making these muffins super easy is using the quick cooking oats! There is no need to soak the oats in this recipe! And they give this recipe a delicious texture that goes great with the sweet chocolate chips and the moist muffins! Here is what you'll need to get started:
Ingredients
1.5 cups a/p flour
3 tsp baking powder
1 tsp cinnamon
2 large eggs, room temperature
½ cup whole milk
1 cup quick cooking oats
¾ cup sugar
Pinch salt
1 stick butter, melted
1.5 cups cups chocolate chip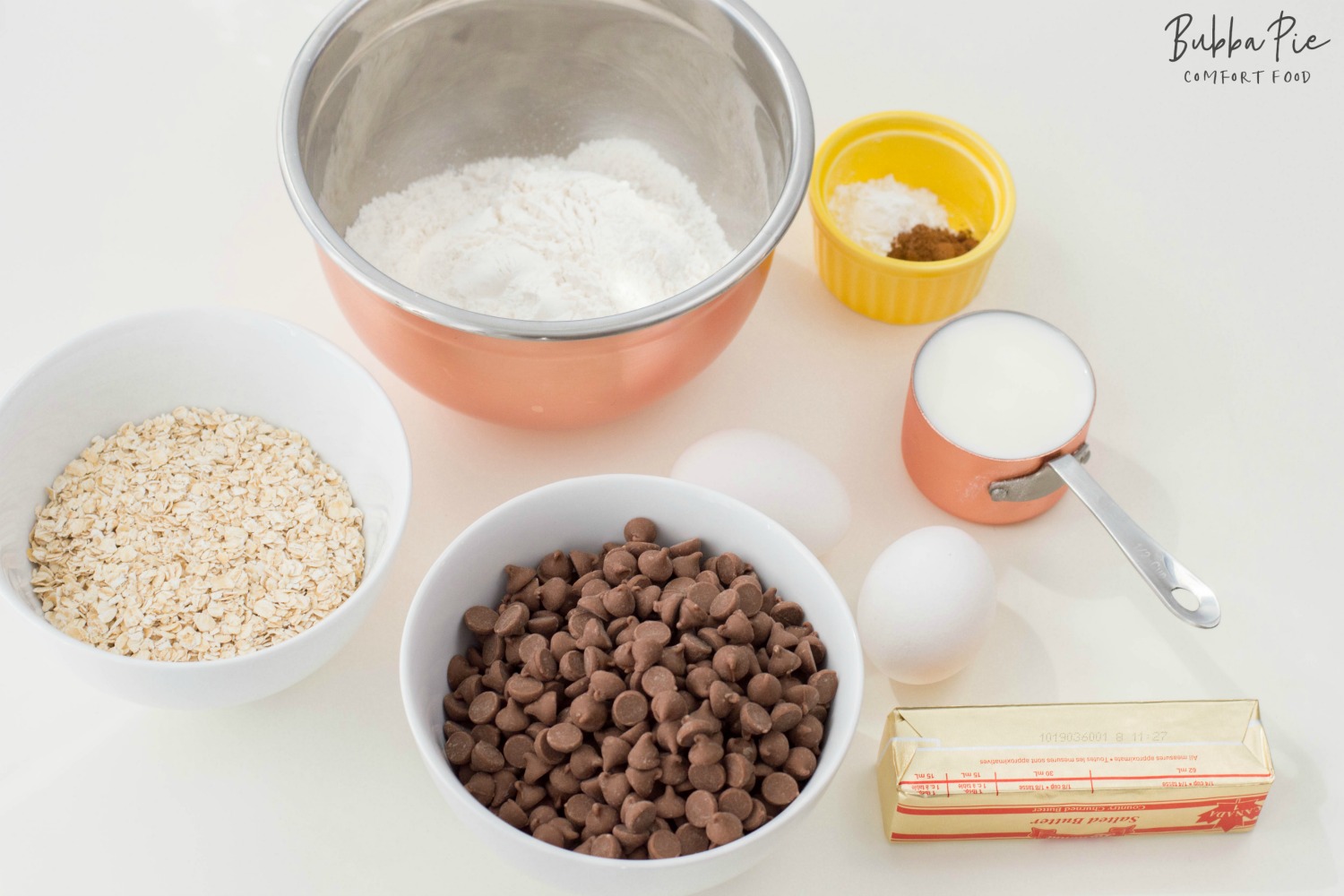 Notes, Tips and Suggestions To Make Them Healthier!
CAN YOU SUB THE MILK?: Yep! We used whole milk for this recipe. But you can substitute for skim milk, 2% or any other milk. Almond milk would also work great!
DAIRY FREE: If you need to make these dairy free, you can substitute the milk for applesauce.
FLOUR: We also used All Purpose Flour, but you can use Whole Wheat Flour if you'd like.
CAN YOU FREEZE THESE MUFFINS?: These are great to freeze! We love to use these Freezer Bags.

They are tough, durable and have new grip and seal technology that makes them super easy to open and close. Freeze the individually so you can just grab what you need as you need it! You can just leave them out at room temp the night before or pop them in the microwave for 2o seconds!
More Breakfast Treats
We've got a TON of delicious breakfast treats to share with you. These are all a great way to treat yourself right out of the gate! And, true to Bubba Pie, they are all simple, straightforward recipes!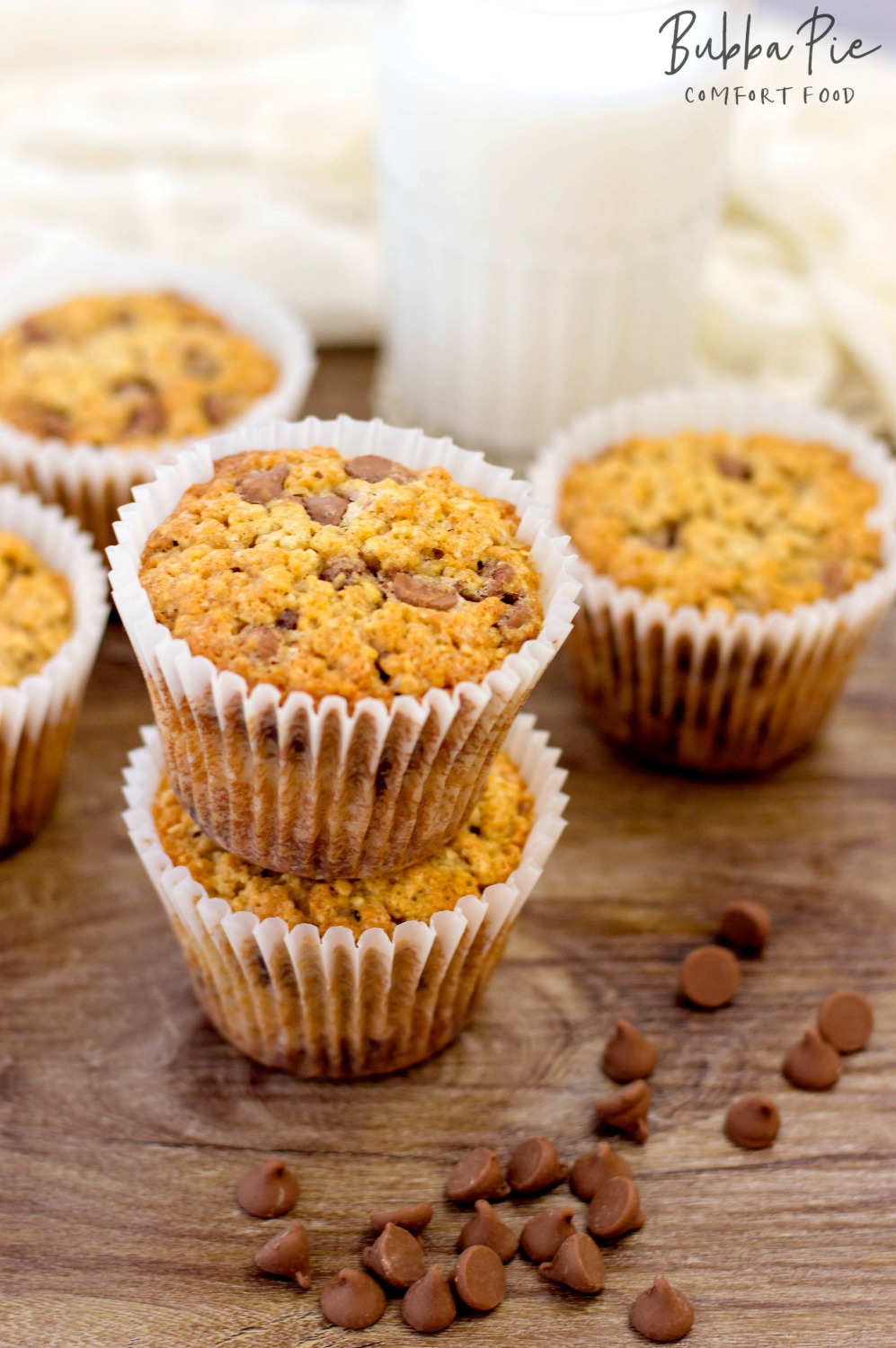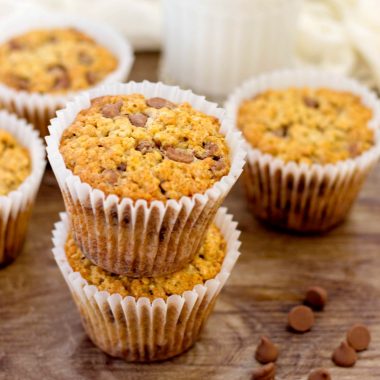 Rate this Recipe
Chocolate Chip Breakfast Muffins
Start the day off right with these yummy Chocolate Chip Breakfast Muffins. Make the night before for an on-the-go breakfast or have a fun Sunday Morning making these with your kids.
Ingredients
1.5

cups

a/p flour

3

tsp

baking powder

1

tsp

cinnamon

2

large eggs

room temperature

½

cup

whole milk

1

cup

quick cooking oats

¾

cup

sugar

Pinch

salt

1

stick butter

melted

1.5

cups

cups chocolate chips
Instructions
Preheat oven to 350 degrees F.

Line a muffin pan with large paper muffin liners and set aside.

In a large bowl, sift together flour, baking powder and cinnamon.

Mix in eggs and whole milk. Stir until well-combined.

Add quick cooking oats, sugar and salt. Mix.

Add melted butter and stir until thoroughly mixed.

Fold in chocolate chips.

Add muffin batter to lined baking pan, filling the large liners about 2/3 of the way.

Bake for 20 to 25 minutes or until toothpick comes out clean when inserted in the middle of a muffin. Allow to cool for a few minutes before serving.
Nutrition
Love this recipe?
Follow @bubbapie for even more delicious recipes!!