These Strawberry Energy Balls are the perfect snack for any on-the-go lifestyle.  Strawberries, oats, almond flour, peanut butter and honey make up this easy no bake recipe. These Bliss Balls will give you a quick boost of energy anytime during the day.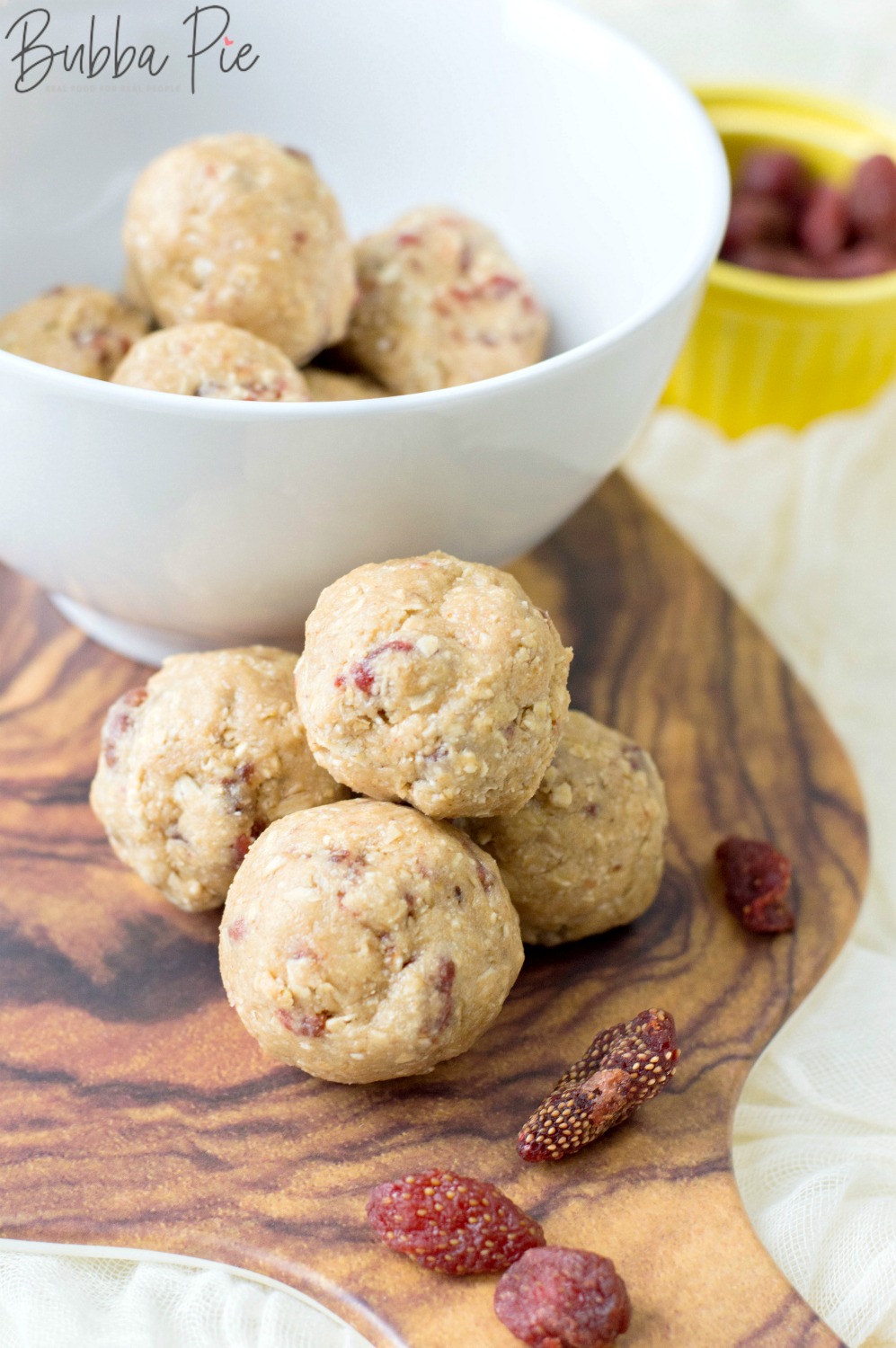 Quick,Easy and Healthy Snacks- A Mom's Dream!
Are kids are now 8 and 11-years-old. When they were younger, it seemed that they were a never ending source of energy. Now, I can tell that that energy does need to be replenished. They are ALWAYS looking for a snack between means. Yep, we got an arsenal of our favorite store-bought granola bars, energy bars and fruit snacks. But, the truth is that those aren't always the healthiest options. And, as a mom, I'm always looking for healthy recipes for my family.
The truth is, finding quick, easy and healthy snack recipes isn't hard at all. I've got this recipe for Breakfast Cookies that my kids absolutely LOVE. So, in that vein, I thought I'd also share this recipe for Strawberry Energy Balls!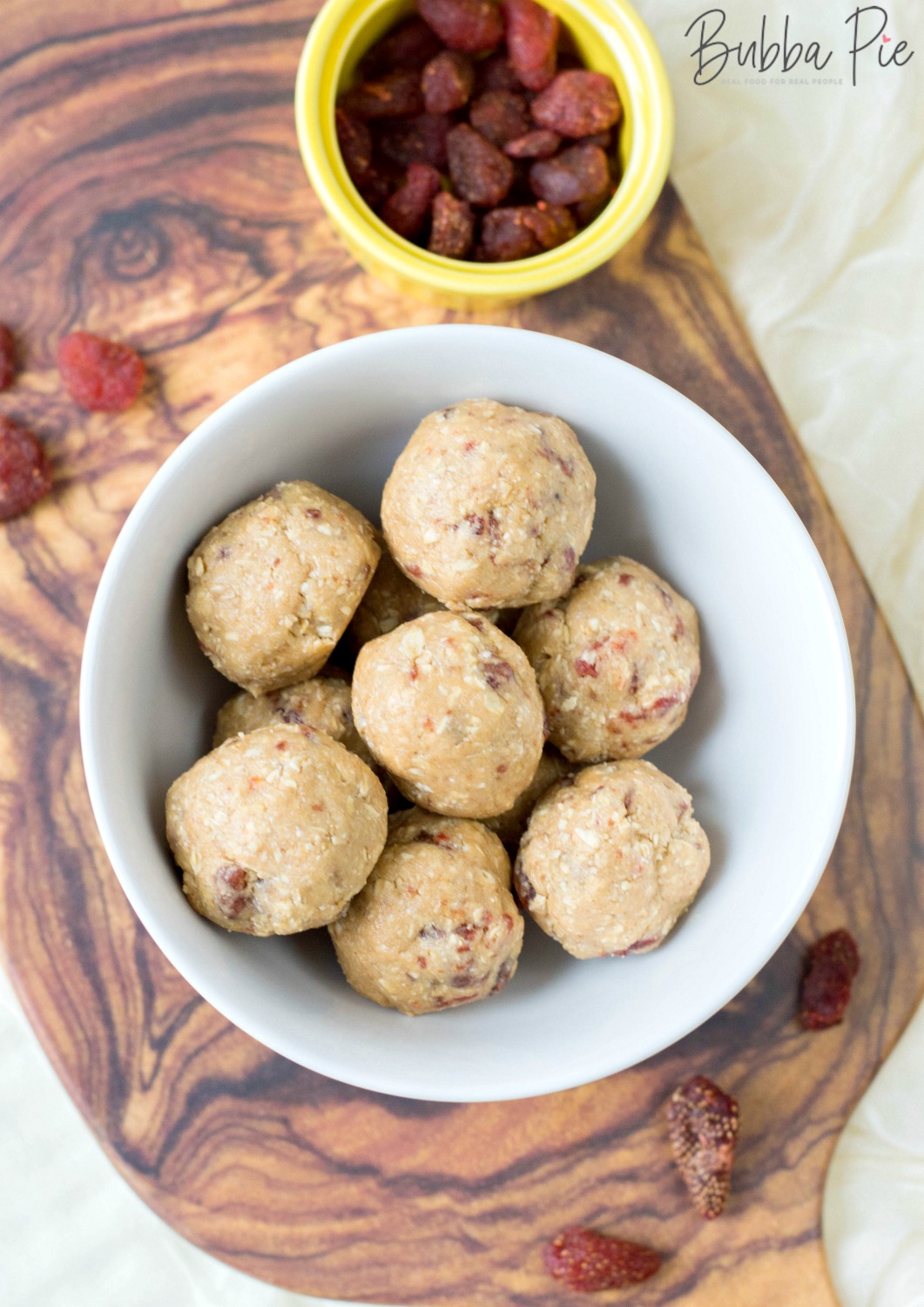 Strawberry Energy Balls
Some people call them Bliss Balls or Bliss Bites. Whatever you want to call them, you gotta love them! They are REALLY yummy and packed will all the things that you and your family will need to get through the day. I also love to use them as a quick, grab-and-go breakfast!
What Are In Energy Balls?
If you look at 10 different recipes for Energy Balls, you will see 10 different ways to make these. It is a really pliable recipe that can be tweaked to specific tastes and diets. Here are our ingredients (and why we love them in there!):
Dehydrated Strawberries- We use dehydrated strawberries just because they were pretty easy to use. You can also use Fresh Strawberries if you want, but you'll want to make sure you keep these energy balls in the fridge.
Rolled oats-In addition to giving this recipe a great texture, they are rich in Antioxidants, loaded with Fiber and can help reduce Cholesterol Levels.
Honey- A great alternative to sugar, honey can also help improve Cholesterol, lower Triglycerides and is rich in Antioxidants.
Almond Flour- A great gluten-free alternative to regular flour, it is also rich in Vitamin E, which can reduce the risk of heart disease.
Peanut Butter- A heart healthy way to get a boost of protein.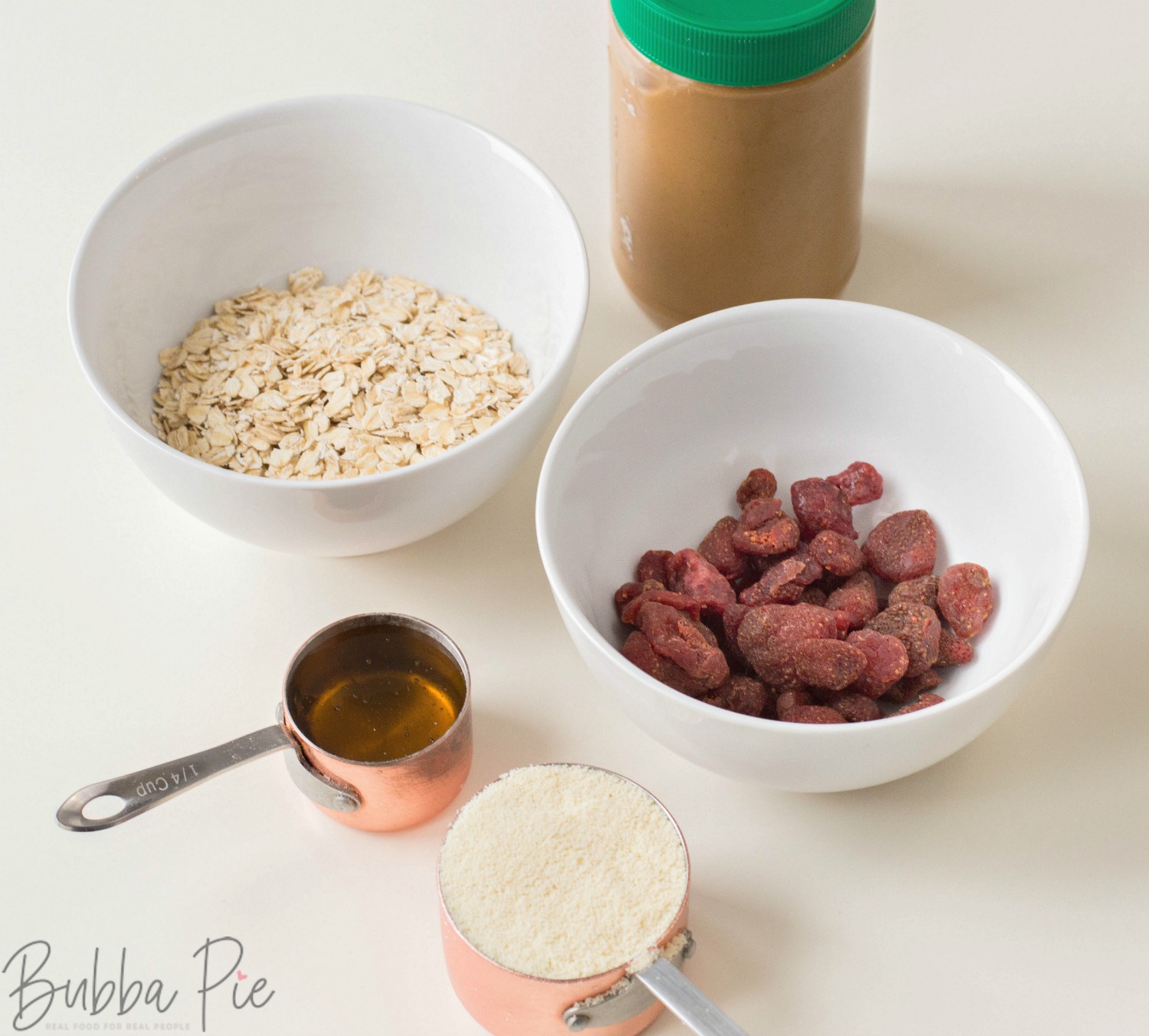 Notes, Tips and Variations
Try adding some Shredded Coconut Flakes to the outside of these energy balls. After making them, let sit in the fridge for an hour or two to firm up. Then roll in the Coconut Flakes.
Don't like Strawberries? Try these with blueberries, banana or raspberries!
Instead of using Honey to add sweetness, you can also use Dates if you'd like.
Substitute Almond Butter for the regular Peanut Butter.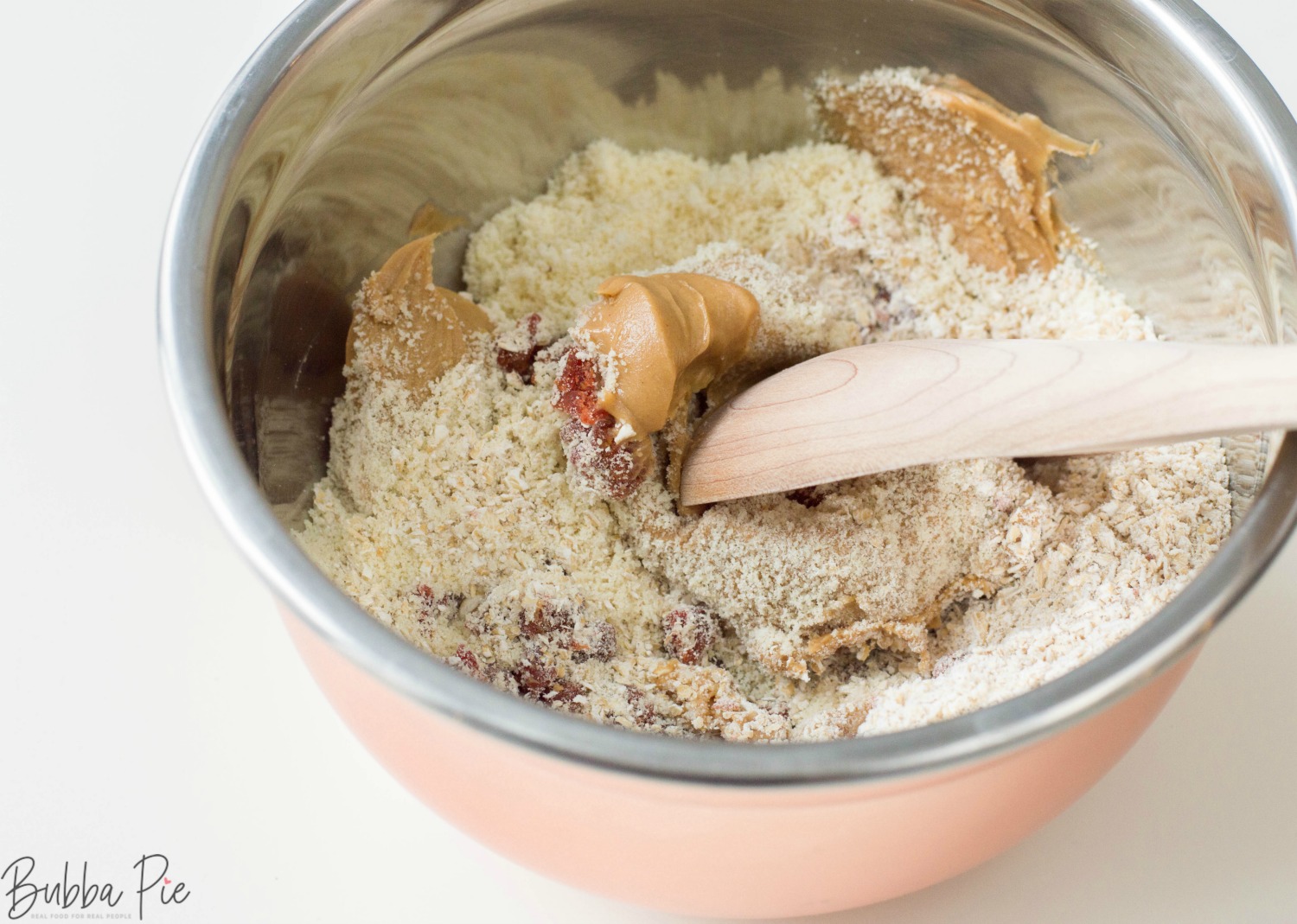 You can store your Strawberry Energy Balls for up to a week in the fridge.  This recipe yields 7-10 Energy Balls.  They are the ultimate grab-and-go snack or breakfast.  Enjoy!
LOOKING FOR MORE TASTY TREATS?  CHECK OUT: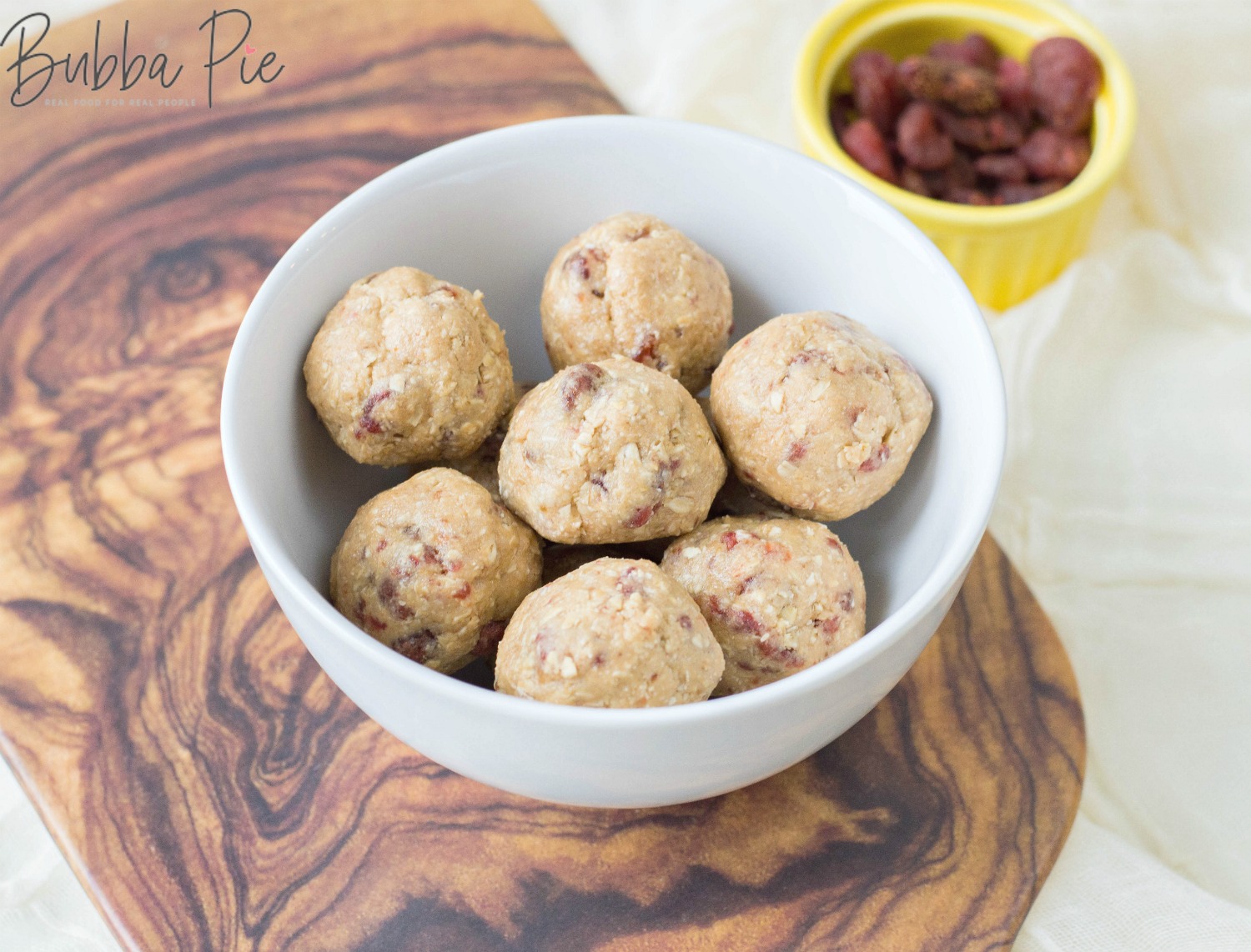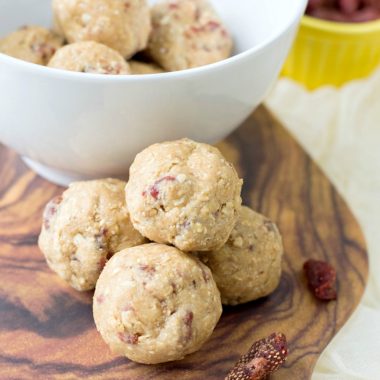 Rate this Recipe
Strawberry Energy Balls
These Strawberry Energy Balls are the perfect snack for any on-the-go lifestyle. Quick and easy to make both you and your kids will love them!
Ingredients
½

cup

dehydrated strawberries

¾

cup

rolled oats¼ cup honey

½

cup

almond flour

¼

cup

peanut butter
Instructions
Line a pan with wax paper and set aside.

Place dehydrated strawberries in a food processor and pulse for about one minute. Once it's chopped into small pieces, pour into a large bowl.

Pulse rolled outs in food processor until it is fine.

Pour into the same bowl.

Add honey, almond flour and peanut butter into the bowl and mix.

Roll your mixture into 2 inch spheres and place gently on your lined pan.

Refrigerate for about 15 minutes and enjoy!
Nutrition
Love this recipe?
Follow @bubbapie for even more delicious recipes!!