This Easy Blueberry Scones Recipe is the perfect thing for a fun brunch or a special Mother's Day breakfast.  This fruit pastry is light, fluffy with just the right amount of tart from the fresh blueberries.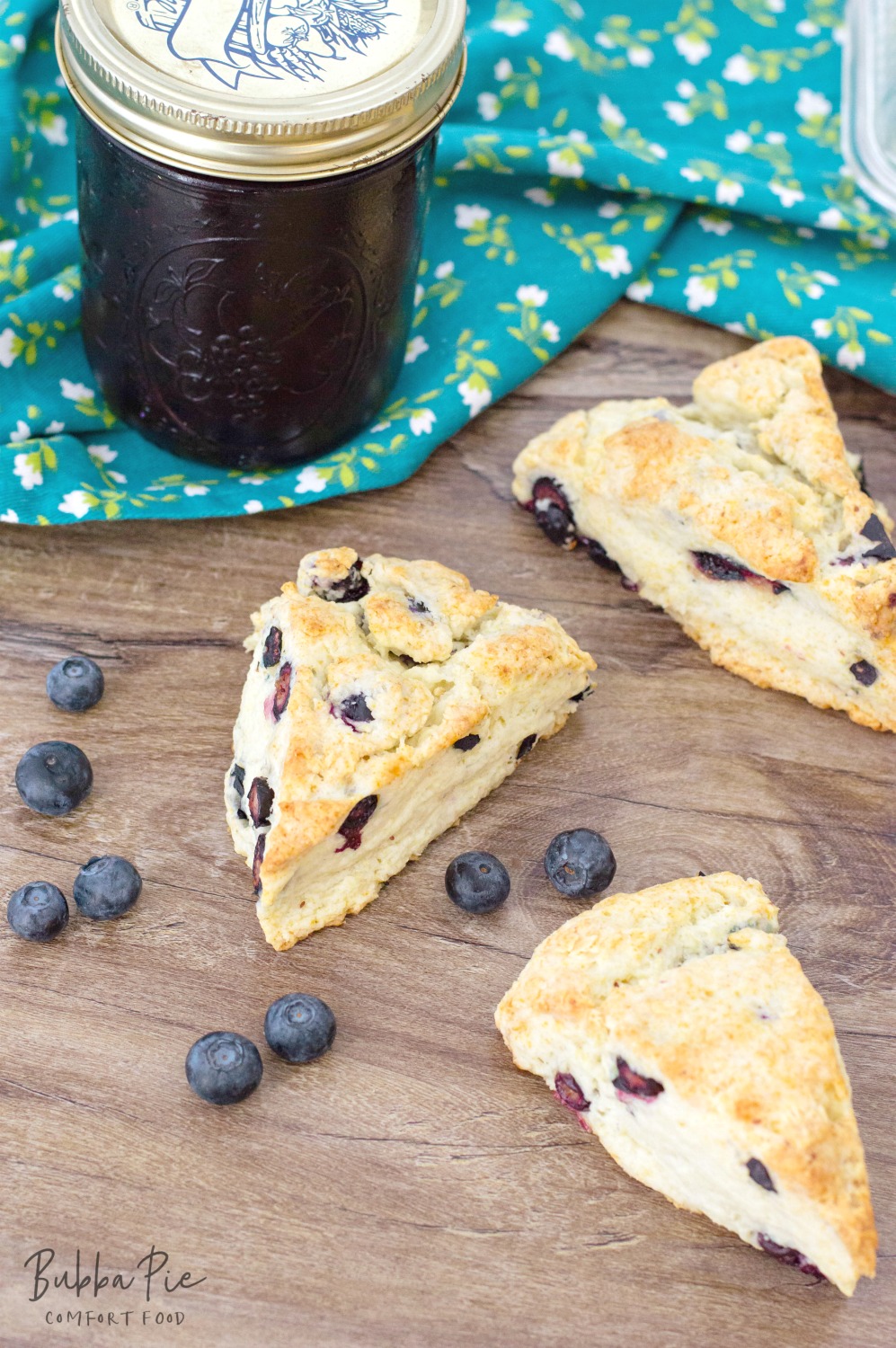 LOOKING FOR MORE TASTY BREAKFAST RECIPES? CHECK OUT:
Mother's Day is right around the corner.  If you are looking for a special treat to surprise your mom on this important holiday, look no further than these Blueberry Scones.  These breakfast pastries are quick and easy enough that even the laziest of husbands or sons can wake up a little early to make them as a surprise for mom.
Can you imagine bringing these blueberry scones up to her room for a special breakfast in bed with some fresh orange juice and a hot cup of coffee?  You will being scoring bonus points that you can redeem until at least next Mother's Day!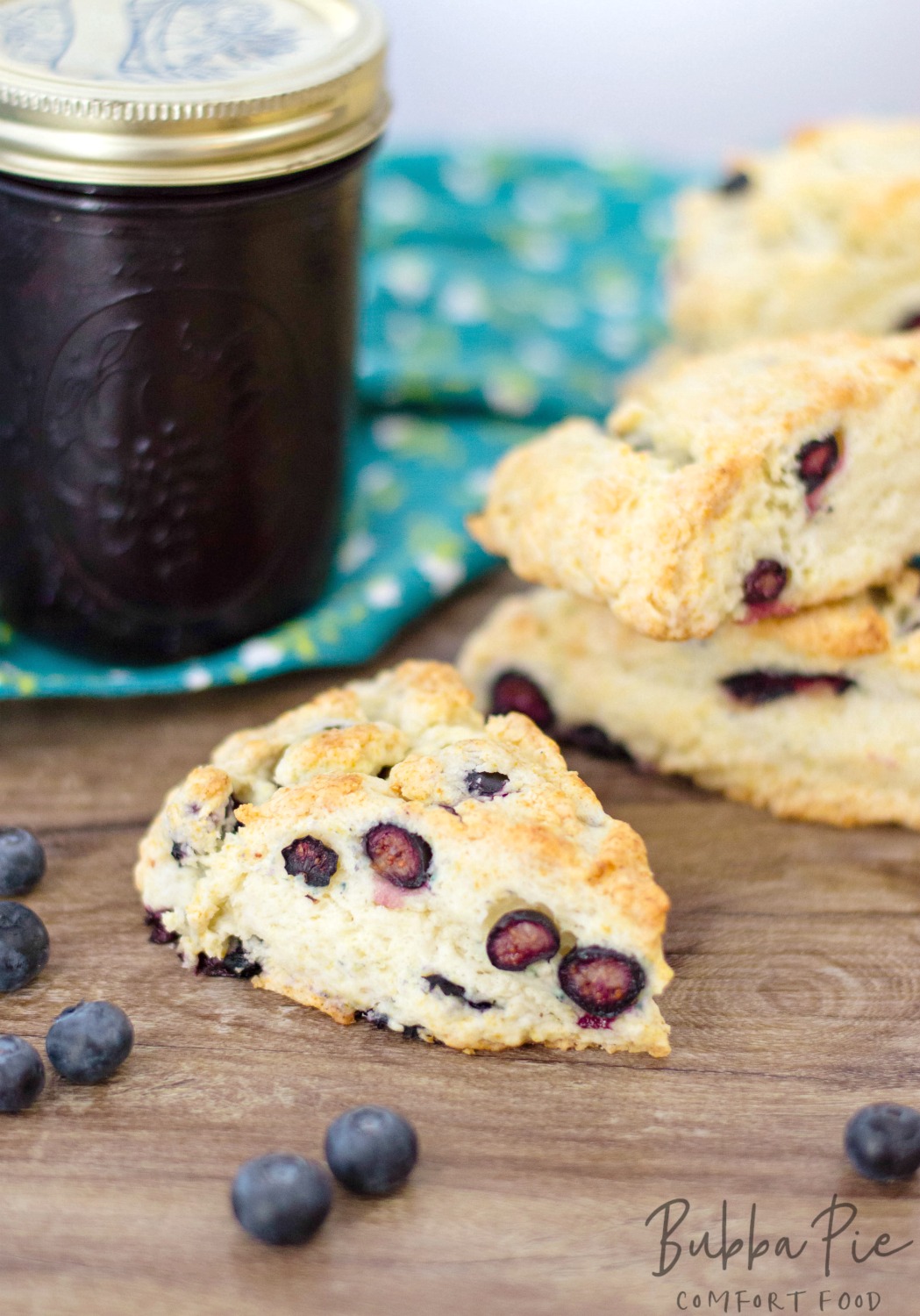 What Is A Scone?
Actually, there was a restaurant in my old hometown that claimed to have "the worlds best scones".  I grew up pretty familiar with what a quality scone is supposed to taste like.  So, what is a scone?  It is, in many ways, similar to a biscuit.  The only difference is that scones are usually made with eggs and biscuits aren't.  But, true for both of these, the pastry itself isn't too sweet.
This is my favorite part about scones.  They get their sweetness from the toppings or fillings in them, not from the pastry itself.  It is a perfect option if you are looking for a dessert that isn't too sweet, decadent or overbearing.  Comfort food doesn't always have to be heavy or rich.  It just has to be comforting!  So we thought that BubbaPie would be a great place to present an Easy Blueberry Scone Recipe.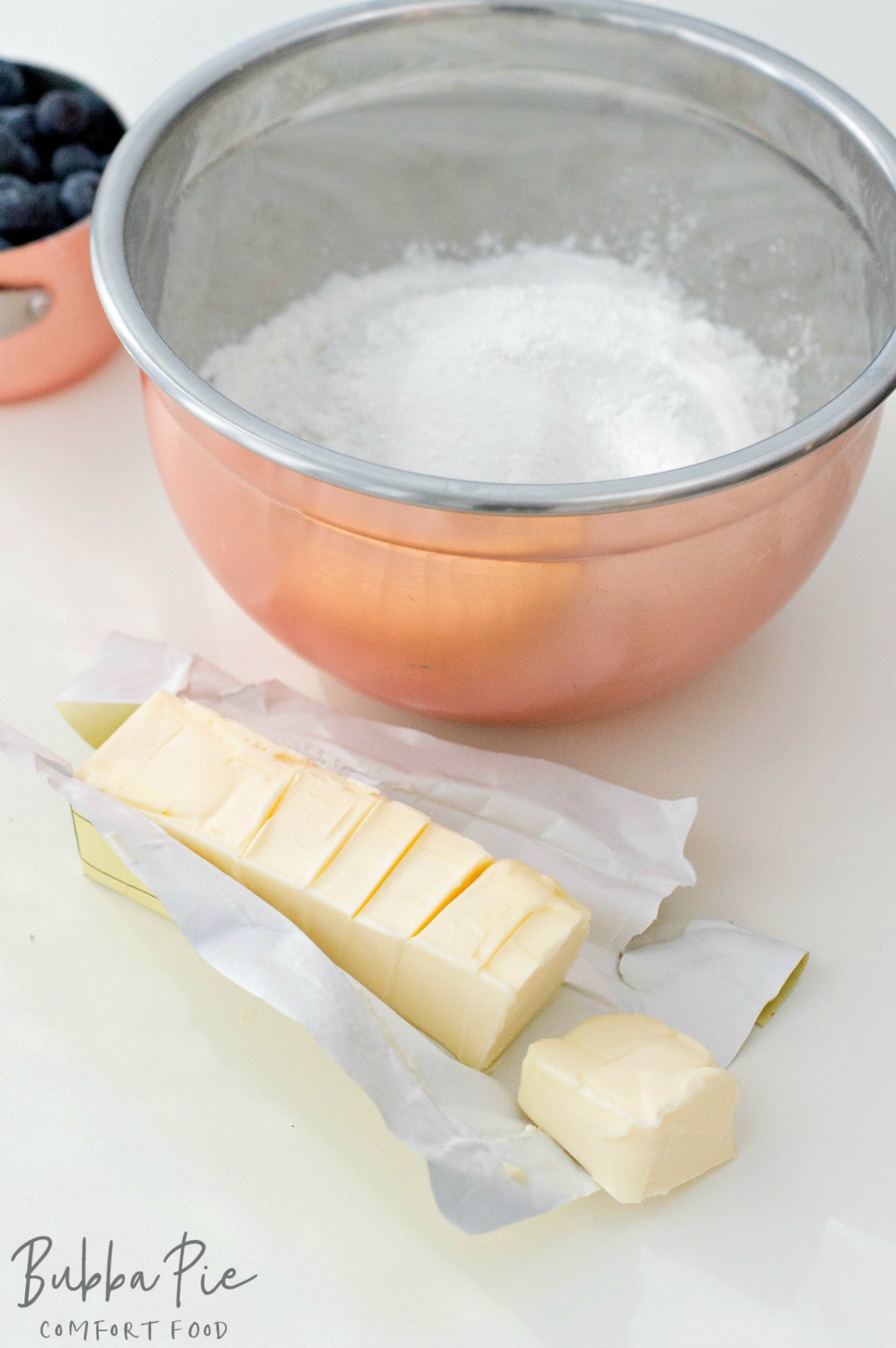 Blueberry Scone Recipe
Learning how to make Blueberry Scones is super easy.  Just make sure you line the baking sheet for parchment paper and you use a pastry cutter to make sure the scones don't stick and are the shape you want. They will come out looking as bright and fresh as a morning in late-May!
BLUEBERRY SCONE INGREDIENTS:
2 cups all purpose flour
1 tbsp baking powder
Pinch of salt
2 tbsp granulated sugar
5 tbsp cold butter, cut in pieces
1 cup blueberries (fresh, preferably)
1 cup heavy cream (35% fat or more)
BLUEBERRY SCONE INSTRUCTIONS:
Preheat oven to 400 degrees F and line a baking sheet with parchment paper. Set aside.
In a large bowl, sift together dry ingredients: flour, baking powder, pinch of salt and sugar.
Using a pastry cutter, cut butter into dry ingredients until crumbs start to form.
Fold in fresh blueberries.
Form a well in the middle of the ingredients and pour in heavy cream, ½ cup at a time. Mix until a dough forms, being careful to not pop any of the blueberries.
Pat dough onto a baking sheet, forming it into a flat circle about 8 inches in diameter.
Cut to create 8 triangular shapes. Separate triangles from each other and re-place gently on lined baking sheet.
Bake for 15 to 20 minutes and allow to cool for 5-10 minutes on a wire rack. Serve and enjoy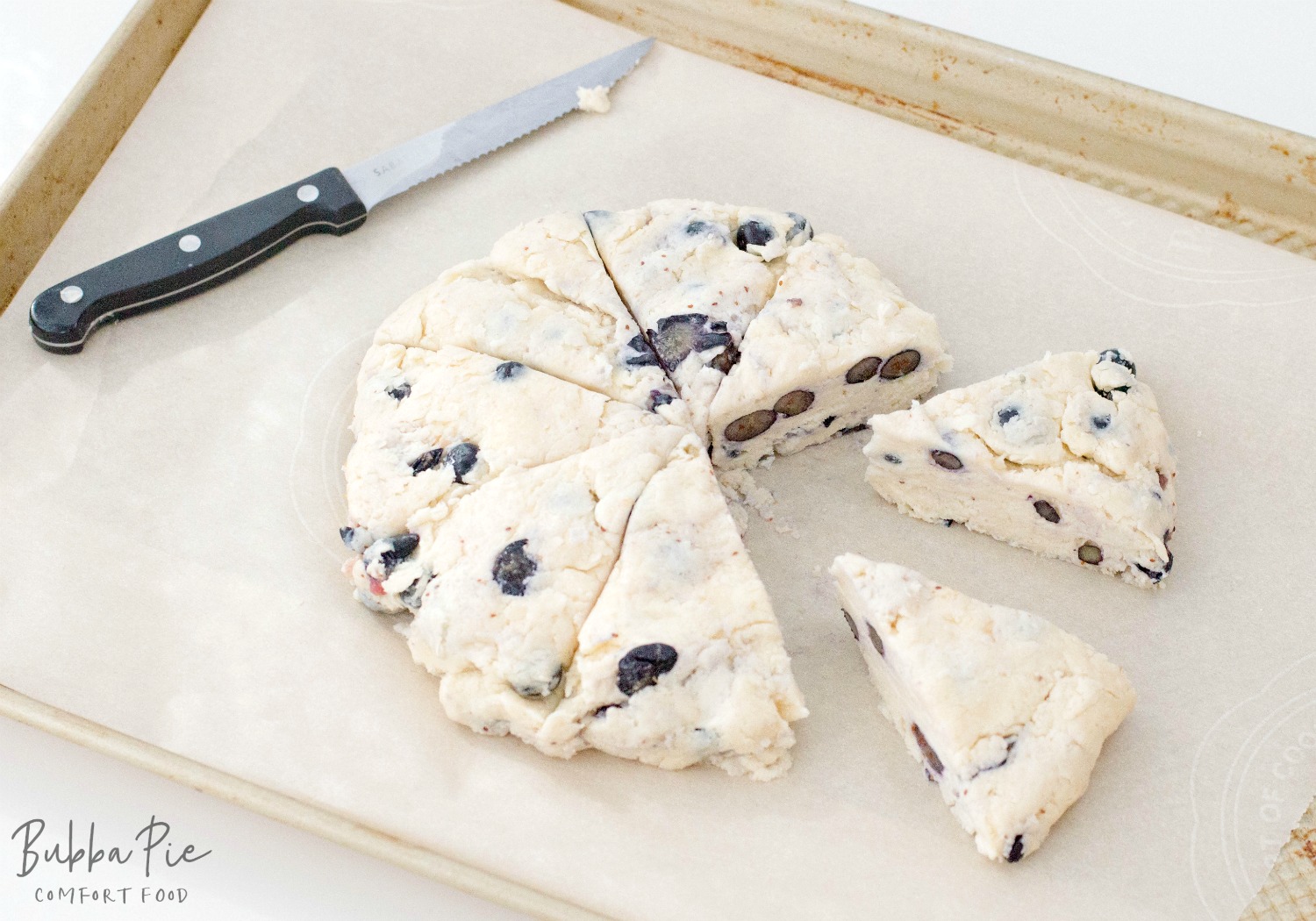 In just about 30 minutes, you can have some fresh blueberry scones to bring up to mom on Mother's Day to get her special day started off with a bang!  Or, maybe I will surprise my kids with these.  They like to watch cartoons upstairs on Saturday mornings, maybe I'll have these waiting for them when their tummies finally tell them to come downstairs for breakfast.  These blueberry scones will be a sure thing to make any normal morning just a little more special.  Enjoy!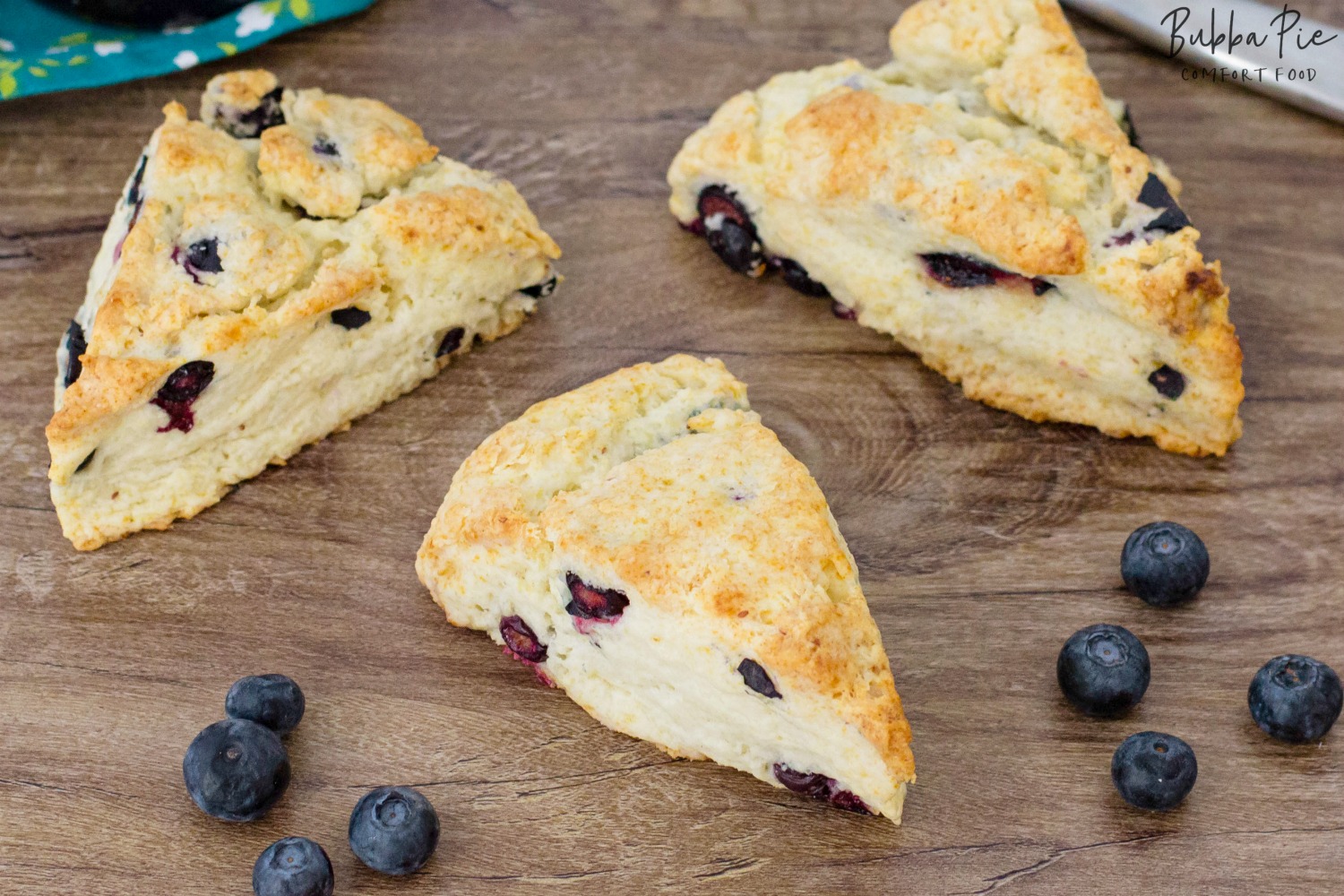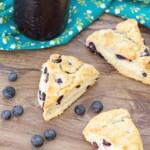 Easy Blueberry Scones Recipe
This Easy Blueberry Scones Recipe is the perfect thing for a fun brunch or a special Mother's Day Surprise. They are light, fluffy with just the right amount of tart from the fresh blueberries.
Ingredients
2

cups

all purpose flour

1

tbsp

baking powderPinch of salt

2

tbsp

granulated sugar

5

tbsp

cold butter

cut in pieces

1

cup

blueberries

fresh, preferably

1

cup

heavy cream

35% fat or more
Instructions
Preheat oven to 400 degrees F and line a baking sheet with parchment paper.

Set aside.In a large bowl, sift together dry ingredients: flour, baking powder, pinch of salt and sugar.

Using a pastry cutter, cut butter into dry ingredients until crumbs start to form.

Fold in fresh blueberries.

Form a well in the middle of the ingredients and pour in heavy cream, ½ cup at a time.

Mix until a dough forms, being careful to not pop any of the blueberries.

Pat dough onto a baking sheet, forming it into a flat circle about 8 inches in diameter.

Cut to create 8 triangular shapes.

Separate triangles from each other and re-place gently on lined baking sheet.

Bake for 15 to 20 minutes and allow to cool for 5-10 minutes on a wire rack.

Serve and enjoy