This Easy Blueberry Scones Recipe is light and fluffy with just the right amount of tart from the fresh blueberries. Using simple ingredients, this bakery quality breakfast treat comes out of your oven buttery and golden brown in just minutes!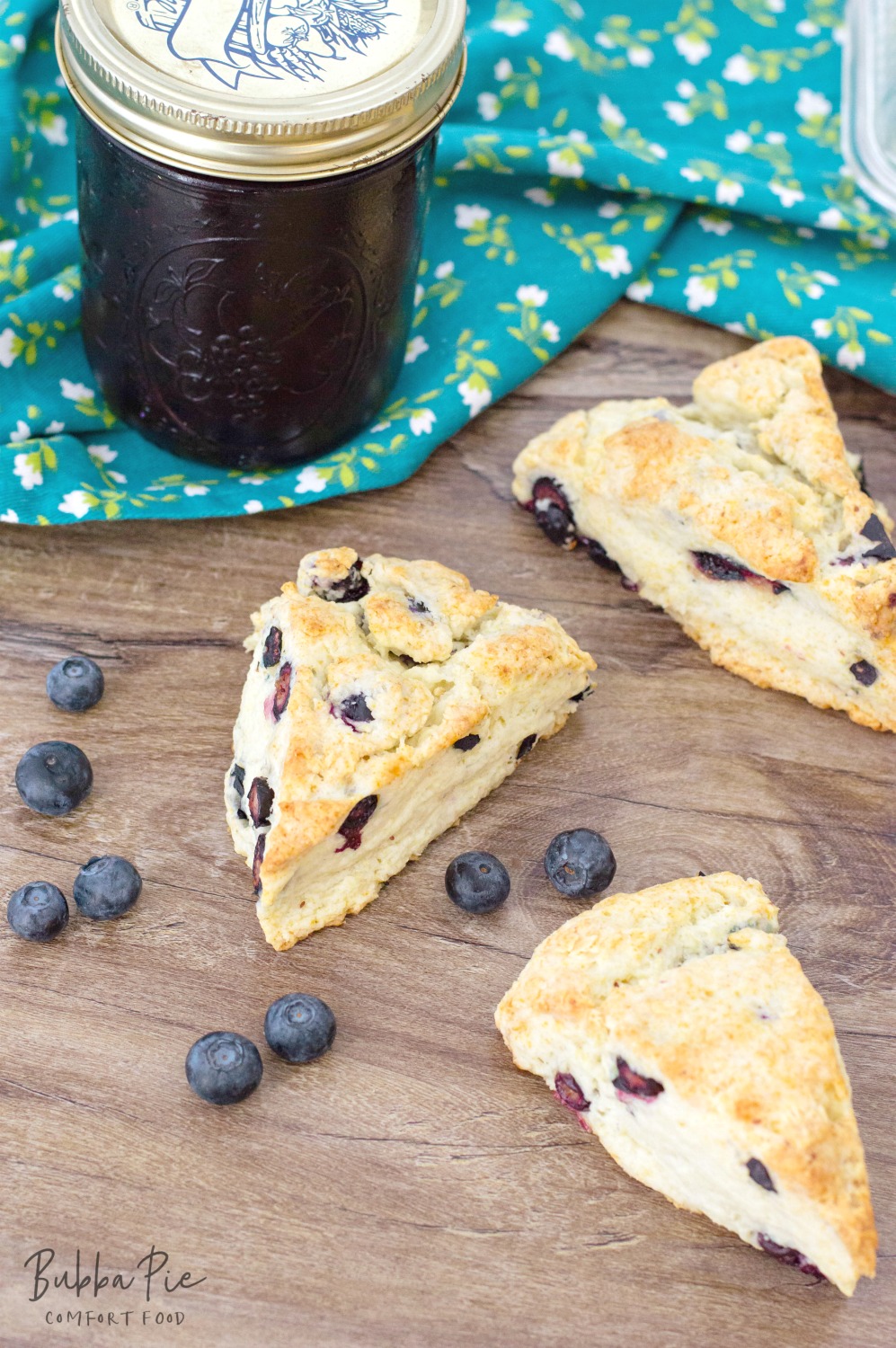 Simple, easy and a classic breakfast treat! Blueberry Scones are a perfect way to add a little fun to your morning! We love to make these on the weekends, and if there are any left, they are a great grab-and-go breakfast for busy mornings! Bursting with juicy blueberries in a flakey, buttery crust, you just can't beat them!
What Is A Scone?
Actually, there was a restaurant in my old hometown that claimed to have "the world's best scones".  I grew up pretty familiar with what a quality scone is supposed to taste like.  So, what is a scone?  It is, in many ways, similar to a biscuit. Although a biscuit is made with more butter and generally comes out lighter and fluffier. Scones are usually made with a heavy cream for a more dense result.
There usually isn't a lot of sugar in a scone. They get their sweetness from the toppings or fillings in them, not from the pastry itself. One of our favorites are these Strawberry Scones, but the sky is the limit!  It is a perfect option if you are looking for a dessert that isn't too sweet, decadent or overbearing.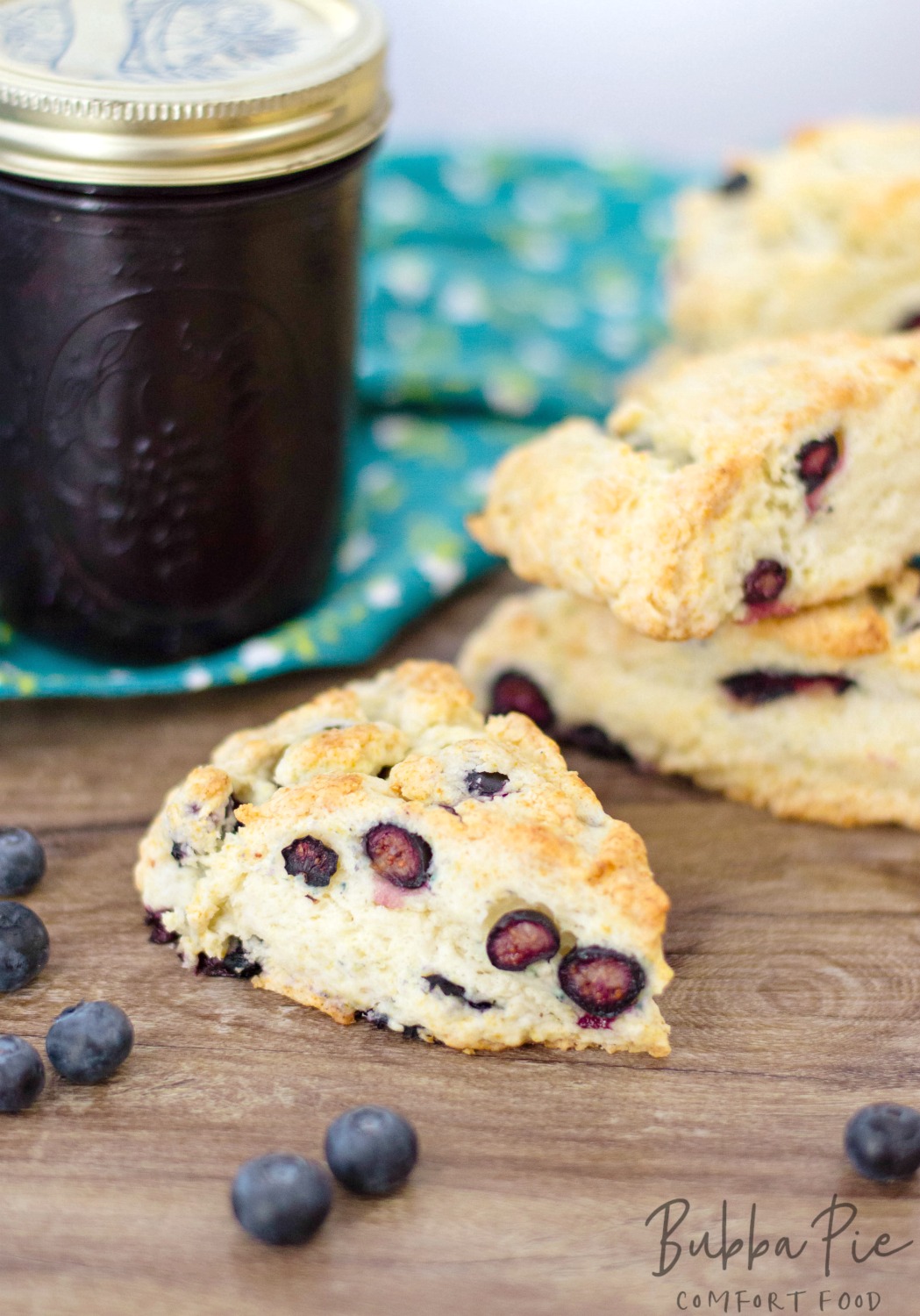 Blueberry Scone Recipe
Learning how to make Blueberry Scones is super easy.  Just make sure you line the baking sheet for parchment paper and you use a pastry cutter to make sure the scones don't stick and are the shape you want. They will come out looking as bright and fresh as a morning in late-May!
BLUEBERRY SCONE INGREDIENTS:
FLOUR – Any A/P Flour will do. Make sure to have a little extra on hand to work with the dough.
BAKING POWDER – This will make your scones rise and help give them that "sconey" texture.
SALT – Just a pinch! Gives a good balance to the sweetness of the sugar and the blueberries.
SUGAR – We actually use just 2 tablespoon of sugar in this recipe. I've seen people use more. You can edge it up a bit if you want a sweeter end product, but it may change the consistency a bit.
BUTTER – Cold. Cut into pieces. Blending in the cold butter is part of what makes a scone a scone. You may also want to use frozen butter and grate into shavings. This will make it easier to incorporate into the dry ingredients and will stay cold until it goes in the oven. The best way to cut in butter is with a pastry blender or using two forks.
BLUEBERRIES –  You really want to find the freshest, juiciest blueberries possible for this recipe.
HEAVY CREAM – At least 35% fat or more.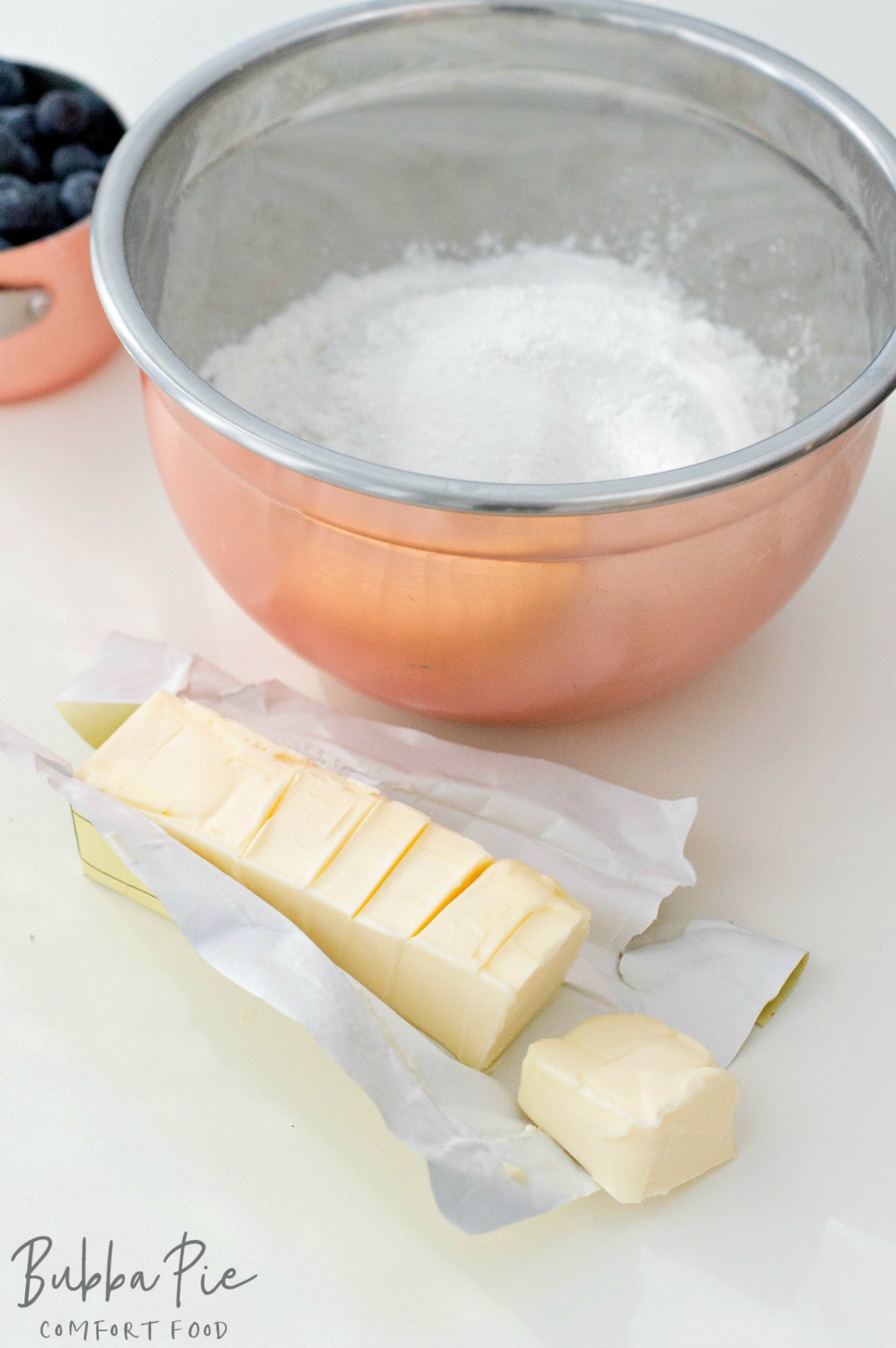 How To Make Blueberry Scones
This is a great breakfast treat because they really are so easy to make! Simply mix together the dry ingredients. Then cut in the COLD butter. After that, create a well in the middle to pour in your heavy cream.
*TIP*–  You really don't want to overmix the dough at any point. Always be combining ingredients until JUST mixed together. This is the best way to avoid flat, dense scones!
Once you have your dough, gently incorporate the fresh blueberries. Be very careful not to break them as you are combining them into the dough!
Then, just put it all on a cutting board and form a circle that is about 8 inches in diameter. Then, cut out wedges. Put them on a baking sheet with parchment paper and bake!
For the full instructions and more info, check out the recipe card below!
Can You Use Frozen Blueberries In Scones?
We opted for fresh blueberries. But you CAN use frozen blueberries if you'd like. Just don't thaw them out first.
Can I Use Milk Instead Of Cream In Scones?
I would advise against it. You really need a thicker, heavier liquid to help gives these scones some weight. Even "full fat" milk will probably come up short. You can sub for buttermilk if you'd like. Or canned coconut milk if you need a non-dairy option.
Can You Make Scones Ahead Of Time?
You can certainly make this dough ahead of time. Since scones bake best when the dough is cold, there is no problem making the dough a couple hours or even a couple days ahead of time and keep it in the refrigerator until ready to bake.
Should Scones Have Eggs In Them?
You may have noticed that this recipe doesn't use any eggs. Many recipes do. There is a bit of a controversy as to whether they should be made with eggs or not, Using eggs will help leaven and make the scones rise a bit more as they bake. But, we feel you get a more authentic scone texture without the eggs. So that's what we do!
What Toppings Can You Put On Scones?
We kept these scones pretty simple and let the fresh blueberries do the talking. But, you can certainly add to the fun with some toppings. Some ideas would be a vanilla icing glaze. This is a super simple recipe to make. You just need 1 Cup of Confectioners Sugar, 2 Tbsp of Heavy Cream and 1/2 tsp of Vanilla Extract. Whisk it all together and drizzle it over your scones!
Or, you can simple sprinkle some confectioners sugar on top!
Another idea would be to brush some honey on top!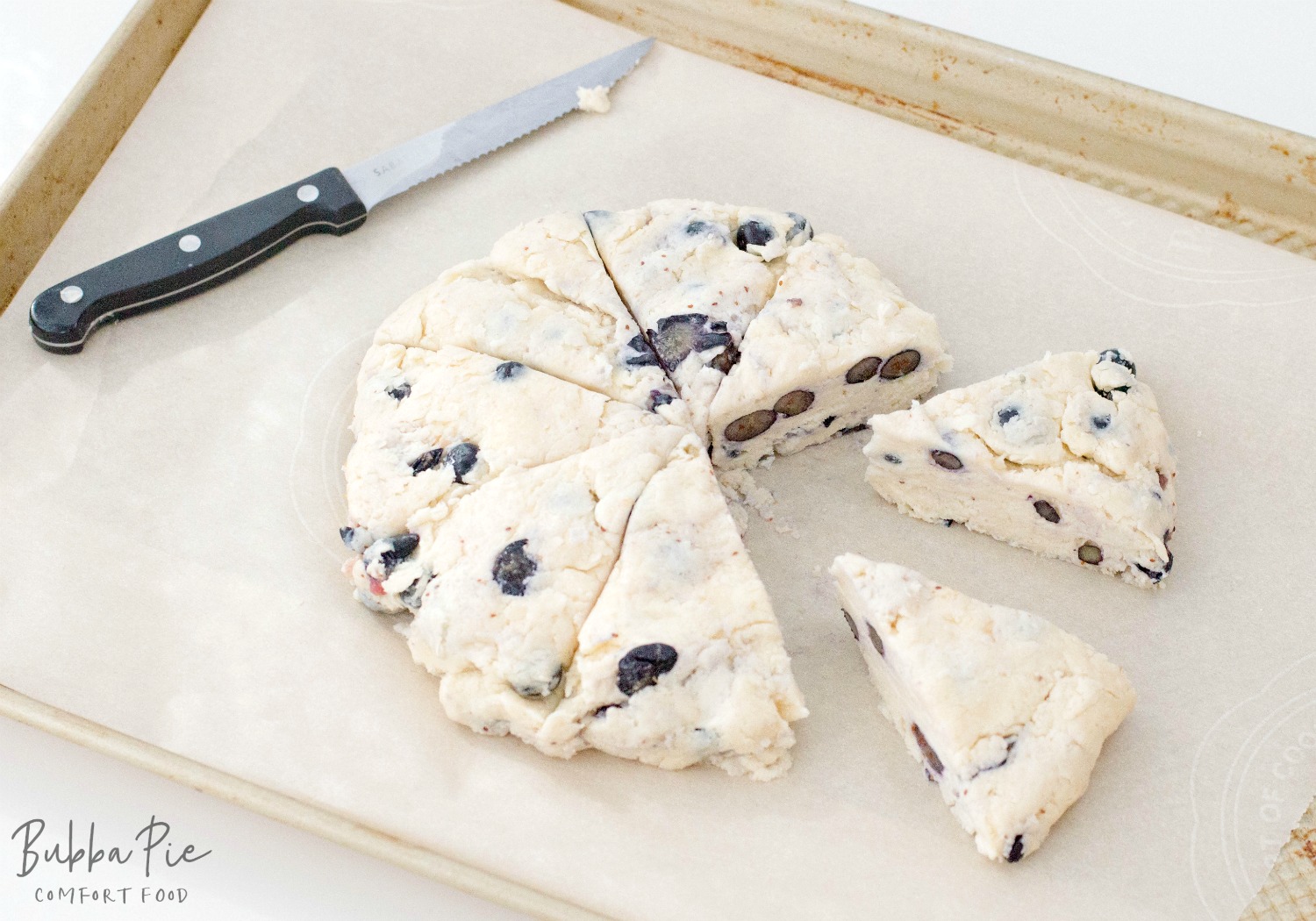 Equipment To Help With This Recipe
In just about 30 minutes, you can have some fresh blueberry scones to bring up to mom on Mother's Day to get her special day started off with a bang!  Or, maybe I will surprise my kids with these.  They like to watch cartoons upstairs on Saturday mornings, maybe I'll have these waiting for them when their tummies finally tell them to come downstairs for breakfast.  These blueberry scones will be a sure thing to make any normal morning just a little more special.  Enjoy!
LOOKING FOR MORE TASTY BREAKFAST RECIPES? CHECK OUT: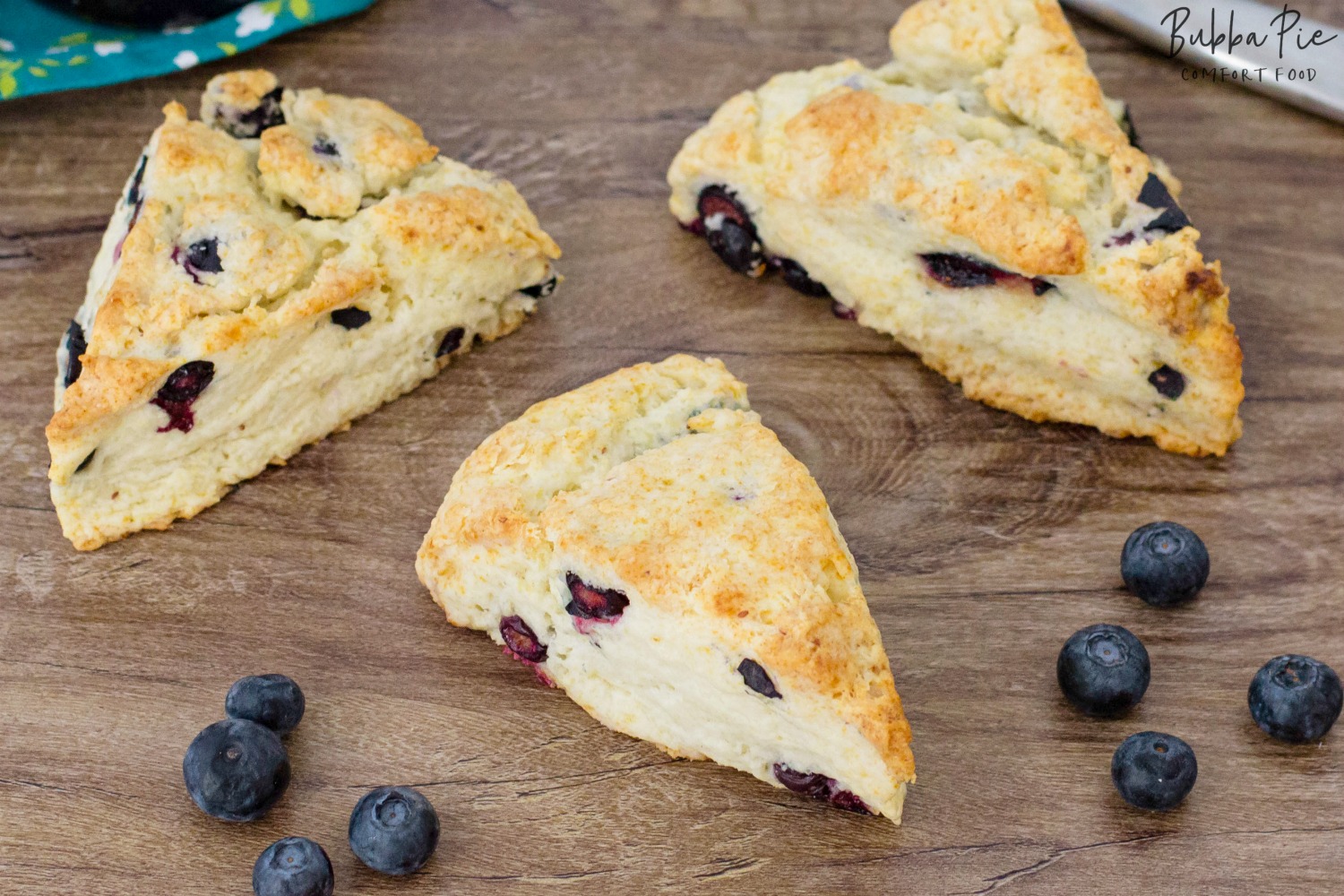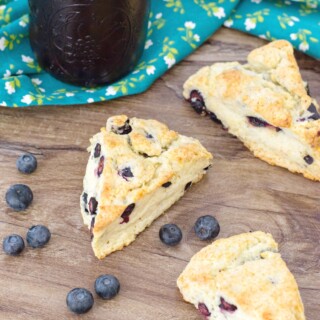 Rate this Recipe
Easy Blueberry Scones Recipe
This Easy Blueberry Scones Recipe is the perfect thing for a fun brunch or a special Mother's Day Surprise. They are light, fluffy with just the right amount of tart from the fresh blueberries.
Ingredients
2

cups

all purpose flour

1

tbsp

baking powderPinch of salt

2

tbsp

granulated sugar

5

tbsp

cold butter

cut in pieces

1

cup

blueberries

fresh, preferably

1

cup

heavy cream

35% fat or more
Instructions
Preheat oven to 400 degrees F and line a baking sheet with parchment paper.

Set aside.In a large bowl, sift together dry ingredients: flour, baking powder, pinch of salt and sugar.

Using a pastry cutter, cut butter into dry ingredients until crumbs start to form.

Fold in fresh blueberries.

Form a well in the middle of the ingredients and pour in heavy cream, ½ cup at a time.

Mix until a dough forms, being careful to not pop any of the blueberries.

Pat dough onto a baking sheet, forming it into a flat circle about 8 inches in diameter.

Cut to create 8 triangular shapes.

Separate triangles from each other and re-place gently on lined baking sheet.

Bake for 15 to 20 minutes and allow to cool for 5-10 minutes on a wire rack.

Serve and enjoy
Nutrition
Love this recipe?
Follow @bubbapie for even more delicious recipes!!