Serve up these delicious Easy Christmas Finger Foods at your next holiday party. From a holiday version of Deviled Eggs to Cranberry and Horseradish Brie Bites, there are a ton of different appetizers and Christmas themed recipes for any holiday party!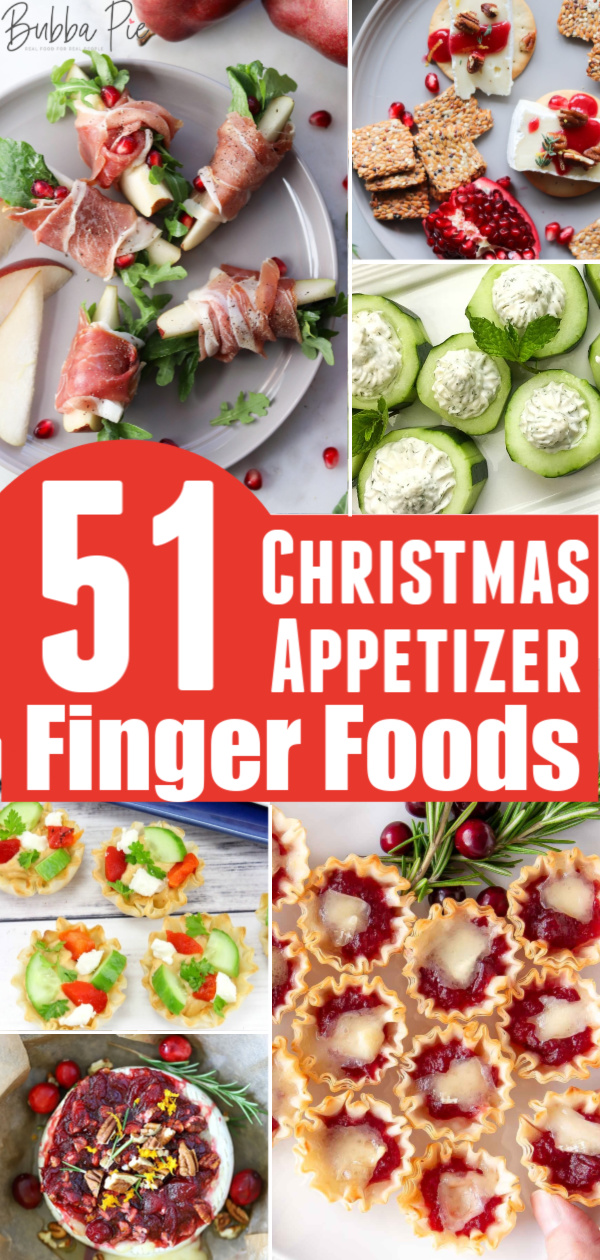 Well, Christmas is coming up fast. I can't believe we are past Thanksgiving and heading quickly to December 25th. For me, this time of year means a lot of different wonderful things, but one thing I love about the Holiday Season is all the delicious Christmas recipes that are out there to try. The possibilities seem endless!
While the actual Christmas Dinner is the culinary highlight of the season, there are so many other great opportunities to enjoy a wonderful holiday dish recipe. This could be a Christmas party at a friend's house or a holiday themed pitch-in at the office. For these occasions, it's so much fun to find a great Christmas appetizers recipes to share with friends and family. I think that the best appetizers are "finger foods" where you can eat them easily and with very little mess. So, I found these 51 Easy Christmas Appetizers Finger Foods to keep you busy for the next couple of weeks. Happy eating!
51 Easy Christmas Appetizers Finger Foods
Cranberry Orange Brie Tarts | Cooking on the Front Burners – These Cranberry Orange Brie Tarts are the perfect appetizer for the holidays and are kicked up a bit with a pinch of cayenne pepper.  The sweet, spicy, orange filling is nestled in a crunchy phyllo shell with creamy brie cheese.
Christmas Deviled Eggs | Mom Foodie – If you are looking for festive holiday appetizers, try these Christmas Deviled eggs. The deviled egg filling is made with healthy avocado rather than mayonnaise too! A perfect easy keto appetizer for the holidays. Each deviled egg half has just one net gram of carbohydrates.
Cranberry Cheesecake Crescent Rolls | Bubba Pie –

These Cranberry Cheesecake Crescent Rolls are absolutely perfect for the Holidays! Refrigerated Crescent Roll Dough is filled with sweetened cream cheese and cranberry sauce and topped with buttery sugar. This is such a fun, easy recipe for Thanksgiving or Christmas!

Cranberry Cream Cheese Appetizers | Finding Zest – This cranberry cream cheese appetizer is an easy Christmas party food idea you won't be able to resist! You'll love that it takes only 10 minutes to bake and tastes great served warm or cold.
Bisquick Sausage Balls |Bubba Pie –

These Bisquick Sausage Balls are a popular holiday recipe. We love them because they are great to use as an appetizer, a snack or even a fun breakfast. Rich sausage is baked with tons of cheese and bisquick baking mix for a taste you've got to try to believe!

Feta Stuffed Cucumber Appetizer Bites | Mama Likes To Cook – Cucumber feta bites are a welcome addition to a holiday party, but they can be enjoyed on any occasion, including a quiet night at home.
Smashed Potatoes | Bubba Pie –

These Garlic and Bacon Smashed Potatoes make an awesome side dish or appetizer. They only take a handful of ingredients and are super easy to prepare! When you "smash" your baked potatoes, they turn out nice and crispy on the outside but super soft inside! And they are loaded with butter, garlic and bacon flavors! They are a great idea for holidays or any time of year!

Shrimp Cocktail Appetizer Bites | Kudos Kitchen By Renee – This festive and easy Shrimp Cocktail Appetizer Bites recipe takes only minutes to make, but they look like you slaved for hours. Plus they're cheap and cheerful which makes them perfect for this (or any) holiday gathering.
Prosciutto Wrapped Pears with Arugula | Cook At Home Mom – This is the perfect no-cook appetizer for your next holiday party or get-together! Prosciutto Pears with Arugula Salad are deliciously sweet AND savory – plus they're Whole30, Paleo & Gluten Free!
Cranberry Horseradish Brie Bites | Cook At Home Mom – This ain't your grandma's cheese and crackers! Give your holiday party the kick in the pants it needs with these Cranberry Horseradish Brie Bites. They're the best gluten free appetizer of all time, perfect for your holiday parties and get-togethers.
Sweet Potato Bites | Bubba Pie –

Looking for a fun new Thanksgiving dish this year? Check out these Sweet Potato Bites! Tender Sweet Potato slices are brushed with Maple Syrup and Butter, then topped with Marshmallow and Bacon. They are sweet, savory, crunchy and creamy…. all in each bite! This is a fantastic take on traditional holiday dishes that only takes 5 ingredients! It can be used for an appetizer or a side dish!

Christmas Holly Avocado Deviled Eggs | Everyday Shortcuts – This holiday add some festive cheer to the appetizer table with this recipe for Christmas Holly Avocado Deviled Eggs. Made with avocado makes it extra creamy, delicious to eat and it's green.  I love how the garnish turns it into a Christmas Holly without even trying.
Santa Hat Red Pepper and Cheese Crackers | Bubba Pie –

With only 4 ingredients, this Easy Santa Hat Appetizer will have you spreading the Holiday cheer at your next Christmas Party. Quick to make and easy to eat, the make the perfect holiday appetizer. And they are super cute!

Bacon Wrapped Meatballs | Bubba Pie –

These Bacon Wrapped Meatballs are an easy, fun and delicious appetizer for your next party, pitch in or potluck. We use frozen meatballs to make this recipe so simple but you can use your own recipe if you'd like!

Rosemary Spiced Nuts | The Rising Spoon – An easy recipe for savory rosemary spiced nuts you can prep & bake in less than 30 minutes. Each bite has an addicting blend of salty, herbaceous, and slightly spicy + sweet flavors. They taste even better the longer they sit, which makes them an excellent option for make-ahead holiday & Christmas food gifts.
Roasted Red Pepper Hummus Phyllo Appetizers | Wonder Mom Wannabe – Roasted Red Pepper Hummus Phyllo Cup Appetizers are one of the easiest snacks you can make. The best part is that these beautiful little appetizer cups are delicious and will be the hit of any party.
Bloody Mary Deviled Eggs | Bubba Pie –

These Bloody Mary Deviled Eggs just may be the best eggs you've ever eaten! Now you can merge that classic breakfast cocktail with the popular hors d'oeuvres recipe of deviled eggs to create an unforgettable dish!

Holiday Meatball Wreath Appetizer | Frugal Foodie Mama – This easy to make, yet elegant Holiday Meatball Wreath Appetizer is sure to steal the show at your next holiday party or get-together.
Mini Honey Roasted Almond Cheese Balls | Frugal Food Mama – These Mini Honey Roasted Almond Cheese Balls are a creamy mixture of mozzarella, Parmesan, & cream cheese that are rolled in sweet & crunchy honey roasted almonds and served on a pretzel stick…
Baked Cranberry Brie Appetizers | Suburban Simplicity – Baked Cranberry Brie is an easy and impressive 15-minute appetizer for the holidays that everyone loves. With a few simple ingredients and minutes of prep time, you have one of the best-tasting Christmas recipes!
Mini Cranberry Orange Bites | Play Party Plan – These easy to make cranberry orange bites are the perfect addition to your baby shower menu, Thanksgiving menu, or your breakfast plate. 
Smashed Brussels Sprouts | Bubba Pie –

Perfect as a zesty side dish or a fun appetizer, these Smashed Brussels Sprouts are tossed with garlic, cheese, oil and just a pinch of heat. Super easy to make, elevate your vegetable dishes with this delicious recipe.

Reindeer Christmas Cheeseballs | Hunny I'm Home – Mini cheese balls are a great go-to option for any holiday celebration because they're delicious and easy to eat. These simple bacon ranch mini cheese balls are a great way to celebrate the holiday season.
Simple Cranberry Sauce Meatballs | Hunny I'm Home – Meatballs are a great go-to dish for any holiday celebration because they're delicious and easy to eat. These simple three-ingredient cranberry sauce meatballs are the perfect mix of sweet and tangy — a great combination for your next holiday party.
Mini BLT Sandwiches | Oh How Civilized – An adorable mini version of a bacon, lettuce, and tomato (BLT) sandwich. Get easy-to-follow directions to make and serve at your next afternoon tea party.
Triscuit Appetizer with Bacon, Cream Cheese and Tomato | Crayones and Cravings – Top Triscuit crackers with cream cheese, bacon, and tomato for an easy holiday appetizer that takes just 10 minutes to prepare!
Bacon Wrapped Brussels Sprouts | Bubba Pie –

These Bacon Wrapped Brussels Sprouts only use 3 ingredients to make an awesome side dish, appetizer or game day snack. Bring them to your next office party or pitch in to be the hit of the party. For some extra flair, try brushing the bacon with maple syrup before wrapping them up!

Cranberry Goat Cheese Tarts | Tastes of Homemade – These easy tarts are filled with creamy goat cheese, cranberry sauce, and spiced nuts. They are quick to make and a perfect appetizer for Thanksgiving or Christmas.
Bacon Wrapped Water Chestnuts | Simply Stacie – I guarantee you if you make these Bacon Wrapped Water Chestnuts, they will not last long. I almost ate this entire batch myself. It's the type of recipe where you cannot just have one. I eat one and I'm in for it. I have to eat them ALL!
Creamy Stuffed Dates | Green Scheme – Creamy Stuffed Dates are the perfect combination of sweet, creamy and crunchy. Ready in 30 minutes, this appetizer is vegan, gluten free and dairy free.
Christmas Guacamole | Tasty Galaxy – Looking for a simple Christmas appetizer? This Christmas Guacamole Recipe comes together in a few minutes, and it is low carb, Keto and vegan! Here is how to make it.
Instant Pot Cranberry Cornbread Bells | This Old Gal – Instant Pot Cranberry Cornbread Bites shaped like Christmas Jingle Bells, pair up for the perfect bite of sweet and tart spiced cranberries.
Easy Smoked Salmon Roll-Ups | Kathryn's Kitchen – These deliciously savory smoked salmon bites are rolled up in a lemon dill cream cheese spread and fresh spinach! They make a fun bite size appetizer for any party or occasion. They are light and full of fresh flavor!
Dark Cherry and Brie Phyllo Bites | Celebrating the Season – Need a super easy appetizer for your next holiday gathering? If so, you'll definitely want to give these bite-sized phyllo cups a try. A slight hint of maple syrup enhances the flavours of warm, melted Brie and sweet dark cherries. These are absolutely delicious and pretty too!
Crab Stuffed Mushrooms | Beyond the Chicken Coop – Crab Stuffed Mushrooms are a perfect appetizer filled with crab, bacon and cream cheese. These mushrooms are great with any type of crab you have available – fresh crab, frozen crab, canned crab or even imitation crab.
Shrimp Avocado Cucumber Bites | To Simply Inspire – This Shrimp Appetizer features blackened shrimp atop creamy avocado and a cucumber slice. It's an easy, cold appetizer recipe to serve at any party or Holiday gathering.
Brie and Cranberry Tear and Share | Fab Food 4 All – A sheet of puff pastry is half covered in cranberry jelly and Brie, folded in half, part sliced, bent round to form a wreath and then glazed with egg wash and scattered with chopped hazelnuts before baking.
Roasted Turkey and Black Currant Bites | Food Meanderings -If you are looking for a quick (under 15 minutes), easy and unique appetizer for your next holiday potluck or party, give this festive holiday brie crostini recipe a try. This easy baked brie appetizer was a winner in the 2015 E.D. Smith Holiday Share Contest!
Christmas Tree Mini Quiches | Happy Kitchen Rocks – Christmas tree mini quiches recipe is easy, delicious and healthy! These potato-based fluffy mini quiches will make an impressive appetizer for your holiday table!
Dark  Chocolate Dipped Figs with Gorgonzola | We Are Not Martha – Whether these Dark Chocolate Figs with Gorgonzola Cheese are served as an appetizer or dessert, your guests will fall in love. The ingredients are simple, but they all work so well together.
Bacon and Egg Cucumber Bites | Midlife Healthy Living – Bacon and Egg Cucumber Bites are easy to make for a big crowd or just one. They are packed full of protein and flavor. The best part is there is no cooking involved and you can prepare and serve them in less than 10 minutes.
Layered Holiday Finger Jello | A Sparkle of Genius – This Layered Finger Jello for Holidays recipe takes me back to my childhood. It has been a family holiday tradition for many years to make finger jello.
Merry Little Christmas Deviled Eggs | She Keeps a Lovely Home –

These merry little Christmas deviled eggs are so cute, so festive and incredibly tasty! 

All you need are a few pink pepper corns and a few parsley leaves to make these jolly appetizers.
Mini Brie Bites with Cranberry Orange Relish | Besosalina – The  flaky puff pastry pairs perfectly with the creamy brie cheese, and the addition of the cranberry and a touch of thyme truly makes this next level appetizer. The best part though, is that it takes about 20 minutes to make and requires minimal ingredients.
Bacon and Cherry Bites | Feast Glorious Feast – My Bacon & Cherry Bites are the perfect canape for almost any occasion. I know they sound weird. And I know that your guests will give you the side eye before trying them but trust me, you'll wish you made double because everyone loves them. Even the strongest sceptics. Including me!
OR, ARE YOU LOOKING FOR SOME GREAT CHRISTMAS DESSERT RECIPES? CHECK OUT THESE YUMMY HOLIDAY TREATS: