This Cranberry Crescent Roll Cheesecake is absolutely perfect for the Holidays! Refrigerated Crescent Roll Dough is filled with sweetened cream cheese and cranberry sauce and topped with buttery sugar. This is such a fun, easy recipe for Thanksgiving or Christmas!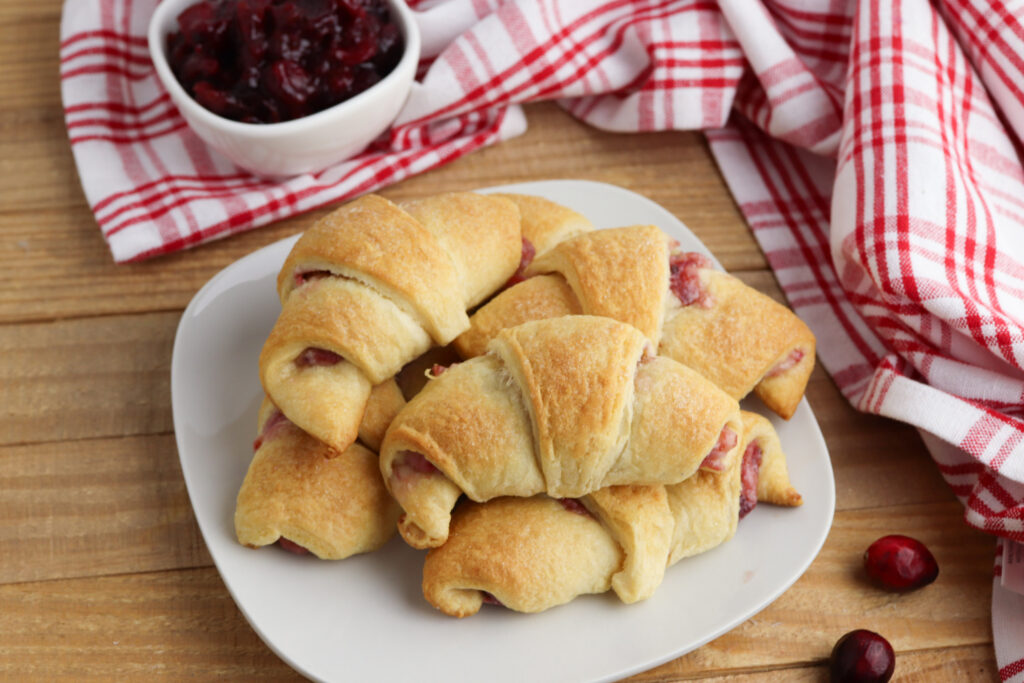 You gotta love it when you find a fun, new recipe to bring to your family holiday dinner or workplace pitch in. And it's even better when it takes literally 3 minutes to prepare it and get it in the oven! These Cranberry Crescent Rolls are JUST the thing! We love this because it is made so simple with store bought crescent roll dough. We always love to have a couple of cans of crescent rolls hanging out in our fridge because there is a lot you can do with them@
A couple weeks ago, we shared a recipe for Pumpkin Pie Crescent Rolls and they have been one of our most popular recipes as the Holiday season comes around. So, we thought, let's give the people more of what they want!
Cranberry Crescent Roll Cheesecake
This recipe is so perfect because it can be used as a dessert or an appetizer (although, as described it's more of a dessert, there are some easy tweaks to make it more of an appetizer). It's sort of like danish. It's a great use for any leftover cranberry sauce you may have leftover around the holidays.
Ready to get baking? Here is what you'll need to get started! For step-by-step instructions, check out the printable recipe card below.
CREAM CHEESE – You will need to use softened cream cheese. This recipe is really tricky with cold, hard cream cheese. If you are looking to lighten this dish up a bit, you can use low fat or fat free cream cheese.
POWDERED SUGAR – Also called Confectioner's Sugar. You will mix this in with your Cream Cheese to give it that "cheesecake" mix.
CRANBERRY SAUCE – Use homemade if you have some laying around. Or store bought will work fine too.
CRESCENT ROLLS – Store bought, refrigerated crescent roll dough. You know, the kind that you have to "explode" the canister to get to? My wife is afraid of them and I'm the one that always has to open it!
BUTTER – Melted, unsalted butter.
SUGAR – Normal, white sugar. This will be sprinkled on the melted butter on top of the baked crescent rolls.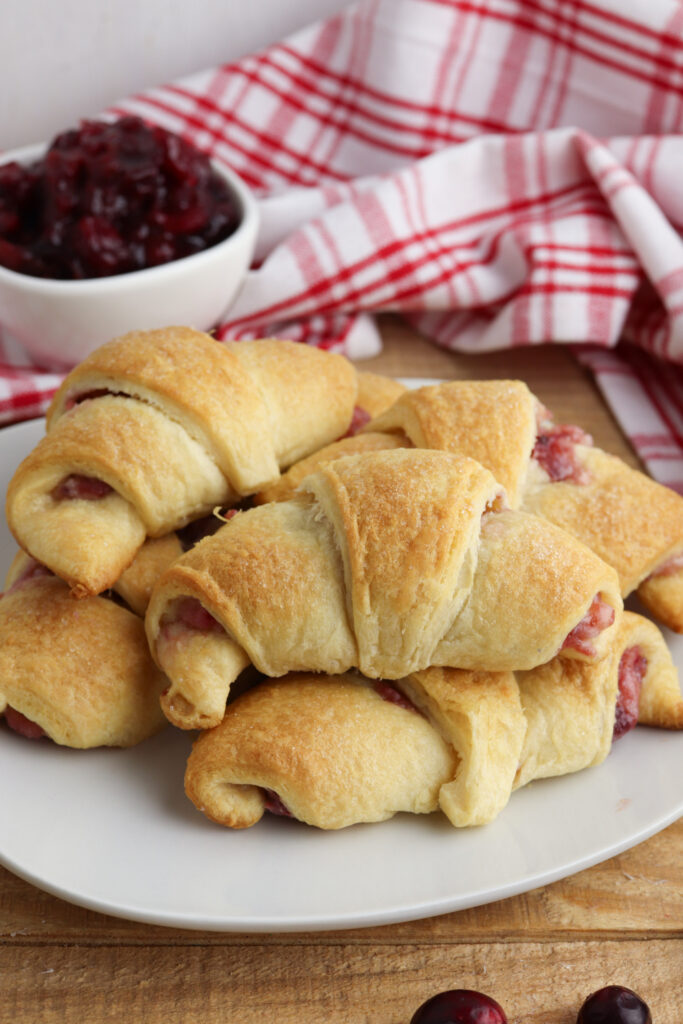 How To Serve Cranberry Cheesecake Crescent Rolls
This recipe tastes fine at room temperature. But is super delicious slightly warmed up. As I mentioned above, it can be an appetizer or a dessert.
With the sugar added, it is certainly more of a handheld dessert. I have seen other versions of this recipe where the confectioners sugar and the white sugar are not added. So, although I haven't tried it, you could omit the sugar and just use the cream cheese and cranberry sauce. That would make this more of an appetizer recipe.
Storage and Freezing
With the large amount of cream cheese in this recipe, I'd go ahead and refrigerate the leftovers in an airtight container. You can reheat them in the microwave for about 20 seconds.
To freeze, allow to fully cool and wrap in freezer wrap. Store in your freezer for up to 3 months. Thaw overnight in your refrigerator and reheat as described above.
Notes, Tips and Suggestions
TRY OTHER FLAVORS – Not a fan of cranberry sauce? Or looking to make this outside of the holidays? This recipe will also work with other fruit flavors. Try putting Blueberry, Raspberry or Strawberry Jam in with the cream cheese.
DON'T HAVE CRESCENT ROLL DOUGH? – If you don't have, or can't find crescent roll dough. You CAN use refrigerated biscuit dough in a pinch. I've done this a number of times. Just take out each portion of biscuit dough and roll it flat with a rolling pin. Then use a sharp knife or a pizza cutter to cut out triangle shapes. This process is certainly a bit more time consuming. But it works.
TOPPINGS – Brush with some butter on the top of crescent rolls and sprinkle some sugar, or sugar and cinnamon on top before baking. Or drizzle a little honey or caramel over them. You could also make a simple sugar glaze to put on top of them.
We hope you enjoy this recipe for Cranberry Cheesecake Crescent Rolls. Let us know how it works out for you in the comments section!
LOOKING FOR MORE HOLIDAY RECIPES? CHECK OUT: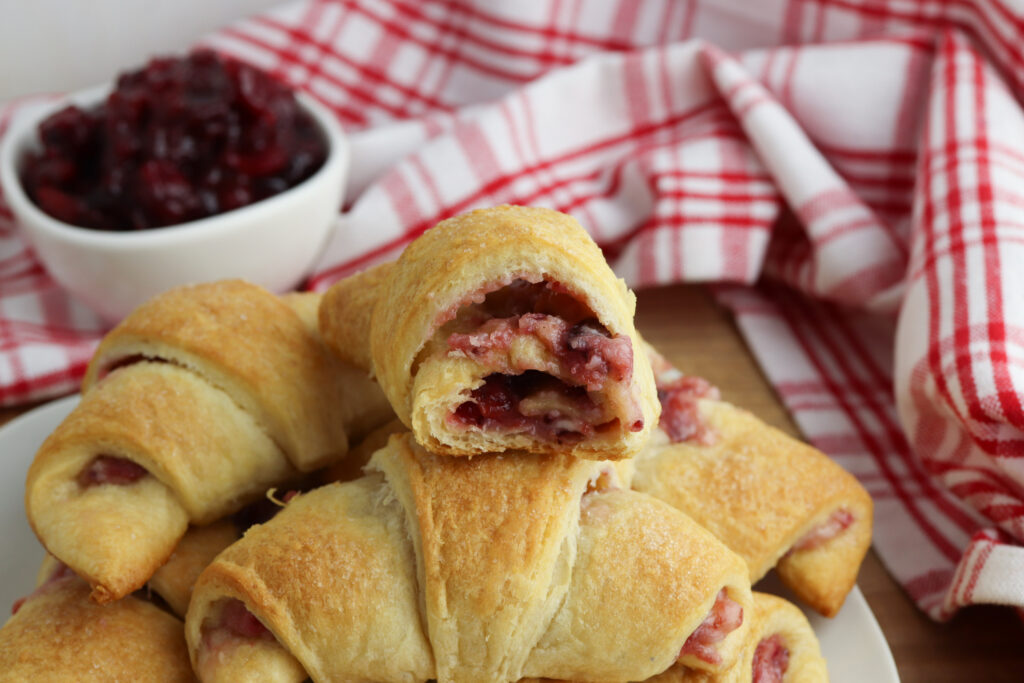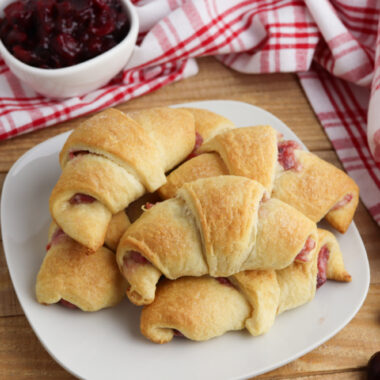 Rate this Recipe
Cranberry Cheesecake Crescent Rolls
These Cranberry Cheesecake Crescent Rolls are absolutely perfect for the Holidays! Refrigerated Crescent Roll Dough is filled with sweetened cream cheese and cranberry sauce and topped with buttery sugar. This is such a fun, easy recipe for Thanksgiving or Christmas!
Ingredients
4

ounces

cream cheese

softened

¼

cup

powdered sugar

½

cup

cranberry sauce

1 8-

count package crescent rolls

1

tablespoon

butter

melted

2

tablespoons

sugar
Instructions
Preheat the oven to 375 degrees and line a baking sheet with parchment paper.

In a medium bowl, stir together the cream cheese and powdered sugar until smooth and well combined.

Fold in the cranberry sauce.

Unroll the crescent roll dough and separate the triangles. Spread a thin layer of the cranberry mixture over the top of each triangle.

Roll up the dough and place each crescent roll on the prepared baking sheet. Brush the crescent rolls with butter and top with sugar.

Bake for 9 to 12 minutes, until the crescent rolls are golden brown.
Nutrition
Love this recipe?
Follow @bubbapie for even more delicious recipes!!