These 16 Delicious and Healthy Salad Recipes are just the thing when trying to eat a healthy meal.  You can take your pick from Fruit Salads, Asian Salads, Taco Salads, 7 Layer Salads, Spinach Salads and more.  Whether you are on a Whole 30, Keto, carb-free or gluten-free diet, there is something for everyone looking for a nutritious meal!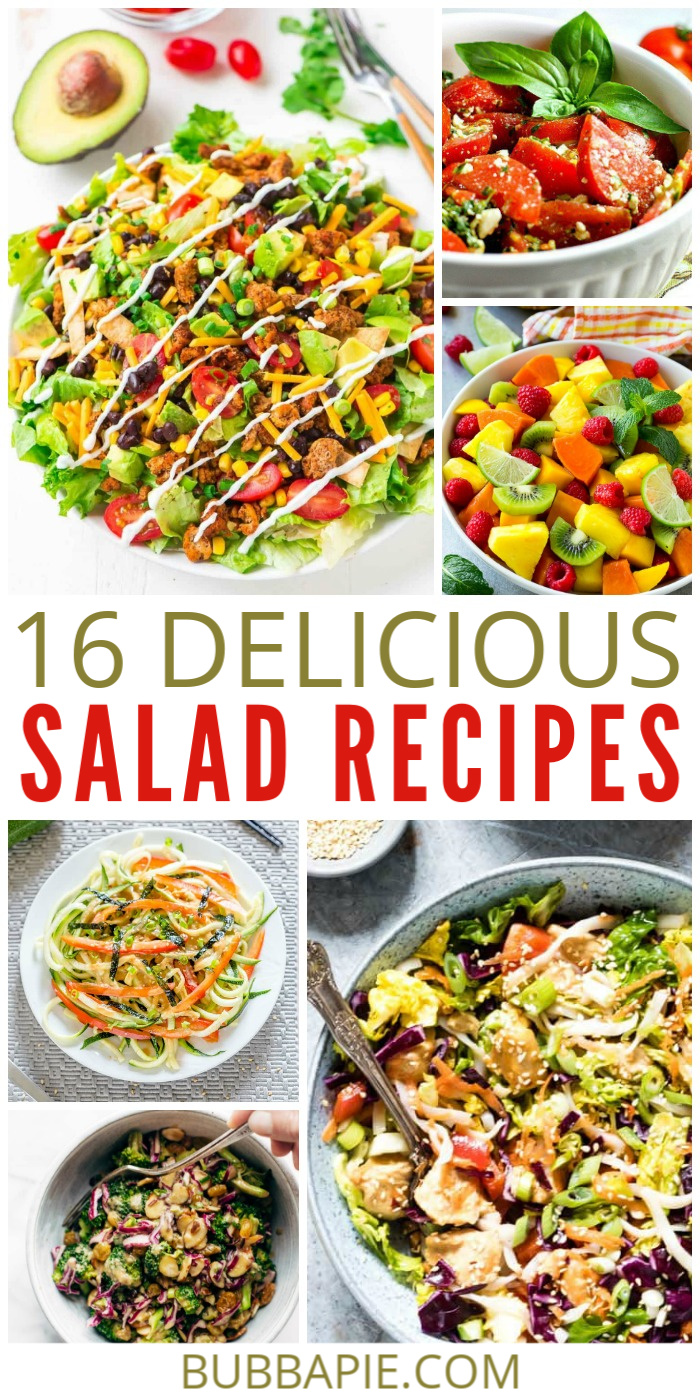 LOOKING FOR MORE HEALTHY MEALS?  CHECK OUT MY 25 HEALTHY COMFORT FOOD RECIPES, MY MEXICAN FRUIT SALAD, OR MEXICAN STREET CORN SALAD RECIPE!
Summer is here and you might be thinking that it is time to shed those extra pound you put on a couple of months ago during the holidays.  Yep, those pounds haven't gone anywhere!  No worries, if your not too excited about bringing a healthier diet into the mix, we have a whole bunch of healthy and delicious salad recipes for you to try!  Some of them have fruit, some are spicy, some creamy and some are inspired by cuisines across the ocean. But all of them are healthy!  Enjoy!
16 Delicious Salad Recipes
Full of healthy vegetables and delicious when paired with a Sesame dressing, this Asian Salad will introduce your family to an authentic tradition from across the ocean. This is a great dish to do with steamed dumplings!
Nothing says "summer" like a fresh, vibrant mix of tropical fruit in this healthy salad.  Mango, kiwi, papaya, pineapple and raspberries coated in a honey lime dressing-yes please!

Almonds, apples and big chunks of cheddar cheese adorn this crispy spinach salad.  You can just hear your body saying "thank you" as you eat it!

Grilled, marinated chicken mixed together with onions, peppers and avocado.  All of this is topped with a honey lime dressing.  Perfect for a large lunch or dinner!
Purple cabbage, broccoli, raisins, almonds, green onions, and a creamy vegan almond-miso-orange dressing.  This super-clean salad has NOTHING bad for you but is still packed with yummy, crunchy flavor. No mayo and no bacon, no problem!

This taco salad is made extra skinny with ground turkey.  Add some black beans, corn, tomatoes,cheese and avocado and you are in taco heaven without all the calories!  The dressing is made from salsa and non-fat Greek yogurt for an extra healthy kick!
Have you had quinoa?  It is a great substitute for white rice with fewer calories and carbs!  And it tastes fantastic in just about everything, including this yummy quinoa and veggie salad!
8. 7 Layer Salad | Love Bakes Good Cakes

7 layers of yumminess all piled for your serving pleasure.  Tender lettuce, crispy bacon and tangy dressing all work together in this dish that is perfect for potlucks, pitch-ins or parties!
Totally gluten-free and weight watchers friendly, this Asian Chicken Salad is just the thing for any diet. Grilled chicken, crunchy vegetables and rice noodles are all ready in less than 10 minutes.  Perfect!
Healthy and packed with flavor, this tomato and feta salad is topped with a zesty basil dressing.  Great for a cookout, picnic or any occasion!
Replace noodles with "Zoodles"!  This Zucchini substitute is a great way to make any pasta dish gluten-friendly and a lot healthier. This "pasta" salad is topped with Miso Dressing for an authentic, Japanese flavor!

Crunchy veggies mixed with soft, sweet seasonal fruit.  Top it all off with a homemade raspberry vinaigrette dressing and you just can't get any better than that!

This salad looks good enough to eat!  Literally!  It just seems so fresh and healthy.  I love the idea of the lemon chive dressing made with yogurt.  Dig in!

Strawberries bursting with flavor, tender spinach and crunch almonds all come together in this delicious salad creation.  The homemade strawberry dressing tops it all off for a flavor overload!
This creamy cucumber salad is made with no cream or mayo so it won't derail any diets.  You can get all that creaminess from the yummy yogurt mixed in with the thinly sliced cucumber.  Just let it rest in the fridge for an hour and it's ready to serve!
This is a great tutorial about some tricks and tips to make the best side salad ever!  You should definitely read through this, it certainly had some ideas I had never thought of before!
An Extra to grow on!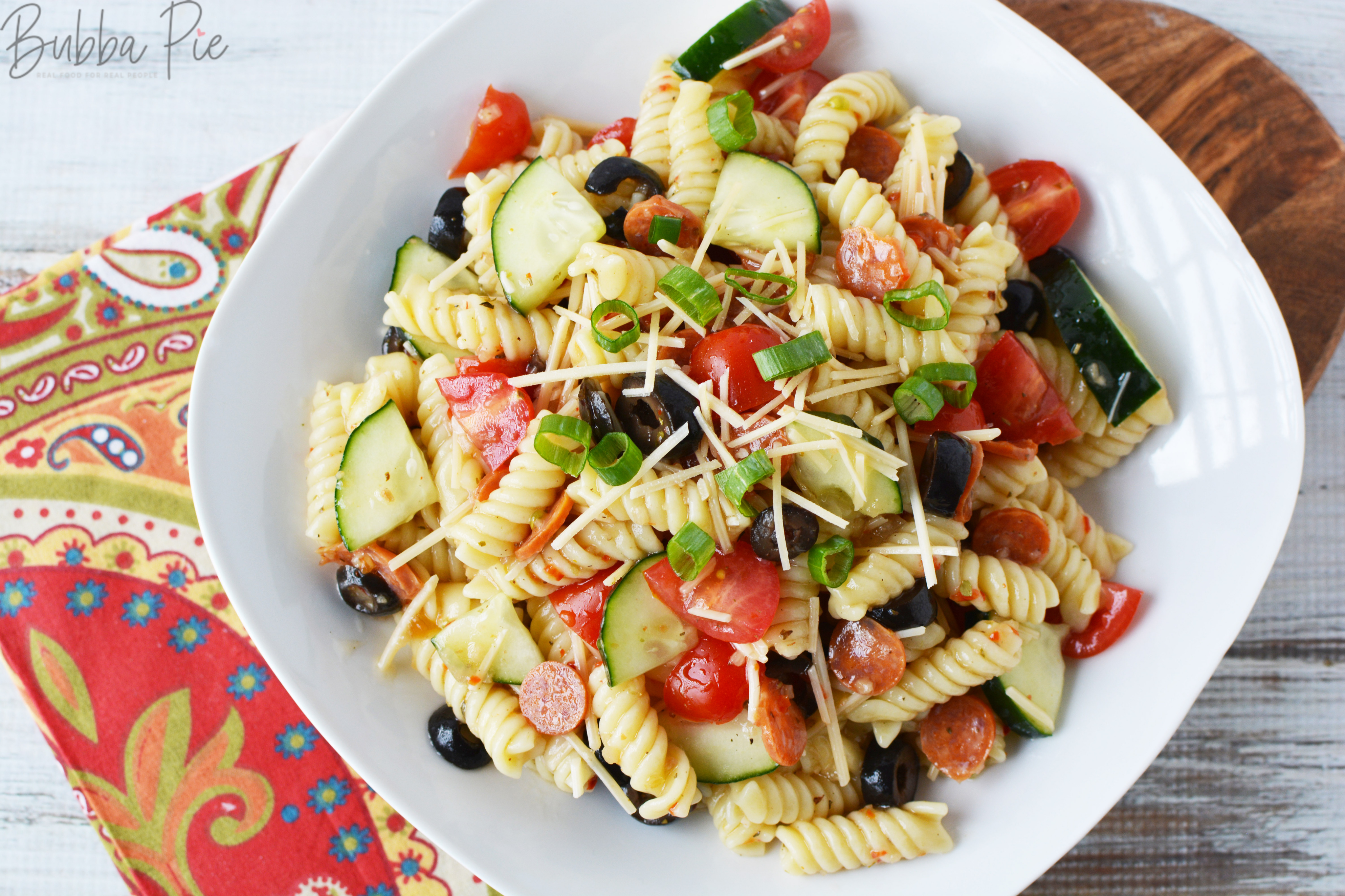 I hope you enjoy these salad recipes, they are all healthy, delicious and friendly to just about any diet!  Let me know what your favorite one is!