This Cherry Cobbler with Cake Mix is one of the easiest desserts ever! With just 4 ingredients and literally just a couple minutes to prepare, this will be your new favorite dessert!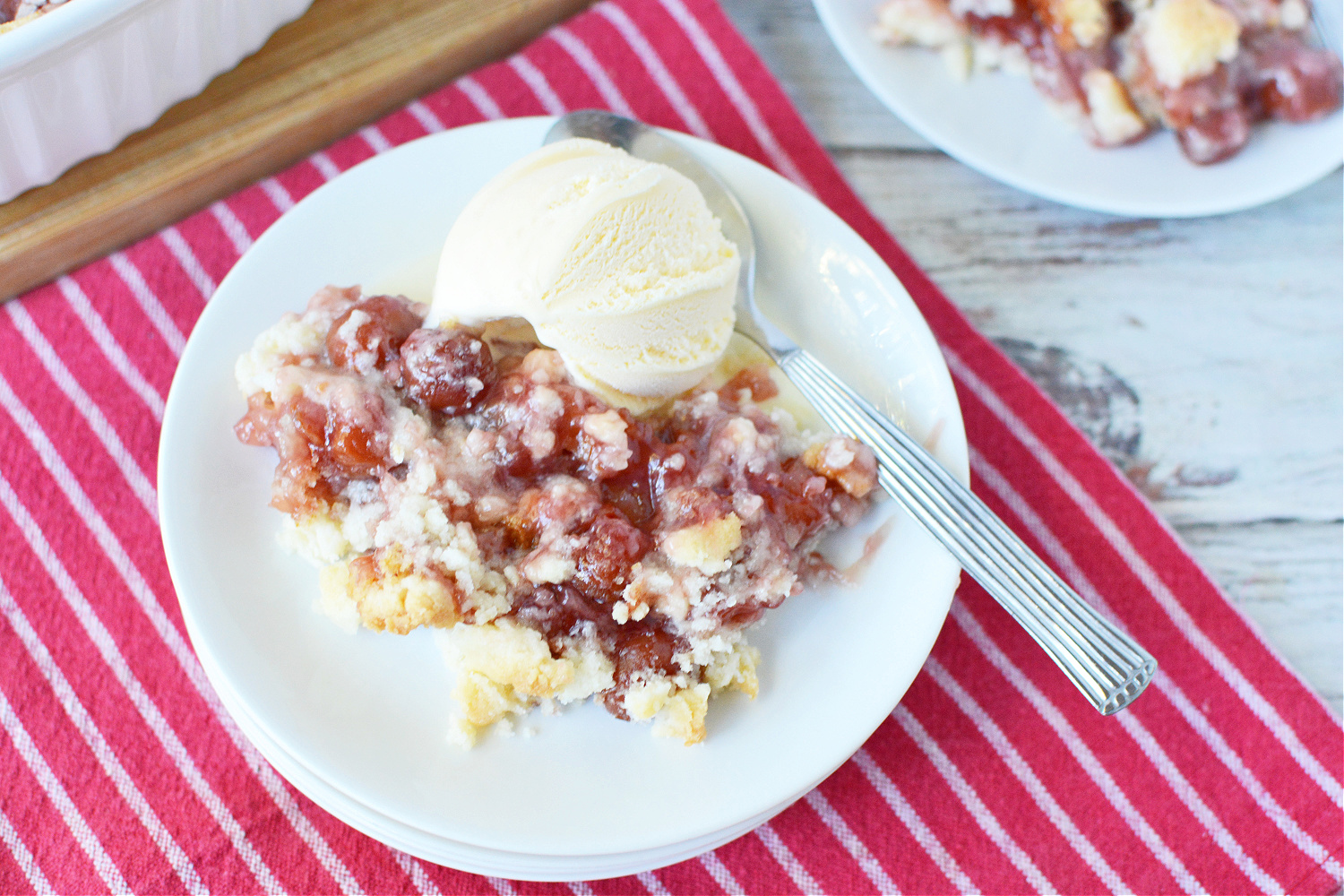 Quick and Easy Desserts
This 3 Ingredient Cherry Cobbler Recipe with blow your mind! Having a could of quick and easy desserts in your repertoire is MUST for any kitchen! You never know when you will have guests over and need a fast dessert to whip up. Or, your sweet tooth may just come out of nowhere and you've got a craving some something delicious!
A lot of times, we love to use Bisquick for some on-the-go desserts! Bisquick Apple Cobbler, Bisquick Peach Cobbler and Bisquick Strawberry Shortcake are some of our favorites.
Cake Mix Desserts
But, we've also found that using store bought cake mix can also be a perfect shortcut for some of our favorite desserts. By far, our most popular recipe on this blog is our Peach Cobbler with Cake Mix. People just seem to love how simple, easy and quick it is to throw together. It literally takes 3 minutes to assemble and get in your oven!
But we've also used cake mix to make other desserts. From cookies like Snickerdoodles and Red Velvet to other desserts like Cherry Pineapple Dump Cake, Strawberry Jello Poke Cake, Pineapple Sunshine Cake, Apple Pie Cake or Ooey Gooey Butter Cake, using a cake mix as your base is a great way to start any dessert recipe!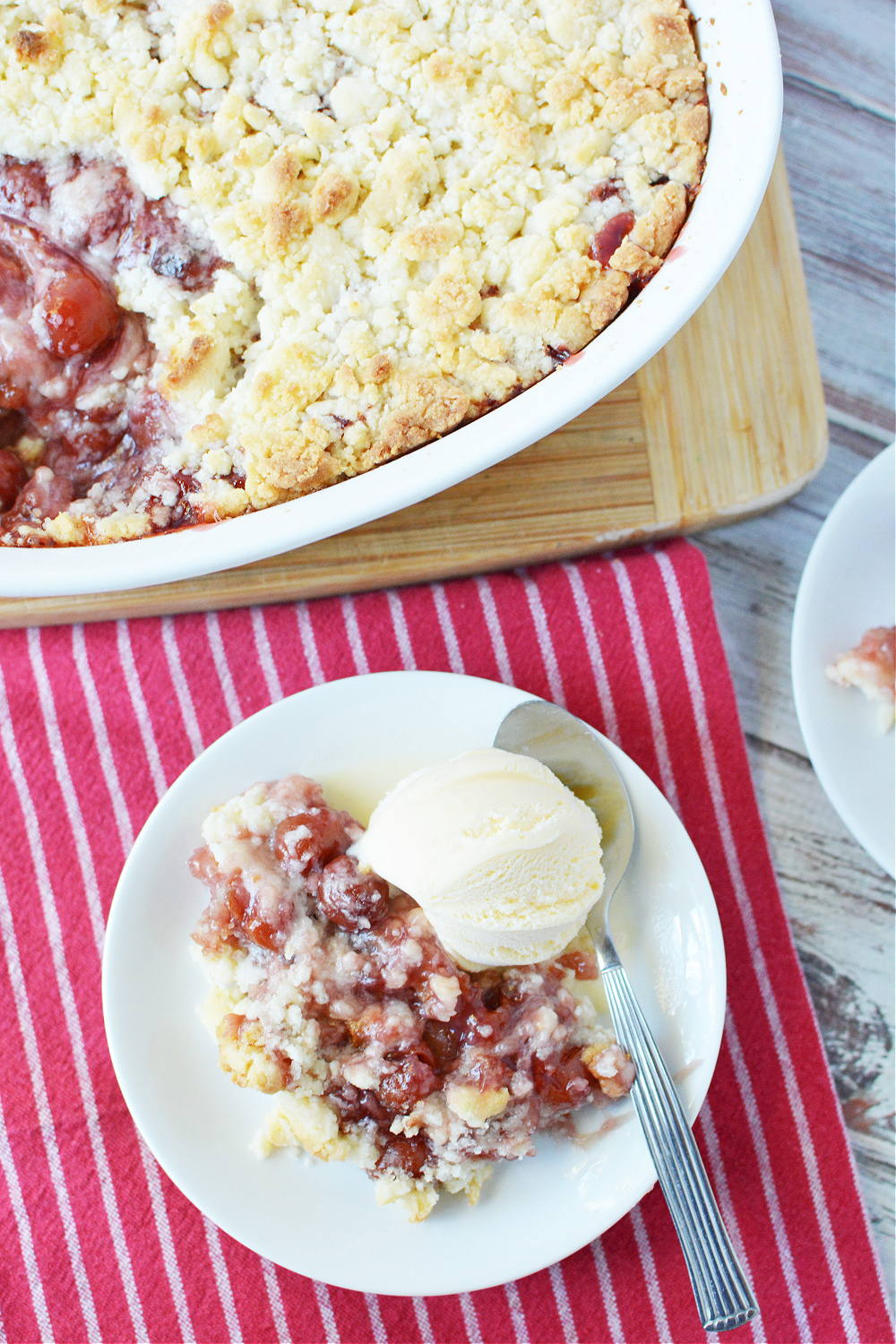 Peach Cobbler with Cake Mix
This is also called sometimes called a Cherry Dump Cake. The term Cobblers and Dump Cakes are used interchangeably. What really is the difference between a cobbler and a dump cake? Usually, a Dump Cake is covered with more of a "crust" while a Cobbler is topped with a biscuit, batter or dumpling.
To get our buttery, crumbly crust on top, we are simply mixing some cake mix with butter. Couldn't be easier! For step-by-step instructions, check out the printable recipe card below. But here is what you'll need to get started:
CHERRY PIE FILLING
WHITE CAKE MIX
UNSALTED BUTTER
Storage and Freezing
Keep leftover Cherry Cobbler in the refrigerator in an airtight container. Leftovers should be good in the fridge for abou 3-4 days. Cherry Cobbler reheats just fine in the microwave.
I would not freeze Cherry Cobbler. While thawing, the crispy, buttery topping will probably just become soggy. This is a dessert best eaten just after it's made!
Notes, Tips and FAQs
DO I NEED TO USE A 2 -1/2 QUART CASSEROLE DISH? – That is the size baking dish we used and it worked well. But you can probably substitute with a 9X9 inch baking pan if needed.
NUTS – Add some crushed nuts to top: pecans, almonds or walnuts would be great.
BUTTER – You can really introduce your butter to your dry cake mix in one of two ways. You can melt it like we did and mix it all together or you can just cut it up and throw it on top of the cake mix before putting it in the oven. Either will work with slightly different results, it's all about your preference.
CAKE MIX – We used White Cake Mix. But you can substitute for anything you'd like. French Vanilla Cake Mix, Yellow Cake Mix or even Chocolate Cake Mix!
CAN YOU USE FRESH CHERRIES FOR THIS RECIPE? – I would not recommend it. It is important to use a can of cherry pie filling because it comes with the syrup, with really helps give this crumble it's flavors.
CAN YOU USE OTHER PIE FILLINGS? – Absolutely! Love blueberries? Use blueberry pie filling. Looking for an easy Fall treat? Use Apple Pie Filling!
SHOULD YOU SERVE A CHERRY COBBLER WARM WITH ICE CREAM? – Is that even a question!?!?! Yes, Cherry Cobbler is always best served warm with a scoop of vanilla ice cream (and maybe even a dollop of whipped cream) on top.
We hope you enjoy this Cherry Cobbler with Cake Mix Recipe. Please let us know how it turns out in the comment section. Happy Eating!
LOOKING FOR MORE CHERRY DESSERTS? CHECK OUT: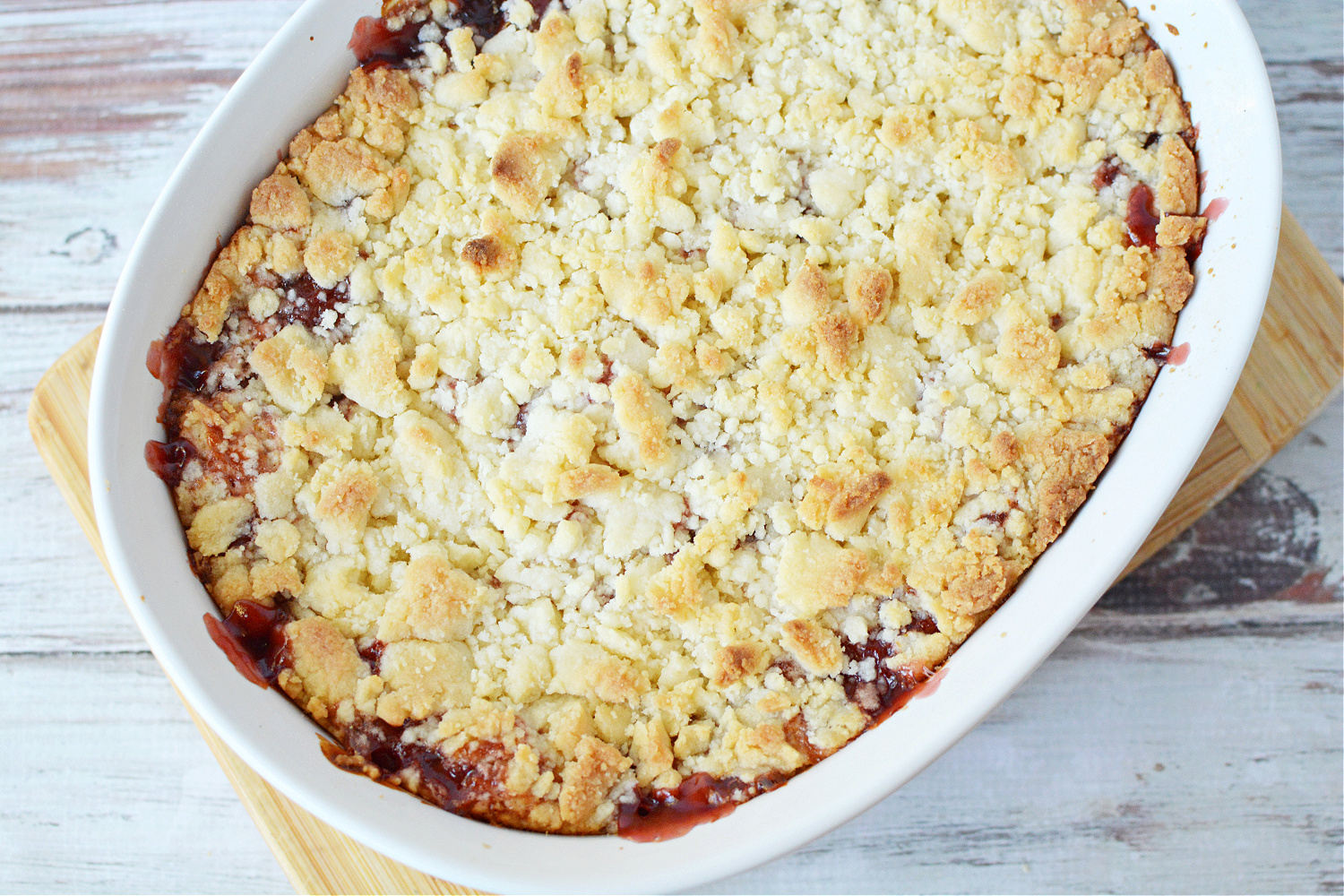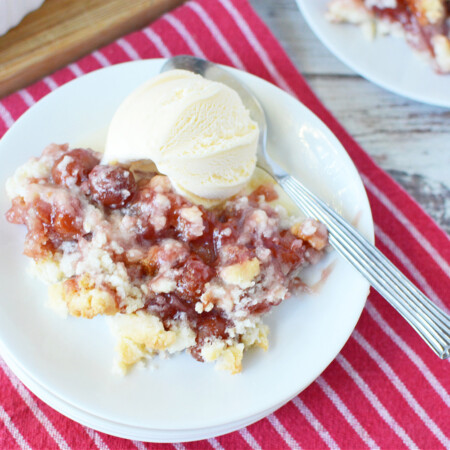 Rate this Recipe
Cherry Cobbler with Cake Mix
This Cherry Cobbler with Cake Mix is one of the easiest desserts ever! With just 4 ingredients and literally just a couple minutes to prepare, this will be your new favorite dessert!
Ingredients
2

cans

21 oz each, cherry pie filling

1

box

15.25 oz, white cake mix

1/2

cup

1 stick, butter, melted

vanilla ice cream

optional for serving
Instructions
Preheat oven to 375.

Grease a 2-1/2 quart casserole dish with nonstick cooking spray.

Add pie filling and set aside.

In a separate bowl, combine cake mix and melted butter and mix well.

Mixture will be crumbly.

Fold half of the cake mix mixture into the pie filling and mix well.

Sprinkle cake mix on top of pie filling and bake for 35-45 minutes or until bubbly and top is golden brown.

Remove from oven and cool until warm. Serve warm with vanilla ice cream.
Nutrition
Love this recipe?
Follow @bubbapie for even more delicious recipes!!