This Loaded Potato Soup is an easy, delicious recipe that just screams Comfort Food! Creamy, wholesome and made all in one pot, it's loaded with chunks of tender potatoes, crispy bacon and veggies in a creamy broth!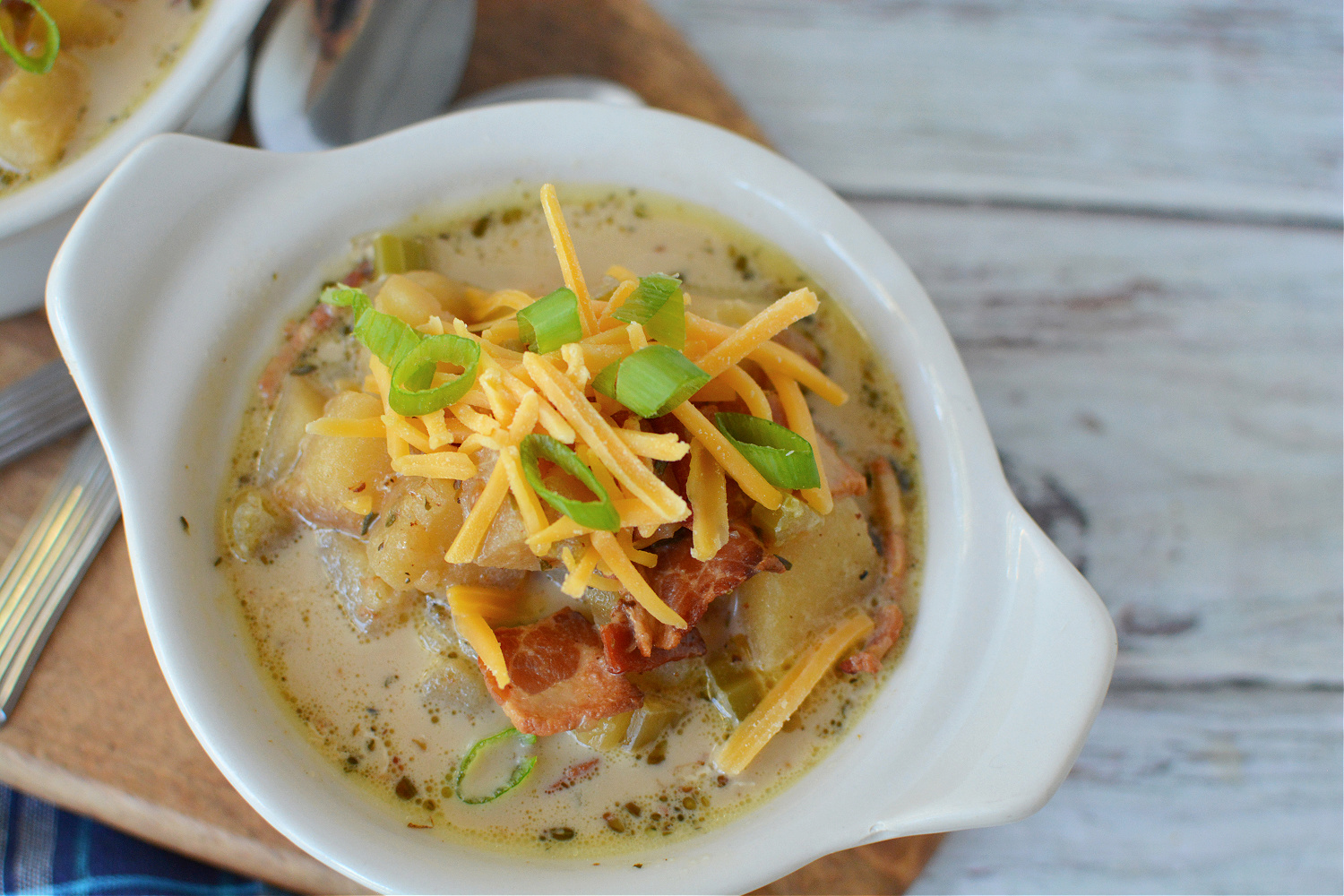 Why You Will Love Loaded Potato Soup
SIMPLE AND EASY – This is a great beginner recipe! There are just a few common ingredients, a couple of steps and everything is made in just one pot. It's ready to go in a total time of 30 minutes or less and you don't have many dishes to do!
COMFORT FOOD – We all love a Loaded Baked Potato, right? You know how the best part is to mix all those fixings and toppings together in one headping forkful? Well, every bite of the Potato Soup Recipe is full of that taste! It's a bowl of pure comfort food that's perfect for a cold, rainy day. Light a fire in the fireplace, turn on some football and enjoy this delicious soup!
INEXPENSIVE – That's one of the best things about this recipe! You probably already have most of these ingredients in your fridge or your pantry. And the ingredients you may not have are not expensive at all! You can feed a hungry family for just a little cash! Totally a win!
How To Make Loaded Potato Soup
As I mentioned above, there are just a few easy step to make this recipe! For step-by-step instructions, check out the printable recipe card below. But here is what you'll need to get started:
BACON – cut into 1″ pieces. We recommend using thinner sliced bacon for this recipe so they crisp up quicker.
CELERY – Along with the bacon, it add a satisfying crunch to this soup!
ONION – Chopped. We used a yellow onion for it's sweeter, milder flavor. But you can use a red onion if you'd like.
GARLIC – You'll saute that garlic along with the bacon and veggies and the smell will be fantastic! You can use fresh garlic or use the stuff that comes in a can.
POTATOES – Peeled and cubed. For more info on potatoes, see below.
CHICKEN BROTH – If needed, you can substitute vegetable broth if needed.
SEASONINGS – Oregano, thyme, salt and black pepper.
WHIPPING CREAM – Our secret weapon! Add it on at the end to make this recipe "souper" creamy! If you want to lighten this soup up a bit, you can use half and half.
TOPPINGS – Let your imagination run wild here! For some inspiration, check out our ideas below!
What Is The Best Potato To Use For Potato Soup?
We used Russet Potatoes, which is very common and will always work in a potato soup. You could also use Yukon Gold. Yukon Golds will be a bit sturdier and won't soften as much, so this will result in a chunkier soup.
You could also use Red New Potatoes, Purple potatoes or Round White Potatoes. New Potatoes and Round White Potatoes are great because you can leave the skin on them. And Purple Potatoes can add some color to this dish!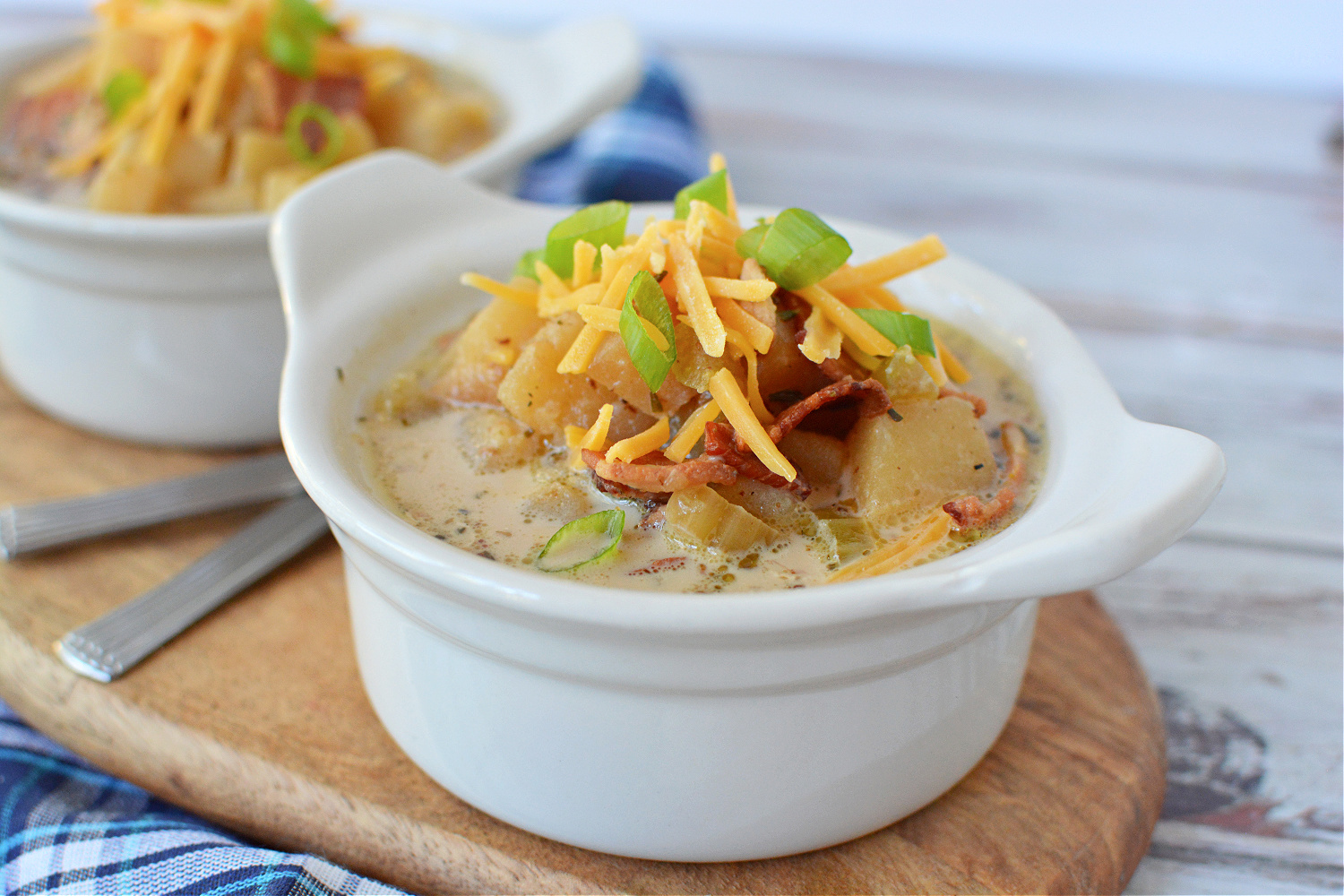 Can You Make Potato Soup In An Instant Pot?
Yep! So easy! You can check out our recipe for Instant Pot Potato Soup on our sister site, amomsimpression.com. But the steps are easy:
Add bacon, garlic and onion to instant pot and saute until bacon is cooked.

Add celery, potatoes, broth, and seasonings.

Place the lid on the instant pot and seal shut. Close the pressure release valve. Set the instant pot to manual, high pressure for 5 minutes.

When the cooking cycle is complete, quick release pressure.

Open the pot and carefully stir in heavy cream.

Heat until bubbly and liquid begins to thicken.

Remove from heat and serve with toppings of your choice.
What Toppings Are Good For Loaded Potato Soup?
Ok, here we go! If you can think of any toppings that would be great on a Loaded Baked Potato Soup, please share them in the comment section below!
SHREDDED CHEESE
SOUR CREAM
GREEN ONIONS/CHIVES
SCALLIONS
CREAM CHEESE
CHILI POWDER
SRIRACHA SAUCE/HOT SAUCE/SALSA
BLACK BEANS
DICED AVOCADO
CROUTONS
EVERYTHING BUT THE BAGEL SEASONING
BBQ PORK
CREAMY, CHEESE MAC AND CHEESE!
Notes, Tips and FAQs
HOW CAN I THICKEN MY POTATO SOUP? – You may have added a little too much heavy cream? No worries, you can easily thicken most soups by adding a cornstarch slurry. This is simply equal parts water and cornstarch mixed together. Just slowly add it until your soup is the desired consistency.
HOW TO MAKE POTATO SOUP LESS CHUCKY? – Everyone has their own preference as to how chunky they want their potato soup. If you like your soup creamier (more like a Cream of Potato Soup), use an immersion blender to get it how you want it!
ADD VEGGIES – Feel free to add carrots, cauliflower or broccoli to make this dish go even further.
POTATOES – No matter what kind of potatoes you use in this soup, cut them the same size (about 1/2″ – 3/4″). This ensures that they all cook the same amount and are all equally tender.
WHY DON'T YOU USE BUTTER TO SAUTE? – The bacon grease takes care of all that my good friend!
SUB BACON? – If you don't have bacon or are simply in a hurry, you can just throw in some bacon bits or use cubed ham.
CHEESE – Top with any kind of cheese you like (we love extra sharp cheddar cheese on this soup). We recommend shredding your own cheese instead of buying the pre-shredded stuff. It is SO much better trust us!
SECRET INGREDIENT – We didn't use it on this recipe, but if you want to really make a fun potato soup, whisk some ranch seasoning to it when you stir in the heavy cream! It gives it a nice boost of flavor!
We hope you enjoy this Loaded Potato Soup Recipe. Please leave us a note in the comment section letting us know how it worked out!
LOOKING FOR MORE SOUP RECIPES? CHECK OUT: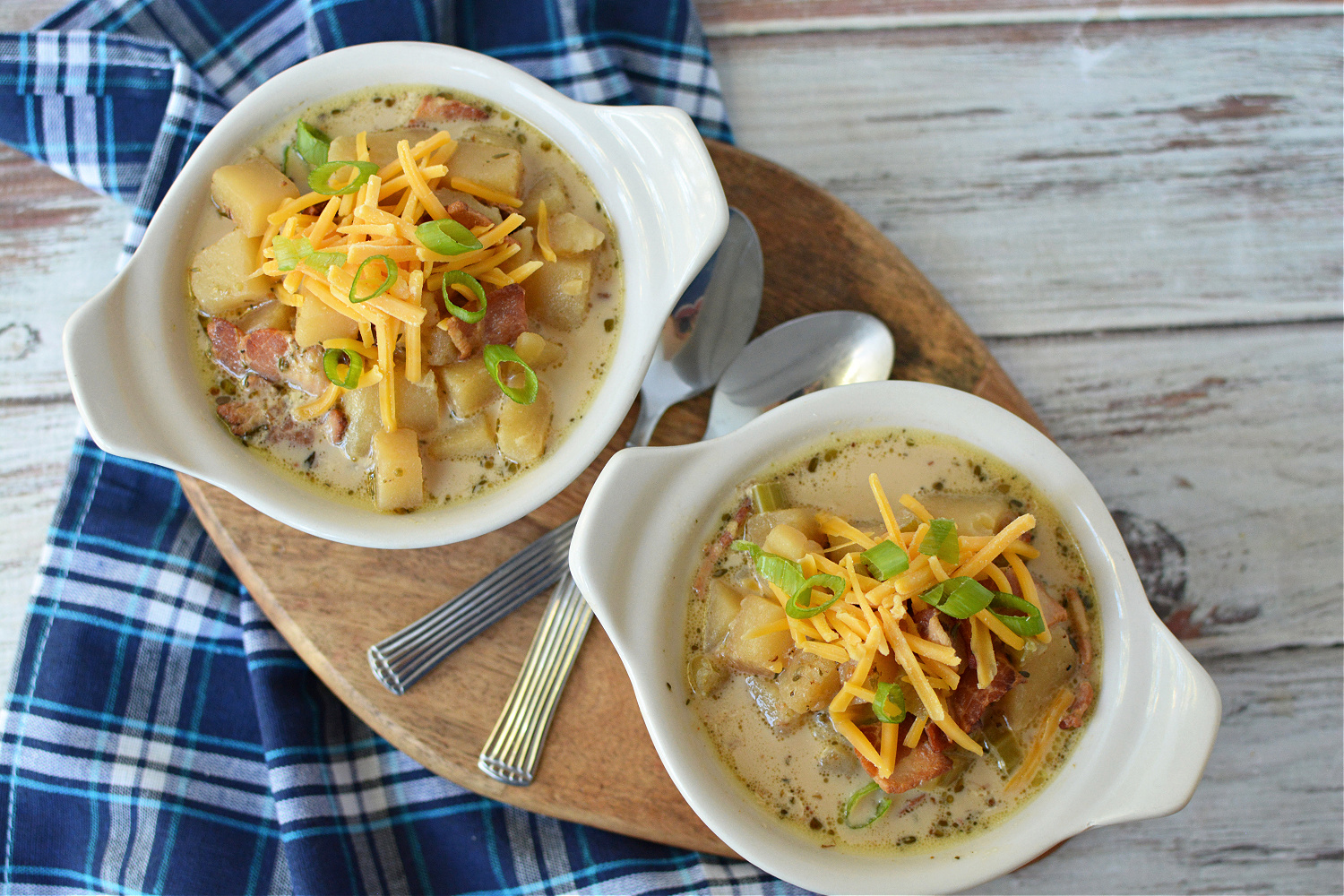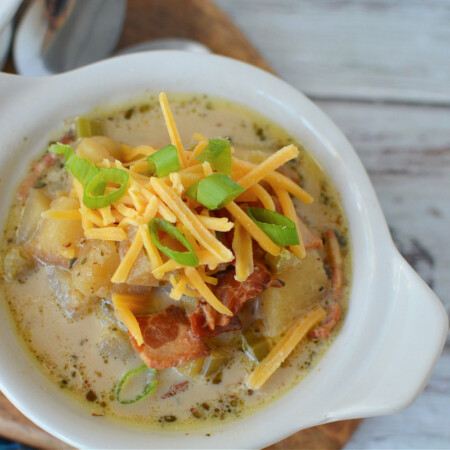 Rate this Recipe
Loaded Potato Soup
This Loaded Potato Soup is an easy, delicious recipe that just screams Comfort Food! Creamy, wholesome and made all in one pot, it's loaded with chunks of tender potatoes, crispy bacon and veggies in a creamy broth!
Ingredients
1/2

lb

bacon

cut into 1" pieces

2

stalks celery

chopped

1

onion

chopped

1

tablespoon

minced garlic

8

russet potatoes

peeled and cubed

4

cups

chicken broth

1

teaspoon

oregano

1

teaspoon

thyme

1

teaspoon

salt

1/2

teaspoon

ground black pepper

1

cup

heavy whipping cream
Instructions
Add bacon and onions to a large stock pot and heat over medium high heat until cooked well.

Add garlic and celery and cook an additional 3 minutes.

Add potatoes and mix to combine them in the soup.

Pour in broth.

Add spices and mix well. Heat on high until boiling. Reduce heat to simmer and cover. Simmer for 20 minutes or until potatoes are cooked through.

Add cream and stir well until heated through. Serve topped with shredded cheese and green onions if desired.
Nutrition
Love this recipe?
Follow @bubbapie for even more delicious recipes!!