Bumpy Cake is a classic, iconic Michigan dessert that's been around for over 100 years! Rich, chocolate cake is topped with streaks of buttercream and then layered with a fudge icing!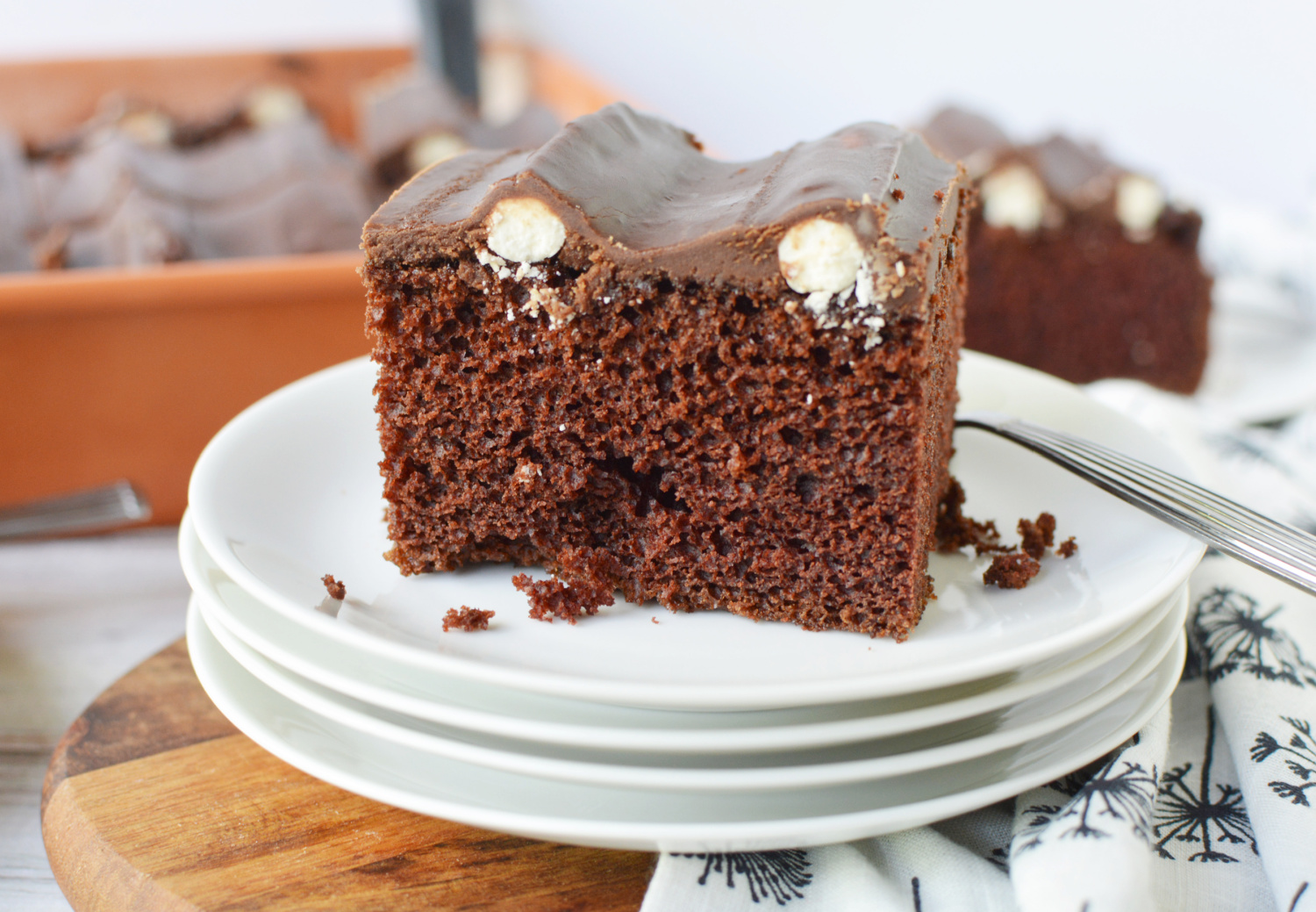 Why You Will Love This Bumpy Cake
A FUN, CLASSIC RECIPE – It's fun to find regional recipes from around the country. It's a great way to get to know local regions and the food that is important to them. And, while you may not be able to take a trip to Michigan anytime soon, you can get a taste of this dessert with ingredients in your own kitchen!
HOMEMADE – And we love to make our own versions of classic desserts because we know all the ingredients we are putting in this cake are simple and homemade!
DELICIOUS – The rich devil's food cake base and the fudgy icing layered with the sweet vanilla buttercream frosting is just simply out of this world! If you are looking for a new dessert recipe, this is it!
What Is A Bumpy Cake?
Like a lot of great recipes from around the world, this Bumpy Cake was born out of improvisation. In the early 1900's, Fred Sanders (owner of Sanders Chocolates) in Detroit, Michigan decided he wanted to start selling baked goods along with his candies.
One day, he was short on buttercream. So, instead of applying a full coat on the top of his chocolate cake, he piped streaks of buttercream across it. He put on a fudge topping and sold it to his customers. Before long, everyone was asking for the "cake with the bumps" and Bumpy Cake was born! It's still being sold today at Sanders Store in Detroit and also some grocery stores around the Midwest.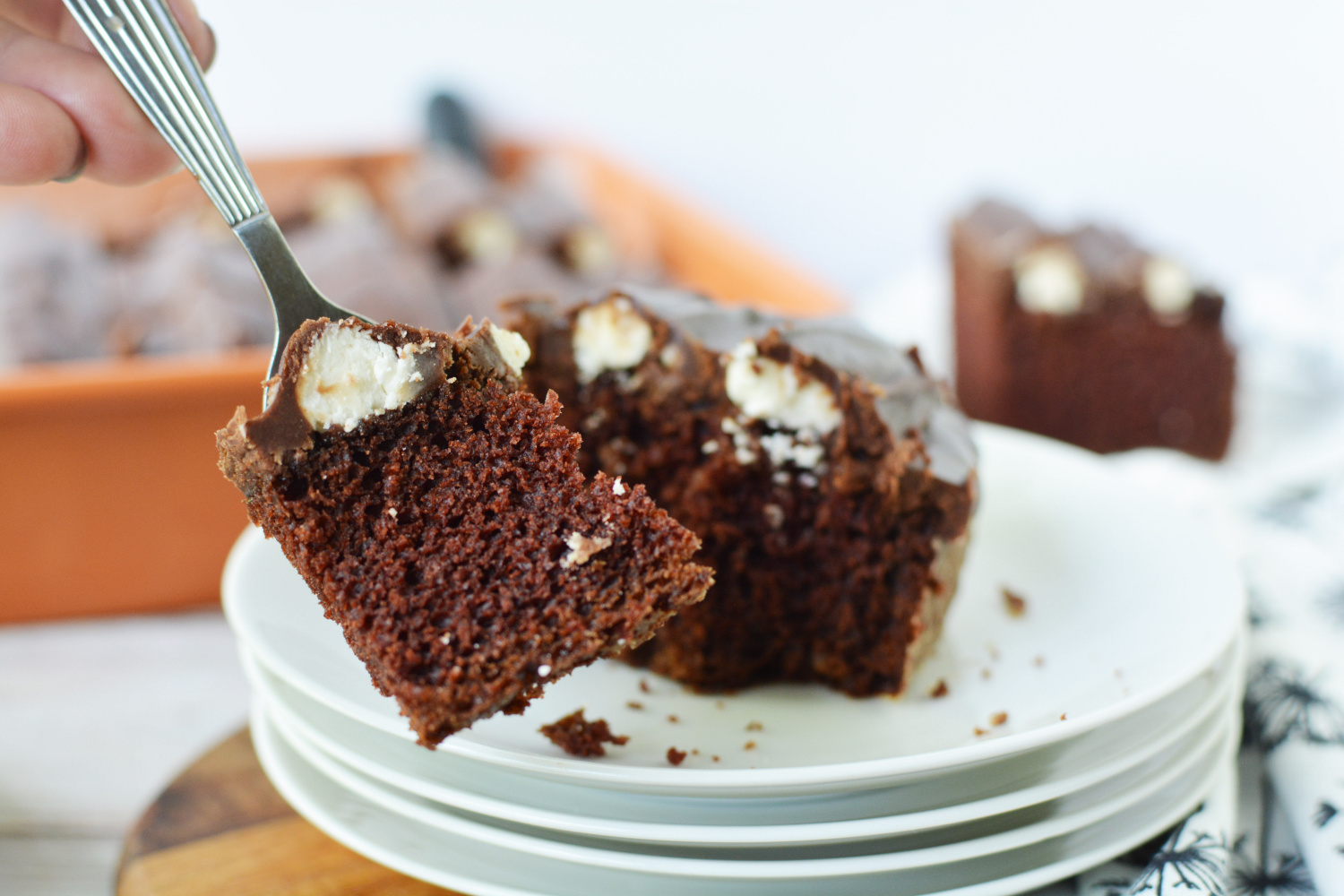 How To Make Homemade Bumpy Cake
Here at Bubba Pie, we pride ourselves on showing you quick, simple recipes that are easy to make. This is not one of those. This recipe takes some time and probably isn't for beginners. But, follow our instructions and take your time and we promise you will be rewarded with the most delicious cake ever!
For step-by-step instructions, check out the printable recipe card below. But here is what you'll need to get started:
CAKE INGREDIENTS
1/2 cup brewed coffee
1/2 cup unsweetened cocoa powder
1/2 cup vegetable oil
1 cup buttermilk, room temperature
1-1/2 teaspoons baking soda
1/2 teaspoon salt
2 teaspoons vanilla
2 large eggs
1-3/4 cup granulated sugar
2 cups all purpose flour
BUTTERCREAM BUMPS
6 tablespoons butter, softened
pinch salt
2 cups powdered sugar
1 teaspoon vanilla
1-2 tablespoons half and half
FUDGE GLAZE
1/2 cup buttermilk
2 tablespoons corn syrup
8 tablespoons unsalted butter, softened
1/2 cup unsweetened cocoa powder
pinch salt
4 cups powdered sugar (confectioners' sugar)
1 teaspoon vanilla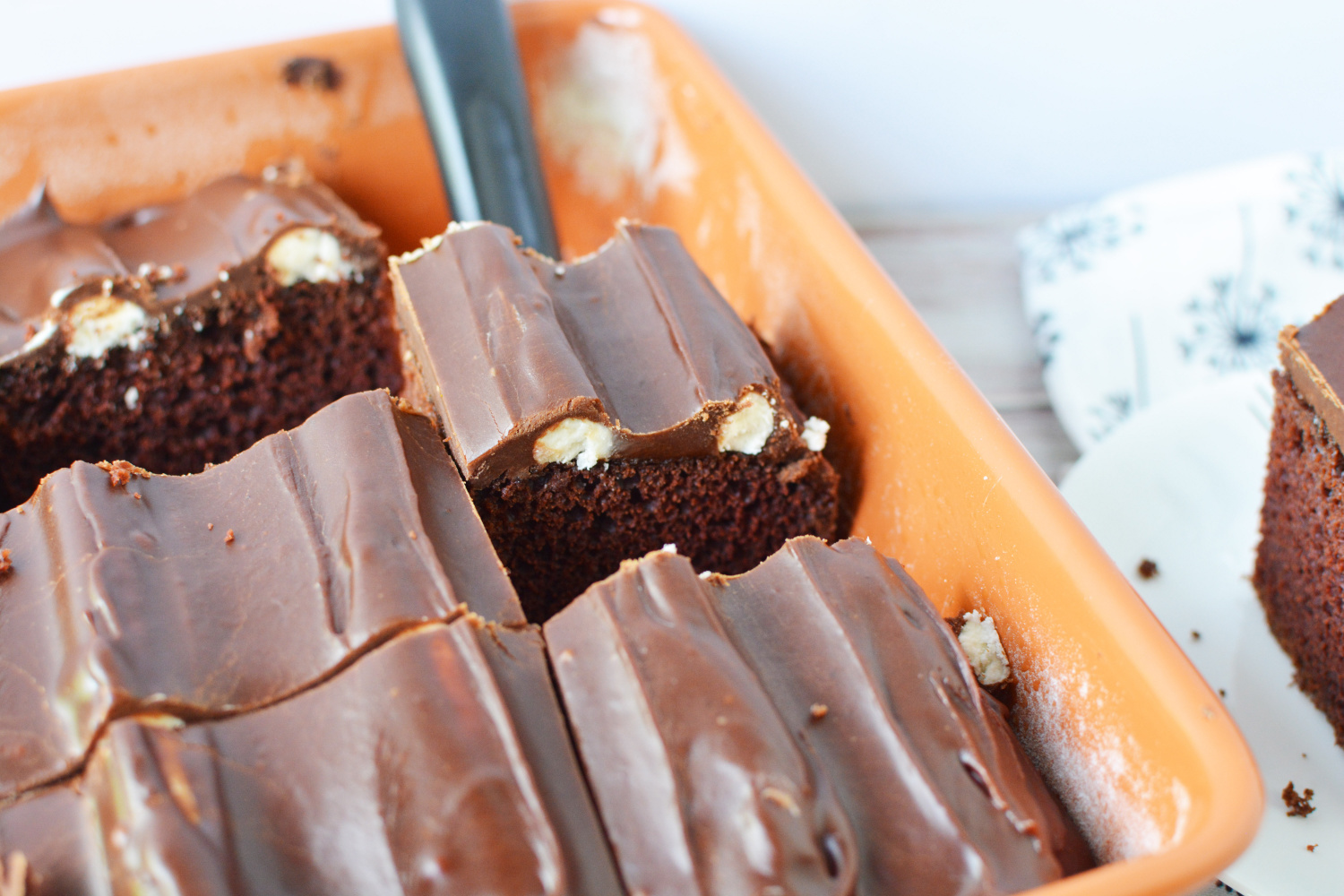 Storage and Freezing
And leftover Bumpy Cake should be kept in an airtight container in your refrigerator. It can be eaten cold, and a lot of people actually prefer it that way.
Bumpy Cake freezes well. Put it in a freezer safe container and it will be good in your freezer for about 4 months. You can thaw out overnight in your fridge. But some people like to eat Bumpy Cake straight out of the freezer!
Notes, Tips and FAQs
IS IT REALLY NECESSARY TO FREEZE BUMPY CAKE WHILE MAKING IT? – Yes, it really is. This cake is A LOT easier to make if you can freeze the layers while assembling it. It does take some time, but you may have a mess on your hands if you don't.
DO YOU HAVE TO MAKE BUMPY CAKE WITH CHOCOLATE CAKE? – The version of this recipe we have published is as close to the original as we could get. But if you want to improvise a bit, go for it! You can use whatever cake recipe you'd like for the base layer. Or even use a cake mix to expedite and simplify the recipe if you'd like.
DON'T OVERMIX – To avoid a dry, dense cake mix the wet ingredients and the dry ingredients until just incorporated.
HOW DO YOU KNOW WHEN YOUR CAKE IS DONE? – The best way to confirm doneness of a cake is stick a toothpick or a cake tester in the center of the cake. If it comes out clean, it's done.
WHAT IF I DON'T HAVE A PIPING BAG? – If you are in a pinch and don't have a piping bag for your buttercream, you can just use a ziplock baggie and cut off the corners!
We hope you enjoy this Bumpy Cake Recipe! Let us know how it turns out in the comments section!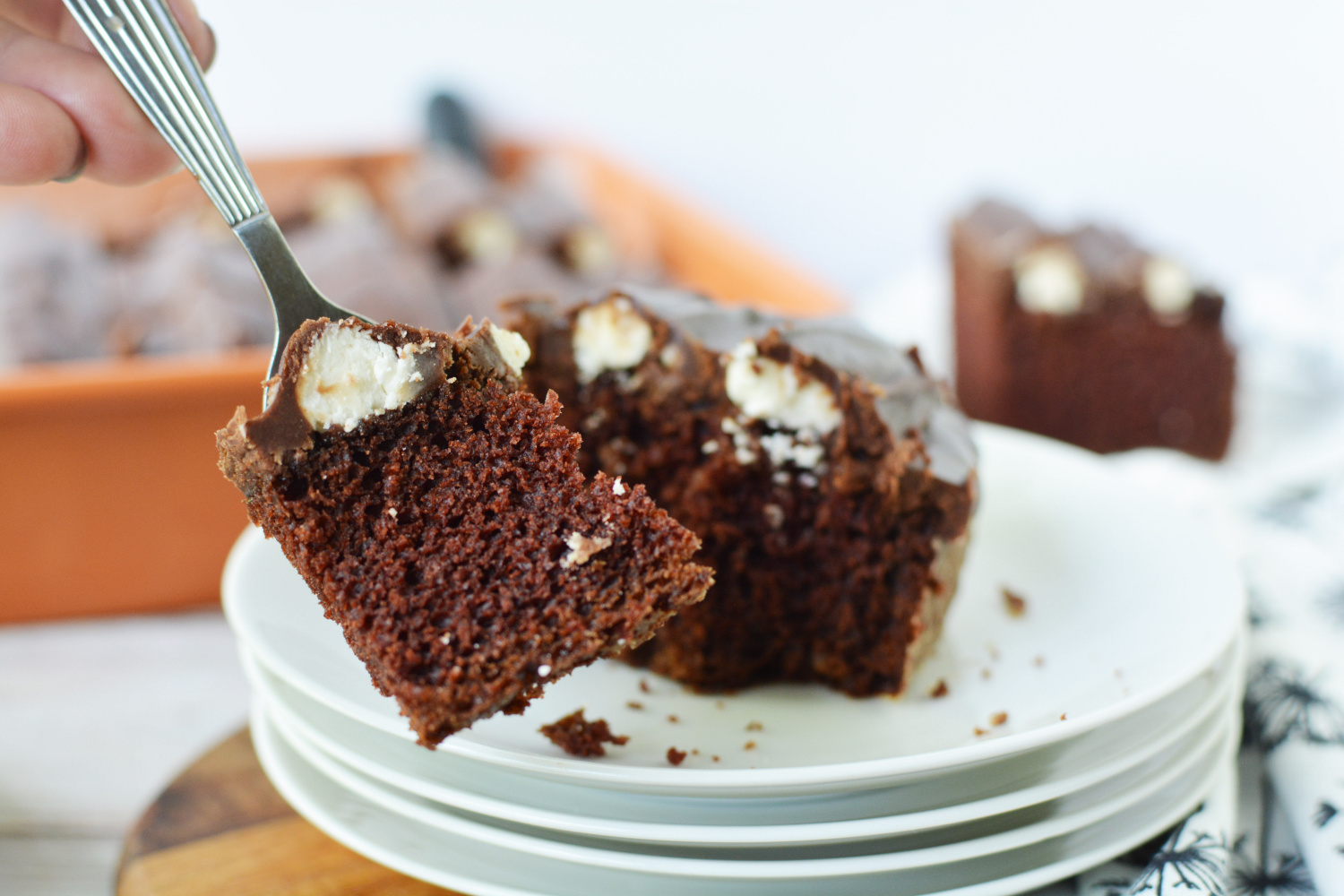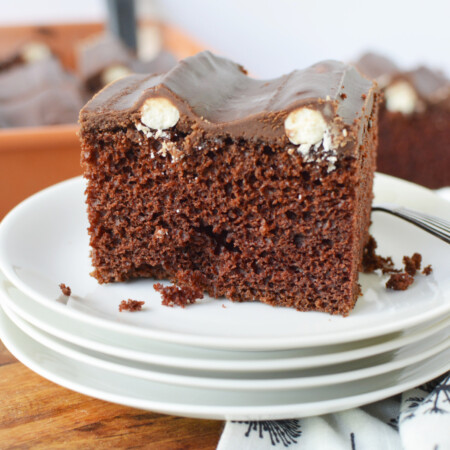 Rate this Recipe
Bumpy Cake
This Bumpy Cake is a classic, iconic Michigan dessert that's been around for over 100 years! Rich, chocolate cake is topped with streaks of buttercream and then layered with a fudge icing!
Ingredients
CAKE INGREDIENTS
1/2

cup

brewed coffee

1/2

cup

unsweetened cocoa powder

1/2

cup

vegetable oil

1

cup

buttermilk

room temperature

1-1/2

teaspoons

baking soda

1/2

teaspoon

salt

2

teaspoons

vanilla

2

large eggs

1-3/4

cup

granulated sugar

2

cups

all purpose flour
BUTTERCREAM INGREDIENTS
6

tablespoons

butter

softened

pinch

salt

2

cups

powdered sugar

1

teaspoon

vanilla

1-2

tablespoons

half and half
FUDGE GLAZE INGREDIENTS
1/2

cup

buttermilk

2

tablespoons

corn syrup

8

tablespoons

unsalted butter

softened

1/2

cup

unsweetened cocoa powder

pinch

salt

4

cups

powdered sugar

confectioners' sugar

1

teaspoon

vanilla
Instructions
CAKE INSTRUCTIONS
Preheat oven to 350 and grease and flour a 9x13 baking pan. Set aside.

Add coffee and cocoa to a large mixing bowl and mix well to combine.

Add oil.

Add buttermilk and beat until smooth.

Beat in baking soda for 30 seconds and add eggs and vanilla. Beat until combined. Add sugar and flour and beat for 2 minutes at medium speed.

Pour batter into prepared pan.

Bake for 28-32 minutes or until a toothpick inserted in the center comes out clean and the edges just begin to pull away from the pan.

Remove from oven and cool for 30 minutes before putting in the freezer for one hour.
BUTTERCREAM INSTRUCTIONS
Beat together butter, salt, and vanilla until pale and fluffy, about 3 minutes.

Add half and half and sugar until you have a smooth consistency.

Place into a large piping bag and snip the tip to about 1/2" in diameter.

Pipe buttercream across the short edge of the cake, keeping the bumps about 1 inch apart. Freeze for an additional 30 minutes.
FUDGE GLAZE INSTRUCTIONS
Add buttermilk, corn syrup, butter, cocoa and salt in a large saucepan. Heat over medium heat, whisking frequently until smooth. Bring mixture to a boil and boil for 2 minutes, until the bubbles snap and pop. Reduce heat to low and whisk in powdered sugar and vanilla until smooth.

Remove from heat let stand for 5 minutes to cool slightly.

Pour half of the fudge frosting over the top, using the back of a spoon to smooth it across and in between the bumps. Tilt the pan to evenly coat the cake.

Freeze for 5 minutes and add remaining fudge. Refrigerate for 20 minutes before serving.

Store any uneaten cake covered and in the refrigerator.
Nutrition
Love this recipe?
Follow @bubbapie for even more delicious recipes!!