This quick and easy Breakfast Lemon Muffins Recipe is fresh, sweet tangy and has a sugary crumb topping! Perfect for a breakfast treat or tasty dessert!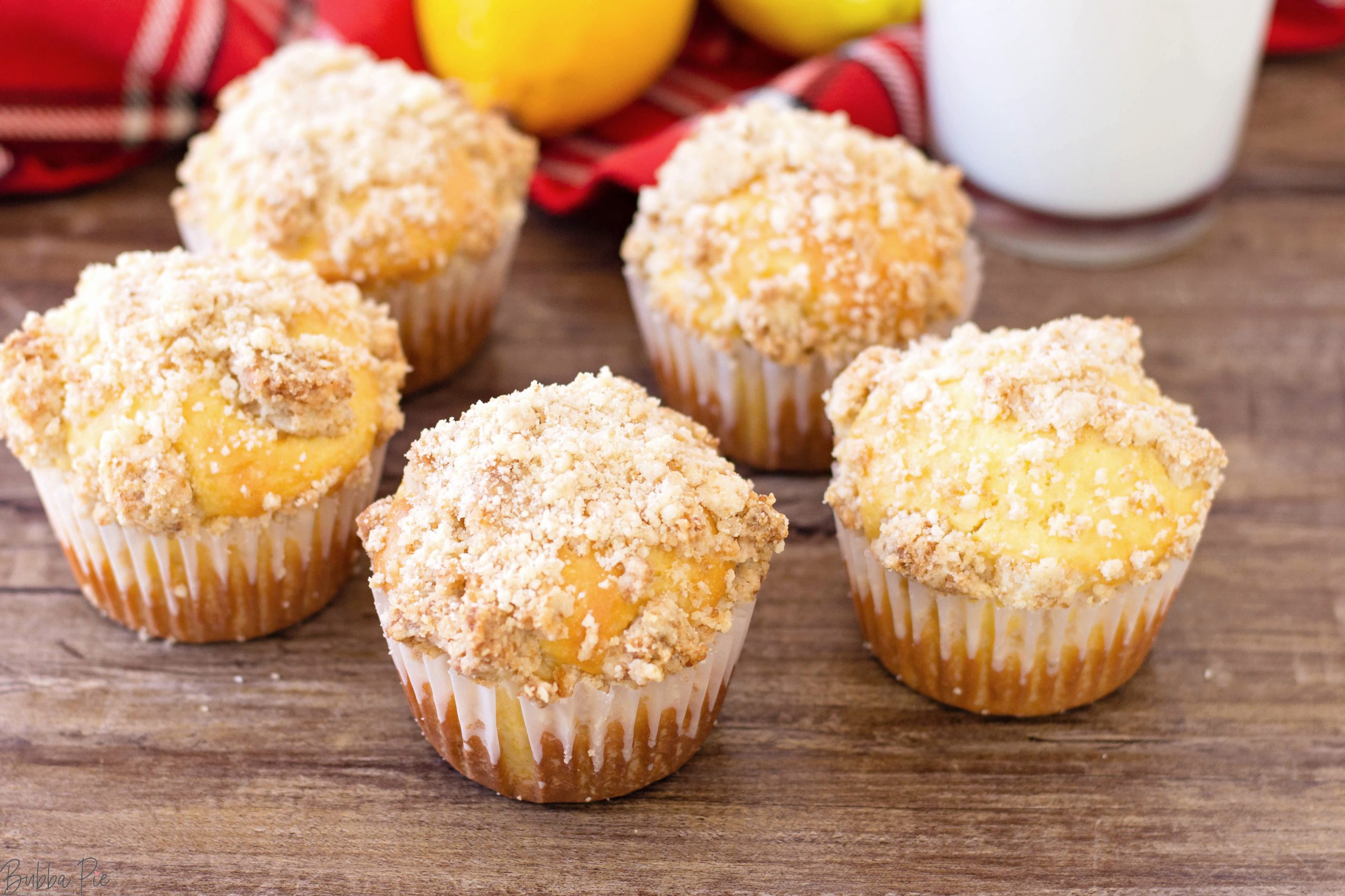 Top Of The Muffin To You!
When I think of muffins, I always think of that famous Seinfeld episode. You know the one where they open a muffin shop but only use to tops of the muffins because that is the only part of the muffin anyone ever likes? I LOVE that episode. But, the truth is, the bottom layer of the muffin can get a bad wrap. If you've go a tasty muffin recipe, the WHOLE muffin should be enjoyable!
We've made some really delicious muffins on this website. From decadent breakfast muffins like these Chocolate Chip ones, to these fresh Blueberry Muffins that are awesome for just about any occasion. We even have some seasonal muffin recipes, like these Pumpkin Chocolate Chip Muffins that are perfect for the Fall!
Lemon Desserts
So, we thought that it would be fun to share another muffin recipe with everyone. It's funny, but I used to NOT consider myself a huge fan of lemon flavored desserts. But, at some point, I realized that anytime I had any sort of lemon treat, I LOVED it. So, we started putting some recipes on here with lemon as the star. And they have been SUPER popular. From our Starbucks Copycat Lemon Loaf to our these Lemon Strawberry Mini Tarts, these recipes have been getting a lot of traffic. So, naturally, we thought we'd share the recipe for these Breakfast Lemon Muffins.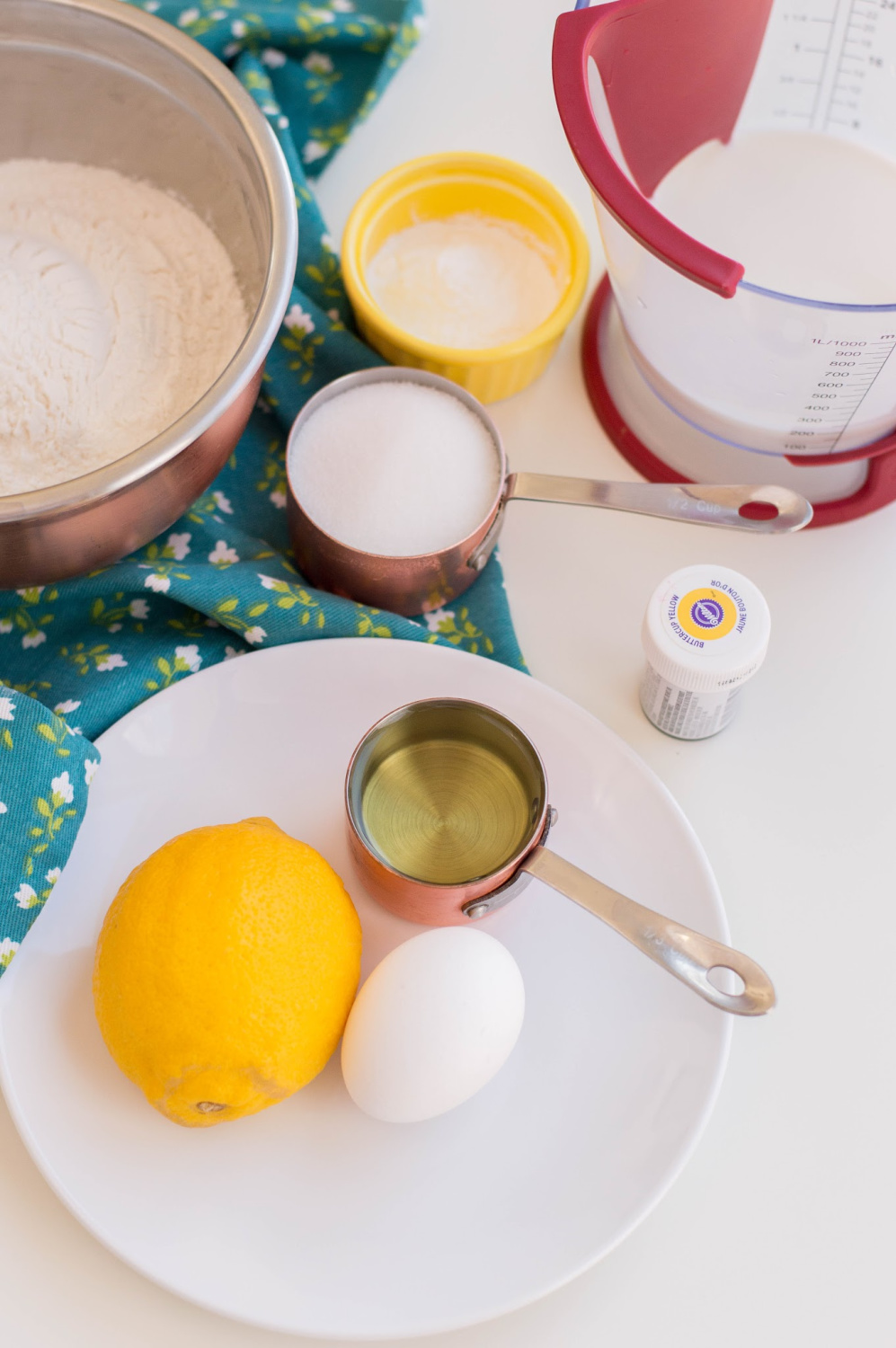 What Ingredients Will You Need For Lemon Muffins?
For the muffins
Flour
Granulated sugar
Baking powder
Salt
Fresh Lemon
Whole milk
Vegetable oil
Egg
Yellow gel food coloring (optional)
For the topping
Flour
Brown Sugar
Granulated Sugar
Butter
Can You Sub Anything For The Whole Milk?
A lot of times, we don't have whole milk laying around in our fridge. Is there anything that you can substitute in place of it? You can certainly put in either sour cream or plain yogurt in place of whole milk. It may actually give your lemon muffins a more creamy texture. I'd recommend using regular or at least reduced fat products and to stay away from non-fat.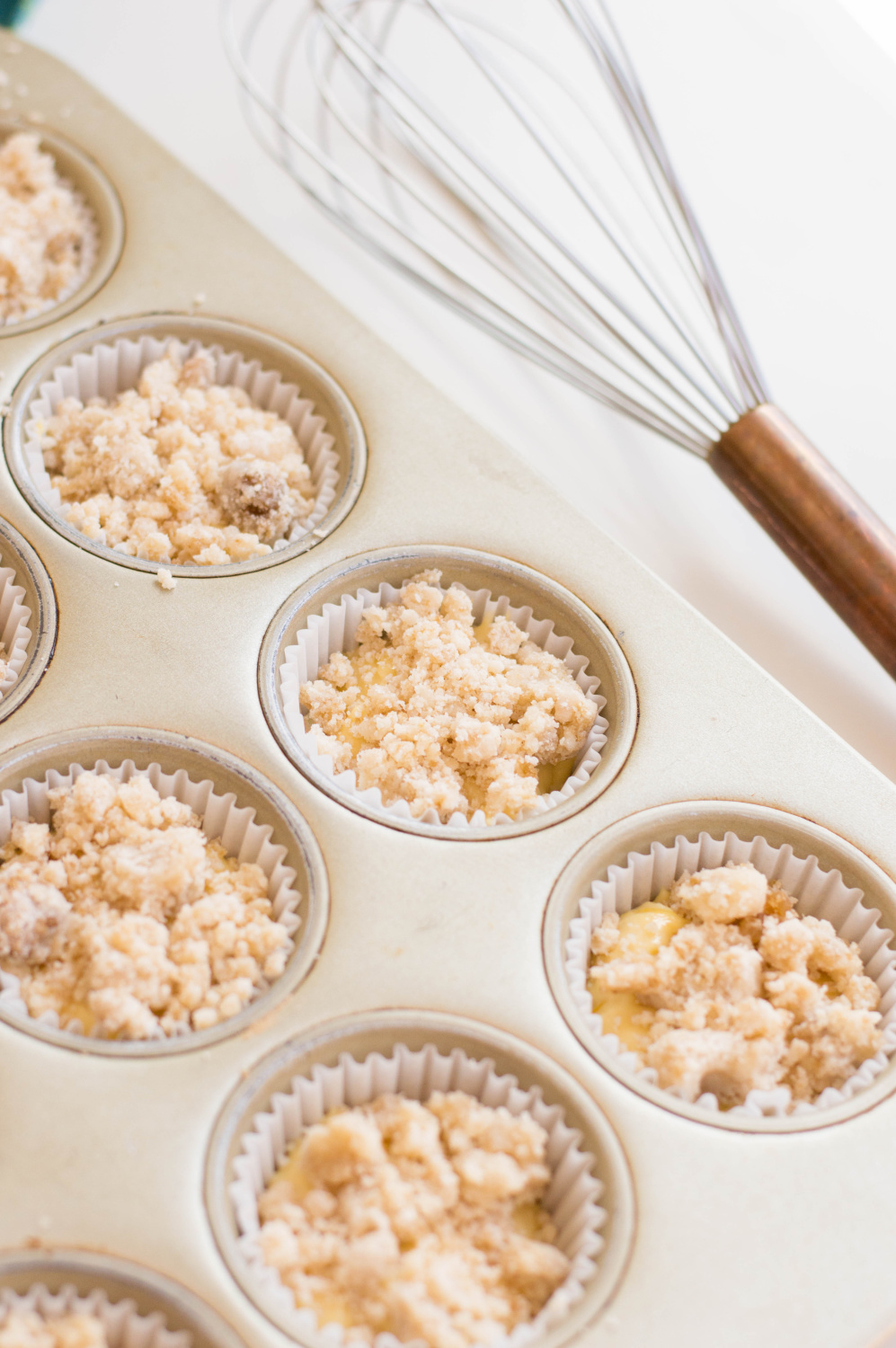 How To Serve These Muffins?
This recipe works great to just grab and go for a quick breakfast in the morning. But I LOVE to put my muffins in the microwave for about 20 seconds. And I REALLY LOVE to cut them in half vertically and put a pat of butter in between them.
Can You Freeze These Lemon Muffins?
Yep! Just make sure that you cool them completely before preparing them to freeze. Wrap them tightly in freezer wrap, aluminum foil or freezer bags. They should be good for up to 4 months if wrapped tightly. Generally, I like to freeze my muffins individually instead of in a batch. That way I just take what I want out of the freezer to defrost them.
To thaw out your muffins, you can just let them sit at room temperature or use a microwave or conventional oven. Just pop them in the microwave on high for 30-45 seconds or wrap them in foil and heat them at 375 degrees for about 10 minutes. The time needed to thaw will depend on the size of your muffins!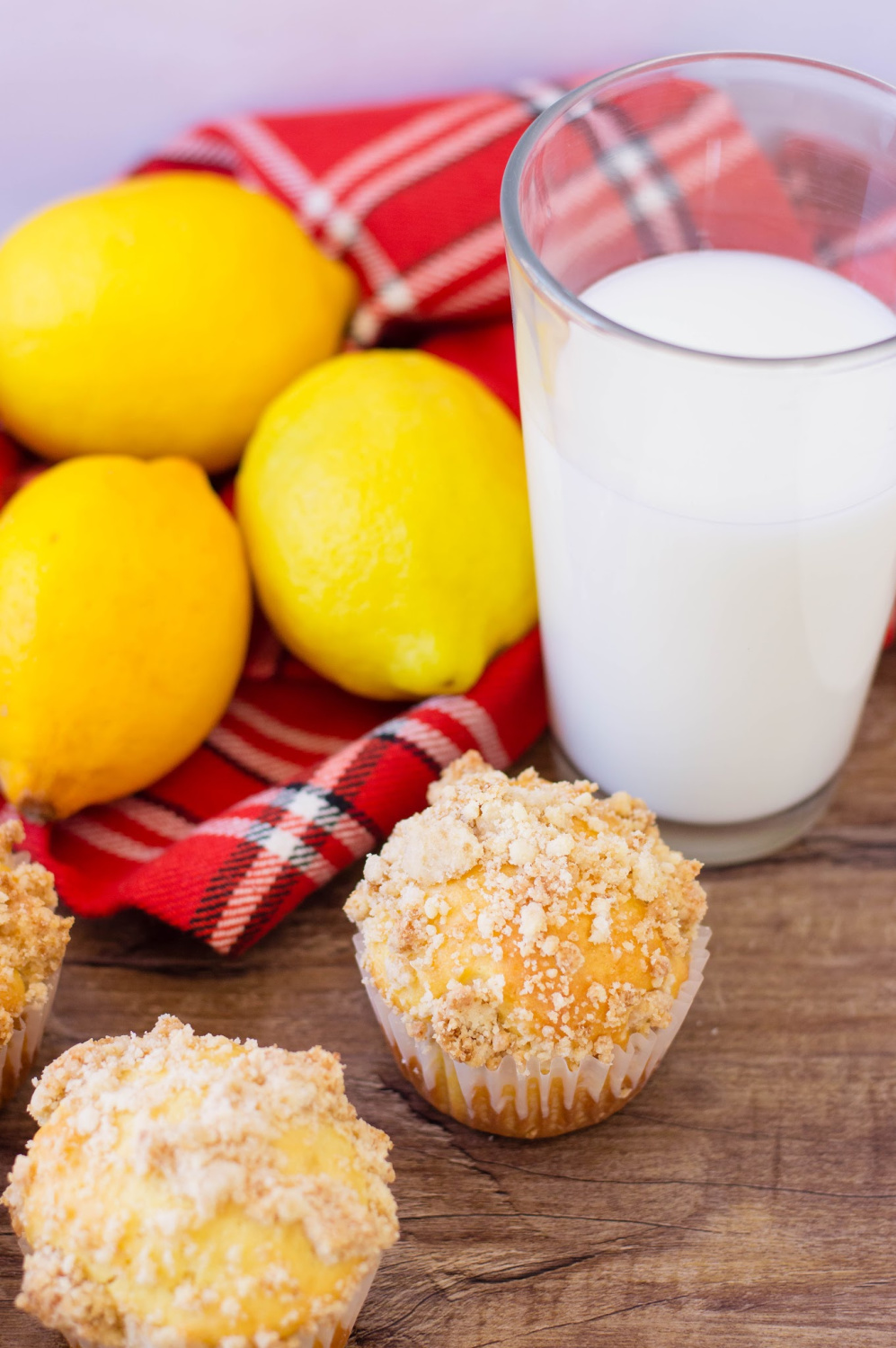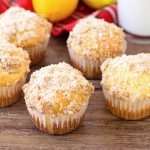 Breakfast Lemon Muffins Recipe
This quick and easy Breakfast Lemon Muffins Recipe is are fresh, sweet tangy and have a sugary crumb topping! Perfect for a breakfast treat or tasty dessert!
Ingredients
For The Muffins
2

cups

a/p flour

½

cup

granulated sugar

3

tsp

baking powder

½

tsp

salt

Zest and juice of 1 lemon

approx. 1 tbsp zest and 2 tbsps juice

¾

cup

whole milk

1/3

cup

vegetable oil

1

egg

1

drop yellow gel food coloring

optional
For The Crumb Topping
1

cup

a/p flour

¼

cup

brown sugar

2

tbsp

granulated sugar

6

tbsp

butter

melted
Instructions
Preheat oven to 375 degrees F.

Line a muffin pan with paper liners and set aside.

In a small bowl, sift together flour, granulated sugar, baking powder and salt. Set aside.

In a larger bowl, mix together lemon juice, zest, milk, oil and egg.

Slowly add dry ingredients into wet ingredients. Mix until muffin batter forms.

Add a small drop of yellow gel food coloring into batter and mix until tinted (optional).

Scoop batter into each section of the muffin pan, filling it about 2/3 of the way.

In a separate bowl, mix all of the ingredients for the muffin topping - cut with a fork to create a "grainy" sugar topping.

Sprinkle the sugar muffin topping over each filled section of the pan.

Bake for 23-25 minutes. Serve and enjoy!
Nutrition Facts
Breakfast Lemon Muffins Recipe
Amount Per Serving
Calories 188
* Percent Daily Values are based on a 2000 calorie diet.