This simple lemon muffin recipe is the easiest way to bake tender, flavorful lemon muffins at home. Sweet, tangy and perfectly delicious, these light and moist muffins with a streusel topping are perfect for a breakfast treat, midday snack or dessert.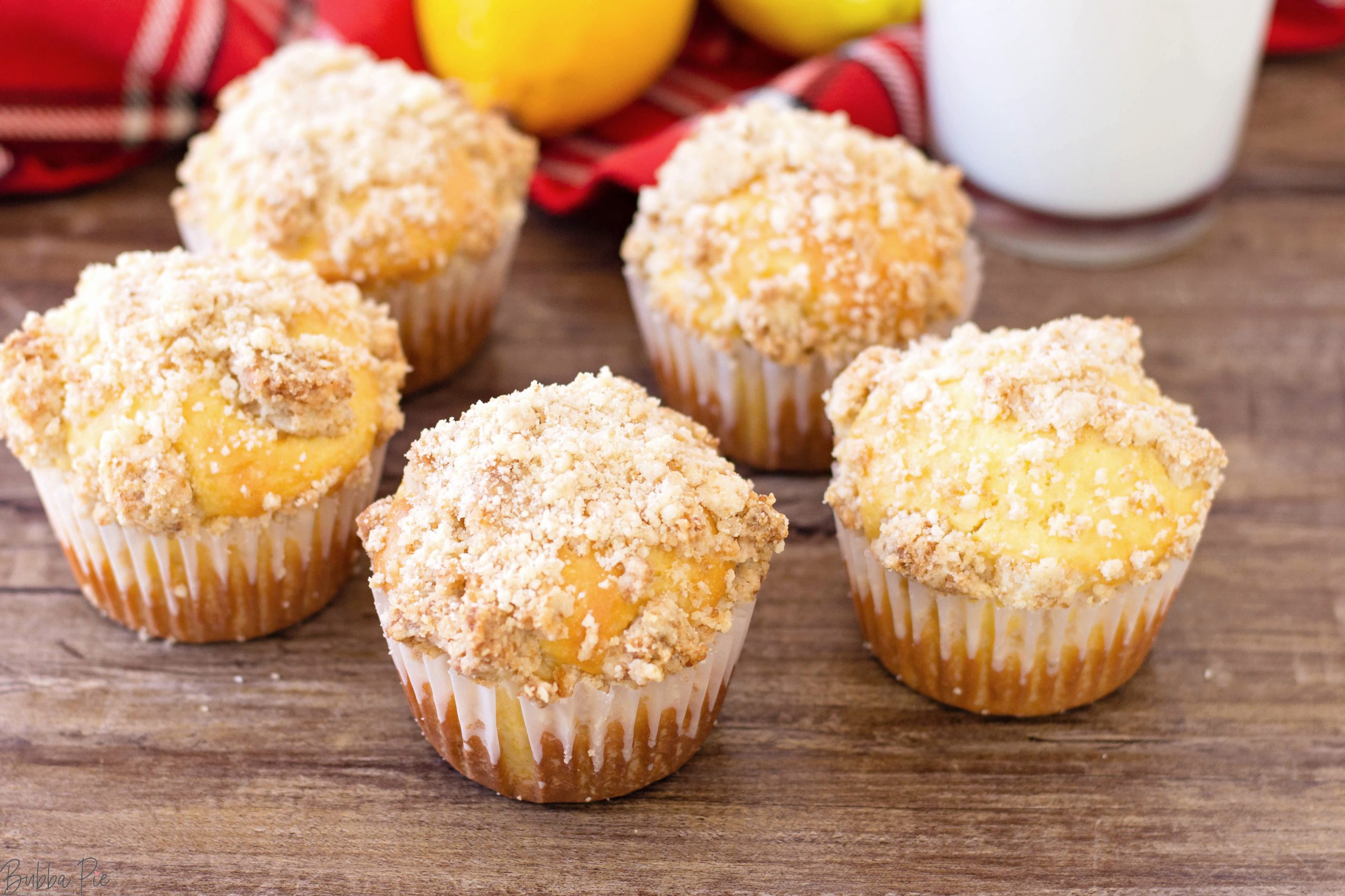 Muffins are a fun, easy and delicious way to treat yourself. I love them because they are so easy to make, easy to share and easy to eat. Just grab and go! You don't even need a plate. I especially love these Lemon Muffins because, when I eat them, it's like getting a bright dose of aromatic lemons and sunshine no matter what the weather is outside. That is important during these long, cold Indiana winters!
We've made some really delicious muffins on this website. From decadent breakfast muffins like these Chocolate Chip ones, to these fresh Blueberry Muffins that are awesome for just about any occasion. We even have some seasonal muffin recipes, like these Pumpkin Chocolate Chip Muffins that are perfect for the Fall! And these Lemon Muffins are perfect for anytime, whether you want to take advantage of in season lemons, or just need some bright, light flavors anytime of the year!
Lemon Desserts
It's funny, but I used to NOT consider myself a huge fan of lemon flavored desserts. But, at some point, I realized that anytime I had any sort of lemon treat, I LOVED it. So, we started publishing some Lemon Recipes on here and they have been SUPER popular. From our Starbucks Copycat Lemon Loaf to our these Lemon Strawberry Mini Tarts, these recipes have been getting a lot of traffic. So, naturally, we thought we'd share the recipe for these Breakfast Lemon Muffins.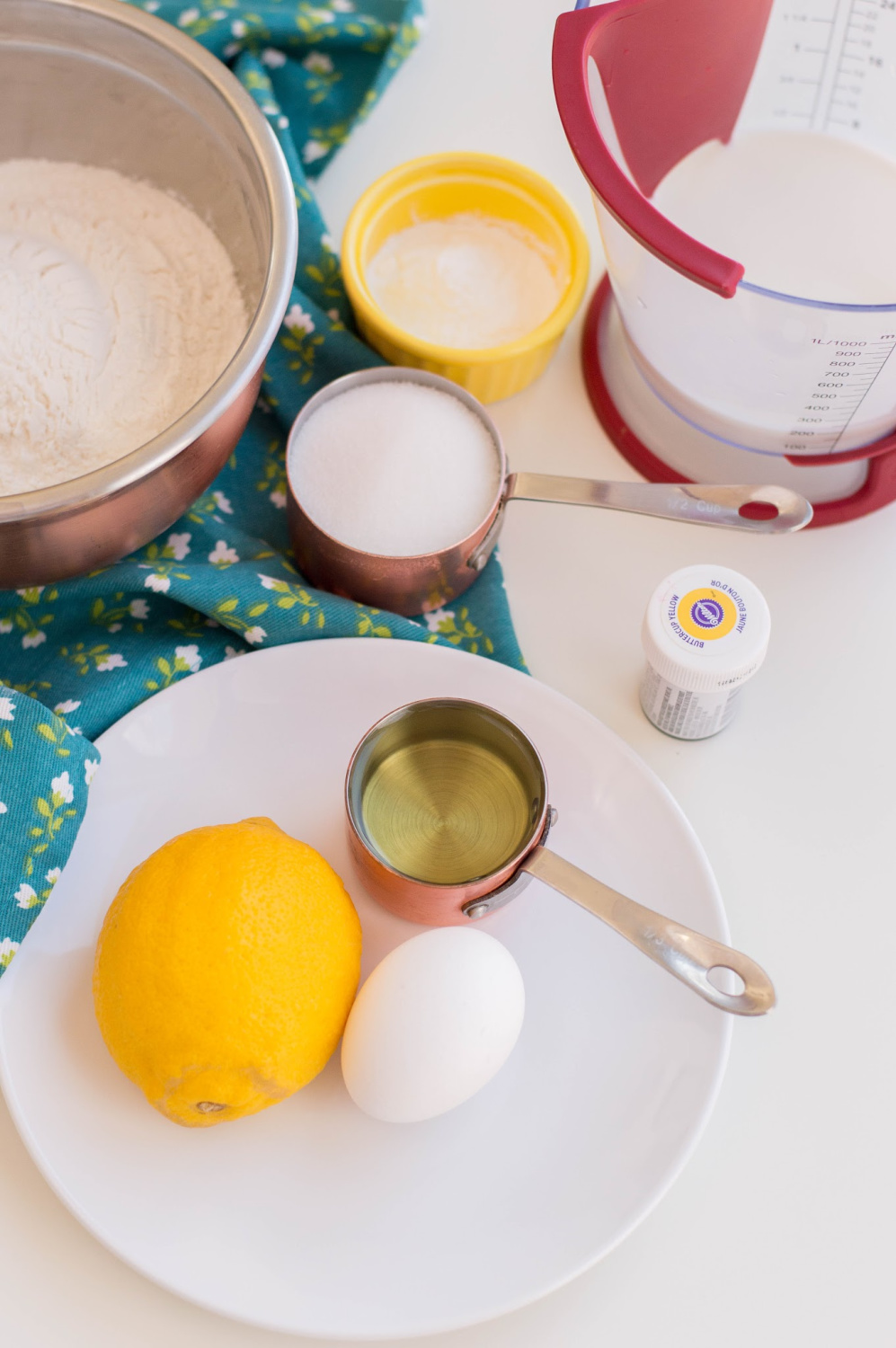 What Ingredients Will You Need For Lemon Muffins?
FOR THE MUFFINS
FLOUR
GRANULATED SUGAR
BAKING POWDER
SALT – This will balance out the sweetness of the Lemons and the Sugar.
FRESH LEMON – You'll be using both the lemon juice and lemon zest. You can use regular lemons or Meyer Lemons.
WHOLE MILK – See below for substitutions.
VEGETABLE OIL
EGG – Make sure it is room temperature before adding it to this recipe.
YELLOW GEL FOOD COLORING –  This is totally optional to give these muffins an extra boost of color.
For the topping
FLOUR B
BROWN SUGAR
GRANULATED SUGAR
BUTTER – Room temperature
Can You Sub Anything For The Whole Milk?
A lot of times, we don't have whole milk laying around in our fridge. Is there anything that you can substitute in place of it? You can certainly put in either sour cream or plain yogurt in place of whole milk. It may actually give your lemon muffins a more creamy texture. I'd recommend using regular or at least reduced fat products and to stay away from non-fat.
How To Zest A Lemon?
The most important part of correctly getting Lemon Zest (or any zest) is using the right tool. You really have to use a Microplane Grater. This will make your job so much easier. Also, you want to be very light in your grating. The very top layer is where all the oil and flavor is. The white stuff underneath gets pretty bitter pretty fast!
You'll also want to obtain your Zest right before you use it, as it does dry out pretty quickly.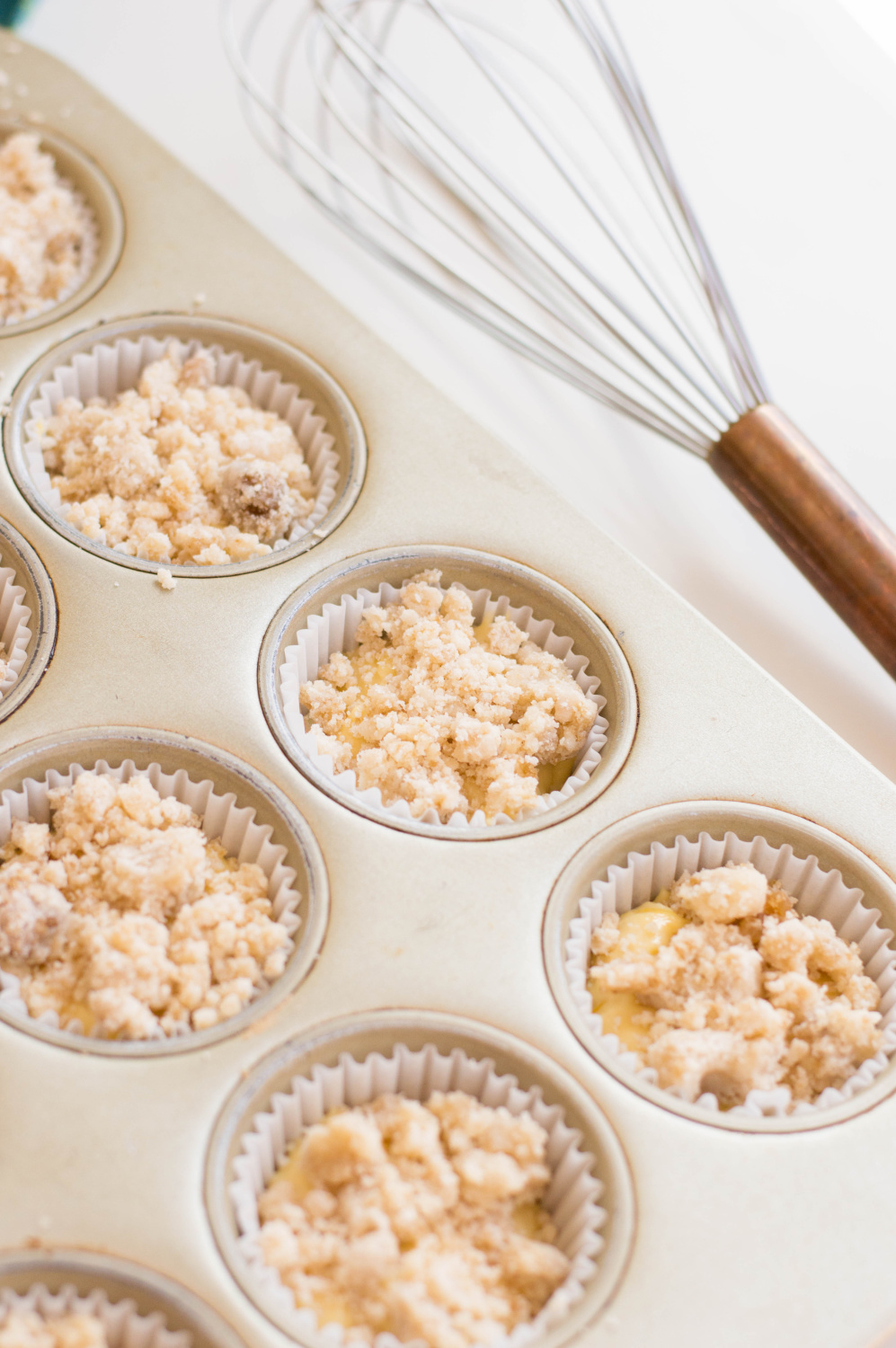 How To Serve These Muffins?
This recipe works great to just grab and go for a quick breakfast in the morning. But I LOVE to put my muffins in the microwave for about 20 seconds. And I REALLY LOVE to cut them in half vertically and put a pat of butter in between them.
Storage and Freezing
Keep these muffins in an airtight container at room temperature. They should stay good for about 5 days. You can probably extend this a couple days if you keep them in your fridge.
Can you freeze Lemon Muffins? Yep! Just make sure that you cool them completely before preparing them to freeze. Wrap them tightly in freezer wrap, aluminum foil or freezer bags. They should be good for up to 4 months if wrapped tightly. Generally, I like to freeze my muffins individually instead of in a batch. That way I just take what I want out of the freezer to defrost them.
To thaw out your muffins, you can just let them sit at room temperature or use a microwave or conventional oven. Just pop them in the microwave on high for 30-45 seconds or wrap them in foil and heat them at 375 degrees for about 10 minutes. The time needed to thaw will depend on the size of your muffins!
Notes, Tips and Variations
HOW TO MAKE YOUR MUFFINS MOIST? – A common mistake when making muffins is to stir the wet ingredients and dry ingredients too much when making your batter. You want to mix them together just until the are fully incorporated.
DO YOU NEED LEMON EXTRACT FOR THIS RECIPE? – We don't use any lemon extract for this recipe and feel that they come out with a nice, subtle lemon flavor. If you want to add Lemon Extract for an extra boost, you can. I'd add 1 tsp. Make sure it is REAL lemon extract and not "lemon flavoring".
MAKE YOUR CRUMB TOPPING FIRST – Make it first and put it in the fridge for a bit while you are making the muffins. It's easier to work with and bakes better when it's a little cold.
HOW TO KNOW WHEN YOUR MUFFINS ARE DONE – Another common mistake is baking your Muffins too long. The best way to know when to take your muffins out is to insert a toothpick or a cake tester into the middle of one of them. If it comes out clean, they are ready to come out!
MUFFIN LINERS – Make sure to grease the muffin tin or use Muffin Liners to help to get your muffins out unscathed!
Tools To Help With This Recipe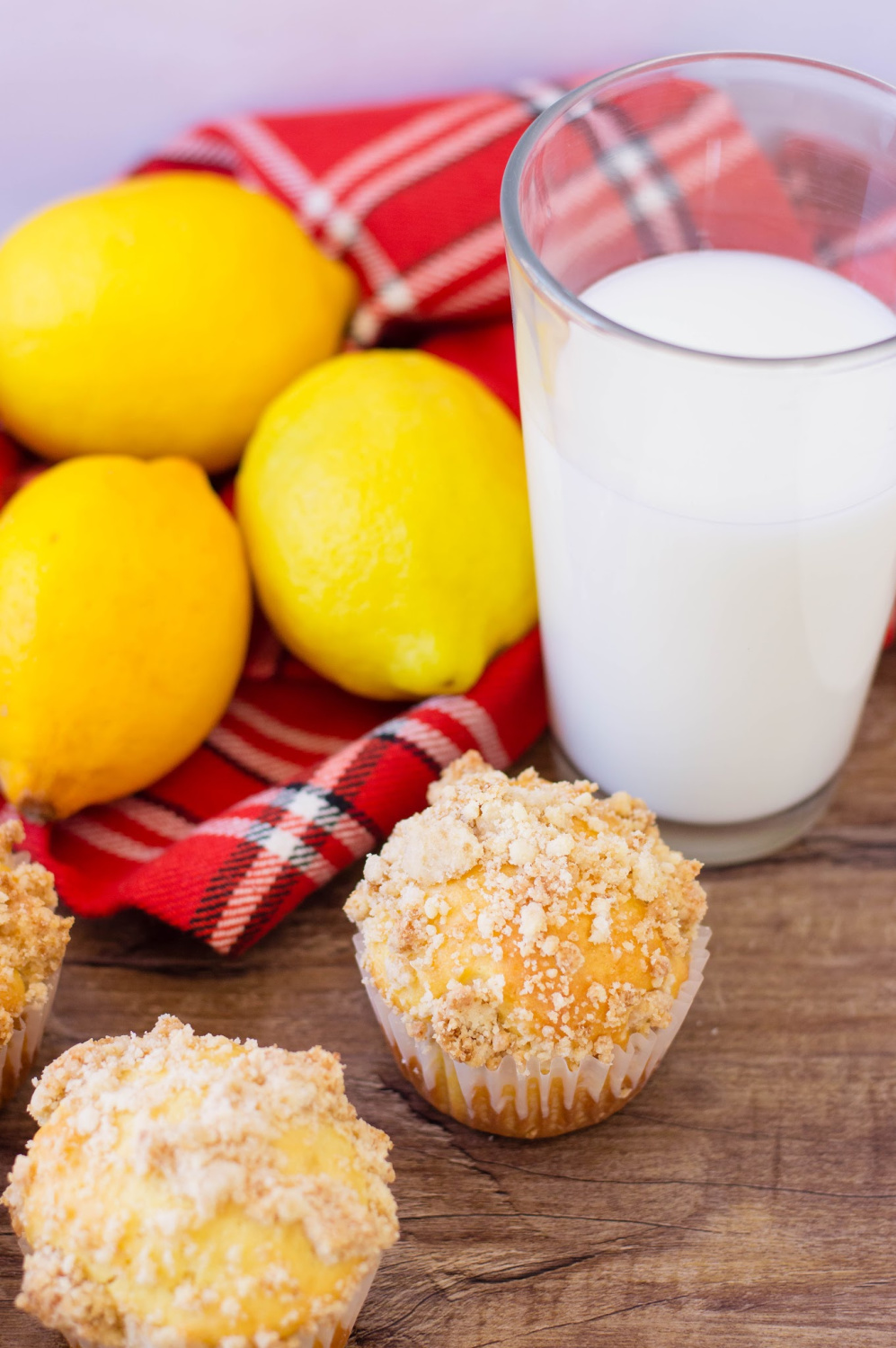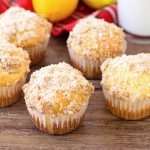 Breakfast Lemon Muffins Recipe
This quick and easy Breakfast Lemon Muffins Recipe is are fresh, sweet tangy and have a sugary crumb topping! Perfect for a breakfast treat or tasty dessert!
Ingredients
For The Muffins
2

cups

a/p flour

½

cup

granulated sugar

3

tsp

baking powder

½

tsp

salt

Zest and juice of 1 lemon

approx. 1 tbsp zest and 2 tbsps juice

¾

cup

whole milk

1/3

cup

vegetable oil

1

egg

1

drop yellow gel food coloring

optional
For The Crumb Topping
1

cup

a/p flour

¼

cup

brown sugar

2

tbsp

granulated sugar

6

tbsp

butter

melted
Instructions
Preheat oven to 375 degrees F.

Line a muffin pan with paper liners and set aside.

In a small bowl, sift together flour, granulated sugar, baking powder and salt. Set aside.

In a larger bowl, mix together lemon juice, zest, milk, oil and egg.

Slowly add dry ingredients into wet ingredients. Mix until muffin batter forms.

Add a small drop of yellow gel food coloring into batter and mix until tinted (optional).

Scoop batter into each section of the muffin pan, filling it about 2/3 of the way.

In a separate bowl, mix all of the ingredients for the muffin topping - cut with a fork to create a "grainy" sugar topping.

Sprinkle the sugar muffin topping over each filled section of the pan.

Bake for 23-25 minutes. Serve and enjoy!
Nutrition Facts
Breakfast Lemon Muffins Recipe
Amount Per Serving
Calories 188
* Percent Daily Values are based on a 2000 calorie diet.