This easy recipe for Lemon Blueberry Cupcakes takes two of my favorite ingredients into a soft, delicious cupcake! Topped with a fun blue buttercream icing and you'll have a memorable for any occasion. I love to make these for Easter!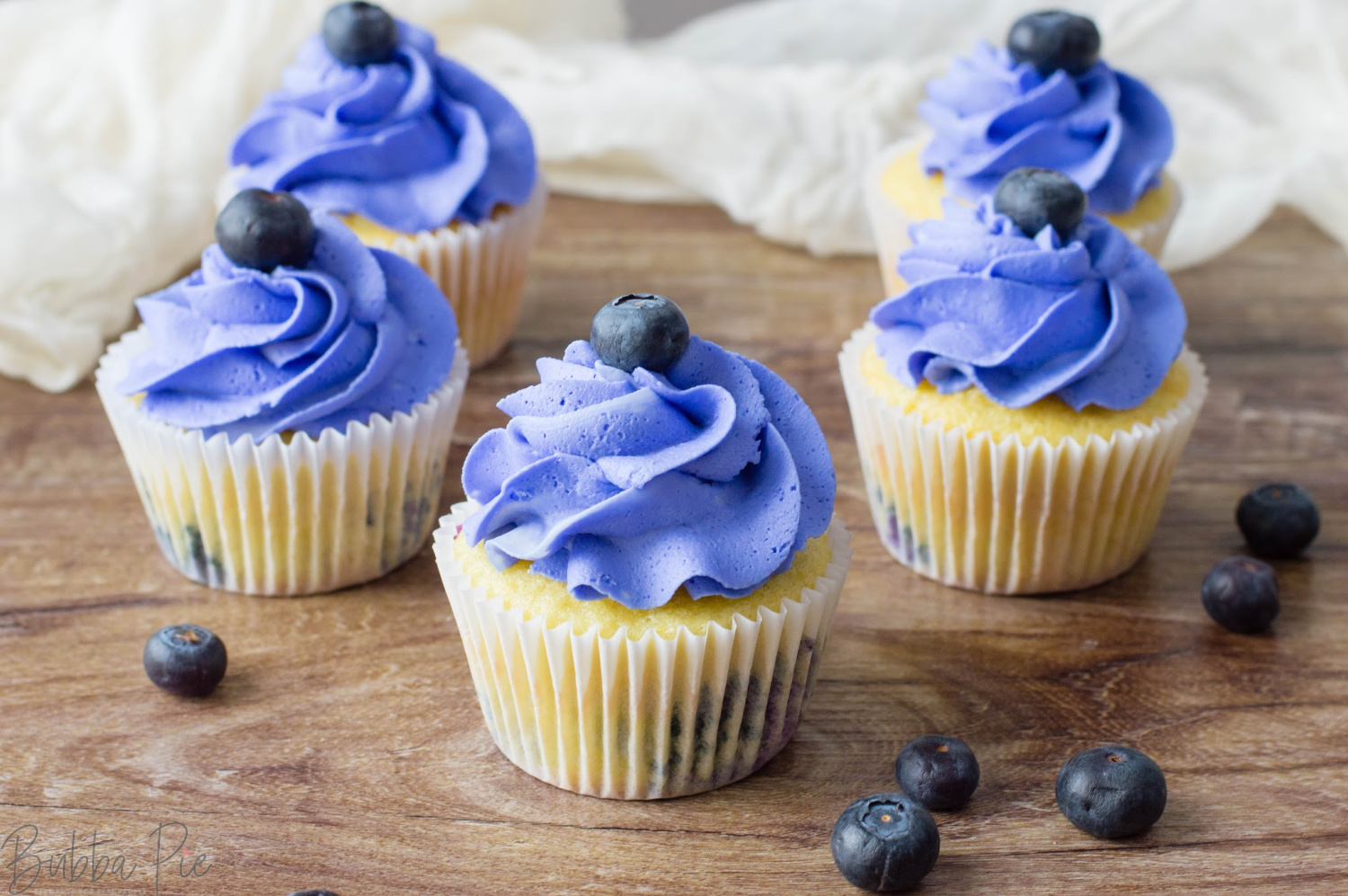 Spring Is Right Around The Corner!
Right now, I'm looking out my window and accepting the fact that we are in the dark heart of February. I live in the Midwest and our winters are cold, gray and LONG. It feels like weeks go by between glimpses of the sun. It's pretty rough!
But I just try to remember that Spring is right around the corner. In just a couple weeks (ok a lot of weeks but a couple months…) flowers will be blooming and birds will be chirping. One way that I really know that Spring has arrived is with Easter.
Yummy Easter Dishes!
We love Easter in our family. The kids have always loved to hunt for eggs (although they are JUST starting to get a little too old for that) and we love to get together with family for a fun feast of ham, delicious sides and fun desserts.
So, I'm always on the lookout for delicious things that I can add to the table during our easter get-together. I love this recipe for Ham, Green Beans and Potatoes! Or, these cheesy Potatoes Au Gratin would make a perfect Easter Side Dish. But, what I really have my eye on is desserts! For instance, these Baby Chick Cupcakes with Buttercream Frosting are SURE to be a hit!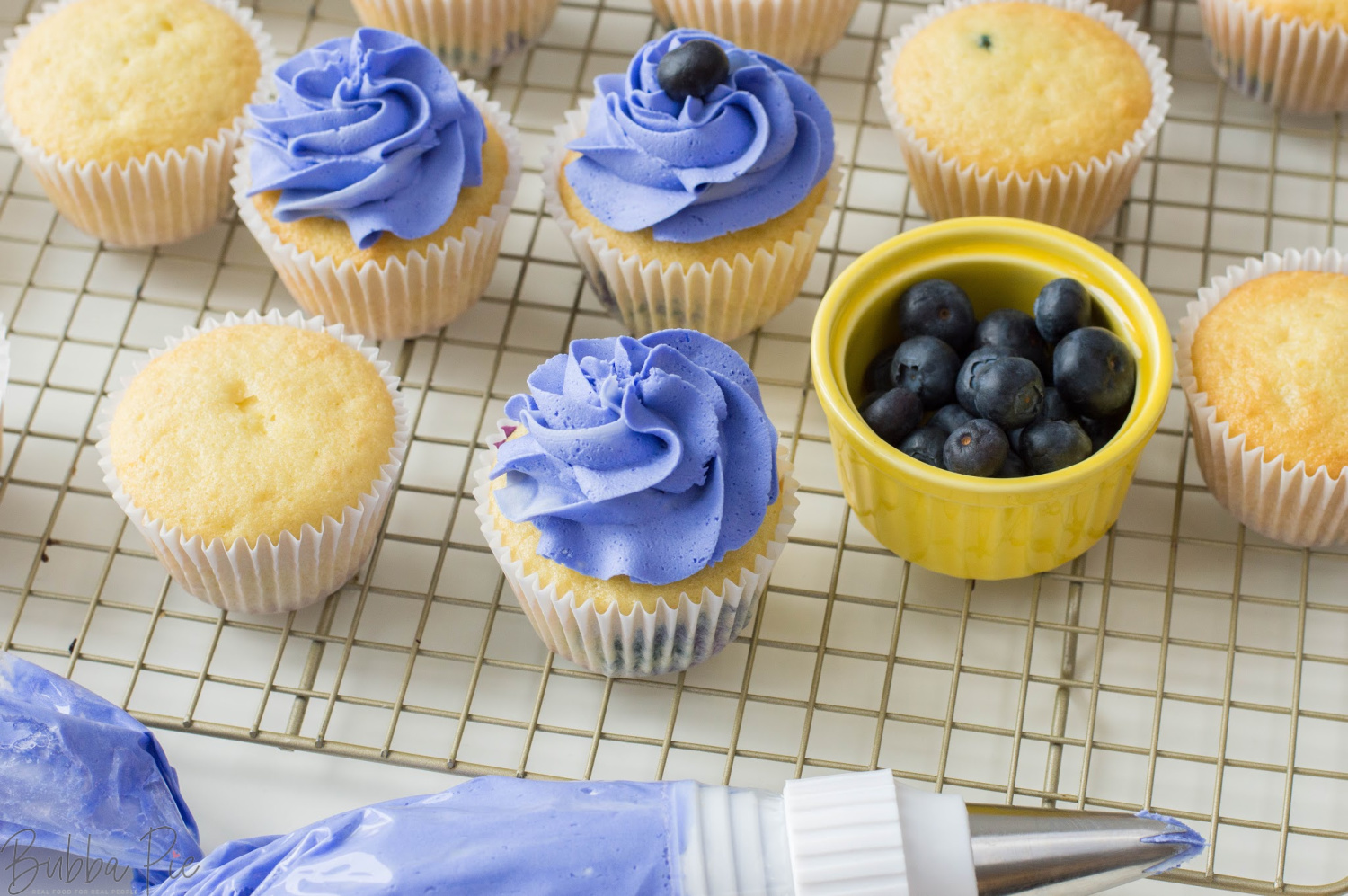 Lemon Blueberry Cupcakes
But I thought it would be great to have another Easter Dessert recipe up my sleeve. So that is where these Lemon Blueberry Cupcakes come in. You never know you may need to bring something to an office party, a pitch-in or a potluck. Also, the bright, fun colors and flavor of these cupcakes can be used for lots of different occasions: a gender reveal party, a girl's birthday party, a young child's birthday party, a graduation party or any other festive occasion!
What Ingredients Do You Need For Lemon Blueberry Cupcakes?
Nothing too crazy is needed for this recipe! Like a lot of the dishes here at Bubba Pie, we like to keep things pretty simple and delicious. Our goal is that you find a recipe that you don't even NEED to go to the store to get ingredients for! You already have all of them! And that may be the case for this recipe!
For the cupcakes:
A/P FLOUR – Any flour will do. You can substitute for Gluten Free Flour if you'd like.
BAKING POWDER – This will help the cupcakes rise in the oven. If you don't have baking powder, you can sub and just use the baking soda in this recipe.
BAKING SODA – If you don't have baking soda, you can use baking powder, although you may need to use a bit more due to is rising power isn't quite as strong.
SALT – Salt is a great counterweight to all the sweetness of the lemons.
EGGS – Make sure the eggs are room temperature before using in this recipe.
SUGAR – Just normal white sugar will do. Mix this in with the eggs before incorporating with the dry ingredients. Make sure to mix the sugar and butter thoroughly. Once done, just barely mix that into the dry ingredients.
VEGETABLE OIL – Helps get these cupcakes nice and moist!
LEMON – You'll need the juice and the zest of one lemon. If you want a more intense flavor, you can use lemon extract.
BUTTERMILK – If you don't have buttermilk on hand, here is an easy recipe!
FRESH BLUEBERRIES – Dip them in flour before putting them into the batter so they don't sink down while baking. Also, mix carefully so they don't burst!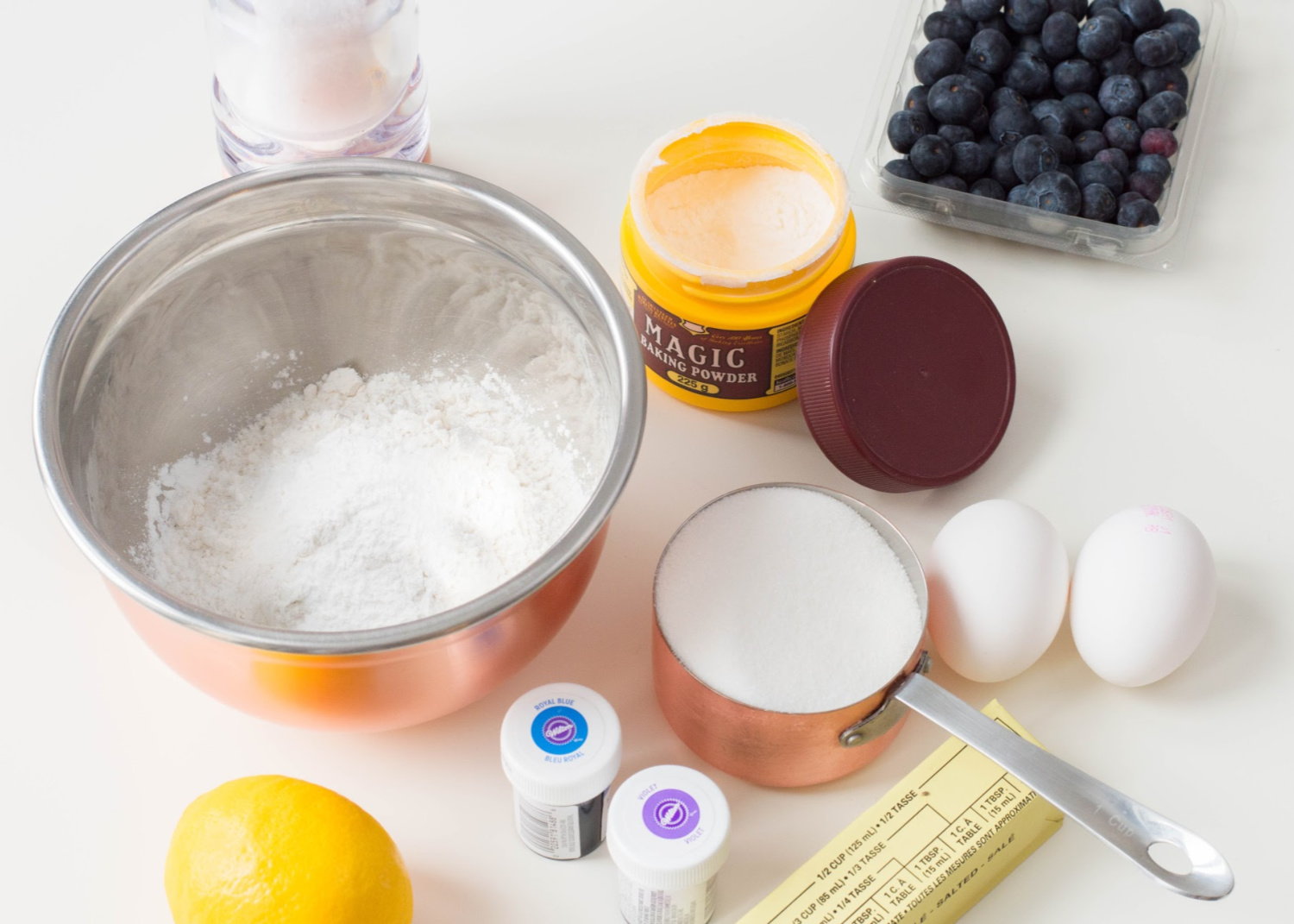 For the buttercream:
UNSALTED BUTTER– Make sure it is softened before using.
ICING SUGAR– Also called confectioners sugar, it's so great to making icing and frosting with!
MILK – We used 2%
BLUE GEL FOOD COLORING – This just adds to the presentation, not the flavor, so you can omit it if needed or wanted.
PURPLE GEL FOOD COLORING – Ditto
BLUEBERRIES – For the garnish!
Can You Use A Different Kind Of Frosting?
Sure! If there is one thing that I've learned is that everyone has a different take on what kind of frosting should be on their cupcake. It is one of those things that everyone seems to have a different idea about. Since we aren't actually flavoring the frosting, we are just coloring it, you can use whatever frosting recipe you'd like. I DO love buttercream frosting but I also think a cream cheese frosting would be delicious as well! Here is an easy Cream Cheese Frosting Recipe.
You can certainly flavor the frosting instead of just coloring it. If you want to give this recipe a little more zest, you can add a couple drops of Lemon Extract into the frosting! I'd use extract instead of lemon juice because that will help the frosting to better keep it's consistency!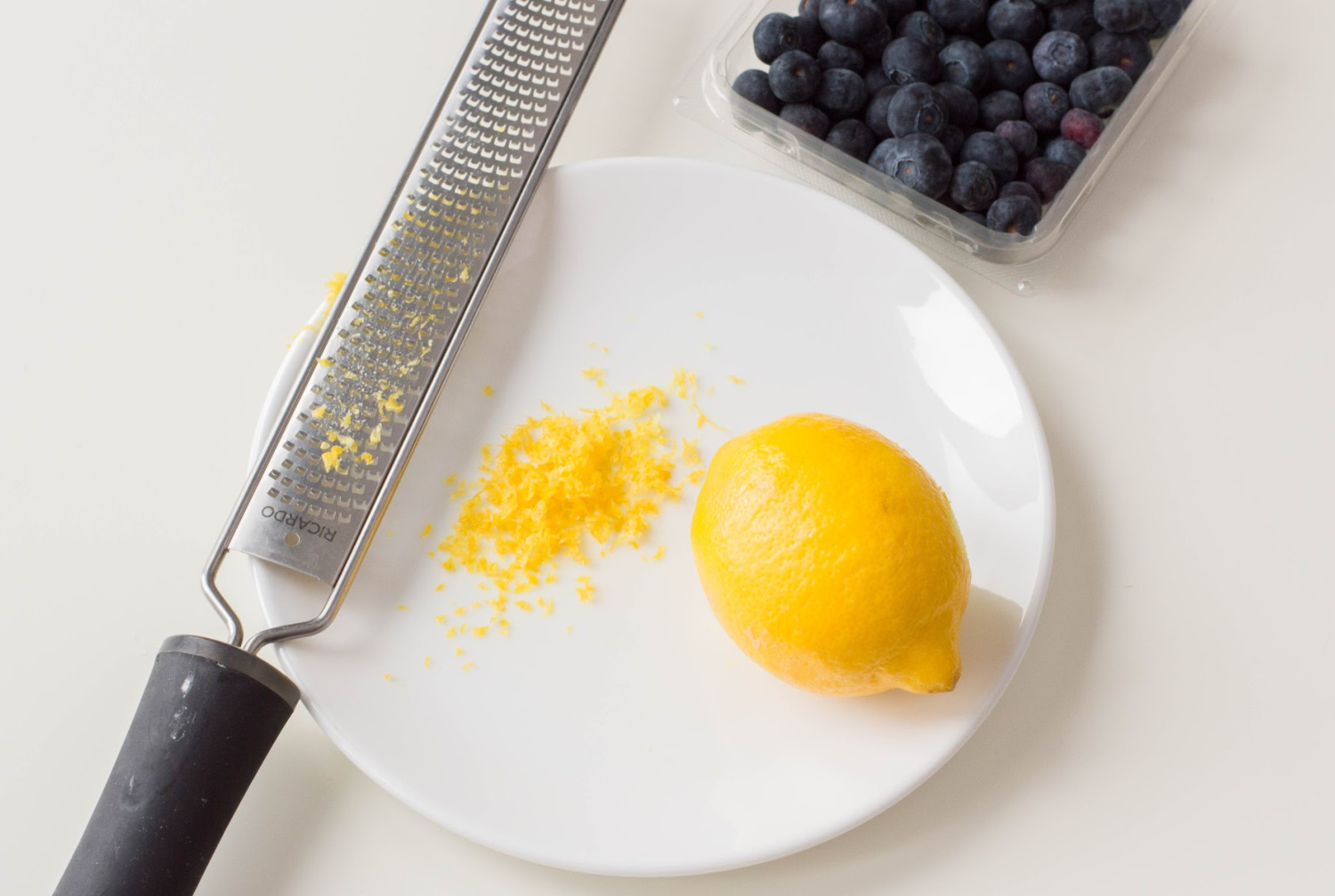 Notes, Tips and FAQs
DON'T OVERMIX– Don't overmix your batter! A common mistake is overmixing when you marry the wet and dry ingredients. This results in a dense, chewy cupcake. Just mix them barely until they are incorporated together.
LET CUPCAKES FULLY COOL– We know you want to get that frosting on and try one, but you've got to wait until they are all the way cooled or you will have a sugary mess on your hands!
TOSS BLUEBERRIES IN FLOUR– If you can see from our pictures, we forgot to do this and our blueberries sunk to the bottom while baking. Tossing them in flour will prevent this.
USE MEYER LEMONS?– A regular lemon will work fine, but substitute for a Meyer Lemon (a combination of a lemon and a mandarin) for a more intense flavor.
Tools To Help With This Recipe
Thanks for reading and I hope you enjoy this recipe! Let me know how it works out for you in the comments!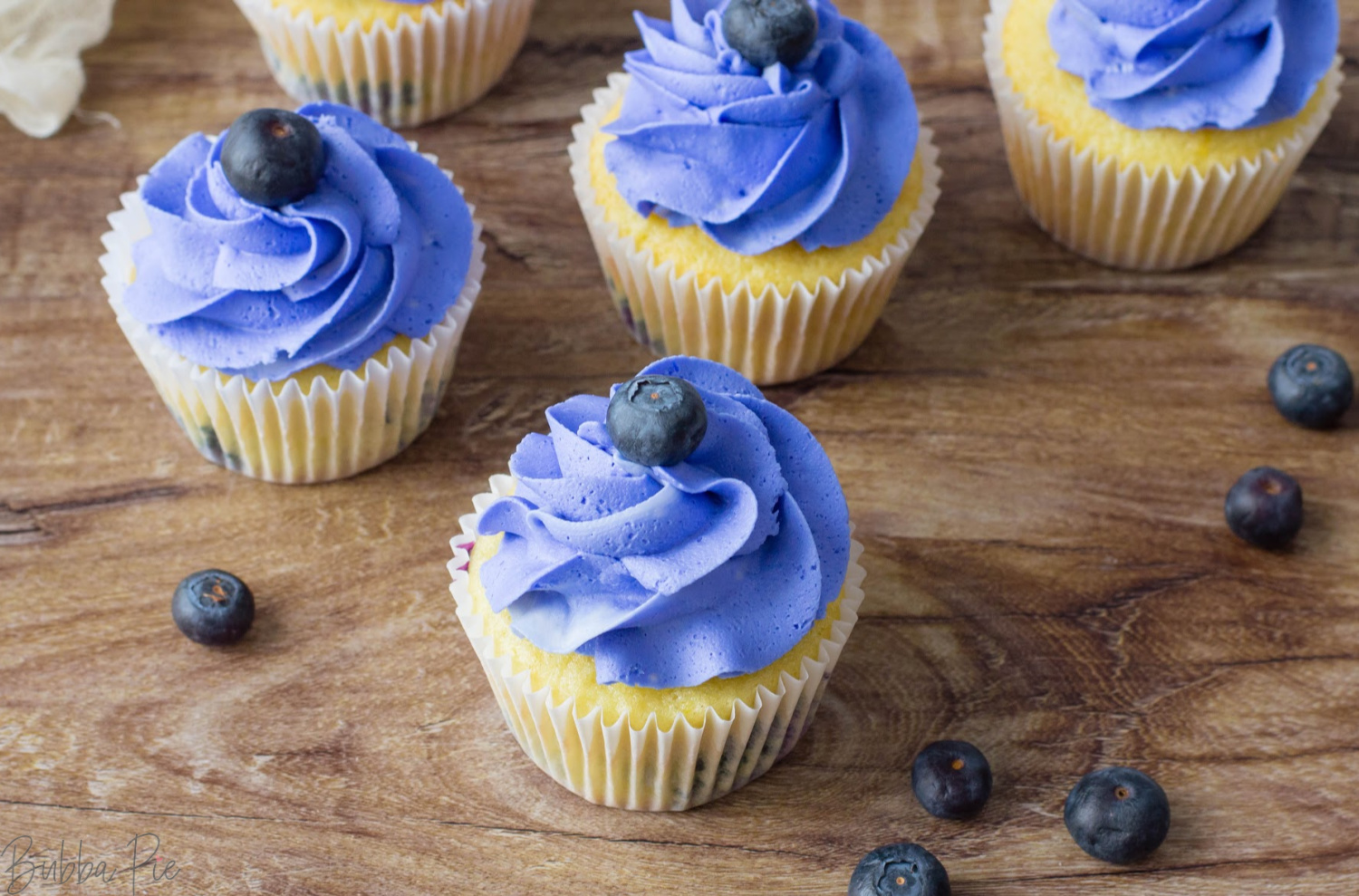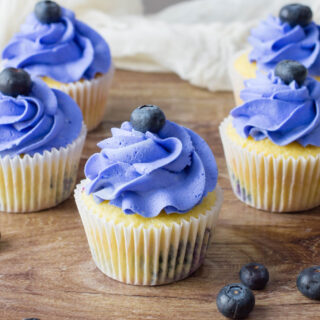 Rate this Recipe
Lemon Blueberry Cupcakes
This easy recipe for Lemon Blueberry Cupcakes takes two of my favorite ingredients into a soft, delicious cupcake! Topped with a fun blue buttercream icing and you'll have a memorable for any occasion. I love to make these for Easter!
Ingredients
For The Cupcakes
1 ¼

cup

a/p flour

¾

tsp

baking powder

¼

tsp

baking soda

Pinch

salt

2

large eggs

room temperature

1

cup

sugar

½

cup

vegetable oil

Zest of one lemon

Juice of one lemon

½

cup

buttermilk

1/2

cup

blueberries
For The Buttercream Frosting
2

sticks unsalted butter

softened

4

cups

icing sugar

2-3

tsp

milk

1

drop blue gel food coloring

1

drop purple gel food coloring

18

blueberries
Instructions
Preheat oven to 350 degrees F and line a muffin pan with paper liners.

In a small bowl, sift together flour, baking powder, baking soda and salt.

In a separate bowl, whisk eggs and sugar until creamy. Add vegetable oil and whisk some more.

Add lemon juice and zest and mix.

Alternating with your dry ingredients and buttermilk, add slowly to wet ingredients and mix until all ingredients are thoroughly combined.

Add blueberries and carefully fold into the cake batter.

Fill lined muffin pan with cupcake batter, about 2/3 of the way. Bake for 15-17 minutes.

Allow to cool before topping with buttercream frosting.

To make the frosting, beat together butter, icing sugar and milk using an electric mixer. Start on slow speed and gradually increase to high.

Once the ingredients are well-mixed and smooth, add gel food coloring of each color and beat until completely tinted.

Scoop into a large piping bag with Wilton's 1M icing tip attached. Frost each cupcake.

Top off each cupcake with one blueberry and serve. Enjoy!
Notes
You'll want to really whisk away at the batter to get it nice and creamy. This will help with the texture of your finished product. But make sure you are doing this BEFORE you fold the blueberries into the batter. You will really want to be careful with the blueberries so that the don't break apart!
And, like always, make sure you let the cupcakes fully cool before adding the frosting! 
Nutrition
Love this recipe?
Follow @bubbapie for even more delicious recipes!!