From beginner cooks to seasoned chefs, we're here to make sure your kitchen is equipped with the right tools to conquer any recipe that comes your way. So, grab your apron and let's embark on this flavorful journey!

Prep Like a Pro
Chef's Knife Magic: A good quality chef's knife is your kitchen soulmate. It's the swiss army knife of the culinary world, slicing, dicing, and chopping with grace. Say goodbye to uneven cuts! Check out this full knife set that will have everything you need!
Cutting Boards Galore: A variety of cutting boards in different sizes will save your counters and make clean-up a breeze. Plus, who doesn't want a rainbow of boards to match their culinary creativity?
Peelers with Pizzazz: Don't let veggies and fruits feel left out – invest in a sturdy peeler. Whether you're zesting a lemon or peeling a potato, this tiny tool packs a punch. You can find them for around $5… .but spend a bit more to get a quality one, it won't be that much more expensive and it will make a big difference.
Mixing and Measuring Marvels
Mixing Bowls for Every Mood: A set of mixing bowls in various sizes is your ticket to a seamless cooking experience. From tossing salads to whisking batters, you'll be mixing like a maestro. We love this set of 6 bowls decorated in warm colors. And they come with lids too!
Precise Measuring Cups: Baking and cooking require a pinch of precision. Accurate measuring cups will save your soufflés and keep your cookies perfectly chewy. This 20-piece measuring cup and spoon set will give you everything you need!
Trusty Kitchen Scale: This is one of the most overlooked kitchen gadgets! Elevate your culinary prowess by using a kitchen scale for precise measurements. It's not just for bakers – even your pasta portions will thank you. Check out this affordable digital scale.
ALSO CHECK OUT OUR BAKING BASICS 101 ARTICLE!
Sauté, Simmer, and Sear
Non-Stick Wonder: A high-quality non-stick skillet is your partner-in-crime for everything from omelets to stir-fries. Less sticking, more sizzling! While you can certainly get an acceptable skillet for $20-$40, we really suggest spending a bit more and getting a quality one like this. They will last forever and you'll use them all the time.
Saucepan Enchantment: Whip up sauces, soups, and gravies in a trusty saucepan. We recommend getting a set with various sizes, and pretty soon you'll be cooking like a pro!
Cast Iron Charm: The magic of cast iron knows no bounds. From searing steaks to baking cornbread, this heavyweight champion does it all. Check out this one that comes pre-seasoned.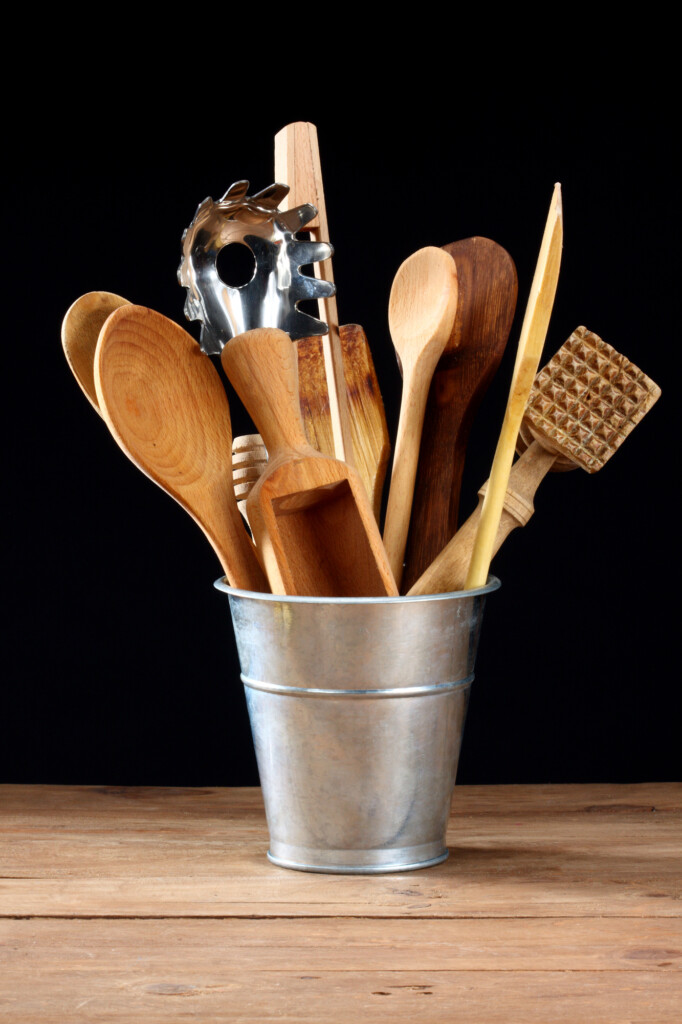 Baking Bliss
Baking Sheets Galore: Whether it's cookies, roasted veggies, or homemade granola, baking sheets are a versatile essential. And yes, they're perfect for impromptu dance parties too. Even if you have some, I'd be willing to bet they may be old and gritty. It's good to update them every couple of years. You don't need to break the bank on these since you'll replace them so often.
Rolling Pin Renaissance: Embark on a pastry adventure with a rolling pin that's up for any doughy challenge. From pie crusts to puff pastries, you'll roll like a star. We like silicone ones like these.
Oven Thermometer: Conquer the mysteries of your oven's temperature fluctuations with an oven thermometer. No more over-baked or underdone surprises! I must admit, I was a bit late in getting a meat thermometer. But it has made things so much easier since I finally grabbed one. And, you get what you pay for in these…. So I'd get a nice one. We like Thermapro.
Gadgets and Gizmos
Immersion Blender Magic: Transform soups and sauces into velvety masterpieces with an immersion blender. No more transferring hot liquids to a blender and creating volcanic eruptions. You can get quality ones at a pretty affordable price like this one.
Microplane Zestfulness: Get ready to add zesty flair to your dishes with a microplane grater. Citrus zest, cheese shavings, and even chocolate curls await your creative touch. This tiny tool packs a punch!
Mandoline Slicer Mastery: Achieve paper-thin slices of vegetables with a mandoline slicer. Your salads, gratins, and garnishes will be Instagram-worthy. Check this one out!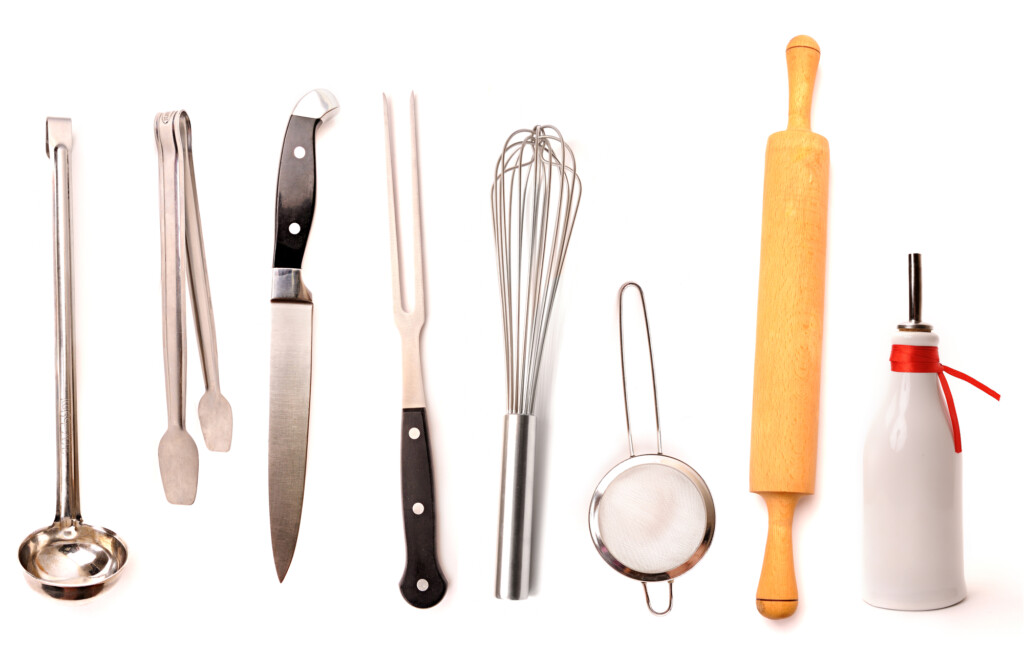 Armed with chef-worthy knives, precise measuring tools, versatile pans, baking wonders, and nifty gadgets, there will be no recipe too challenging for you to conquer. So, go forth and create, experiment, and tantalize taste buds like never before. Remember, a well-equipped kitchen is the launching pad for your culinary adventure – bon appétit!
Happy Cooking!