Invigorate the holidays with these Pumpkin Chocolate Chip Muffins. Super moist and tender chocolate chip muffins with the perfect Fall Flavors of pumpkin spice and pumpkin puree. Whole new pumpkin and chocolate tasted so delicious together?!?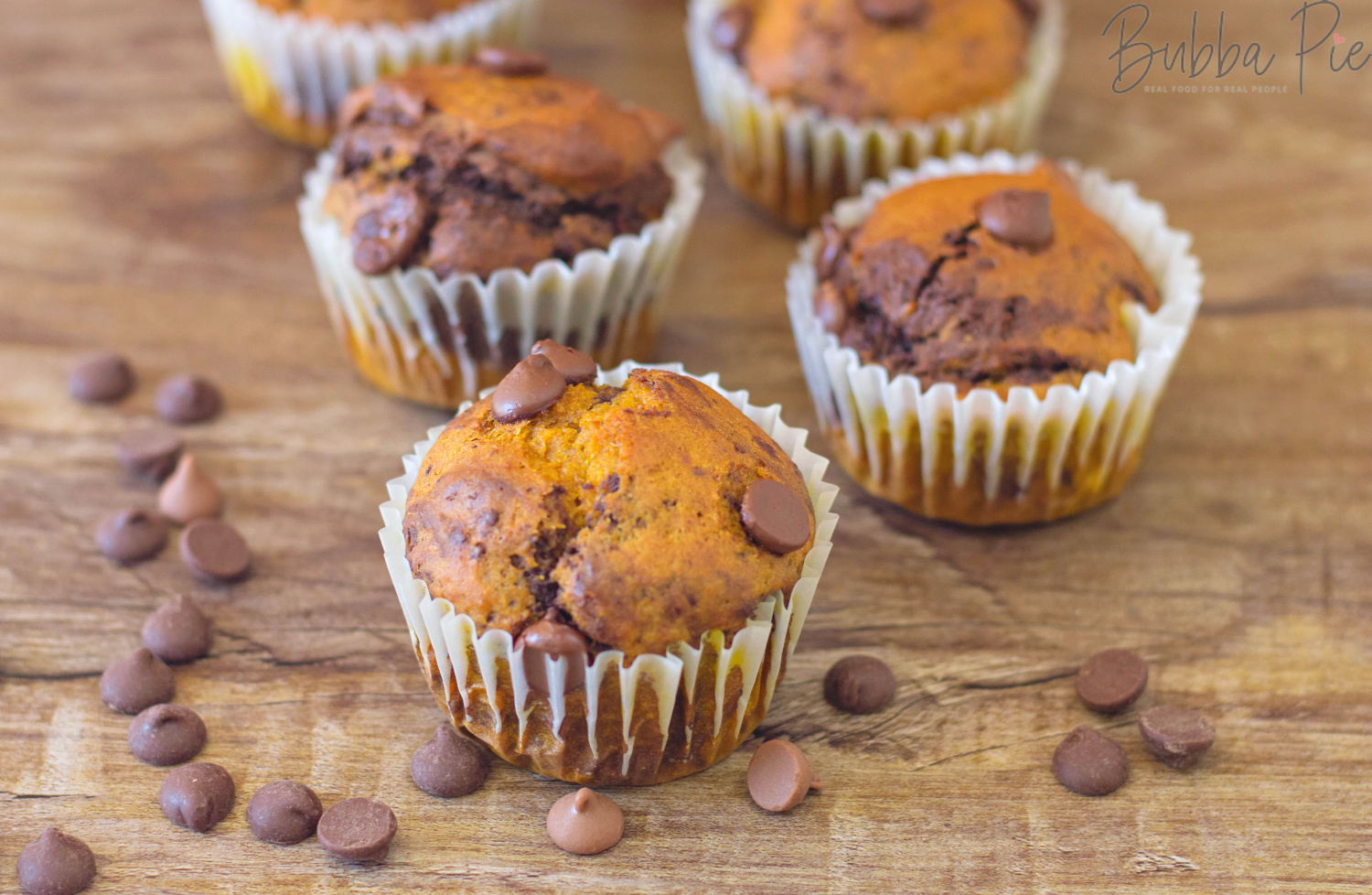 Get ready to celebrate Autumn with these Pumpkin Muffins with Chocolate Chips!
Sure, there are some great flavors to combine chocolate with out there. I love to peanut butter and chocolate, banana and chocolate, fruits and chocolate and even bacon (!) and chocolate. It seems like chocolate can go with just about anything! So it comes as no surprise that we should be able to introduce it to the star of all Thanksgiving desserts: Pumpkin!
Fall Inspired Pumpkin Treats
At just about any dessert table during the holidays, you should be able to spot a pumpkin pie. And this is exactly how it should be. But, sometimes, it's fun to create new pumpkin flavored dessert dishes that aren't a traditional pumpkin pie. For instance, we love these Mini Pumpkin Cheesecake Bites and this easy recipe for Pumpkin Mousse! It turns out that there are a lot of fun ways to use pumpkin in a dessert recipe. So, we thought we'd also post this recipe for Pumpkin Chocolate Chip Muffins.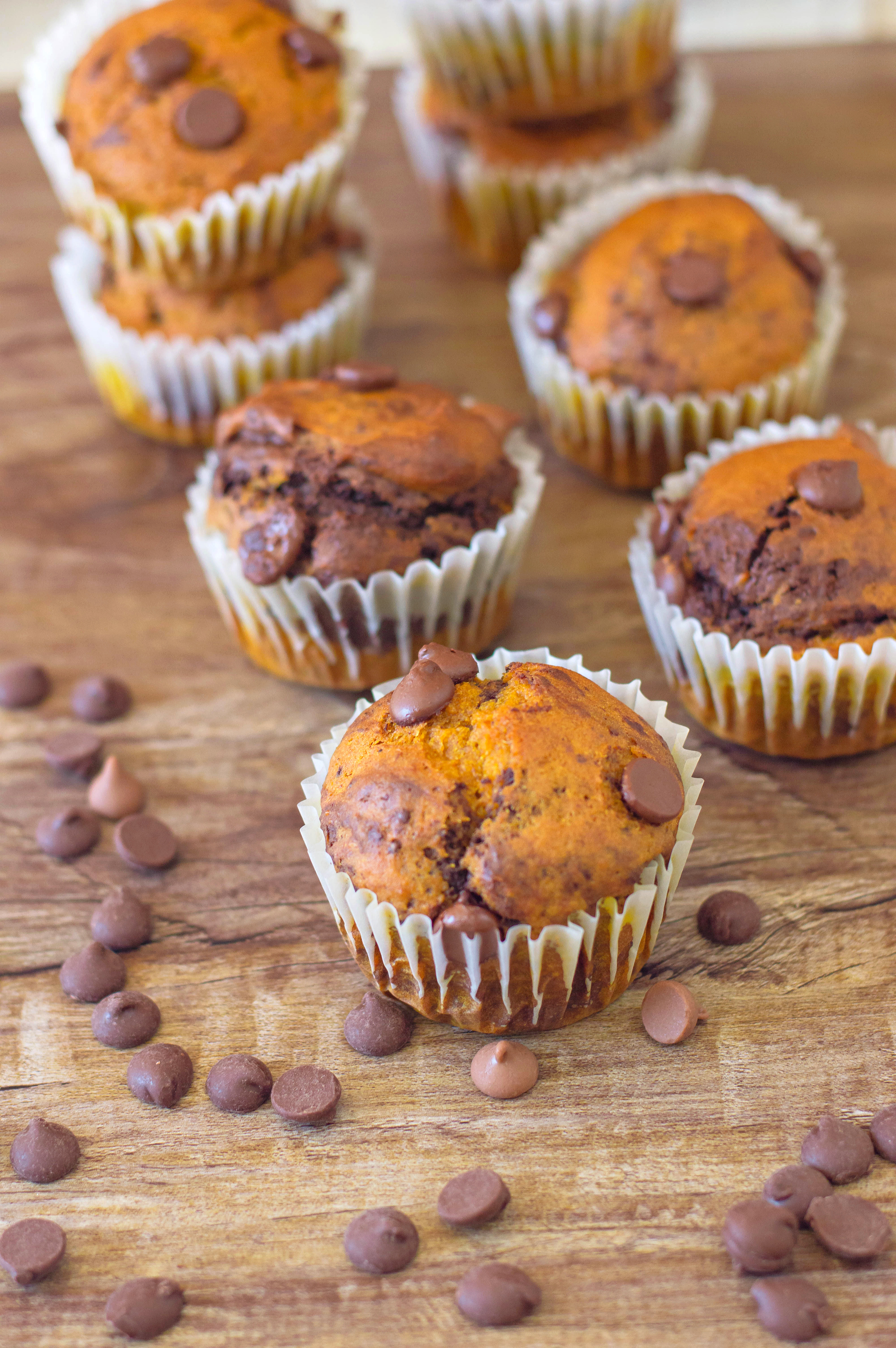 Pumpkin Chocolate Chip Muffins
The perfect mixture of rich chocolate and pumpkin spice, they are a fantastic alternative to a traditional pumpkin pie. And, just for good measure, they are topped with chocolate chips! Just a little crispy on the outside and soft and moist on the inside. I love the marbling of the chocolate and the pumpkin. It really makes them look super cool.
And, let's be honest, you don't have to just have these for dessert. They are perfect for breakfast or a midday snack as well!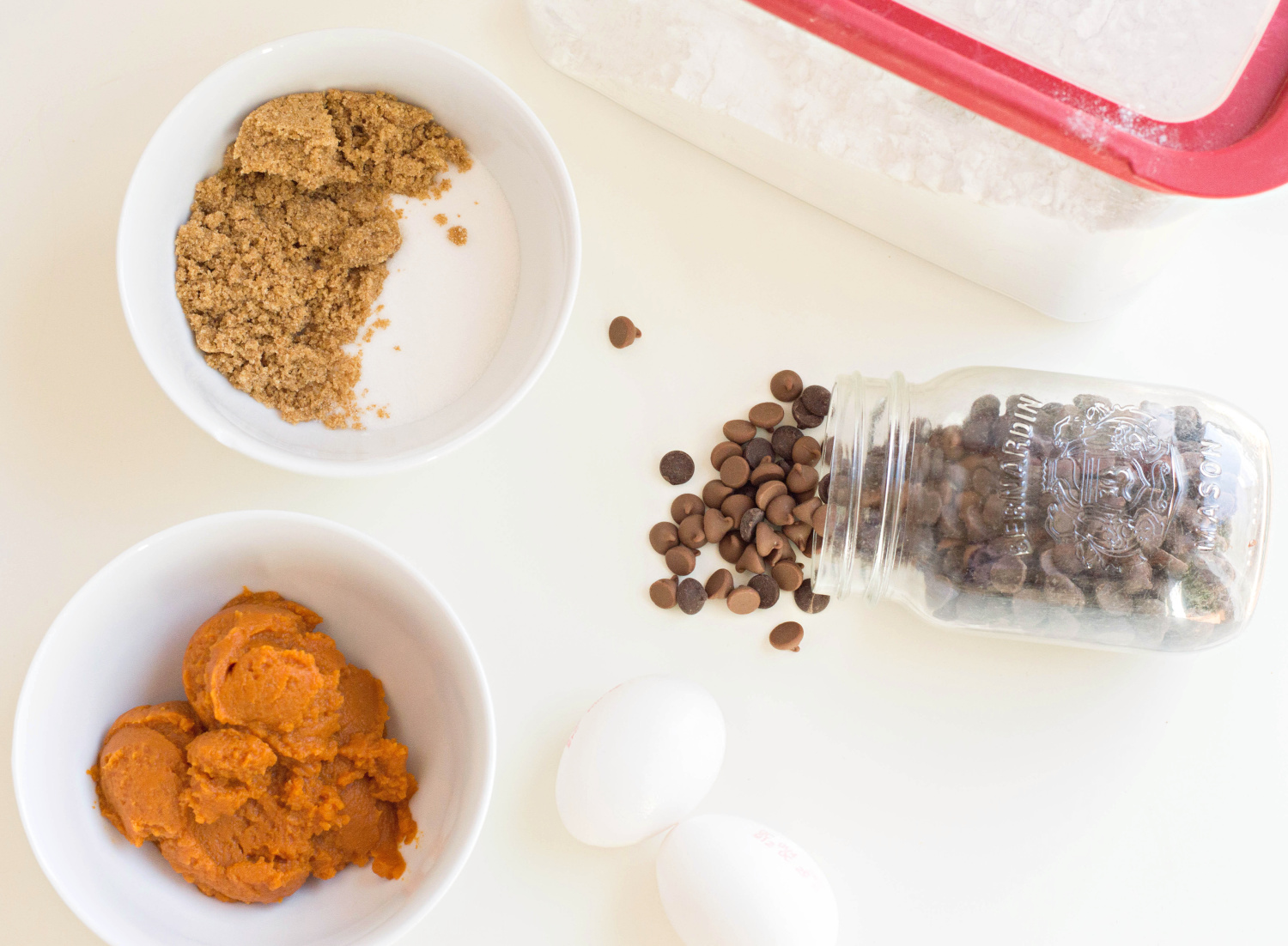 How To Make Pumpkin Chocolate Chip Muffins
Here is what you'll need to get started. Check out the recipe card down below for a step-by-step guide to make these delicious muffins!
EGGS– Act as a leavening and a binding agent for the muffins.
GRANULATED SUGAR – We use 1/2 cup of white sugar and 1/4 cup brown sugar. As long as you stay at 3/4 cups total of sugar, you can swap amounts of these to your liking (use a little more brown sugar and a little less white, etc…).
BROWN SUGAR – We LOVE baking with brown sugar! And it works really good with the pumpkin flavoring!
VEGETABLE OIL – Baking with oil really makes these muffins super moist. You can substitute for applesauce if you are looking to cut some calories.
CANNED PUMPKIN PUREE – In addition to giving these pumpkins their Fall Flavors, this also helps to make them oh-so-moist!
WATER
FLOUR – Any flour will do. Substitute for gluten-free if you'd like.
BAKING POWDER – A leavening agent mixed with cream of tartar.
BAKING SODA – Using both baking powder and baking soda helps with both the browning of these muffins and the lift.
CINNAMON – Just 1 teaspoon. A must for any fall treat!
NUTMEG – Ditto!
SALT – Just a pinch! Baking with salt really balances the flavors out!
CHOCOLATE CHIPS – We used semi-sweet chocolate chips. But you can sub for any you'd like. Just note that it may change the flavor. Or you can use mini chocolate chips.
COCOA POWDER – Gives our muffins just an extra jolt of chocolate flavor.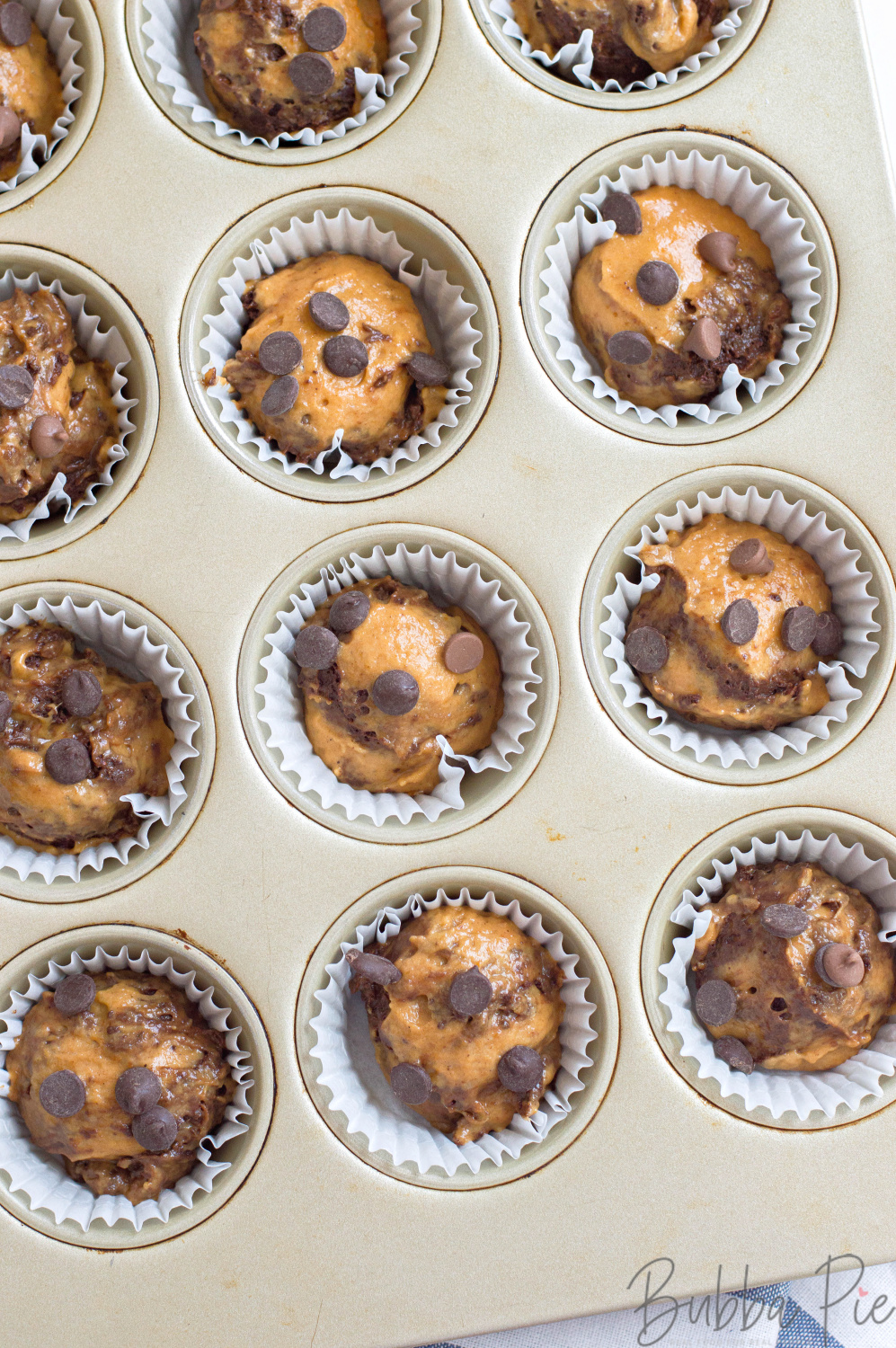 Storage and Freezing
There is no need to store leftovers in the refrigerator. They are fine at room temperature in a muffin tin or an airtight container. They should stay good for about 5 days.
These muffins also freeze very well. Just let them fully cool and wrap them in freezer wrap and/or put them in freezer bags. You can thaw them out overnight at room temperature or stick them in the microwave for a couple of minutes.
Notes, Tips and FAQs.
NEED TO MAKE MORE? – This recipe makes 12 muffins, but it's super easy to simply double it if you need to make more.
SUBSTITUTE CHOCOLATE CHIPS – Not a fan of chocolate chips? You can use nuts instead, walnuts or pecans would be delicious.
NO PUMPKIN PIE SPICE? – If you don't have any pumpkin spice, you can get a very similar flavor by combining cinnamon and nutmeg.
MUFFIN LINERS – We highly recommend using muffin liners for this recipe. But, if you don't, at least grease the muffin pans very well before putting the batter in. Cooking spray works great for this. Fill the muffin pans up only 3/4 the way.
SUPER SIMPLE RECIPE? – Low on ingredients or time? You can achieve a very similar recipe to this by combining one can of pumpkin puree, a box of spice cake mix and some chocolate chips of your choice.
This Thanksgiving, add some zest to the dessert table with this Pumpkin Chocolate Chip Muffins Recipe. Pumpkin meets chocolate in this tasty creation. I'm sure they will be best friends for life! Please let us know how this recipe turns out for you. We love hearing your feedback!
FOR MORE THANKSGIVING RECIPES? CHECK OUT:
Other Pumpkin Recipes You May Like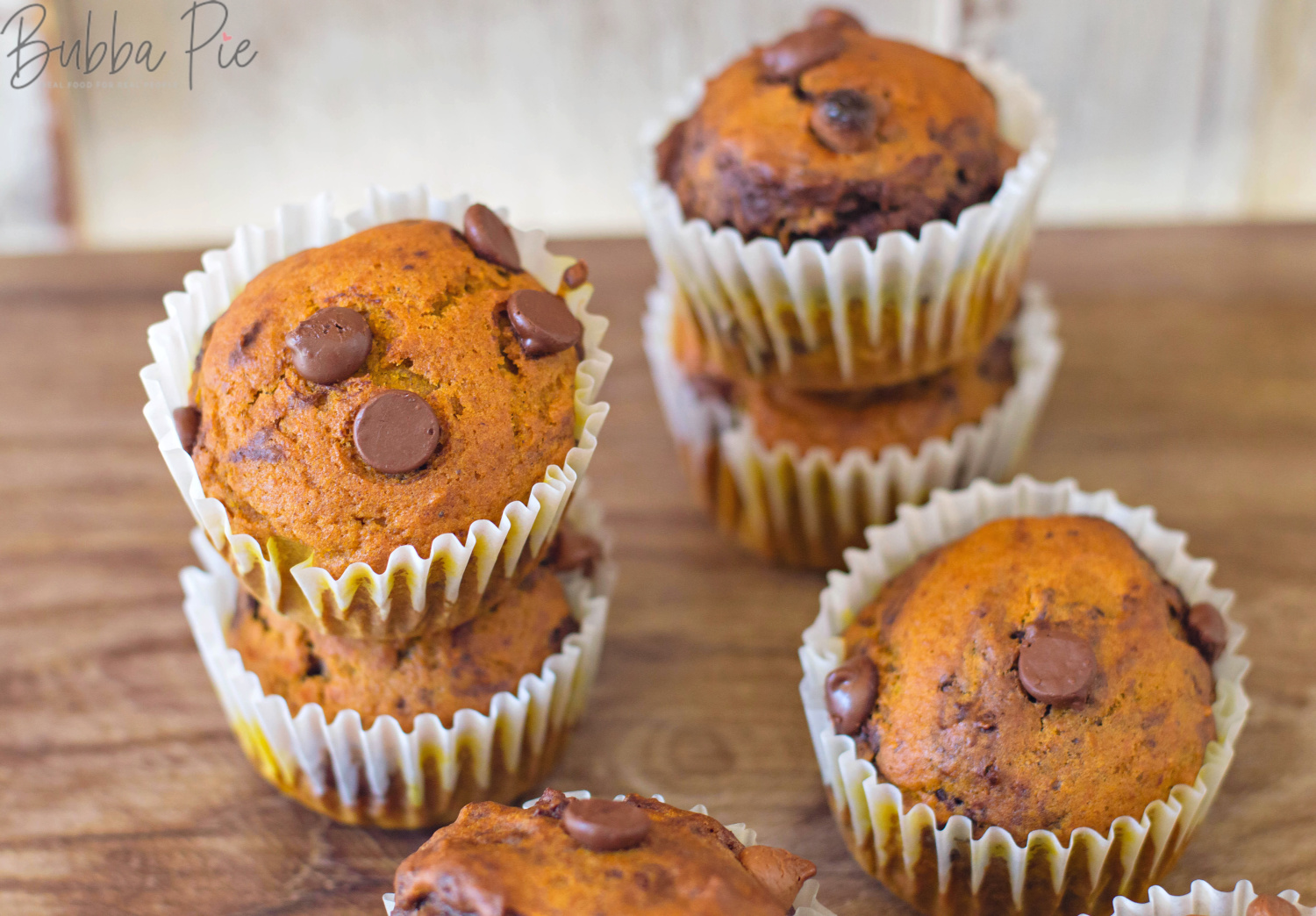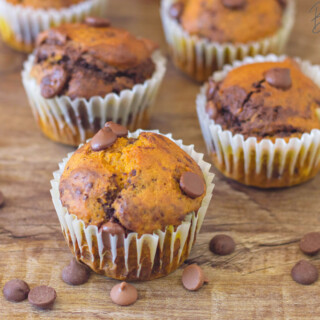 Rate this Recipe
Pumpkin Chocolate Chip Muffins
Invigorate the holidays with these Pumpkin Chocolate Chip Muffins. This great alternative Thanksgiving Dessert is the perfect mixture of rich chocolate and pumpkin spice!
Ingredients
2

eggs

2/4

cup

granulated sugar

¼

cup

brown sugar

packed

¼

cup

vegetable oil

¾

cup

pumpkin puree

¼

cup

water

1 ½

cups

a/p flour

1

tsp

baking powder

½

tsp

baking soda

1

tsp

ground cinnamon

¼

tsp

ground nutmeg

Pinch

of salt

1

cup

chocolate chips

divided

¼

cup

cocoa powder
Instructions
Preheat oven to 400 degrees F. Line a muffin pan with paper muffin liners and set aside.

In a medium-sized bowl, cream together eggs and both sugars.

Add oil, pumpkin puree and water. Mix until all ingredients are well incorporated with one another.

In a separate bowl, sift together flour, baking powder and soda, cinnamon, nutmeg and salt.

Slowly add dry ingredients into wet ingredients and mix thoroughly. Pour half of the batter into a small bowl.

In a microwave safe bowl, melt ½ cup chocolate chips in 30 second intervals. Pour into one of the bowls of batter. Add cocoa powder to the pumpkin batter and chocolate mixture. Mix thoroughly.

Fold the chocolate and pumpkin batter back into the other pumpkin batter, taking care you don't mix both but instead, create a "marble effect."

Scoop batter into each section of the muffin pan – filling them about ¾ of the way. Use the remaining ½ cup chocolate chips to top off each muffin.

Bake for 20 minutes or until a toothpick comes out clean once inserted in the center. Allow to cool for 10 minutes on a wire rack. Serve and enjoy!
Notes
This Chocolate Pumpkin Muffins Recipe is also very easy to double in case you need to make a larger patch for a bigger crowd. Or, you could make them into mini muffins if that suits your needs. You may just need to adjust the cooking time a bit to make sure they don't get overdone.
Nutrition
Love this recipe?
Follow @bubbapie for even more delicious recipes!!