These Cranberry Lemon Bars combine 3 layers of a buttery shortbread crust, tangy cranberries and a sweet, tart topping. Full of vibrant colors and flavors, it's a delicious treat for any occasion!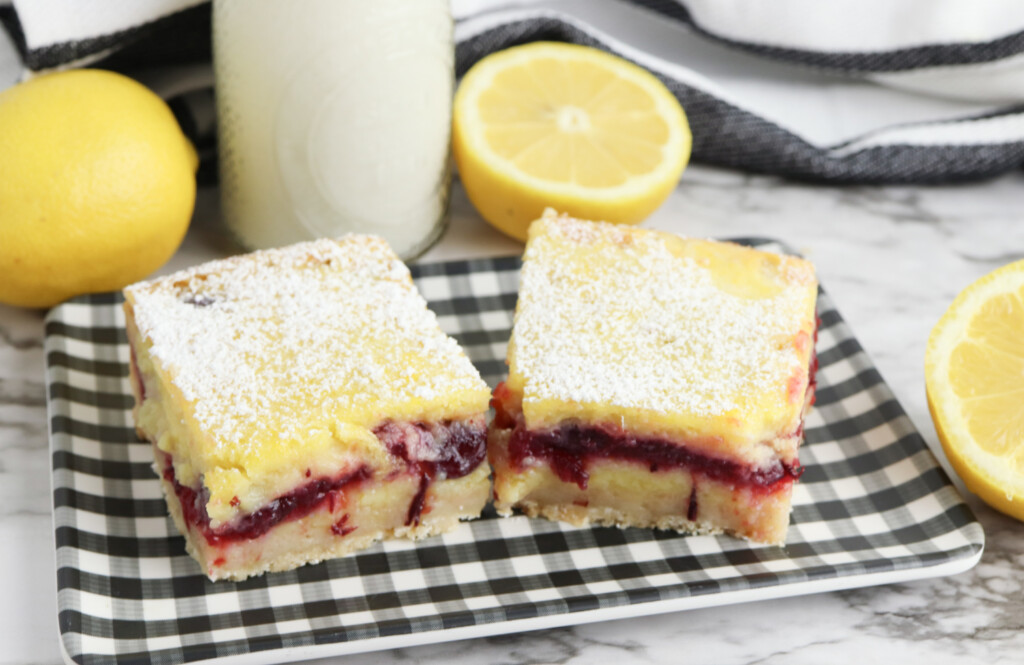 Why You Will Love Lemon Cranberry Bars
GREAT FOR ANY OCCASION – With it's use of cranberries, this could make a great holiday dessert. But, with it's light, fresh flavors, it makes a great treat for any festive occasion like graduation parties, baby showers or cookouts!
DELICIOUS – The combination of the buttery crust with the zesty, fruity layers is something you've gotta try to believe. And this dessert isn't too sweet or rich, so you might just want to have two of them!
Cranberry Lemon Bars
This really is a very easy dessert recipe. Just mix together your shortbread crust and bake it. While it's baking, make your lemon custard topping. And we use Cranberry Sauce to make this even simpler! For step-by-step instructions, check out the printable recipe card below. But here is what you'll need to get started!
Ingredients For The Crust:
POWDERED SUGAR – Also called confectioners sugar. Make sure you reserve some leftover to sprinkle or dust on top of the bars as a garnish.
SUGAR – White, granulated sugar.
LEMON ZEST – Fresh lemon zest adds an authentic dash of flavor to the crust.
FRESH LEMON JUICE – Again, you'll want to use FRESH lemon juice.
FLOUR – Any brand of all purpose flour will do.
SALT – It's always important to bake with salt to balance out the sweetness of any dish.
BUTTER – Unsalted. You'll want your butter cubed and COLD. Keep it in the fridge until ready to use. If all you have is salted butter, you may want to dial back the salt you add this recipe.
EGGS – The eggs will be lightly beaten into to make a custard.
CRANBERRY SAUCE – We use just canned cranberry sauce to make this recipe easier. But if you want to use fresh cranberries, read below.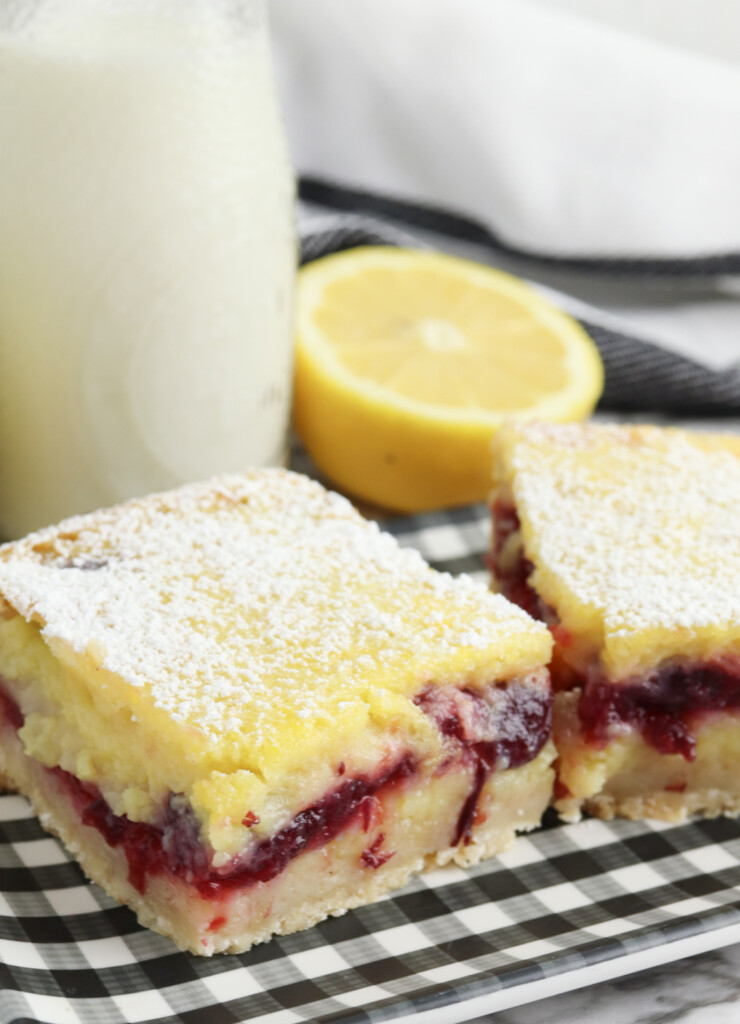 Can You Use Fresh Cranberries For These Dessert Bars?
Yes. You can use fresh cranberries for your cranberry layer. But cranberries DO need to be cooked first. It's pretty easy. Just bring 1 cup of water to boil on your stovetop. Then add sugar and stir until dissolved. Reduce to a simmer and add your cranberries. Stir frequently until the cranberries start to break up. Just be careful not to overcook or they may turn bitter.
Storage and Freezing
Keep your Cranberry Lemon Bars in an airtight container in your refrigerator. They should stay good for about 5 days in your fridge.
Cranberry Lemon Bars are also great to freeze. Let them come to room temperature and cut into individual bars. Put them on a baking sheet and flash freeze. Once frozen, you can stack them up separated by parchment paper or wax paper and store in a a freezer safe container or a freezer bag. You can thaw them out in the fridge before eating or they also make a yummy frozen treat!
Notes, Tips and FAQs
USE COLD BUTTER – Again, you really want to make sure you are using cold butter to make the dough for your crust. It should have a sort of sandy texture.
LET YOUR CRUST COOL BEFORE ADDING CRANBERRY MIXTURE – If you don't, you'll have a bit of a mess on your hands. Be patient!
USE PARCHMENT PAPER ON YOUR BAKING SHEET – We recommend using parchment paper to line your baking pan when baking the crust. Don't use aluminum foil.
MAKE YOUR LEMON LAYER WHILE THE CRUST IS BAKING – This will save you some time. You can actually make this layer a day or two ahead and keep it in your fridge until ready to use.
We hope you enjoy this Cranberry Lemon Bar Recipe. Please let us know how it turns out in the comment section. Happy Eating!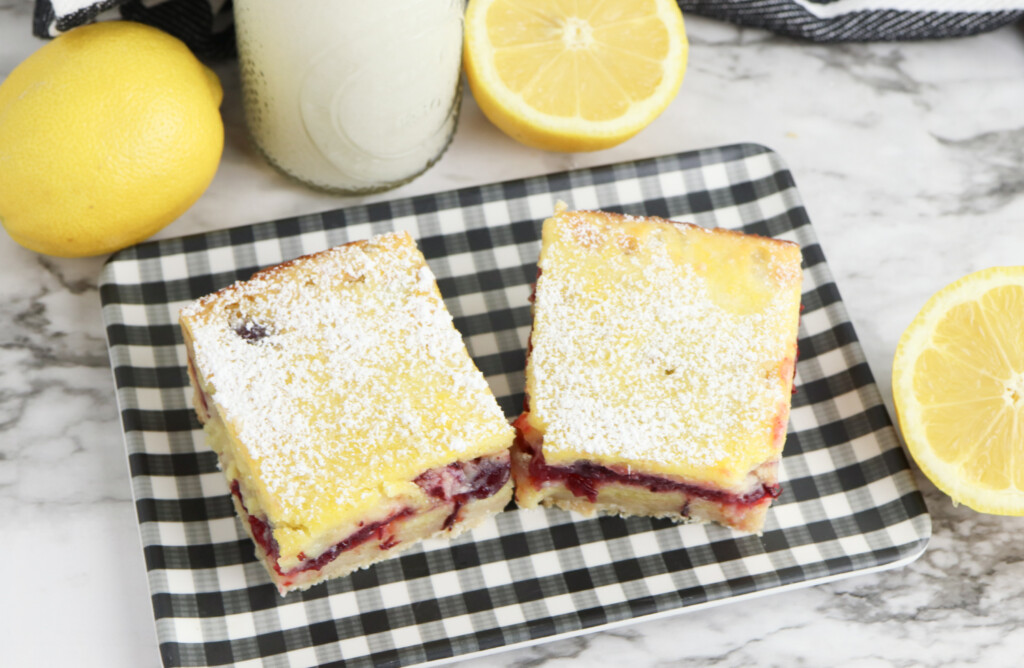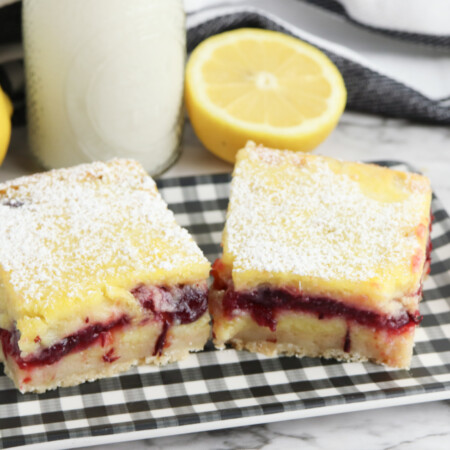 Rate this Recipe
Cranberry Lemon Bars
These Cranberry Lemon Bars combine 3 layers of a buttery shortbread crust, tangy cranberries and a sweet, tart topping. Full of vibrant colors and flavors, it's a delicious treat for any occasion!
Ingredients
Ingredients for the Crust:
¼

cup

powdered sugar

plus more for dusting

½

cup

sugar

2

teaspoons

grated lemon zest

⅔

cup

fresh lemon juice

1 1/3

cups

flour

1/4

teaspoon

salt

¾

cup

cold unsalted butter

cubed
Ingredients for the Filling:
1 ¼

cups

sugar

1/3

cup

flour

1/4

teaspoon

salt

5

large eggs

lightly beaten

1

can whole cranberry sauce
Instructions
Preheat oven to 350°F. Line a 9-inch square baking dish with parchment paper and lightly coat all sides and bottom with nonstick cooking spray.

Whisk together the powdered sugar, sugar, lemon zest, flour, and salt in a large bowl.

Add the butter cubes and cut the butter into the flour using a pastry cutter until the mixture starts to form sandy crumbs.

Press the crust mixture evenly into bottom of prepared baking dish. Bake in the preheated oven until the crust starts to turn golden brown, 25 to 30 minutes. Allow the crust to cool slightly.

While the crust is baking, prepare the filling by whisking together the lemon juice, granulated sugar, flour, and salt in a large bowl.

Add the eggs and whisk until combined.

Spread the cranberry sauce over the cooled crust.

Gently and evenly pour the lemon mixture the cranberries.

Return the pan to the oven and bake at 350 degrees until the lemon mixture is set and jiggles only slightly in center, 43 to 45 minutes.

Transfer the bars to a wire cooling rack and let cool completely, about 1 hour.

Transfer the cooled bars to the refrigerator and refrigerate 12 hours. Garnish with additional powdered sugar before slicing and serving.
Nutrition
Love this recipe?
Follow @bubbapie for even more delicious recipes!!