Made with Instant Pudding, this Pistachio Muffin Recipe is bursting with nutty flavor! Super moist and are topped with crunchy chopped pistachios them make the perfect dessert, snack or breakfast treat!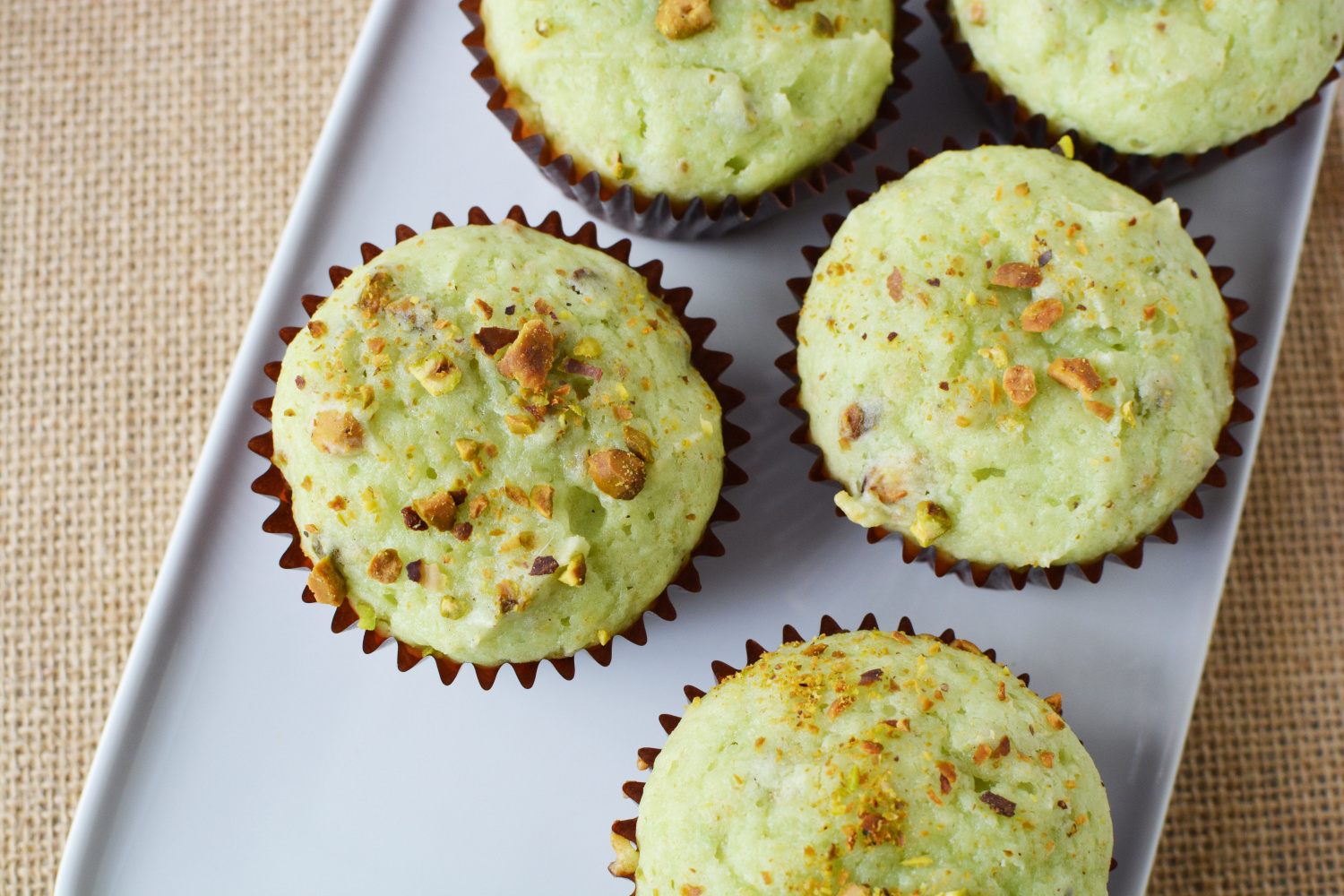 Why You Will Love Pistachio Muffins
EASY – With just a few common pantry ingredients and 10 minutes to prepare, these muffins will be in your oven in no time! This is a great recipe for beginning bakers!
VERSATILE – We love recipes like this that can be used for different meals. A breakfast treat, a midday snack or a yummy dessert! Make some on Sunday night so you can just grab and go throughout the week!
DELICIOUS – Soft, moist and slightly sweet, they have a delicious nutty flavor that makes this muffin so yummy!
Pistachio Muffin Recipe
The key to this Pistachio Muffin Recipe is the instant yogurt we use. Some people use almond extract to get a nutty flavor. We actually love using almond extract in our recipes, and if you actually want to sneak in 1/2 tsp of it in this recipe, you can probably get away with it and it will give it a little more nuttiness.
But, really, all you'll need is the Pistachio Instant Pudding Mix. It gives it a great flavor and keeps it super moist for days! And we also add real pistachios for that authentic flavor and added crunch!
Ready to get started? Here are the ingredients that you'll need:
FLOUR -All Purpose Flour.
INSTANT PISTACHIO PUDDING MIX – We love using this pudding mix because it makes these muffins so soft and moist! And it helps give them that authentic pistachio taste!
BAKING POWDER – A leavening agent that helps the muffins fluff up!
SALT – It's always important to bake desserts with a little salt to balance out the sweetness.
VEGETABLE OIL – Our shortening. We like using this instead of butter because it also helps keep these muffins moist! You can also substitute for Canola Oil if needed.
SUGAR – White sugar.
BUTTERMILK –
EGGS – Try to let your eggs come to room temperature before adding them to this recipe.
PISTACHIOS – Chopped. Shells removed.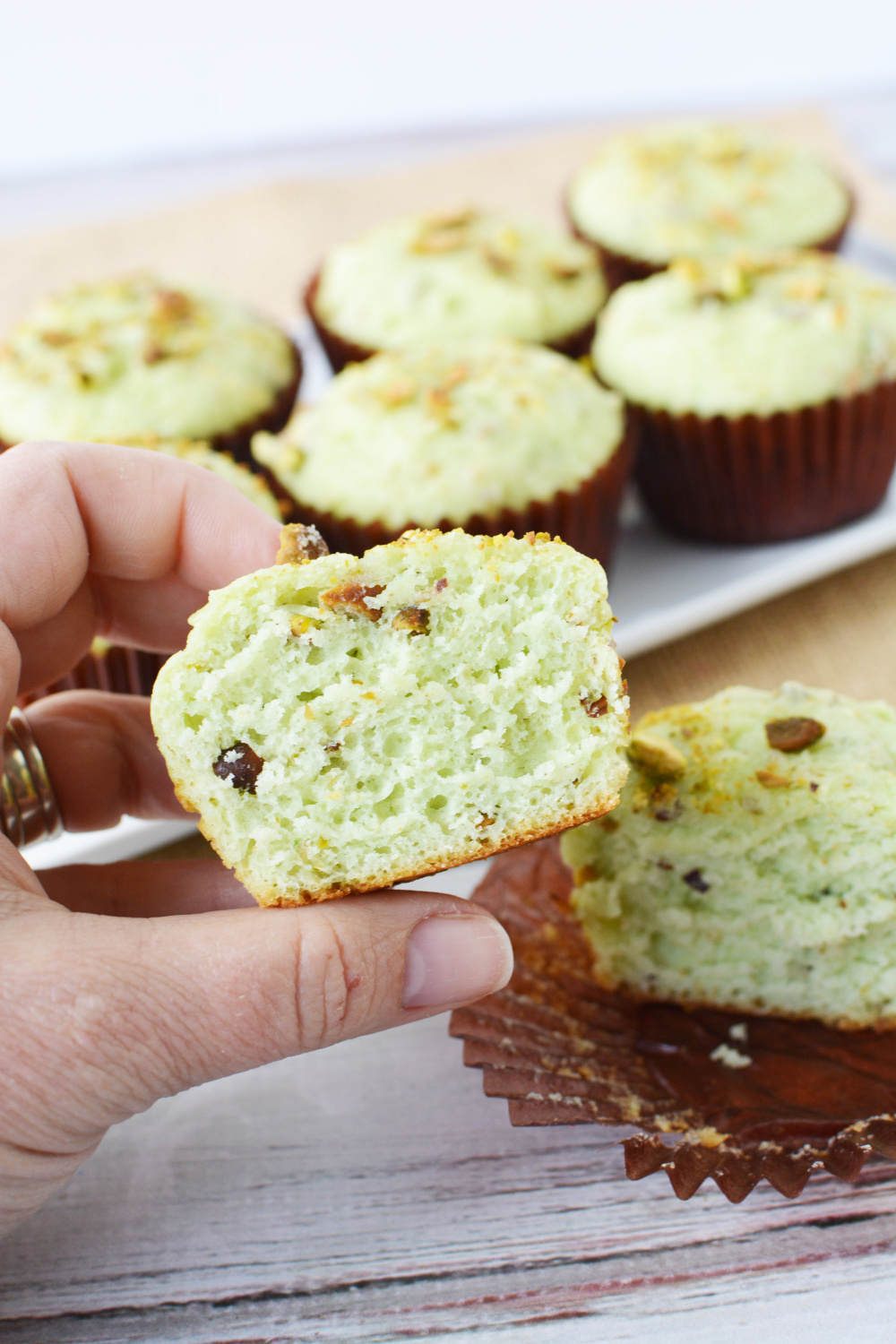 Are Pistachios Nuts?
Did you know that Pistachios aren't technically nuts? They are actually the seed of the Pistachio Tree fruit! But, generally speaking, most people consider them nuts in any culinary setting. And, unfortunately, if you have a tree nut allergy, you'll need to avoid these. This is a shame, because our son has a tree nut allergy and would have loved these delicious muffins!
Storage and Freezing
Store your muffins in an Airtight Container or a Muffin Tin. They can be kept at room temperature and will last about 5 days.
You can freeze Pistachio Muffins. I'd line them up on a baking sheet and flash freeze them. Then, once they are frozen, you can put them in a large freezer bag. Or, you can put them in individual bags and only take out what you need. Thaw at room temperature.
Notes, Tips and Variations
ST. PATRICK'S DAY RECIPE!- These Pistachio Muffins have a nice, green tint to them. So, they'd make an awesome St. Patrick's Day Treat.
USE LINERS AND BAKING SPRAY- We definitely recommend using muffin liners in your muffin pan for this recipe. And, even if you do, spray the inside of the paper liners with baking spray too so that the muffins don't stick to them. You can grab 500 liners for super cheap here! Or, buy reusable silicone liners. If you need new muffin baking trays, you can get them here.
DON'T OVER MIX– As with any muffin recipe, you don't want to over mix the wet ingredients and the dry ingredients. Mix them together until JUST blended. This is how you get nice, fluffy muffins.
PERFECT MUFFIN TOP?– To get that nice, firm muffin top that really rises out of the pan like the bakeries do, you can start your baking at a higher temp and then reduce it for the rest of the time. Starting at 425 degrees for 3-4 minutes, then dialing it back to 350 should work. Just keep an eye on your muffins!
SALTED OR UNSALTED PISTACHIOS?– You can find both salted and unsalted pistachios in the store. It doesn't really matter which one you use. We used salted and really like that sweet and savory combo!
MUFFIN TOPPINGS – We like to just sprinkle the tops of the muffins with crushed Pistachios. But you could also glaze the top with some icing. Or sprinkle some powdered sugar on top.
MORE MUFFIN RECIPES
If you are looking for more muffin recipes, check out:
We hope you enjoy these Pistachio Muffins! Please leave a comment to let us know how they worked out for you. We love to hear the feedback and will reply to every comment!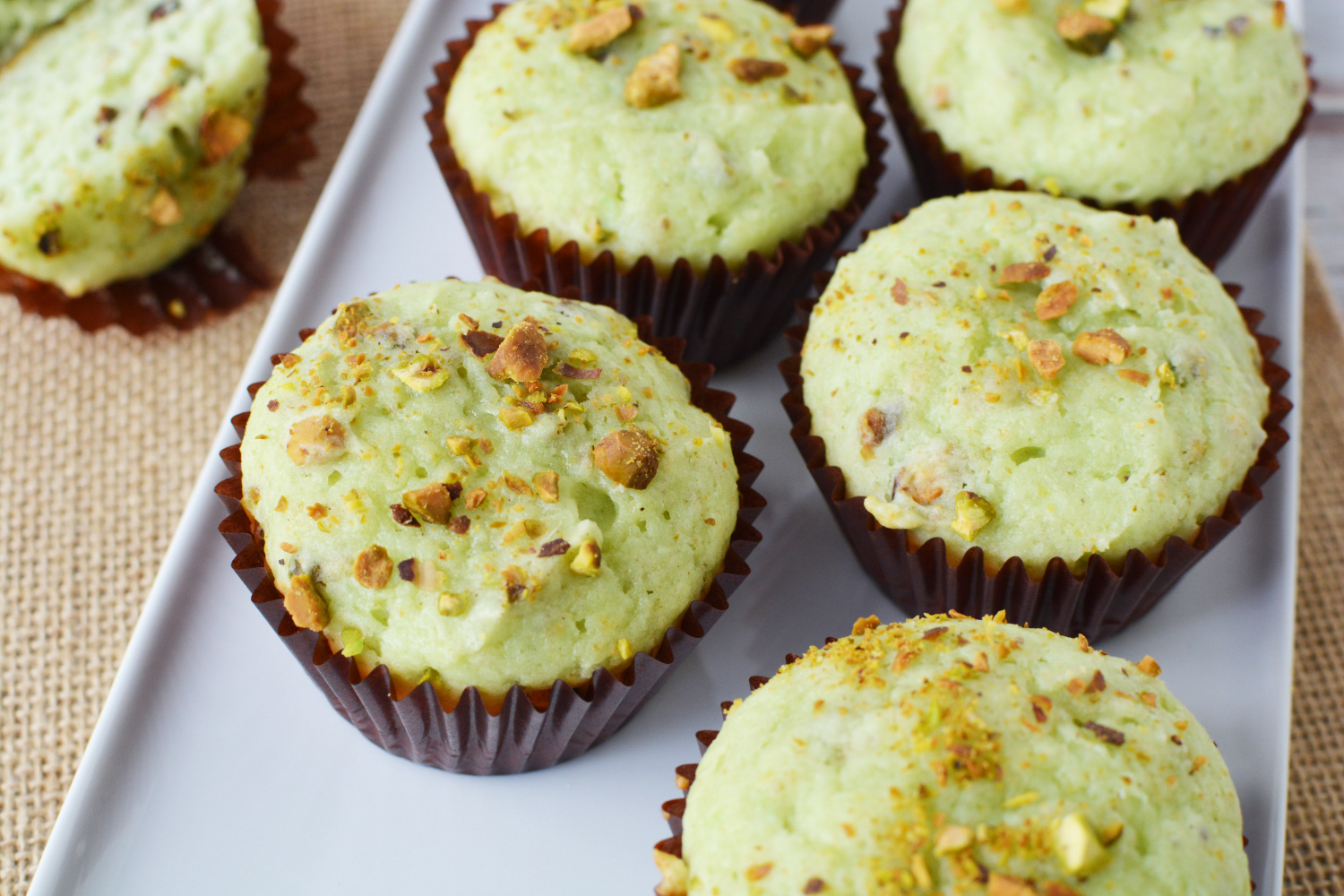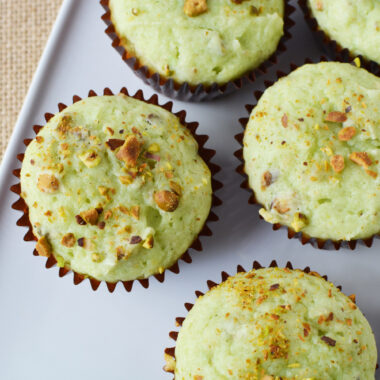 Rate this Recipe
Pistachio Muffins
Made with Instant Pudding, these Pistachio Muffins are bursting with nutty flavor, are super moist and are topped with crunchy chopped pistachios!
Ingredients
2

cups

flour

1

small package

3.4 oz, instant pistachio pudding

2

teaspoons

baking powder

1

teaspoon

salt

1/2

cup

vegetable oil

3/4

cup

white sugar

1

cup

buttermilk

2

eggs

1/2

cup

chopped pistachios (shells removed)
Instructions
Preheat oven to 350 and line 16 muffin cups with paper liner. Spray each liner with cooking spray. Set aside. Reserve 1 tablespoon nuts.

Combine flour, pudding, baking powder and salt in a small bow and mix well, set aside.

In a larger mixing bowl, combine oil, sugar, buttermilk and eggs and mix well. Fold in flour mixture and mix until combined.

Fold in nuts.

Use a 3 tablespoon portion scoop to scoop batter into each muffin cup. Top with reserved nuts. Bake for 16-18 minutes or until a toothpick inserted in the center comes out clean.

Let cool completely and serve.
Nutrition
Love this recipe?
Follow @bubbapie for even more delicious recipes!!