No Bake Peanut Butter Pie has creamy peanut butter filling layered over pie crust. This easy dessert can be assembled in minutes. We used a shortbread pie crust but you can use any crust you'd like, from Graham Cracker to Chocolate!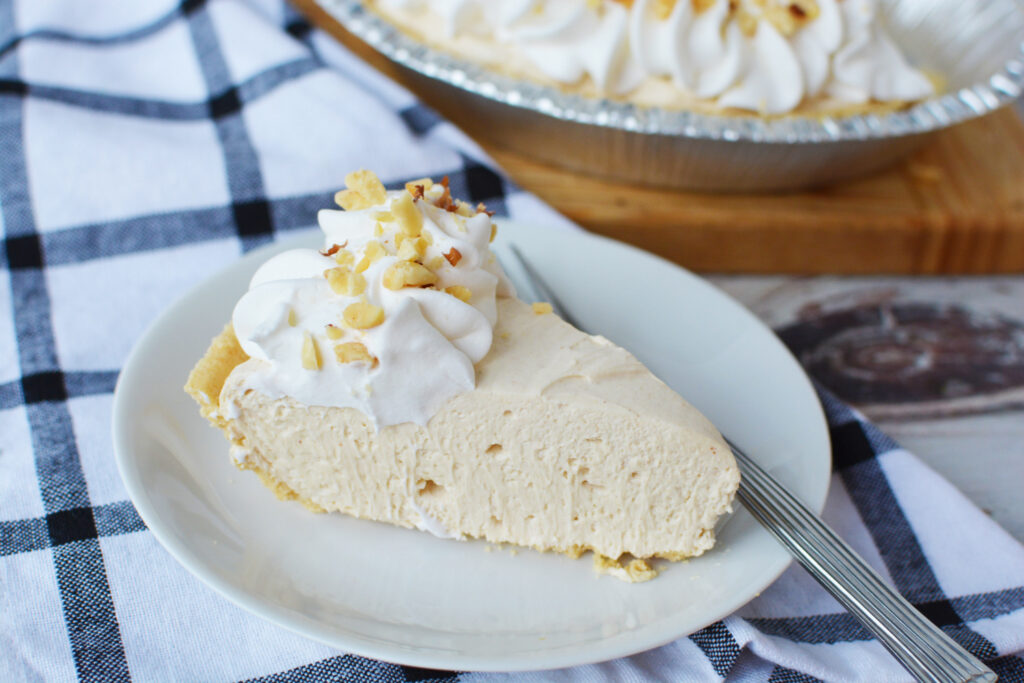 Why You'll Love This Recipe
VERSATILE – We love this recipe because it fits in so many different occasion, from a summer cookout to a holiday dessert (this is a great alternative to a Pumpkin Pie for Thanksgiving!). Pies are good for all sorts of things! It's light and fluffy and you can dress it up just about any way you'd like. From simple toppings to garnishes galore! Read below for some fun ideas!
QUICK AND EASY – And it only takes a handful of easy ingredients that you may already have in your kitchen right now as you are reading this! And it only takes 5 minutes to prepare. After that, just let it chill in your fridge for a bit! This is a great beginners recipe or a recipe to let the kids help with!
DELICIOUS – With a light, creamy and subtle peanut butter taste, it's not overwhelming or rich. And paired with the buttery shortbread crust, it tastes AMAZING!
How To Make No Bake Peanut Butter Pie
This recipe is easy to make and just takes a couple ingredients! Read below in the recipe card for step by step instructions! But really, all you need to do is fold the ingredients together, pour it in your pie crust and stick it in the fridge!
SHORTBREAD OR GRAHAM CRACKER CRUST– We accidently bought a shortbread crust for this recipe when we thought we had bought a graham cracker pie crust. In the end, we actually really liked the shortbread crust. But many people use a graham cracker crust, so you can't go wrong with that either. You can make your own homemade if you have a recipe you like. Or, you can use a chocolate graham cracker crust or oreo crust too!
CREAM CHEESE – You'll need to make sure this is softened before you use it. It is what will make this peanut butter pie filling so creamy!
CREAMY PEANUT BUTTER – Any brand will do. Most recipes call for creamy peanut butter. Could you use crunchy? I don't see why not if you want to give your pie a little texture. But we haven't tried it.
POWDERED SUGAR – Also called confectioner's sugar. This adds sweetness to the recipe.
VANILLA EXTRACT – It rounds out the saltiness of the peanut butter and adds more complexity to the flavors.
WHIPPED TOPPING – Thawed. Doesn't matter what brand. If you'd like to make your own, go for it. We just used store bought. You'll divide this and use some of it for the pie filling and some as a garnish on top. We give instructions to put it into a pastry bag to decorate the top of the pie. Pastry bags are inexpensive and good to have around. But if you don't have one, you can certainly simply spread the remaining whipped topping on the top of the pie for a similar result.
PEANUTS (OPTIONAL) – We garnished ours with chopped peanuts. This is a pretty simple garnish for this pie. There are a TON of options. Read below for some fun ideas!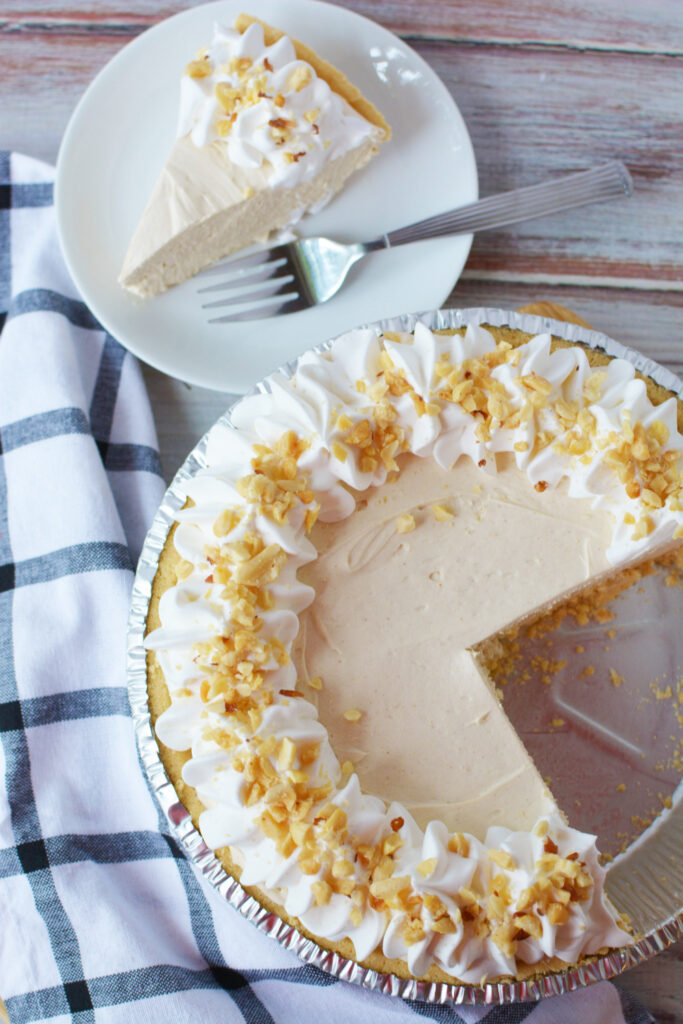 Can You Freeze No Bake Peanut Butter Pie?
Yes! This is a great pie to freeze! Simply wrap in in plastic wrap, and then in aluminum foil and it will be good in your freezer for 4-5 months. You can thaw it before eating if you'd like, or you can also eat it straight out of the freezer for a more "frozen treat".
Garnish Ideas
As I mentioned above, there are so many fun things that you can put (or drizzle) on top of this pie to liven it up. Some ideas would be:
Reese's Pieces
Chocolate Chips
Chocolate Sauce
Chopped Reese's Peanut Butter Cups
Caramel Sauce
Melted Peanut Butter Sauce
Graham Cracker Crumbs
Fudge Sauce
Chocolate Shavings or Spirals
Peanut Butter Chips
Mini Peanut Butter Cups (cut into pieces)
Notes, Tips and Variations
SHORT ON TIME? – If you need to chill quickly, you can throw it in the freezer instead of the refrigerator.
MAGIC SHELL – For added texture and flavor, spread some Chocolate "Magic Shell" Topping inside the pie crust before adding the peanut butter pie filling.
DOUBLE RECIPE – This recipe is easy to double if feeding a larger crowd. Simply double the ingredients and use two pie crusts.
WHAT SIZE PIE CRUST TO USE? – We used a 9 inch (6 ounce) pie crust and actually had some whipping cream left over. So I really think you can stretch these ingredients to fill up a 10 inch pie crust.
Tools To Help With This Recipe
We hope you enjoy this No Bake Peanut Butter Pie Recipe. We LOVE to hear reviews and comments below and we answer every one! So, drop us a line and let us know what you think! Happy eating!
LOOKING FOR MORE NO-BAKE RECIPES? CHECK OUT: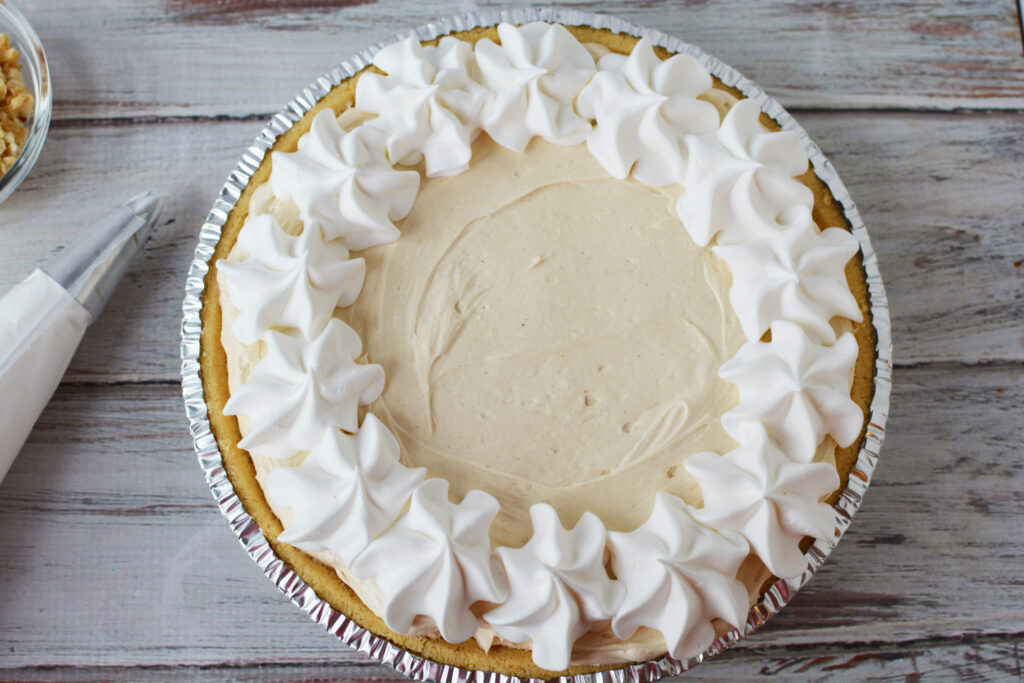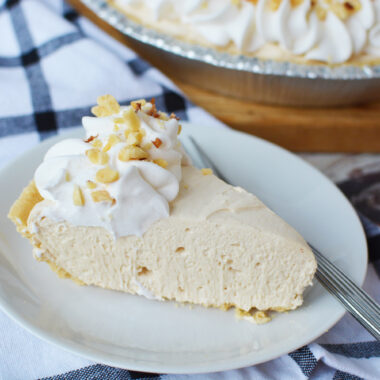 Rate this Recipe
No Bake Peanut Butter Pie
No Bake Peanut Butter Pie has creamy peanut butter filling layered over pie crust. This easy dessert can be assembled in minutes. We used a shortbread pie crust but you can use any you'd like. 
Ingredients
1

shortbread or graham cracker crust

6 oz

1

brick

8 oz, cream cheese, softened

1/2

cup

creamy peanut butter

1/2

cup

powdered sugar

1

teaspoon

vanilla

1

large tub

16 oz, whipped topping, thawed

2

tablespoons

chopped peanuts
Instructions
Add cream cheese, peanut butter, powdered sugar and vanilla in a bowl and beat well until smooth.

Add half a tub of whipped topping and beat well until smooth and combined.

Place remaining whipped topping into a pastry bag fitted with a star tip (1M) and set aside.

Spoon peanut butter filling into prepared crust and spread evenly.

Pipe reserved whipped topping on top and sprinkle with peanuts.

Refrigerate for 2 hours before serving.

Store leftover pie covered and in the refrigerator.
Nutrition
Love this recipe?
Follow @bubbapie for even more delicious recipes!!