These Maple Bar Donuts are so easy and delicious! I never thought frying donuts would be so simple! These classic, homemade Maple Long Johns are warm, soft and fully and they make the perfect breakfast treat.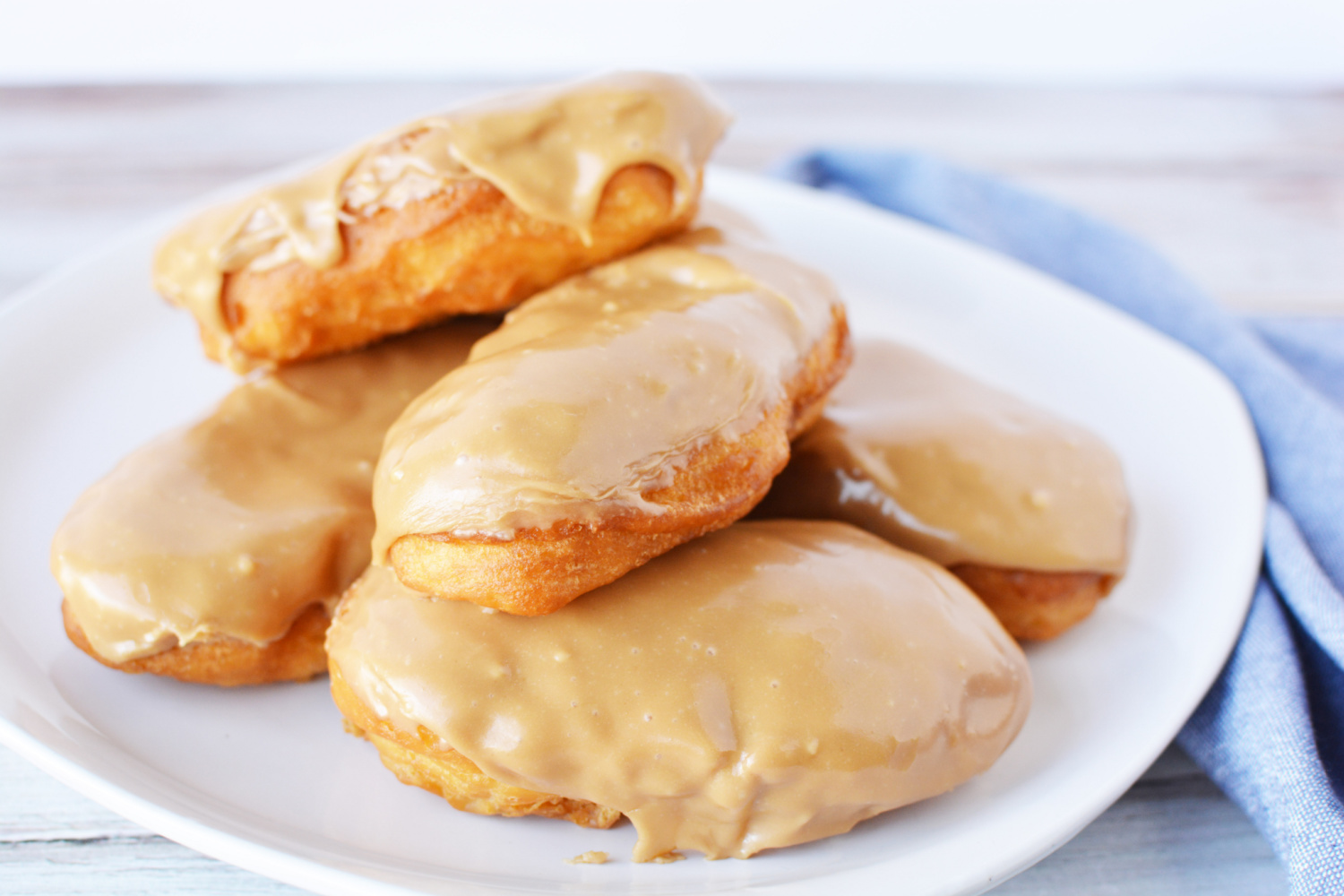 Why You Will Love Maple Bar Donuts
EASY – Using refrigerated biscuit dough, this recipe couldn't be any easier! There is not need to wake up at the crack of dawn to make donuts anymore!
HOMEMADE – Making these donuts yourself means that you know exactly what you are putting in them.
DELICIOUS – There is nothing quite like enjoying a doughnut right out of the fryer. Warm and soft, with the sweet maple icing? There is no better way to start the day!
Maple Bar Donuts
Making homemade donuts is actually a lot easier than you think! You don't need a deep fryer (although you don't NOT need a deep fryer). And it literally just takes a couple minutes and a handful of easy ingredients to make these Maple Bars in no time!
Maple Bars have always been one of my wife's favorite donuts. Also called Maple Long Johns, they are a "long" donut as opposed to the standard ring shaped donut. They are usually a yeast based donut and are always iced with a caramel/maple icing.
How To Make Maple Bar Donuts
For step-by-step instructions, check out the printable recipe card below. But here are the ingredients you'll need to get started.
REFRIGERATED BISCUITS: I used Pillsbury Grand Homestyle Biscuits
OIL – For frying. I used vegetable oil. For more on the oil, read below.
BUTTER – Unsalted butter.
BROWN SUGAR – This helps our maple icing get that distinctive color and taste!
MILK – We just used 2% milk. But you could try making the icing even richer by using half and half.
LIGHT CORN SYRUP – This helps the icing set and harden on your donut.
MAPLE EXTRACT – If you don't have this or can't find it, you can try using real maple syrup in the icing, although we haven't tried this and aren't sure what the consistency would be. You could also just substitute with vanilla extract or almond extract.
POWDERED SUGAR – Also called Confectioners Sugar.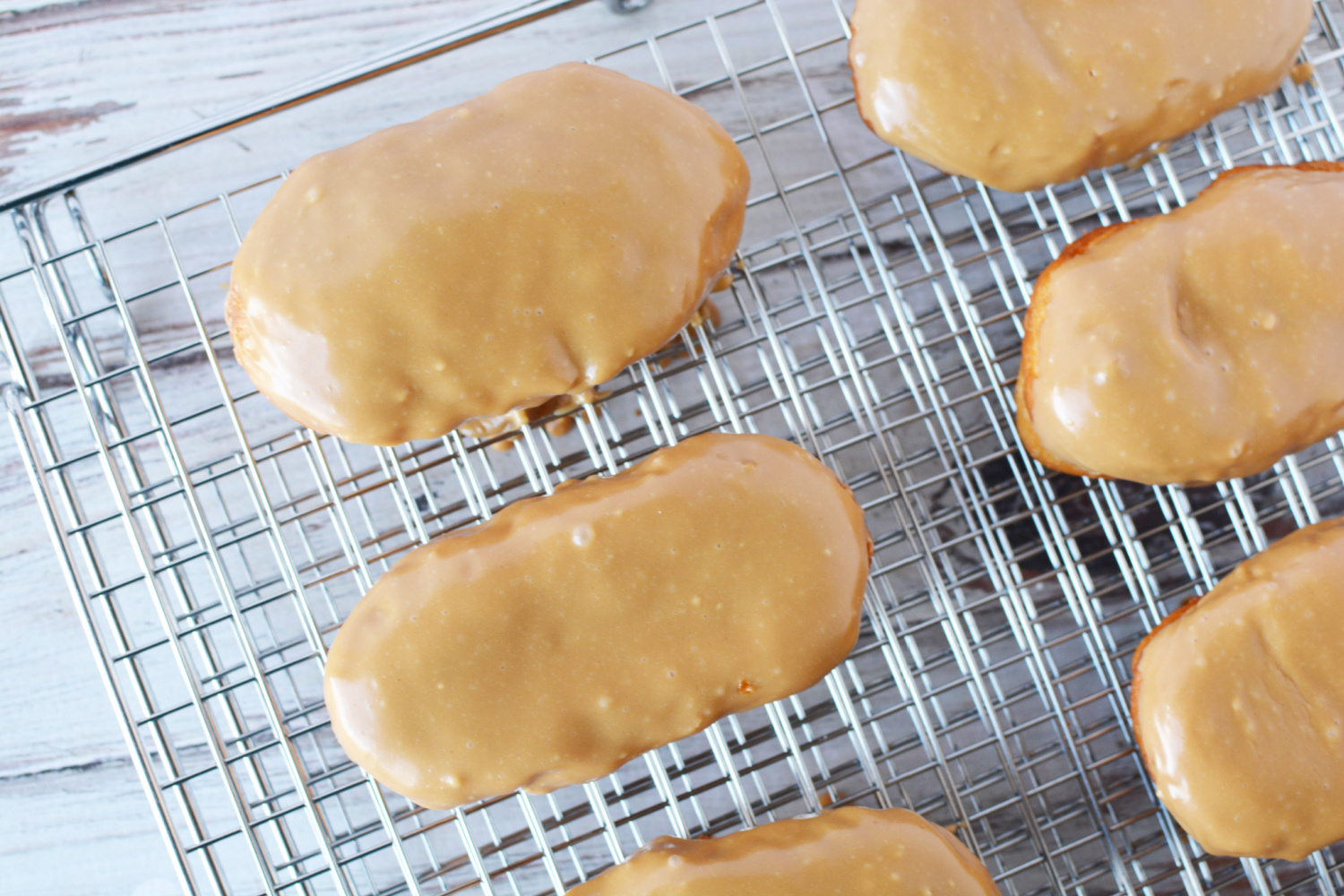 Recommended Equipment
You don't NEED the exact things that I'm listing here. But they certainly help!
What Oil Is Best For Frying Donuts?
For this recipe, you probably are best just to keep it simple. You don't really need or want your oil to be adding any flavors to the Maple Bars. And you also need a high smoke point. Your best bet is to use Canola Oil or Vegetable Oil. We are going to be frying at 350 degrees, so make sure you oil has a smoke point that is higher than that!
While they are both very similar, Canola Oil is known to be a little lower in Saturated Fats, so it may be a little healthier.
Storage and Freezing
Store leftover donuts in an airtight container or wrap them in plastic wrap. They can be stored at room temperature and will be good for about 3 days. But honestly, they are best to eat within a couple hours of making them.
You can freeze maple bars. Just allow them to fully cool and put in freezer bags or a freezer safe container. They should be good in your freezer for about 4 months. Allow to thaw at room temperature.
Notes, Tips and FAQs
USE PAPER TOWELS – Have your paper towels ready to go. Frying the donuts moves fast and can get a little messy.
HOW TO SHAPE THE DONUTS – You want to stretch the donuts into a rectangle shape. It's best to do this while the dough is still pretty cold. Stick back in the fridge for a bit if needed.
LET THE DONUTS COOL – Make sure you let your donuts cool before adding the caramel icing.
LETTING THE DONUTS SET – Put a cooling rack on a baking sheet that is lined with parchment paper. After you dip your donuts in the icing, place them on the wire rack and let the icing drip down onto the parchment paper for an easy cleanup.
MAKE SURE YOU ARE USING A VERY LARGE SAUCEPAN – You are going to be working with very hot oil, make sure your saucepan is big enough to do all your frying.
ADD BACON! – A Maple Bacon Bar is something to behold. Fry or bake some bacon until it's nice and crispy. You can chop it up and sprinkle it on the icing. Or you could just lay some strips down on the donut. Sweet and savory baby!
LOOKING FOR MORE BREAKFAST TREATS? CHECK OUT:
We hope you enjoy this Maple Bars Recipe. We'd love to hear how they turned out in the comments section!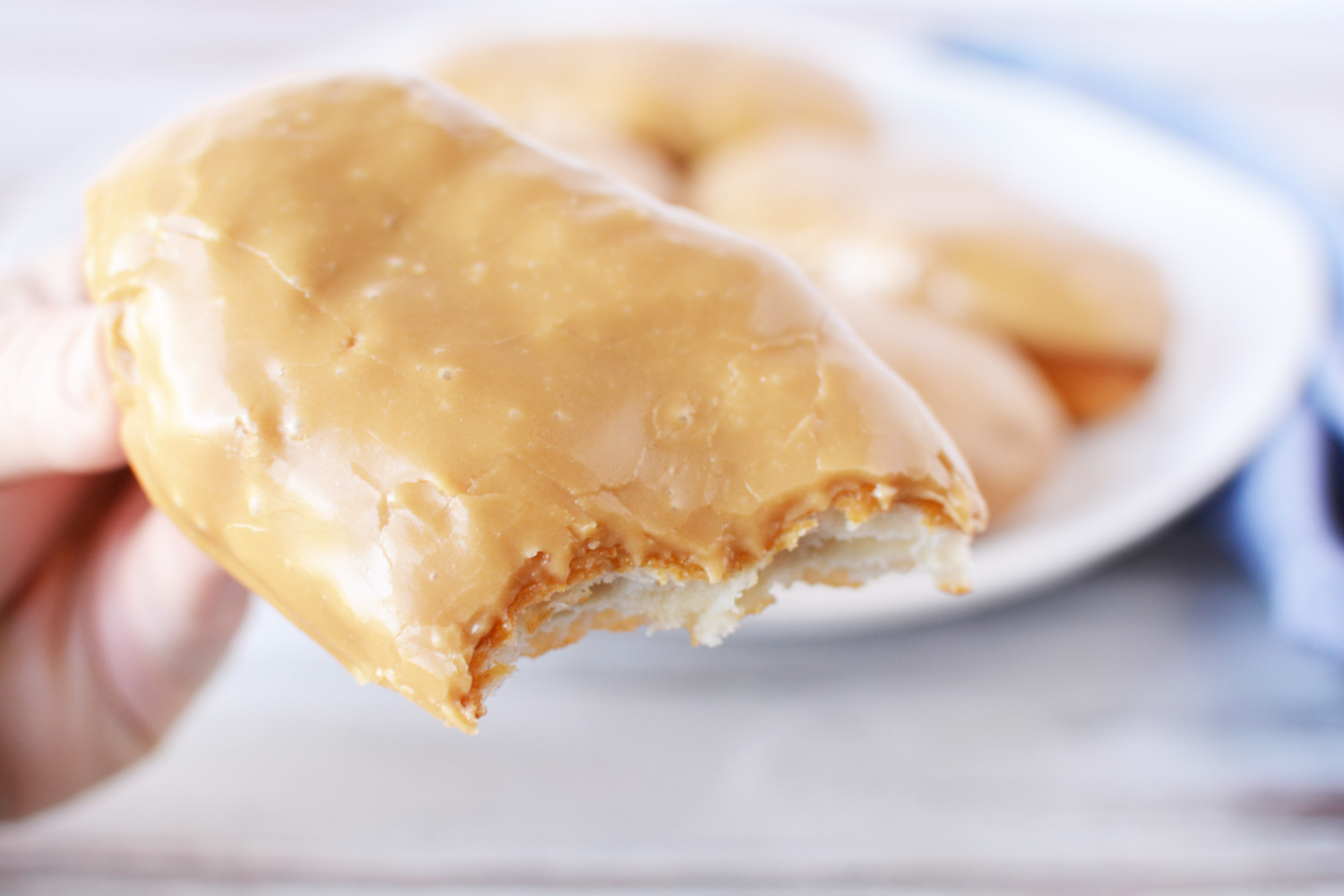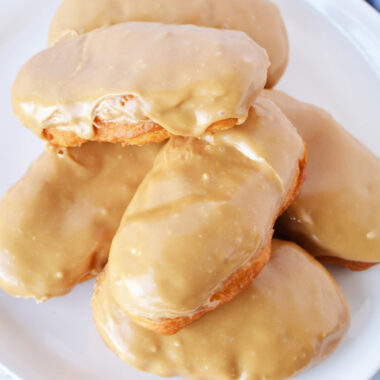 Rate this Recipe
Maple Bars
These Maple Bars are so easy and delicious! I never thought frying donuts would be so simple! These classic, homemade Maple Long Johns make the perfect breakfast treat. Your family will thank you for this warm, fresh version of a classic donut with a homemade maple glaze!
Ingredients
2

tubes 16.3 oz each

refrigerated biscuits

Vegetable oil for frying

enough for 2 inches deep in pan

1/4

cup

butter

1/2

cup

brown sugar

3

tablespoons

milk

1

tablespoon

light corn syrup

2

teaspoons

maple extract

2

cups

powdered sugar
Instructions
Separate the biscuits and flatten and stretch into a log shape.

Heat hot oil in a pan on the stove. Working in batches, fry the biscuits, about 2-3 minutes on each side until golden brown.

Remove and drain on paper towels.

Add butter, brown sugar and milk to a sauce pan and heat on medium low heat, stirring constantly until butter is melted and sugar is no longer grainy.

Remove from heat and stir in corn syrup and maple extract.

Whisk in powdered sugar until blended smooth. Icing will begin to harden, but it should be fine to dunk.

Dredge the top of each bar into the icing and flip over onto a flat surface for icing to firm up. Repeat until all bars are covered. Serve immediately.

Store any leftover maple bars loosely covered at room temperature. These are best when eaten within 24 hours of making.
Love this recipe?
Follow @bubbapie for even more delicious recipes!!