These Funfetti Cake Mix Cookies are soft and full of flavor and vibrant bright colors. Perfect for birthday parties, baby showers, holidays, pitch ins and potlucks! There is a little taste of happiness in each bite!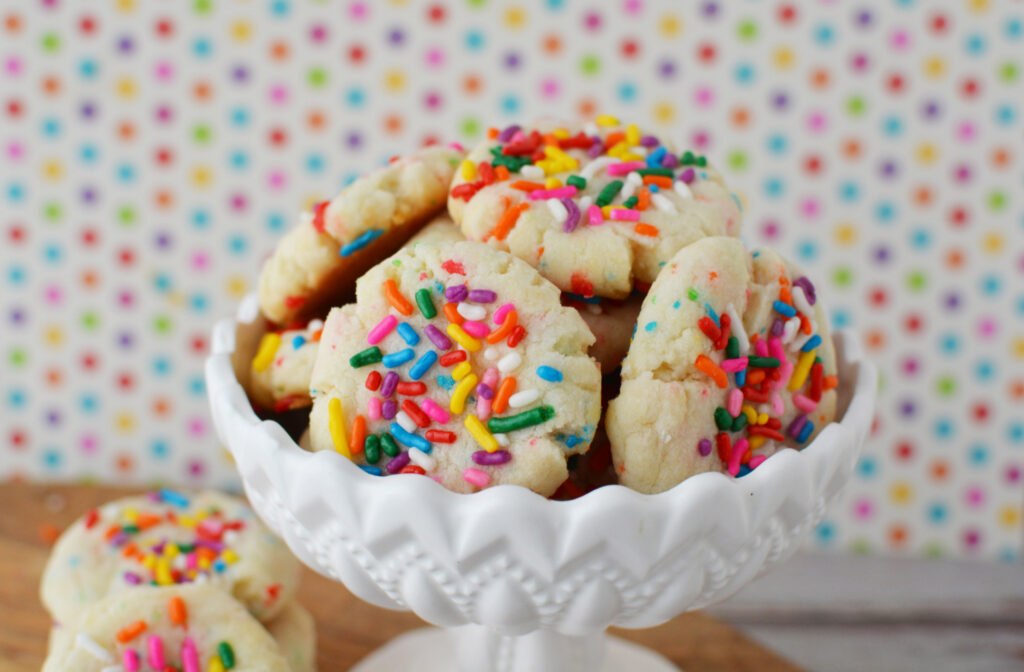 Why You'll Love Funfetti Cake Mix Cookies
EASY – This recipe only has 5 ingredients and can be thrown together in a couple of minutes. There is no way something this easy can be this fun and delicious!
GREAT FOR ANY OCCASION – We love these Funfetti Cake Mix Cookies because they are so versatile! Simply change the color of the sprinkles to make them perfect for Easter, St. Patrick's Day, Christmas, Valentine's Day, Halloween or any other festive occasion! Or choose the colors of your favorite Sports Team for a game day treat!
KID FRIENDLY – This is also a great beginner recipe that is really pretty impossible to mess up. It's great to make with your kids or for a first-time recipe for beginning bakers!
What Are Cake Mix Cookies?
Traditional cookie recipes often have you mixing flour, baking soda, salt and sugar together with eggs, oil and/or butter. But, using Cake Mix to make your cookies is a great shortcut! We've got some great "non-cake" recipes that are based on cake mix. Our absolute favorite is the Ooey Gooey Butter Cake. Or, for more cake mix cookies, check out our: Red Velvet Cake Mix Cookies, Snickerdoodle Cake Mix Cookies, Strawberry Cake Mix Cookies or Cake Mix Cookie Bars.
What Is Funfetti Cake Mix?
Funfetti Cake Mix is a boxed cake mix that can be found in the baking section of your grocery store. It's vanilla cake mix that has sprinkles already mixed into it. It's commonly used to make a Birthday Cake or cakes for any other festive occasion!
If, by chance, you can't find Funfetti Cake Mix, you can always just get regular vanilla cake mix and put your own sprinkles into it!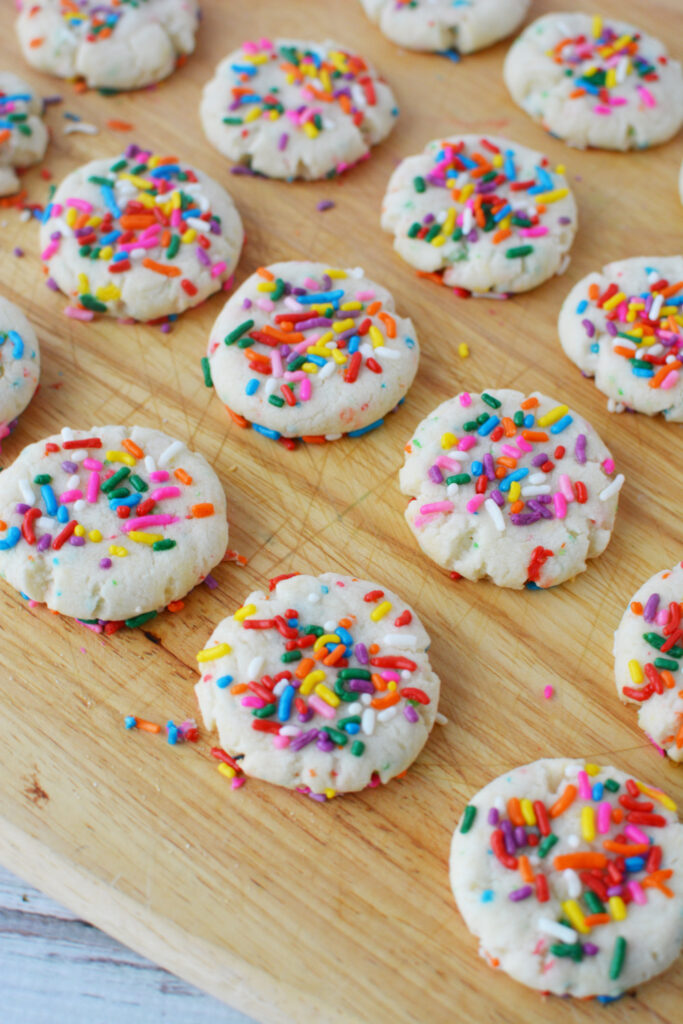 How To Make Funfetti Cake Mix Cookies
While this recipe is listed a 5 ingredients, you REALLY only need a minimum of 3 ingredients. The flour and the extra sprinkles aren't totally necessary. For step-by-step instructions, check out the printable recipe card below. But here is what you'll need to get started.
FUNFETTI CAKE MIX – Any brand will work. 15.25 ounce box is what we used. As mentioned above, you can also use plain vanilla (or french vanilla) cake mix and add your own sprinkles if you need to.
FLOUR – Just one tablespoon of all purpose flour to the dry cake mix help to give these cookies a little more thick of consistency.
VEGETABLE OIL – Helps bind these cookies together and keeps them moist!
EGG – Also helps bind all the ingredients and gives the cookie some texture. It helps to have your egg as close as possible to room temperature before combining.
RAINBOW SPRINKLES – We put some extra rainbow sprinkles on top of our cookie. You can also use nonpareils and/or rainbow jimmies!
USE A WIRE RACK FOR COOLING – We love to use a wire rack like this one to cool our cookies a little quicker! It's got two tiers to help fit all the cookies on!
PREPARE YOUR COOKIE SHEET – Make sure you grease your cookie sheet before adding the cookie dough to it. Or, better yet use parchment paper or a silicone mat.
Do You Have To Use Funfetti Cake Mix?
Nope! Like I mentioned before, Funfetti Cake Mix is just vanilla cake mix with sprinkles added to it. So, really, you can just add sprinkles to any recipe you'd like. So you could add sprinkles to Chocolate Cake Mix, Strawberry Cake Mix (a great Valentine's Day Idea) or Lemon Cake Mix (perfect for Easter).
And, if you don't have vanilla cake mix, white cake mix will work just fine! In fact, you can put a little bit of vanilla extract in it if needed!
Storage and Freezing
You can keep your cookies in an Airtight Container at room temperature for about 5-7 days.
These cookies freeze well. I'd lay them out on a cookie sheet and put them in your freezer until they are hard. From there, you can put them in freezer bags, freezer wrap or a freezer safe container and they should be good in your freezer for up to 4 months. Thaw them out at room temperature.
Notes, Tips and FAQs
ADDITIONS – Feel free to add extra sprinkles to your batter. Or nonpareils or rainbow jimmies! You can also add white chocolate chips or M&Ms. You can often find seasonal M&Ms in specific colors (Easter and Christmas) to really help celebrate a holiday.
ADD VANILLA EXTRACT – Some recipes call for Vanilla Extract. We didn't think it was needed but you can always at 1/2 teaspoon if you'd like to make the flavor a little more vibrant.
DON'T OVER MIX – When combining the ingredients, don't over mix the cake batter. This can result in dense, dryer cookies.
USE A LARGE BOWL – Always make sure you use a large bowl when mixing your baking ingredients. This helps to keep your kitchen mess-free!
ADD FROSTING – You can also let your cookies cool, then put some frosting on top and then put the extra sprinkles on top of that!
DO YOU NEED TO CHILL YOUR COOKIE DOUGH BEFORE BAKING? – Some people like to do this and think it makes a difference in the results. As long as you are baking your cookies right after mixing the batter, you are fine. I just wouldn't leave it out at room temperature for too long before baking.
ARE FUNFETTI CAKE AND CONFETTI CAKE THE SAME THING? – Yes, they are both vanilla cake with sprinkles mixed in. Pillsbury owns the name "Funfetti" which was just a play on Confetti. You can also call them Sprinkle Cakes.
Item To Help With This Recipe
We hope you enjoy these Funfetti Cake Mix Cookies! We'd love to hear how they turn out in the comment section below.
LOOKING FOR MORE CAKE MIX RECIPES? CHECK OUT: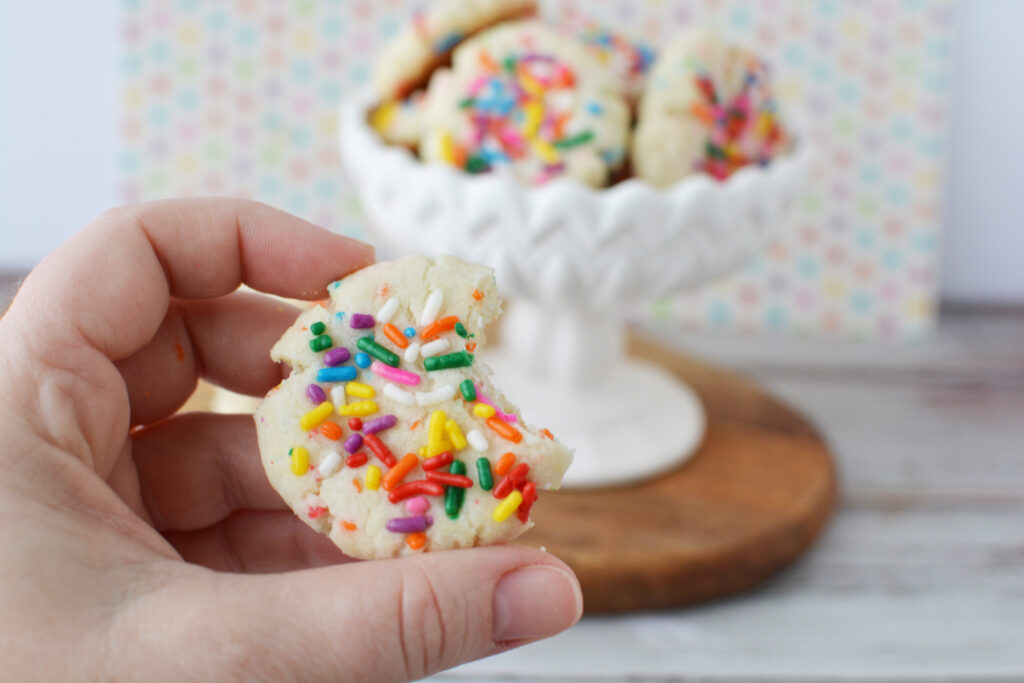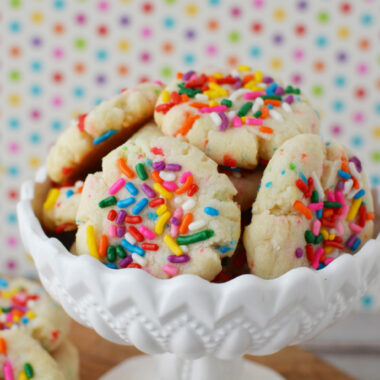 Rate this Recipe
Funfetti Cake Mix Cookies
Easy, delicious fun! That sums up these Funfetti Cake Mix Cookies! Soft and full of flavor and vibrant bright colors, they are perfect for birthday parties, baby showers, holidays, pitch ins and potlucks!
Ingredients
1

box

15.25 oz, Funfetti cake mix

1

tablespoon

all purpose flour

1/2

cup

vegetable oil

1

egg

3

tablespoons

rainbow sprinkles
Instructions
Preheat oven to 350 and line a baking sheet with parchment paper. Set aside.

Add cake mix to a mixing bowl and stir in flour.

Add oil and egg and stir until combined well. Dough will be stiff.

Use a cookie scoop to spoon dough onto baking sheet 2" apart, and gently press down with your fingers until about 1/2" thick.

Add sprinkles to the top of each cookie, gently pressing them into the dough.

Bake for 8-10 minutes or until bottoms begin to lightly brown. Let cool on baking sheet for 2 minutes before completely removing to a cooling rack to cool completely.
Nutrition
Love this recipe?
Follow @bubbapie for even more delicious recipes!!