This Old Fashioned Ham and Bean Soup is a hearty, homemade meal that will warm you up on the coldest day! 15 bean soup mix, garlic, onions and lots of chunky ham make this a simple, easy recipe! A great use for leftover ham, it's rich and flavorful and comfort food at it's best!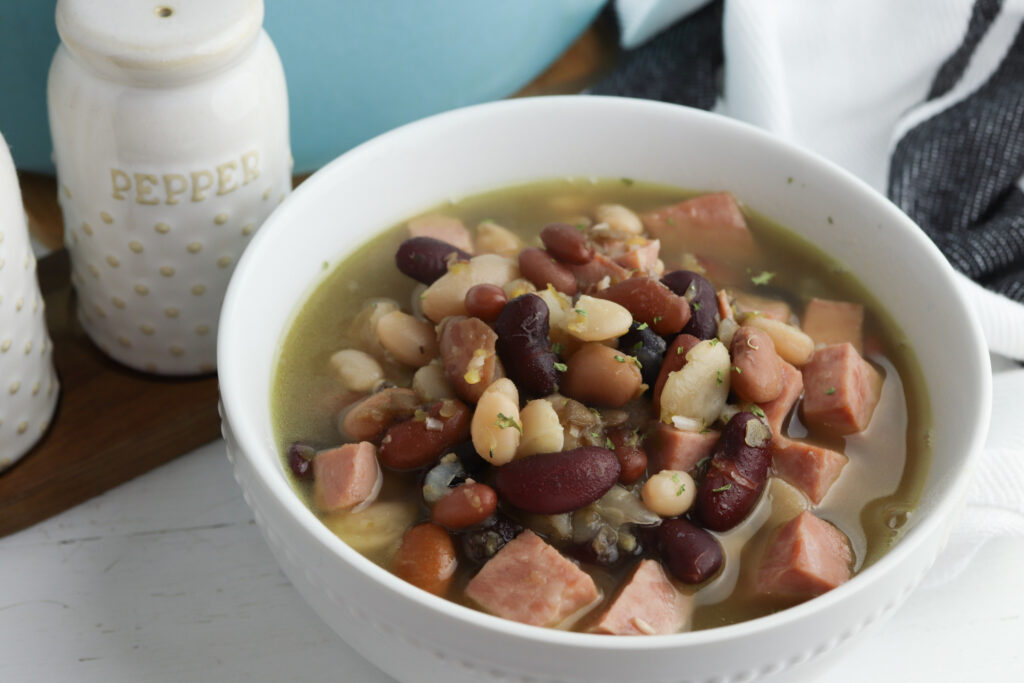 Now that winter is officially here, one of the things that we LOVE to do on Sundays is to make a warm, hearty and homemade soup for dinner on Sundays. We light a fire in the fireplace, turn on some football and dunk some crusty bread into a delicious soup recipe. Some of our favorite recipes have been this Butternut Squash Soup, Taco Soup or this Vegetable Beef Stew! It's a great way to relax and reenergize before the busy week starts again!
This Old Fashioned Ham and Beans Soup is a great way to fill your kitchen with the delicious aromas of a homemade soup on a winter afternoon! Adults and kids alike will be a big fan of this one!
Old Fashioned Ham and Bean Soup
Please read the recipe card below from beginning to end so you'll know what you need to do for this recipe. While this is an easy recipe, it does require some prep, so you'll want to make sure you have enough time. Ready to get started? Here is what you'll need:
15 BEAN SOUP MIX – This recipe is often called Navy Bean Soup and uses, obviously, Navy Beans. We used Hurst's 15 Bean Soup Mix, but any brand will do. If you can't find 15 bean mix, you can use Cannellini, Great Northern Beans or Navy Beans in this recipe. You'll either need to soak your beans overnight, or boil and soak for one hour. And, if you change the beans you use, that may change the soaking/cooking time.
WATER – For soaking the beans. We needed 10 cups.
BUTTER – To saute the onion and garlic. Use salted or unsalted, whichever you prefer. Just remember there will be a lot of salt in the ham. And we will be adding salt and pepper to taste later.
ONION – One small onion. Finely chopped. We used a yellow onion. But you can use a red onion if you prefer.
GARLIC – Minced garlic. Will Saute with onion and butter.
CHICKEN BROTH – We used 4 cups.
HAM – Diced ham. A great use for leftover ham after Christmas or the holidays. If you have a ham hock or a meaty ham bone, you can certainly add it to this recipe for a boost of flavor. Just make sure you discard it before serving. But it is not needed. If you don't have leftover ham, you can use salted pork or even a couple of strips of bacon.
SALT AND BLACK PEPPER – To taste.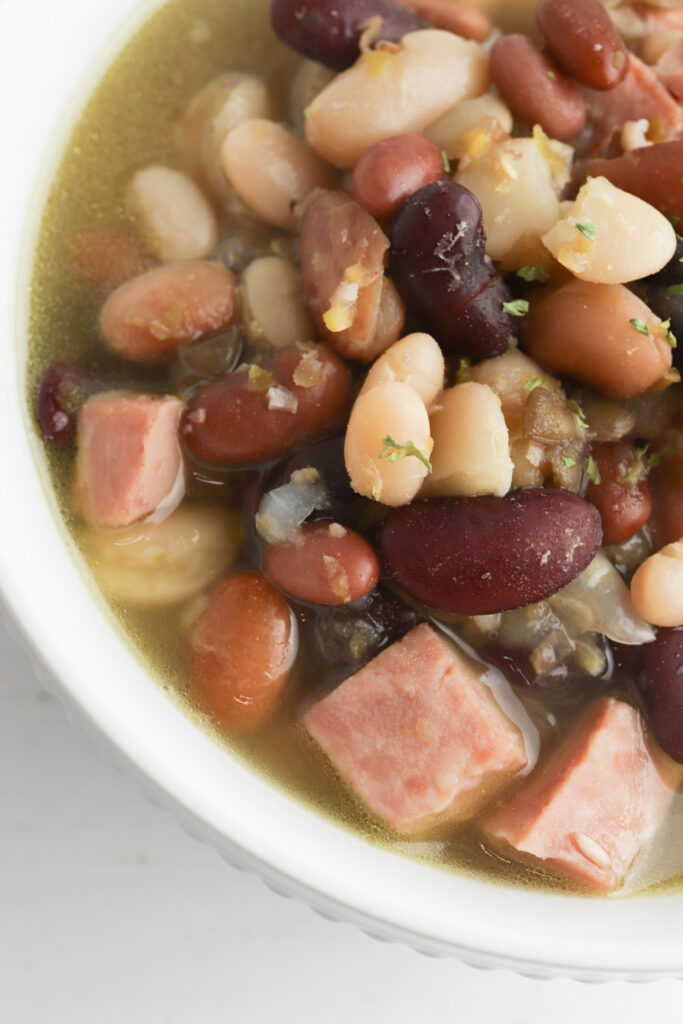 Can You Make This In A Slow Cooker?
Yep! Simple rinse your beans in a strainer and drain under cold water until the water is clear. Then put all of the ingredients in your Slow Cooker. Cook on Low for 9-10 hours and high for 5-6 hours.
Storage and Freezing
Store in an airtight container in your refrigerator. Leftovers should be good for 3-5 days. This soup reheats fine in the microwave.
You can also freeze Ham and Bean Soup. Put it in a freezer safe tupperware and it will be good for up to 4 months. Thaw in the fridge overnight. Reheat in microwave.
Can You Use Canned Beans for This Recipe?
You can use canned beans instead of dried beans. And that will certainly speed things up because you don't need to pre-soak or pre-cook them. But you won't get as rich of a flavor in the soup. And, canned beans have a lot of sodium in them.
Notes, Tips and Variations
ADD SOME HEAT – Some people like to add a little crushed red pepper to their soup.
CREAMIER SOUP – Check the beans for tenderness, once then have fully cooked and the soup is at a simmer, you can use an immersion blender for just a couple seconds to puree some of the beans. Stir it up and serve it for a creamier soup!
ADD VEGGIES – You can certainly add some more vegetables to make this soup go a little further. Carrots, celery or potatoes would work great!
BAKE SOME BREAD! – Make sure you have some bread to dip into your soup. We love these easy 7-Up Biscuits or these Drop Biscuits!
MAKE SURE YOU USE A LARGE POT – You'll want to bring out the big boy for this one! We recommend this large Dutch Oven. They last forever and you can use it for so many thing!
GARNISH – Garnish with parsley, green onions or some shredded cheese.
We hope you enjoy this recipe for Old Fashioned Ham and Bean Soup Recipe. We'd love to hear how it turns out in the comments section. Let us know and stay in touch!
Happy Eating!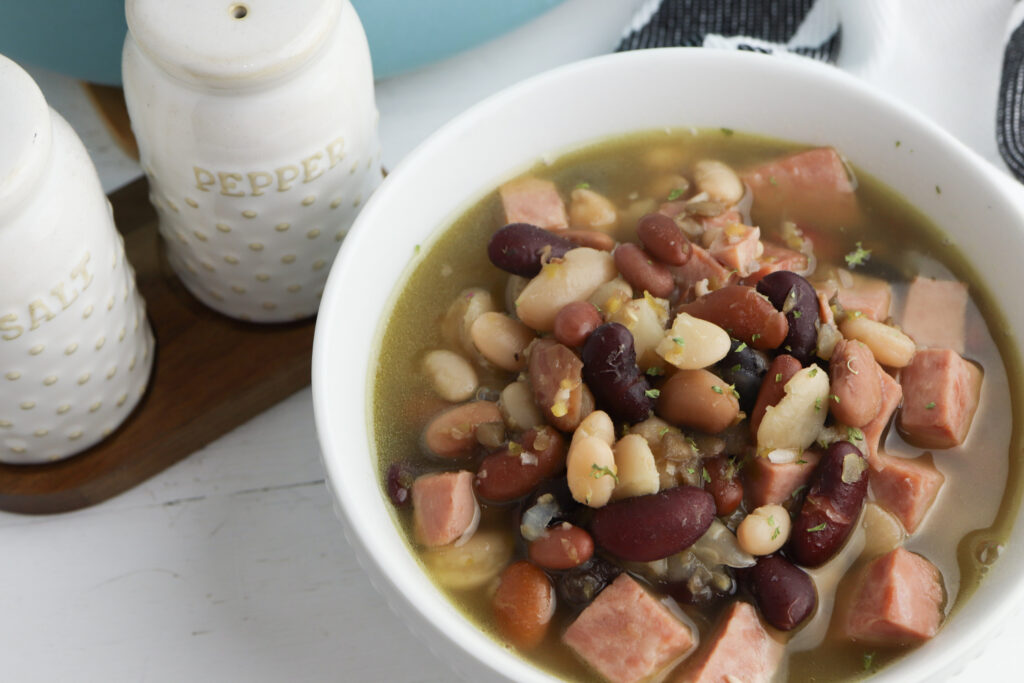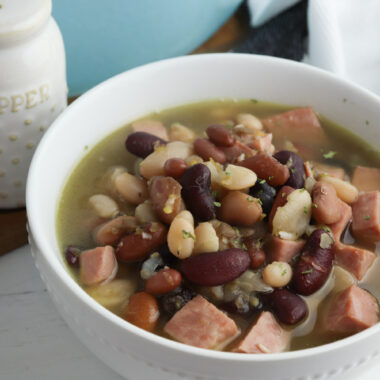 Rate this Recipe
Old Fashioned Ham and Bean Soup
This Old Fashioned Ham and Bean Soup is a hearty, homemade meal that will warm you up on the coldest day! 15 bean soup mix, garlic, onions and lots of chunky ham make this a simple, easy recipe! A great use for leftover ham, it's rich and flavorful and comfort food at it's best!
Ingredients
1 20-

ounce

package 15-bean soup mix

I used Hurst's Hambeens

10

cups

of water for soaking

2

tablespoons

butter

1

small onion

finely chopped

2

cloves

garlic

4

cups

chicken broth

6

cups

water

16

ounces

ham

diced

Salt and pepper to taste
Instructions
Place the beans in a large stock pot. Cover with 10 cups water. Let the beans soak overnight or bring the pot to a boil, then turn off the heat. Cover and allow to soak for at least one hour.

After soaking, pour the beans into a fine mesh strainer and clean the pot. Run the beans under cold water to rinse until the water runs clear.

Allow the beans to drain while sauteing the onion and garlic. Add the butter to the pan and cook over medium heat. When the butter is melted, add the onion and saute until softened. Add the garlic and cook one more minute.

When the onion and garlic are cooked, pour in the chicken broth, water, ham, and beans. Stir to combine.

Cook over medium heat until the soup begins to boil, then reduce heat to low and simmer for one hour 30 minutes, until the beans are softened and the liquid has thickened.

Season with salt and pepper, as needed, before serving.
Nutrition
Love this recipe?
Follow @bubbapie for even more delicious recipes!!