This Jiffy Jalapeno Cornbread is an easy Mexican inspired recipe that combines the sweet flavors of corn with the kick of Jalapeno Peppers! It goes great with just about any meal and can be prepared in just minutes!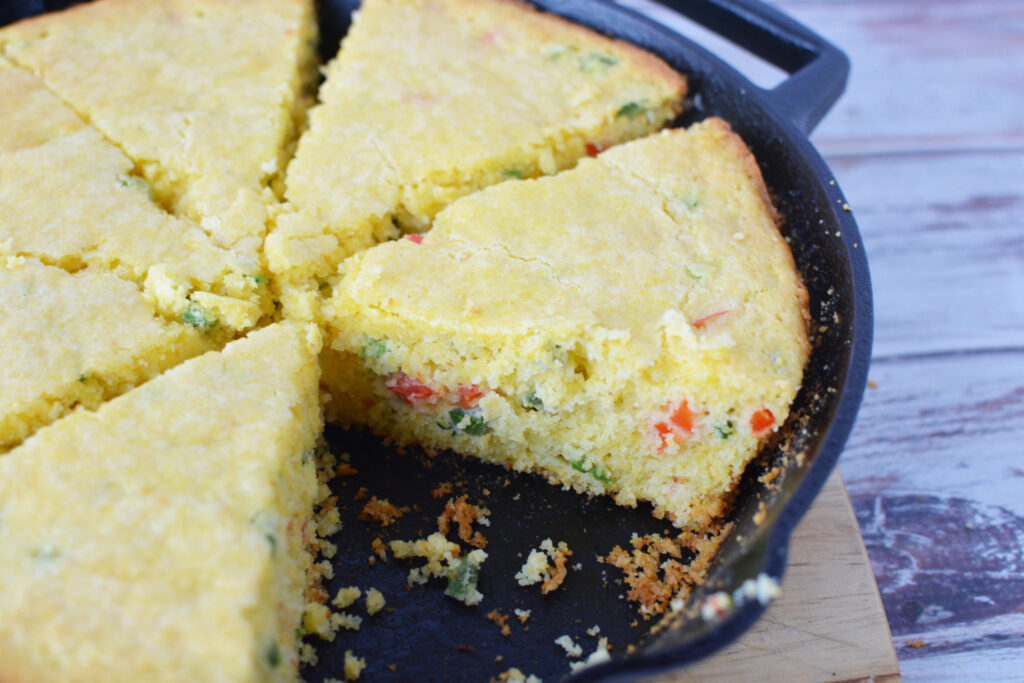 Why You Will Love Jiffy Jalapeno Cornbread
EASY – First, it's so darned easy! We are using Jiffy Cornbread Mix for our base! Jiffy is a store-bought, premade baking mix with cornmeal, flour and baking soda. You can use it to make just about anything from muffins to pancakes! It's always a simple, easy way to get some homemade flavor! You should ALWAYS have some hanging around your kitchen! And you mix everything in one large mixing bowl, so there isn't much to clean afterwards!
VERSATILE – Additionally, this is one of these recipes that you can really have fun and tweak to your liking, read below for some suggestions on how to add even more flair to this cornbread recipe!
And, while this is a Mexican Cornbread, it's a side dish that goes with just about anything! From Chili and Soups to Casseroles to Pork Chops!
Jiffy Jalapeno Cornbread
This recipe is so easy! Just mix all the ingredients in one bowl, and then put them into a cast iron skillet or baking dish and throw it in the oven! Ready to bake? For step-by-step instructions, check out the recipe card below, but here is what you'll need to get started:
JIFFY CORN MUFFIN MIX – 2 Boxes. Now, Jiffy offers a vegetarian mix, which uses vegetable shortening. So you can certainly substitute for that if your diet requires it.
EGGS – We like to get our eggs to room temperature before baking them into this recipe. So let them sit out for a little while.
BUTTERMILK – Some recipes call for regular milk, and you can use that if needed. But the more fat, the more flavor and the more moist this cornbread will be. So we suggest buttermilk. It adds a nice tanginess to the recipe and reacts well with the leavening agents in the cornbread mix to make it extra fluffy!
SOUR CREAM – Makes these muffins extra moist. You can use low fat sour cream if you want to lighten this recipe up a bit.
JALAPENOS – We used 4 fresh Jalapeños, diced. You can buy the canned jalapenos if you'd like. When preparing the fresh one, you can adjust the spiciness by removing the seeds. And you can adjust how many you use, this part is all up to your spice preference. You can also substitute for canned green chilis, which are slightly less spicy than jalapenos, if you'd like. Or, if you can't find Jalapenos at the grocery store, substituting for Serrano Chilis can work too. And, one more note about the jalapenos: they reduce in their spiciness as they cook. So don't be shy with them!
RED BELL PEPPER – Diced. This is completely optional. But we love to stir it in for the flavor it adds and especially love the color it provides.
BUTTER – Salted or unsalted.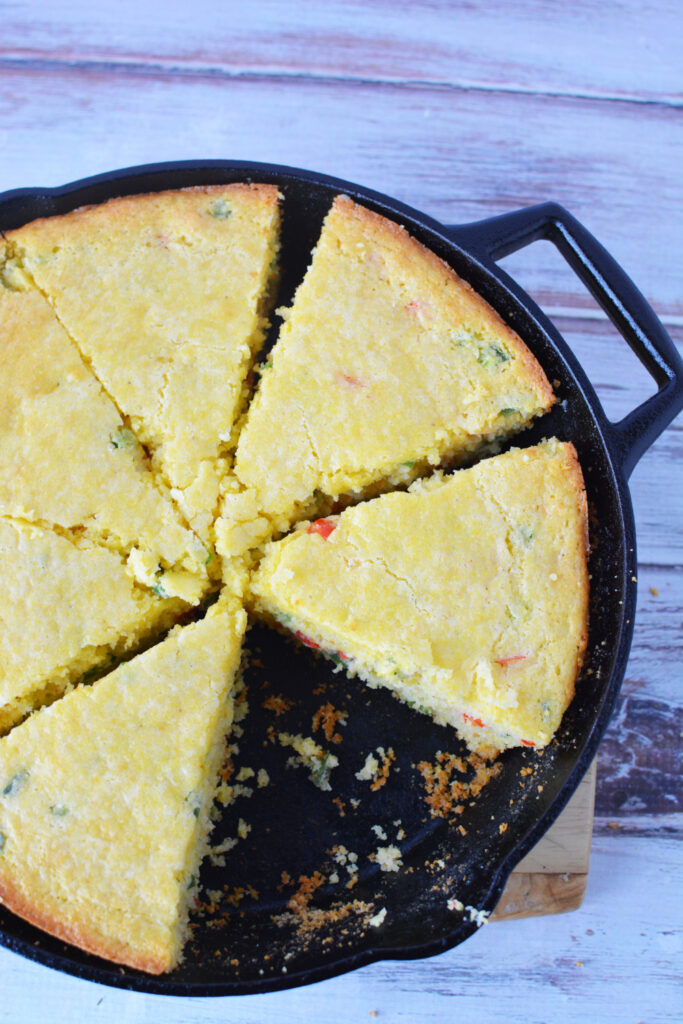 Storage and Freezing
You can store your Jiffy Jalapeno Cornbread at room temperature in plastic wrap or an Airtight Container. It will be good for about 2-3 days. You can freeze this cornbread. Simply allow it to cool completely, wrap in freezer wrap and/or a freezer bag and it will be fine in your freezer for up to 4 months. Thaw at room temperature.
You could also slice your cornbread into individual servings and package them separately, so you can just take out what you need as you need it.
Notes, Tips and FAQs
ADD CHEESE – We didn't put cheese into this recipe, but you certainly can. You can either add it to the mixture before baking or sprinkle some shredded cheese on top so that it gets a nice, crispy golden brown as it's baking. Use a shredded cheddar cheese, monterey jack or even a pepper jack to add some more kick! But we think a nice, sharp cheddar would be perfect!
ADD BACON – Cook some crispy bacon, crumble it up and add it to your batter before baking.
TOP GETTING BURNT? – If the top of your cornbread seems to be getting burnt, you can put a tent over it with some aluminum foil.
NO CAST IRON SKILLET? – No cast iron skillet? No problem, this recipe works fine is just a regular baking dish. You can also make this recipe into muffins by using a muffin pan! But, whatever you use, make sure you grease it well before adding the batter!
FOR MORE CORN RECIPES, CHECK OUT:
We hope you enjoy this Jiffy Jalapeno Cornbread Recipe. Please leave us a comment below and let us know how you liked it!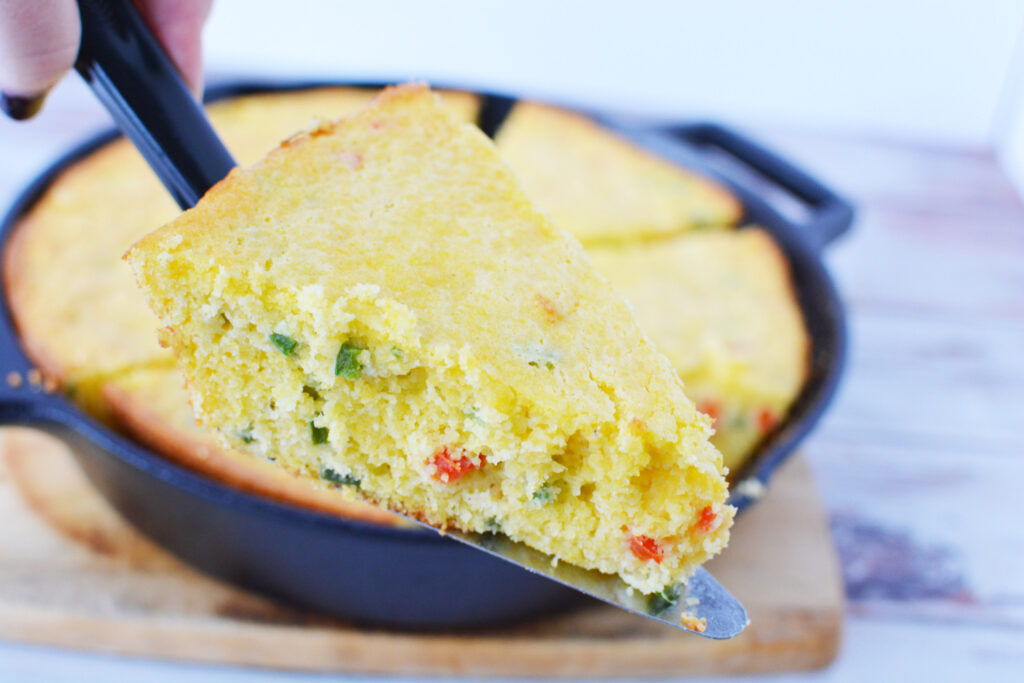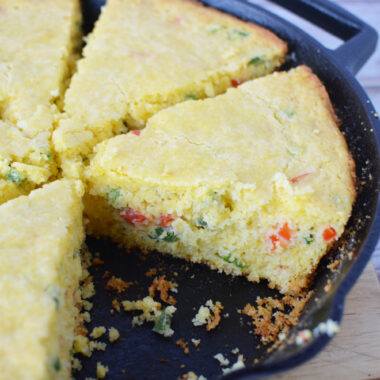 Rate this Recipe
Jiffy Jalapeno Cornbread
This Jiffy Jalapeno Cornbread is an easy Mexican inspired recipe that combines the sweet flavors of corn with the kick of Jalapeno Peppers! It goes great with just about any meal and can be prepared in just minutes!
Ingredients
2

boxes

Jiffy Corn Muffin Mix

3

eggs

3/4

cup

buttermilk

1/2

cup

sour cream

4

jalapeno peppers

seeded, cored and diced

1/2

of a red pepper

diced

1/4

cup

butter

melted
Instructions
Preheat oven to 400 and grease a 10" cast iron skillet with oil. Alternatively you can grease a 9" square baking pan. Set aside.

In a large bowl, combine muffin mix, eggs, buttermilk, sour cream, jalapenos and red pepper and mix.

Mix in butter and pour batter into prepared pan.

Bake for 25-30 minutes or until toothpick inserted in the center comes out clean. Cool slightly before serving warm.
Nutrition
Love this recipe?
Follow @bubbapie for even more delicious recipes!!