These 2 Ingredient Bagels are a simple, easy, healthy way to get your bagel fix! Sometimes called "Weight Watchers Bagels" they are simply made with Greek Yogurt and Self-Rising Flour. From there, you can top them with whatever you'd like! No yeast or poaching liquid required!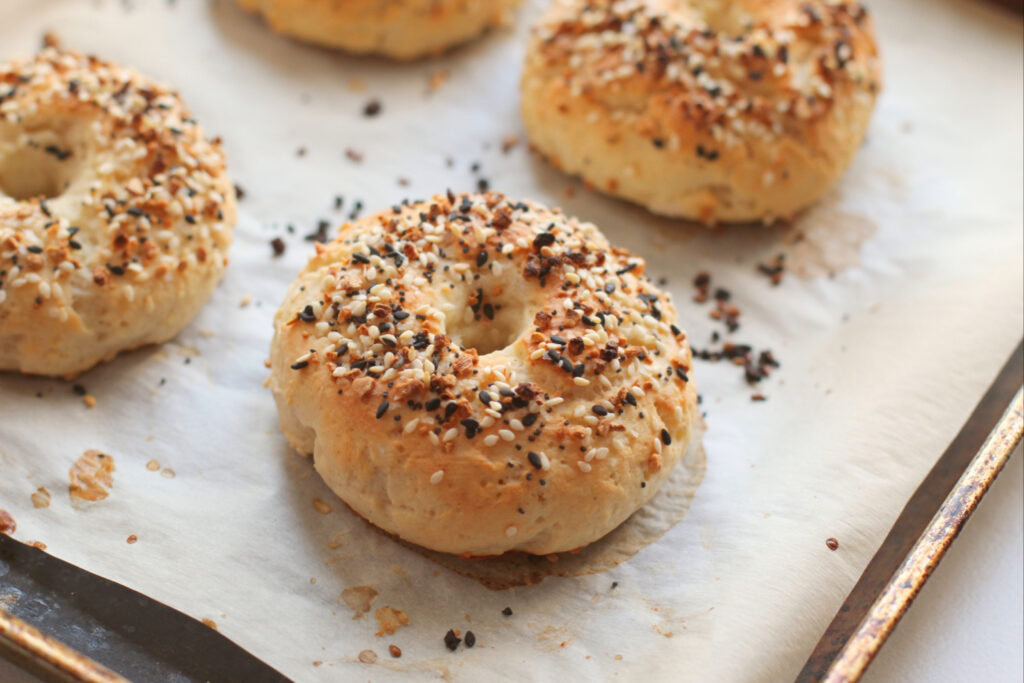 Why You Will Love Weight Watchers Bagels
WEIGHT WATCHERS SMART POINTS – A lot of times, you have to make homemade versions of your favorite foods to trim off some points, right? Well, this Weight Watchers friendly recipe is the tastiest you'll find! It comes out chewy, soft and delicious!
EASY – Did we mention there are only 2 ingredients? Oh yeah.. It's in the title. This recipe is super simple and… no boiling!
What Is A 2 Ingredient Bagel?
As I mentioned above, all you really need is Greek Yogurt and Self-Rising Flour for this recipe. Simply put them together in a mixing bowl and get ready to bake!
It's so much quicker and easier than making traditional bagels from scratch. Usually, you've got to poach them in boiling water! Not here!
And mixing these two ingredient together at different ratios can give you all sorts of dough for many different recipes, including pizza dough (it makes a great pizza crust), cinnamon rolls, pretzels and more! But today, we are going to use these magical ingredients to make some yummy Everything Bagels!
Why Is 2 Ingredient Dough Healthier For You?
The real star of this show is the Greek Yogurt. First, it's packed with protein. And, when you make these homemade bagels, it's not filled with all the preservatives you may get from a bagel you buy at the store. Also, there are easy ways you can make these bagels even healthier, like using non-fat Greek Yogurt or using Gluten-Free Self Rising Flour. If you can't find Gluten-Free Self Rising Flour, you can use regular Gluten-Free Flour and follow the directions to make them self rising below.
They call these "Weight Watchers Bagels" because, on that diet, they are only worth 3 points if you use non-fat greek yogurt!
Ingredients For 2 Weight Watchers Bagels
So… What do you need to make 2 Ingredient Bagels? For step-by-step instructions on how to make them, check out the printable recipe card below. But here is what you'll need to get started:
SELF RISING FLOUR – If you don't have self rising flour, check out the easy recipe below.
PLAIN GREEK YOGURT – Any brand of Plain, fat free greek yogurt will do.
EGG – Optional. You can brush them with egg wash to get a nice, golden finish while they are baking.
How To Make Your Own Self-Rising Flour
Oh no! Don't have any self-rising flour?!?! No worries, you can make your own really easily. For every cup of regular, all-purpose flour, simply add 1.5 teaspoons of baking powder and 1/4 teaspoon of salt.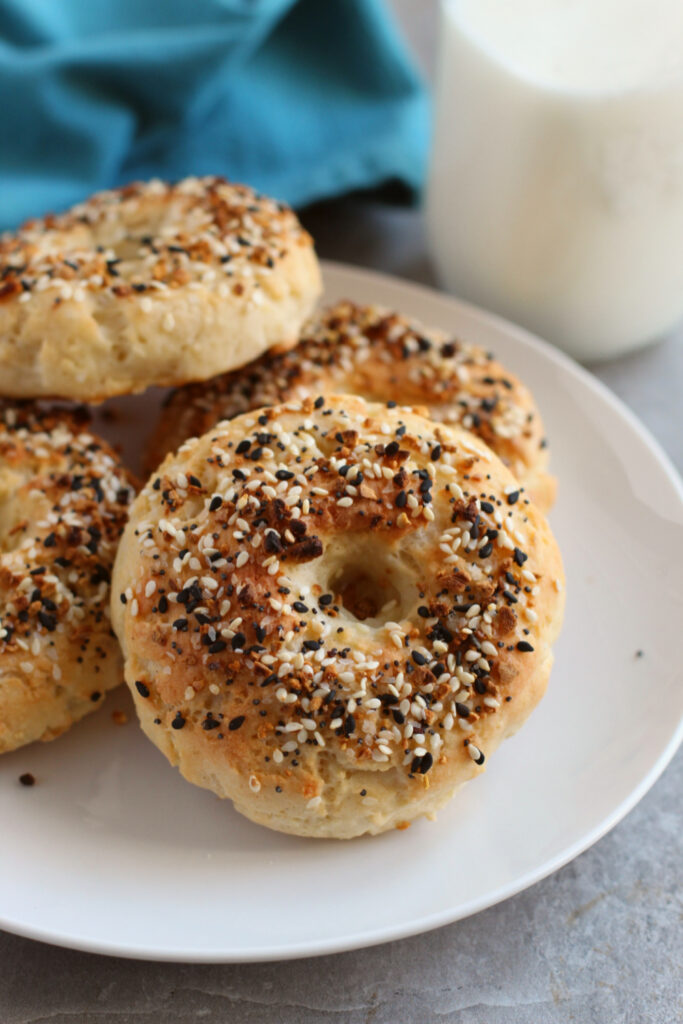 What Can You Do With Two Ingredient Bagels?
These bagels taste great, plain, just as they are. They are remarkably like you'd get from a bakery! We certainly recommend brushing them with an egg wash before baking. They will help give them that golden brown color and texture on the outside. It will also help any desired toppings you add to the bagel to stick.
For this recipe, we used Everything Bagel Seasoning that we got from Trader Joe's. But you can also use Dried Minced Garlic, Dried Minced Onions, Sea Salt, Sesame Seeds or Poppy Seeds.
You could also add ingredients to the dough. Like any sort of cheese (cheddar, monterrey, swiss, jalapeno jack or pepper jack). Or you could add, cinnamon sugar, dried tomatoes or jalapenos.
And top them with whatever you desire (or your points will allow): cream cheese, lox, capers, butter, honey, jelly or jam!
How To Store 2 Ingredient Bagels
A common question is whether you need to refrigerate WW Bagels. No, you don't. These bagels will be ok at room temperature in an airtight container for 1-3 days. You can extend their life in the refrigerator (again, in an airtight container) to about 5 days.
2 Ingredient Bagels freeze well. Simply allow them to fully cool, separate them with parchment paper or wax paper and put in a freezer bag. Thaw at room temperature.
Notes, Tips and Variations
USE THICK YOGURT – Different yogurt sometimes has different thickness to it. You'll want a thicker yogurt or your dough will get too sticky. Stonyfield has a pretty thick yogurt that should work well with this recipe.
CAN YOU MAKE THE DOUGH AHEAD OF TIME? – Yes, you can make it the night before and store it in the fridge. But note that these bagels bake best when the dough is closest to room temperature. So, you'd still need to take the dough out and let it warm up a bit before baking.
LINE YOUR BAKING SHEET – Use parchment paper or a Silpat (silicone mat) on your baking sheet so that the bagels don't stick after baking.
GIVE YOUR BAGELS SPACE – Bagels will expand while baking. Make sure you aren't putting them too close together!
DOUGH TOO STICKY? – No worries! Just add a pinch more flour until it gets to how you want it. It also helps to work with the bagel dough on a floured surface.
ALLERGIC TO EGGS? – While we recommend using an egg wash before baking, you can simply use water if you have an egg allergy.
Items To Help With This Recipe
We hope you enjoy this 2 ingredient bagel recipe. Please let us know how they turn out for you in the comment section. Happy Eating!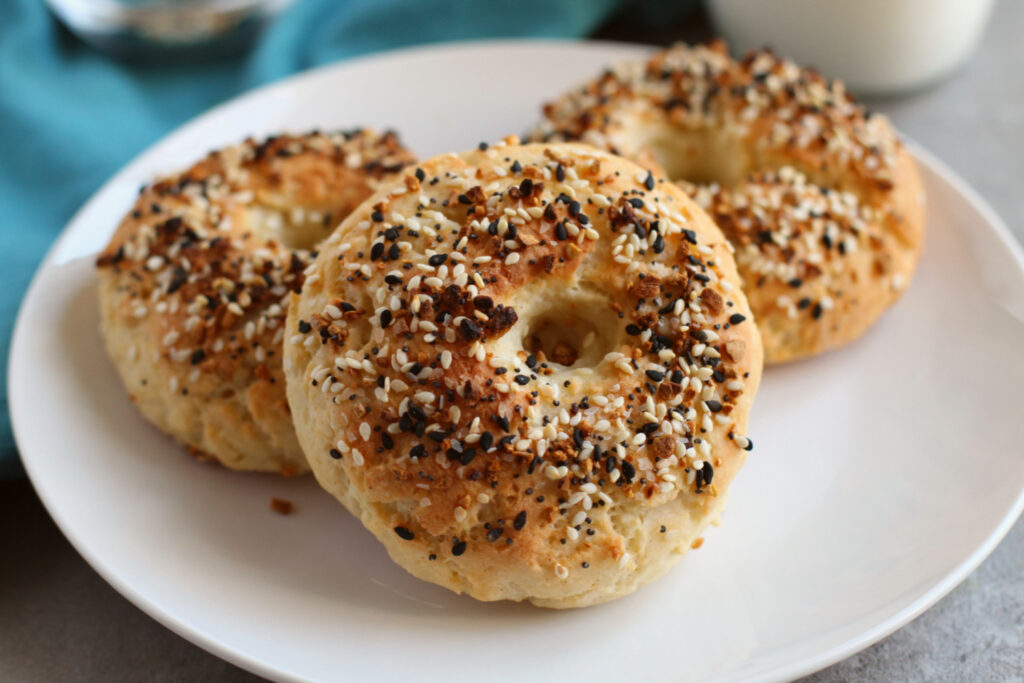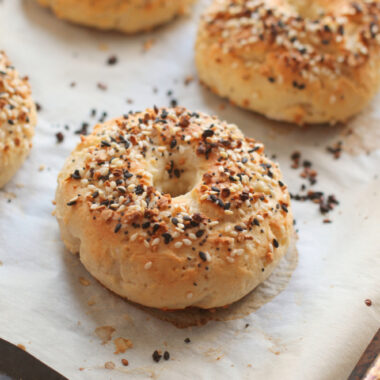 Rate this Recipe
2 Ingredient Bagels
These 2 Ingredient Bagels are a simple, easy, healthy way to get your bagel fix! Sometimes called "Weight Watchers Bagels" they are simply made with Greek Yogurt and Self-Rising Flour. From there, you can top them with whatever you'd like! No yeast or poaching liquid required!
Ingredients
1

cup

self-rising flour

1

cup

plain Greek yogurt
Optional Ingredients/Toppings
1

egg

1

teaspoon

water

Everything bagel seasoning
Instructions
Preheat oven to 400 degrees F. Line a baking sheet with parchment paper and set aside.

In a large bowl, add the cup of self-rising flour and plain Greek yogurt. Stir until fully incorporated. Depending on the moisture content of the yogurt used, you may need to make adjustments to get the right consistency. If your dough is too dry, add a little water until the dough is pliable. If your dough is too sticky, add a little flour until the right consistency is reached.

Shape the dough into a large ball and use a knife to slice into 4 even sections. Shape each section into a ball and place on the prepared baking sheet. Press each ball to flatten slightly and use your thumb to create a hole in the center of each bagel.

For optional egg wash: mix the egg and water in a small bowl. Brush the egg wash on the tops of each bagel and sprinkle with everything bagel seasoning.

Place baking sheet in preheated oven to bake for 20 to 22 minutes.

Adjust the oven to the broil setting and allow the bagels to brown further for 5 minutes.

Remove from the oven and allow the bagels to cool before slicing.
Nutrition
Love this recipe?
Follow @bubbapie for even more delicious recipes!!