You've gotta try this Easy Three Ingredient Peanut Butter Fudge! With the secret ingredient of condensed milk, it tastes just like grandma used to make. Rich, decadent and full of homemade flavors!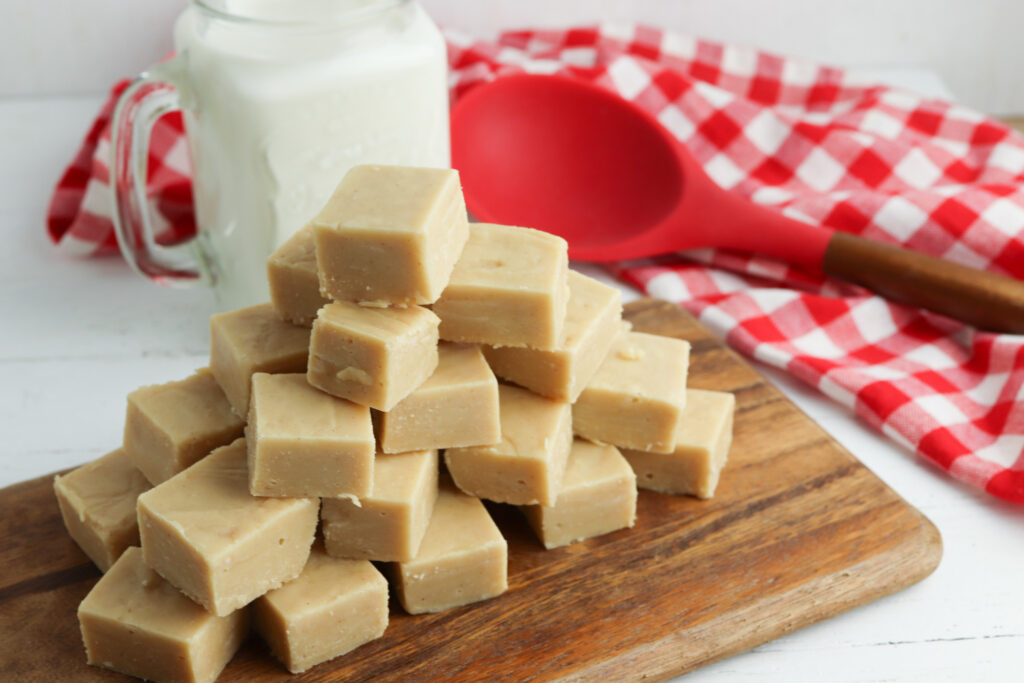 Why You'll Love Three Ingredient Peanut Butter Fudge
QUICK AND EASY – It's a fool-proof beginner recipe. No need to boil anything. No candy thermometer! In fact, if you've got children that are interested in cooking or baking, this is a perfect kid-friendly recipe for them to start with! And, did we mention that there are just 3 ingredients in this whole recipe!?!?!
GREAT FOR ANY OCCASION – Who doesn't love a quick, easy dessert recipe with just a couple of simple, homemade ingredients? And this Peanut Butter Fudge Recipe is so versatile and great for any occasion. Sure, we love to make fudge around the holidays, but this recipe is great anytime of the year. It makes a great housewarming present for new neighbors, a great gift for Christmas, a treat to bring into coworkers or just something to indulge yourself with during a long week!
Easy 3 Ingredient Peanut Butter Fudge Recipe
How could something so simple end up tasting so amazing! Really, you just need to put these 3 ingredients into a microwave safe bowl and melt them. Then pour it all into a prepared pan and let set. For full step-by-step instructions, check out the printable recipe card below. But here is what you'll need to get started:
WHITE CHOCOLATE CHIPS – Any brand will do. These will be melted in the microwave and give this recipe that amazing sweet and salty flavor! You can also chop up some almond bark into smaller pieces.
SWEETENED CONDENSED MILK – This adds creaminess and a little extra sweetness to the fudge! Do not use evaporated milk. Make sure you look at your can and not grab it by mistake!
PEANUT BUTTER – Any brand of regular peanut butter works, like Jif, Skippy, Peter Pan or even the store brand. Do not use natural peanut butter as the oil tends to separate, making this not ideal for baking. If you want creamy peanut butter fudge, use creamy peanut butter or smooth peanut butter. If you want a little crunch, try adding crunchy peanut butter.
Storage and Freezing
You can store your peanut butter fudge at room temperature in an airtight container for up to one week. You could also wrap the fudge in plastic wrap. If you want to keep it in your refrigerator, you may be able to increase this to almost 2 weeks.
You can easily freeze your fudge. Wrap it in parchment paper and then put it in a freezer safe container. You can also cut and wrap fudge pieces individually and then freeze them separated by parchment or wax paper. That way you can just defrost what you need!
You can thaw this at room temperature.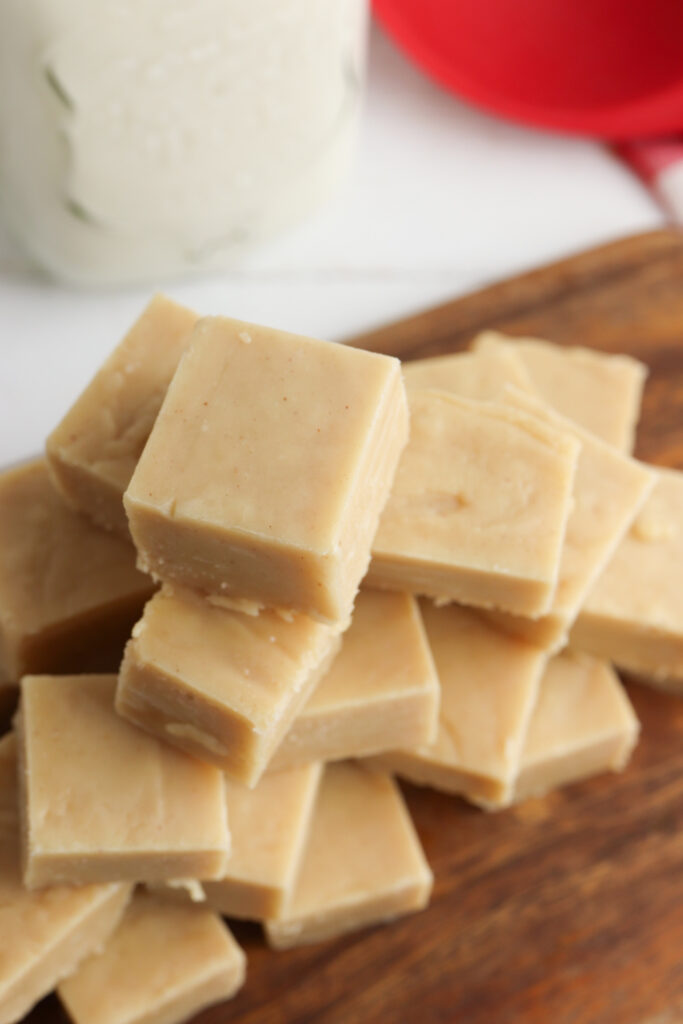 Can You Make Dairy Free Peanut Butter Fudge?
This recipe can be made completely dairy free. You can substitute the Sweetened Condensed Milk for Cream of Coconut (or Coconut Cream). You can also use Coconut Milk, but would need to add about 1/4 cup of sugar to this recipe.
Do You Need To Use White Chocolate For Peanut Butter Fudge?
Nope! You really don't. You could use milk chocolate or semi-sweet chocolate or a mixture of different chocolates. Mix in a little dark chocolate for some depth of flavor! My son is a total chocoholic and making some peanut butter CHOCOLATE fudge is something he'd be all about!
Notes, Tips and FAQs
LINE YOUR BAKING PAN – Make sure you line your baking pan with aluminum foil or parchment paper before baking. And also spray it with non-stick cooking spray or treat it with melted butter. This will make it a lot easier to get out of the pan.
ADDITIONS – Some fun things you can add to this before it sets are mini chocolate chips, sprinkles, coconut flakes, marshmallow cream, white chocolate chips or nuts (crushed almonds, pecans or walnuts).
TOPPINGS – Top your peanut butter fudge with a chocolate ganache. Or drizzle some chocolate, caramel or peanut butter topping on top. Some people also like to sprinkle a little coarse salt on top, which helps to balance out the sweetness.
LET YOUR FUDGE SET – Make sure you let your fudge full set before trying to cut it. It will set up just fine at room temperature in an hour or two. Or you could speed things up a bit in the fridge.
CAN YOU MAKE HOMEMADE SWEETENED CONDENSED MILK? – Yep! You sure can and it's pretty easy, although a little time consuming. You'll just need some milk and some sugar. Check out the easy recipe here.
WHY IS MY FUDGE TOO CRUMBLY? – If your fudge is too crumbly, there is a good chance that you overcooked it. There isn't anything you can do about it now. Next time, just make sure you are cooking until all the ingredients are JUST melted.
We think this is just simply the Best Peanut Butter Fudge Recipe out there. But we'd love to hear what you think! Please drop us a line in the comments!
Item To Help With This Recipe
LOOKING FOR MORE EASY DESSERT RECIPES FOR BEGINNERS? CHECK OUT: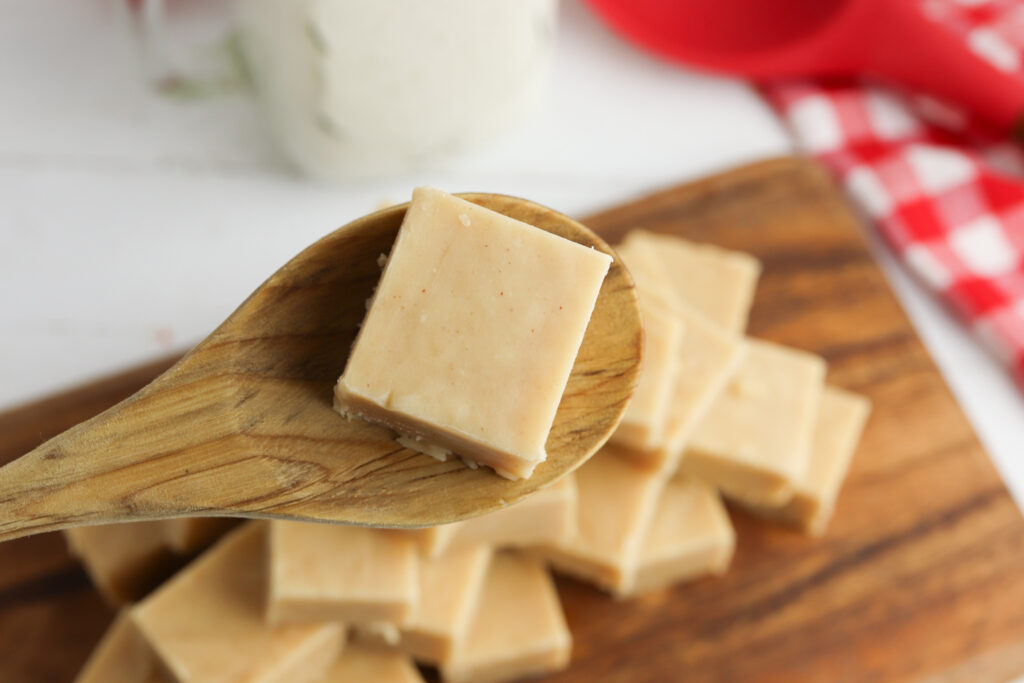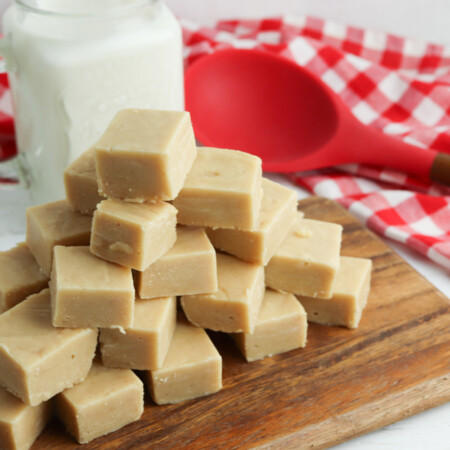 Rate this Recipe
Easy Peanut Butter Fudge
Three ingredients and 10 minutes is all you need to make homemade Easy Peanut Butter Fudge! It's a must try! Just like grandma used to make, it's rich, decadent and full of homemade flavors!
Ingredients
3

cups

white chocolate chips

1 14-

ounce

can sweetened condensed milk

½

cup

peanut butter
Instructions
Add all the ingredients to a large, microwave safe bowl. Stir to mix.

Heat in the microwave in 1 minute intervals, stirring between each interval. Continue cooking until all the ingredients are melted, around 3 minutes.

Line an 8x8 pan with foil and spray with nonstick cooking spray. Spread the fudge mixture evenly in the pan.

Allow to cool at room temperature for at least 2 hours or chill to speed up the cooling time. When the fudge is completely cool, remove the foil from the pan by pulling up on the edges.

Cut the fudge into bite-size pieces to serve.
Nutrition
Love this recipe?
Follow @bubbapie for even more delicious recipes!!