This Classic Shepherd's Pie Recipe is the ultimate comfort food. Hearty ground beef is mixed frozen vegetables like peas, carrots and corn and topped with a garlic potato topping. This will warm you up on even the coldest day!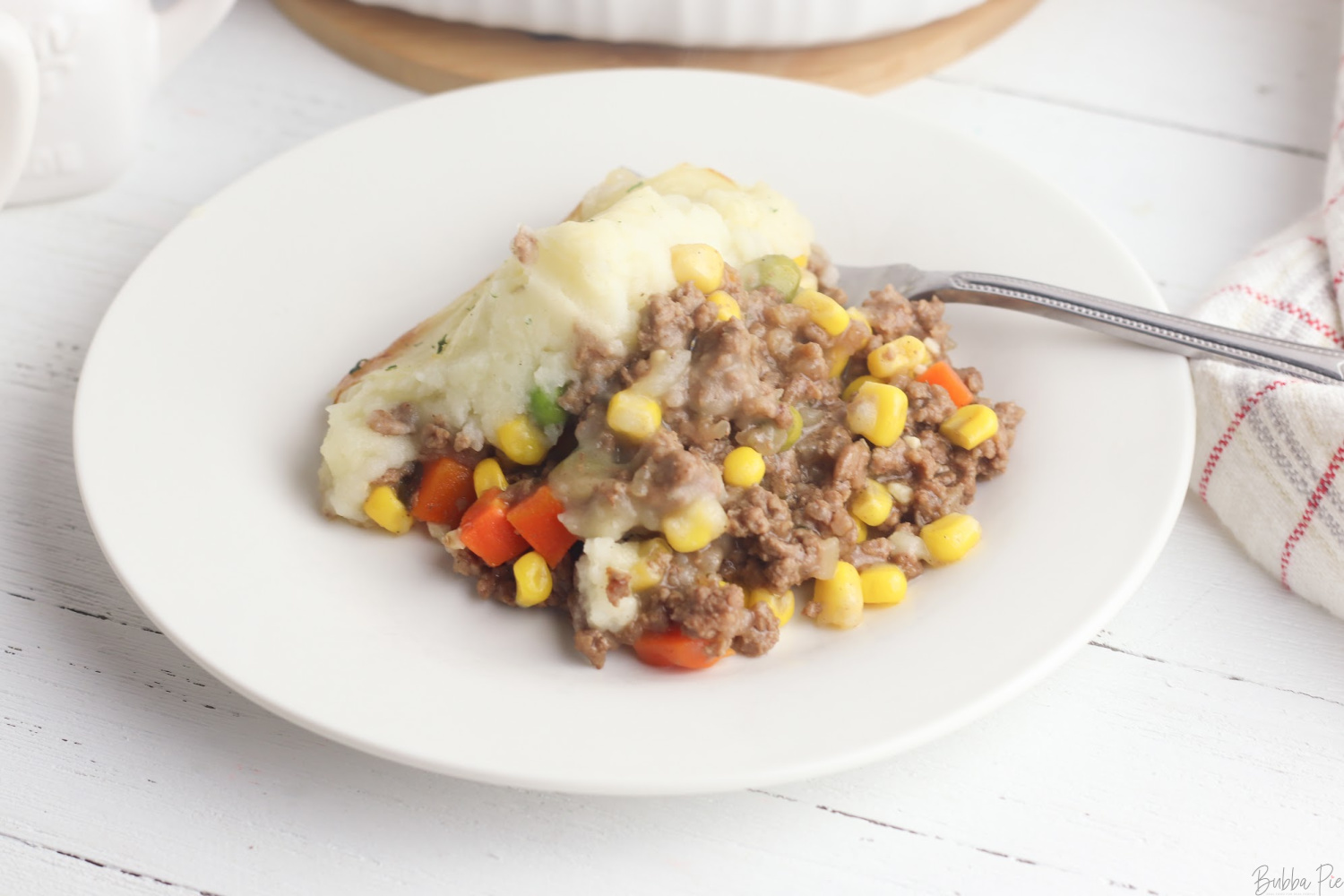 Rich gravy, hearty meat, plentiful vegetables and a garlic mashed potato layer that is baked to a golden brown. This Shepherd's Pie is a classic dish that has been filling bellies for centuries!?!? We've made our version as easy as possible along with some shortcuts and substitutions to make it even easier, quicker or healthier. Read below to find out more or jump to the recipe card to get cookin'!
What Is A Shepherd's Pie?
Ok, so before you head to the comments section to really give me a history lesson, we know this isn't a true Shepherd's Pie. It is more of a Cottage Pie, which is an English dish and traditionally made with ground beef. A traditional classic Shepherd's Pie recipe hails from Ireland and is made with ground lamb (Shepherd's would eat it while tending to their sheep). But, like many cultural and traditional cuisines over the years, the lines have been blurred here in America. So you will often see the dish we are making here referred to as a Shepherd's Pie.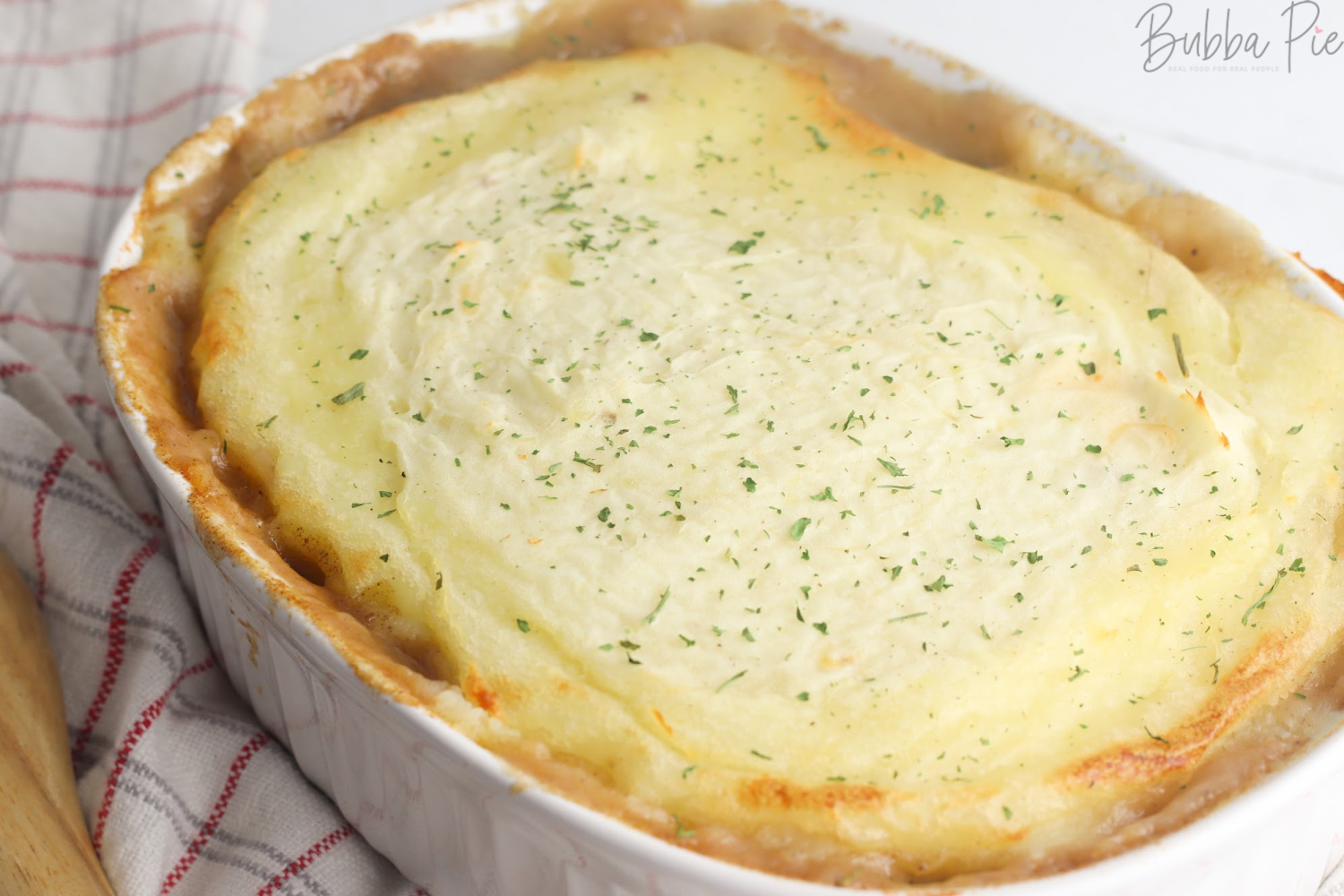 How To Make An Easy Shepherd's Pie
Our recipe is SO EASY. And really only uses some common ingredients I'll be you already have laying around your house! We use homemade mashed potatoes for this recipe. If you are in a real time crunch, you can also just use instant mashed potatoes. We won't judge!
FOR THE MEAT LAYER
GROUND BEEF – We used 80/20, but any ground beef will work. If you want to make this a little healthier, you could substitute for ground turkey or ground chicken. Make sure you drain the grease before adding the other ingredients.
ONION – Just one small onion should do the trick. Dice it up into small pieces and sauteing it with the ground beef and garlic.
GARLIC – Fresh garlic, minced. This will smell SO good cooking with the onion and ground beef mixture.
SALT AND PEPPER – To taste.
SPICES – We add additional depth of flavor with dried rosemary, thyme and parsley. You'll add these to the ground beef before the frozen vegetables.
FROZEN VEGETABLES – We use frozen peas, frozen carrots and frozen corn. You can use fresh vegetables if you'd like.
BEEF BROTH – Helps this Shepherd's Pie have that authentic, rich flavor.
CORN STARCH – Use this to thicken your broth. We use 1 tablespoon, but you can use more or less depending on how thick or thin you want it to be. If you don't have cornstarch, you can substitute for flour. You'll need to add about twice the amount of flour than you would cornstarch since it has about half the thicken power as cornstarch.
FOR THE POTATO LAYER
POTATOES – Russet Potatoes. Peeled and cubed. You'll be boiling these until they are soft and mashable.
SALT AND PEPPER – Once again, to taste.
GARLIC POWDER – Because we ALWAYS put a little garlic in our mashed potatoes.
BUTTER – Unsalted.
MILK – We use 2%. But you can use whatever you'd like.
PARMESAN CHEESE – Because, just like garlic, we ALWAYS put cheese in our mashed potatoes too!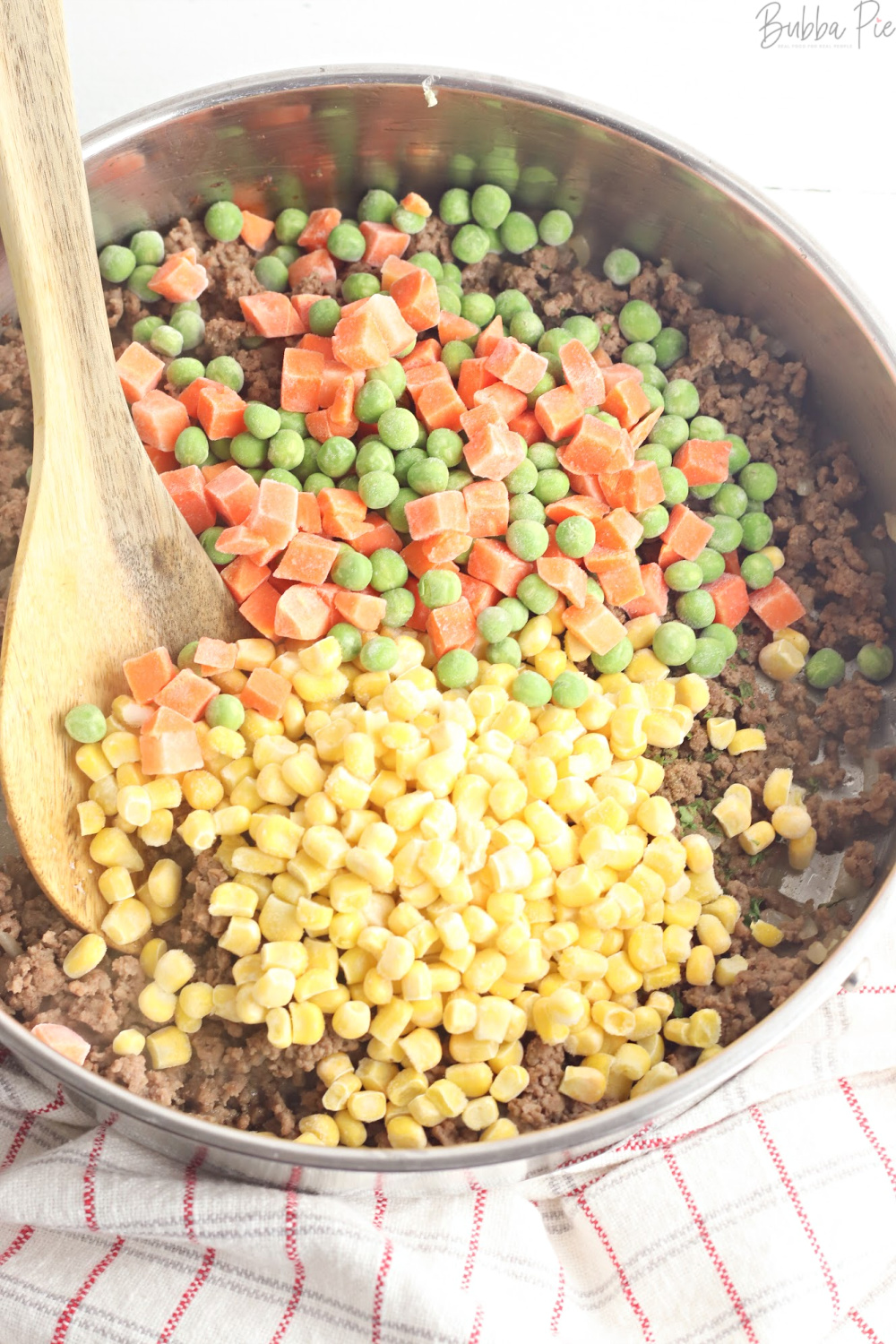 Can You Make Shepherd's Pie Ahead Of Time?
This Shepherd's Pie recipe consists of two parts, the meat layer and the mashed potato layer. You can prepare each layer separately and put them in the refrigerator. When ready to bake, just put the mashed potatoes on the meat and veggies and bake according to the directions.
Storage and Freezing
You can keep leftovers for a couple of days in your fridge. We often use our Le Creuset Casserole Dish because it comes with a lid! You can just keep your leftovers right in your casserole dish in the fridge!
Or, if you are looking for something a little less expensive, this one works great too!
Shepherd's Pie freezes pretty well too. Just let it cool and wrap it in freezer wrap. It will be good in your freezer for up to 4 months. When you are ready to reheat it, you can either thaw it out overnight in your refrigerator or throw it in the oven frozen. It should take about 25-30 minutes at 350 to bake when thawed. You'll need to double that if frozen. Bake it covered.
For the last couple minutes of baking, remove the cover and broil the top to get that golden mashed potatoes we all love.
Notes, Tips and Variations
USE A LARGE SKILLET – This recipe is a lot easier with a nice, large skillet to cook all the ingredients together. We love to use this Farberware NonStick Dishwasher Safe Saute Skillet. It's 6 quarts, which means it's big enough to get any recipe started no matter how many ingredients you are adding!
HEALTHIER VERSION – This is true comfort food, designed to give humans much needed calories during the winter. So there isn't really a way to make this "health food". But you can trim some calories by using ground beef or ground turkey. Or by Using skim, low fat or almond milk instead of regular milk in the mashed potatoes. Or, if looking for a low carb option, you can also substitute the mashed potatoes for Cauliflower Mashed Potatoes!
LEFTOVER MASHED POTATOES – You can make your own mashed potatoes for this recipe or use Instant Mashed Potatoes. But this is also a great use for leftover mashed potatoes too.
ADD WORCESTERSHIRE SAUCE – You'll see some versions of this recipe that add 1 teaspoon of Worcestershire Sauce. We opted not to do that. But feel free to if that sounds good to you!
TOP WITH CHEESE – Sprinkle some Cheddar Cheese on top of the potatoes.
What Can You Serve With Shepherd's Pie?
The great thing about Shepherd's Pie is that is a complete meal just by itself! With combination of meat, vegetables and mashed potatoes, there really isn't a need for any "side dish". But you could also serve this with a salad or some bread or biscuits to dip into the rich sauce!
We hope you enjoy this recipe for an easy Shepherd's Pie. Let us know what you think in the comments!
LOOKING FOR MORE HEARTY COMFORT FOOD? CHECK OUT: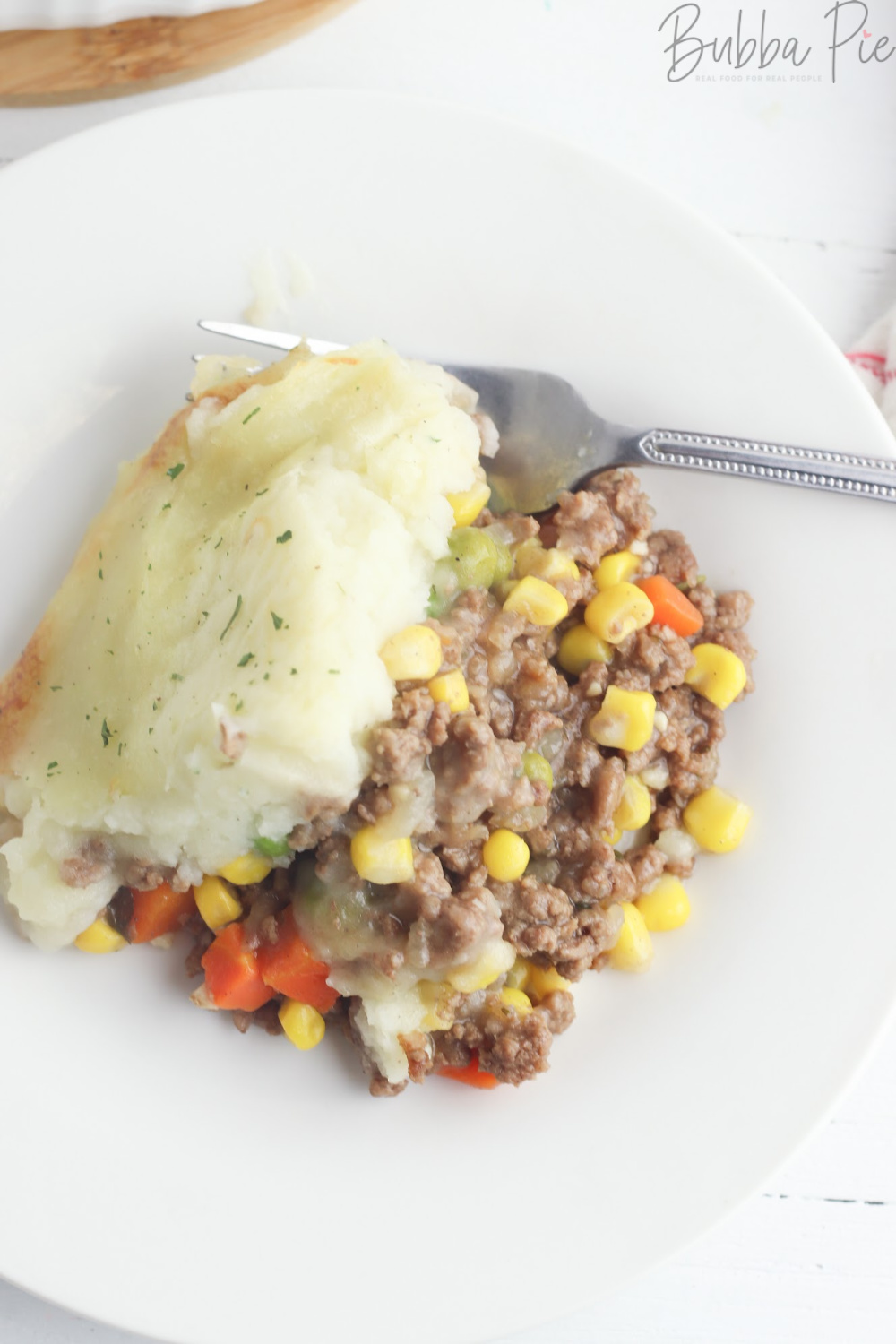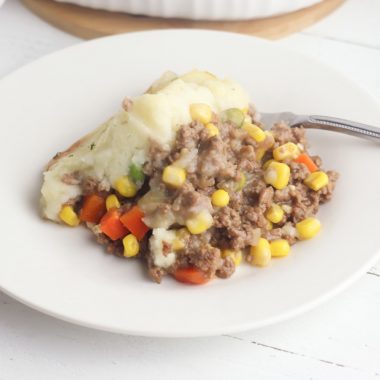 Rate this Recipe
Shepherd's Pie Recipe
This Classic Shepherd's Pie Recipe is the ultimate comfort food. Hearty ground beef is mixed with all sorts of goodies and topped with a rich garlic potato topping. It can keep you warm on even the coldest days!
Ingredients
Ingredients for the Meat Layer
1

pound

ground beef

1

small onion

diced

2

cloves

garlic

minced

1

teaspoon

salt

1

teaspoon

pepper

½

teaspoon

dried parsley

½

teaspoon

dried thyme

½

teaspoon

dried rosemary

1

cup

frozen corn

1

cup

frozen peas and carrots

1

cup

beef broth

1

tablespoon

corn starch
Ingredients for the Potato Topping
4

large potatoes

peeled and cubed

1

teaspoon

salt

½

teaspoon

pepper

½

teaspoon

garlic powder

2

tablespoons

butter

1/3

cup

milk

¼

cup

parmesan cheese
Instructions
Preheat the oven to 400 degrees and prepare a 9x13 baking dish by spraying with nonstick cooking spray.

Fill a large pot with water and bring to a boil. Add the diced potatoes and cook until tender. Remove from water and set aside.

While the potatoes are cooking, brown the ground beef in a large skillet with the diced onion and minced garlic. Season with salt, pepper, parsley, thyme, and rosemary.

Stir in the frozen corn, peas, and carrots.

In a small bowl or measuring cup, whisk together the beef broth and corn starch until well combined. Pour over the beef mixture and simmer over medium low heat until thickened.

Pour the meat mixture in the prepared baking dish and set aside.

Prepare the potato topping by seasoning the cooked potatoes with salt, pepper and garlic.

Stir in the butter, milk, and parmesan cheese. Use a potato masher to mash the potatoes until smooth.

Spread the potato mixture over the top of the meat mixture.

Place the baking dish in the preheated oven and bake for 45 to 50 minutes, until the potatoes have begun to brown and the sauce is bubbling.

Remove from oven and allow to rest for five to 10 minutes before serving.
Nutrition
Love this recipe?
Follow @bubbapie for even more delicious recipes!!