Learning how to make Hard Boiled Eggs In an Instant Pot is the easiest thing ever! This simple recipe will walk you through the process to get the best hard boiled eggs you've ever had! And it just takes minutes!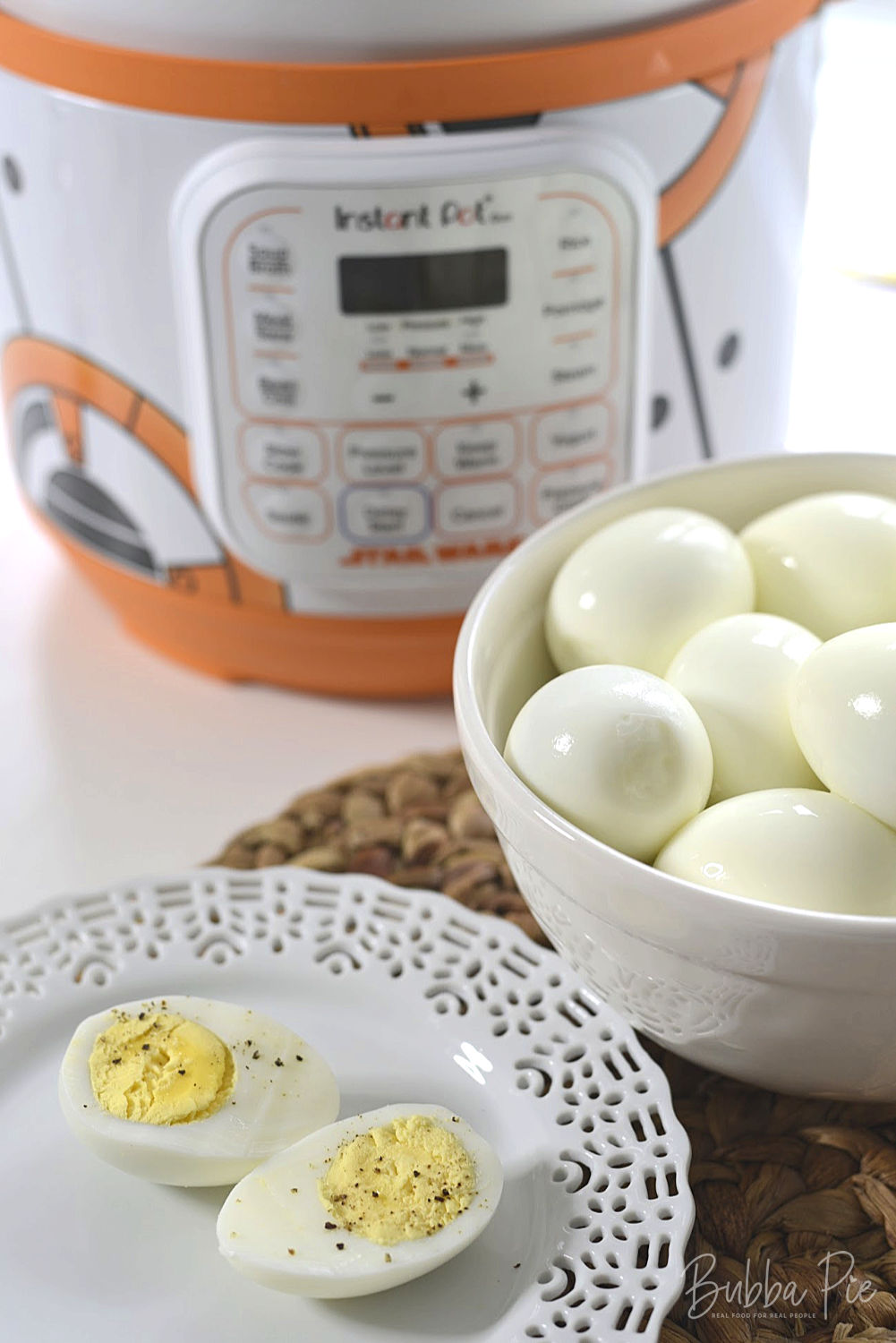 Why You Will Love This Instant Pot Recipe
EASY – Hard boiling an egg can sometime be a little tricky. But not with this Instant Pot Recipe! No waiting for the water to boil on the stove! No fishing eggs out of boiling water. No guesswork. Just press a couple buttons, put your eggs in and let the Instant Pot do all the work! And you've got to see how easy these eggs are to peel!
DELICIOUS – The eggs come out soft, tender with a creamy yolk every time! I love to make a couple of batches of Hard Boiled Egg and just keep them in the refrigerator for a quick and easy snack on a busy day!
Seriously, the Instant Pot is a busy parent's best friend. If you aren't sure where to start be sure to check out this Pressure Cooker Guide. I found this information very helpful when I first started out.
Now… back to the eggs!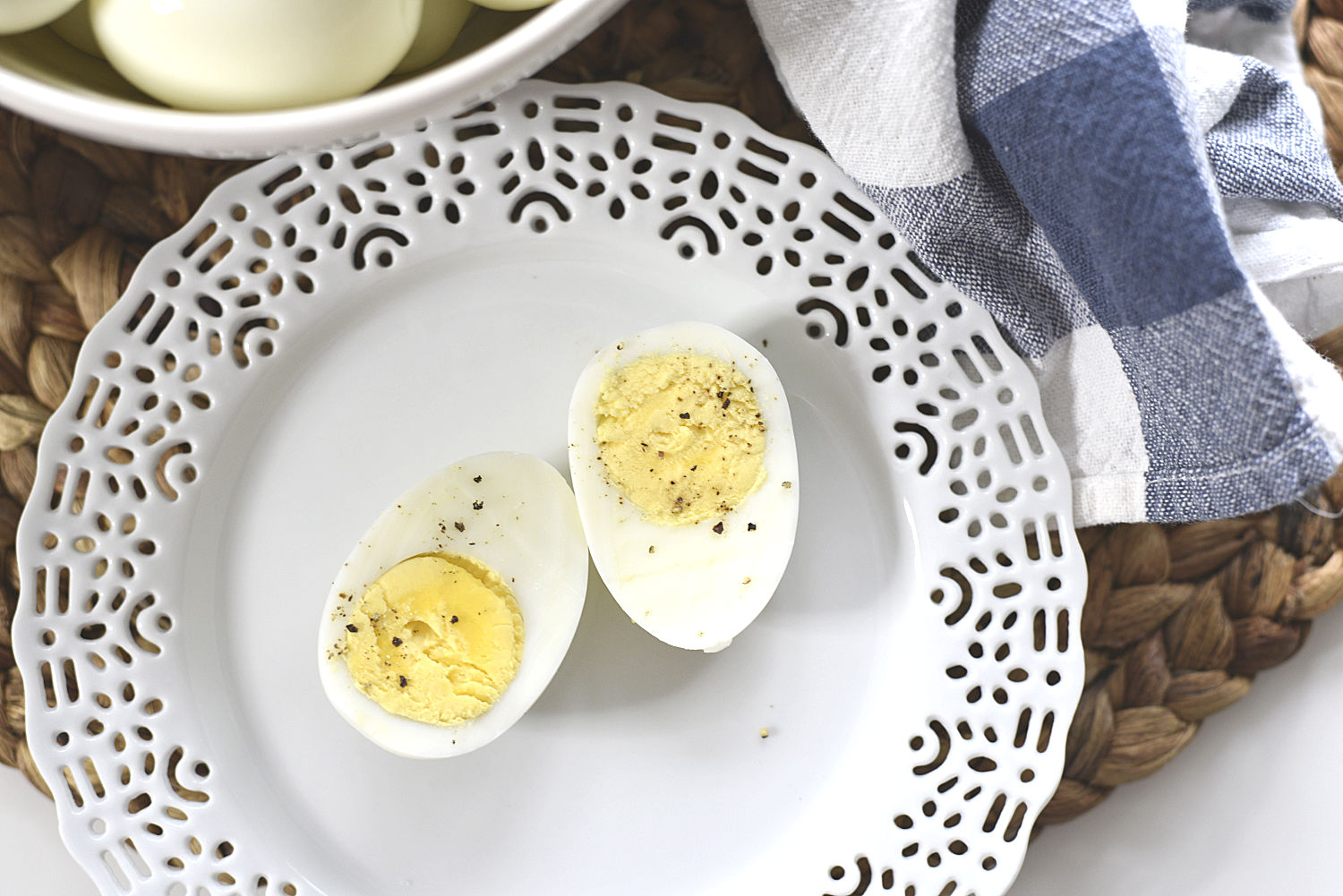 What is the best method to make eggs peel easily?
I eat a ton of hard boiled eggs. We go through at least a dozen eggs every week between my husband and I. Over the years I have tried all kinds of cooking methods for easy peeling eggs and making them in an Instant Pot or pressure cooker is the best method I have used. Once you see how easy the egg shells come off of your egg you won't cook them any other way.
It is a game changer!
What Is the 5-5-5 method?
The most foolproof setting to use to make hard boiled eggs in your pressure cooker is the 5-5-5 method. For detailed instructions, check out the printable recipe card below.
But basically the 5-5-5 method means cooking them at high pressure for 5 minutes, allowing a 5 minutes natural release and then placing them in an ice bath or cold water for 5 minutes. A natural release is when you don't release the steam from the pressure release valve as soon as the pressure cooker is done cooking. You keep it on the warm setting for 5 minutes, with the steam venting naturally and then you quick release whatever pressure is left in the pot before opening it.
For this method, you'll probably want a timer or just use the timer on your oven. So that you know when the 5 minutes of natural release and when to take them out of the bowl of ice water..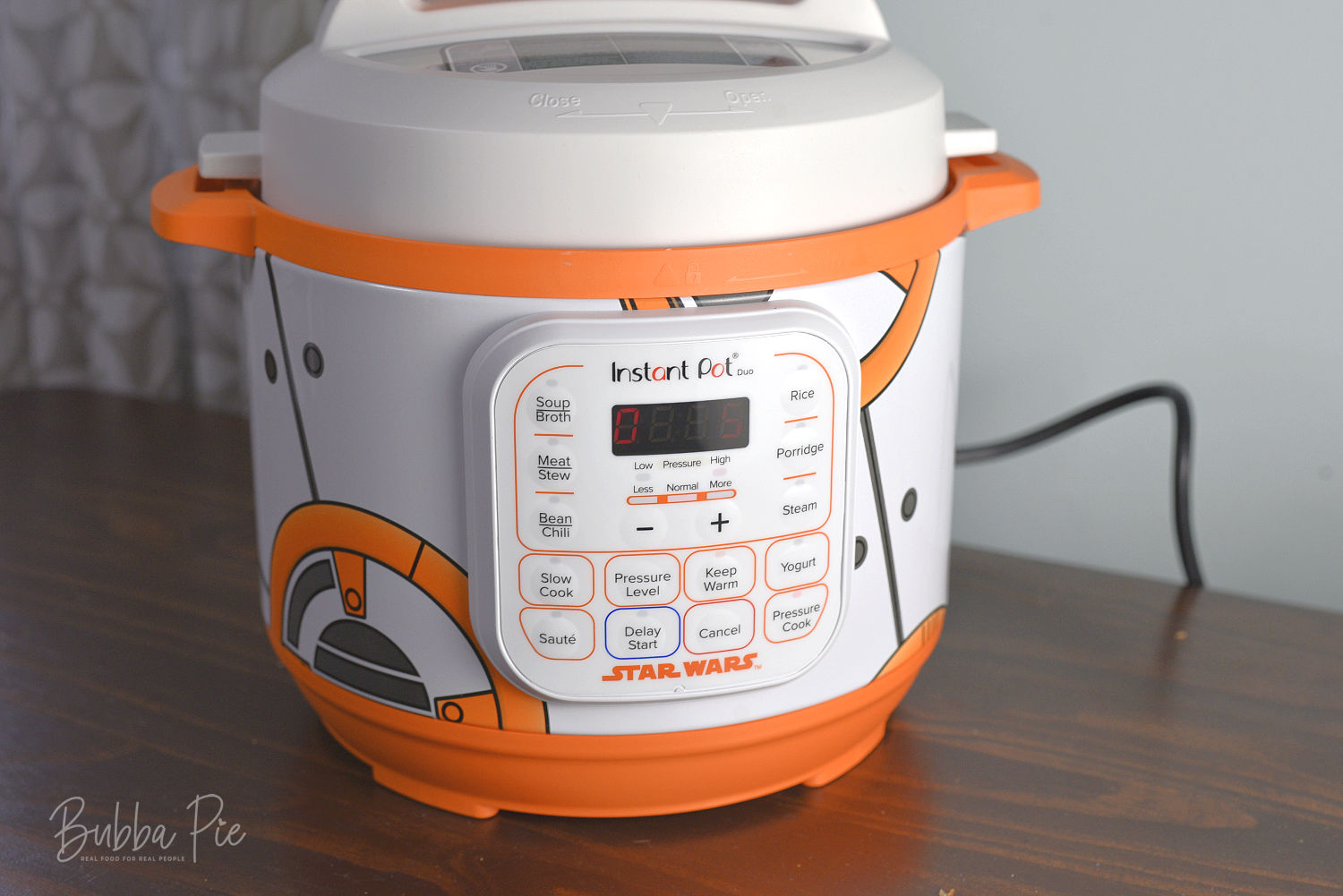 How many eggs can you cook at one time?
You can cook as many eggs as you would like to in a pressure cooker. I have used this method to cook over 2 dozen once. I have also used this same method to cook 2.
Can eggs touch in a pressure cooker?
Yes, it won't hurt the eggs any to be touching. What you don't want is for the eggs to be touching the sides of the Instant Pot. This is why they need to be on the trivet or in a steamer basket when they cook. I will pile as many as I can in a steamer basket. It does get a little tricky if you are using a trivet and a 3 quart pressure cooker like I am using in the video. If you like to cook a lot of eggs you will want to use a 6 quart.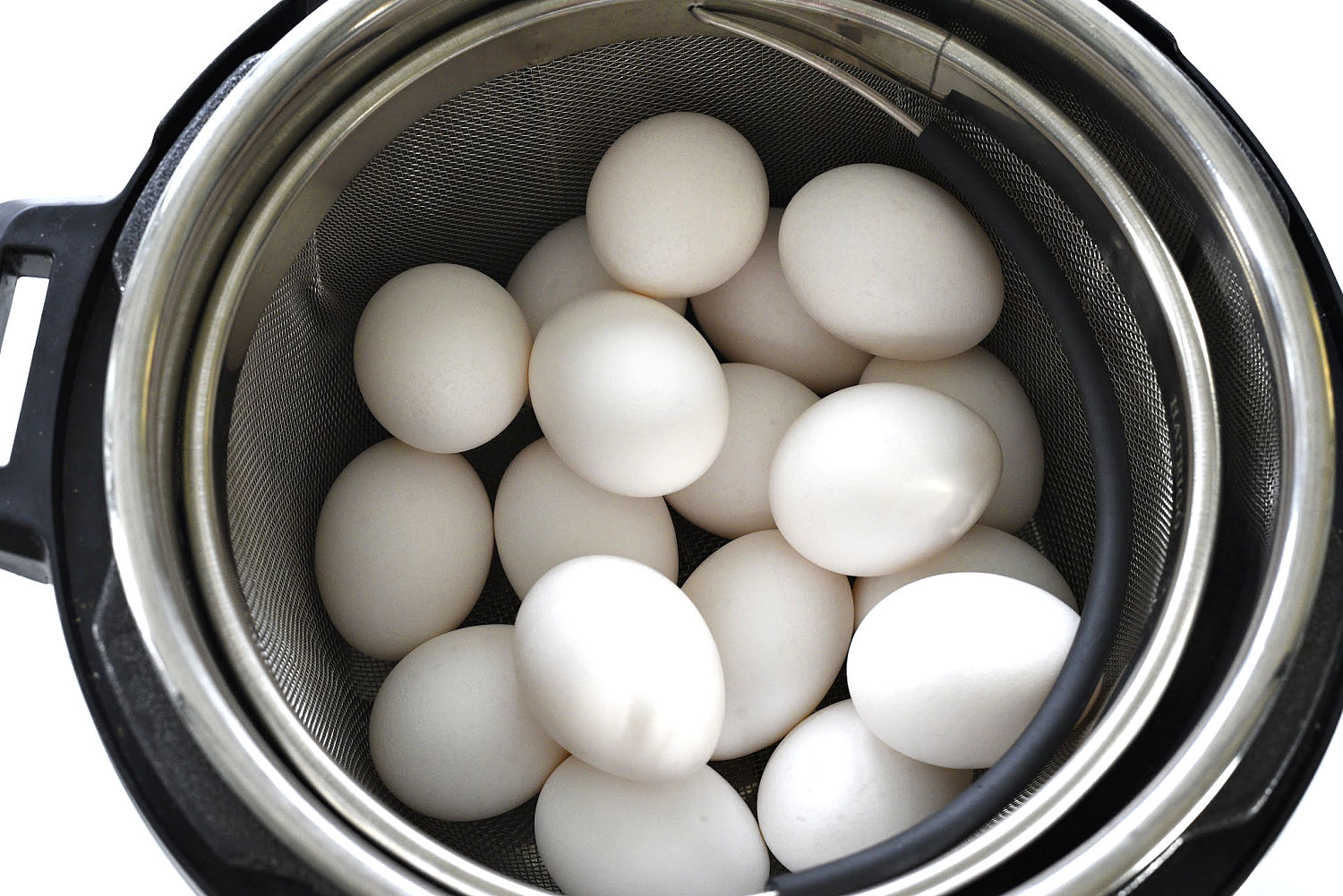 Will my hard boiled eggs crack when I use an Instant Pot?
They absolutely could. Cooking eggs under pressure could cause them to crack when they are cooking. If you find that a lot of your eggs are doing this you can use the low pressure method instead. Cook for 12 minutes on low pressure and let naturally release for 6 minutes, perfect every time!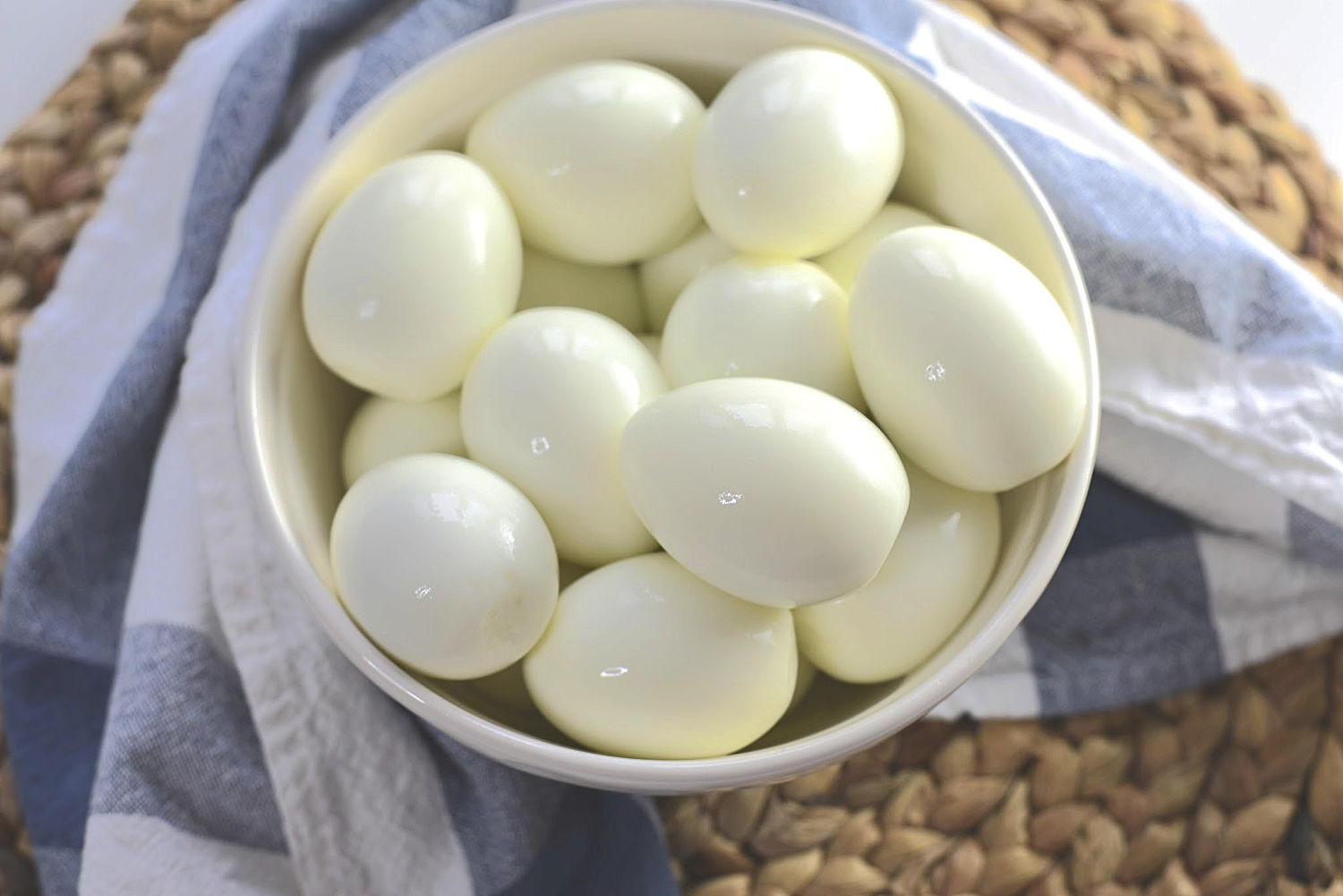 What recipes can I make using a hard boiled egg?
I enjoy sprinkling a little Everything Bagel Seasoning on my eggs and calling it a day. It is my favorite way to eat them. However, I also use them a lot in my recipes. My favorites is an easy potato salad with egg or of course a classic deviled egg like my grandma used to make!
While the classics are always a great idea, why not jazz it up a little? Try our Bloody Mary deviled eggs or our spicy Cajun deviled eggs for a fun twist. This is a great way to use up all those Easter Eggs!
Store your eggs in the fridge. They are great to eat cold with a little salt sprinkled on them.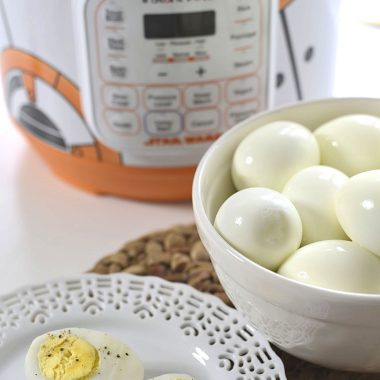 Rate this Recipe
Instant Pot Hard Boiled Eggs
Making Instant Pot hard boiled eggs is the easiest method to use if you love easy peel eggs. Once you see how simple using your pressure cooker is, you will never make them another way. This method will work for 1 or 2 eggs as well as an entire steamer basket full of eggs, using any size Instant Pot!
Ingredients
6

Eggs

(or how ever many you would like)

1

cup

water
Instructions
Place water inside of your pressure cooker pot.

Place trivet at the bottom of the Instant Pot. (Skip this step if you are using a steamer basket)

Place eggs on trivet or place eggs in a steamer basket and place inside the pot.

Place lid on the pressure cooker and make sure the value is turned to sealing.

Turn your pressure cooker on and to the manual pressure cook function. Set pot to high pressure for 5 minutes.

When the pressure cooker is done cooking, allow pressure to naturally release for 5 minutes. Release any remaining pressure and carefully open the lid.

Place eggs in an ice bath for 5 minutes. Peel and enjoy!
Notes
Note that the cooking time does not include the time it takes for the pressure cooker to come to pressure.
Nutrition
Love this recipe?
Follow @bubbapie for even more delicious recipes!!