This Philly Cheesesteak Pasta Recipe has ground beef, onions, garlic, bell peppers, ketchup and Worcestershire sauce all mixed with tender noodles and provolone cheese. It's the perfect family dinner for busy weeknights! And, all made in one skillet, cleaning up is easy!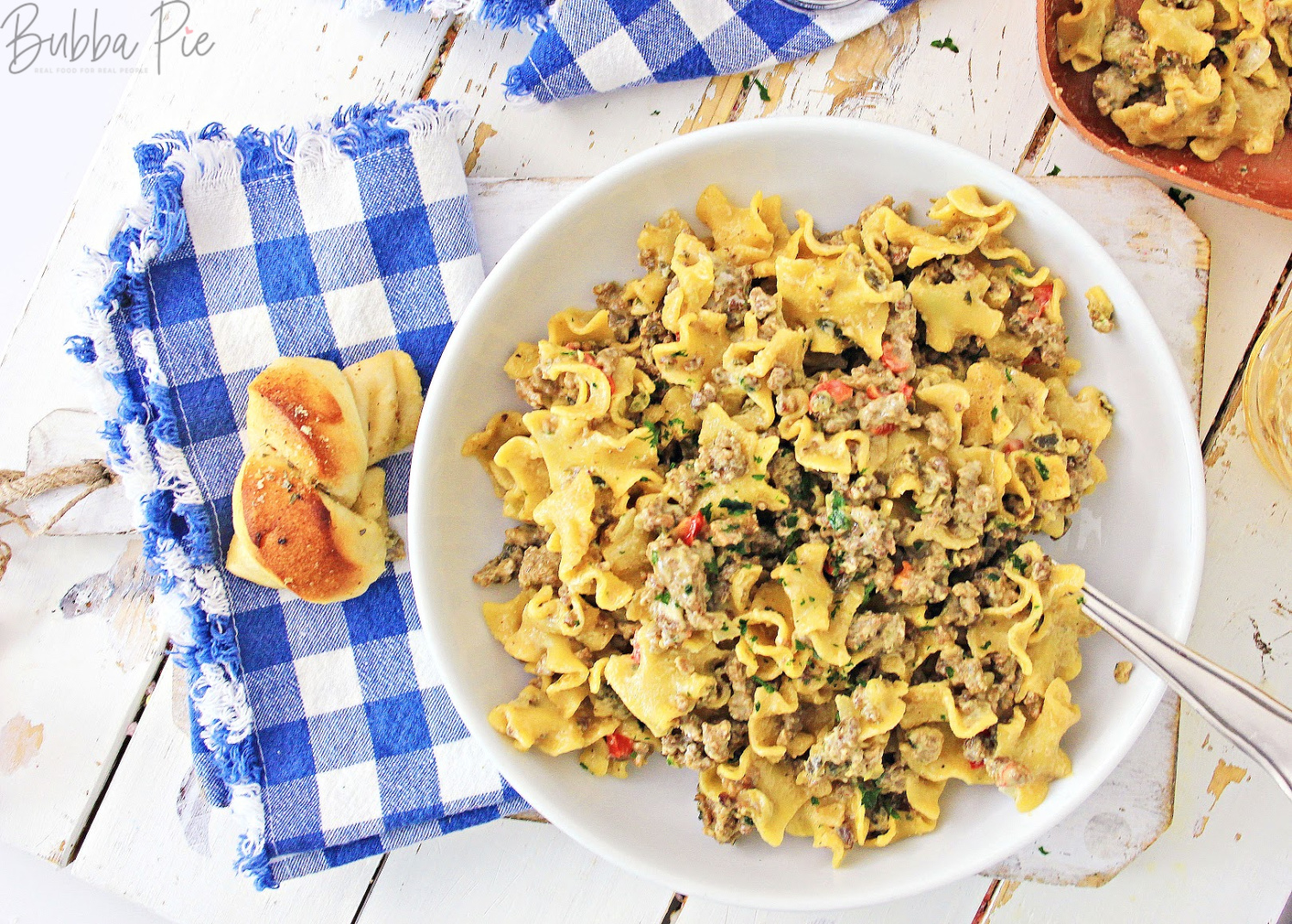 Why You Will Love Philly Cheesesteak Pasta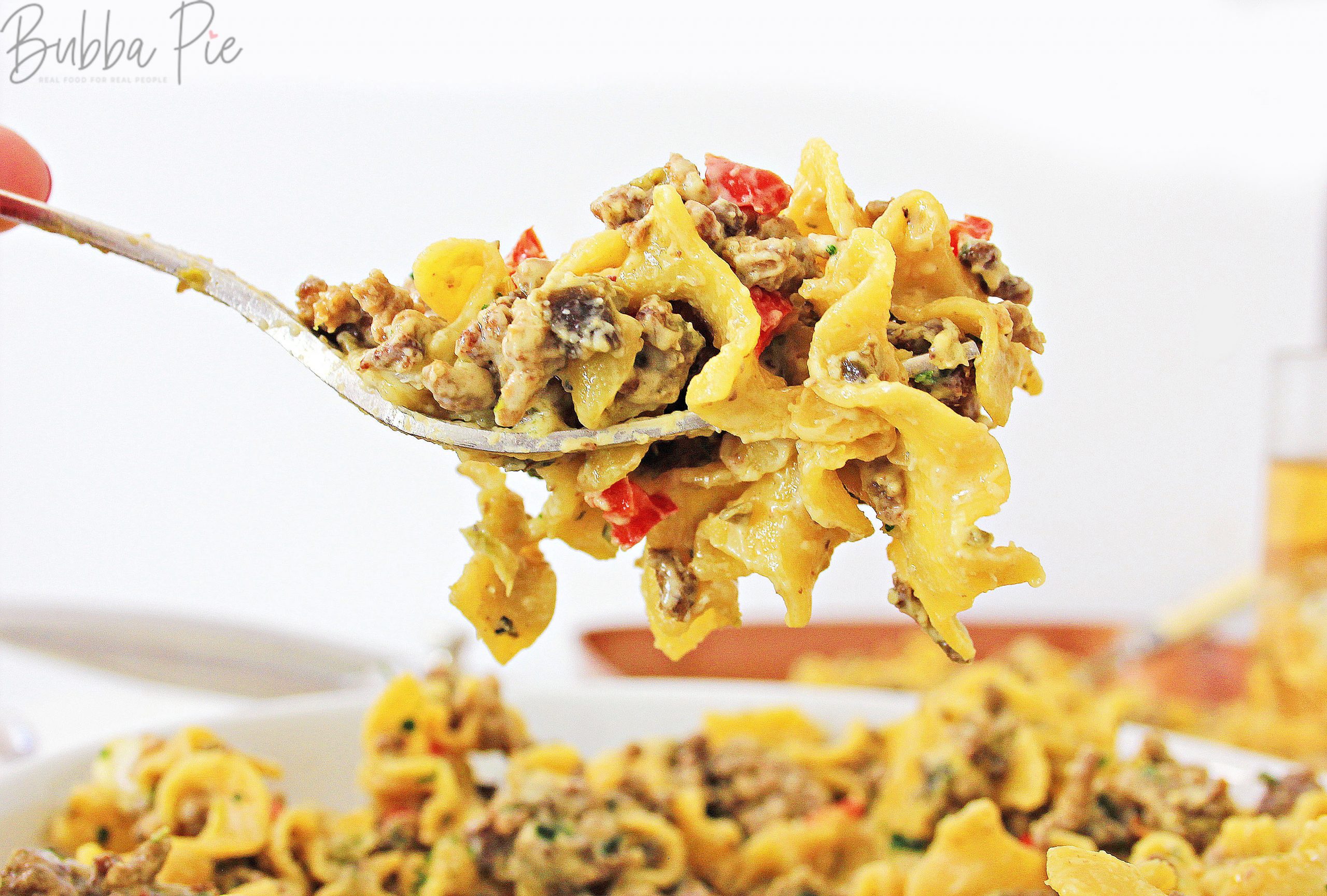 Philly Cheesesteak Pasta
Philly Cheesesteak Sandwiches are one of my favorite foods in the world. I just love the tender meat, the gooey cheese and the soft bun. It's crazy that it never occurred to me before to make this into a pasta dish, but this this Philly Cheesesteak Pasta is the perfect thing for any fan of the popular sandwich.
Check out the printable recipe card below for step-by-step instructions. But here is what you'll need to get started.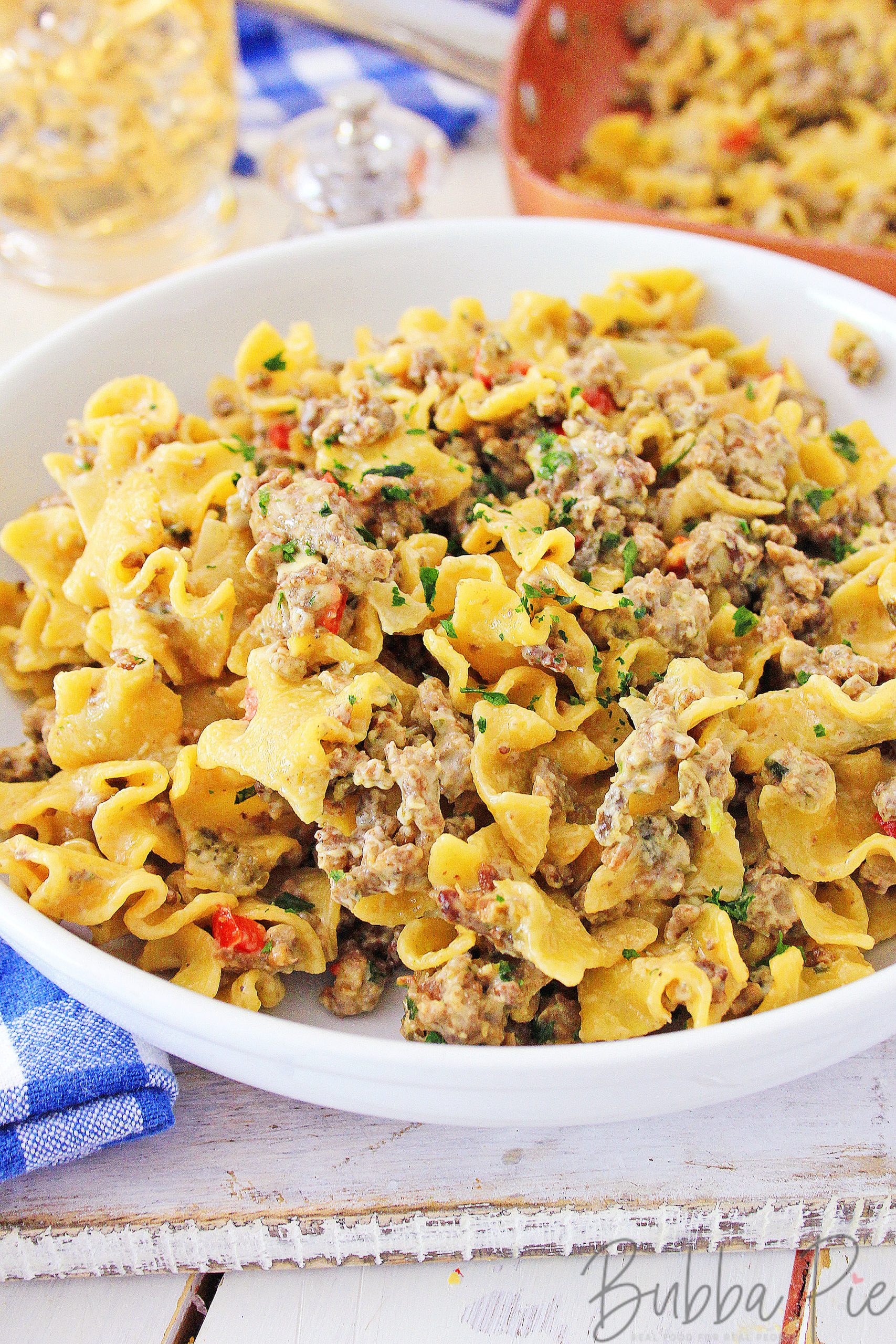 Storage and Freezing
Store leftovers in an airtight container in your refrigerator. Leftovers should be good for about 4-5 days.
You can freeze Philly Cheesesteak Pasta. Let cool completely and put in freezer safe tupperware or containers. It will stay in your freezer for about 4 months. Thaw in the fridge overnight.
This recipe reheats just fine in the microwave.
Other Notes and Tips For Philly Cheesesteak Pasta
You've got a mixture of cheesy beef and tender noodles, all in one skillet. It's a win! I hope you enjoy this easy Philly Cheesesteak Pasta recipe, let me know what you think in the comments section!
LOOKING FOR MORE COMFORT FOOD? CHECK OUT: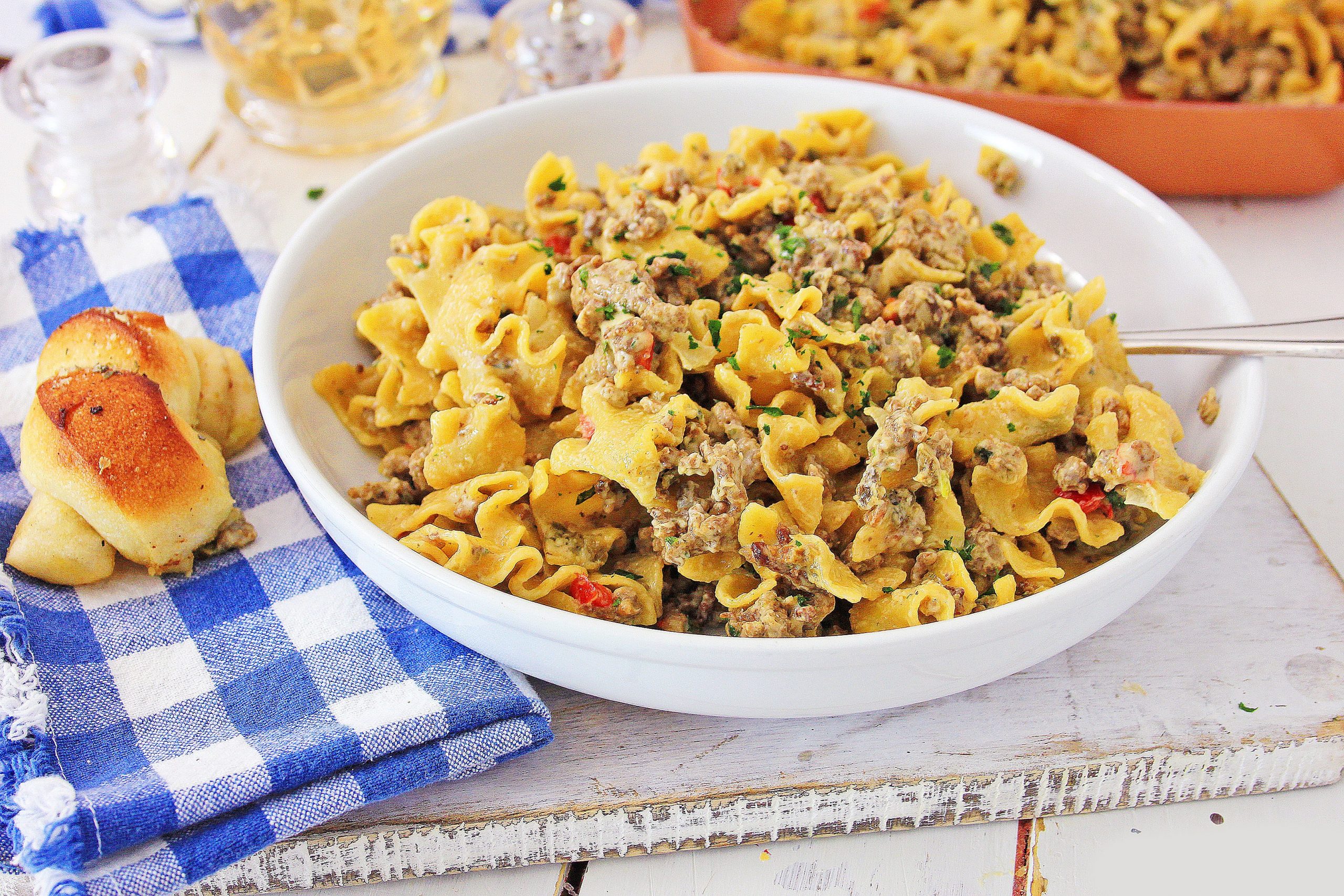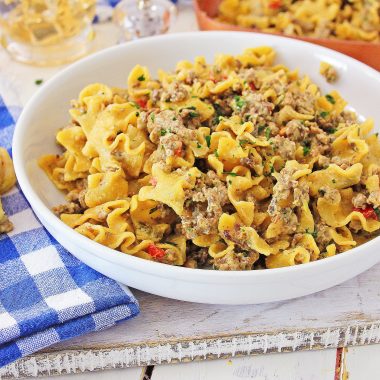 Rate this Recipe
Philly Cheesesteak Pasta Recipe
This Philly Cheesesteak Pasta Recipe is made all in just one skille! It's warm and creamy, robust flavor consists of ground beef, onions, garlic, bell peppers, ketchup and worcestershire sauce all mixed with tender noodles and provolone cheese. Make this for dinner on a cold night and you'll be sure to have some for leftovers tomorrow!
Ingredients
1

Lb

of ground round

1

onion – chopped

1

teaspoon

of minced garlic

1

green bell pepper – chopped

1

red bell pepper – chopped

1

teaspoon

of garlic salt

1/2

teaspoon

of pepper

1/4

cup

of Ketchup

1/8

cup

of Worcestershire sauce

1

cup

of water

8

– 10 ounces of capannelle pasta noodles

6

– 8 slices of Provolone cheese

Chopped parsley – OPTIONAL – for topping or garnish
Instructions
In a large, heavy skillet, brown the ground round, until it's completely done and no pink is visible.

Drain the fat from the ground round – if there is any.

Add the chopped onion, garlic, green pepper, and red pepper, and cook for 10 minutes.

Add the garlic salt, and pepper, and stir well. add the ketchup and Worcestershire sauce, and stir.

Add the water, and noodles, and stir into the skillet.

Turn heat on low, cover with a lid, and let simmer for 20 minutes, or until the pasta noodles are tender, but not mushy.

Remove the lid, and cover the skillet in the Provolone slices.

Return the lid to the skillet and let sit over low heat for 5 minutes.

Remove lid, and stir cheese into skillet dish.
Notes
Can You Use Any Type Of Pasta?
I've seen versions of this recipe with Penne, Cavatappi and Macaroni. So, I'd say that any "short cut" pasta would work great, even Farfalle. I'd stay away from longer noodles like Spaghetti or Tagliatelle. Other Notes and Tips
Make sure that you drain all of the grease out after you brown the ground beef. All that extra grease in the final product will certainly not make it any better, I promise! Also, we don't have any mushrooms in the recipe but you could probably add some if you want. I think that this dish would be best served with a nice soft bread or roll that can really sop up all the gooey goodness of the pasta!
Nutrition
Love this recipe?
Follow @bubbapie for even more delicious recipes!!