Dial in dinner any night of the week with these 19 Chicken Comfort Food Recipes.  Here you will find soups, casseroles, Mexican dishes and baked dishes.  These fun and tasty recipes will be sure to make the whole family excited about dinner tonight!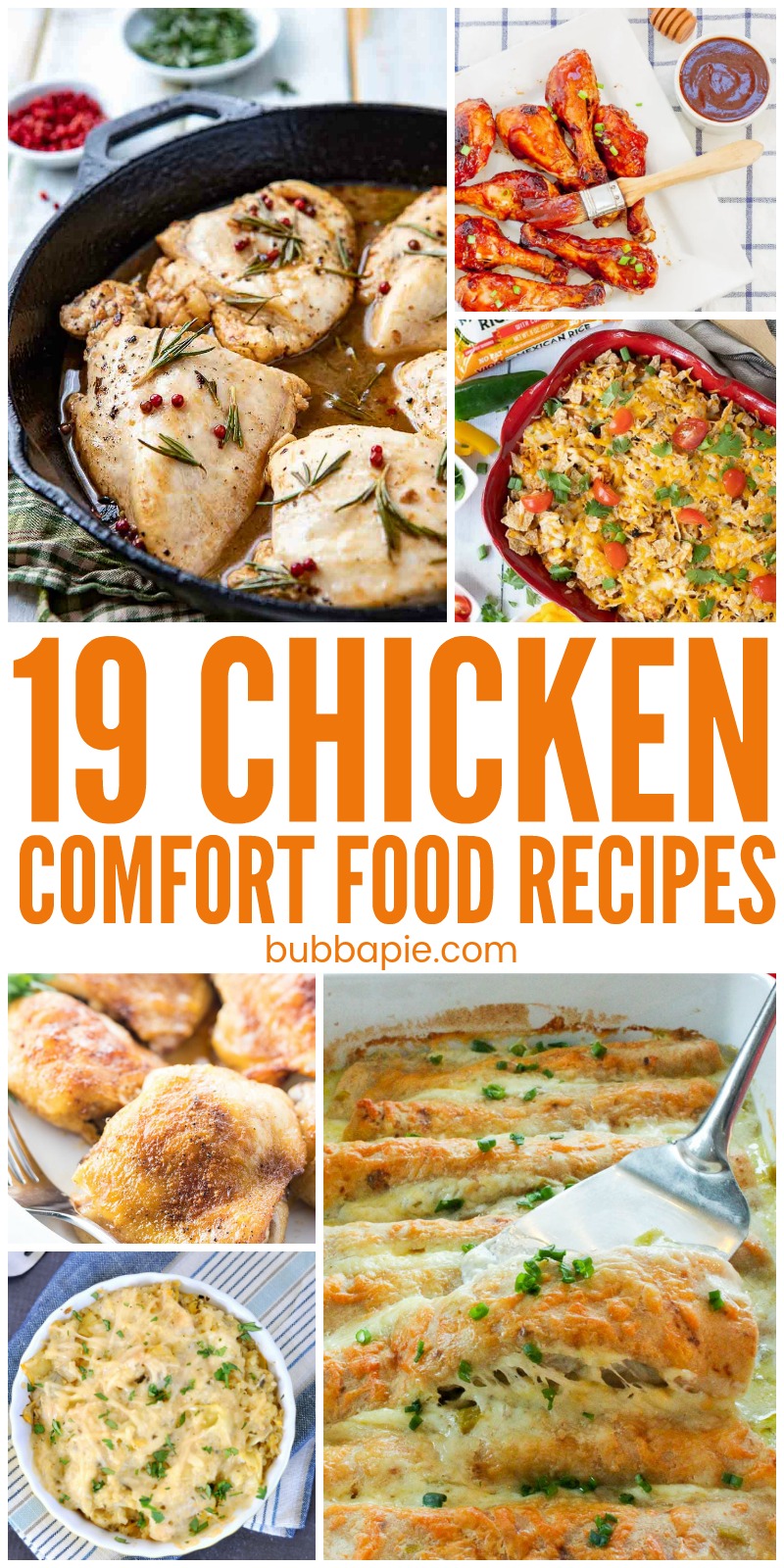 LOOKING FOR MORE RECIPE ROUNDUPS?  CHECK OUT MY 25 HEALTHY COMFORT FOOD RECIPES AND MY 16 DELICIOUS SALAD RECIPES.
19 Chicken Comfort Food Dishes
Nothing says "comfort food" like homemade Chicken Noodle Soup.  If you've never tried to make soup in an Instant Pot, what are you waiting for? It is so easy, so tasty and it's good for the soul!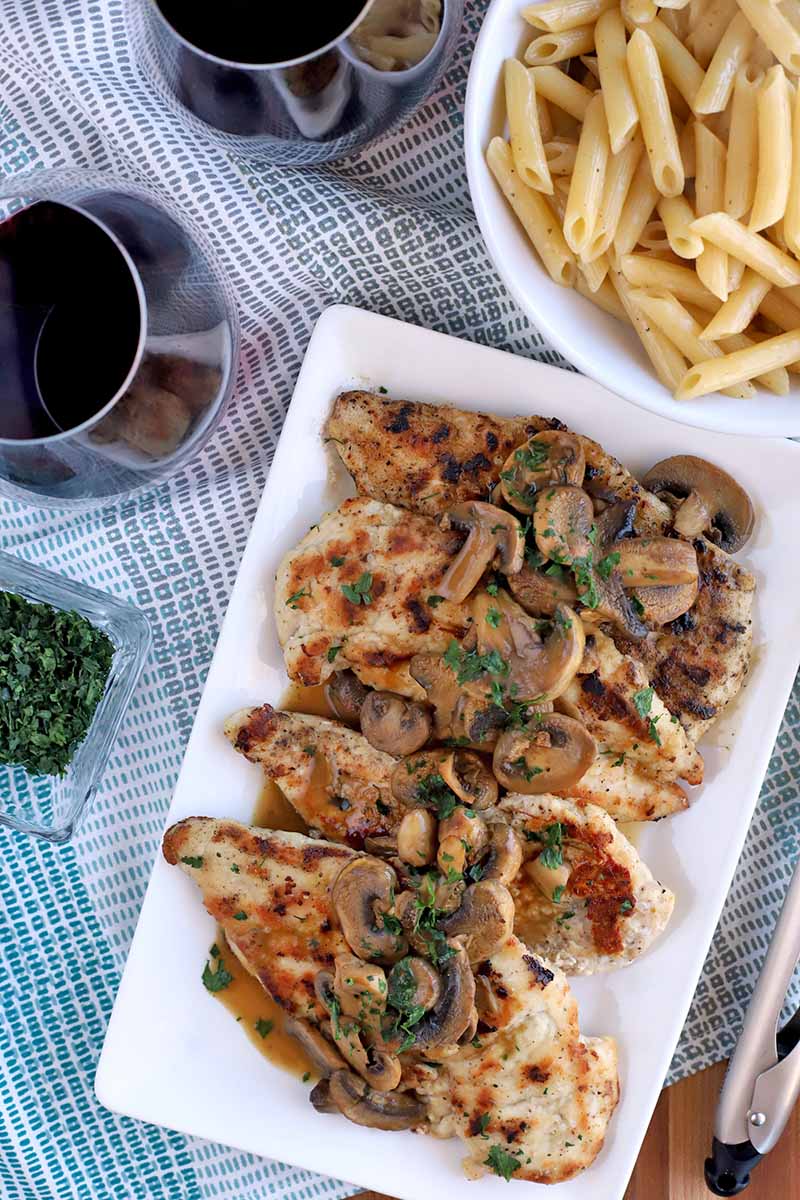 This traditional chicken dish is full of flavor with all the ingredients cooked into the mushrooms until they are tender and rich!  Chicken Marsala is one of my favorite things to order at a restaurant.  I will certainly need to try this one at home!
Now taco night can be any night with this fun twist on Mexican cuisine.  Chicken, black beans, cheese, rice and tortilla chips all combine in this zesty, colorful casserole that the whole family will enjoy!

Imagine coming home to smell this Rosemary Chicken cooking in your kitchen!  Easy enough for a weeknight dinner or fancy enough for a dinner party, this Chicken Comfort Food recipe looks fantastic!  Plus, it's gluten-free!
Tender, moist baked chicken legs are baked with a sweet and smokey BBQ sauce.  Perfect for a summer party.  This chicken recipe is baked indoors in an oven but they taste like they came from the grill!
Sure chicken noodle soup is a staple when it comes to Chicken Comfort Food recipes.  But let's not forget about Chicken Pot Pie!  This casserole is homemade and can feed the whole family.  Plus, I'm sure the leftovers taste just as good, if not better, the next day!
A perfect dish for a cold day. This dish will warm up your whole body with chicken, potatoes, cream and other vegetables.  It is so rich and think that you will have no problem using it as a full meal.
Made with frozen peas and carrots and cream of chicken soup, this family favorite is easy enough to whip up on busy weekday nights.  This chicken comfort food recipe is another example of a dish that will give you lots of leftovers meals for lunch the next day!
By replacing sour cream with yogurt, this White Chicken Enchilada recipe is a littler healthier than you might expect. With tangy green chilis and tons of gooey cheese, you'll still be in comfort food heaven with this dish!
Chicken Pad Thai: one of the staples of any Thai food restaurant.  In this version, our recipe author subs the rice noodle for Zoodles.  So, this zucchini based dish will certainly be better for you than other versions!
Low carb and keto friendly, this easy chicken Green Chili casserole as 3 different types of cheese in it to make it extra gooey and comforting. Don't let the Green Chilis scare you away if you or your family doesn't like spicy dishes, they add more of a zest than a burn.  If you like it on the hotter side, you can always add jalapenos, spicy salsa or hot sauce before serving!
Perfect to use if you have leftover chicken, this creamy comfort food dish tastes great over rice, biscuits or even without a starch at all.
This is a great, easy and quick version of the homemade classic our grandparents used to make from scratch.  This one uses canned soup, frozen vegetables and canned biscuits to speed things up.  But, from the pictures, it still looks as comforting as the dish we ate when we were kids!
I LOVE chicken thighs!  They just always seem like the most tender part of the chicken!  This recipes bakes them at 450 degrees to get the skin nice and crispy.  Yum!
Smoky and garlicky and paired perfectly with roasted potatoes, this is a great comfort food recipe for any occasion.
Some of these recipes have substituted yogurt for cream or zoodles for noodles. While I applaud the efforts to make these chicken comfort food recipes healthier, I also have to give respect when a recipe just is what it is: calories, fat, gluten and all! This is what we get with this Chicken Pasta with Fresh Tomato Cream Sauce.  Creamy, rich and made with fresh tomatoes, it is the perfect dish to make you happy after a tough day.
This one looks like a keeper.  Tender chicken, artichokes and Quinoa baked into a casserole that is rich and creamy!  Great for a weeknight dinner!

I love chorizo and anytime it gets worked into a dish, I am all for it.  Mixed with chicken, peas and rice, this saffron induced dish is complex, dynamic and delicious!
Great for a Sunday night feast for the whole family.  Roasted chicken, mashed potatoes, vegetables and stuffing! The recipe author recommends a brine for the chicken and even gives you a schedule to have your recipe all ready by Sunday night!
I hope you enjoy these 19 Chicken Comfort Food Recipes!  Let me know which one your favorite was or if you changed any of them up in any way!  Stay comfortable!