Move over store bought, canned Sloppy Joe Sauce! This Homemade Sloppy Joes Recipe is easy, delicious and full of simple, hearty ingredients you probably already have in your kitchen! Ready and minutes and sure to a favorite family dinner any night of the week! Sweet, savory, tangy and zesty… all between two buns!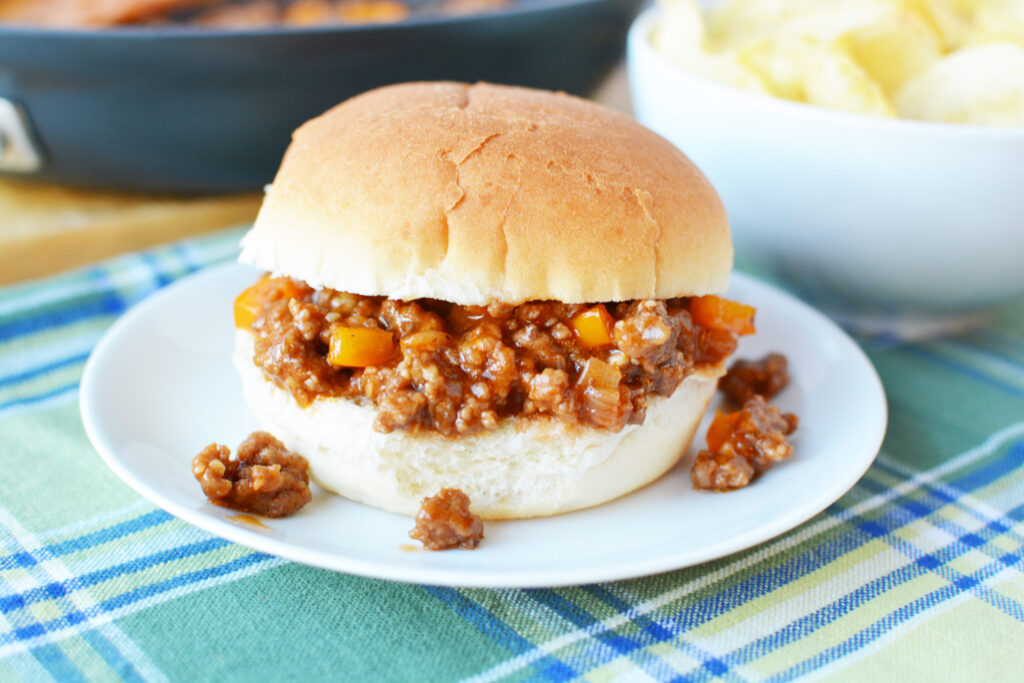 If you are busy parents like we are, you are probably looking for easy, no frill family dinners. And, if you grew up in the era that I did, you are almost sure to have fond recollections of eat Sloppy Joes from time to time.
Lately, we've had a ton of fun going back and revisiting some old classic family dinners from our childhood, but putting a homemade spin on them so that you aren't just using store bought sauces and packets where you don't know exactly what your feeding to your family! From Tuna Noodle Casserole and Shake n' Bake Pork Chops to Homemade Beefaroni, we've had a lot of fun going down memory lane with our bellies full!
What Is The Difference Between a Sloppy Joe and a Manwich?
And, while we're at it? How did the Sloppy Joe even get its name? One version of the story originates in Cuba, where a restaurant served a sandwich based on a ropa vieja. The restaurant also sold iced seafood, and the ice would often melt on the floor. This led to the place eventually being called "Sloppy Joes".
Another version of the story comes from Sioux City, Iowa. A cook named Joe invented a loose meat sandwich with a tomato sauce. The name Sloppy Joe eventually came around and stuck. Who knows which one is true? Or  if even either of them are? If you have another theory, we'd love to hear it in the comments.
So, what about a Manwich? Manwich is simple a canned sauce used to make a quick and easy Sloppy Joe. Yes, it's probably a little quicker to use the premade, store bought sauce. But not much. And this homemade Sloppy Joe Recipe is so much better. And now you know exactly what you are feeding to your family!
How To Make Homemade Sloppy Joes?
So simple. So easy. For the full, step-by-step instructions, check out the printable recipe card below. But, basically, you'll just need to brown the ground beef and stir with the onion and the peppers. Drain the grease and add all the other ingredients. Here is what you'll need to get started, along with some suggestions for substitutions if wanted or needed:'
BEEF – 1 lb of ground beef. If you want to make it leaner, you can sub for ground chicken or ground turkey.
BELL PEPPER – We used chopped green bell peppers. If you want to use red bell pepper or any other color, go for it!
WHITE ONION – Again, chopped and sauteed with the pepper and the ground beef. Use yellow onion if you'd like. Or omit the onion altogether if it's not your thing.
GARLIC – Minced garlic.
KETCHUP – Use organic or sugar free ketchup if needed. Or substitute for BBQ sauce for a little more bold and zesty flavor!
BROWN SUGAR – We used two tablespoons of brown sugar. If you are concerned about it being too sweet, you back off this. Or omit it altogether.
WORCESTERSHIRE SAUCE – Adds more depth to the flavor of the Sloppy Joe.
DIJON MUSTARD – I think this is our secret ingredient! Gives this sauce just the kick in the pants that it needs!
WATER
SALT AND PEPPER – To taste.
CAYENNE – Just a pinch. Totally optional.
HAMBURGER BUNS – Any of your favorite sandwich bread will do. Pretzel buns would be fun! Or Brioche buns. Anything!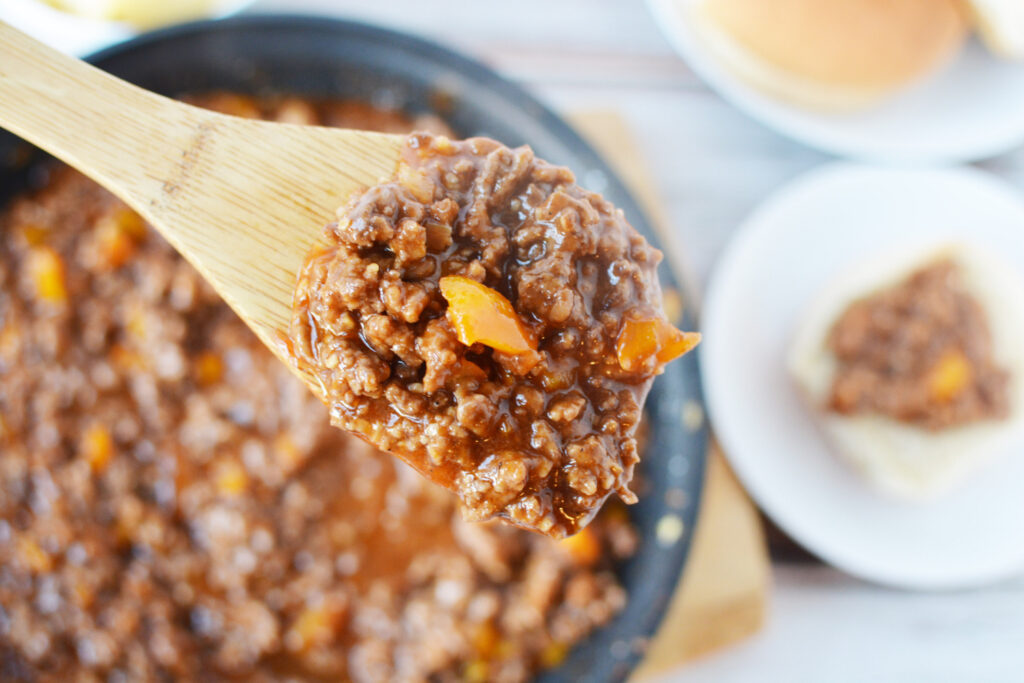 What Can You Do With Sloppy Joe Meat?
Obviously, most of us put it between two slices of our favorite bread and made it a sandwich! But there are some other fun things that you can do with Sloppy Joe Meat. Some ideas are:
ULTIMATE BAKED POTATO – Load it on a baked potato with cheese, bacon, chives, sour cream and any other fixings!
LOADED FRENCH FRIES – Same idea as the potato. Load it up! You'll probably need a fork for this one!
GRILLED CHEESE – Add it to a grilled cheese? Yes, "PLEESE"!
BURGER TOPPING – Need a massive case of Meat Overload? Add this as a topping to a hamburger.
STUFFED PEPPERS – Great as an appetizer or a meal. Stuff Bell Peppers with Sloppy Joe Meat, top with cheese and bake in the oven to bubbly and melted.
SLOPPY JOE NACHOS – Do I even need to describe this to you? Load it up!
Storage and Freezing
Store leftovers in an Airtight Container in your fridge. It reheats perfectly fine in the microwave. It should be good in your refrigerator for about 5 days.
Can you freeze Sloppy Joe meat? Yep! Just let it fully cool down and put it in a freezer safe container. It will be good in your freezer for up to 4 months. Thaw in the fridge overnight. Again, reheating in the microwave is fine.
Can You Make Sloppy Joes In A Crockpot?
Absolutely! So easy! Just brown the beef and saute the onion and peppers. Then put all the ingredients into your Slow Cooker. Cook on low for 4-6 hours and high for 2-3 hours.
Notes, Tips and Suggestions
A couple other things to consider.
TOAST YOUR BUNS – With a name like "Sloppy Joe" we are pretty ok with this being a little sloppy to eat. But your buns CAN get pretty soggy. One way to fight this is to toast them before loading them with the meat.
ADD SOME HEAT? – Want to make this a little spicier? Add some diced jalapenos while cooking. Or you could add some red pepper flakes!
We hope you enjoy this recipe for Homemade Sloppy Joes. We'd love to hear how you like it in the comments section. And let us know any variations that you like to use in this recipe. It's fun to play around with!
LOOKING FOR MORE EASY FAMILY DINNERS? CHECK OUT: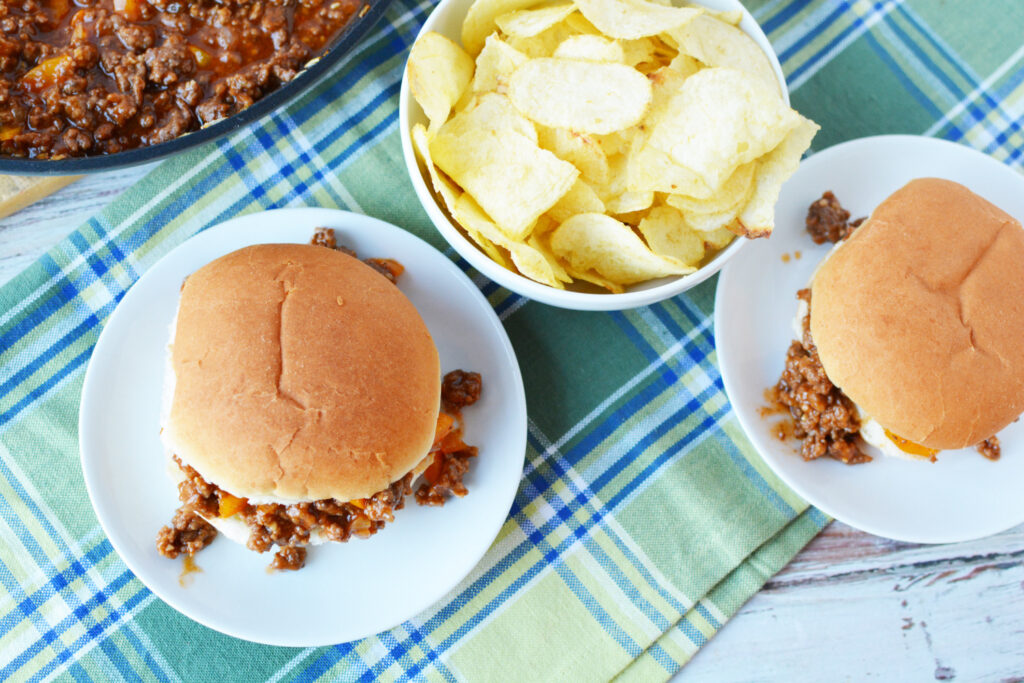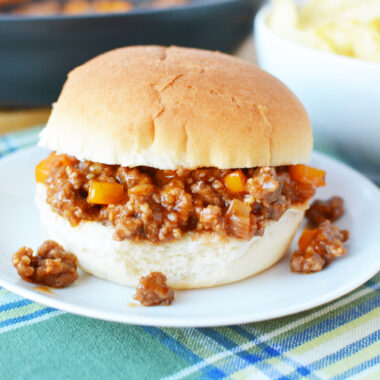 Rate this Recipe
Homemade Sloppy Joes
Move over store bought, canned Sloppy Joe Sauce! This Homemade Sloppy Joes Recipe is easy, delicious and full of simple, hearty ingredients you probably already have in your kitchen! Ready and minutes and sure to a favorite family dinner any night of the week! Sweet, savory, tangy and zesty... all between two buns!
Ingredients
1

lb

ground beef

1/2

cup

chopped bell pepper

1/4

cup

chopped white onion

1

tablespoon

minced garlic

3/4

cup

ketchup

2

tablespoons

brown sugar

1

tablespoon

Worcestershire sauce

1

tablespoon

dijon mustard

1/2

cup

water

1-1/2

teaspoons

salt

1/2

teaspoon

ground black pepper

pinch

cayenne

optional

hamburger buns
Instructions
Add ground beef to a large skillet and heat over medium high heat, stirring frequently until browned. Drain grease and return meat to pan.

Add pepper and onion and heat for an additional 5 minutes or until onions are translucent.

Add garlic, ketchup, brown sugar, Worcestershire, mustard, water, salt and pepper. Mix well.

Heat over medium heat until bubbly and boiling.

Reduce heat to low and simmer for 20 minutes, stirring occasionally.
Love this recipe?
Follow @bubbapie for even more delicious recipes!!