This Easy Homemade Beefaroni recipe is a great comfort food for the winter months.  But it is also a great option for family dinners throughout the year. Hearty ground beef, tender rotini pasta, tomato sauce and TONS of cheese make this childhood classic a great idea for busy weeknights!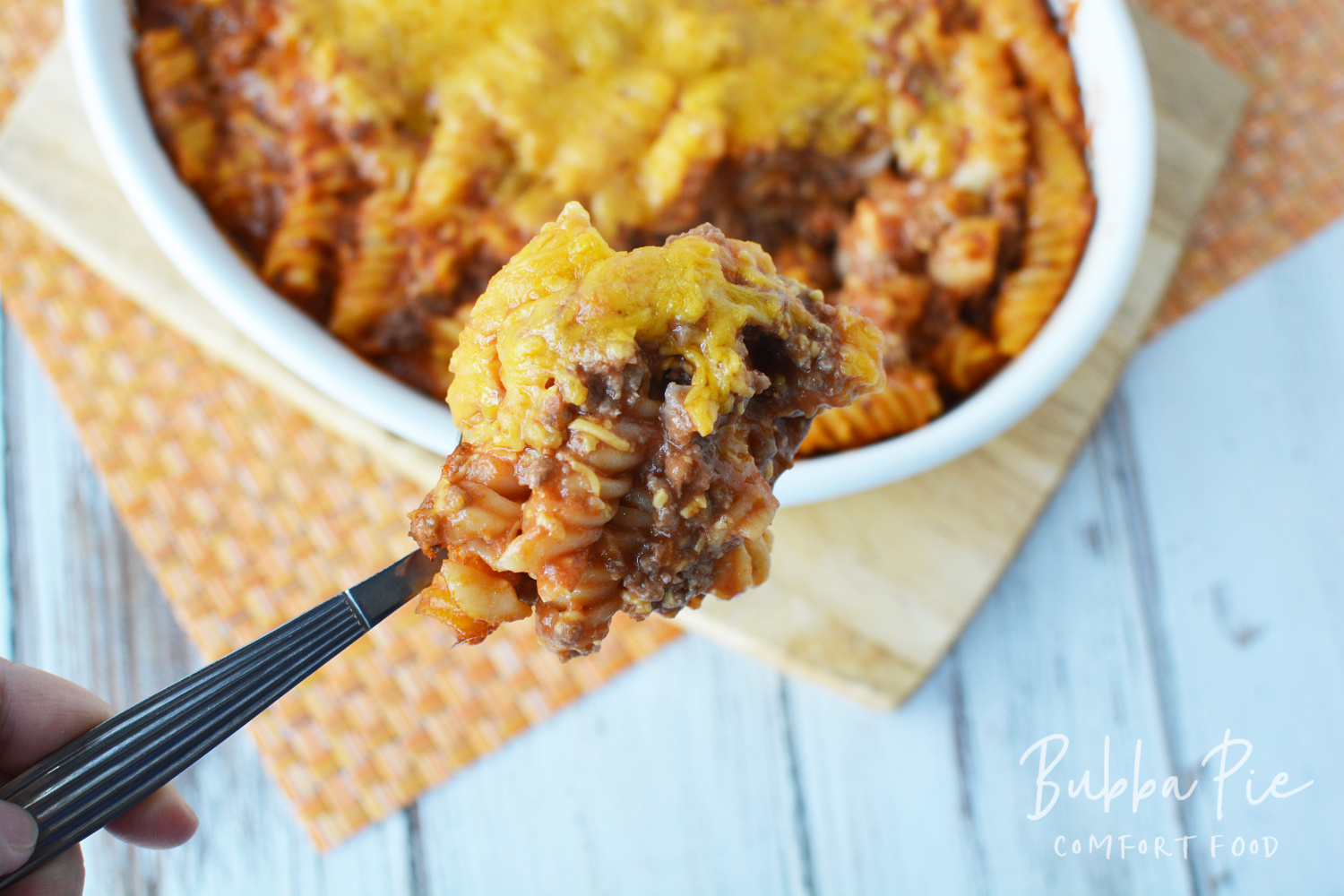 LOOKING FOR MORE EASY CASSEROLE DISHES? CHECK OUT:
Homemade Beefaroni-Classic Comfort Food
I am looking out my window right now and seeing the first snowfall of the year.  I can't believe that just a couple of weeks ago, I was outside throwing the football with my son while wearing jeans and a t-shirt.  Every year, especially during those Indian Summers in October, I hold out hope that the cold won't actually make an appearance.  But, every year, it does.
The one silver lining to all of this cold weather is that it is the perfect time to make some of my favorite
comfort food
dishes.  I love
Chili
,
Chicken Noodle Soup
, and
Sheppard's Pie
.  But one of my favorite comfort foods is Beefaroni.  So, I have decided to find my own homemade beefaroni recipe.
Healthier Version of A Childhood Recipe
I'm sure that most of us have fond recollections from childhood of eating this staple of weekday night meals.  Chef Boyardee was a frequent visitor to our dinner table when I was young.  My mom just couldn't resist opening up the can, heating it up on the stove and serving it up to us.  The Beefaroni was one of my favorites, especially when it was cold outside.
Now that I am a parent of my own children, I'd love to introduce them to the same memories I had as a child.  But, I think society has become a little more attuned to the health needs of our children since the 1980's.  I don't always feel great about feeding my children straight from a can if I can prevent it.  So, I'm always looking for easy homemade recipes of some of my favorite childhood favorites from decades ago.  This Easy Homemade Beefaroni Recipe fits that bill exactly.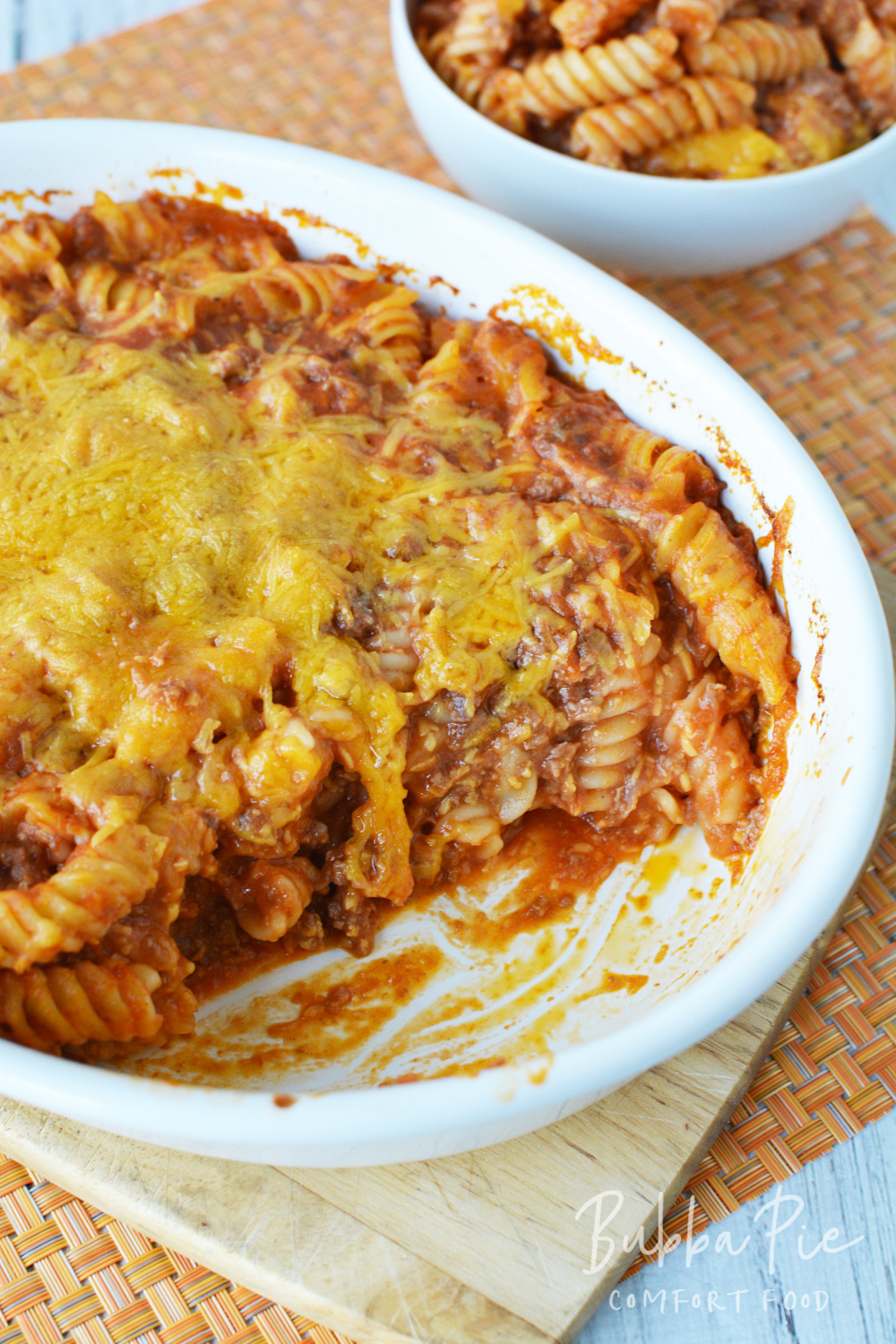 How To Make Homemade Beefaroni Recipe
What I love most about this recipe is how easy it was to make.  When I started thinking about how to make beefaroni on my own, it quickly dawned on me that I would really only need a couple of ingredients.  There are some classic recipes that I have tried to duplicate and they turned out to be a little more complicated that I anticipated!  Not this one.
For this Beefaroni Recipe, I would really only need 4 ingredients: Tomato Sauce, Shredded Cheddar Cheese, Pasta and Butter!  Most, if not all of these ingredients are things that you probably have in your kitchen right now!
Just cook the pasta and brown the ground beef at the same time. Drain pasta and add some butter. Then mix together ALL the ingredients and pour into a prepared baking dish and top with some more cheese. Bake for about 25 minutes or until the center is nice and hot!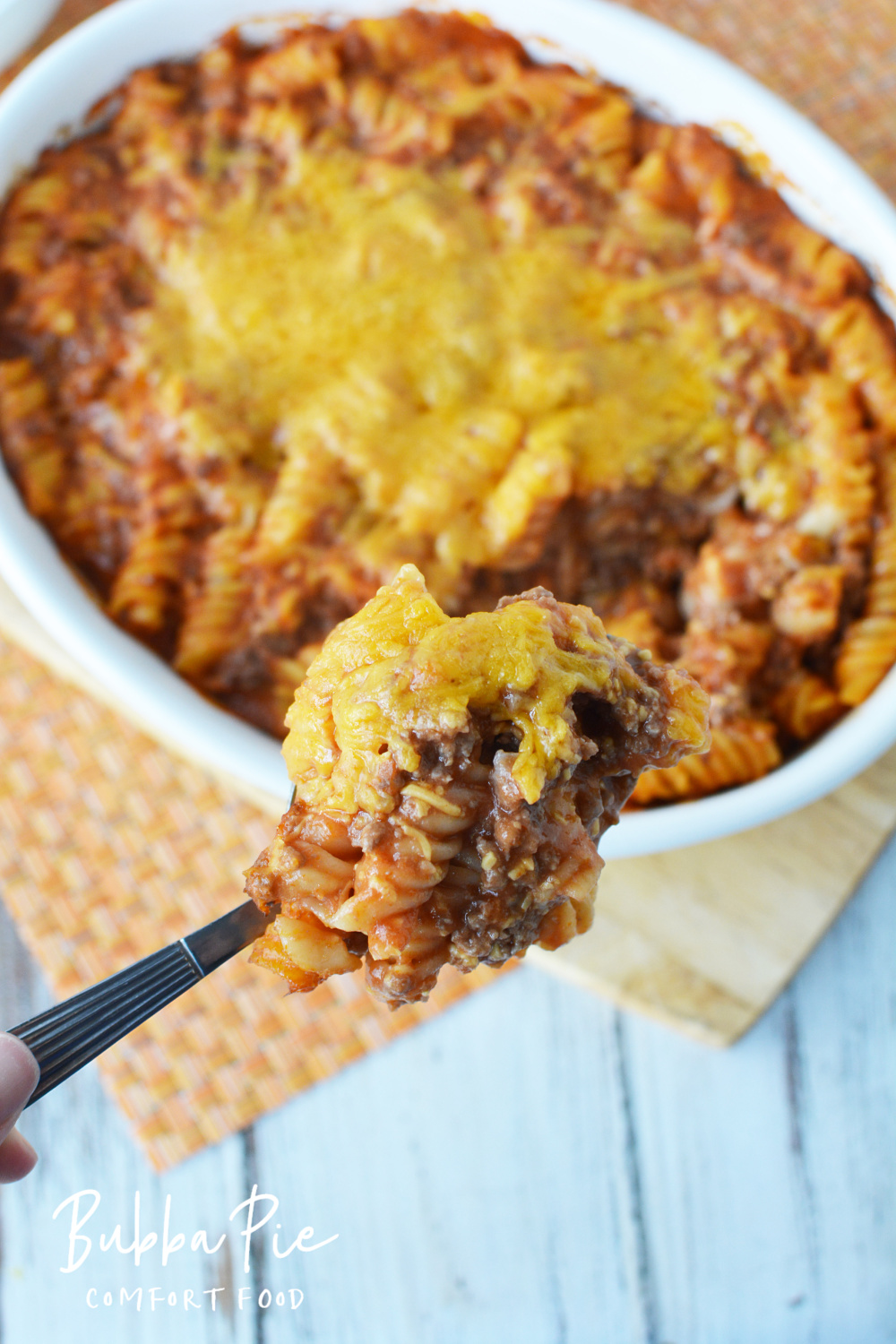 Storage and Freezing
One of the best parts of this recipe is how much it makes and how many family members and friends it can feed. But, you MAY have leftovers. Beefaroni leftovers are best kept in an airtight container in the refrigerator. And it heats up just fine in the microwave.
You can freeze leftovers too. Just let the beefaroni fully cool, then wrap in freezer wrap or freezer bags. It should be good in your freezer for up to 3-4 months. When you are ready to eat, just thaw it out in the fridge overnight and reheat in the microwave.
Items To Help With This Recipe
CASSEROLE DISH WITH A LID– We like to use this Casserole Dish because it comes with it's own lid. You you can keep leftovers right in there!
LARGE SKILLET– We love to use an EXTRA large skillet for recipes like this to fit all the ingredients in!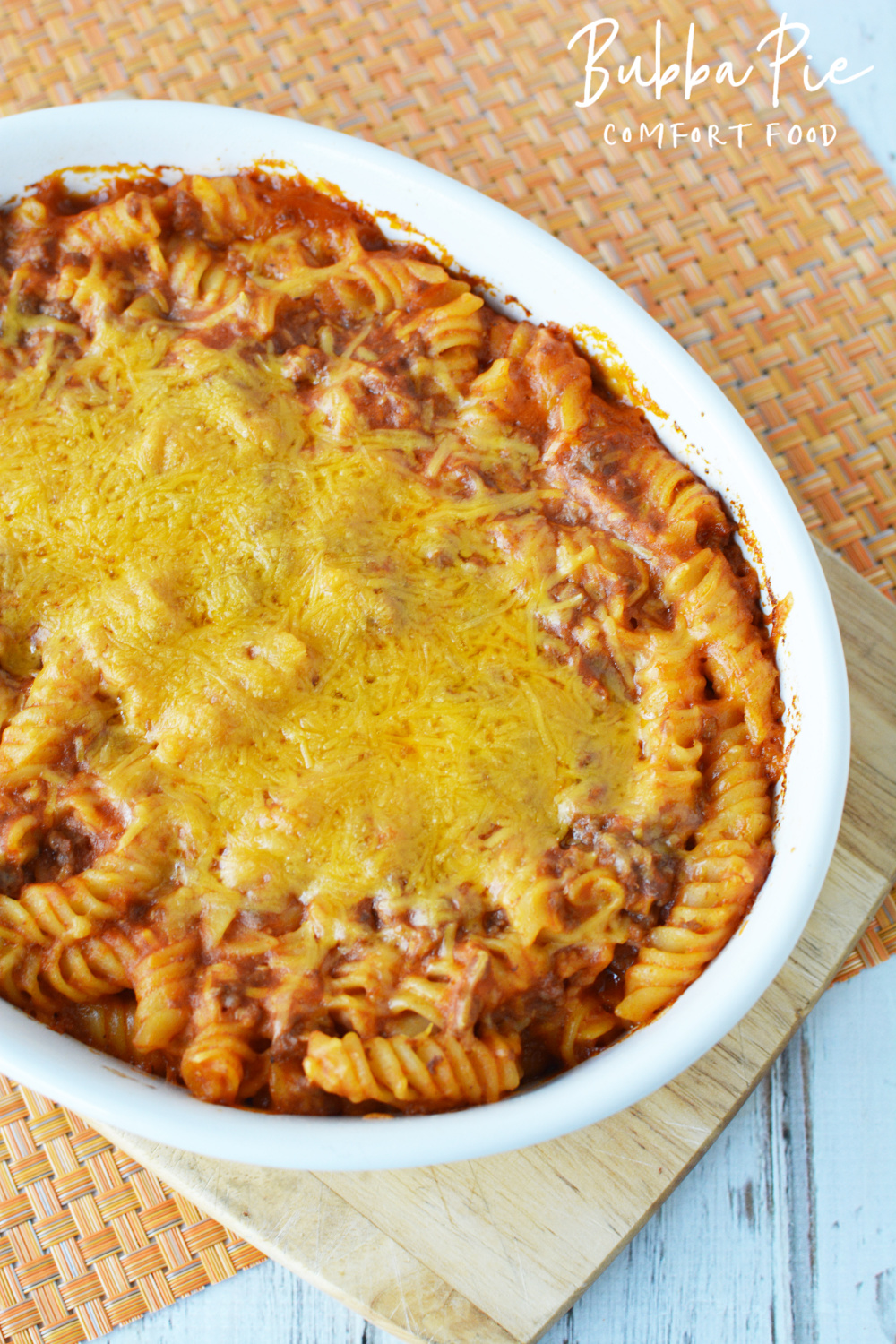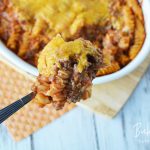 Easy Homemade Beefaroni Recipe
This Easy Homemade Beefaroni recipe is great comfort food for the winter months. But it is also a great recipe for family dinners throughout the year.

Ingredients
1

lb

ground beef

2

cans

15 oz, tomato sauce

2-1/2

cups

shredded cheddar cheese

1

package

16 oz, rotini pasta

2

tablespoons

butter

salt and pepper
Instructions
Grease a casserole or 9x13 baking dish with nonstick cooking spray and set aside.

In a large skillet, cook beef until browned. Drain grease.

Meanwhile, cook pasta until el dente. Drain and mix pasta with butter.

Stir in beef, tomato sauce and 2 cups of cheese. Season with salt and pepper.

Sprinkle top with remaining 1/2 cup cheese. Bake for 25-30 minutes or until hot in the center.
Nutrition Facts
Easy Homemade Beefaroni Recipe
Amount Per Serving
Calories 429
* Percent Daily Values are based on a 2000 calorie diet.