This Beefaroni recipe is our easy homemade take on a classic comfort food dish! Hearty ground beef, tender rotini pasta, tomato sauce and TONS of cheese make this childhood classic a great idea for quick dinner recipe on busy weeknights!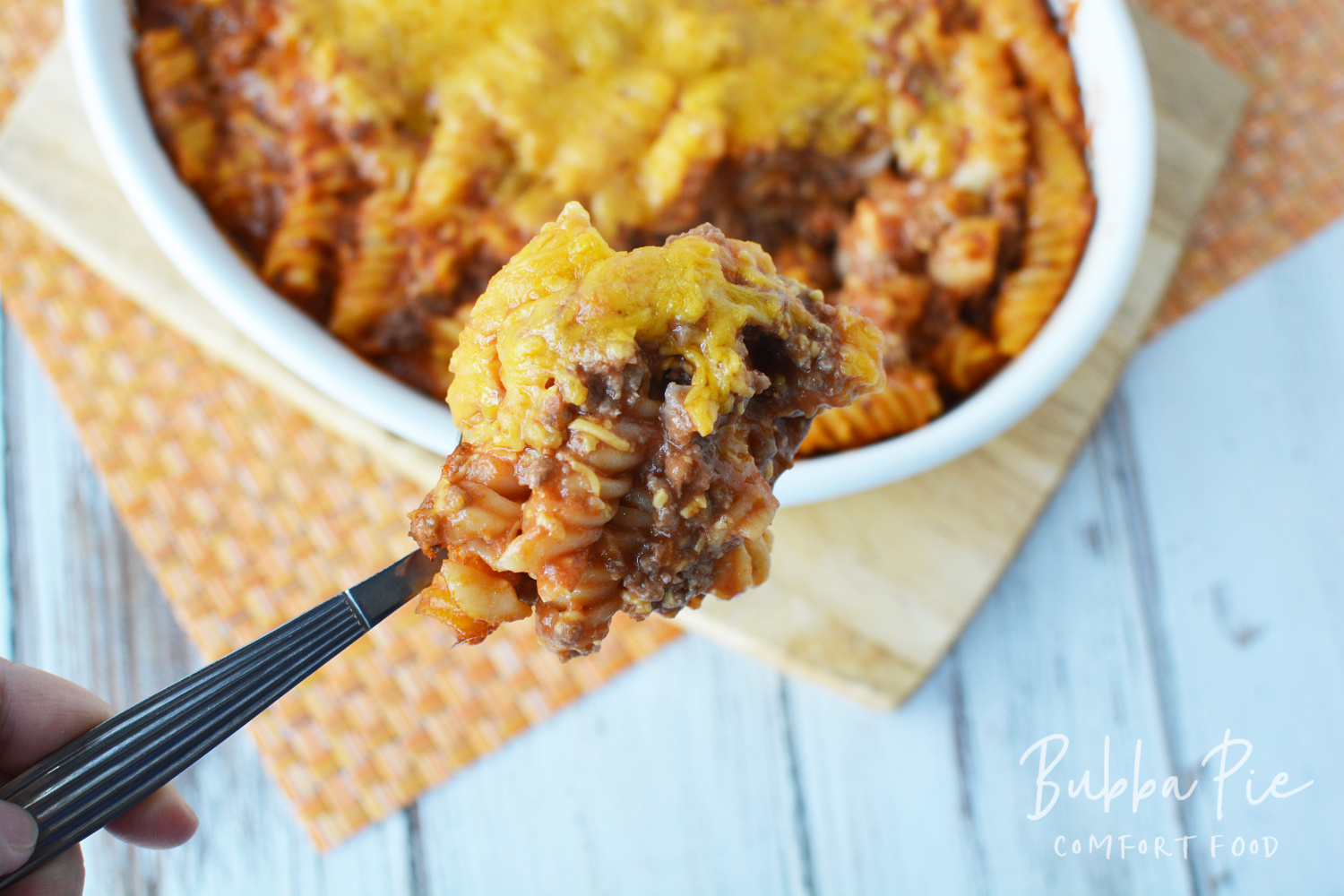 Why You'll Love This Beefaroni Recipe
FUN – Everyone remembers Beefaroni from their childhood, right! It's so much fun to take nostalgic recipes and remake them in your own way in your own kitchen!
KID FRIENDLY – There is a reason that Beefaroni was on just about every families dinner table when we were growing up! This is a perfect dish for fussy and picky eaters!
EASY – This dish takes just a couple minutes to prepare. Brown your ground beef and dump all your ingredients into a casserole dish. Then you are ready to go!
WHOLESOME – The canned Chef Boyardee Beefaroni was one of my favorites as a child, especially when it was cold outside. So, I'm always looking for easy homemade versions of some of my favorite childhood favorites from decades ago. Now I know exactly what I'm putting into my (and my children's) bodies.
How To Make Homemade Beefaroni
What I love most about this recipe is how easy it was to make. When I started thinking about how to make beefaroni on my own, it quickly dawned on me that I would really only need a couple of ingredients. There are some classic recipes that I have tried to duplicate and they turned out to be a little more complicated that I anticipated! Not this one.
For this Beefaroni Recipe you'll only need 5 ingredients. Most, if not all of these ingredients are pantry staples that you probably have in your kitchen right now!
Beefaroni Recipe Ingredients
GROUND BEEF – We used 80% lean ground beef. But you can use whatever you'd like. If you want to lighten this dish up a bit, you can use ground chicken or ground turkey, but it will alter the flavor.
TOMATO SAUCE – 2 15 ounce cans of tomato sauce will do the trick here.
CHEDDAR CHEESE – Shredded cheddar cheese. You can substitute for another type of cheese if that sounds good to you. We always recommend buying a block of cheese and shredding it yourself. It melts a lot better in casserole dishes than the pre-shredded stuff you buy at the store.
PASTA – We used Rotini Pasta. We love how the sauce gets trapped in all the nooks and crannies of the spirals. But a lot of people use elbow macaroni noodles as well. You can use regular, whole wheat or even gluten free pasta.
BUTTER – Unsalted Butter.
Beefaroni Pasta Recipe
Just cook the pasta and brown the ground beef at the same time.
Drain pasta and add some butter.
Then mix together ALL the ingredients and pour into a prepared baking dish and top with some more cheese.
Bake for about 25 minutes or until the center is nice and hot!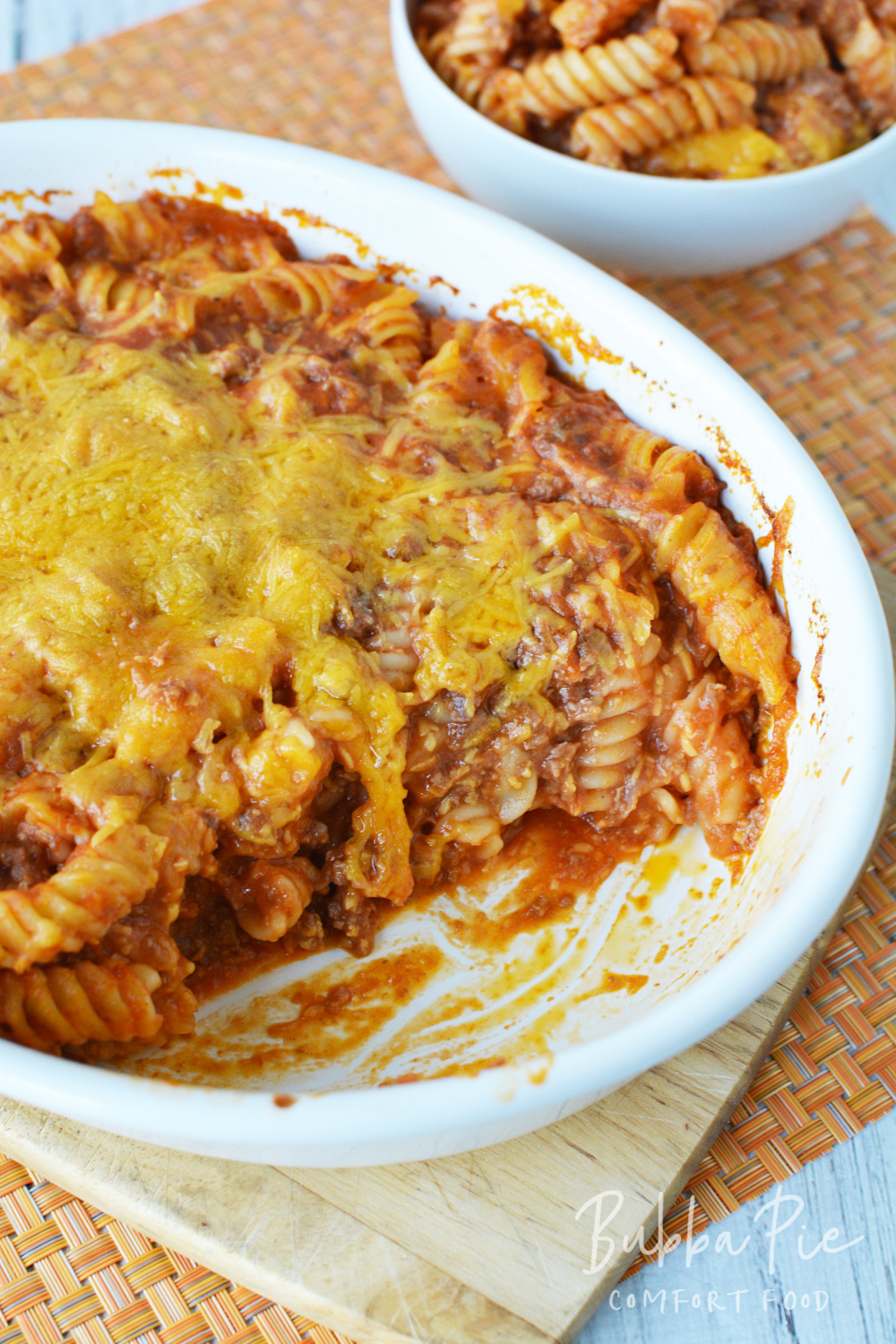 Storage and Freezing
Beefaroni leftovers are best kept in an airtight container in the refrigerator. And it heats up just fine in the microwave. Leftovers should be good for about 4-5 days.
You can freeze leftovers too. Just let the beefaroni fully cool, then wrap in freezer wrap or freezer bags. It should be good in your freezer for up to 3-4 months. When you are ready to eat, just thaw it out in the fridge overnight and reheat in the microwave.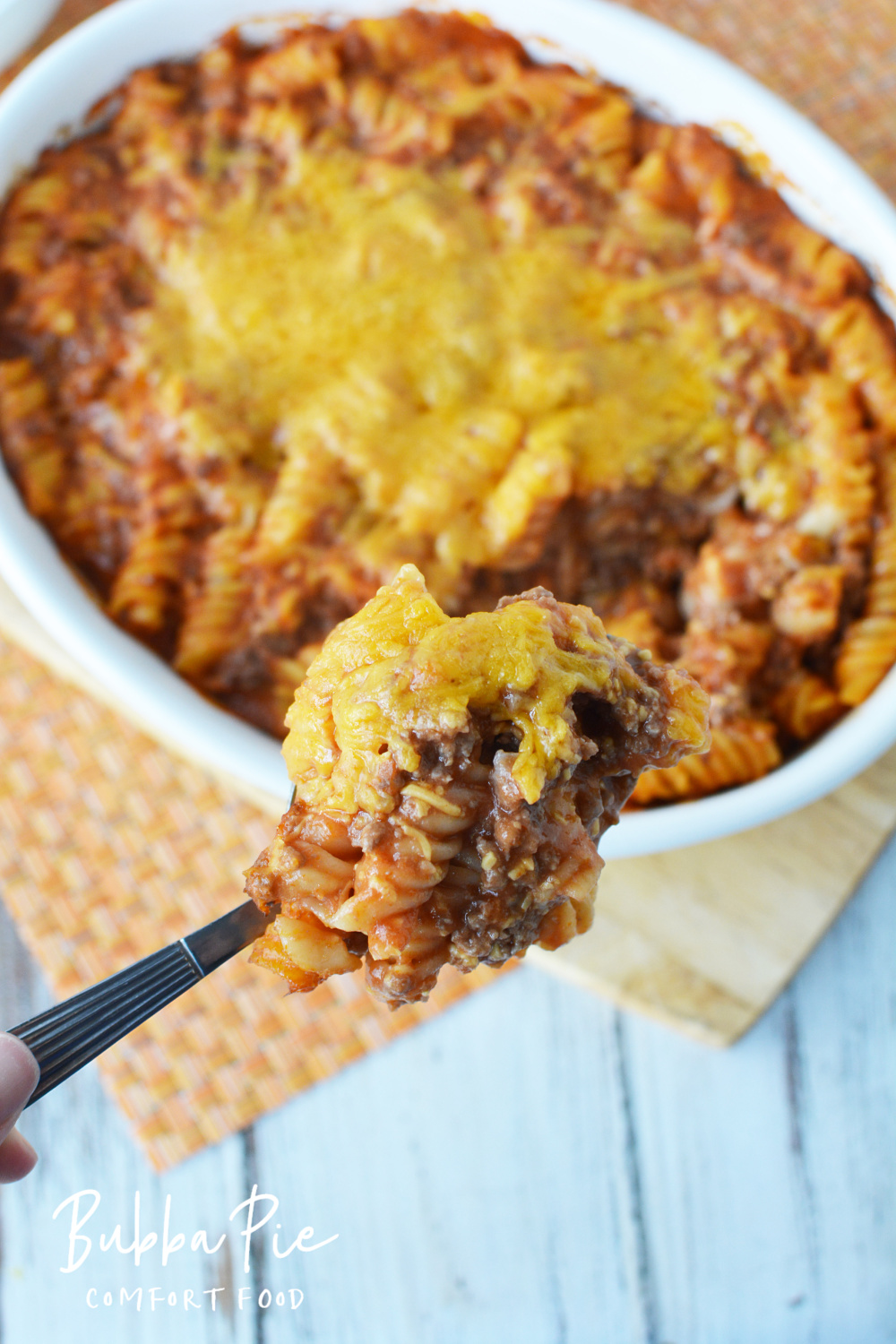 Notes, Tips and FAQs
CAN YOU MAKE BEEFARONI GLUTEN FREE? – Yes! This recipe is easy to make gluten free by just substituting Gluten Free Pasta.
MAKE IT A ONE POT MEAL – Make your weeknight dinner even easier with less dishes! You can brown your ground beef in the same pot that you cooked your pasta!
CAN YOU USE SPAGHETTI SAUCE IN BEEFARONI? – You can, although Spaghetti Sauce has it's own spices in it and they may conflict with the spices you are adding in this recipe. So we advise to just use Tomato Sauce.
WHAT OTHER INGREDIENTS CAN I ADD TO BEEFARONI? – Mushrooms, Bell Peppers or you could top with some Fried Onions! Saute some onions and/or garlic along with the beef. Or add some spice by putting in a small amount of chili powder or even some red pepper flakes. Top with some mozzarella or parmesan cheese!
Items To Help With This Recipe
CASSEROLE DISH WITH A LID– We like to use this Casserole Dish because it comes with it's own lid. You you can keep leftovers right in there!
LARGE SKILLET– We love to use an EXTRA large skillet for recipes like this to fit all the ingredients in!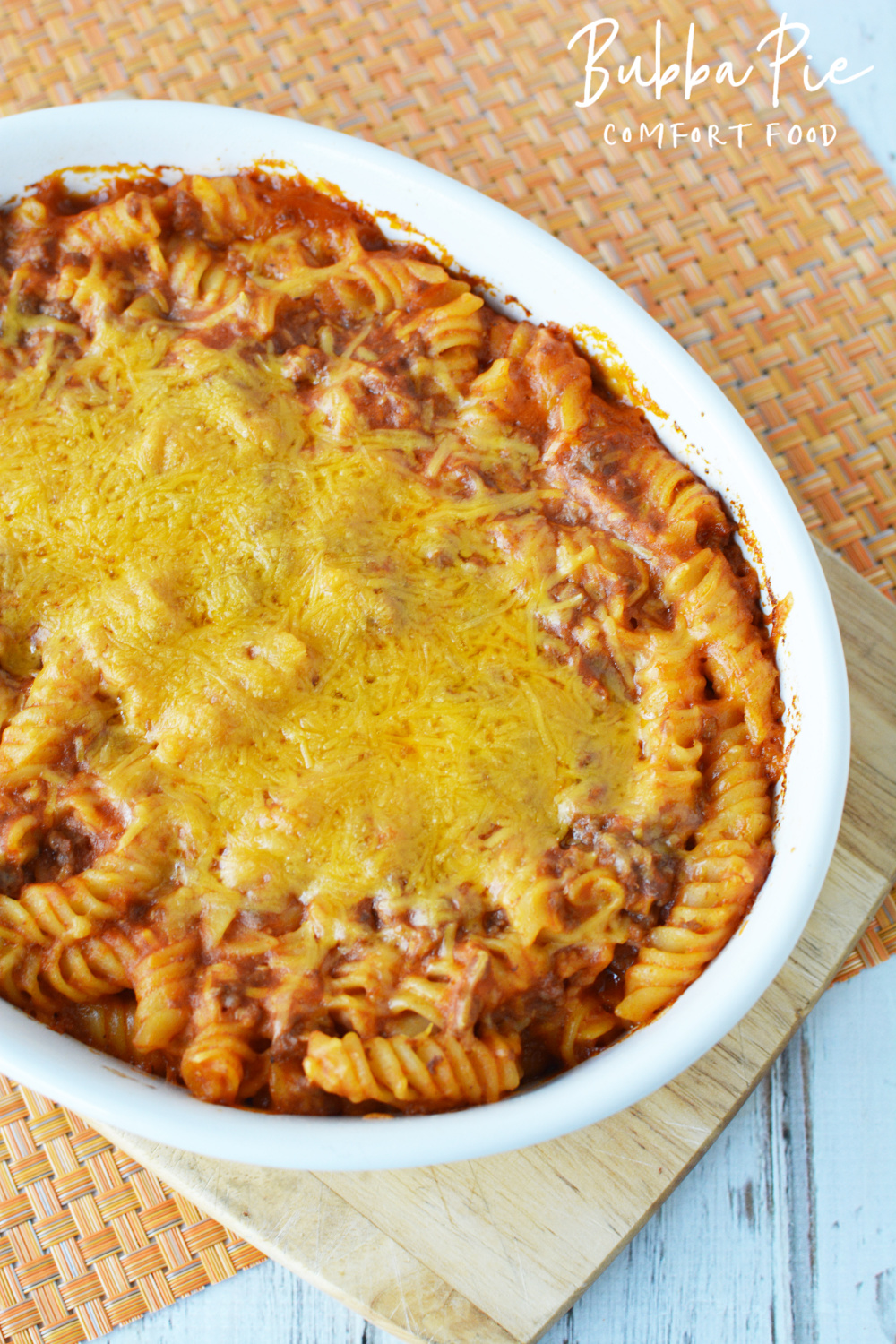 LOOKING FOR MORE EASY CASSEROLE DISHES? CHECK OUT:
Rate this Recipe
Easy Homemade Beefaroni Recipe
This Easy Homemade Beefaroni recipe is great comfort food for the winter months. But it is also a great recipe for family dinners throughout the year.

Ingredients
1

lb

ground beef

2

cans

15 oz, tomato sauce

2-1/2

cups

shredded cheddar cheese

1

package

16 oz, rotini pasta

2

tablespoons

butter

salt and pepper
Instructions
Grease a casserole or 9x13 baking dish with nonstick cooking spray and set aside.

In a large skillet, cook beef until browned. Drain grease.

Meanwhile, cook pasta until el dente. Drain and mix pasta with butter.

Stir in beef, tomato sauce and 2 cups of cheese. Season with salt and pepper.

Sprinkle top with remaining 1/2 cup cheese. Bake for 25-30 minutes or until hot in the center.
Nutrition
Love this recipe?
Follow @bubbapie for even more delicious recipes!!