This Snickerdoodle Coffee Cake is full of buttery and moist and perfect as a breakfast treat or a snack anytime in the day. With a sugary cinnamon topping, it tastes just like the famous Snickerdoodle Cookie!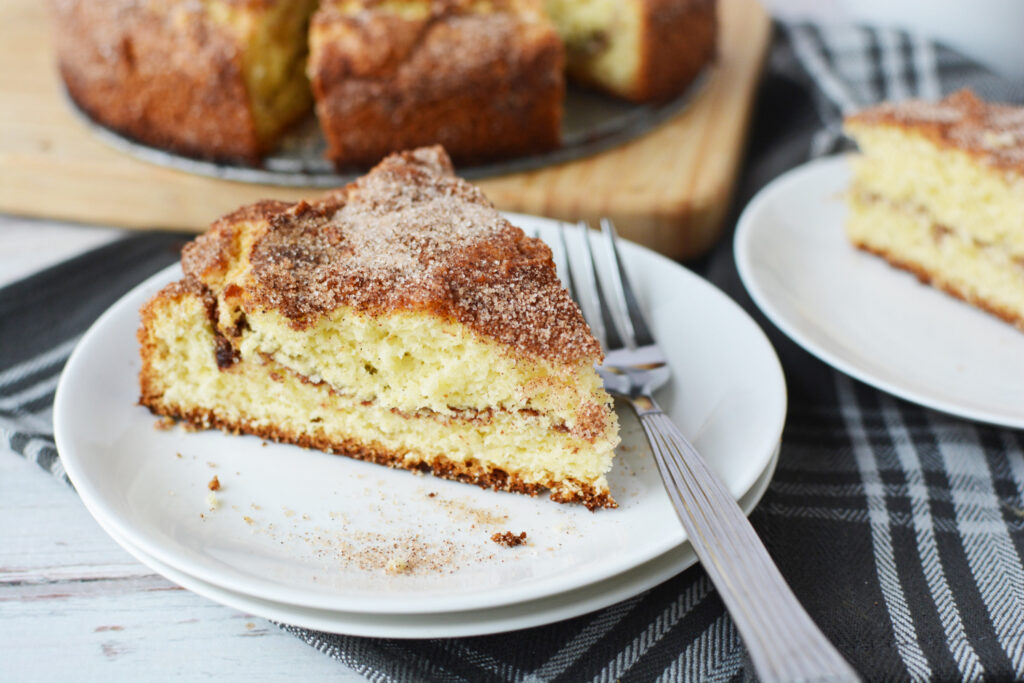 Who doesn't love Snickerdoodles? It's one of the most famous cookie recipes out there. That soft cookie with the buttery, cinnamon sugar flavor? Yum and yum! We are a huge fan. In fact we made a super easy version of that cookie using cake mix. You gotta check that out too!
Did you know that the rumor about the origin of these cookies was that it was originally a type of coffee cake? And they called them Snip Doodles? They were sort of a thin version of coffee cake that eventually morphed into the Snickerdoodle Cookie we know today!
Snickerdoodle Coffee Cake
We published a super easy Coffee Cake recipe using Bisquick. It's so soft and moist with that delicious crumb topping. More please! So we thought it would be fun to make another one to bring the Snickerdoodle Cookie back to it's roots!
Ready to get baking? For step-by-step instructions, check out the printable recipe card below. But here is what you'll need to get started:
BUTTER – Unsalted butter. Softened.
WHITE SUGAR – We use 3/4 cups of white sugar. If you want to sub for a little brown sugar, you can. Like do 1/4 cup brown sugar and 1/2 cup white sugar.
EGG – One large egg. Room temperature.
FLOUR – All Purpose Flour. If you want to sub for whole wheat flour, you can. You can also use Gluten Free Flour.
BAKING POWDER – To give this coffee cake it's nice, soft rise in the baking pan!
SALT – We used sea salt. But you can use regular salt or kosher salt.
MILK – We used 2% milk. But you can use whole milk or even buttermilk if you'd like. If you want to trim this recipe up a bit, you can try subbing for skim milk.
FOR THE TOPPING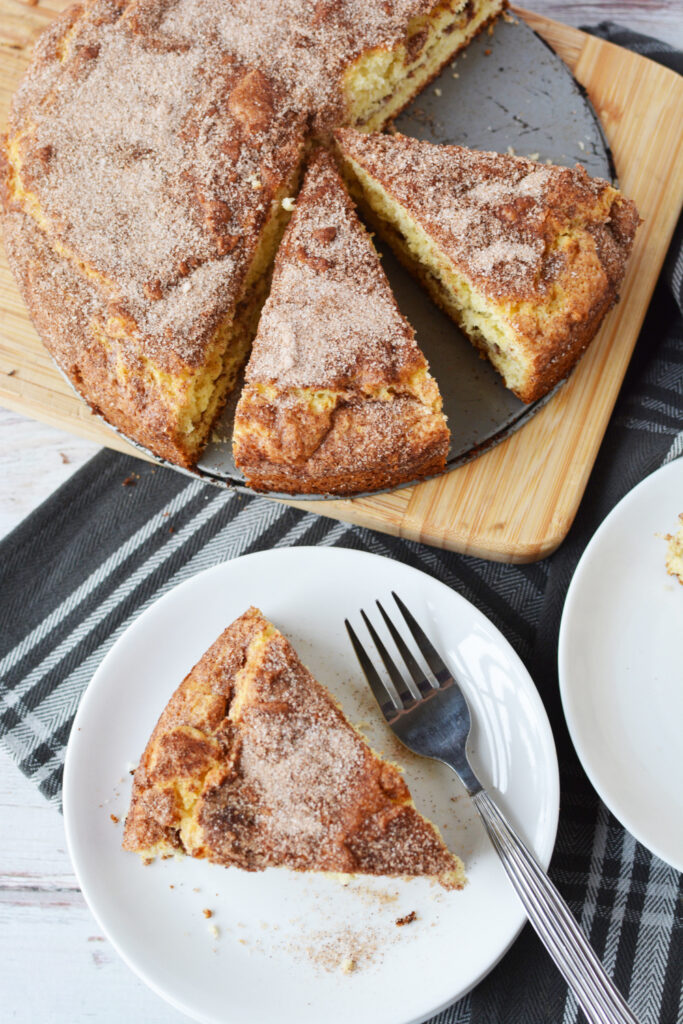 Do You Need To Use A Round Springform Pan?
For this recipe, we dump our batter and bake in a round 8 inch springform pan. Although we haven't tried it, you could also use a Coffee Cake Pan (also called a Tube Pan) or a Bundt Cake Pan. You could also use an 8-inch Square Baking Dish. Just make sure to grease and flour the sides VERY well.
Storage and Freezing
Store leftovers in an airtight container. Or, better yet, wrap them in Saran Wrap to maintain maximum freshness. You can store at room temperature. Some people like to store in their refrigerator to get another day or two of shelf life. If you do this, make sure you heat it up a bit before serving.
You can freeze coffee cake. Just let it fully cool. Wrap it in freezer wrap and put it in a freezer bag. It will stay good for about 4 months. You can also cut into individual slices and separate with parchment paper or wax paper. So you can just thaw what you need as you go. Thaw at room temperature.
Notes and Tips
GREASE YOUR PAN – We used non stick cooking spray. Whatever you want to use to grease your cooking pan, make sure you do it well. It will make this recipe a lot easier and really help with your end presentation.
ROOM TEMPERATURE INGREDIENTS – The batter for this coffee cake will be thick. That's ok. But to help the ingredients to mix as quickly as possible, it's best if they are all room temperature.
ADD CINNAMON CHIPS – Sometimes (especially during the holidays) you can find Cinnamon Chips in the baking aisle of your grocery store. You can also buy them on Amazon year round. These would be delicious in this recipe. If they are the full size chips, you may want to coat them in flour so that they don't sink while baking. Or you can just sprinkle top of coffee cake with them. Butterscotch chips or even chocolate chips would be tasty too!
ADD NUTS – Add walnuts, pecans, cashews or crushed macadamia nuts to this recipe!
SMOOTH BATTER – The batter will be thick once poured into the baking pan. We like to use a greased offset spatula to smooth it out.
TOOTHPICK TEST – You'll know the cake is done if you can stick a toothpick in the center of the cake and it comes out clean. You can also use a cake tester.
We hope you enjoy this Snickerdoodle Coffee Cake Recipe. We'd love to hear how it turns out for you. Please drop us a line in the comment section below! Happy Eating!
FOR MORE BREAKFAST TREATS, CHECK OUT: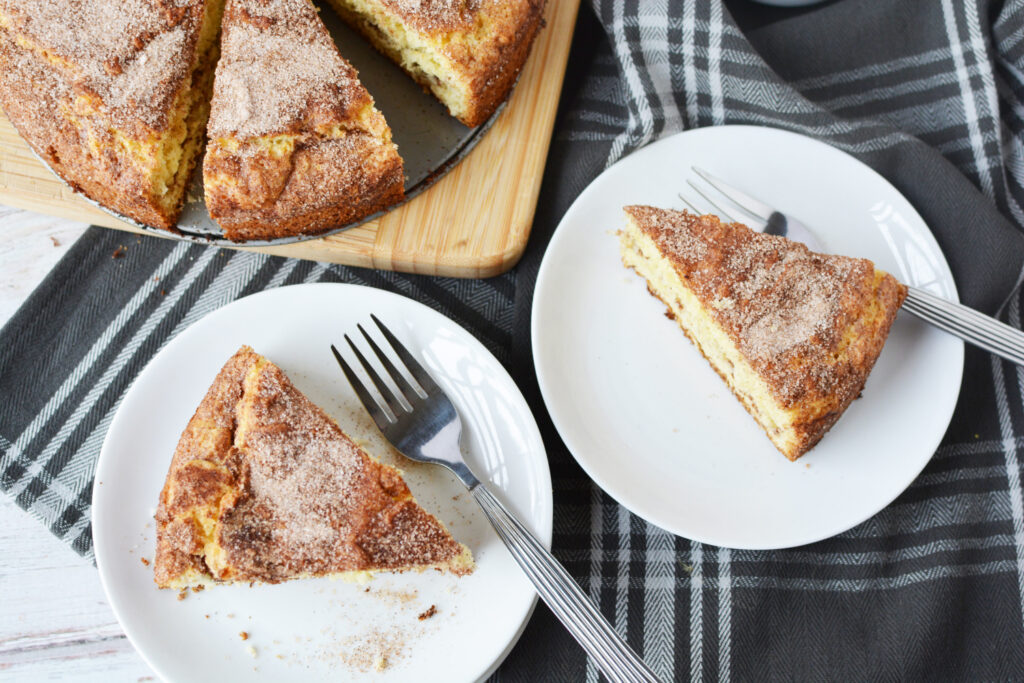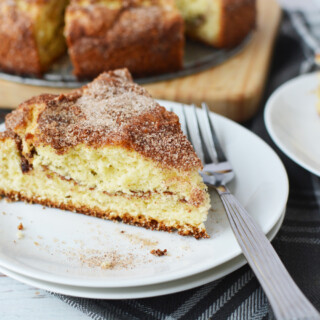 Rate this Recipe
Snickerdoodle Coffee Cake
This Snickerdoodles Coffee Cake is full of buttery and moist and perfect as a breakfast treat or a snack anytime in the day. With a sugary cinnamon topping, it tastes just like the famous Snickerdoodle Cookie!
Ingredients
1/4

cup

butter

softened

3/4

cup

white sugar

1

egg

2

cups

flour

2

teaspoons

baking powder

1/2

teaspoon

salt

1/2

cup

milk
FOR THE TOPPING
1/2

cup

white sugar

2

teaspoons

ground cinnamon
Instructions
Preheat oven to 375 and grease an 8" springform pan with nonstick cooking spray and set aside.

Whisk together the cinnamon sugar mixture in a small separate bowl and set aside.

Beat butter and sugar together with a mixer until fluffy, about 3 minutes. Add egg and milk and mix well.

In small bowl, stir together flour, baking powder and salt. Slowly combine the dry and wet mixture in a large bowl. I like to add the dry mixture a little at a time.

Spread half of batter mixture into the prepared pan. Batter will be thick and it is a little tricky to spread, add small dollops of batter and gently spread with the back of a spoon. Sprinkle with half of the topping. Pour remaining batter leftover on the top and sprinkle with remaining topping.

Bake for 20-25 minutes in preheated oven or until a toothpick inserted in the center comes out clean.

Dump out ono a cutting board and cut into triangle shapes.
Love this recipe?
Follow @bubbapie for even more delicious recipes!!